Green Roads Review – 50mg Broad Spectrum Oil (Original)
Sep 16, 2020 | SOC
Green Roads Broad Spectrum CBD Oil - Original
Pros
Calming and balancing
Easy to dose
Non-intoxicating
Extra strength
Effective
Fair price
GREEN ROADS BROAD SPECTRUM CBD OIL – ORIGINAL
Product Review
Brand Overview: GREEN ROADS
Green Roads has grown into one of the leading manufacturers of CBD in the industry. The company is one of the first in the US to use licensed pharmacists to formulate its CBD products. They want to offer patients an all-natural way to health and healing. Green Roads has a huge product line to meets a variety of their customer's needs. From their edibles, concentrates, oils, and animal tinctures, they use the purest form of CBD on the market.
What sets them apart from many other companies is their commitment to excellence. Every three months, Green Roads has every product tested for purity and potency by a third-party lab, so you get quality and consistency every time.
Products: CBD Oil, Candies (Gummy Bears, Fruit Bites, Relief Toads, Froggies, Night Time Gummies, Strawberry Chews, Grape Chews), Capsules, Terpenes Oil Drops, Pain Cream, Skin Relief Cream, On-The-Go Edibles (Froggies and Fruit Bites), Daily Dose Droppers, Syrups, Oil for Pets, Concentrates, Tea, Coffee, and Bundles.
Price Range ($-$$$$): $$
---
About GREEN ROADS BROAD SPECTRUM CBD OIL – ORIGINAL

Green Roads Broad Spectrum CBD Oil comes in 10 mg, 25 mg, and 50 mg strengths and a measuring tool that's easy to use and offers accurate dosages. While the oil I reviewed today is made with broad-spectrum oil, you can also get this stuff in full-spectrum. Green Roads makes this in original flavor, apple kiwi, and mint. This is formulated to remove the THC, so it won't get you high. If you're just starting out with CBD, experts recommend starting at a smaller dose and working your way up. Some doctors are starting to recommend CBD, but it's still a good idea to speak with yours first.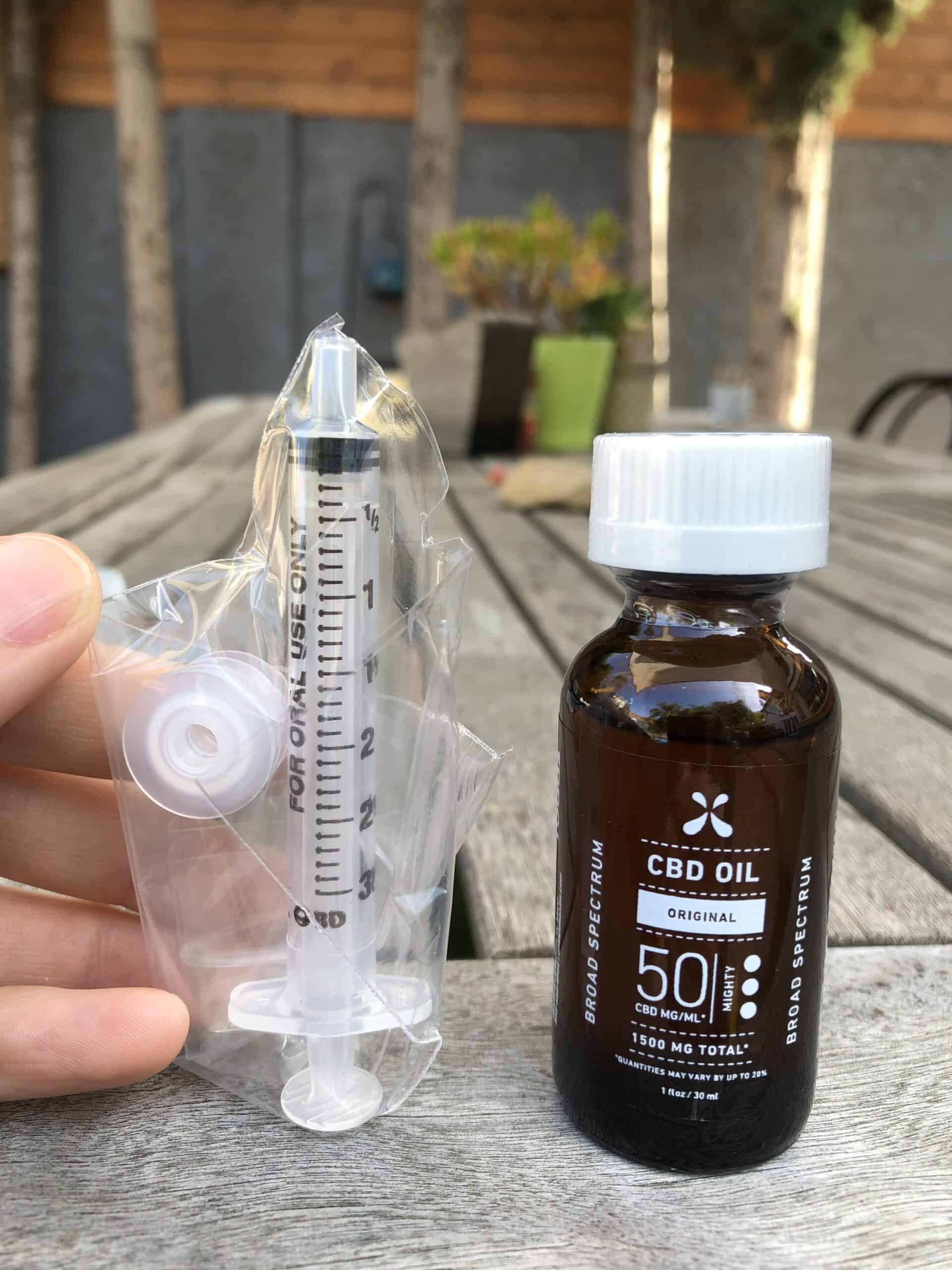 ---
GREEN ROADS BROAD SPECTRUM CBD OIL – ORIGINAL Specifications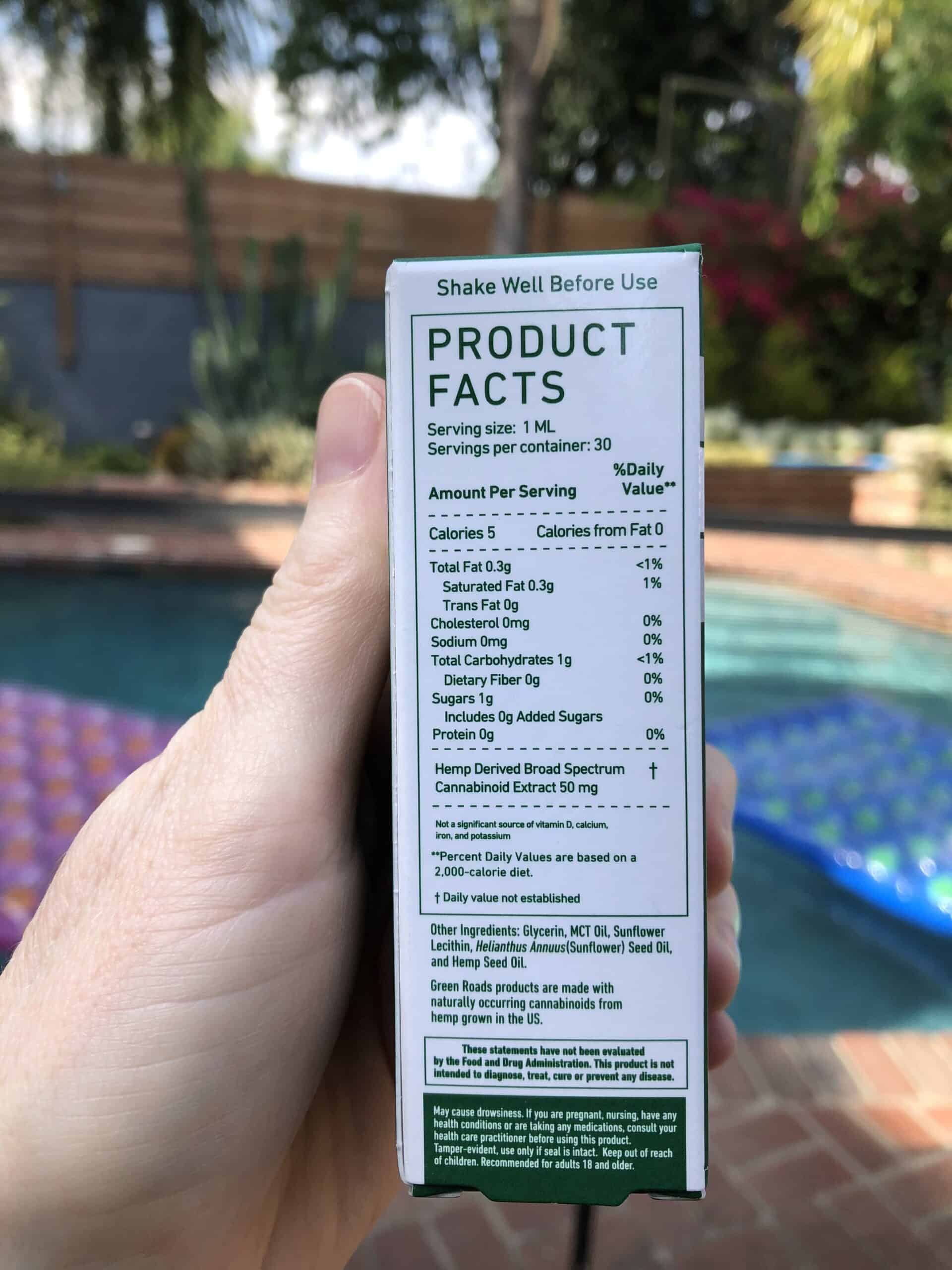 1,500 mg CBD total
50 mg CBD per serving
30 servings per container
5 calories per serving
Gluten-free
Soy-free
Ingredients:Hemp-Derived Broad Spectrum Cannabinoid Extract, Glycerin, MCT Oil, Sunflower Lecithin, Sunflower Seed Oil, and Hemp Seed Oil.
---
How We Tested the GREEN ROADS BROAD SPECTRUM CBD OIL – ORIGINAL
I was hoping this extra-strength CBD oil would help calm my mind to better help me focus during finals week. I've been using CBD for a while on recommendation of a former podiatrist and figured a high-dose of 50 mg would help my brain cut through the clutter of French tenses and Stoic philosophers. I took a full-serving of the original flavor first thing in the morning every day for the past week. It was easy to use, although the oil was sticky and bit messy.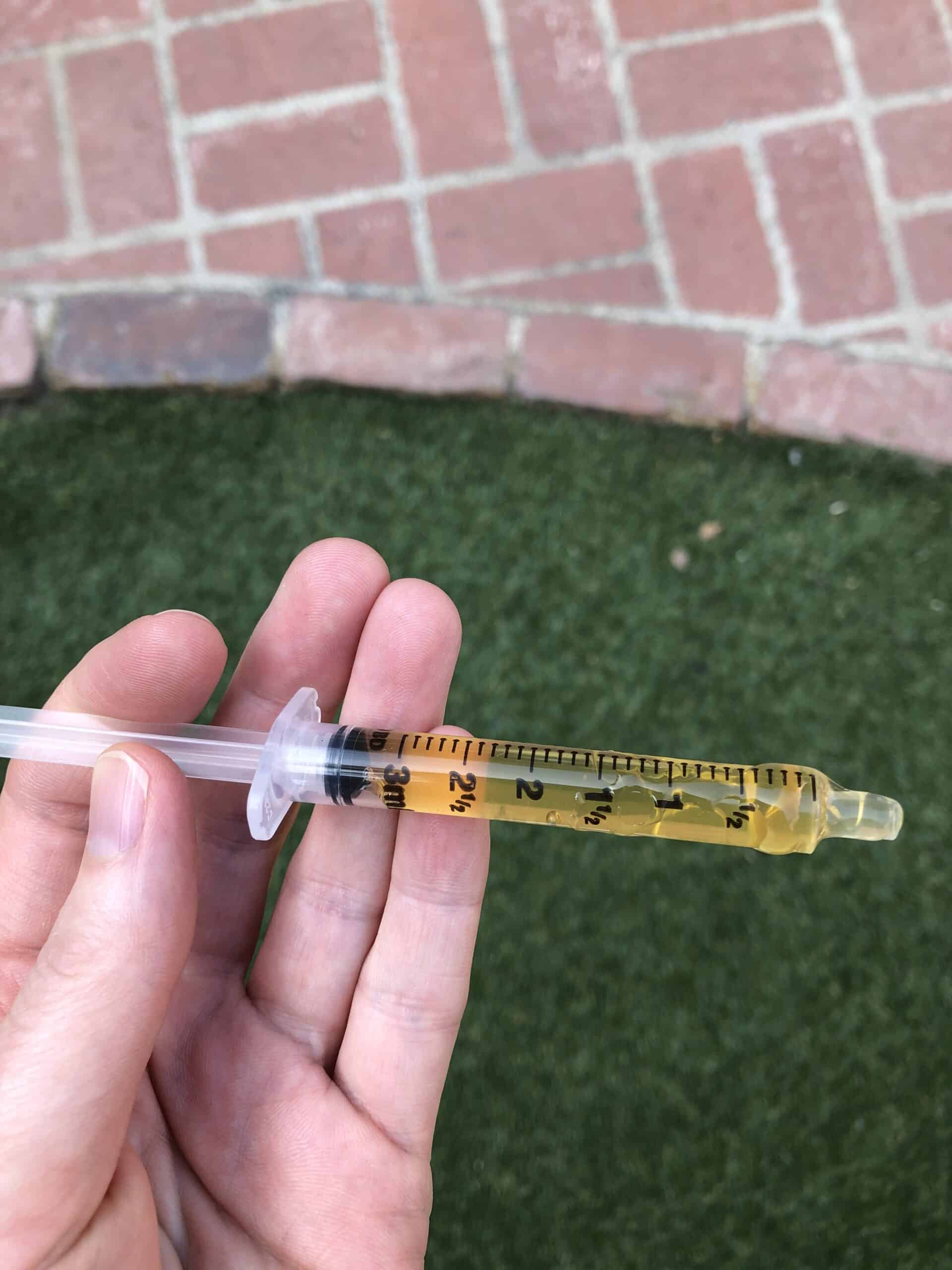 ---
How the GREEN ROADS BROAD SPECTRUM CBD OIL – ORIGINAL Worked for Me
Green Roads Broad Spectrum CBD Oil helped me feel a sense of calm that had been missing during midterms a couple of months earlier. It doesn't take away stress or cure anxiety, but the CBD oil did help take the edge off a bit; just enough for me to get through it easier. Despite its effectiveness, I didn't care for the flavor. It was somehow extremely bitter and too sweet at the same time. I'd love to try their apple kiwi bliss or mint breeze flavors to see if I like them better.
---
Useful and Unique Things to Know About GREEN ROADS BROAD SPECTRUM CBD OIL – ORIGINAL
You might be wondering what is the difference between broad-spectrum CBD oil and full-spectrum. Broad-spectrum contains cannabidiol (aka CBD) as well as all the other beneficial compounds from the cannabis plant except for THC. Full-spectrum CBD contains all the compounds originally found in the plant and includes a minute amount of THC. The benefits of broad and full-spectrum CBD is through the entourage effect. In simple terms, the entourage effect is when all the different components of the cannabis plant work together to boost their overall effort..
---
GREEN ROADS BROAD SPECTRUM CBD OIL – ORIGINAL Ratings
In the next sections gradings from 0-100 on our review, these grades add up to give the product's overall score.
PRESENTATION • 100
Clearly marked for accurate dosing.
RELIABILITY • 100
Potent and effective.
QUALITY • 100
Non-toxic and lab-tested.
FLAVOR / SMELL / or EASE OF USE • 60
Tastes bitter.
VALUE • 100
Fair price.
---
How GREEN ROADS BROAD SPECTRUM CBD OIL Stacks Up Against the Competition
Don't be scared by the $149.99 price tag. For 1,500 mg of effective CBD, that's a good price. You can make that much CBD oil last a long time if you don't take high dosages with Green Roads convenient measuring tool. This CBD oil would be more competitive if it tasted better, but for the price and effectiveness, I can forgive it.
---
Saving Money with Our Verified GREEN ROADS Coupons
Save money by using our verified CBD tinctures here at Save On Cannabis the World's largest online cannabis coupon code directory.
---
Disclosure: I received these products gratis so that I could try them and then share my honest opinion with the SOC community. I am employed by Save on Cannabis to write honest reviews and provided a flat rate payment for the writing of the review. SOC may receive recurring affiliate payments for purchases made based on this content.
Sorry, no coupons were found.
In this Magical CBD review, we get to see if this affordable CBD is reliable and tastes good compared to the competing brands.
In this Social CBD review of the Zooey CBD Body Butter see if it fixes dry hands and helps pain. Also get Social CBD coupons.
Veritas Farms review of their unflavored 500mg CBD tincture, see how it fit into our reviewer's daily wellness routine.