Viobin Review: Full Spectrum Guava Strawberry CBD Tincture
Oct 9, 2020 | SOC
Viobin CBD - Full Spectrum Guava Strawberry CBD Tincture, 1500mg
Pros
All-natural
Tastes great
Easy to use
Labeled dropper for easy dosing
Extra-strength
Viobin CBD
Product Review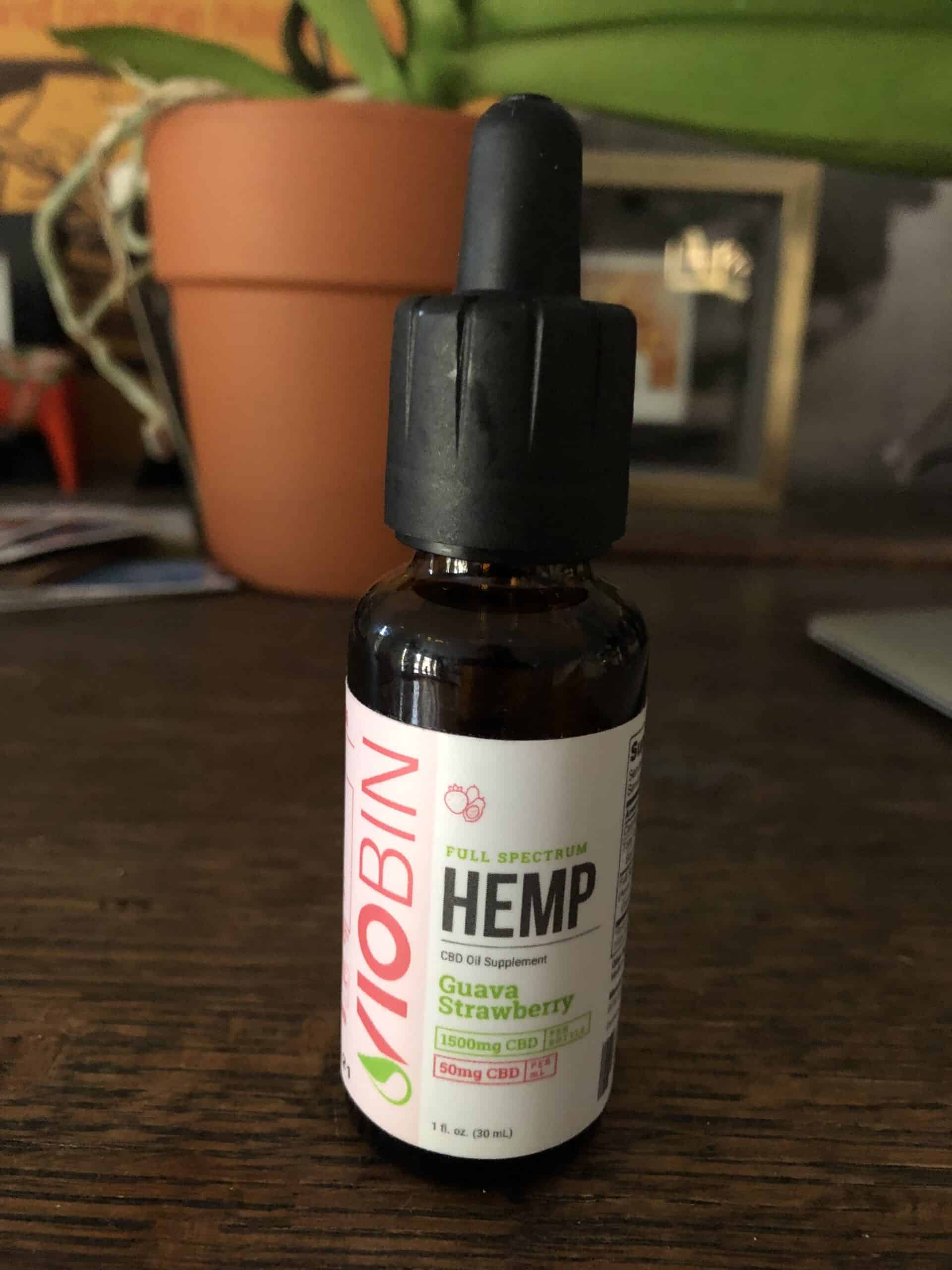 Brand Overview: Viobin CBD
Viobin has been around since 1936, earning the reputation from its 80 years of being in business as having excellent nutritional extractions. Now, with the onset of the CBD movement, Viobin has found itself once again providing trusted products only this time, with hemp. Using hand-selected hemp from local farmers, Viobin has its own facility for extraction, bottling, and shipping to ensure you're getting the best.
They pride themselves on offering CBD for 30% lower than the competitors without skimping on quality. Viobin offers a wide selection of tinctures, softgels, gummies, and topicals in a variety of dosages and flavors. You can even get something for your pet, specifically flavored with bacon or chicken to appeal to your furry friend's palate. With free shipping on every order and products lab tested for purity and potency, Viobin is a brand to trust. If you're a teacher, front-line worker, union worker, or veteran, you'll enjoy a 20% discount on every order.
Products: Oils, Softgels, Topicals, Gummies, Pets.
Price Range ($-$$$$): $$
---
About VIOBIN FULL SPECTRUM GUAVA STRAWBERRY CBD OIL – 1,500 MG

This hemp oil contains 1,500 mg of CBD and is flavored with guava and strawberry. Each serving contains an extra-strength dose of 67 mg of full-spectrum hemp extract, 50 mg of which is CBD. You can also get this oil with broad-spectrum hemp and comes in a variety of dosages starting at 300 mg. The tincture contains less than .3% THC so it won't get you high while still giving you all the positive benefits of the hemp plant.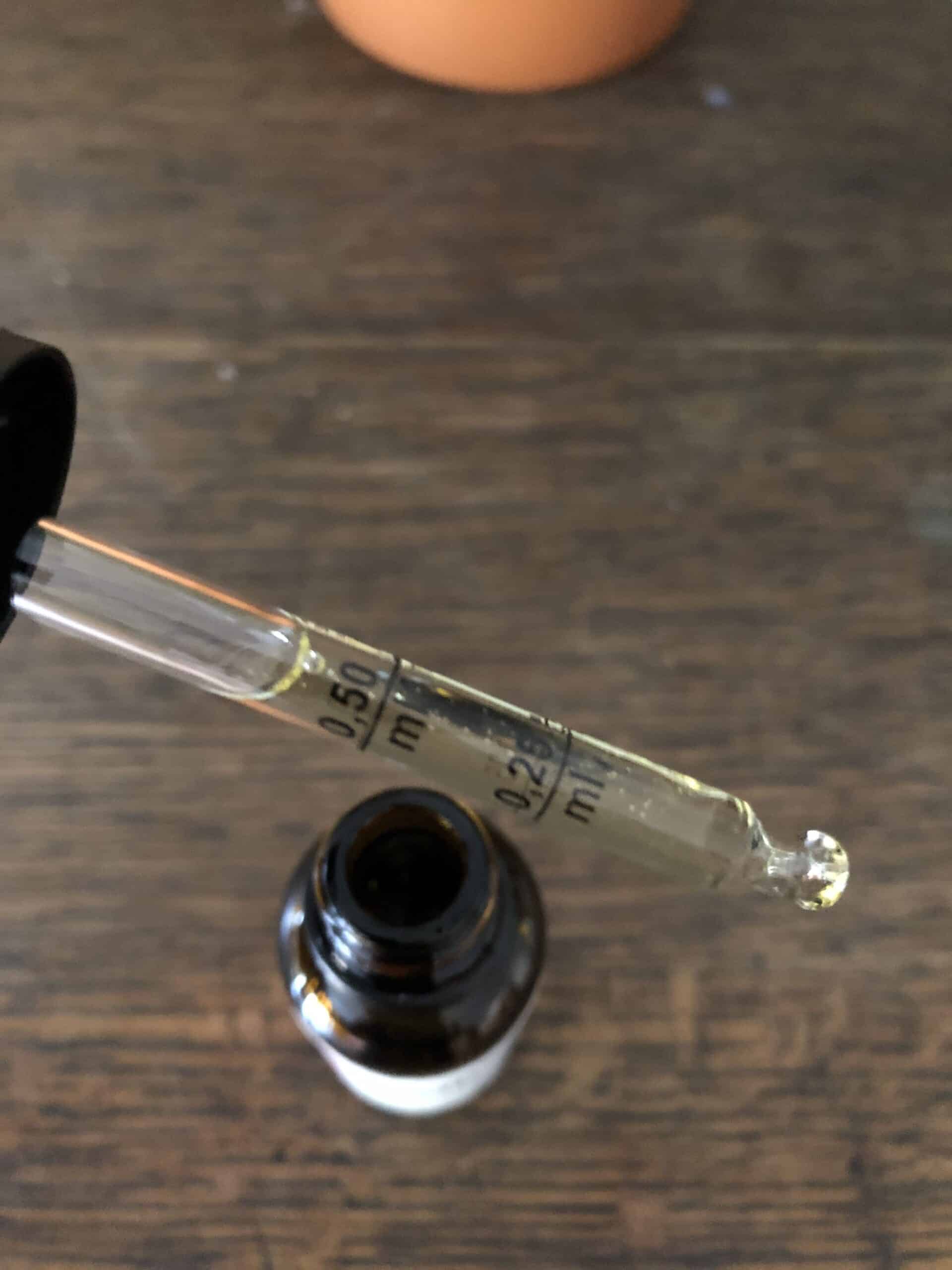 The bottle comes with an easy-to-use dropper that's marked so you can measure your dosage. If you're new to CBD, experts recommend starting at a lower dose (10 – 15 mg) and work your way up as needed. For best results, shake the bottle before using then hold the oil under your tongue for twenty seconds before swallowing.
---
VIOBIN FULL SPECTRUM GUAVA STRAWBERRY CBD OIL – 1,500 MG Specifications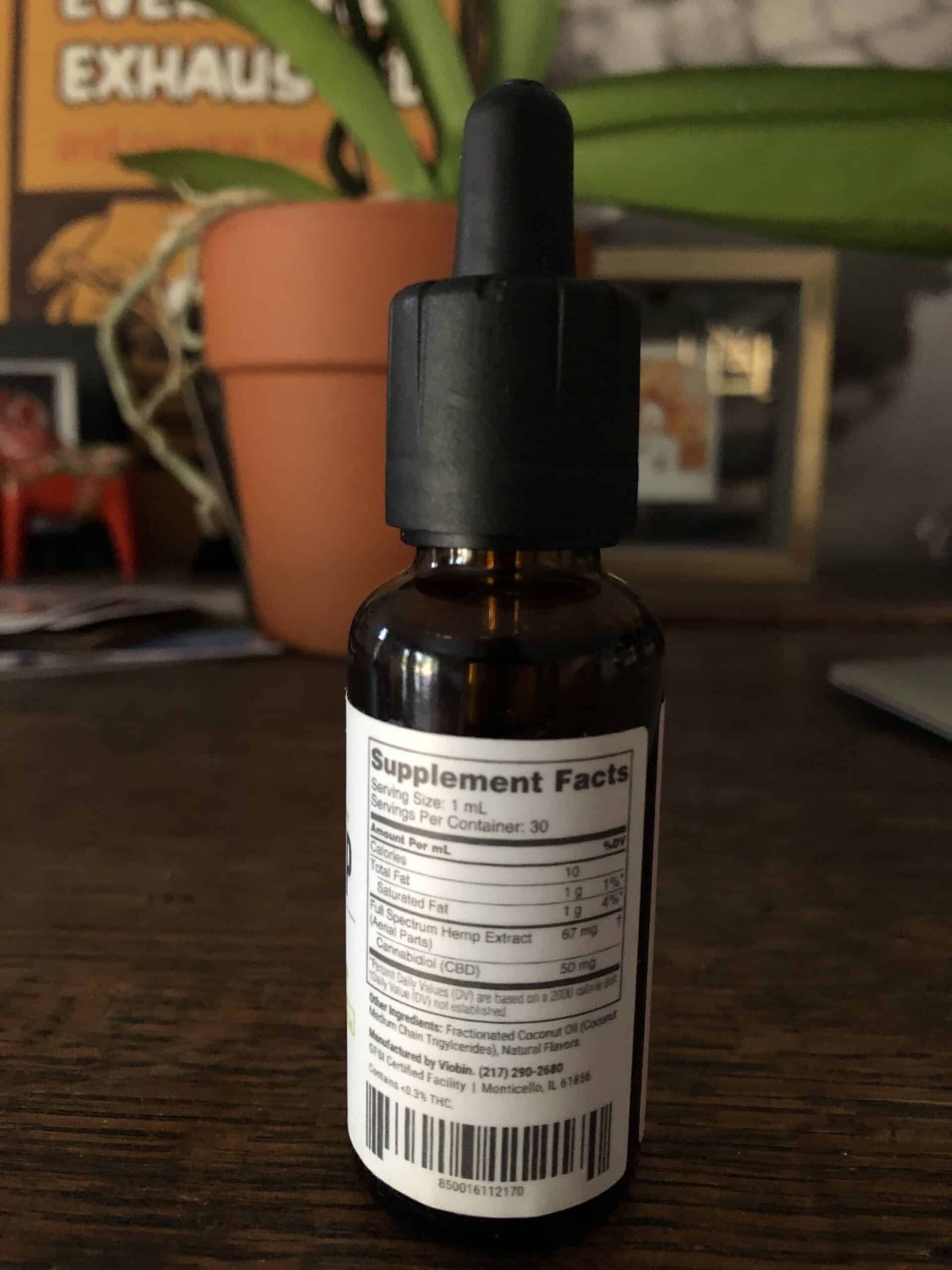 1,500mg CBD

50mg CBD per serving

1 fl oz / 30ml

30 servings per bottle

Less than .3% THC

Ingredients

: Fractionated Coconut Oil (Coconut Medium Chain Triglycerides or MCT Oil), Full Spectrum Hemp Extract, Natural Flavors
---
How We Tested the VIOBIN FULL SPECTRUM GUAVA STRAWBERRY CBD OIL – 1,500 MG
I live in Los Angeles and we're currently experiencing a heatwave along with the pandemic so I've been stuck indoors more than usual. I live with two kids ages 6 and 3 and while I love the little angels, being around tiny extroverted and energetic humans can be overwhelming for this introvert. CBD often helps me find balance when my world seems off-kilter, mindfulness when it's hard to stay in the moment, and a sense of calm and focus to help me through the day.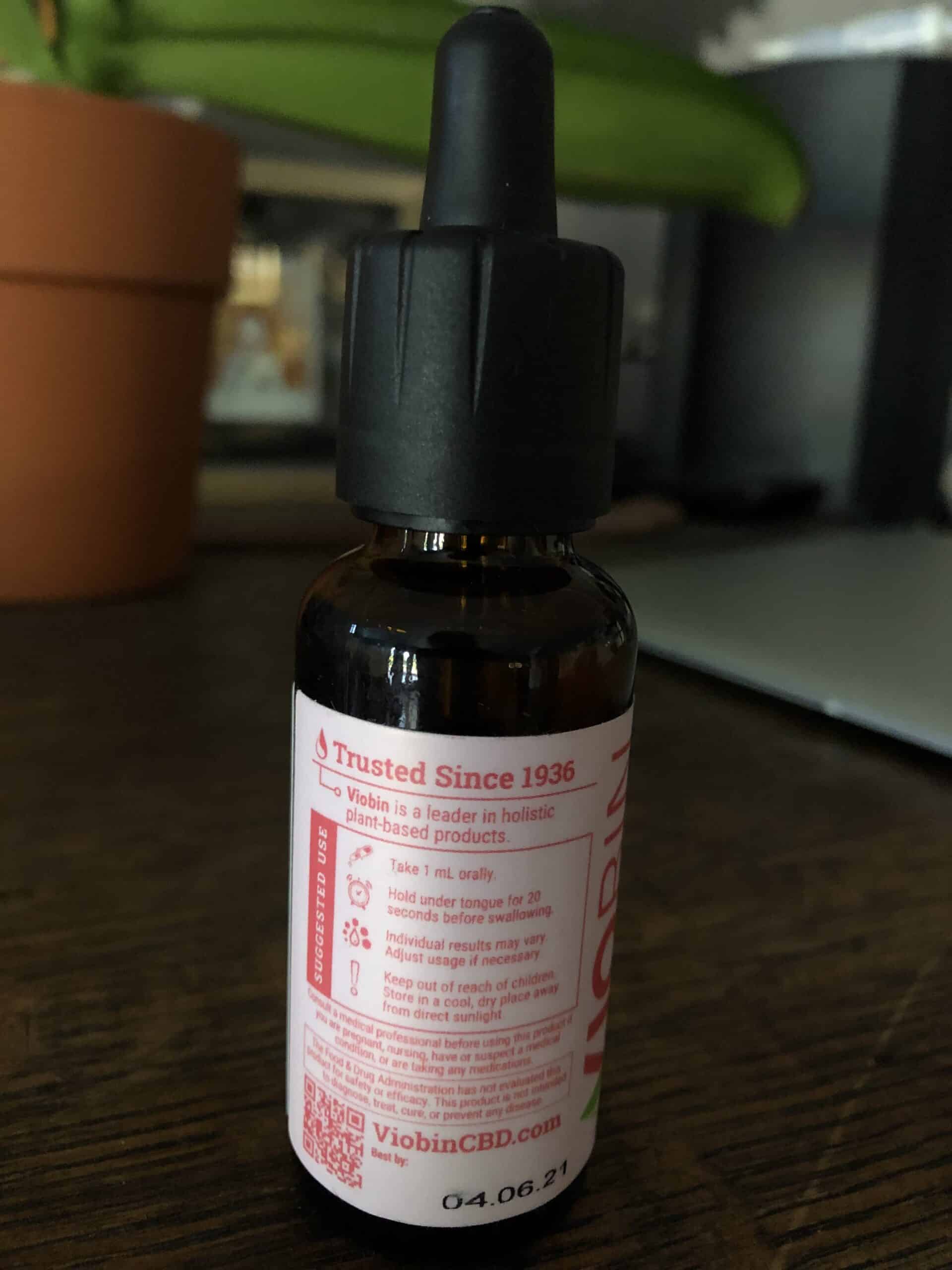 I'm always excited to find a new flavored tincture, as I don't care for the kinds that taste hempy. And I was curious what guava strawberry tasted like as it sounds yummy! I was also interested in trying this particular tincture because of its high dosage. I took one serving in the morning, holding it under my tongue for twenty seconds before swallowing. I followed a similar routine in the evening, taking the CBD oil along with my prescribed medication Gabapentin.
---
How the VIOBIN FULL SPECTRUM GUAVA STRAWBERRY CBD OIL – 1,500 MG Worked for Me
The strawberry guava flavor was delicious and sweet. I could barely taste the hemp, which was amazing considering the high dosage. I could feel the positive effects of the CBD in less than an hour after taking it, which kind of feels like a subtle warmth spreading through my body. I didn't feel high or sleepy, but calm and focused. Not only did this help me be more productive during the day, but I fell asleep faster at night. The Viobin Full Spectrum Guava Strawberry CBD Oil has become my new favorite. I also got their Orange Cream tincture, and considering how good Viobin is with flavor, I can't wait to taste it.
---
Useful and Unique Things to Know About VIOBIN FULL SPECTRUM GUAVA STRAWBERRY CBD OIL – 1,500 MG
This particular CBD oil is made with full-spectrum hemp oil, but you can also purchase it with broad-spectrum. The most obvious difference between the two spectrums is that if it's full, it contains a minute amount of THC, while the broad version contains none. Full-spectrum hemp oil creates the "entourage effect," which is when all the different components of the cannabis plant are present, and work together to make a more potent experience.
---
VIOBIN FULL SPECTRUM GUAVA STRAWBERRY CBD OIL – 1,500 MG Ratings
In the next sections gradings from 0-100 on our review, these grades add up to give the product's overall score.
PRESENTATION • 100
Professional and informative packaging.
RELIABILITY • 100
Effective.
QUALITY • 100
Natural and high-quality ingredients.
FLAVOR / SMELL / gold EASE OF USE • 100
Yummy fruity flavor.
VALUE • 100
For 1,500mg, it's a good deal.
---
How VIOBIN FULL SPECTRUM GUAVA STRAWBERRY CBD OIL – 1,500 MG Stacks Up Against the Competition
I'm so happy to have discovered Viobin because this delicious and effective tincture won't break the bank. It's hard to find a CBD oil that's both tasty, potent, and fairly priced. In terms of competition, there are only one or two other companies I can think of that are equal in terms of taste, effectiveness, and cost. The only way it could become more competitive is if they offered the 20% discount to students and disabled people too (luckily here at SaveOnCannabis we have coupons for you). I look forward to trying the other flavors like Orange Cream and Peppermint.
---
Saving Money with Our Verified VIOBIN Coupons
Save money by using our verifiedCBD Tinctures here at Save On Cannabis the World's largest online cannabis coupon code directory.
---
Disclosure: I received these products gratis so that I could try them and then share my honest opinion with the SOC community. I am employed by Save on Cannabis to write honest reviews and provided a flat rate payment for the writing of the review. SOC may receive recurring affiliate payments for purchases made based on this content.
Sorry, no coupons were found.
Beautifully branded Jupiter CBD tincture has the looks, but does it do the job? See how the Jupiter Organic CBD 1350mg drops work.
Our reviewer tests to see in this Green Roads Review of the Relax CBD Bath Bomb if it can soothe her muscles after working out. Find out now.
Having trouble sleeping on a regular basis our reviewer, in this CBDistillery review they try out the Sleep Gummies with CBD & Melatonin.