cbdMD Review: CBD & Delta 9 THC Sleep Gummies
Dec 20, 2022 | Save On Cannabis
CBDCBD CandyCBD EdiblesCBD GummiesHemp Delta 9 THCHemp Delta 9 THC EdiblesHemp Delta 9 THC Gummies
cbdMD Sleep Gummies: CBD & Delta 9 THC
49.99
Pros
Amazingly Tasty Flavor
Very Effective Potency
Unique Herbal Formula for Sleep
High Value Subscription Savings
Cons
Made with Corn Syrup & Certain Preservatives
Expensive if Bought w/o Subscription
Not Made with Organic Ingredients
We made a video version of this review, the text below is a summary of the review.  Click here to see the video version of this review if above does not work.
---
You won't be able to keep your eyes open after about 30 minutes. In this review, you're going to get an in-depth product review of the cbdMD sleep gummies. We're also going to give you our own product ratings, pros and cons, and compare these sleep gummies from cbdMD to other sleep gummies on the market. Be sure to check the link below to get the most up-to-date cbdMD discount codes. Save on cannabis.com is dedicated to bringing you unbiased product reviews to help you learn about the products that you are interested in buying, as well as to help you get the best up-to-date coupon codes for those products.
---
cbdMD Overview:
cbdMD is a publicly listed hemp retail company that was founded in 2015 and is located in Charlotte, North Carolina. Their focus is especially formulated high potency products at a very low price point. The cbdMD shopping catalog features the full range of products including Delta 9 THC gummies, CBD gummies, oil capsules, and topicals in a range of broad and full spectrum potencies and formulations, as well as CBD drink mix in a variety of flavors as well as CBD tinctures, topicals and treats formulated for cats and dogs.In terms of cbd, MD's overall price range for their products, I'd give them $2 signs out of $4 signs. I think considering how potent their products are and how many different options they have compared to the rest of the market, their products are really affordable. Also, cbdMD uses a hundred percent USA Grown hemp flower and provide third party lab results on all of their products and offer a 60 day money back guarantee.
They're affiliated with the US Hemp Round Table Natural Products Association and the Hemp Industries Association and are GMP certified, overall, I think that cbdMD is worth checking out. They're a seasoned and experienced CBD brand that's offering high quality hemp products at a great value. Now without further ado, let's go ahead and zoom into today's cbdMD product review.
---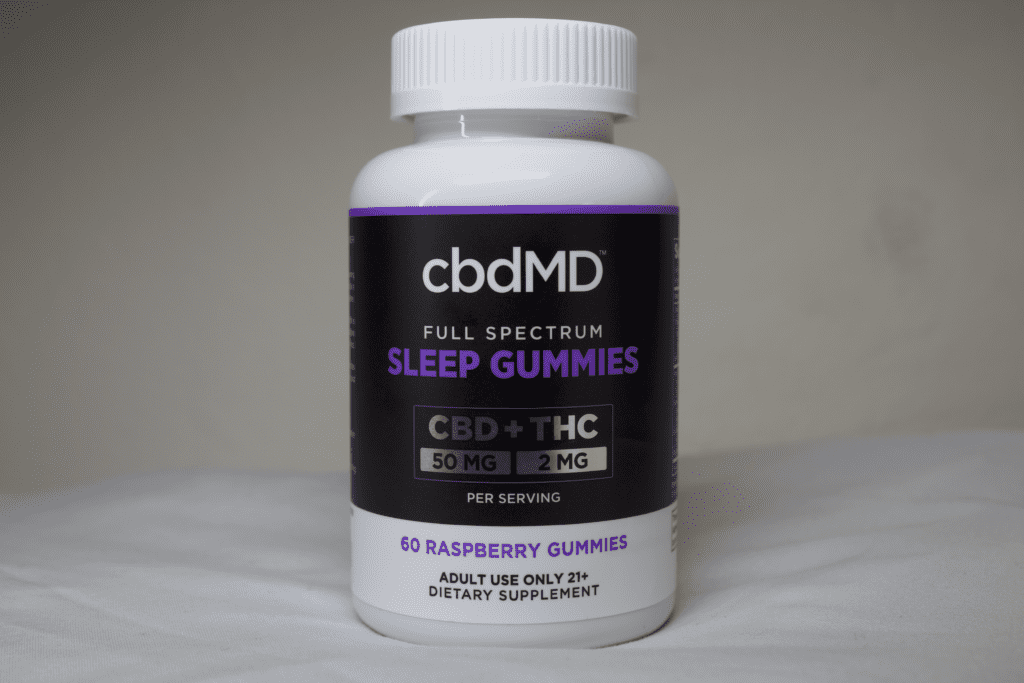 About cbdMD Sleep CBD & Delta 9 THC Gummies:
All right, let's go ahead and dive into this product review for the cbdMD sleep gummies. The sleep gummies from cbdMD contain a total of 50 milligrams of CBD and 2 milligrams of Delta 9 THC per serving, and each serving is two gummies. Serving also contains 5 milligrams of melatonin as well as 475 milligrams of a proprietary sleep blend containing botanicals such as chamomile extract, lemon balm extract, altheine, valerian extract, and gaba.
It also contains 100 milligrams of Sensoril Ashwaganda. Other ingredients in the sleep gummies also include corn syrup, sugar, water pectin, citric acid, sodium citrate, natural flavors, and natural color.
For the suggested use, it says to take two gummies daily or as needed.
---
cbdMD Sleep Gummies Ingredients & Instructions:
Ingredients:
Corn Syrup

Sugar

Water

Pectin

Citric Acid

Sodium Citrate

Full Spectrum Hemp Extract

Lemon Balm

Chamomile

Sensoril Ashwagandha

L-Theanine

Valerian

GABA

Melatonin

Natural Flavors

Natural Color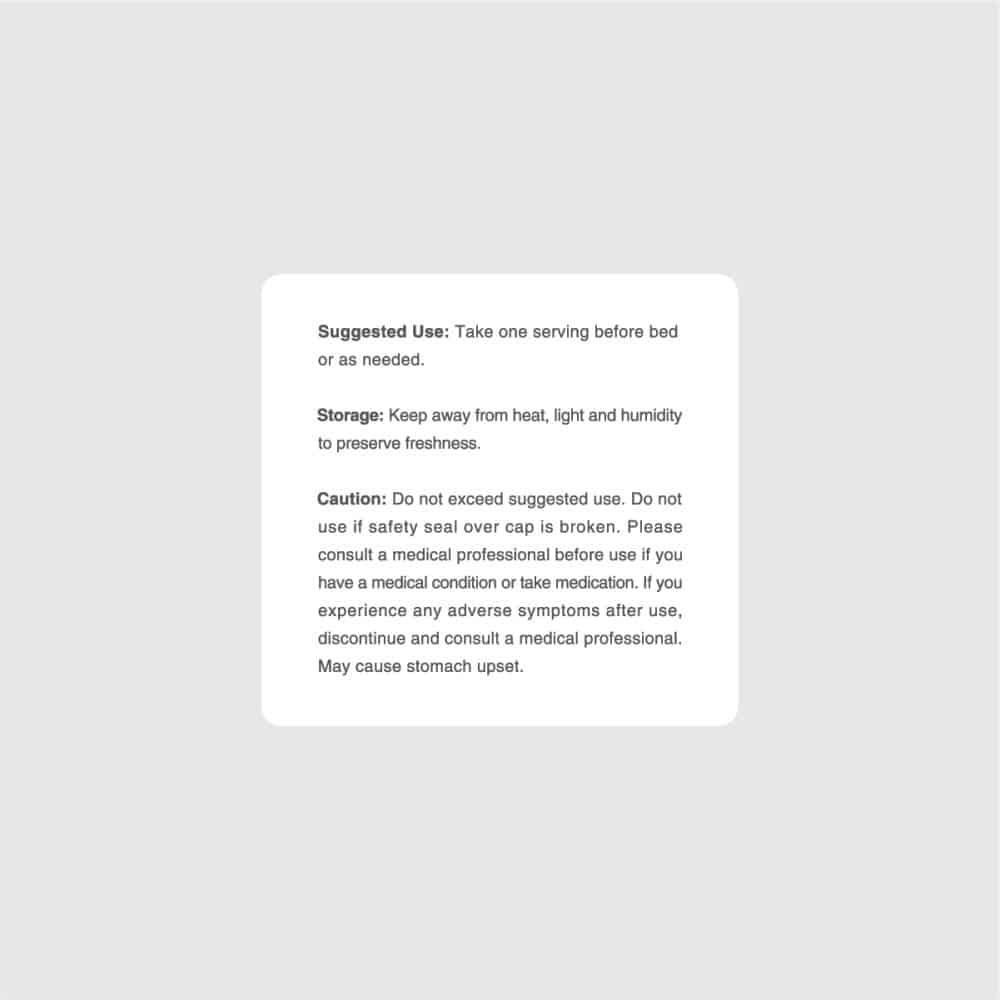 For the suggested use, it says to take two gummies before bed or as needed.

---
Lab Results of the cbdMD Sleep Gummies:
READ THE cbdMD Sleep Gummies Lab Results >
The third party labs are going to tell you everything that's in the product you're going to buy, as well as everything that has been tested for. Now starting with what we see on the first page, these third party labs were provided by SC Labs and there is a certificate of analysis to guarantee authenticity of the results.
Within the cannabinoid analysis section there is a summary of the total THC and total CBD expressed in milligrams per gram. The lab results confirm that the serving size is 7 grams per serving or two gummies..
So to get the total milligrams per serving, you multiply the THC and CBD by seven, you'll see that these gummies are actually slightly more potent than advertised on the package. Each serving actually has around 60 milligrams of CBD and around 3 milligrams of THC per serving.
Within the safety analysis results, we see that they tested for pesticides, heavy metals, mycotoxins, foreign materials, residual solvents and water activity. And if you continue to look at your third party labs, they'll provide all the information over each test that was conducted. These gummies passed all tests and showed they are more potent than advertised.
---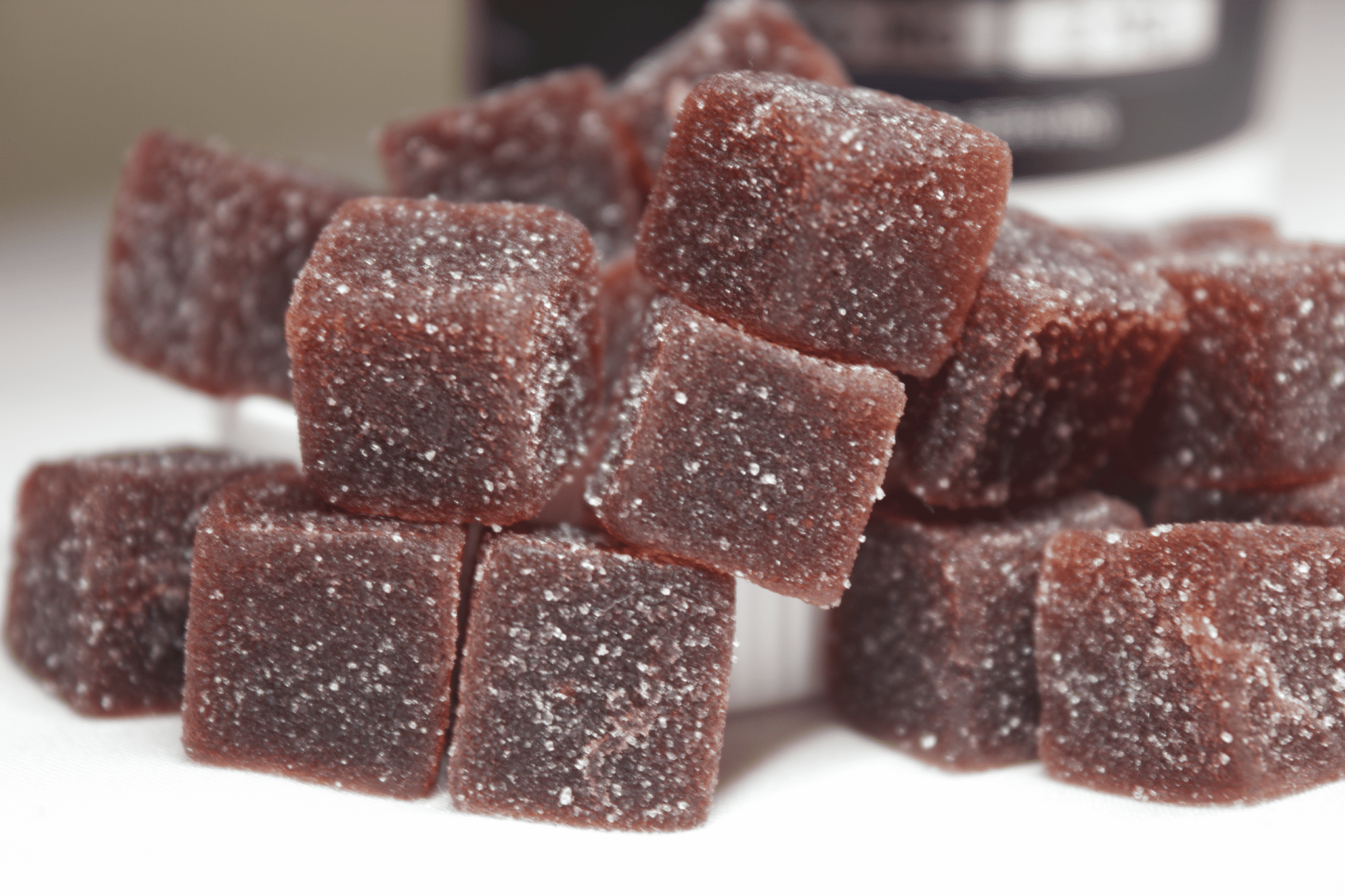 How We Tested the cbdMD Sleep CBD & Delta 9 THC Gummies:
In the next section, we're going to tell you how we tested and rated the cbdMD Sleep Gummies ourselves. We tested the cbdMD Sleep Gummies by taking them about half an hour before going to sleep, first by just taking 1 gummy and then increasing to 2 gummies the next night.
I've actually been testing these gummies every night for about a week now.
I was really excited to try the sleep gummies from cbdMD because they contained melatoninCBD, Delta 9 THC, Ashwagandha, as well as a proprietary blend of botanicals, formulated specifically for sleep. I've never taken melatonin before by itself or in combination with sleep botanicals or hemp compounds, so I was really excited to see how melatonin would affect me. I've heard lots of people have very interesting experiences taking melatonin, so wondered how my body would respond.
Overall, my goals with taking the sleep gummies from cbdMD were generally to feel more well rested in the morning, to have a better quality sleep, and to fall asleep faster at night. Through my testing, I am happy to say that these results have gone really well with these sleep gummies. I've been sleeping really well and feeling like my sleep is of good quality.
In the morning when I wake up after taking these gummies, I feel well rested.
If you take two gummies, the full serving, you won't be able to keep your eyes open after about 30 minutes. These gummies really do bring on sleep, you don't even want to try to fight it, you are just falling asleep…it's pretty hardcore.
Overall, these sleep gummies definitely worked for me and I would definitely buy them again.
Something useful to know about these sleep gummies is that it does take 2 gummies to complete the full serving of 50 milligrams of CBD and 2 milligrams of THC. I also think it's important to mention that these are not only CBD,& THC gummies, but they also contain melatonin, GABA, sensoril ashwagandha, and a proprietary blend of botanicals specifically designed to improve sleep.
---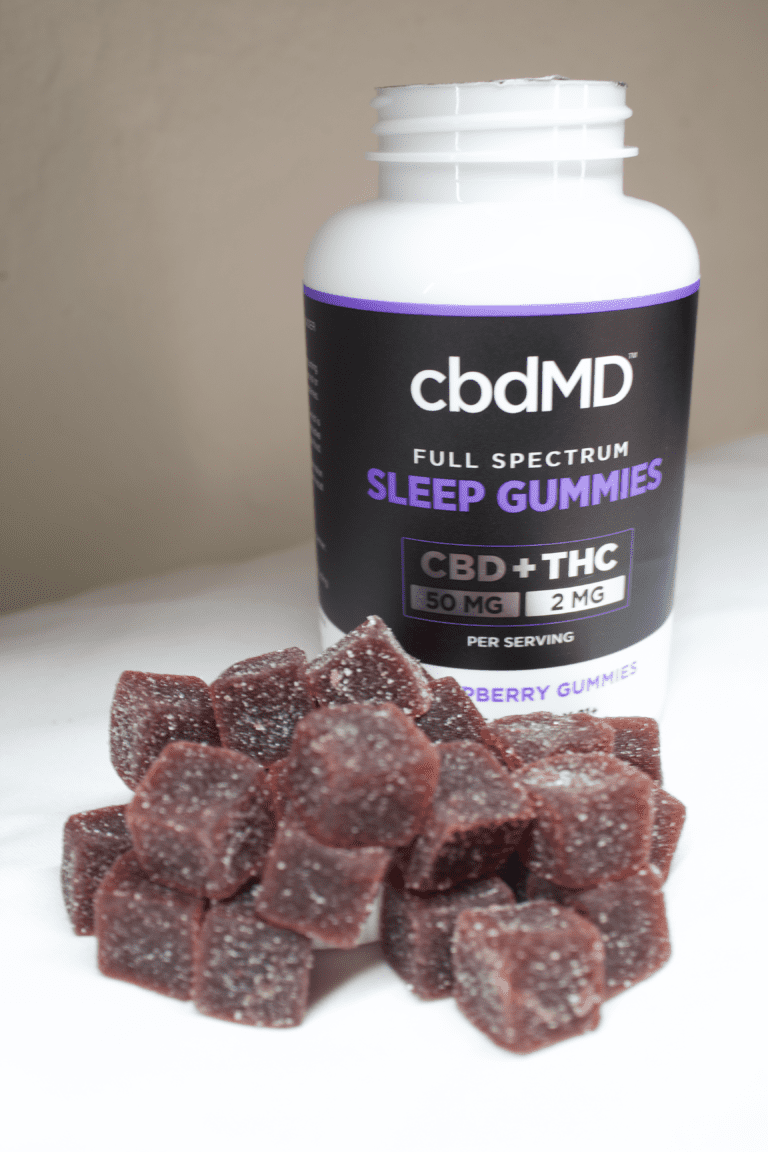 cbdMD Sleep Gummies Ratings:
So in this part of our review, I'm gonna give you my personal ratings from zero to a hundred.
Presentation • 100
First up in our ratings is presentation and I give the cbdMD Sleep gummies 100 out of 100 in their presentation. I think their packaging and their product is amazing. I think the gummies look and smell and taste delicious. I think the label and the branding is on point. I don't think that they could have done a better job with these gummies in regards to presentation. The way that they look from the bottle to opening them to the gummy and the product itself is really good, and I think they did a great job.
Reliability • 90
Next up in our personal ratings is reliability, and I gave the cbdMD sleep gummies 90 out of 100.
I gave these gummies 90 out of 100 because of the discrepancy between their third party lab results and the advertised potency on their package. These gummies are actually more potent than advertised. It says 50 milligrams of CBD and 2 milligrams of THC per serving, but it's actually 60 milligrams of CBD and 3 milligrams of THC per serving approximately according to the third party labs provided by cbdMD on their website under this product listing.

Now, I think it's kind of normal to have some discrepancies sometimes because these are agricultural products in the end, but through the manufacturing and regulatory process, we really wanna see these companies present very accurately labeled products that contain precisely what they say they contain no more or no less.
Quality • 90
When it comes to my scoring for Quality, I gave the cbdMD Sleep gummies 90 out of 100.
Overall, I think that these gummies have a great quality. They taste great. The texture is amazing, and it feels like they're made from really quality ingredients. But overall, from reading the ingredients label, I think that they could probably do better by using some vegan options for their gummy formulas that contain more naturally derived flavors.
I know it says natural flavors, but natural flavors are in a lot of ingredients these days, and I'm not really sure what it means. Can they just put the actual flavor instead of the more general " natural flavors?"
Anyway, I think these gummies overall are really high quality and that's why I only took off 10 points.
Flavor • 100
Next up in our ratings is flavor, and I'm going to give these gummies 100 out of 100. They taste amazing. I don't really know what else to say. 
They taste delicious. And in fact, the flavor is one of my favorite things about these gummies. They taste amazing.
It says raspberry flavor, but it's more like a mixed berries kind of flavor, and it's just delicious. It tastes juicy berry, kind of fruity, kind of sweet, kind of tangy. There's a lot going on, but it's all berry vibes and it's super amazing. I really like the flavor, a hundred out of a hundred on the flavor. Good job, guys.
Value • 85
Next up in our personal ratings is value, and I had to give the cbdMD sleep gummies 85 out of 100 on value just because when you buy them alone, they're kind of expensive but if you subscribe, you get really good savings.
So they don't really offer you a lot of value if you buy just one bottle, they can be kind of expensive.
They have a high price on the front end because a lot of people just wanna try these out, but they don't continue to buy them for one reason or another. But if you like CBD and you like sleep gummies, they're offering you a very high value proposition in that if you subscribe, you're going to save.
Currently, at the time of writing, they provide around 25% off on every purchase as well as every fourth bottle free for subscription users. I think there's really good savings for a product like this. If you take advantage of that value, I would give them 100 out of 100, but I had to take off a few points because if you don't wanna subscribe, if you don't want to purchase every month, then they're charging you a lot on the front end to buy just one bottle at a time.Also, at the bottom of this review there is a link to verified coupons which will also help.
Pros
Amazingly Tasty Flavor

Very Effective Potency


Unique Herbal Formula for Sleep

High Value Subscription Savings
Cons
Made with Corn Syrup & Certain Preservatives

Expensive if Bought w/o Subscription

Not Made with Organic Ingredients
---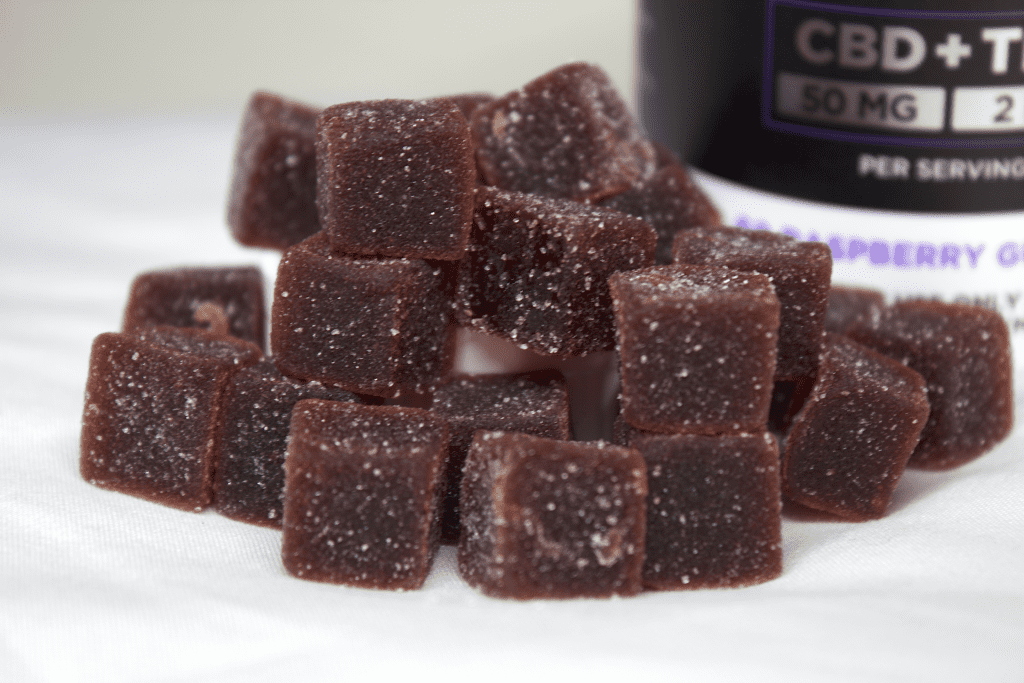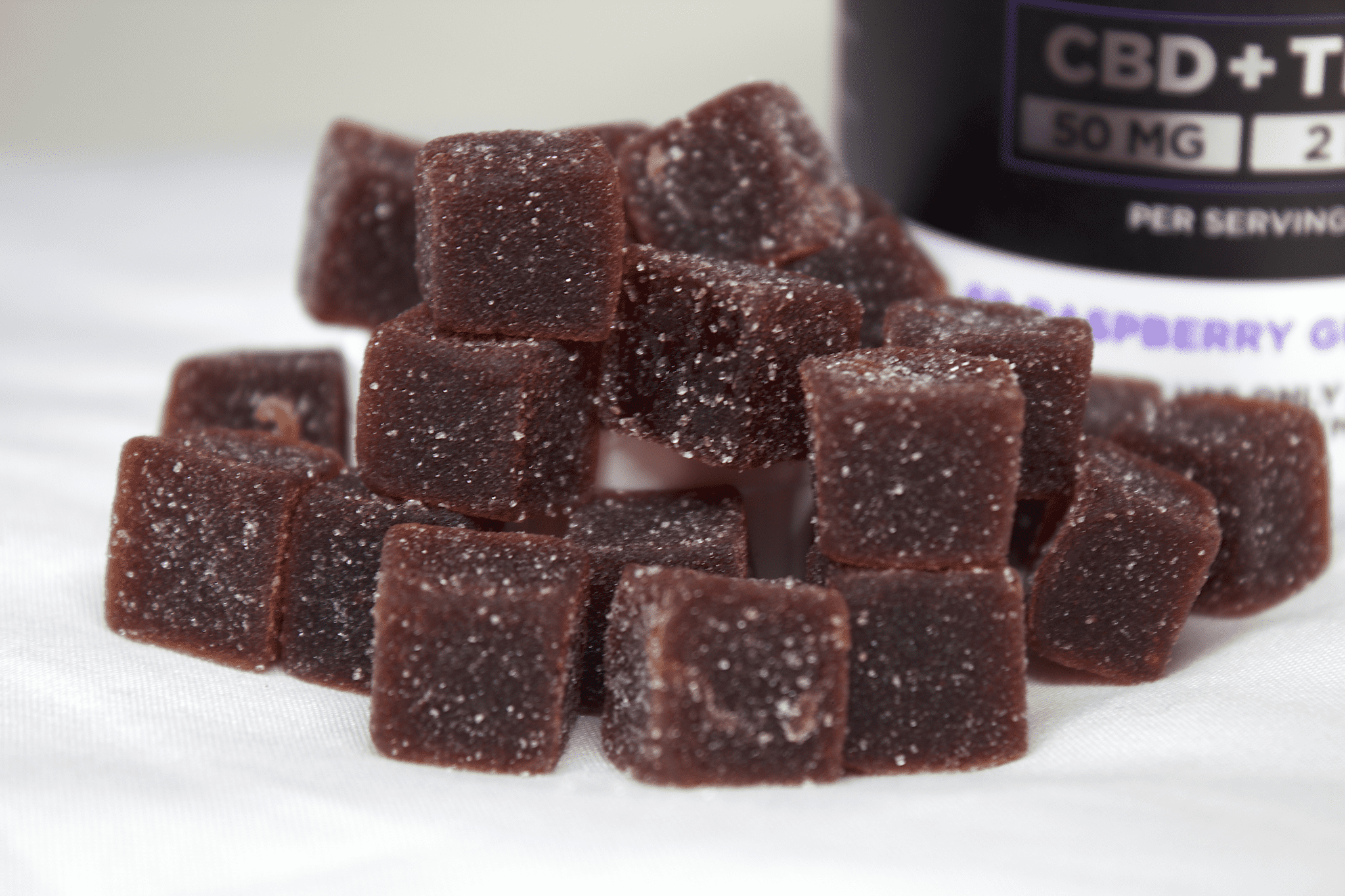 How the cbdMD Sleep CBD & Delta 9 THC Gummies Stack Up Against the Competition:
So how do the sleep gummies from cbdMD stack up to other sleep gummies with full spectrum cannabinoids on the market? After researching some sleep gummies from competing brands, I did find similar sleep gummies at competitive price points in that they contain full spectrum cannabinoids, sleep botanicals, and melatonin. However, I think cbdMD sleep gummies have an advantage. That's because the sleep gummies from cbdMD have a higher potency than the other sleep gummies available on the market.

And the gummies from cbd MD contain GABA, which is important for falling asleep and staying asleep.
While competing brands of sleep gummies contained melatonin and cannabinoids, as well as sleep botanicals, they did not contain such a high potency of full spectrum cannabinoids, nor did they contain GABA.
So combining all of this, including the price point for subscription savings from cbdMD, comparing that value proposition with competing sleep gummy brands, I think that cbdMD is really a high competitor in this space, and I think that they're definitely worth checking out. My opinion is that these sleep gummies are going to provide you a really powerful effect and a really good value for your sleep if you subscribe.
Thanks for reading our review, don't forget to save with a cbdMD discount code by heading to their store profile page here.
---
Disclosure: I received these products gratis so that I could try them and then share my honest opinion with the SOC community. I am employed by Save on Cannabis to write honest reviews and provided a flat rate payment for the writing of the review. SOC may receive recurring affiliate payments for purchases made based on this content.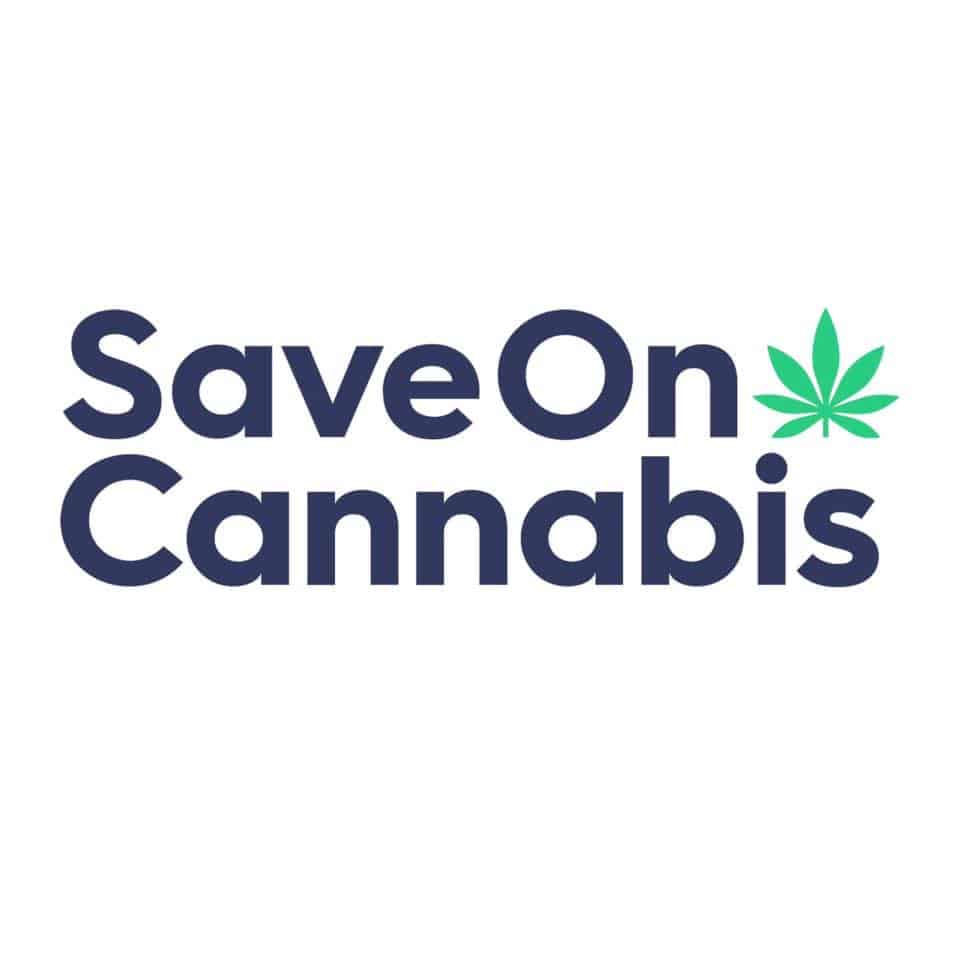 Save On Cannabis is the most trusted source for cannabis discounts and education information.  Vetted deals and clearly written articles to help you become a wiser consumer whether focused on the medical or recreational value of cannabis products.
Co Authors :
Infinite CBD review of their isolate based cannabis CBD products, we test their 3 top selling items. See. how each product worked.
This Davinci IQ2 Carbon Limited Edition review is one of the first to hit the internet, we got early delivery to test. We go deep with photos.
Our reviewer lights up the Alive & Kicking Hemp CBD Pre-Rolls to see how they worked for her. See if they are worth your dollars.