Joy Organics Review: CBD Tincture 450 mg Mint Flavor
Jun 22, 2020 | SOC
OY ORGANICS CBD OIL - TRANQUIL MINT - 15 MG
Pros
Tastes great
Natural
Easy to use
THC-free
Fast-acting
JOY ORGANICS CBD OIL – TRANQUIL MINT – 15 MG
Product Review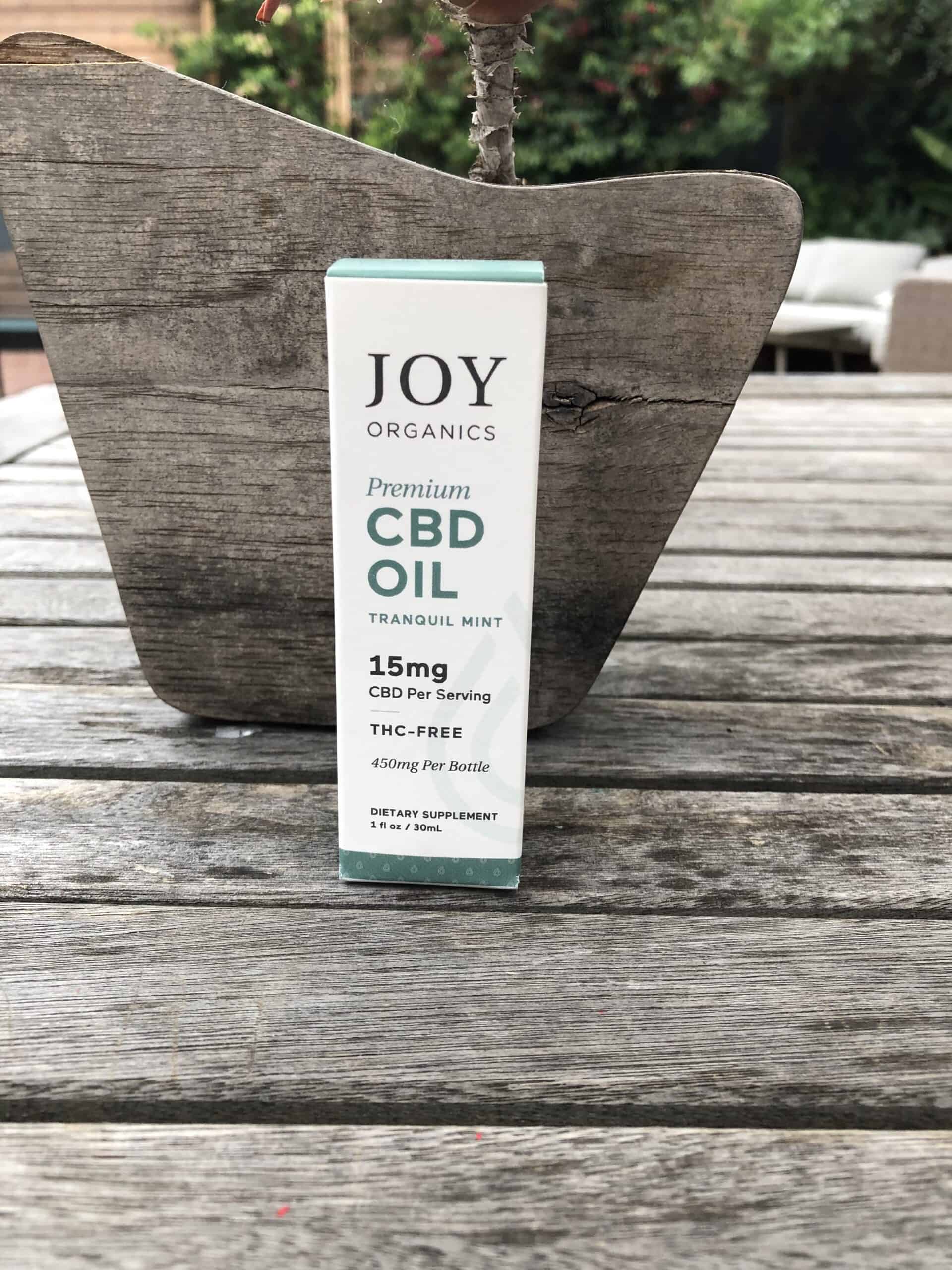 Brand Overview:JOY ORGANICS
Joy Organics is a family business co-founded by Joy Smith, who discovered CBD when she needed help with sleep and other health issues. The company prides itself on its quality products and excellent customer service. Just recently, Joy launched an initiative that donates a portion of its profits to various non-profits. With an emphasis on family, a commitment to giving back, and a dedication to making premium, THC-free CBD products, Joy Organics seems like a place I'd like to work, as well as a place I'd like to purchase from .
The company has even opened some retail stores in Colorado, New Mexico, and Wyoming. Sign up for their mailing list for 15% off your first purchase. Joy Organics offers free shipping and a money-back guarantee.
Products: Tinctures, Gummies, Softgels, Energy Drinks, Pet Products, Salve Balm, Salve Stick, Cream, Sports Cream, Bath Bombs, Sampler Packs.
Price Range ($-$$$$): $$$$
---
About JOY ORGANICS CBD OIL – TRANQUIL MINT – 15 MG
Joy Organics makes their hemp oils ranging in strength from 7.5 mg to 45 mg of CBD per serving. You can get their tinctures in a variety of flavors like Tranquil Mint, Summer Lemon, Orange Bliss, and Natural. Today, I tried their tranquil mint flavor with 15 mg of CBD in each of its 30 servings, giving you a total of 450 mg per bottle. Joy Organics broad-spectrum CBD oil is made free of THC, so it won't get you high while still giving you all the benefits of the cannabis plant. This particular tincture is made with organic peppermint essential oil and organic extra-virgin olive oil.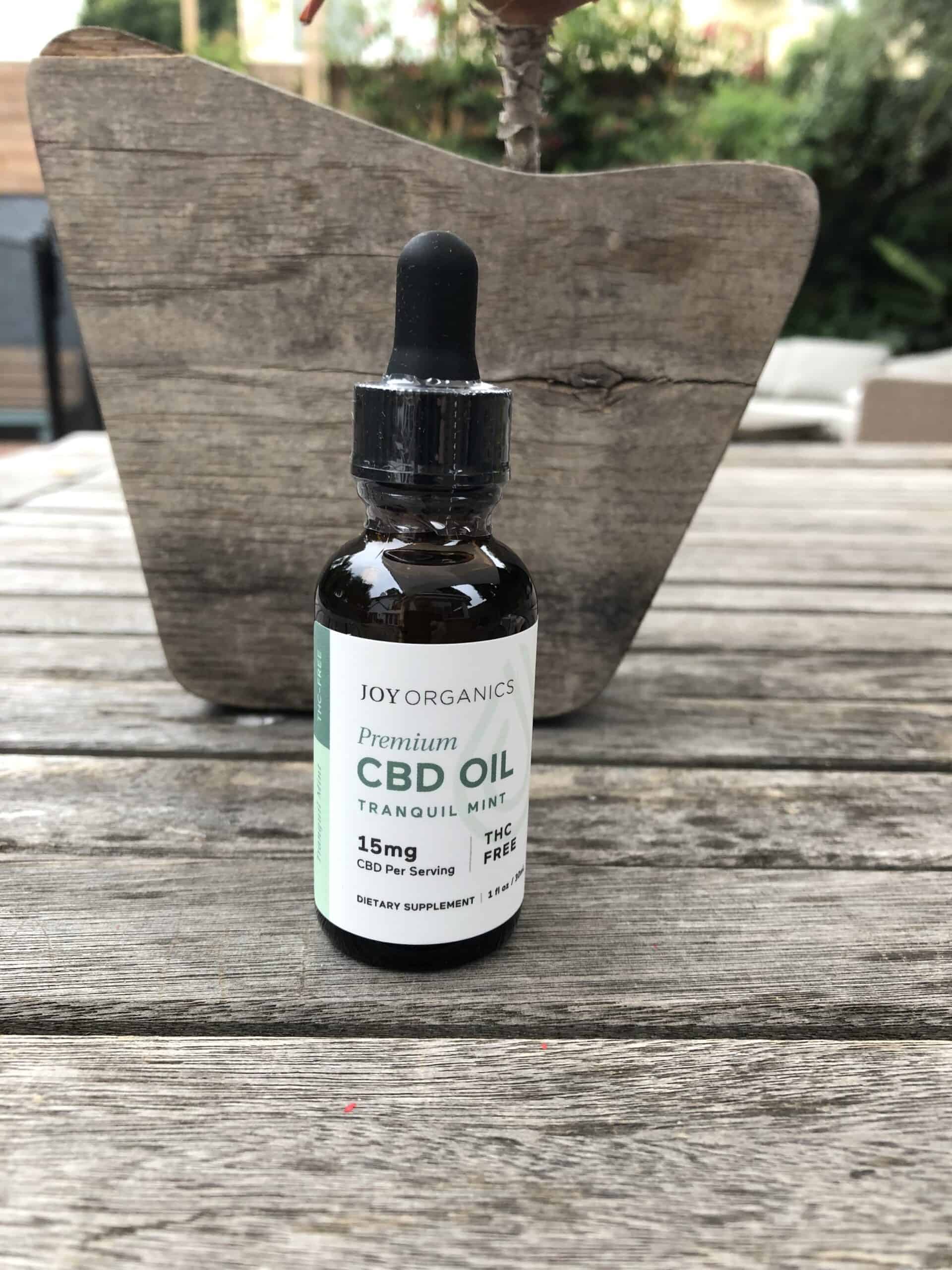 ---
JOY ORGANICS – TRANQUIL MINT – 15 MG Specifications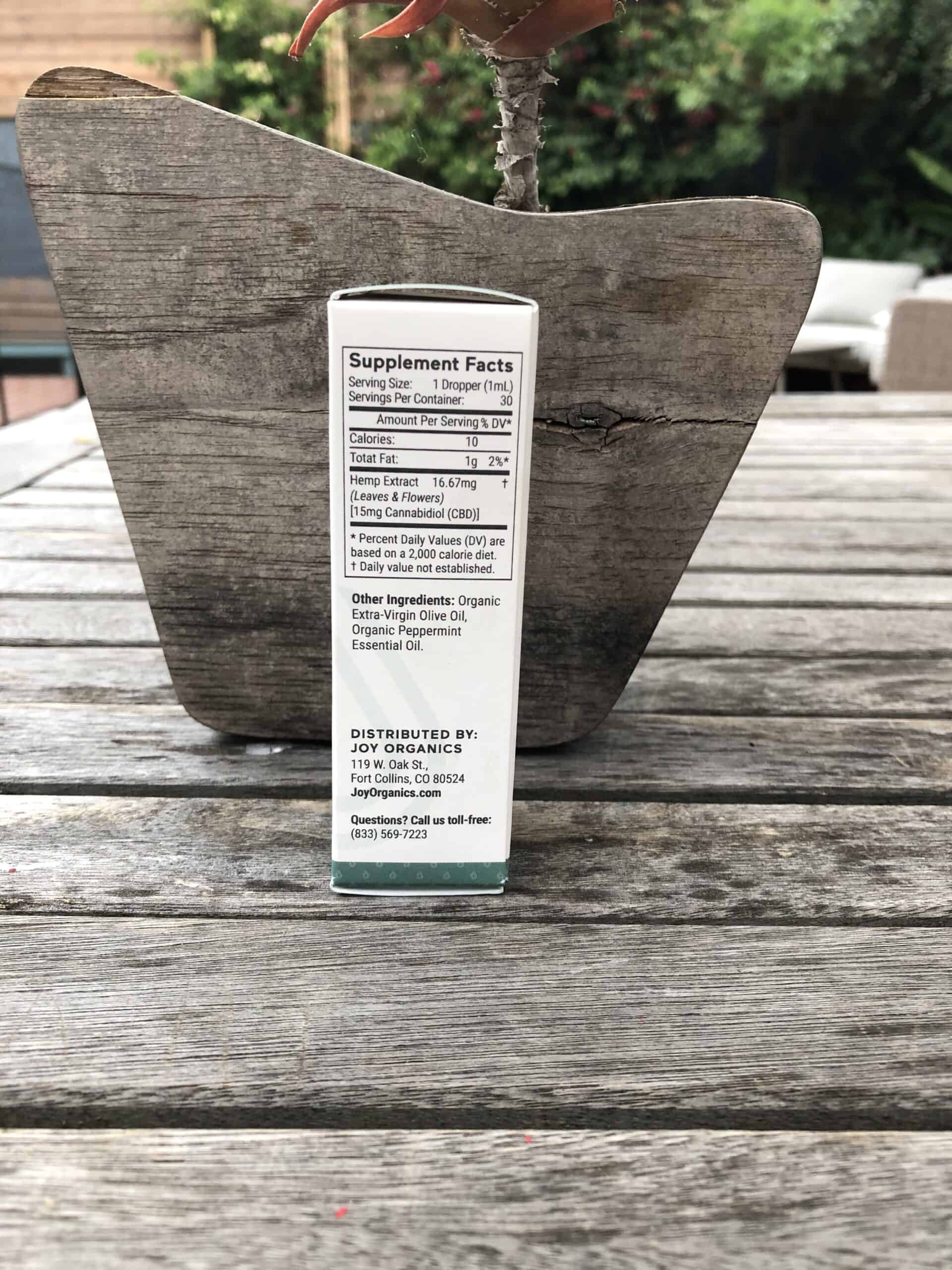 450mg CBD per bottle

15mg CBD per serving

30 servings per bottle

1 fl oz / 30ml

THC-free

Ingredients

: Hemp Extract, Organic Extra-Virgin Olive Oil, Organic Peppermint Essential Oil
---
How We Tested the JOY ORGANICS CBD OIL – TRANQUIL MINT – 15 MG
If co-founder of Joy Organics, Joy Smith, used CBD to help with sleep then so could I. Because of stress and health issues, I sleep terribly most nights. Even if I can get comfortable enough to fall asleep, I'm woken up by pain throughout the night. It's a miserable existence, and I often look to natural solutions because I don't want to get addicted to anything. CBD can help get you back onto a healthy sleep cycle, so I decided to try two servings for a total of 30 mg of CBD, every night for the past couple of weeks. I hoped for the CBD, along with a small dose of melatonin, would help get my sleeping back on track.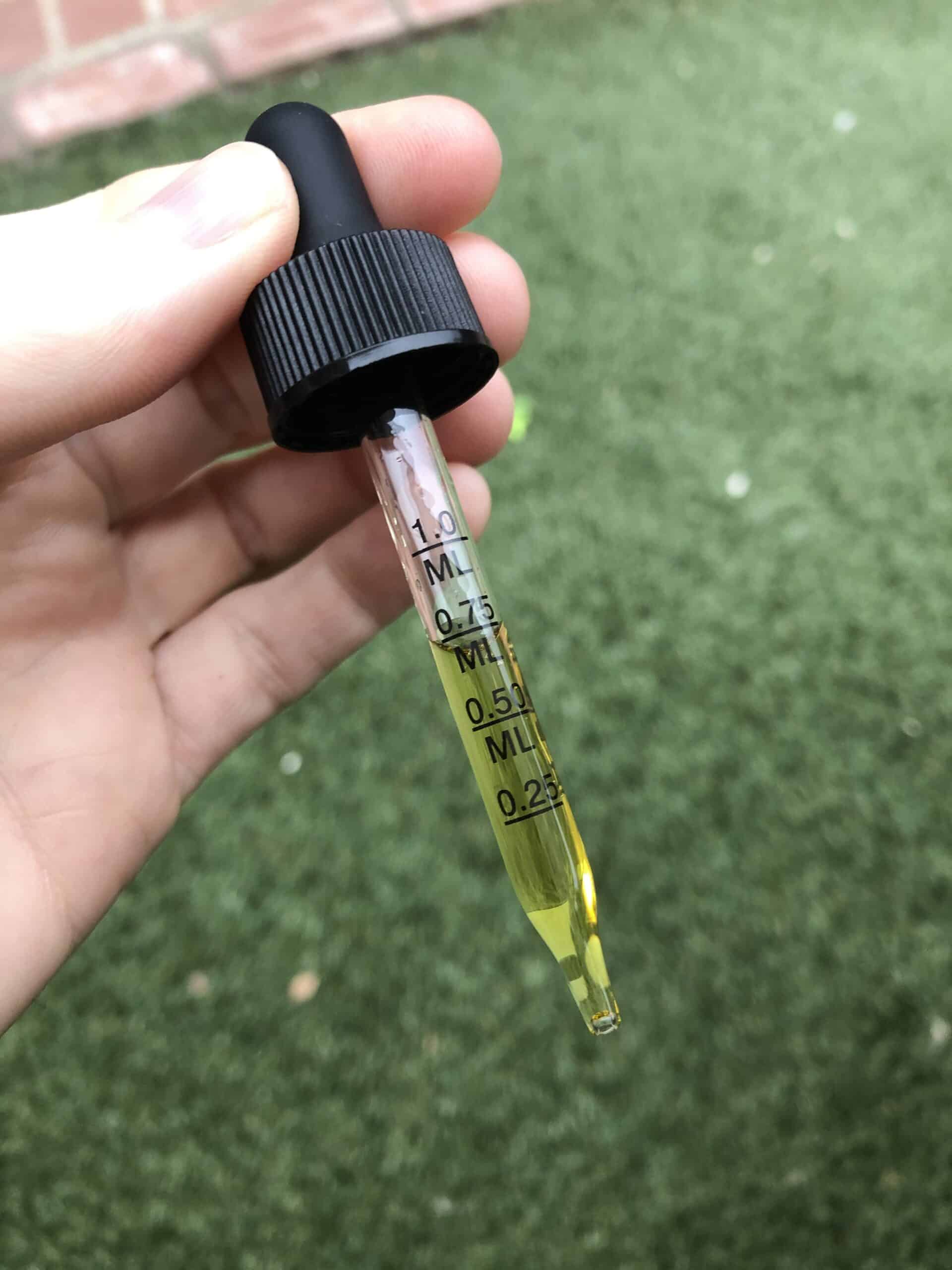 ---
How the JOY ORGANICS CBD OIL – TRANQUIL MINT – 15 MG Worked for Me
The easy-to-use dropper is clearly labeled so you can be sure to always get the right dose. This is especially useful if you want to take a half or a quarter dose. The flavor of the CBD oil was minty and fresh. It hid most of the bitter hemp taste. After taking 30 mg of this tincture at bedtime, I could tell I was falling asleep faster and staying asleep longer. Best of all, it didn't make me feel groggy or medicated in the morning. I was able to get up and go without fuss. Joy Organics CBD Oil now sits on my bedside table next to my melatonin. This stuff calmed my mind and helped make sleep possible.
---
Useful and Unique Things to Know About JOY ORGANICS – TRANQUIL MINT – 15 MG
Broad-spectrum hemp oil simply means that multiple cannabinoids were extracted from the cannabis plant to allow for the entourage effect. The entourage effect is when all the different parts of the plant are working together to make the CBD more effective. With Joy Organic's broad-spectrum hemp extract, you get all the good stuff, without the THC.
---
JOY ORGANICS – TRANQUIL MINT – 15 MG Ratings
In the next sections gradings from 0-100 on our review, these grades add up to give the product's overall score.
PRESENTATION • 100
Informative. Easy to follow instructions.
RELIABILITY • 100
3rd-party tested for purity and potency.
QUALITY • 100
All-natural ingredients.
FLAVOR / SMELL / gold EASE OF USE • 100
Fresh and minty.
VALUE • 65
Expensive
---
How JOY ORGANICS CBD OIL – TRANQUIL MINT – 15 MG Stacks Up Against the Competition
There are a ton of CBD oils on the market. So much so, that it's hard to compete. Joy Organics has created a high-quality, THC-free CBD oil that tastes great and is as equally effective. That said, I've tried other CBD tinctures that taste just good and are just as effective, for a lot less money. To compete, I would recommend Joy Organics to lower their prices, without lowering their standards.
---
Saving Money with Our Verified JOY ORGANICS Coupons
Save money by using our verifiedCBD tinctures here at Save On Cannabis the World's largest online cannabis coupon code directory.
---
Disclosure: I received these products gratis so that I could try them and then share my honest opinion with the SOC community. I am employed by Save on Cannabis to write honest reviews and provided a flat rate payment for the writing of the review. SOC may receive recurring affiliate payments for purchases made based on this content.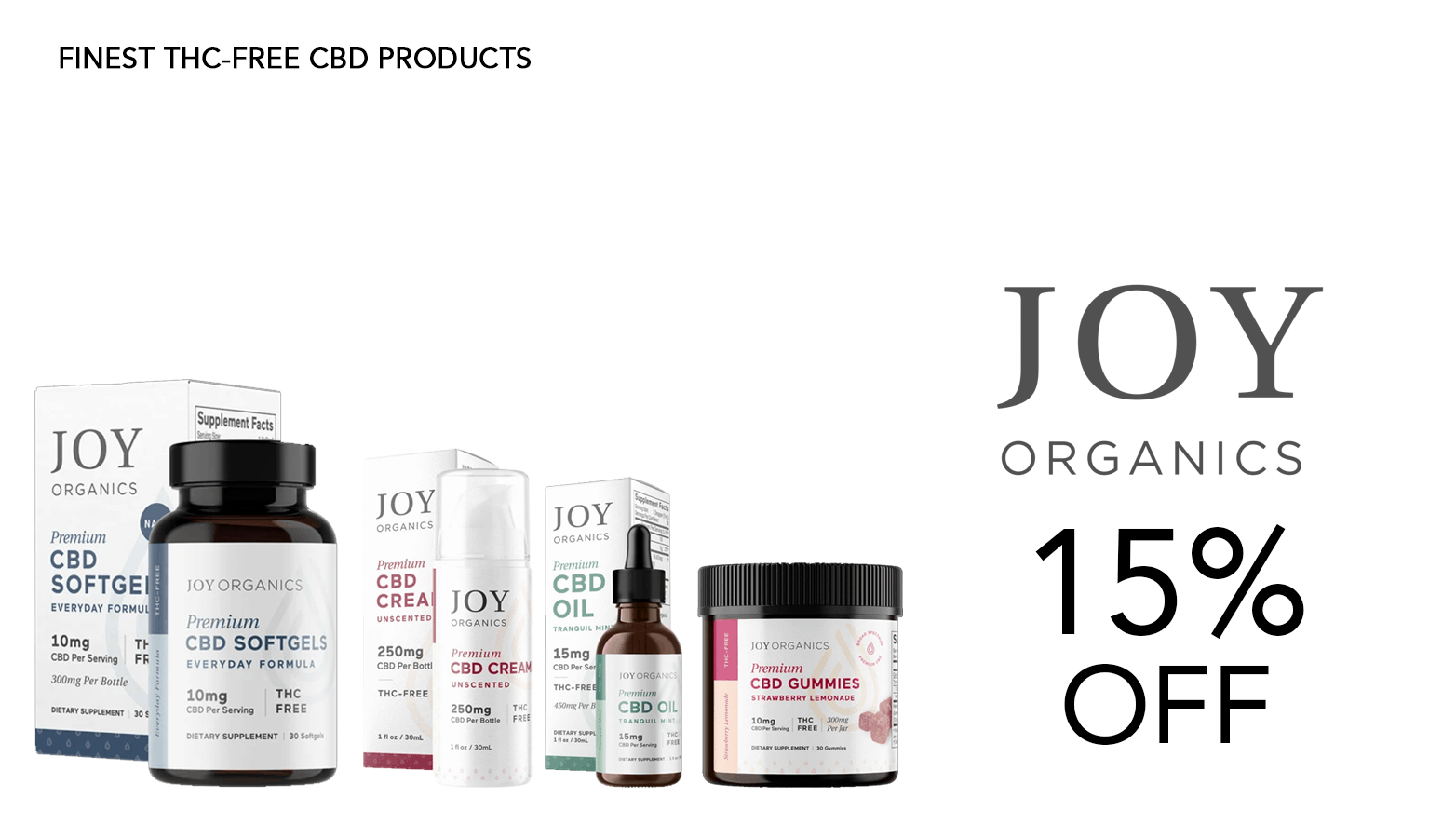 15% OFF site-wide Joy Organics coupon! Live Your Joy with The Finest THC-Free CBD Products.
Pure CBD Vapors sent the Fresh Bamboo Bath Bombs, in this CBD for Life review see if it helps us sleep & our joint flexibility. Find out now!
Read our expert Green Road's Review of their Muscle & Joint Relief CBD cream! Our reviewer tested it so you can see if it's worth your money.
Looking for a super high dose CBD oil? Read this Aspen Green review of their 3,000mg Full Spectrum tincture, it may be just what you want.