Hemp Bombs Review: CBD Gummies 225mg (15mg Each)
Oct 12, 2020 | SOC
CBDCBD EdiblesCBD Gummies
Hemp Bombs CBD Gummies 225mg (15mg Each)
Pros
Calming
Focusing
No THC
Sweet and sour flavor that tastes great
Cons
For the amount of CBD, it's expensive
Mislabelled
Some ingredients aren't great for everyone
Contains gelatin
HEMP BOMBS
Product Review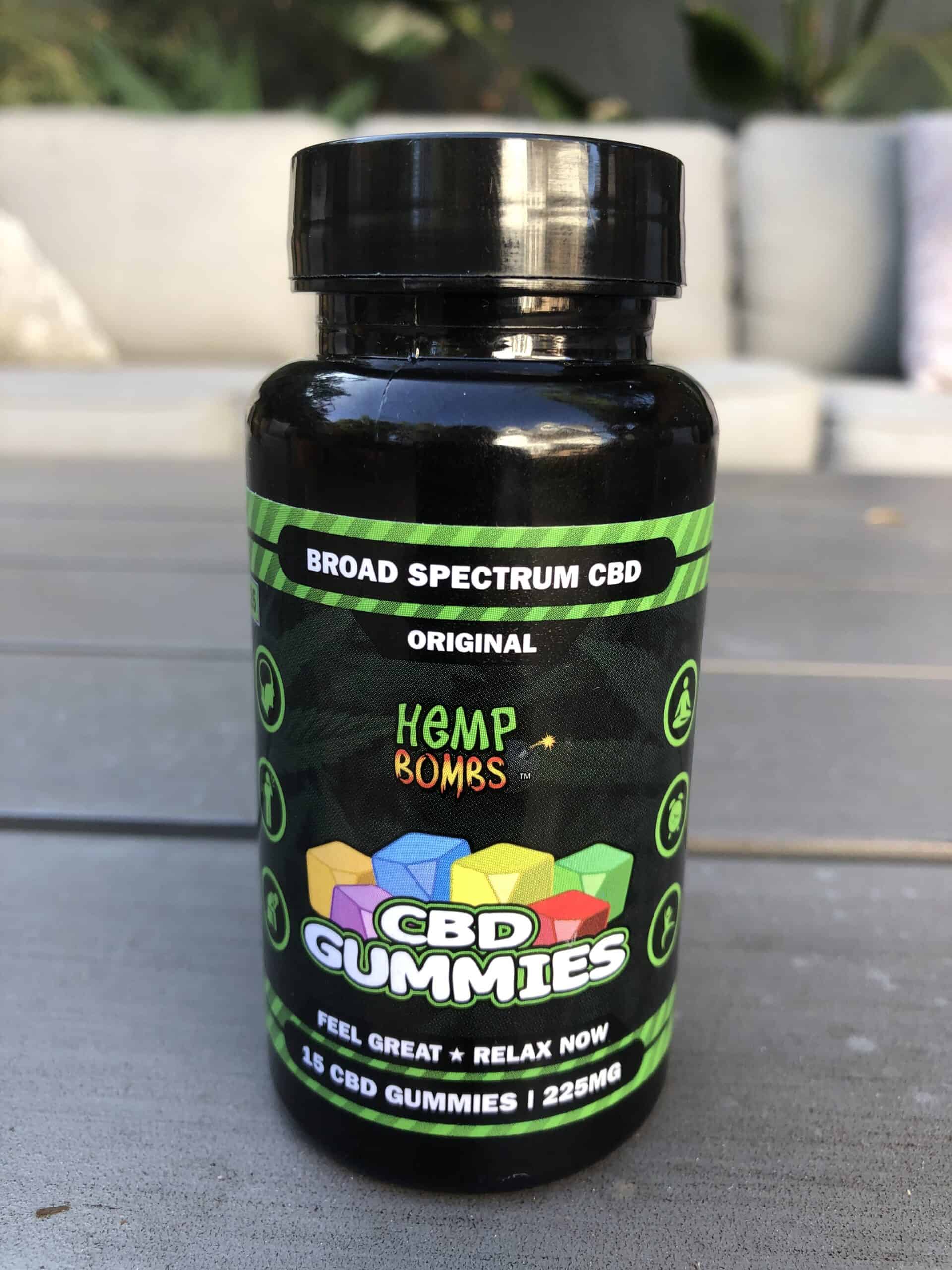 Brand Overview: HEMP BOMBS
The CBD experts at Hemp Bombs have created a diverse line of quality hemp-derived products with the mission to help you sleep, exercise, work, and live your life with more comfort. The company has products geared towards specific issues or to be used as part of your daily wellness routine. By lab testing each product for purity and potency, Hemp Bombs makes certain that your CBD is pesticide-free.
Each product contains less than .3% THC, the psychoactive component of the hemp plant, meaning it won't get you high. Hemp Bombs follows the most up-to-date Good Manufacturing Practices and the industry standards for extraction, manufacturing, and packaging. The menu of products is expansive, offering classic CBD products like tinctures and edibles, but also introducing some unique options, like patches, syrups, and shots. If you can't decide what to get, you can try one of their bundles which gives you a little bit of everything.
Products: Oils, Bath Bombs, Edibles, Pets, Topicals, Sprays, Patches, Bundles, E-Liquids, Capsules, Syrups, Shots, Apparel.
Price Range ($-$$$$): $$$
---
About HEMP BOMBS CBD GUMMIES – 15 MG
These gummies from Hemp Bombs contain 15 mg of CBD in each piece of candy, although if you're looking for something with a higher potency, they also offer it in 30 mg. The company recently overhauled its line of gummies and now offer a wider variety of flavors, strengths, and servings. They even have a gummy formulated specifically for sleep, with an added dose of melatonin. This 15 mg gummy has been made with CBD-rich industrial hemp and has been reported by customers as having a calming effect.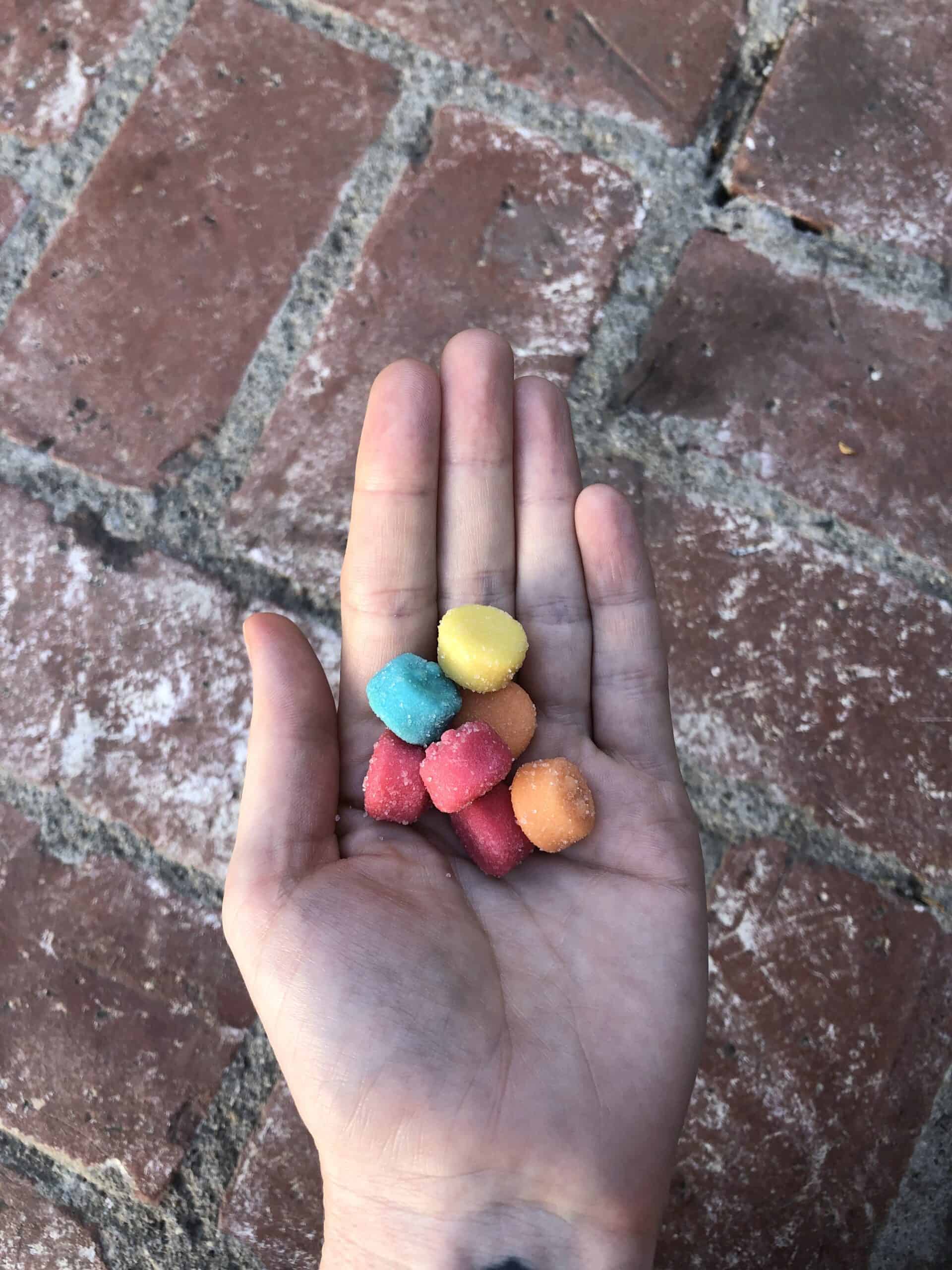 For a 15-count bottle of these gummies, you'll get 225 mg of CBD total for $34.99. If you subscribe through the Pure CBD Vapors website, you'll save 10%. One gummy is equal to one serving size, and you can take up to two per day.
---
HEMP BOMBS CBD GUMMIES – 15 MG Specifications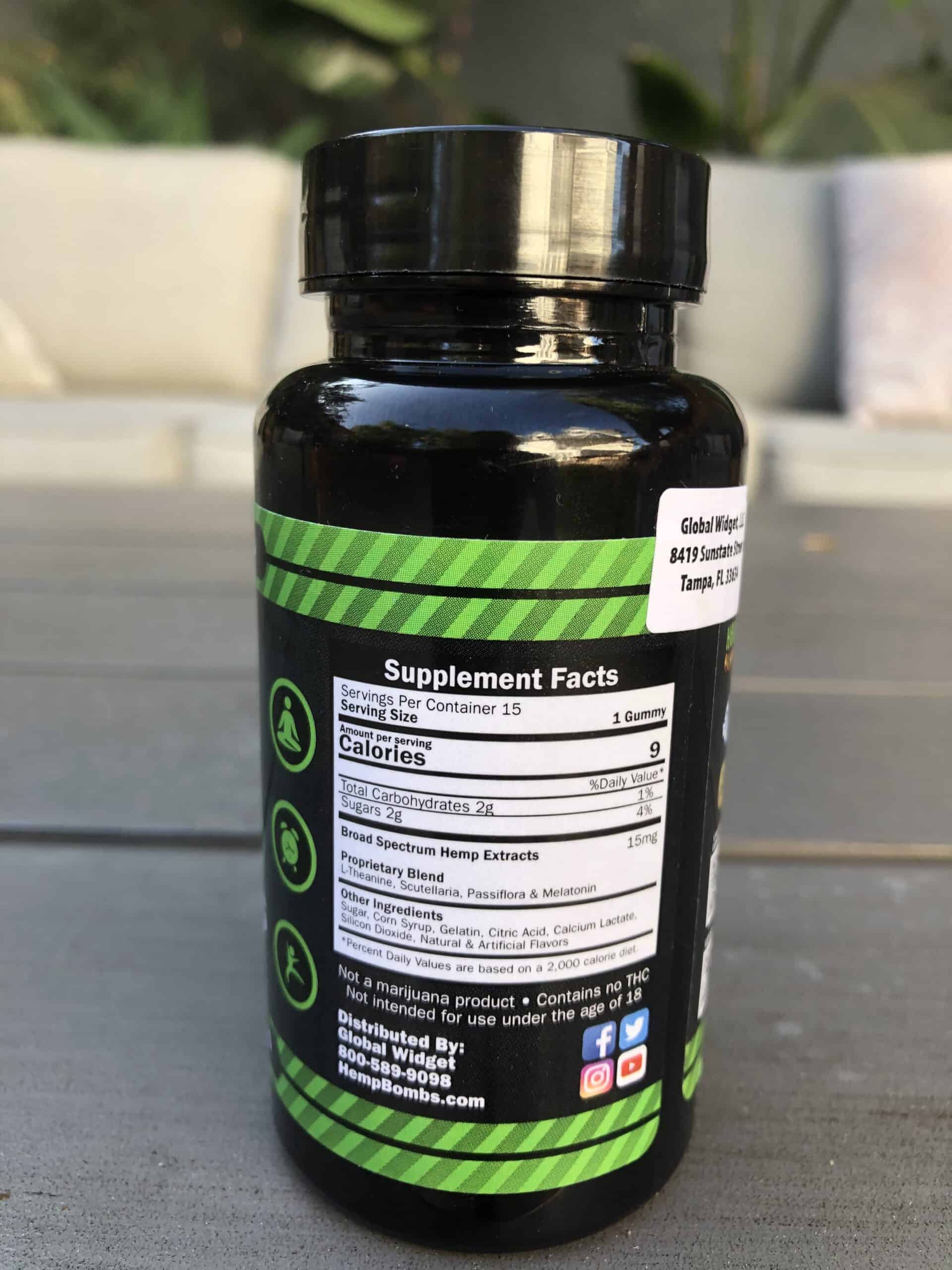 225 mg CBD per bottle
15 mg CBD per gummy
15 servings (1 gummy) per bottle
No THC
Ingredients: Certified Pure Cannabidiol (CBD), L-Theanine, Scutellaria, Passiflora, Sugar, Corn Syrup, Gelatin, Citric Acid, Calcium Lactate, Silicon Dioxide, Natural & Artificial Flavors.
---
How We Tested the HEMP BOMBS CBD GUMMIES – 15 MG
I have a hard time relaxing because my mind races with a thousand different thoughts at once. It's also difficult to relax because sitting, lying down, and walking are painful due to arthritis and bursitis in my hips. I've never tried anything from Hemp Bombs, so was excited to get these gummies in the mail to help me find a bit of calm during this proverbial storm of pandemic life and health issues. I also love candy, so was hoping these gummies would not only help me relax but would also taste great.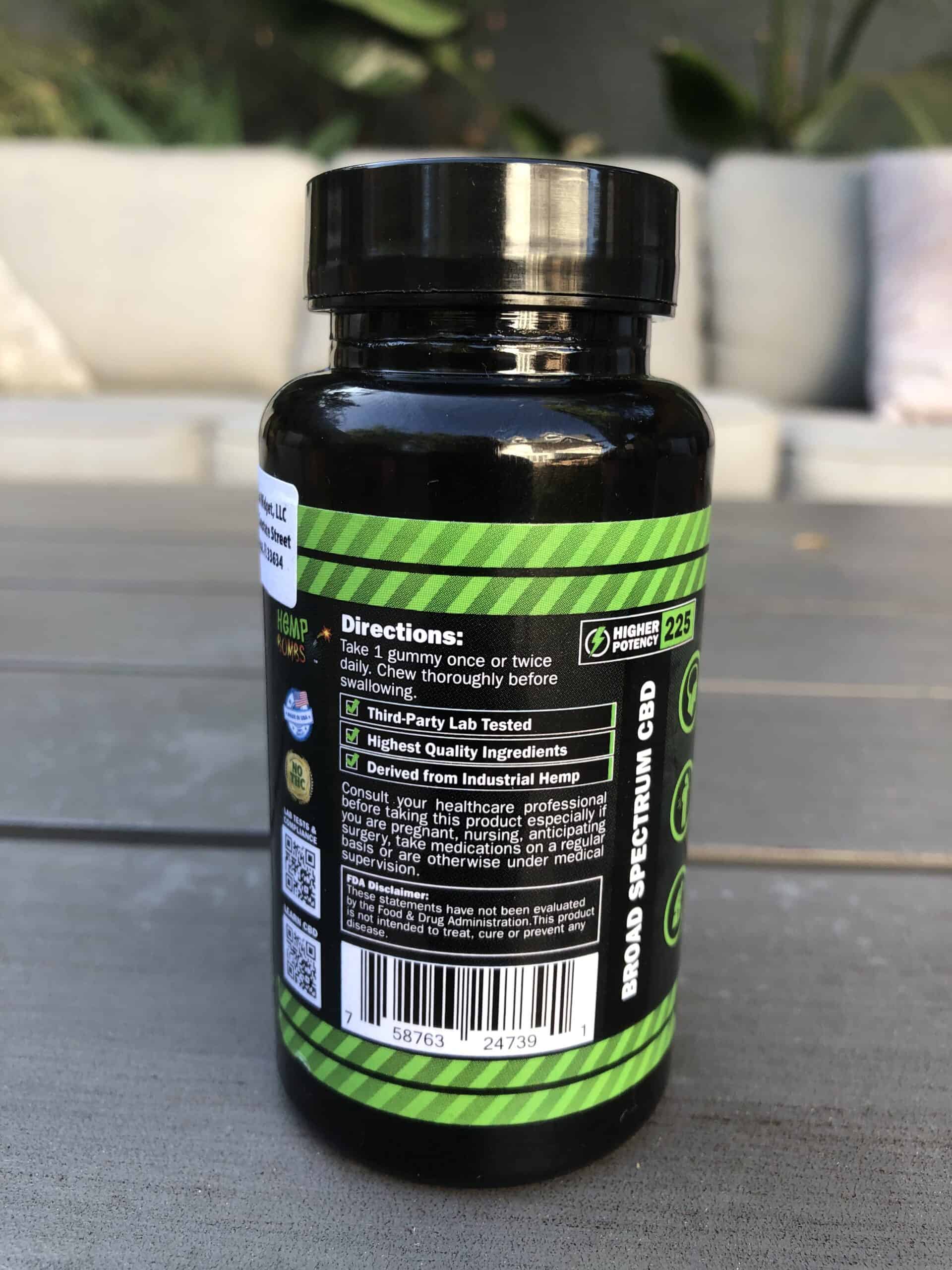 When I opened the bottle, I noticed how great they smelled and suspected they would satisfy my sweet tooth palate. I ate one 15 mg CBD gummy in the morning before starting my day.
---
How the HEMP BOMBS CBD GUMMIES – 15 MG Worked for Me
Even though you aren't supposed to feel the effects of CBD the way you do with THC, it does, for me at least, provide a subtle warmth throughout the body. It's like a metaphorical hug that makes you feel cozy and calm. The Hemp Bombs CBD Gummies worked like a charm to put me at ease, helping me feel more relaxed without feeling tired. In fact, I was more focused than usual which is a side-effect of being calmer. Without all the noise in my head, I can work, study for college, and exercise with more ease. The CBD gummies tasted like sweet and sour deliciousness. They were so effective I'll be taking one before class to help me focus. Since my sleep is terrible, I'm eager to try the sleep gummies, which contain 5 mg of melatonin each.
---
Useful and Unique Things to Know About HEMP BOMBS CBD GUMMIES – 15 MG
There were some ingredients in these gummies I had never heard of, so I did a quick Google search. L-Theanine is an amino acid that's often found in tea leaves and Bay Bolete mushrooms. People often take L-Theanine to help them relax. Scutellaria comes from the mint family and they are known colloquially as skullcaps. Used in Chinese medicine, Scutellaria is often used for inflammation. Passiflora, also known as passionflower, was used by Native Americans for its sedative quality. It's not great for pregnant women, so please consult a doctor before taking this product.
---
HEMP BOMBS CBD GUMMIES Ratings
In the next sections gradings from 0-100 on our review, these grades add up to give the product's overall score.
PRESENTATION • 60
The label says it contains melatonin. It doesn't.
RELIABILITY • 100
Relaxing.
QUALITY • 70
Some of the ingredients aren't great for everyone.
FLAVOR / SMELL / or EASE OF USE • 100
Tastes great.
VALUE • 70
Expensive.
---
How HEMP BOMBS CBD GUMMIES – 15 MG Stacks Up Against the Competition
While effective and great-tasting, Hemp Bombs CBD Gummies could make some improvements to be more competitive. I would reexamine their ingredients, finding a way to create a more natural gummy and using something other than gelatin so it can be friendly to vegetarians and vegans. For 225 mg, I would prefer to pay between $20 – $25, so I would recommend lowering their prices.
---
Saving Money with Our Verified PURE CBD VAPORS Coupons
Save money by using our verified CBD Edibles,CBD Gummies here at Save On Cannabis the World's largest online cannabis coupon code directory.
---
Disclosure: I received these products gratis so that I could try them and then share my honest opinion with the SOC community. I am employed by Save on Cannabis to write honest reviews and provided a flat rate payment for the writing of the review. SOC may receive recurring affiliate payments for purchases made based on this content.
In this new Magical CBD review, we try out their essential oil-packed CBD topical to see if it eased our muscles.
In this Magical CBD review, we get to see if this affordable CBD is reliable and tastes good compared to the competing brands.
Read our hands on GoGreen Hemp review of the CBD Bath Bomb (Lavish Lavender). With photos to give you the info to decide if worth buying.