CBDMedic Review: Back and Neck Pain Relief Ointment
Jul 1, 2020 | SOC
CBDmedic Back & Neck Pain Relief Ointment
Pros
Relieves pain
Moisturizing
Cooling
All-natural ingredients
Hypoallergenic
CBDMEDIC BACK & NECK PAIN RELIEF OINTMENT
Product Review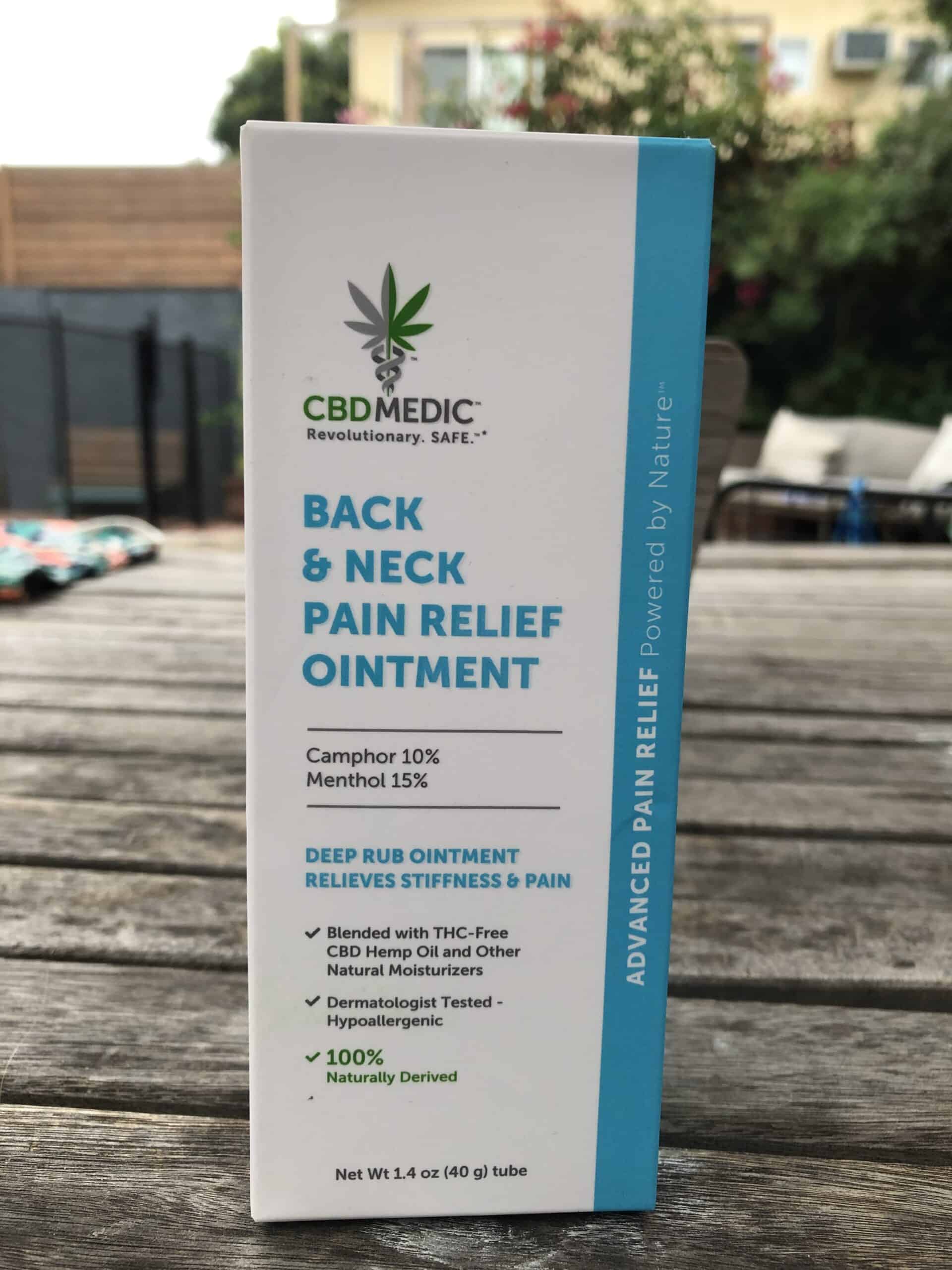 Brand Overview: CBDMEDIC
CBDMedic has created a line of topicals for pain relief, workouts, and skincare. Whether you're experiencing muscle and joint pain, arthritis, eczema, or acne, CBDMedic has a product just for you. Everything is made with natural and effective ingredients that contain zero THC. The topicals are free from artificial dyes and fragrances, steroids, parabens, petrolatums, and phthalates.
CBDMedic uses broad-spectrum cannabinoid extract which comes from the cannabis Sativa l. plant. You can get free shipping on all your orders, and subscribe to save 15% off your order.
Products: CBD Topicals for Pain Relief, CBD Topicals for Post-Workout, CBD Topicals for Skin Care
Price Range ($-$$$$): $$$
---
About CBDMEDIC BACK & NECK PAIN RELIEF OINTMENT
CBDMedic Back & Neck Pain Relief Ointment combines the healing properties of CBD with menthol, camphor, and cloves to target pain in your back, neck, and shoulders. Every ingredient in this ointment comes from the earth, providing an all-natural solution for muscle knots, soreness, and inflammation. It's filled with moisturizing essential oils to keep your skin soft and hydrated. While this stuff is marketed for your upper body, you can absolutely use it on your hips, legs, or wherever else you need some extra comfort.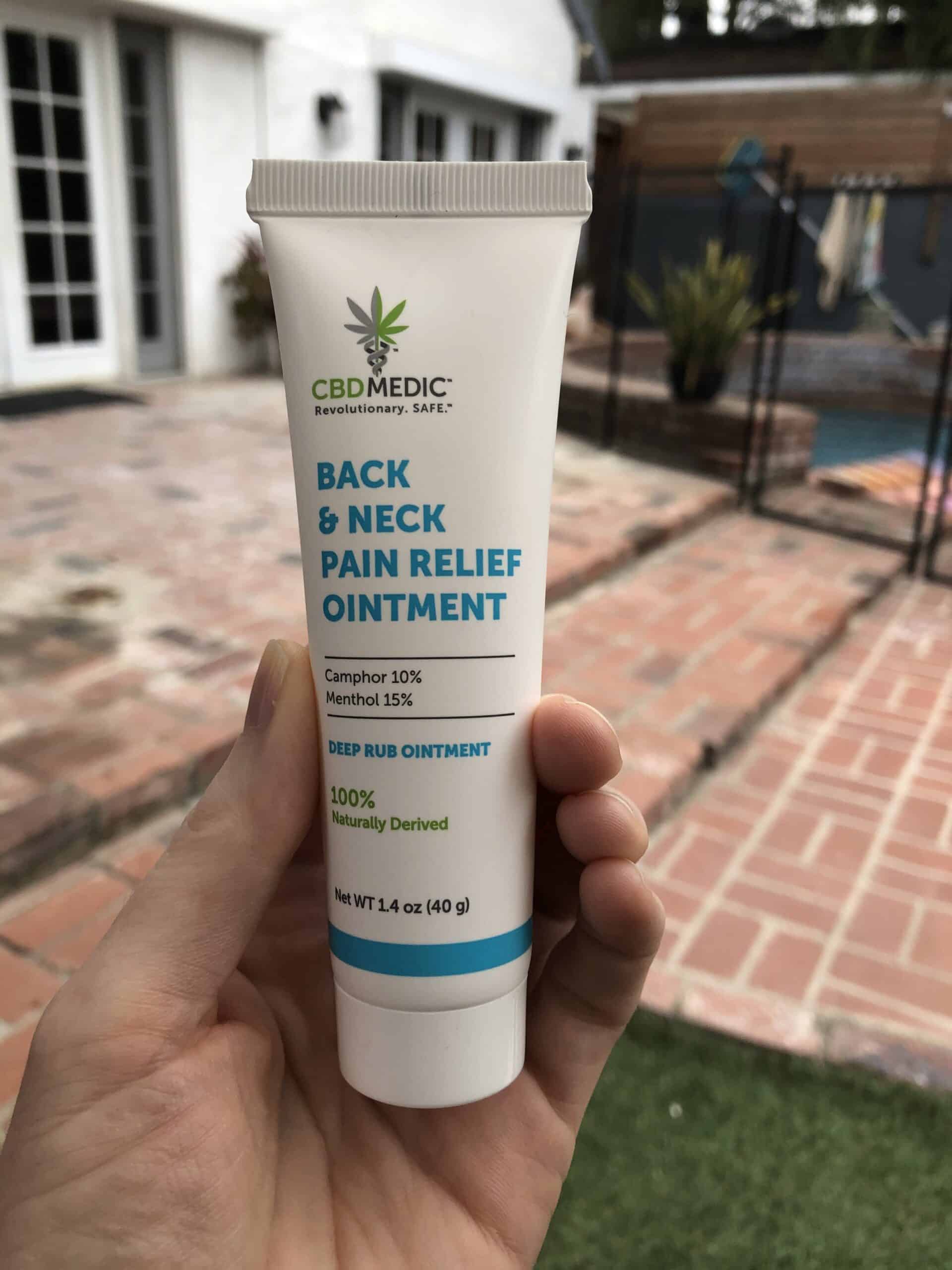 This ointment is THC-free and hypoallergenic. If you're over 12 years old, you can use this ointment up to four times a day. If you want to try this stuff on a child under 12, please consult with a doctor.
CBDMEDIC BACK & NECK PAIN RELIEF OINTMENT Specifications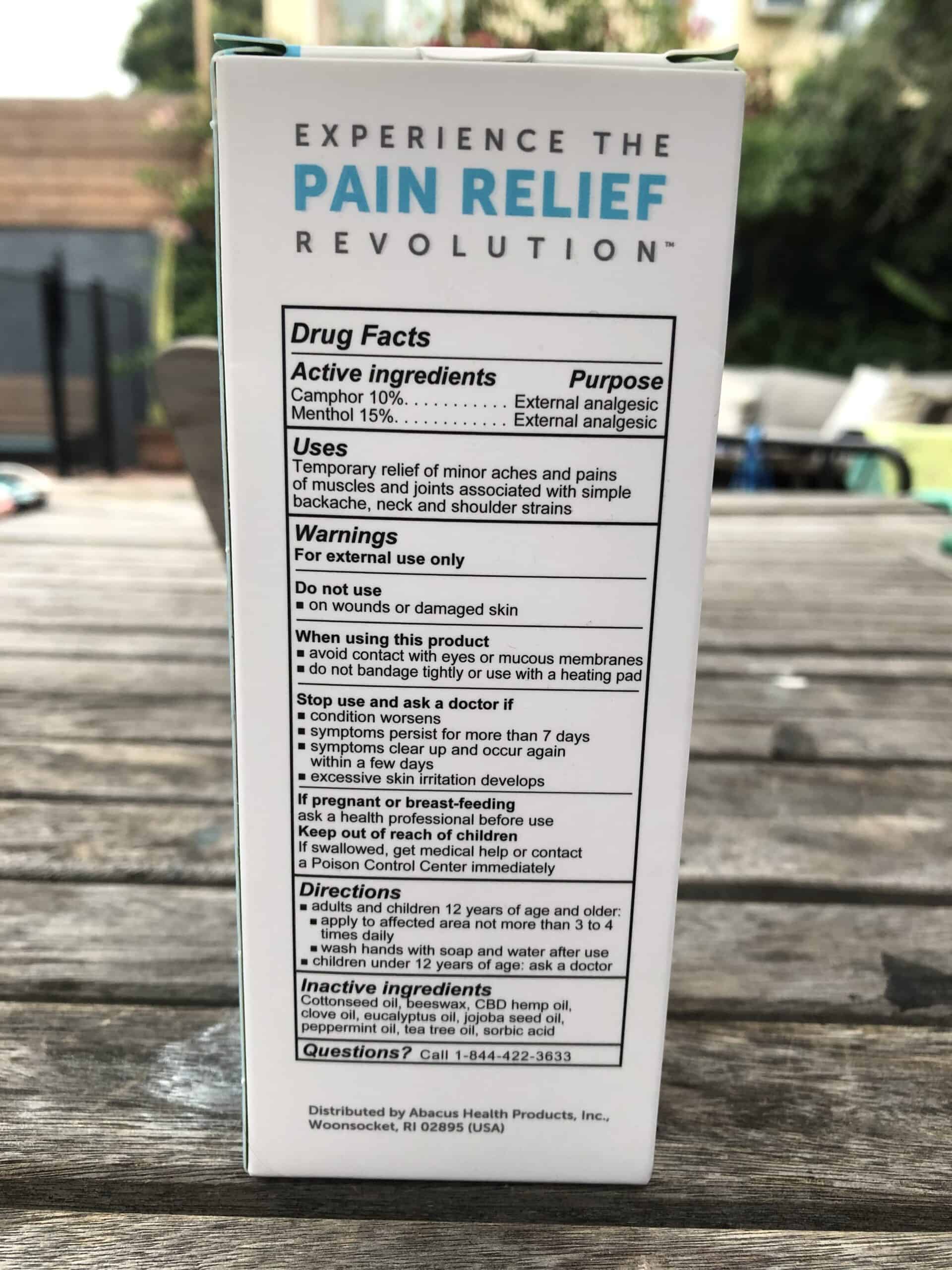 ---
How We Tested the CBDMEDIC BACK & NECK PAIN RELIEF OINTMENT
I have back pain that makes it difficult to sit for more than forty-minutes without needing a break. It also affects me at night when I'm trying to sleep because I can't ever get comfortable, and if I do manage to fall asleep, the pain will almost always wake me up throughout the night. I adored CBDMedics Active Sport Pain Relief Stick so I was excited to give this ointment a try. I could already tell by the ingredients that this stuff was going to be effective since they were similar to the ingredients found in the Sport Stick.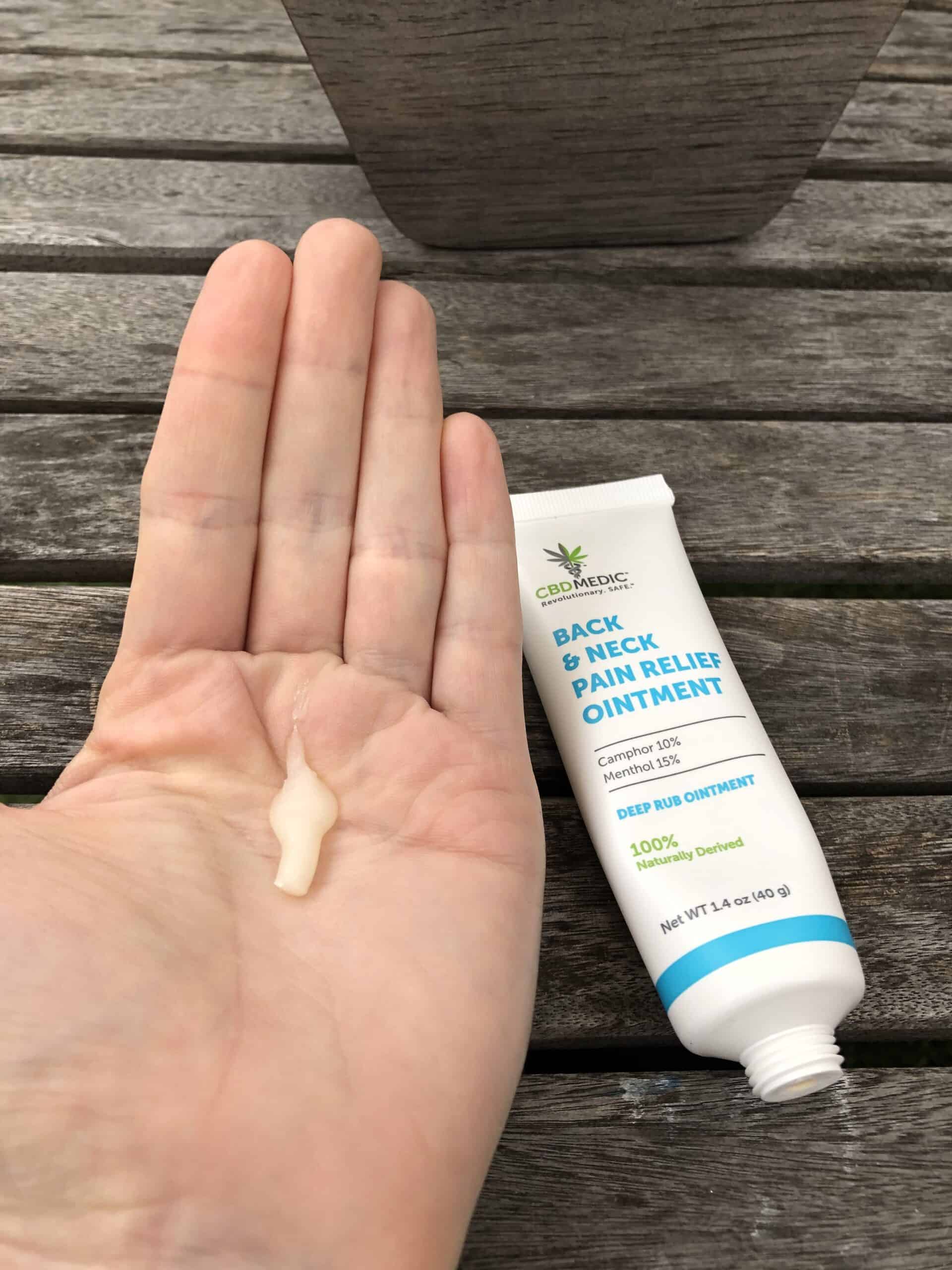 In the morning, I massage some of the ointment to my low back then again in the afternoon, and right before bed. I hoped the pain relief would help me get more work done on the computer and get a decent night of sleep.
---
How the CBDMEDIC BACK & NECK PAIN RELIEF Worked for Me
I could feel the cooling effects of the menthol and camphor immediately, which brought so much relief I could have cried. I wish I could bathe in this stuff! The mixture combined with cloves made the ointment smell amazing. It reminded me a little of Tiger Balm and worked similarly to distract from the pain so I could focus on more important things.
The pain relief made it easier to work without having to take so many breaks. I felt more productive and focused. At night, I applied this to my low back, hips, and quadriceps with the hope that I would get some sleep. The cooling effect made it easier to forget about the pain and relax. When I woke up in the middle of the night, I applied it again, and immediately fell back to sleep. This topical has become one of my new favorite's. I only wish it came in a bigger bottle as it will be gone soon.
---
Useful and Unique Things to Know About CBDMEDIC BACK & NECK PAIN RELIEF
The ingredients in CBDMedic Back & Neck Pain Relief are excellent analgesic topicals that are found in products my physical therapist uses. With 15% menthol, expect an intense cooling sensation immediately. Menthol is known as an "anti-irritant" because it just does that, it prevents you from being irritated by pain and inflammation first by cooling down your skin, then warming it up. After use, please wash your hands, as you don't want to get menthol in your eyes or mouth.
---
CBDMEDIC BACK & NECK PAIN RELIEF Ratings
In the next sections gradings from 0-100 on our review, these grades add up to give the product's overall score.
PRESENTATION • 100
Informative.
RELIABILITY • 100
Eases pain and inflammation.
QUALITY • 100
The best ingredients!
FLAVOR / SMELL / or EASE OF USE • 100
Smelled great, like cloves and menthol.
VALUE • 80
Expensive but worth it!
---
How CBDMEDIC BACK & NECK PAIN RELIEF OINTMENT Stacks Up Against the Competition
This pain relief ointment is probably in my top three favorite topicals of all time, including non-CBD products. The cooling distracted from the pain and even though it's only a temporary respite, it lasts a while. If money wasn't an issue, I'd be purchasing this again. However, at $39.99 for a 1.4 oz container of ointment just isn't in most people's budget. If CBDMedic wants to be more competitive, they could lower their prices.
---
Saving Money with Our Verified CBDMEDIC Coupons
Save money by using our verified CBD Topicals here at Save On Cannabis the World's largest online cannabis coupon code directory.
---
Disclosure: I received these products gratis so that I could try them and then share my honest opinion with the SOC community. I am employed by Save on Cannabis to write honest reviews and provided a flat rate payment for the writing of the review. SOC may receive recurring affiliate payments for purchases made based on this content.
Looking for high-quality CBD Shatter? We tested out the Steve's Good Terpin Gorilla CBD Shatter and broke down how it worked for our needs.
Berkeley Gold review of the precise CBD doses in dissolvable tablets. Find out if the tablets (900mg package) do the trick to ease our days.
In this Healthy Skin CBD review we compare their CBD infused acne treatment regimen to Proactiv. Find out how this CBD acne cream works.