CBDistillery Review – 2,500mg Full Spectrum CBD Tincture
Jan 29, 2020 | Romy
CBDISTILLERY FULL-SPECTRUM CBD OIL TINCTURE – 2,500 MG
Product Review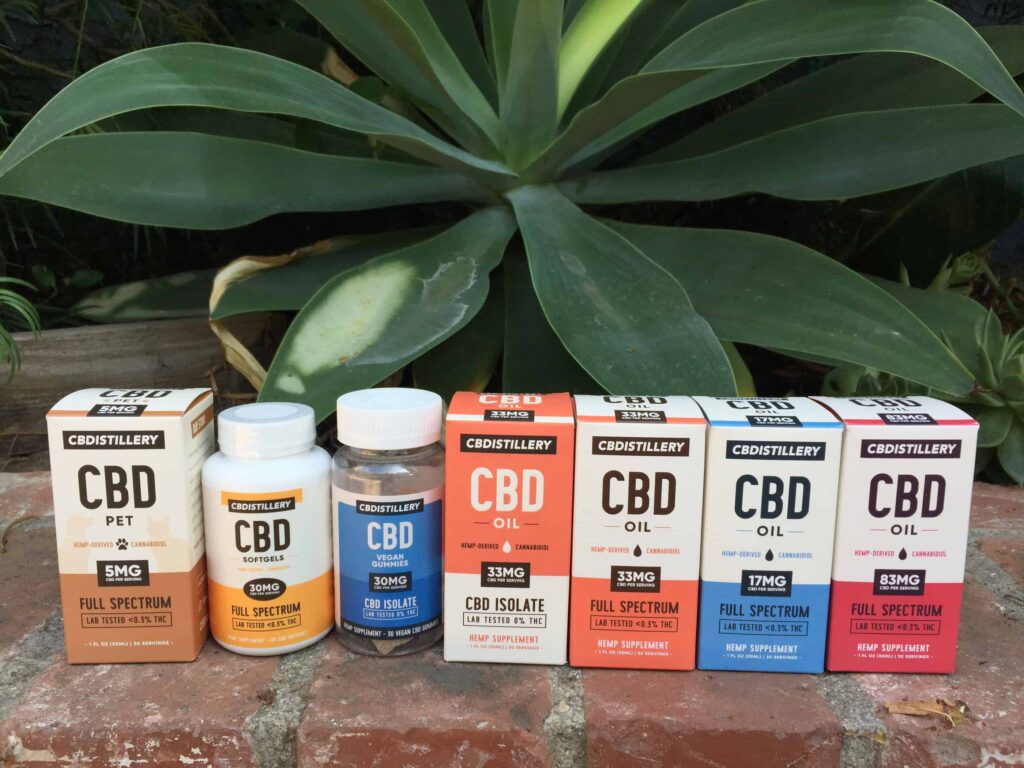 Brand Overview: CBDISTILLERY
CBDistillery has created an effective and affordable line of CBD products to help ease anxiety, stress, and pain. The company's mission is to bring you superior quality at a lower price, making it easier for the everyday person to get CBD-infused tinctures, salves, edibles, isolates, and topicals. The CBDistillery Team is proud to have brought to the Twittersphere the #CBDMOVEMENT™, which aims to educate people about non-addictive and all-natural ways to feel better. Every product is clearly labeled and third-party tested for quality, following guidelines set forth by the FDA. Certified by the U.S. Hemp Authority, you can rest assured that every product you buy from CBDistillery is the real deal. Check out their website for recipes using CBD, like their mouth-watering Buffalo Chicken Dip. The website also contains articles about the benefits of CBD when playing sports or doing yoga.
Products: Oils, Isolates, Gummies, Capsules, Topicals, Vape Liquids, Pets, THC-Free CBD.
Price Range ($-$$$$): $
---
About CBDISTILLERY FULL-SPECTRUM CBD OIL TINCTURE – 2,500 MG

CBDistillery's high-potency oil tincture contains 2,500 mg of CBD, offering you a plentiful 83 mg per serving, to help with chronic pain, sleep disorders, and severe anxiety. The company's full-spectrum formula contains all the beneficial ingredients of cannabis like plant proteins, minerals, and vitamins but removes the majority of the THC, so you won't get high. This tincture contains less than 0.3 % THC. If you're getting urine-tested for work or pain management, I recommend consulting with your employer or doctor. CBDistillery's trademarked formula is not only of the highest quality, but it's some of the least expensive CBD products you can find on the market. The company combines the CBD with fractionated coconut oil, also known as medium-chain triglycerides for quicker and more effective absorption. Third-party tested, you can rest assured you're getting a tincture that's pure, potent, and consistently effective.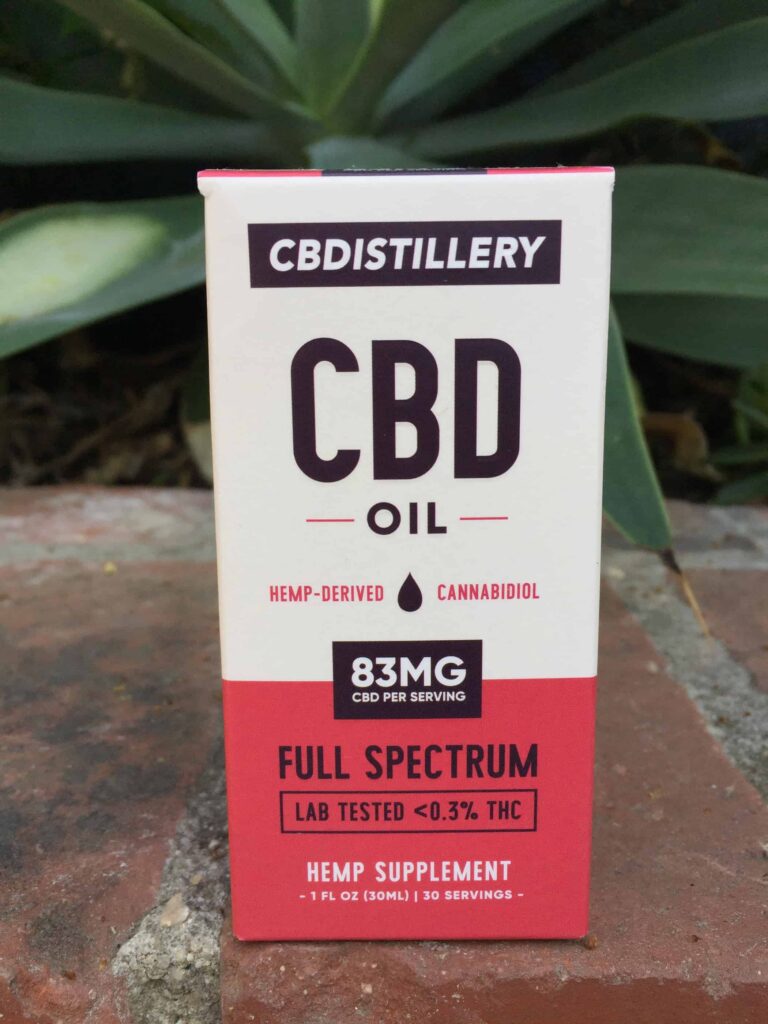 ---
---
How We Tested the CBDISTILLERY FULL-SPECTRUM CBD OIL TINCTURE – 2,500 MG
I struggle to fall and stay asleep because of chronic pain due to a few different injuries I've acquired over the years. My sacroiliac joint pain from untreated childhood scoliosis makes it difficult, if not impossible, to sleep on my back or stomach. Nerve damage from surgery in my lateral right hip means I can't sleep on that side and bruising from being hit by a car makes it difficult to sleep on my left side. For years, my doctors told me to take Benedryl and melatonin to sleep. Now they're telling me that long-term usage can lead to dementia. I was hoping this high-potency CBD-infused tincture would help me fall asleep faster, and stay asleep longer. It's not unusual for it to take hours to fall asleep, only to be woken up by pain an hour later. About forty-five minutes before my desired bedtime, I took a full serving for 83 mg of CBD along with the low-dose of the gabapentin my pain management doctor prescribed. I tucked myself in and turned on the television, which always helps me relax.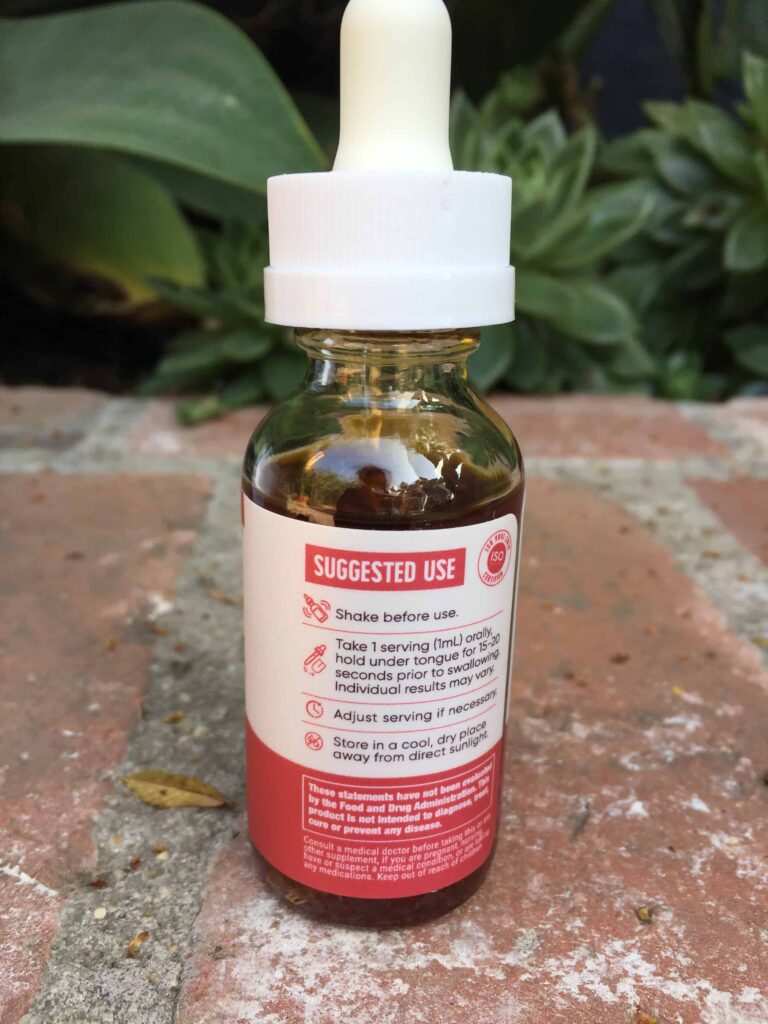 ---
How the CBDISTILLERY FULL-SPECTRUM CBD OIL TINCTURE Worked for Me

I fell asleep a couple of hours later and was able to stay asleep for a good four hours before pain woke me up. I am happy to report that I was able to fall back to sleep, instead of tossing and turning the rest of the night until giving up hours before dawn and starting my day. I woke up again a couple of hours later. I didn't feel drugged or groggy. I was alert, energetic, and somewhat well-rested, at least as far as my standards are concerned. Sometimes being a chronic pain patient means being grateful for the little things, even if it's just six hours of sleep. Most nights, I get a lot less. I will be using this tincture again. I like how easy it is to get a super-sized dose without having to take too many servings. For someone with severe pain and sleep issues, and who lives on a budget, this tincture is perfect for me.
---
Useful and Unique Things to Know About CBDISTILLERY FULL-SPECTRUM CBD OIL TINCTURE
CBDistillery makes tinctures in varying dosages and types. An 83 mg serving might too high for someone new to CBD. They also offer tinctures that come with a more moderately-dosed serving size of 33 mg, a low-dosed serving size of 17 mg, as well as a tincture with the even lower serving size of 8 mg, which is perfect for the microdoser. If you're looking for something entirely free of THC, they offer that as well! I'm looking forward to trying their extra-strength serving size of 167 mg. At this point, CBDistillery doesn't offer any flavored tinctures.
---
CBDISTILLERY FULL-SPECTRUM CBD OIL TINCTURE – 2,500 MG Ratings

In the next sections gradings from 0-100 on our review, these grades add up to give the product's overall score.
PRESENTATION • 100
Professional-looking with lots of useful information.
RELIABILITY • 100
Potent and effective.

QUALITY • 100
All-natural ingredients.
FLAVOR / SMELL / or EASE OF USE • 100
Tastes great for unflavored!

VALUE • 100
Amazing deal!

---
How CBDISTILLERY FULL-SPECTRUM CBD OIL TINCTURE – 2,500 MG Stacks Up Against the Competition
It's hard to think of a tincture that beats CBDistillery's full-spectrum CBD oil on price and dozens are comparable in their effectiveness. As far as taste is concerned, CBDistillery makes my favorite unflavored tincture. They manage to hide most of the bitter taste from hemp that so often ruins unflavored tinctures. I've only found one other CBD-infused oil that hid the taste this well but they were super expensive. If you're looking for a flavored tincture that's similar in cost and effectiveness, my favorite is GoGreen Hemp.
---
Saving Money With our Verified CBDistillery Coupons
Save money on all Cbd Tinctures here at Save On Cannabis the World's largest online cannabis coupon code directory.
---
Disclosure: I received these products gratis so that I could try them and then share my honest opinion with the SOC community. I am employed by Save on Cannabis to write honest reviews and provided a flat rate payment for the writing of the review. SOC may receive recurring affiliate payments for purchases made based on this content.
Winter is a pain on our lips and we need help! Luckily, we were able to test the CBDistillery Lip Balm with CBD...see how it worked.
Wildfires, pandemics, & everyday stresses 2020 has been a lot to handle. Can Viobin CBD help our reviewer cope with the chaos each morning may bring?
In this Frontier Jackson review of their CBD Ice topical our expert tries it in comparison to other physical therapist recommended brands.