CBD for Life Review: Fresh Bamboo Bath Bombs 35mg CBD
Oct 26, 2020 | SOC
CBD FOR LIFE
Product Review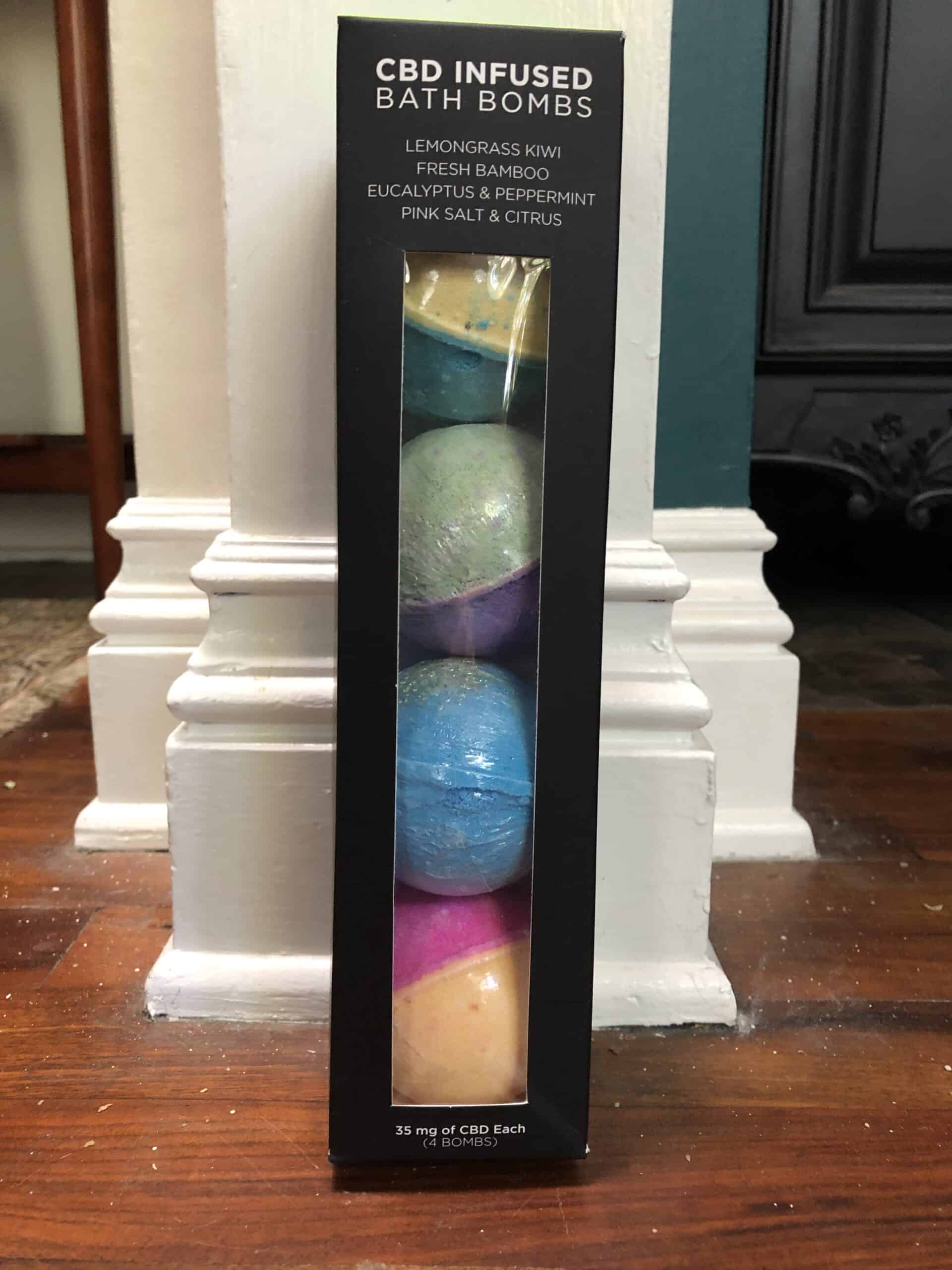 Brand Overview: CBD FOR LIFE
CBD for Life began when co-founder Beth sought relief for her back pain that wouldn't make her feel high. She joined forces with a bona fide chemist and along with her sister Julie created their first CBD topical. The company's mission is to make high-quality CBD products so you can look and feel your best. CBD for Life has a variety of topicals, tinctures, skincare, and bath products made with CBD isolate, essential oils, and other plant-based ingredients.
Sourced from industrial hemp at a farm in Colorado that uses organic and sustainable methods, CBD for Life has everything lab tested for purity and potency. Whether you're looking for a soothing topical to bring you pain relief, a moisturizer designed specifically for your feet, or a tincture that's both non-psychoactive and non-addictive, CBD for Life has something for you.
Products: Hair Products, Sanitizers, Topicals, Bath Bombs, Tinctures, Skincare.
Price Range ($-$$$$): $$
---
About CBD FOR LIFE FRESH BAMBOO BATH BOMB
The Fresh Bamboo Bath Bomb made by CBD for Life is designed to help you relax and might ease inflammation, eczema, psoriasis, and improve flexibility in your joints. It contains 95% natural ingredients and is devoid of GMO's, parabens, phthalates, and formaldehyde. This bath bomb contains 35 mg of phytonutrient-rich CBD isolate, coconut oil, and ylang ylang, ingredients that are not only healing but great for your skin.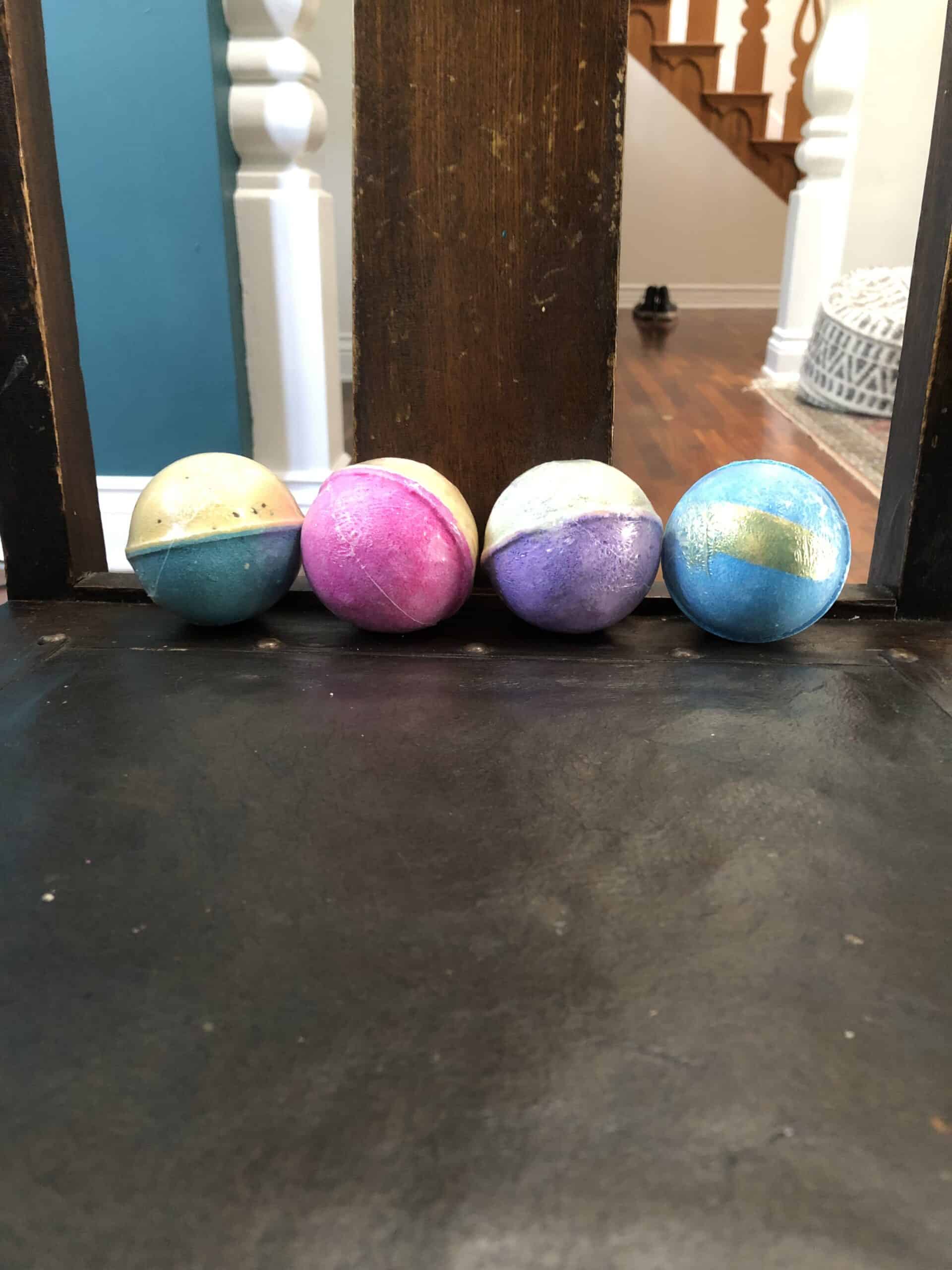 The company only uses batch certified colorants, so you'll never have to worry that the bath bomb will stain your tub. These colorants are also safe for absorption, just like everything else in this product. Bath bombs are so easy to use. Just run yourself a bath, and drop it in. For best results, allow yourself to relax in the tub for at least thirty minutes.
---
CBD FOR LIFE FRESH BAMBOO BATH BOMB Specifications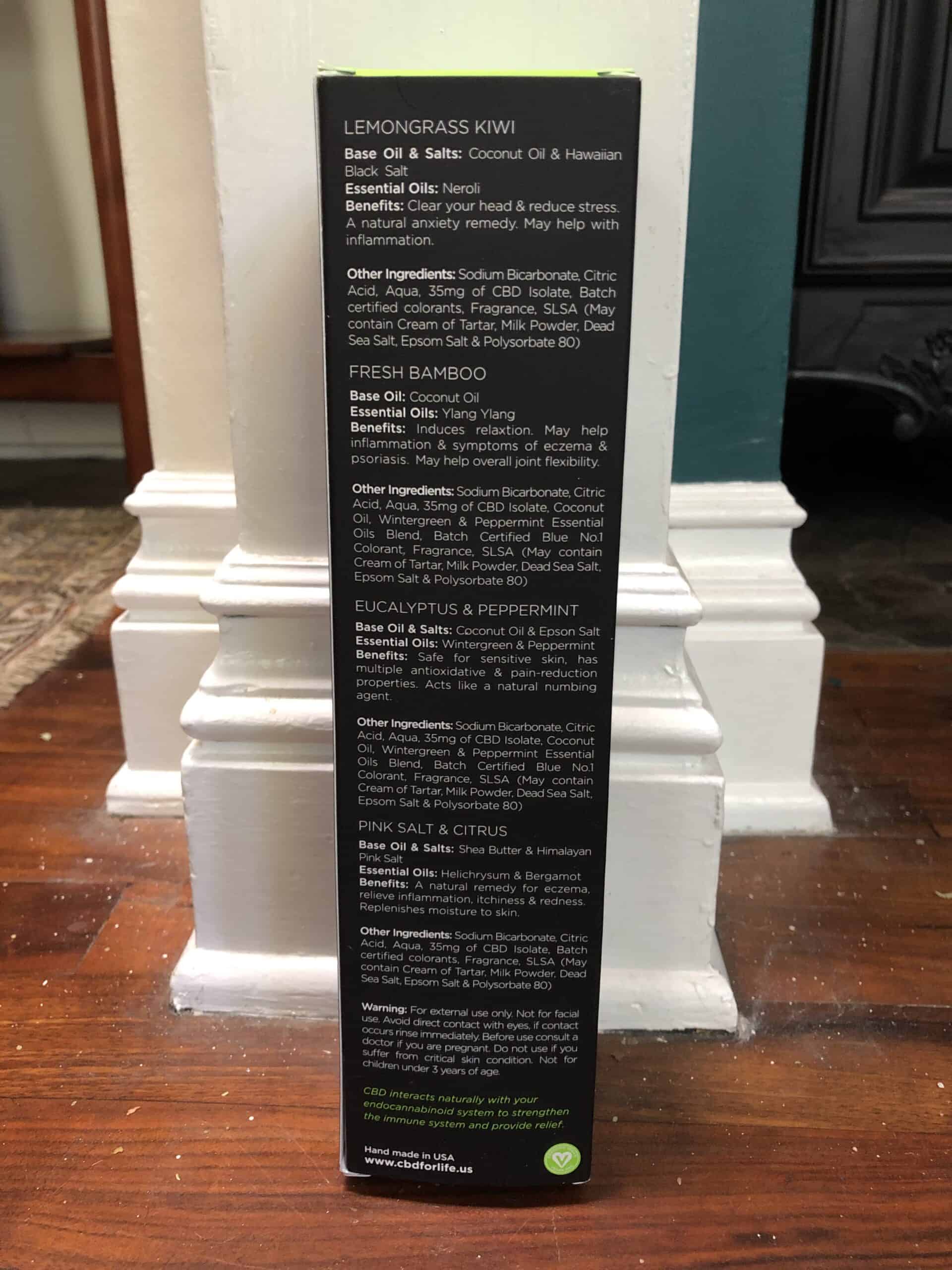 35 mg CBD isolate
5.5 oz
Ingredients: Coconut Oil, Ylang Ylang, Sodium Bicarbonate, Citric Acid, Aqua, Wintergreen & Peppermint Essential Oils Blend, Batch Certified Blue No. 1 Colorant, Fragrance, SLSA (May contain Cream of Tartar, Milk Powder, Dead Sea Salt, Epsom Salt, Polysorbate 80.)
---
How We Tested the CBD FOR LIFE FRESH BAMBOO BATH BOMB
Bath bombs are my favorite, so I was thrilled to receive CBD for Life's Bath Bomb Combo Pack from Pure CBD Vapors in the mail. I already tried the relaxing Lemongrass Kiwi bath bomb, which made me feel like a new person after a stressful day. The bamboo bath bomb is supposed to be great for inflammation and joint flexibility, which sounds perfect for me because I have arthritis. I'm back in school and the sitting is killing my hips while the writing is destroying my fingers. Ice packs and baths have become my best friend.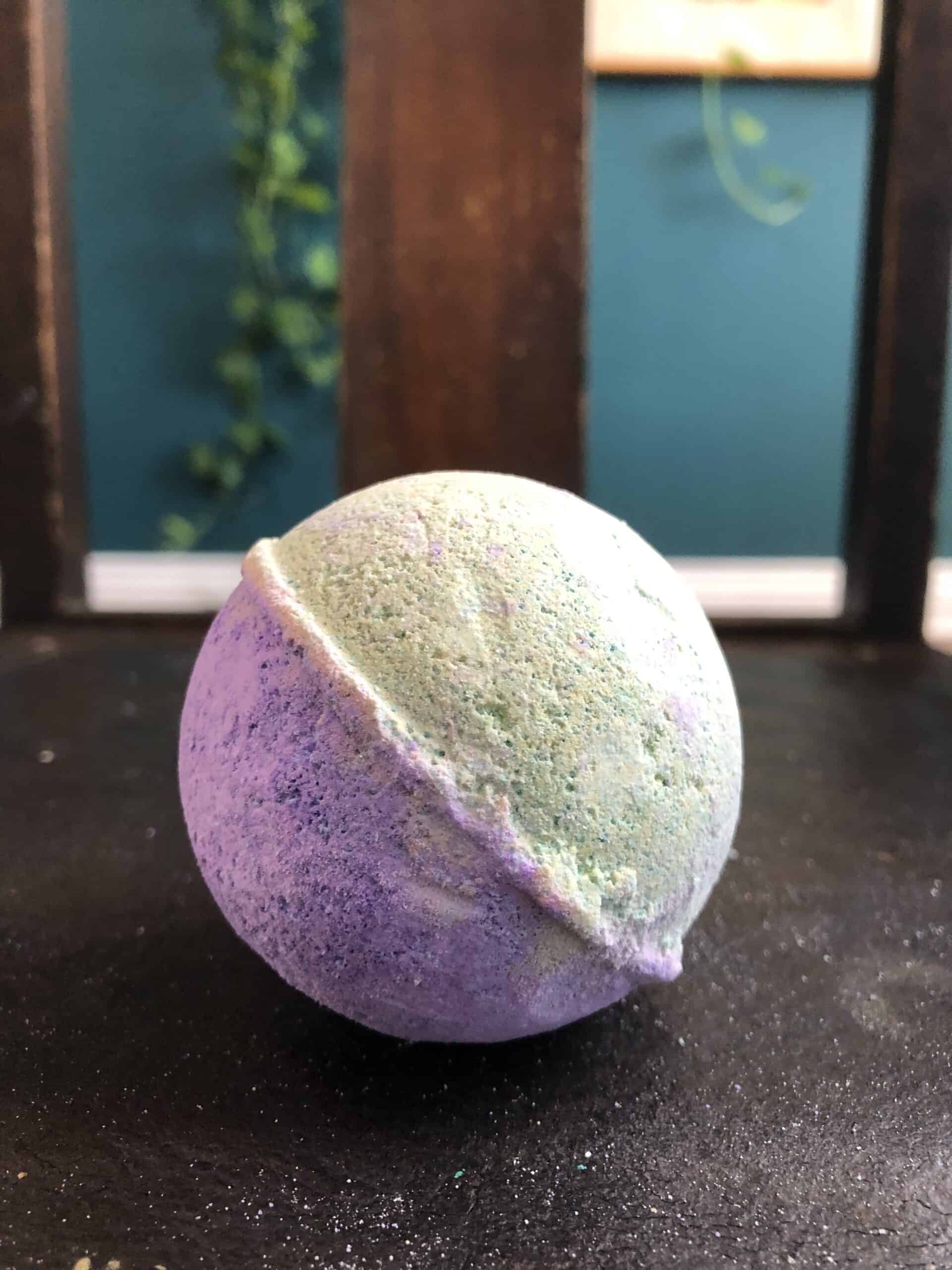 I was looking forward to trying this bath bomb after my last evening class, to help relieve some of the inflammation, and hopefully, make sleeping easier. As soon as the class ended, I ran myself a bath, and when it was full dropped both the bomb and myself in. I leaned back and relaxed in there for thirty minutes.
---
How the CBD FOR LIFE FRESH BAMBOO BATH BOMB Worked for Me
The scent of the bath bomb was soothing. The ylang-ylang essential oil allowed me to feel relaxed and ready for bed. After I got out of the bath, my joints and muscles felt amazing. My skin felt smooth and moisturized. I couldn't even tell that I had arthritis for a good hour after the bath. This was the perfect remedy for my difficult time falling asleep, and I hadn't slept so well in a while. I wish these bath bombs lasted longer than one serving because I'd use one every night.
When comparing the lemongrass kiwi and the bamboo, the results were the same. The only difference I can tell were the scents. There's no bamboo in this bath bomb, so I'm curious why it's called that. I thought perhaps ylang ylang came from the bamboo plant, but after looking it up, ylang-ylang comes from the ylang-ylang tree.
---
Useful and Unique Things to Know About CBD FOR LIFE FRESH BAMBOO BATH BOMB
The ylang-ylang tree is native to most parts of Asia, and the scent is found in so many perfumes, cosmetics, and this very CBD bath bomb. The scent comes from its yellow flowers and is known colloquially as the perfume tree. It's also used in aromatherapy and essential oils, which is why it's so relaxing. Ylang-ylang might also have some health benefits, such as reducing anxiety and depression. It can also repel insects!
---
CBD FOR LIFE FRESH BAMBOO BATH BOMB Ratings
In the next sections gradings from 0-100 on our review, these grades add up to give the product's overall score.
PRESENTATION • 90
There's no bamboo in this product so the name is confusing.
RELIABILITY • 100
Soothes muscles and joints.
QUALITY • 100
Natural ingredients.
FLAVOR / SMELL / or EASE OF USE • 95
Lovely mild salty scent.
VALUE • 90
A little pricey but for a CBD bath bomb, it's about average.
---
How CBD FOR LIFE FRESH BAMBOO BATH BOMB Stacks Up Against the Competition
You can purchase CBD for Life's Fresh Bamboo Bath Bomb for $12, which is a lot to spend on a single serving bath product that only contains 35 mg. You get a little bit of a discount if you purchase the combo pack, which contains all four uniquely scented bath bombs at $42. I've tried another CBD bath bomb brand that cost the same, but it lasted for two baths and contained three times the amount of CBD. If CBD for Life wants to be more competitive, I'd recommend lowering the cost.
---
Saving Money with Our Verified PURE CBD VAPORS Coupons
Save money by using our verified CBD Bath Bombs here at Save On Cannabis the World's largest online cannabis coupon code directory.
---
Disclosure: I received these products gratis so that I could try them and then share my honest opinion with the SOC community. I am employed by Save on Cannabis to write honest reviews and provided a flat rate payment for the writing of the review. SOC may receive recurring affiliate payments for purchases made based on this content.
Our reviewer got hold of all Magical CBD Tinctures, see how the cinnamon 3000mg stands up in flavor and reliability.
Read our Infinite CBD review of the Nano CBD Water! Our expert tried, tested and photographed click to learn about what we thought.
Our CBD expert tries CBD Shisha for the first time. In this Flora CBD review of the Samawi CBD Shisha, learn if you should give it a try too.