CBD Review: Vapen Clear CBD Crystalline Inhaler 1000mg
Nov 2, 2018 | Romy
Vapen Clear CBD Crystalline Inhaler 1000mg
Pros
Great Price
Works Every Time
Super Potent
Hits Right Away
Helps With Sleep
Cons
None (Can't wait for my next hit!)
Brand Overview: VAPEN CLEAR CBD
Vapen CBD's mission is to create cutting-edge products of the highest quality made by leading experts in the cannabis industry. The company is committed to promoting cannabis education to medical patients within their community through the Arizona Medical Marijuana Program. Vapen CBD's work with medical patients has given them an inside look on how to more skillfully manufacture some of the best medicinal CBD products on the market.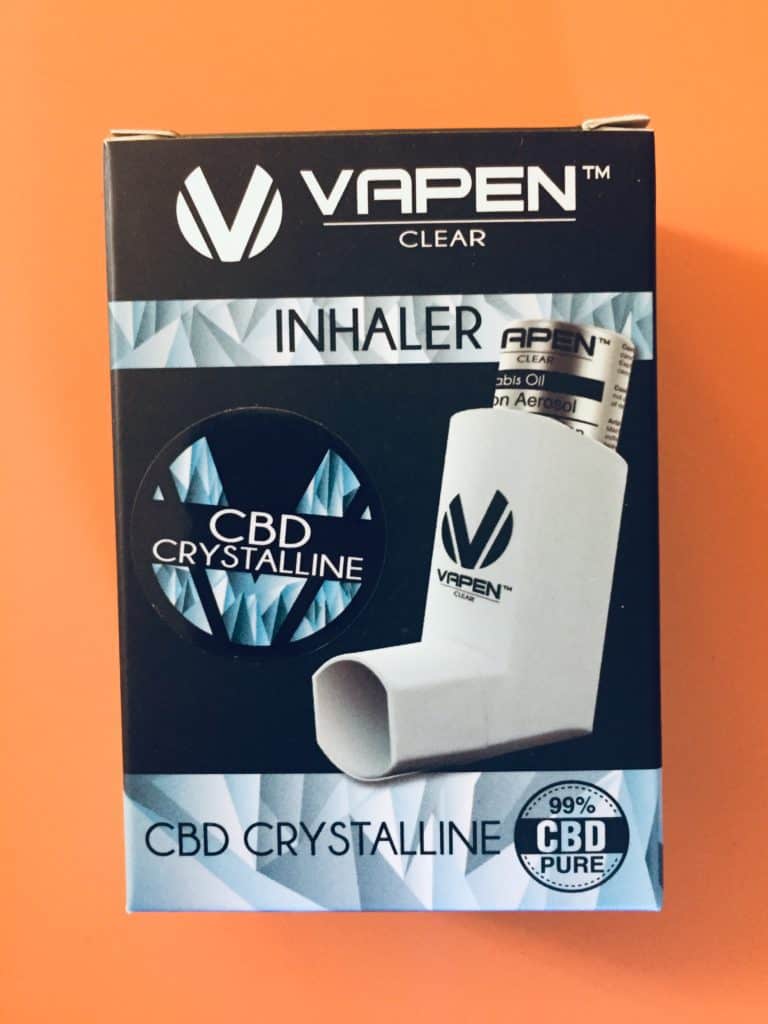 Products: Vape Pen, Vape Batteries, Deep Muscle Relief Balm, Stress Relief Balm, Cartridges 300 mg (Bubblegum, Blueberry, Diamond OG, Paris OG), Inhalers, CBD Isolate, Lotions 300 mg (Cucumber & Mango), Tinctures
Price Range ($-$$$$): $$
About the VAPEN CLEAR CBD CRYSTALLINE INHALER 1000 MG
The VAPEN Clear Inhaler is the future in medicinal CBD use. An inhaler has been proven to be one of the most effective delivery systems in getting CBD to your brain, so you get the health benefits faster. Because there is very little to almost no smell when exhaling, the inhaler is one of the most discreet methods of getting your daily dose. The inhaler is a wonderful and potent alternative to vaping or smoking.
VAPEN CLEAR CBD CRYSTALLINE INHALER 1000 MG Specifications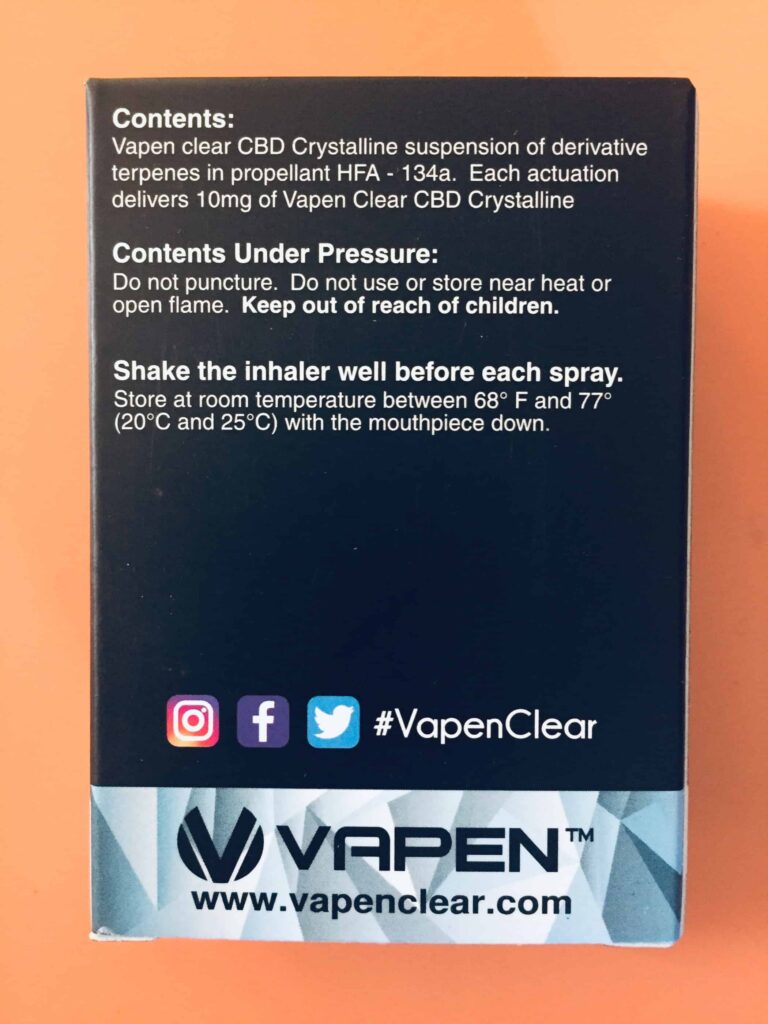 Contents

: 99 % CBD crystalline suspension of derivative terpenes in propellant HFA – 134a

Directions:

1. Shake the inhaler well before each spray. 2. Remove the cap. 3. Exhale away from your inhaler. 4. Put the mouth of the inhaler in her mouth. 5. Begin to inhale slowly while pressing the top of her inhaler until you have taken a full breath. 6. Remove the inhaler from your mouth, and hold your breath for about 10 seconds then, exhale.

Special Note:

If patients have sensitive lungs or throat, spray directly under the tongue

1000 mg of CBD Crystalline.

100 total puffs

Each puff delivers 10 mg of Vapen Clear CBD Crystalline

Contain up to 99.82% activated cannabinoids

FDA approved metered dose inhaler

Independent Lab Tested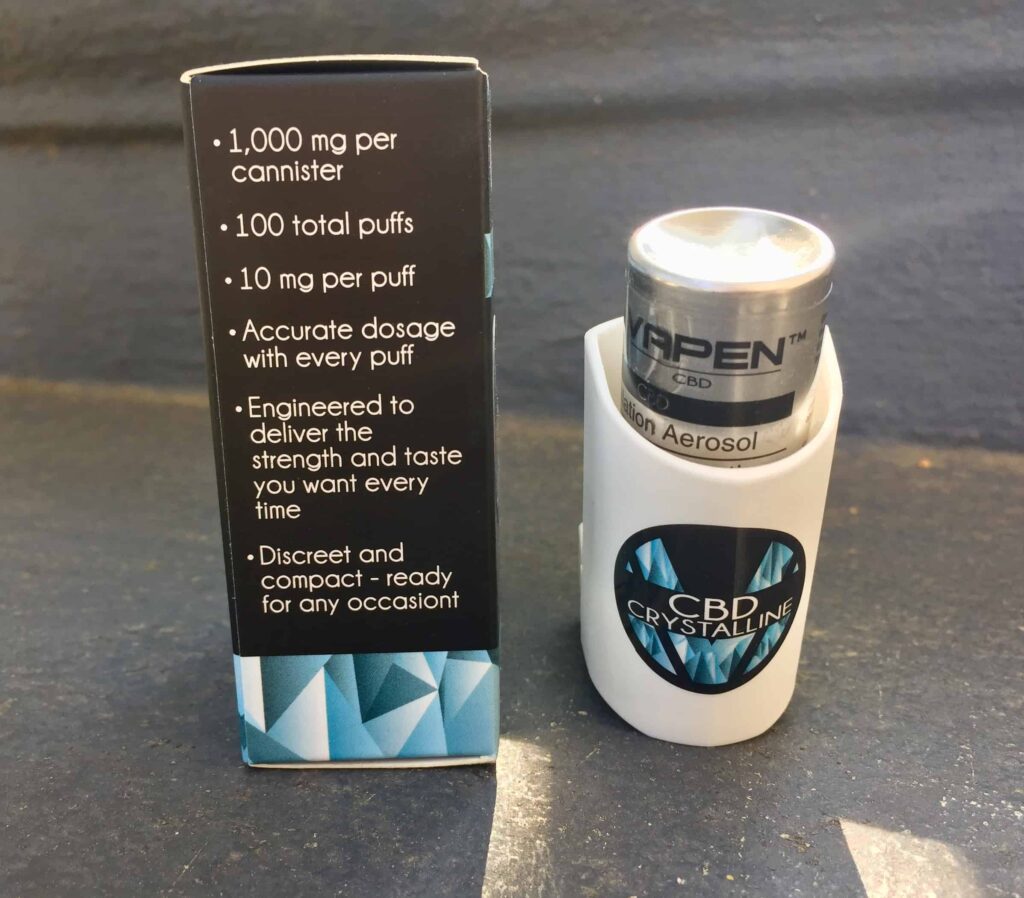 How We Tested the VAPE CLEAR CBD CRYSTALLINE INHALER 1000 MG
I've been looking for a more direct method of ingesting CBD, something that will work more immediately than edibles or tinctures. When I heard about an inhaler with pure CBD crystalline, I was stoked. I have sleep issues, to put it mildly. Not only have I had insomnia since I was a kid, but once I get to sleep, I wake up a few times during the night, and sometimes I can't fall back to sleep at all. It's not abnormal for me to be up at 3 a.m. and just decide to start my workday. My normal routine is to take a mixture of Benadryl and melatonin an hour before bed. And when I wake up in the wee hours of the morning, I take more melatonin. Even if that works, it leaves me drowsy all morning. My plan for the inhaler was to take a couple hits before bedtime. Then when I wake up, I can take a couple more to go back to bed. My hope was that it would help me fall back to sleep without having to take more melatonin or Benadryl.
How the VAPEN CLEAR CBD CRYSTALLINE INHALER 1000 MG Worked for Me
Forget taking a couple puffs, this stuff is so potent, that I took one hit and was ready for bed. It's no joke. I felt the positive effects of the CBD crystalline immediately. I let the wave of CBD warmth wash over me and fell back into a snuggling good sleep. If I had to rate the effectiveness of methods for taking CBD, inhalers are number one. The powers that be in the cannabis industry say that 10 mg of CBD is a single dose. I have always scoffed at that number. 10 mg of CBD has rarely done much for me. The inhaler, however, is such a pure and direct way to take CBD, that I'm finally am a believer in the 10 mg hit. You just need to find the right way to dose. It was all I needed to feel the effects and have a good night's sleep.
Useful and Unique Things to Know About VAPEN CLEAR CBD CRYSTALLINE INHALER 1000 MG
What the heck is cannabidiol (CBD) crystalline? I've taken CBD crystalline before, but I never knew what it was and what makes it different than non-crystalline CBD products. Also known as CBD isolate, the crystalline is the most highly refined and purest form of CBD on the market. It differs from CBD full-spectrum oils because it ONLY contains the cannabidiol chemical compound, and nothing else. The isolate comes in a tasteless and odorless powder that can be used is a variety of ways. A lot of people use it in their cooking or add it to their vape oil or beauty products. Some people dab it! I need to try this dabbing thing next. I hear all the kids are doing it.
VAPEN CLEAR CBD CRYSTALLINE INHALER 1000 MG
Rating Breakdown
PRESENTATION • 100
I love the professional and compact box with an informative instructional booklet.
RELIABILITY • 100
This is the MOST reliable way to inhale CBD. Works every time.
QUALITY • 100
It's a high-grade, medical-quality product.
FLAVOR • 100
No smell. No real describable taste.
VALUE • 100
$80 bucks for 1000 mg of CBD cannot be beaten!
How the VAPEN CLEAR CBD CRYSTALLINE INHALER 1000 MG Stacks Up Against the Competition
First of all, you will have a hard time finding 1000 mg of CBD for $80 anywhere. The price is amazing. The product is also unique in that there are not a lot of pure CBD inhalers on the market right now. All in all, there is no competition.
Saving Money With  VAPEN CBD Coupons
Save money with CBD Inhaler coupons here at Save On Cannabis the World's largest online cannabis coupon code directory.
Disclosure: I received these products gratis so that I could try them and then share my honest opinion with the SOC community. I am employed by Save on Cannabis to write honest reviews and provided a flat rate payment for the writing of the review.  SOC may receive recurring affiliate payments for purchases made based on this content.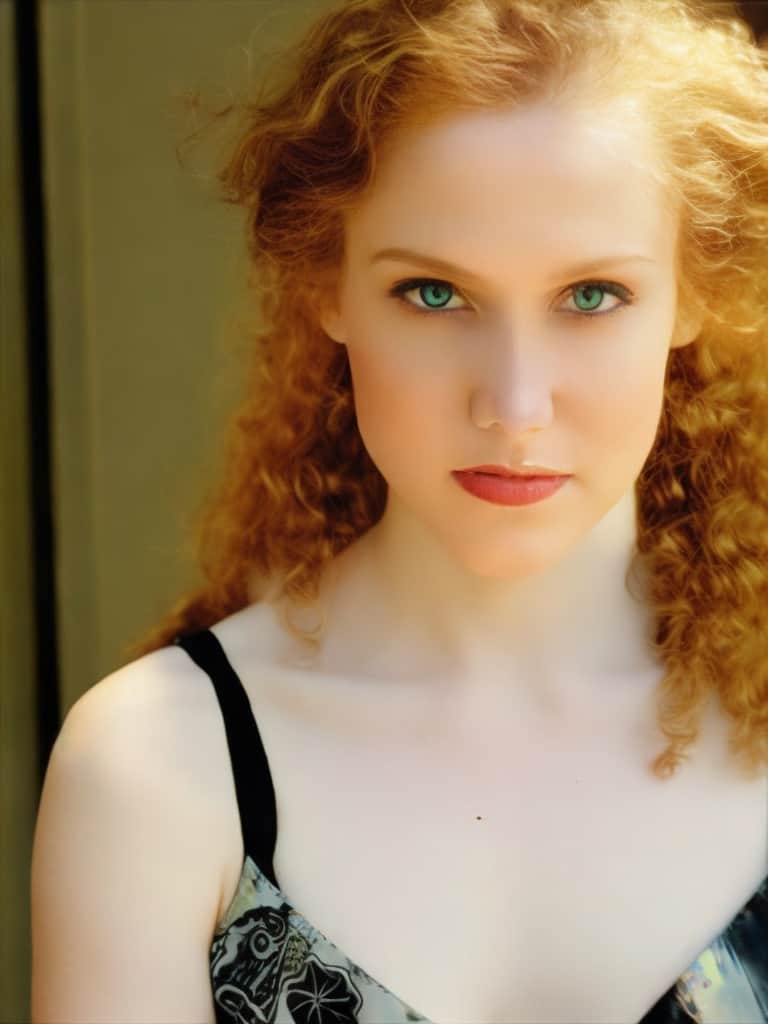 A medicinal cannabis user, utilizing the power of the plant to ease the pains and stresses from long standing conditions that other over the counter or prescriptions could not fix or weren't a natural option like cannabis.  Also, has a background in working directly in the cannabis industry in California within various dispensaries.
Can CBD not only be helpful but also a delicious treat? Our reviewer tests out the Soul CBD Gummies in their raspberry flavor.
Wildfires, pandemics, & everyday stresses 2020 has been a lot to handle. Can Viobin CBD help our reviewer cope with the chaos each morning may bring?
In this Steve's Goods review of their CBD/CBG 20:1 1000mg Blueberry Tincture & our expert breaks down how it worked for them.