4 Corners Cannabis Review – CBD Vape Liquid (500mg)
Oct 15, 2018 | Romy
Brand Overview: 4 CORNERS CANNABIS
From a small family farm in Durango, Colorado, the 4 Corners Cannabis company not only creates the highest quality CBD dominant products on the market, but they're growers too! By controlling the product from seed to packaging, this company guarantees you're getting the most effective products possible. With decades of experience working with CBD genetics, 4 Corners Cannabis is a leader in the industry, often creating products others try to copy. Their CBD products are 20-100 times more effective than the competition because of their gentle extraction process that is key to not ruining the integrity of the genetics when the hemp is turned into an oil. This company is committed to education about CBD and listening to the needs of customers. All of their products are legal under International Laws and in all 50 US states.
Products: Oral CBD Oil Tinctures, Avocado Oil CBD Tincture, CBD Vape Liquid, CBD Salve, CBD Pedigree Oil for Animals, 4 Corners Cannabis T-shirts in dark blue and green
Price Range: $$$$
About the 4 CORNERS CANNABIS CBD VAPE JUICE
4 Corners Cannabis has created one of the finest quality CBD dominant vape liquids on the market. It's a potent vape liquid for people who like using a refillable vape cartridge to get relief on-the-go! The company uses their homegrown "Ma'at" cannabis strain that contains high levels of a variety of cannabinoids and terpenes for a more effective oil. This full-spectrum hemp oil extract is also a multipurpose product that can be taken orally as well as vaped (which I personally like because I initially didn't have a refillable vape pen.) Vaping the product allows for instantaneous relief while oral consumption is best for long lasting relief.

4 CORNERS CANNABIS VAPE LIQUID Specifications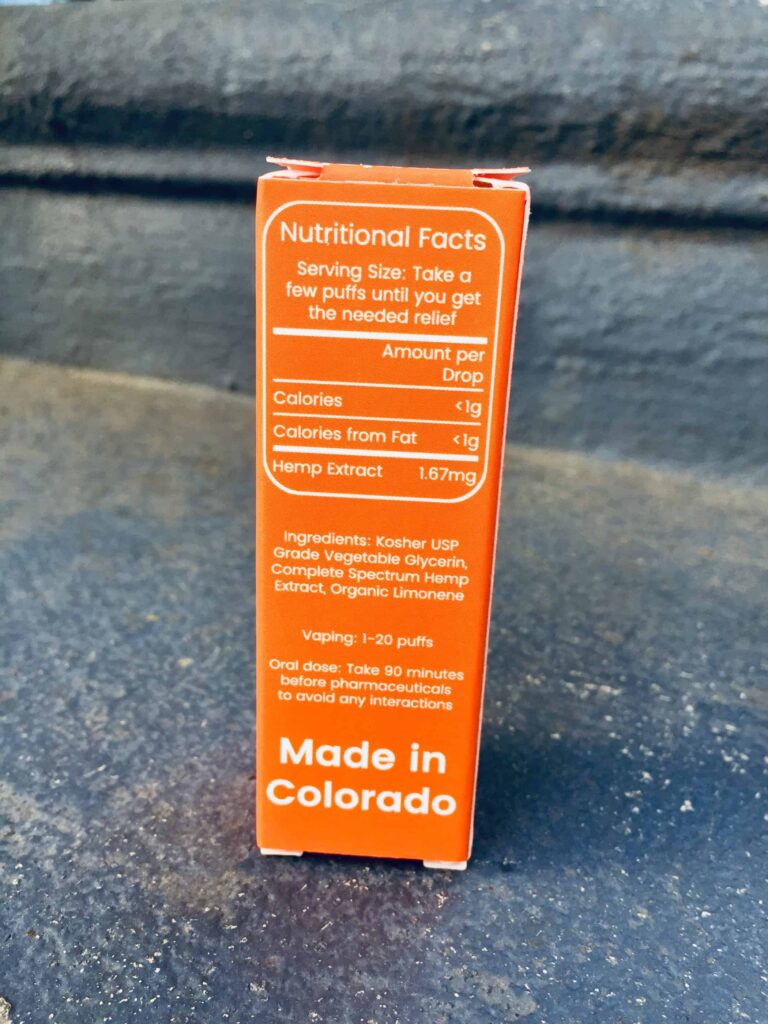 Ingredients: Kosher Vegetable Glycerin, CBD Dominant Hemp Extract, Limonene (Orange Extract)

Sweet hash oil taste

Comes in 250, 500, and 1000 mg of full spectrum hemp extract

The 1000 mg bottle can fill 1.5 ml vape cartridge 20 times!

Best to start at a low temperature and slowly work your way up

Vaping directions: take a few puffs until you feel relief

Oral directions: Take 2 drops for every 10 lbs of body weight, once a day. Take 90 minutes before pharmaceuticals to avoid any interactions

Contains <.3% THC

Made in Colorado

Store at room temperature and out of direct sunlight

Lab Teste

d –

https://4cornerscannabis.com/labs/

$5 flat rate shipping

Ships within 24 hours and take 2-3 business days

Discreet packaging

Legal internationally and all 50 US states

All natural ingredients with the most potent hemp extract on the market!
How We Tested the 4 CORNERS CANNABIS VAPE LIQUID
I was stoked to try the 4 Corners Cannabis Vape Liquid because, out of the many CBD companies I've looked at, their website, especially their Facebook page, seemed the most transparent and informative. Like, did you know that taking tinctures is only good for long-term relief? I've been trying tinctures for a while, and I thought they didn't really work because I expected them to give me relief right away. Most companies tout their tinctures as being a miracle natural medication for instantaneous relief. However, according to the decades of research done by the experts at 4 Corners Cannabis company, this is not the case. You need to take it every day as a supplement to feel the results. So, thank you 4 Corners, for actually being honest about your product.
I digress. While the company's vape liquid can be taken orally, my intention was to vape it because I needed a more instantaneous relief for the daily angst I feel towards my cat. I love my cat, but she has been extra, extra high maintenance lately. She's almost nineteen-years-old and has lost some teeth, so she is only able to lick up food, and there is only one store in my neighborhood that sells pureed food, and now her poops are disgusting, and I have to change her litter way more than normal AND… Honestly, I could go on. She's eating me into the poor house. I spend more money on her food and cat litter than I do on human food. I needed something to help me feel less stressed. A CBD vape session throughout the day seemed like a nice, natural alternative to day drinking. It's good for me and my cat.
It was my first time filling up a refillable vape cartridge, but it couldn't have been easier. I screwed off the top of the cartridge and used the 4 Corners Cannabis Vape Liquid dropper to fill up it up. Then I screwed the cartridge onto my pen and was ready to go. I took one hit, then another.
How the 4 CORNERS CANNABIS VAPE LIQUID Worked for Me
Vaping is hands down my favorite method for taking CBD so far. I felt not high, per say, but high. I felt relaxed like I had taken a quarter of a valium but without that narcotic feeling. It tasted nice, like hemp and oranges. One of the great things about vaping is that the smoke isn't heavy like smoking marijuana and doesn't leave your house smelly (although anything is better the smell of my cat's poo right now). I not only will use this brand again, but I'm going to take another hit right now.
Useful and Unique Things to Know About 4 CORNERS CANNABIS VAPE LIQUID
This company is awesomely transparent with the information given on their website. Not only are they the only company that tells you that tinctures only work for long-term pain, but they warn you that you have a low chance of failing a drug test. They say that the more you consume over time, the more likely it is that you might fail the test. They encourage users to discuss this matter with any people in authority that might be giving the drug tests because this is NOT a marijuana product.
4 CORNERS CANNABIS VAPE LIQUID Rating Breakdown
PRESENTATION • 100
Cute packaging with lots of information.
RELIABILITY • 100
I felt the full effects of vaping a few minutes after every hit.
QUALITY • 100
Simple ingredients and high quality, lab tested hemp extract.
FLAVOR and  SMELL • 100
Tasted good, like herbs and oranges. Slight hemp smell at first but disappeared fast.
VALUE • 90
One of the more expensive hemp extracts on the market but very high quality so worth it!
How the 4 CORNERS CANNABIS VAPE LIQUID Stacks Up Against the Competition
This product is so good I almost felt high but not in a psychoactive way. It's comparable to taking a low dosage of Xanax or Valium but won't leave feeling crappy the next day. Even though it's pricier than other vape liquids, it's so effective that I prefer it to others. Why spend less money on a product that won't work? If I had to change anything about the product, it would be the price, but you get what you pay for!
Saving Money With  4 CORNERS CANNABIS Coupons
Save money with CBD Vape Juice coupons here at Save On Cannabis the World's largest online cannabis coupon code directory.
Disclosure: I received these products gratis so that I could try them and then share my honest opinion with the SOC community. I am employed by Save on Cannabis to write honest reviews and provided a flat rate payment for the writing of the review.  SOC may receive recurring affiliate payments for purchases made based on this content.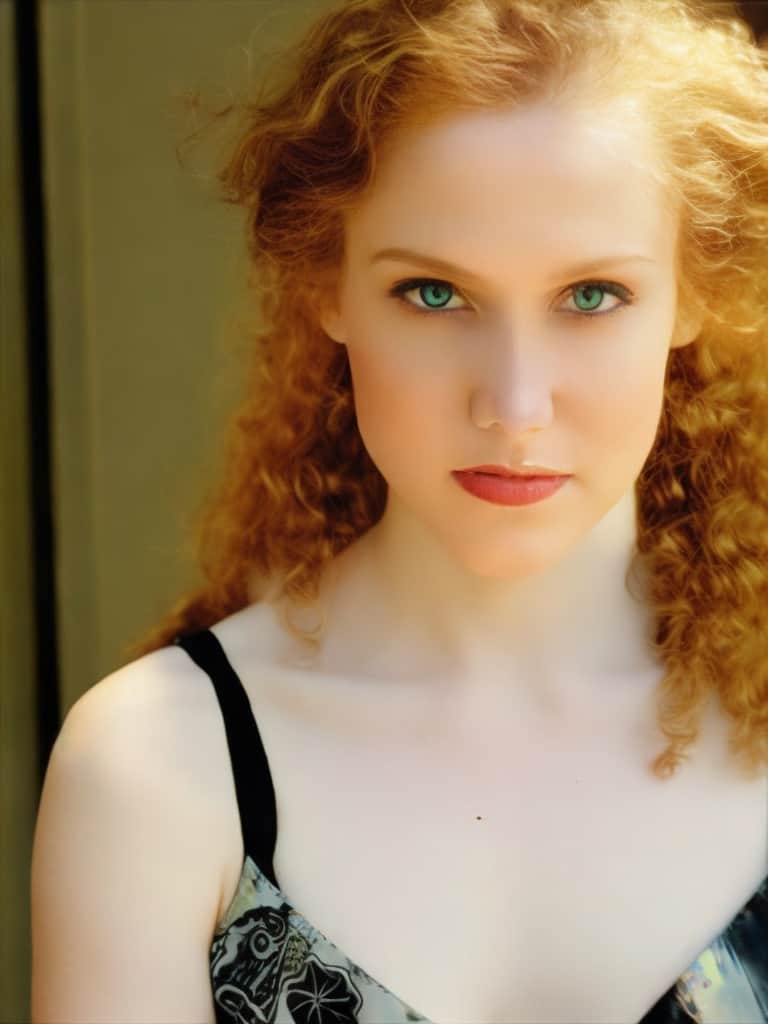 A medicinal cannabis user, utilizing the power of the plant to ease the pains and stresses from long standing conditions that other over the counter or prescriptions could not fix or weren't a natural option like cannabis.  Also, has a background in working directly in the cannabis industry in California within various dispensaries.
Save on 4 Corners Cannabis
Looking to try CBD? We tested out the Everyday Optimal CBD Capsules for our anxiety, see how it worked for our reviewer in this Everyday Optimal CBD review.
Interested in CBD for sleep? This Infinite CBD review is for their P.M. Capsules which contain CBD and a dose of melatonin. See how it worked for us!
In this Meridian Life Balance review we try the roll on CBD topical to see how it compares to Aspercreme for consistent pains.