Canada Mail Order Marijuana: Evergreen Medicinal Review
Apr 18, 2019 | NugAndStem
Canada Mail Order CannabisCannabis Dispensary
Evergreen Medicinal - Mail Order Cannabis
Pros
Easy sign-up
Quick and discreet shipping
Free shipping on orders over $150
Products are packaged carefully
Great prices and specials that are hard to match
Bulk orders are available
They have an affiliate program
Photos of products are clearly taken by them
Amazing selection of all types of products including in house made concentrates
Unique chat feature on website lets you talk to their team
Cons
Not a lot of reviews yet as the service is newer
No lab test results will not allow you to know exactly the thc % of the strains
No Humidity Control packets included with the strains
Flowers come in resealable bags that are not high quality
Evergreen Medicinal Review
Evergreen Medicinal offers a variety of cannabis flowers at incredibly competitive prices. Like most mail order websites, they offer more than just flowers – featuring concentrates and edibles on their site as well. For this review, we picked up five of their strains and a gram of their in house Budder, as well as an edible. Read about our experience with each below.
Gorilla Glue 4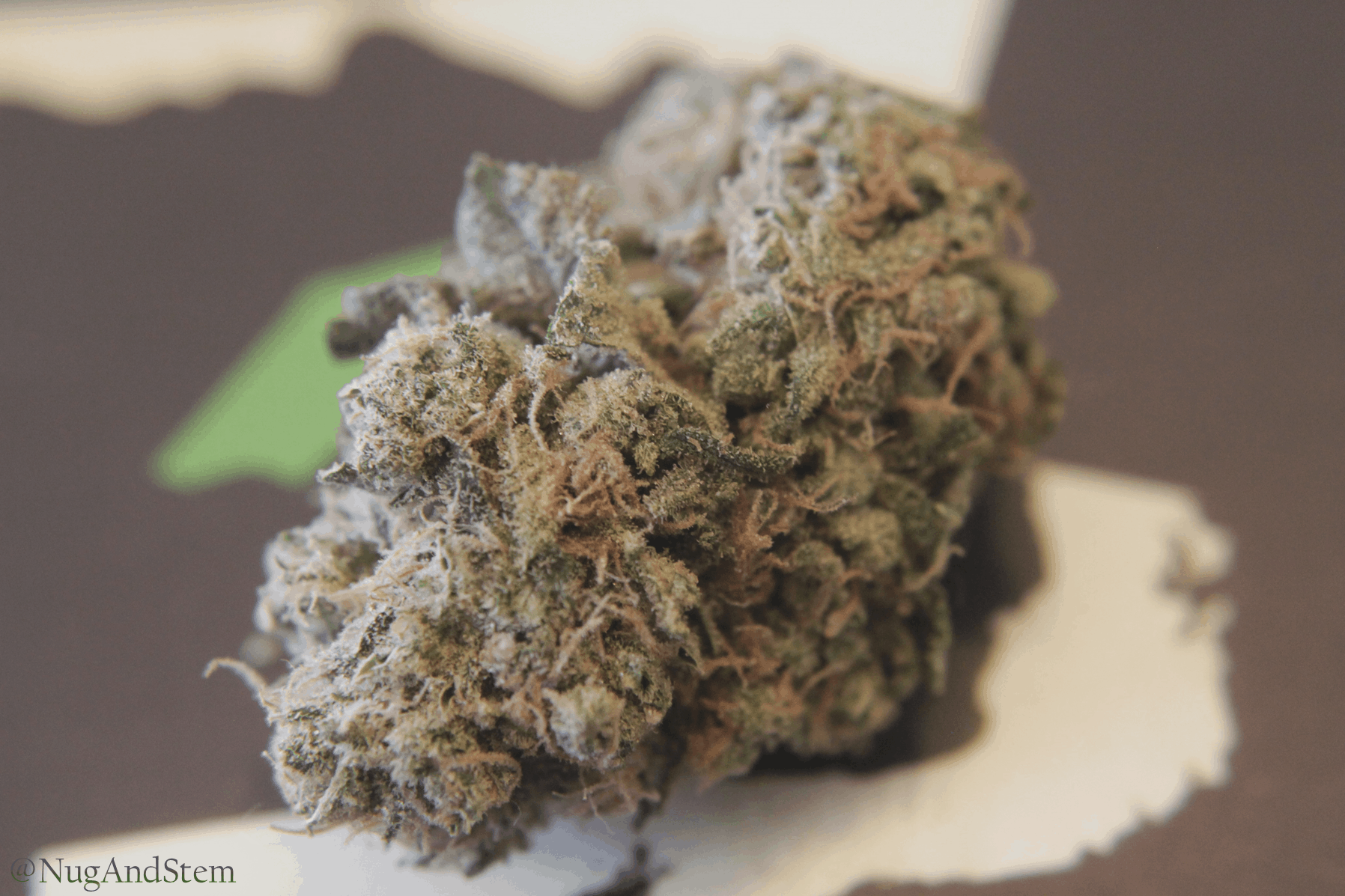 Rating from 0-100
Aroma – 95
Taste – 90
Visual Aesthetics – 100
Stone/High – 85
Burnability/ Flush – 90
As soon as we ripped the heat seal of the bag, even before opening it, the familiar scent of this pungent strain was noticeable. The aroma is an enjoyable mix of dry grass and sweet fruits. The nugs themselves are beyond gorgeous. The flower is a uniform light green color and is fully coated in white crystals. The pistils are a unique pale pink colour and cover the entire nug. The pistils are long and have no uniformity which gives this strain an almost alien appearance.
When busted up, the scent intensifies heavily with the addition of diesel and lightly citrus aromas. The pistils remain intact and mix with the well cured flower to provide a unique looking ground cannabis. We smoked it in a joint after a heavy supper. The smoke flavour is lightly grassy and leaves an aftertaste on your tongue of dark or burnt caramel. It also has a fruity nose. The smoke is very smooth with no harshness – again a testament to how well cured the cannabis is.
The effects don't set in immediately – they start with an increased focus and upbeat energy. For Nug there was a strong full body high and she does not recommend smoking too much at once of this strain. There is pressure in the head, and we also felt eye heaviness. The positive energy that it provided was excellent. However, the effects did not last too long. We also mixed this strain with a CBD dominant strain. It was a real calm positive experience, perfect right before supper. It also did not last long, so it's the perfect strain for the daytime!
---
Jet Fuel
Rating from 0-100
Aroma – 95
Taste – 90
Visual Aesthetics – 90
Stone/High – 90
Burnability/ Flush – 95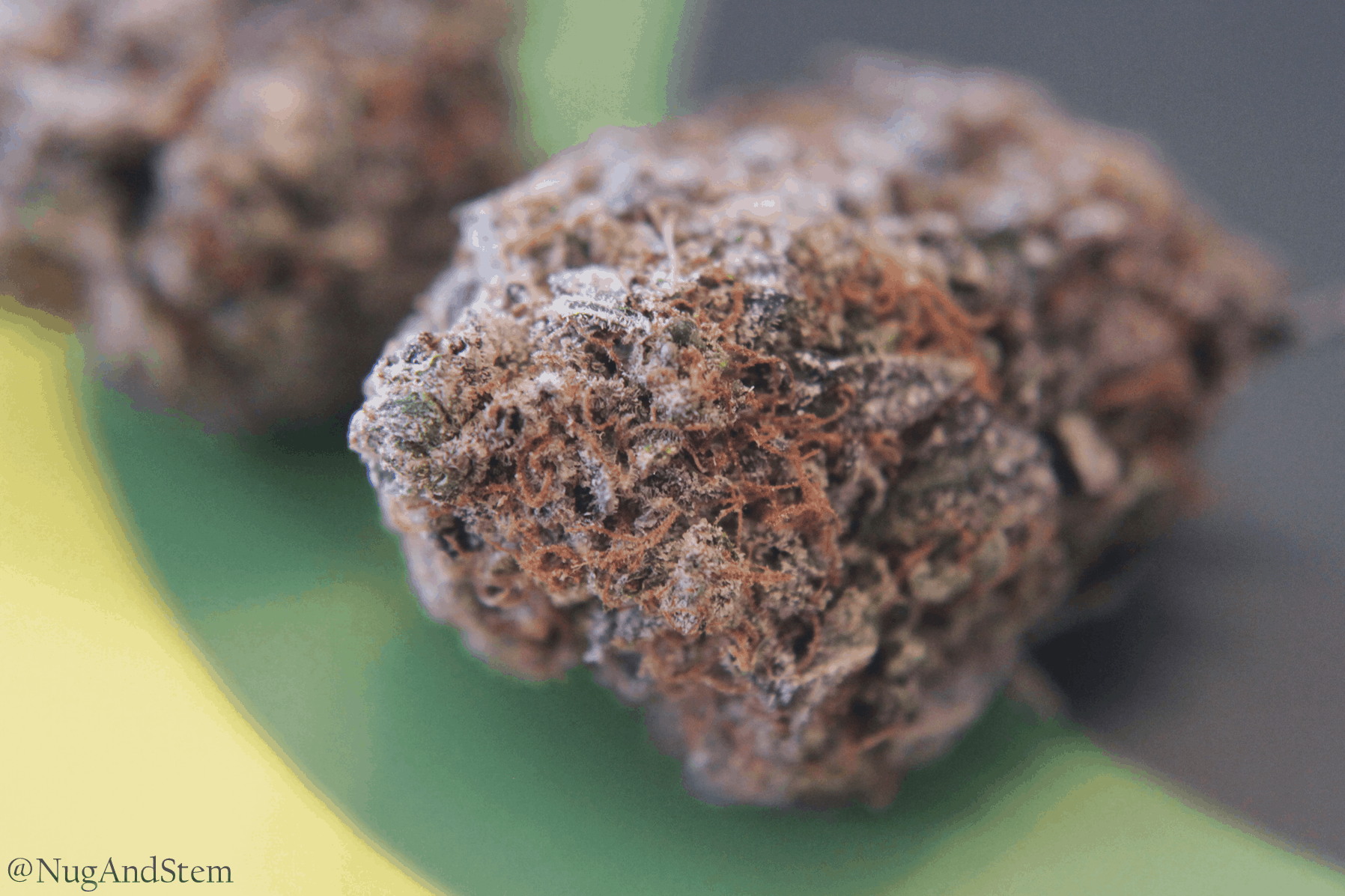 Pink Kush is a classic, and these nugs are no different. The aroma is lightly grassy with some coffee and chocolate notes. While the scent is a little subdued, the appearance is certainly not. These nugs are a blend of dark green and purple hues. The entirety of the flower is covered in clusters of tangled long dark orange pistils. Specks of large crystals cover most of the nug. When busted up diesel and coffee aromas punch you in the face. The grassy notes stay in the background and give this strain a vibrant scent. The flowers grind up to a very fine powder. The milled cannabis looks mostly purple with pale dark green tones.
On a cool Sunday morning we consumed this strain in a joint. The smoke is smooth and tastes just like having your first cup of coffee. It coats your whole mouth with a roasted coffee aftertaste. It kicks off with positive energy and does not slow you down despite being on the indica spectrum. It gave us the energy to push through our walk but kept us completely calm and made us feel happy. It feels like the perfect wake and bake strain! It did not heavily stimulate our appetites however! We also smoked it in a joint mixed with a CBD dominant strain. The experience was similar but more light.
---
El Jefe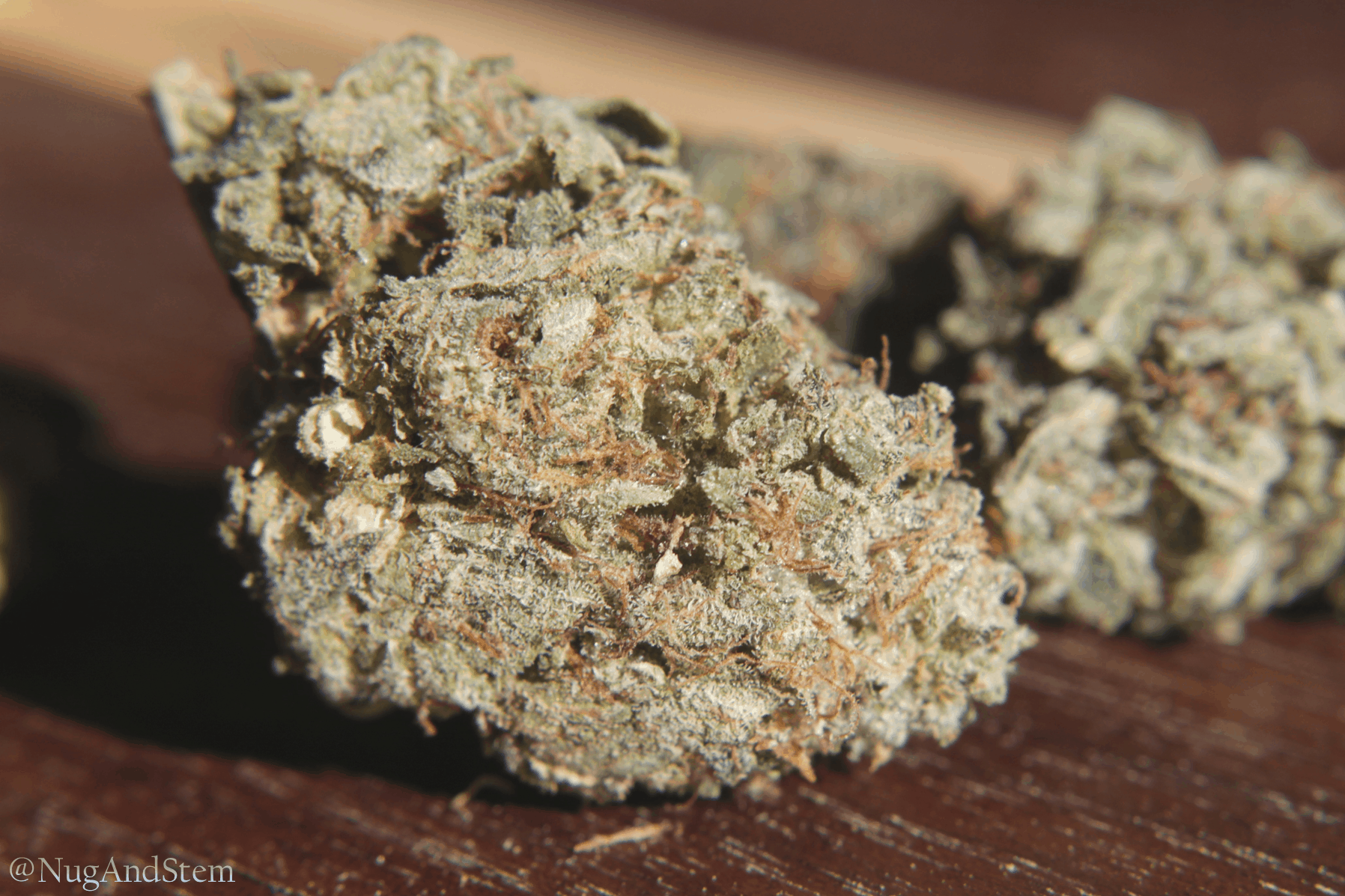 Aroma – 90
Taste – 100
Visual Aesthetics – 90
Stone/High – 95
Burnability/Flush – 90
This strain has an incredibly powerful scent. It is pungent and dank in the best ways. The dark notes of diesel and skunk are layered with sweet floral notes. The actual look of the nugs is a little bit less exciting. It has all shades of green and looks dense; the pistils appear thin and have great coverage. The crystals are small but cover the whole nug. Pulling apart the nugs will leave a sticky residue on your fingers. They are nicely cured and will not flake apart.
When busted up, the dank diesel notes take centre stage and almost no other aroma is present. Initially we smoked it in a joint. Despite the dank scent, the smoke tastes minty and refreshing. It hit incredibly smoothly with no bad aftertaste. It had an almost immediate effect of applying pressure to our forehead. It quickly set in to a really positive high with some body heaviness. It created a chill vibe, and we used the energy it gave us to teach our dog to not be scared of the vacuum. It did not heavily stimulate our appetite despite it being supper time.
The strain showed its quality by providing a long lasting high. Nug felt that it made her feel much more mindful – which she has been focusing on. Stem enjoyed the numbing effects which helped relax his spine. We also consumed a joint mixed with a CBD dominant strain. It helped calm and slow us down – which was great on a cold windy afternoon. It did not hit us as strong but it still gave Nug a positive mindful outlook. There were less physical body effects like head pressure which was welcomed. We typically love mixing our strains with a CBD dominant one.
---
Monster OG
Rating from 0-100
Aroma – 95
Taste – 95
Visual Aesthetics – 90
Stone/High – 85
Burnability/ Flush – 75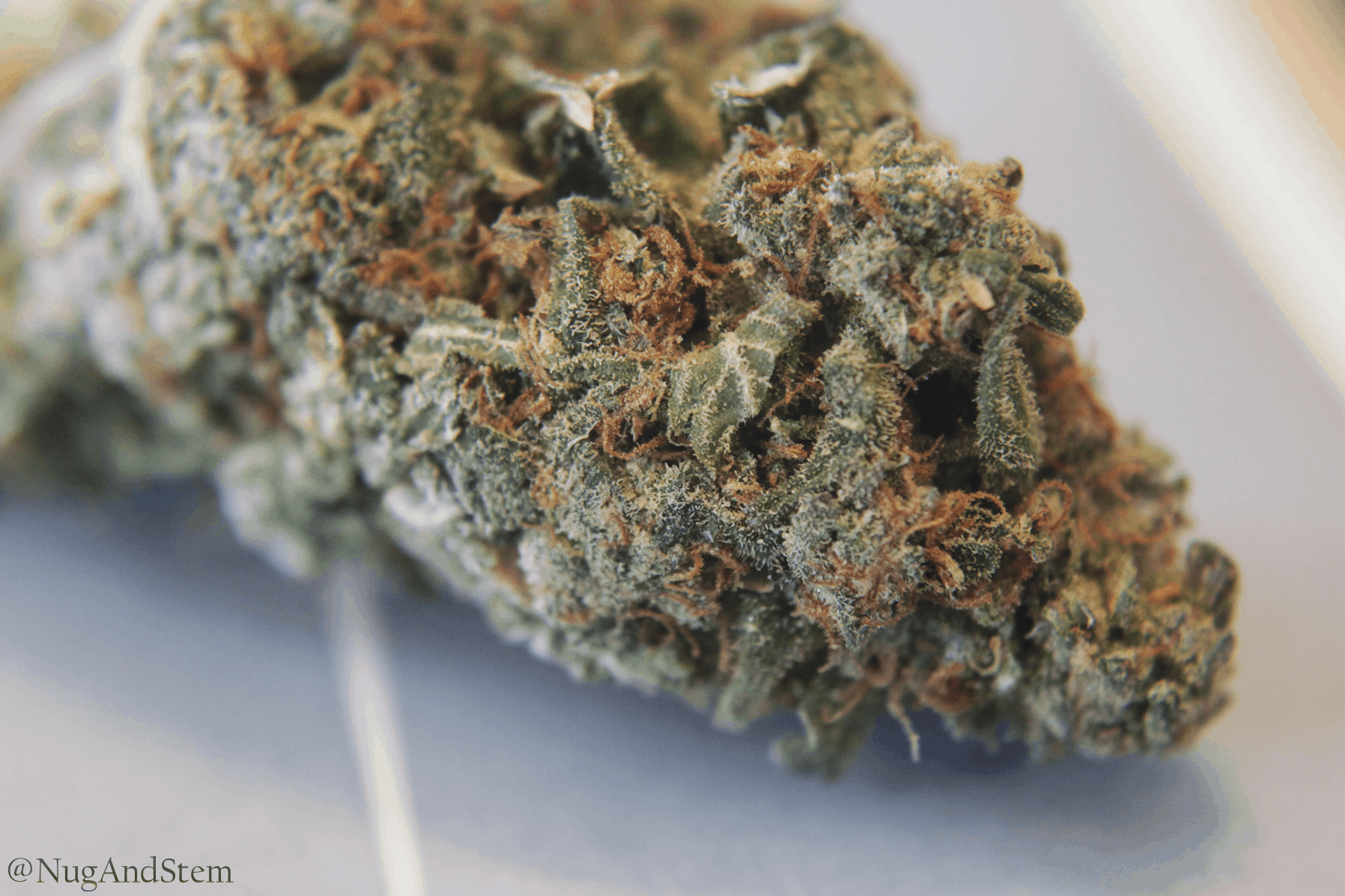 The aroma of this strain is light, but blends some sweet and sour notes together into a unique experience. In fact, the scent is oddly similar to the smell of opening a new smartphone or other electronic device. The nugs are dense and well developed. They grow long and wide and blend dark and light green tones. Clusters of short dark orange pistils cover the entire nug. The crystals are small and do not cover the entire nug.
When busted up this strain smells like a flower shop. The citrusy and sweet aromas jump out, and you can almost taste them. It is an incredible scent! The milled flowers are a little bit dry however. We smoked the strain in a joint on an early evening walk. The cannabis burns really fast, due to it being a bit dry. The flavour is not nearly as amazing as the scent. It is slightly earthy and tastes similar to coffee. The effects are slow to set in. We felt lighter overall on our walk and had some uplifting energy. It also applied some head pressure. The effects were not long-lasting.
We smoked it a second time but mixed with CBD. The strain simply burns way too fast. Even though we rolled a king size 'cannon,' this strain just burns completely without having any chance to catch a high. This is a big disappointment.
---
In House Made Black Diamond Budder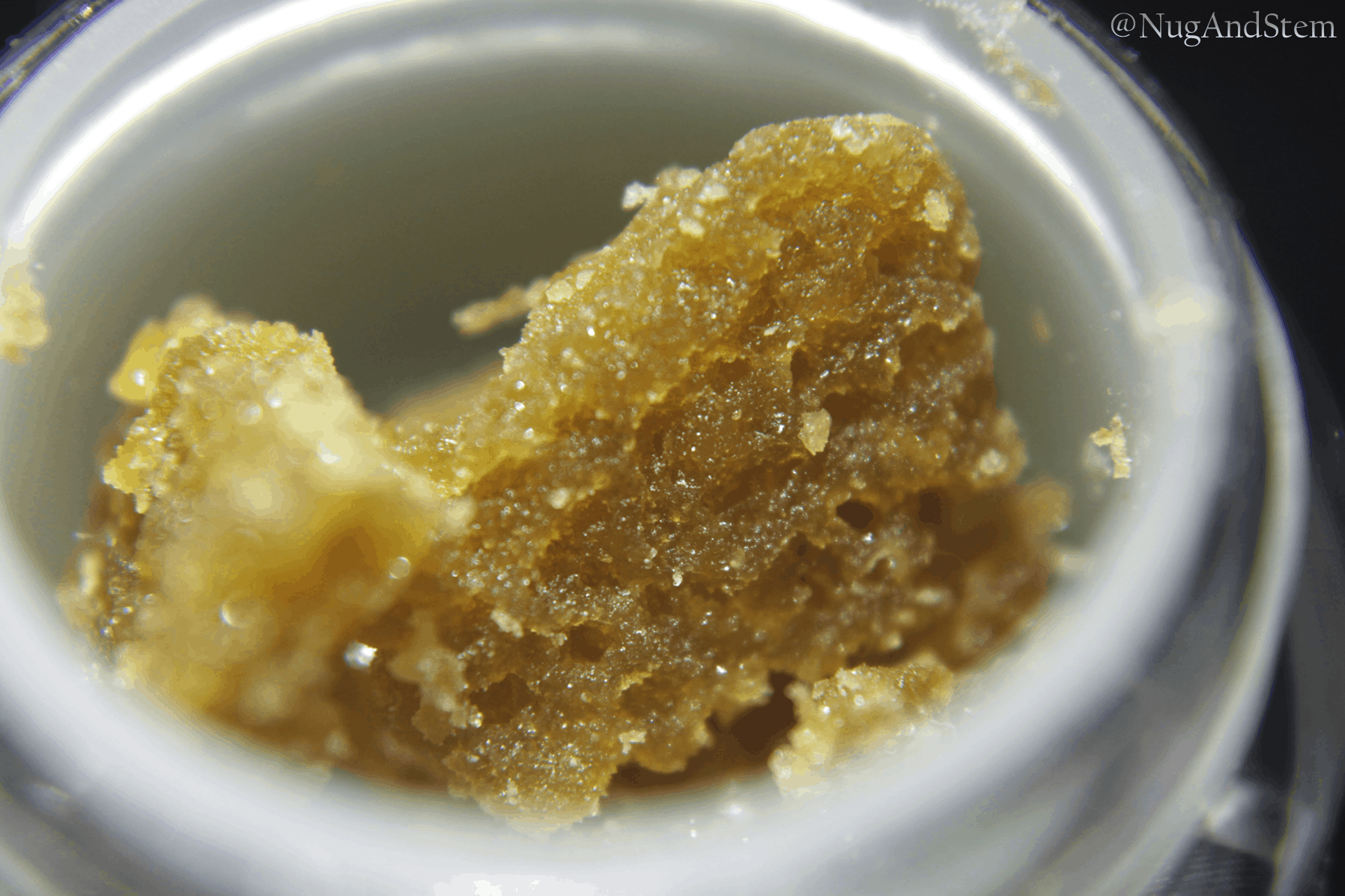 The budder has a beautiful light caramel colour and a slightly sticky and crumbly texture. The scent is incredibly floral with not much complexity or layers. It smells pure!
We consumed it with our 710Life eNail. The flavour is lightly grassy with floral notes. It hits smooth but does constrict the throat a bit and immediately will apply pressure to your forehead.
The high is light and positive with clear vision and provides good focus. It gave us some positive energy and we had great laughs. Cuddling our puppy is always an amazing activity, and it's only better after consuming this great budder. The high does wear off rather quickly and never fully sets into an overwhelming experience. This is a great daytime strain for a quick positive jolt when you have at least an hour free. We consumed it at 600F. The budder at that temperature stays on the nail for a good while. The hits are relatively weak for experienced consumers but the flavour is great. At this temperature you can taste the terpenes a lot better.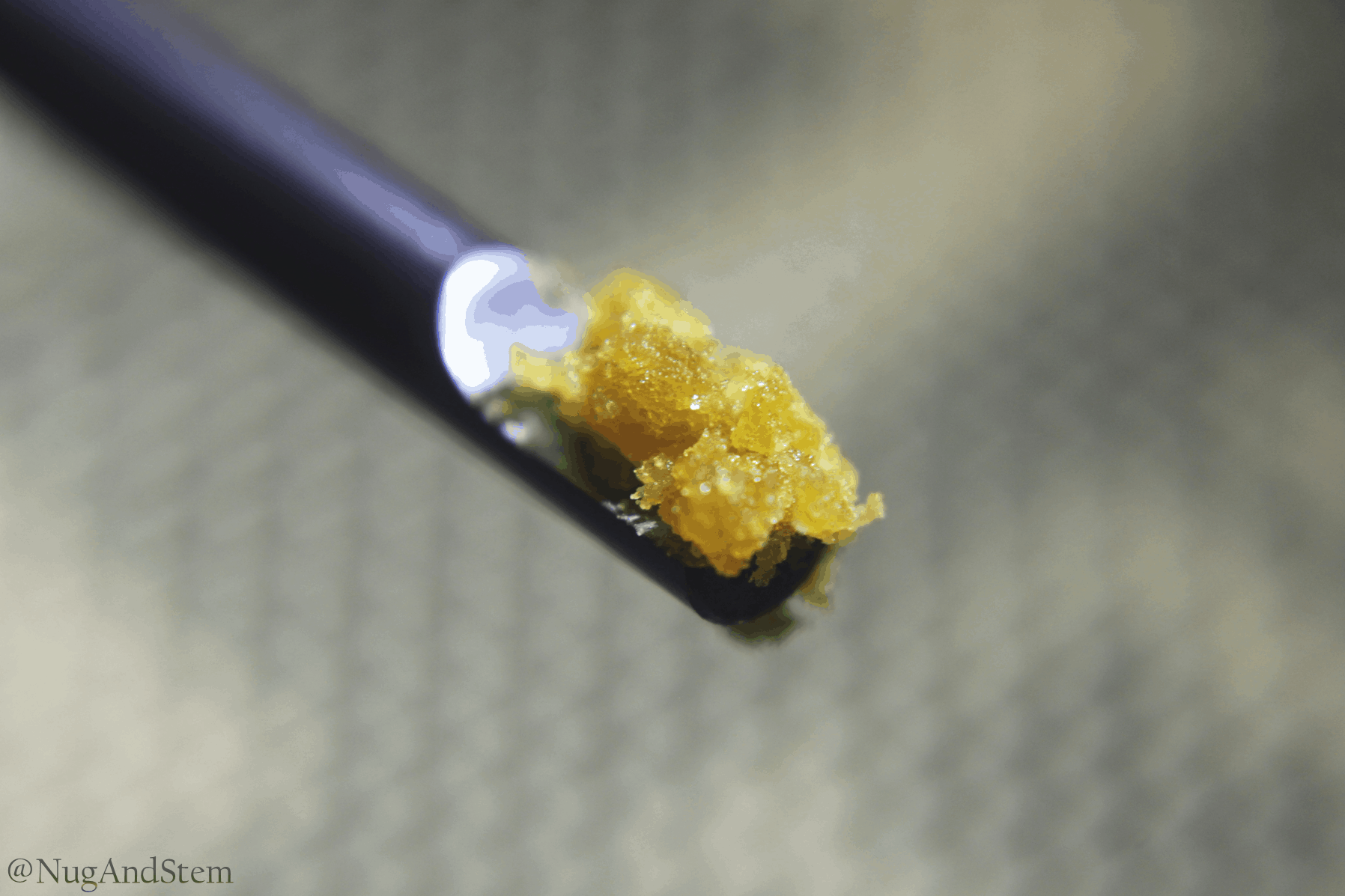 ---
Twisted Extracts – Raspberry ZZZ Bomb – Indica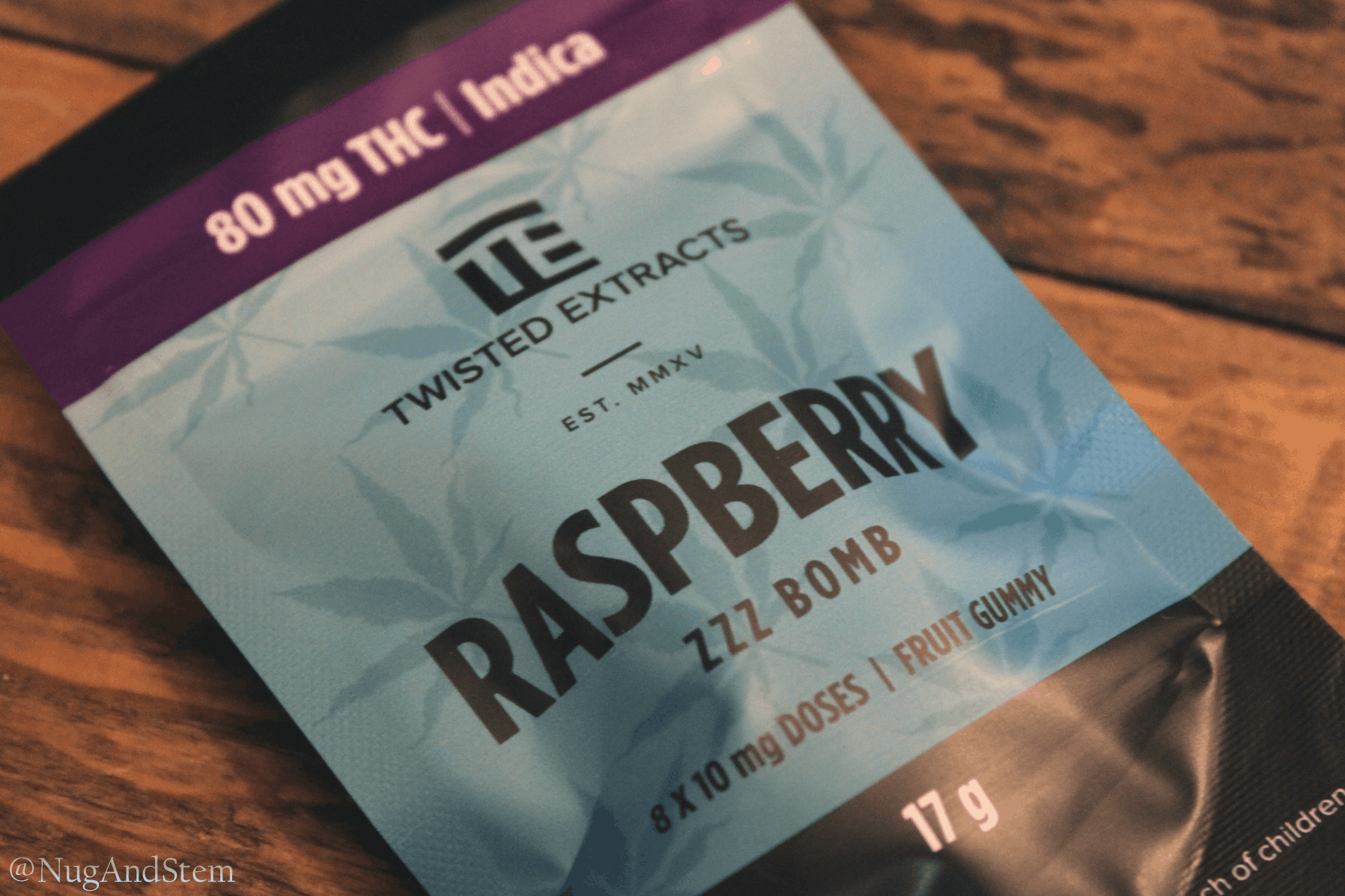 This gummy comes in a well sealed and resealable plastic bag. It is also wrapped in a protective wax paper coating. The gummy is not too mushy and comes as one solid 'lego brick'. This means that you have to individually dose by yourself. The dots on the rectangle are intended to help you with that.
We started with two dots – or 20mg of THC. Cutting was made easy with a thin butter knife. The flavour is nice with a strong cannabis note, but it does not last long as the edible is small. In general this is our typical complaint for edibles. We always wish the treat was bigger, but we understand this is done in order to keep the cost low for the consumer.
The high sets in within an hour and starts smooth with a mellow calm. We were already on the couch but it added extra comfort that locked us into the cushions. It also kicks in with some incredible laugher and lots of giggles. The peak was a little disorienting and caused mild paranoia but it did not last long. The tail was calming and was a perfect relaxing aid before going to bed.
---
Evergreen Medicinal Service Review
Website Experience
The Evergreen Medical website immediately stands out. They allow you to see products by the typical sorting such as Indica, Sativa, Hybrid. But more interestingly they have sections which allow you to shop by how you are "feeling" meaning you can see which products are best for sleep and insomnia, or pain and inflammation – as well as various other categories like arousal and creativity.
We love this approach because it helps new users of the plant pick the proper strains and products for what they truly want to get out of it. Each category also has information about how cannabis generally affects the feelings they are trying to mitigate or instigate. This is brilliant and really shows that EGM is keen on normalizing this plant and educating its shoppers. Signup is as easy as you would expect.
The strains available are all top notch and the site allows you to order up to a pound of certain strains. The prices are very reasonable with discounts being applied as you order more product. They also have ounce specials where you can get AAAA strains for less than $200 an ounce. That really can't be beaten.
The product pages have pictures that clearly seem to have been taken by the site owners themselves. This is important because it indicates the product you receive will look like what they are saying it will. Some of the product pages also detail the physical and medicinal effects of the strain as well as their flavours. However we did not see lab test results on any of the strains or concentrates we checked out despite their FAQ stating the products are lab tested. It would be great to see those results.
One other unique feature the site has is a chat box that allows you to chat live with the management. We did not try this feature but it is nice to see it there.
---
Shipping and Packaging Quality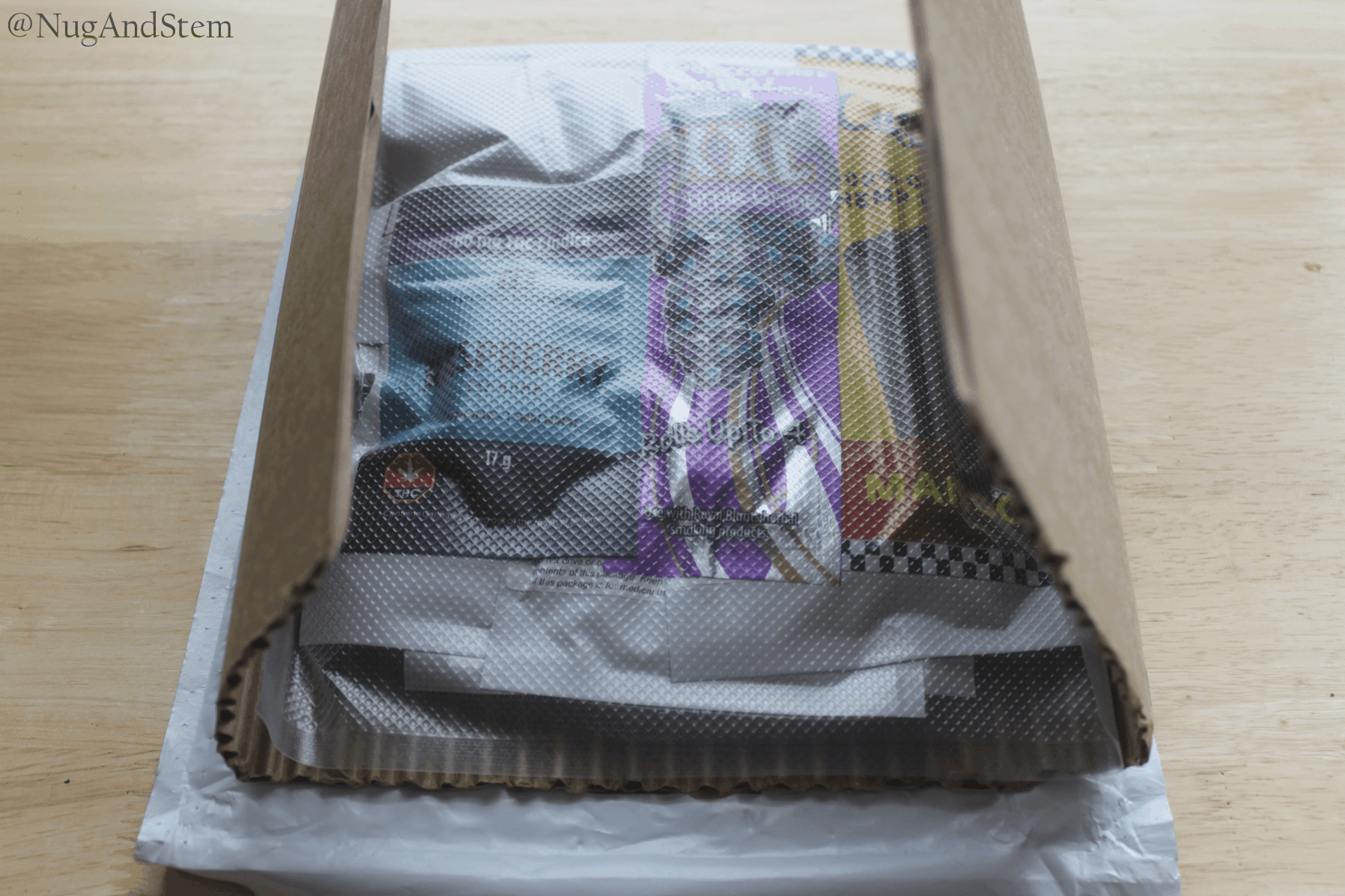 Shipping is free on orders over $150 which is great and more generous than other sites. Just like their website stood out, EGMedical's packaging quality does as well. They use standard express post packages with the products neatly packed in an airtight bag. The airtight bag is wrapped in a light cardboard to protect everything. The package is clearly put together with intention to get the products in your hands safely. That is highly appreciated!
The cannabis is packaged in a custom labeled plastic baggie, which is also air sealed after packing. This is an extra step we have never seen before and clearly demonstrates this company's attention to detail. The package also indicates the strain and weight along with a safe consumption warning. At the quantities, we purchased there were no humidity control packets. Sadly, more than half of these custom labeled plastic baggies had faulty zip locks. These bags really should be improved, because as they currently function you will need to store the cannabis in a different container than the baggie.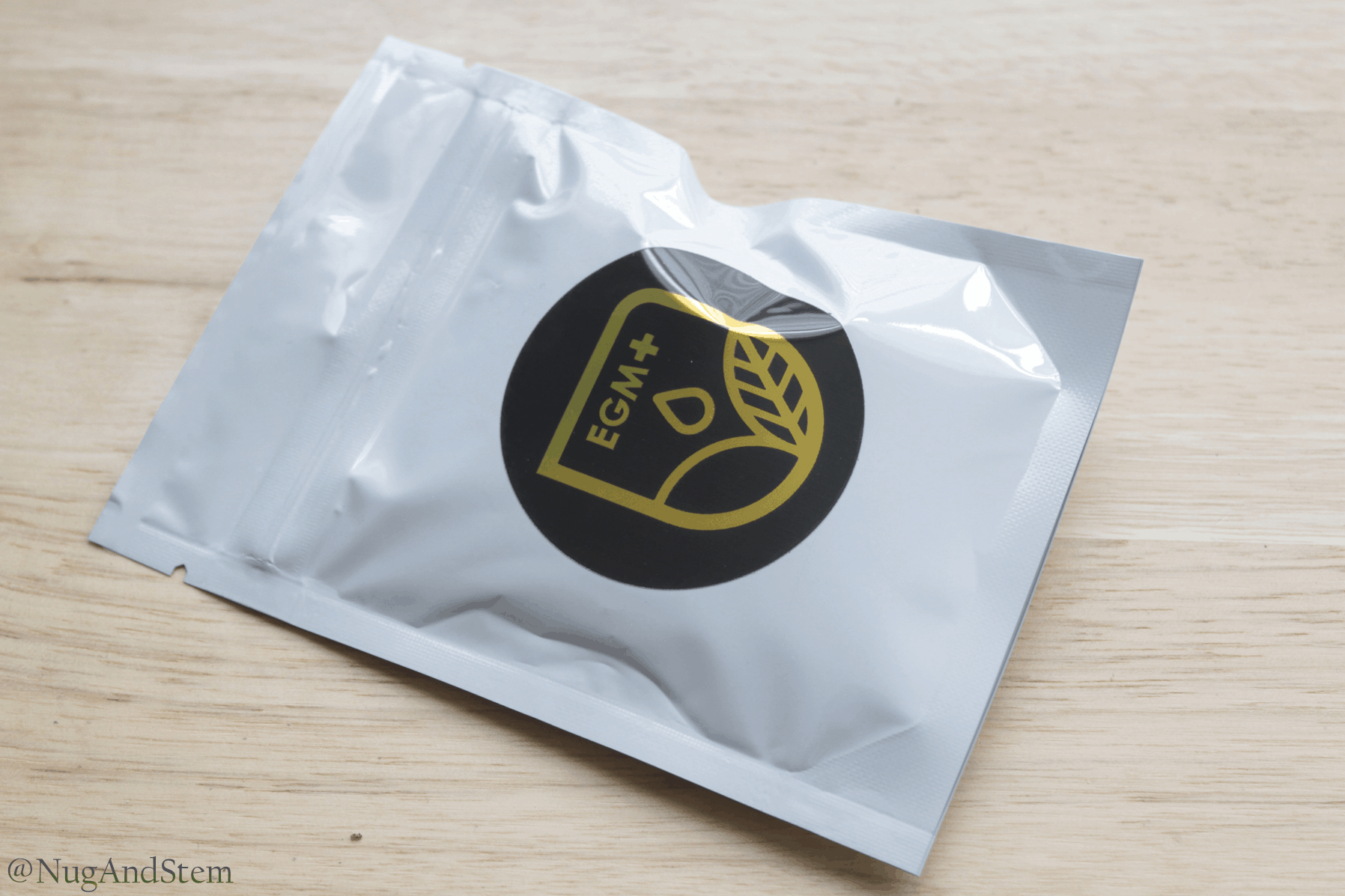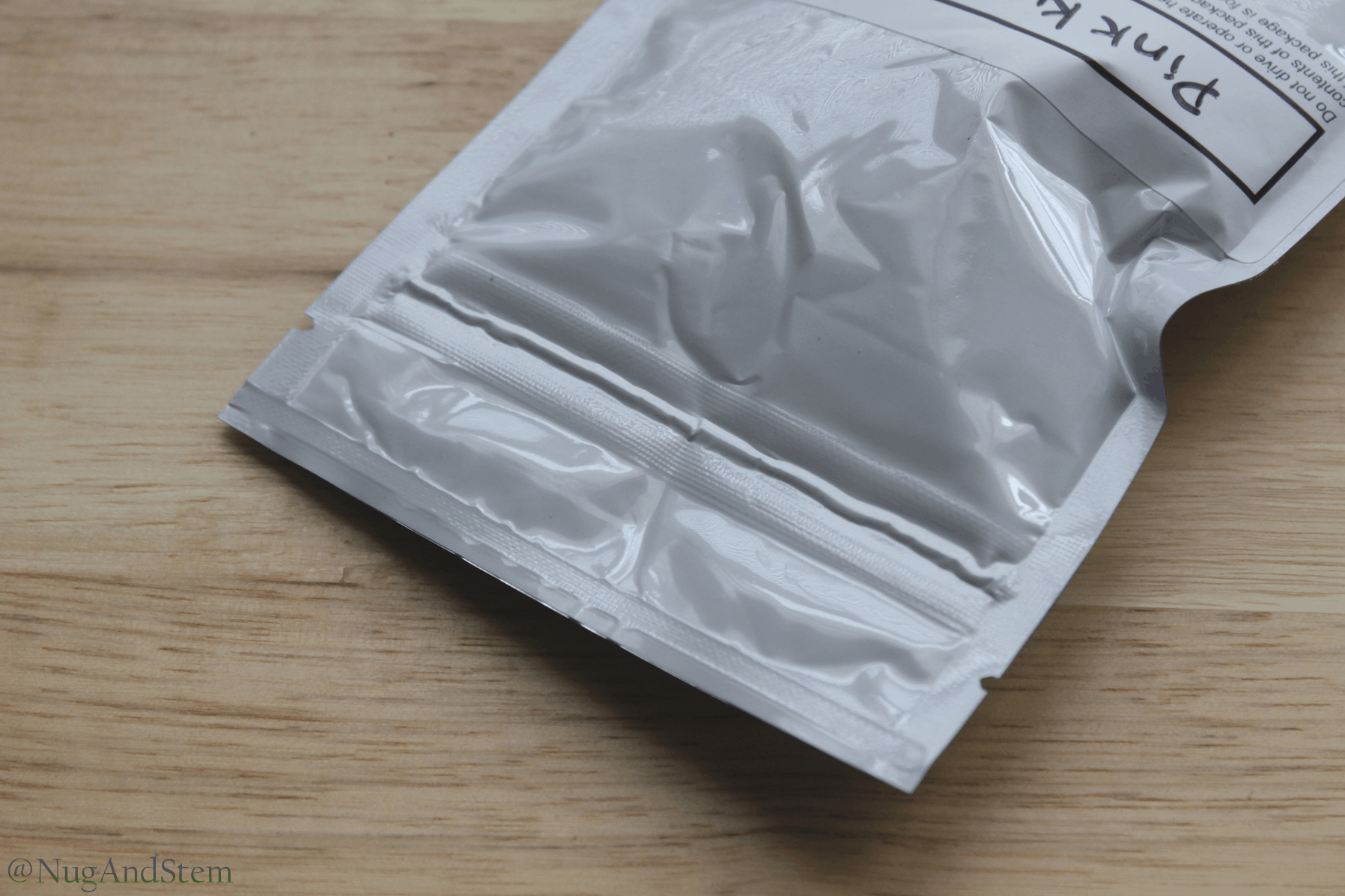 ---
Saving Money With Evergreen Medicinal Coupons
Save money on all Canada Mail Order Cannabis here at Save On Cannabis the World's largest online cannabis coupon code directory.
---
Disclosure: I received these products gratis so that I could try them and then share my honest opinion with the SOC community. I am employed by Save on Cannabis to write honest reviews and provided a flat rate payment for the writing of the review. SOC may receive recurring affiliate payments for purchases made based on this content.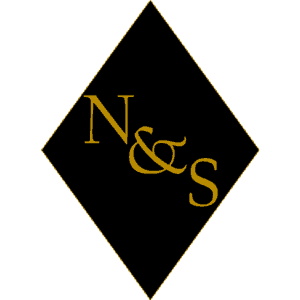 Nug & Stem Review
We are a couple that enjoys regular cannabis consumption and has a passion for sharing that enjoyment. I, Nug, am a petite woman who consumes cannabis more sparingly than Stem – who is a man and a more experienced user. Medically, I use cannabis most often to help treat anxiety, so I tend to reach for strains and products with higher levels of CBD. Stem uses cannabis to relieve chronic back pain caused by sports injuries, so he relies on a wide array of products depending on whether he needs help being active, falling asleep or needs instant topical relief. Medical uses aside, we do also enjoy using cannabis recreationally with friends and would like to contribute to normalizing this amazing plant. Visit us on Instagram @NugAndStem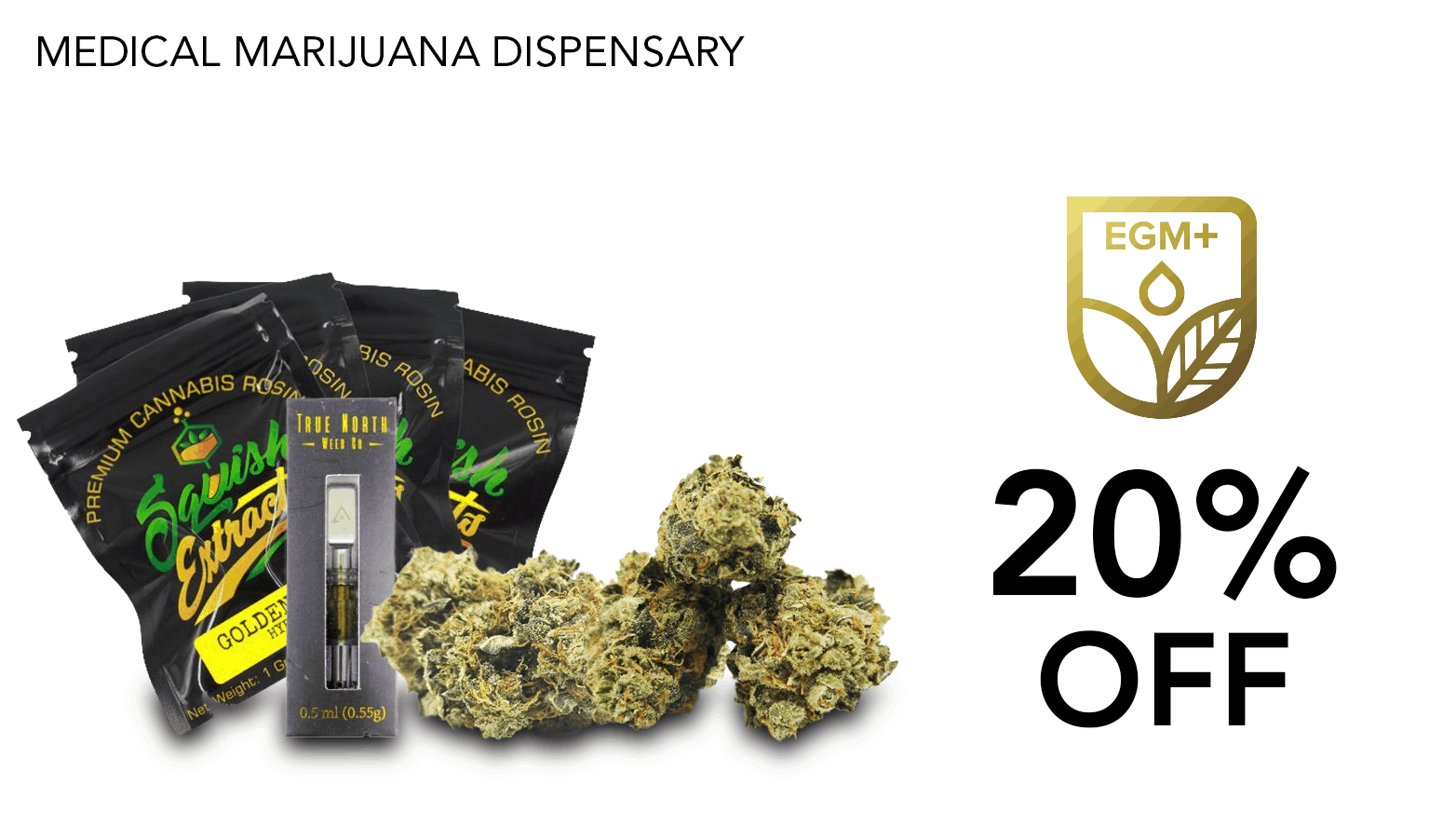 20% Store-wide EG Medicinal Discount for New and Returning Customers!
We have Dr. Dabber reviews for all their CBD cartridges, see how the Fresh Blend stacks up. In this Dr. Dabber fresh blend review.
Read our Real Scientific Hemp Oil review of the RSHO Green Label 3G CBD syringe. See how it worked to ease our reviewer's pains and stress.
Looking for a super high dose CBD oil? Read this Aspen Green review of their 3,000mg Full Spectrum tincture, it may be just what you want.