Hempzilla Review: CBD Gummies
Dec 8, 2020 | SOC
CBDCBD CandyCBD EdiblesCBD Gummies
Hempzilla CBD Gummies
Pros
Calming
Focusing
Tastes good
THC-free
Non-GMO
Easy to dose
Cons
No lab reports available
Easy to use
Unhealthy ingredients
Not vegetarian or vegan
Hempzilla CBD Gummies
Product Review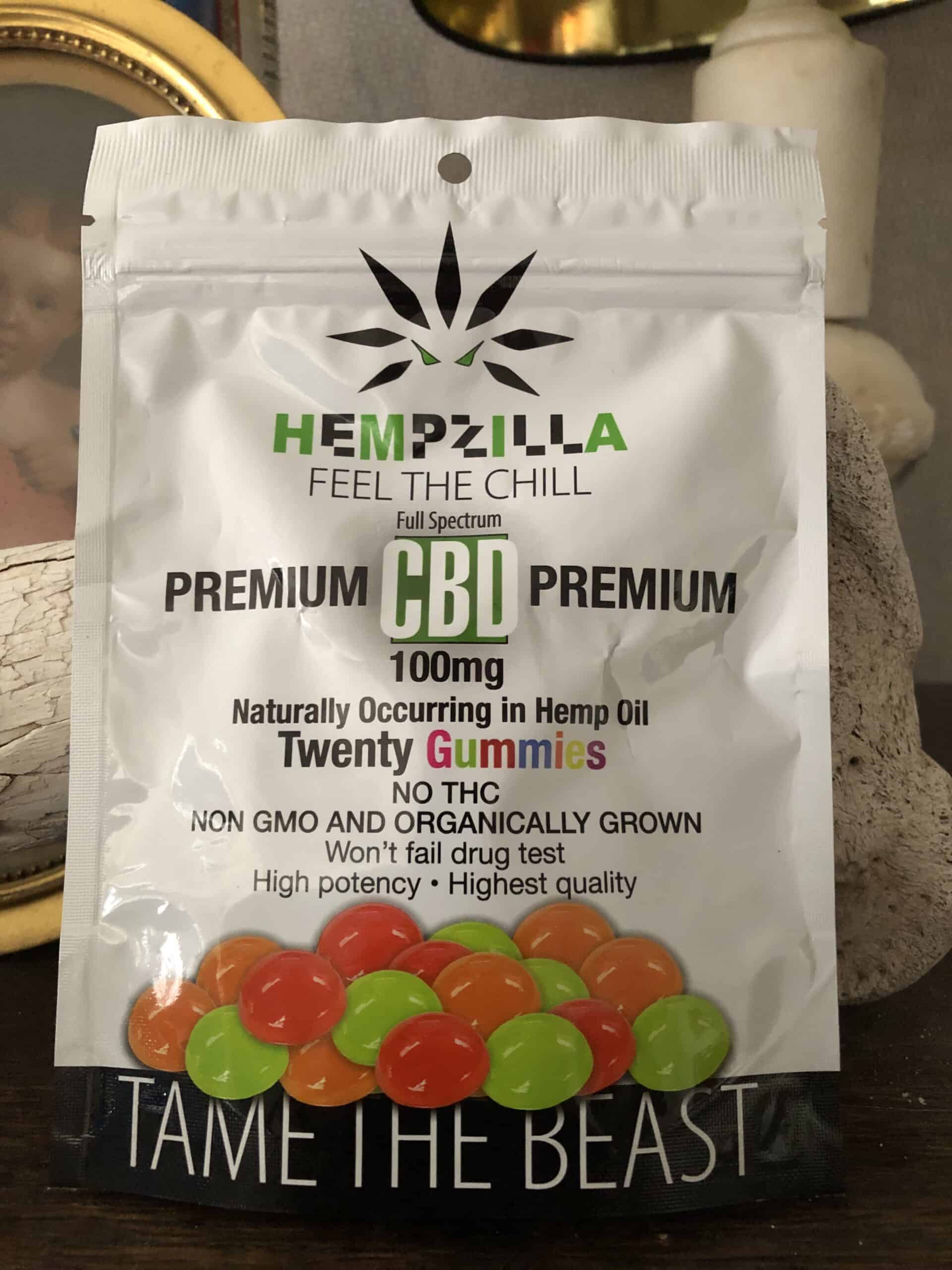 Brand Overview: HEMPZILLA CBD sold by Pure CBD Vapors
Hempzilla was founded by friends Stavros and Sharky with a mission to create quality CBD products that won't break the bank. With a commitment to making CBD accessible, the average Joe and Jane can purchase their products online or in retail stores across the U.S. They've teamed up with trusted Colorado farmers and through their facilities, create their products following Good Manufacturing Practices to ensure you're getting the best.
Everything Hempzilla makes is lab-tested to ensure accurate dosing and that your CBD product is free from THC and micro bacteria. The company has a biochemist on staff to help ensure quality so that you're getting the most from your CBD. With products grown under the watchful supervision of the Colorado Department of Agriculture, Hempzilla's full-spectrum hemp follows the highest standards in Co2 extraction using raw CBD.
Products: Honey Sticks, Tinctures, Topicals, Vape, Pre-Rolls, Flower, Gummies, Pets, Raw, Trial Sizes, Zilla Pods.
Price Range ($-$$$$): $$$
---
About HEMPZILLA CBD GUMMIES
Hempzilla CBD offers a variety of gummies, from 5 mg – 10 mg each, regular or sour, and packs of 5 or 20. I got a pack of 20 regular flavored gummies containing 5 mg each for a total of 100 mg of CBD per bag. The gummies are made with full-spectrum hemp and contain a strong terpene profile and a plethora of phytocannabinoids which work together to create the entourage effect. This means that all the different components of the hemp plant are working together to give you the best possible CBD experience.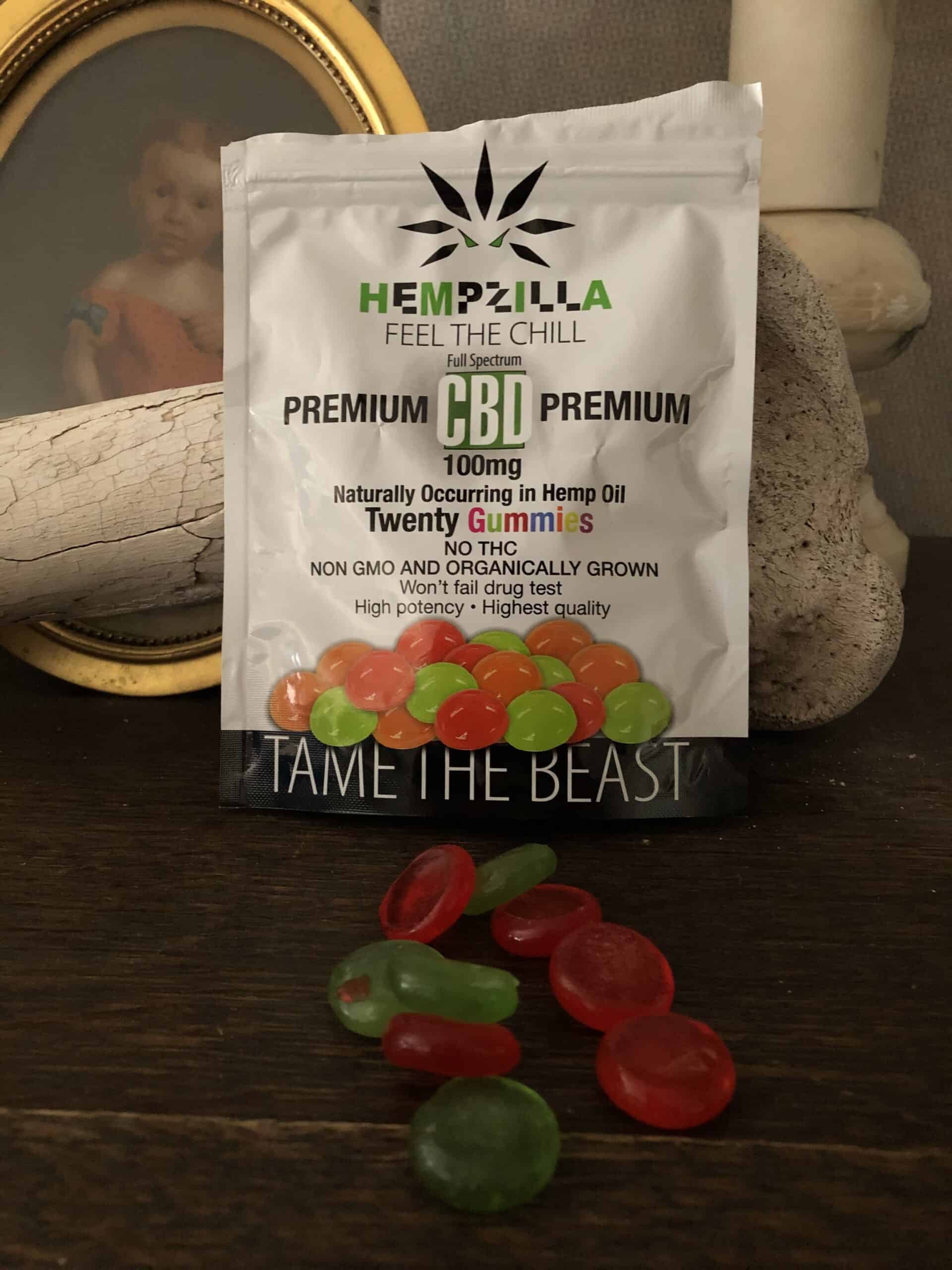 The company claims these gummies can help relieve stress and anxiety all while tasting great. The Hempzilla CBD gummies can also help boost your energy, promote healthy digestion, and provide mental clarity and focus. They contain 0% THC, so won't get you high. For 100 mg of CBD in twenty pieces of candy, you'll pay $29.99.
---
HEMPZILLA CBD GUMMIES Specifications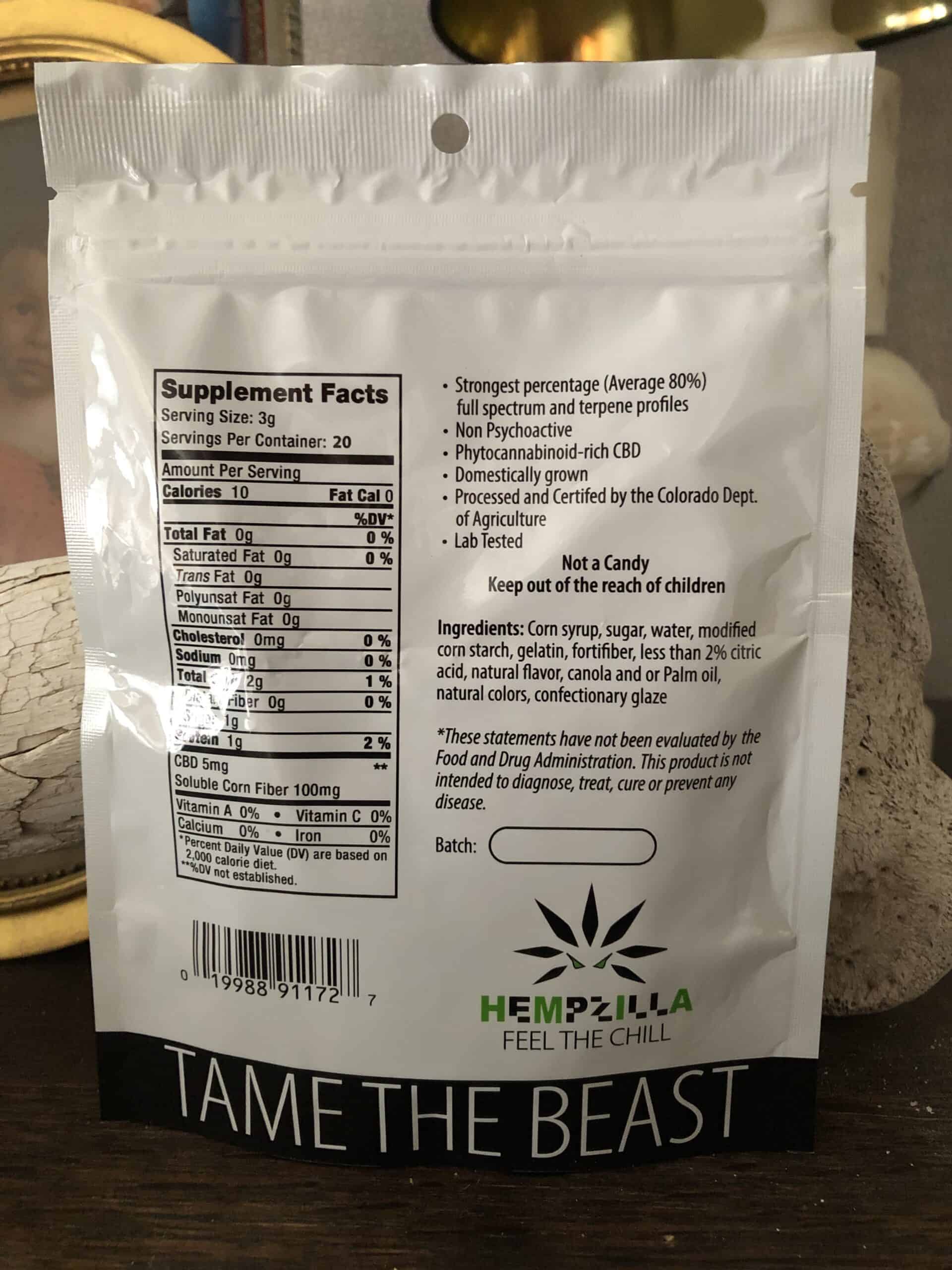 100 mg CBD per bag
20 gummies per bag (60 g)
5 mg CBD per serving
10 calories per serving
No THC
Non-GMO
Ingredients: Corn Syrup, Sugar, Water, Modified Corn Starch, Gelatin, Fortifiber, Less than 2% Citric Acid, Natural Flavor, Canola and/or Palm Oil, Natural Colors, Confectionary Glaze.
---
How We Tested the HEMPZILLA CBD
I've been feeling a lot of stress lately due to juggling a full schedule at school and a chronic illness that leaves me feeling like I have mononucleosis but with more pain. It's hard to study or participate in class when I feel like my brain is melting so I try to save all my work for days when I'm feeling somewhat okay. I can get overwhelmed with facing what I've tasked myself to do, and that in turn makes it harder to work. I love CBD because it not only can assuage stress but can help me focus too.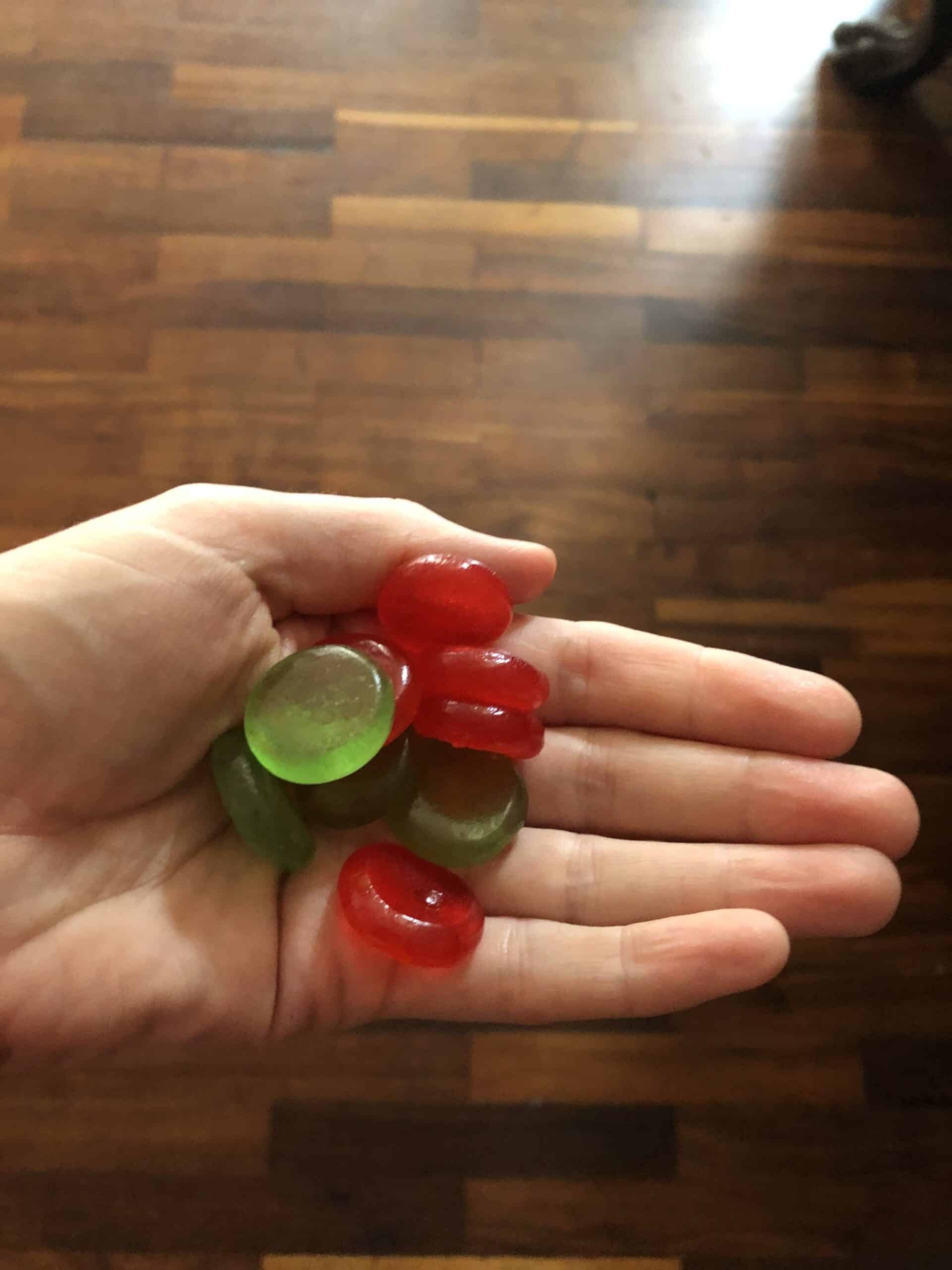 It's been a while since I've used CBD gummies, as I tend to stick with topicals, but I was excited to get my bag of Hempzilla CBD Gummies in the mail. I was hoping a serving or two would help me find the calm and focus I needed to do what I need to do, even when I feel lousy. Since I'm an experienced CBD user, I opted to take three servings in the morning for a total of 15 mg. If you're new to CBD, experts recommend starting small, so these low-dose gummies would be perfect for you.
---
How the HEMPZILLA CBD GUMMIES Worked for Me
I started to feel the warming effects of the CBD less than an hour after I devoured three gummies. They tasted fruity and delicious, and I look forward to trying Hempzilla's sour variety. Despite feeling low-energy, the CBD helped me find the calm and focus I needed to do some studying and physical therapy. It was like I could zone in on what needed to get done and ignore the icky feeling of being sick. While it doesn't cure you, it can help take the edge off so you can enjoy life and stay mindful. I will be using this product again and again whenever I'm in the mood for a CBD edible.
---
Useful and Unique Things to Know About HEMPZILLA CBD GUMMIES
If you're looking for an all-natural edible that's on the healthier side, these gummies aren't for you. I'm trying to cut back on my sugar intake due to the aforementioned low energy levels, but it's nice to have a treat once in a while. However, some of the ingredients aren't the best for the health-conscious. Corn syrup is known to increase inflammation, which isn't great for people like me who have arthritis. Modified corn starch is highly processed and is high in carbohydrates, without any nutritional benefits. Gelatin is derived from animal products, so this isn't safe for vegetarians.
---
HEMPZILLA CBD GUMMIES Ratings
In the next sections gradings from 0-100 on our review, these grades add up to give the product's overall score.
PRESENTATION • 100
Informative.
RELIABILITY • 100
Effective.
QUALITY • 60
Some ingredients aren't that great for you.
FLAVOR / SMELL / or EASE OF USE • 100
Sweet and delicious.
VALUE • 60
Expensive
---
How HEMPZILLA CBD GUMMIES Stacks Up Against the Competition
While these gummies were effective and tasty, there are other CBD gummies on the market that use natural ingredients, cost less, and are equally as effective. I've tried CBD gummies that are vegan and flavored with things like beets and apples! They tasted amazing too. These gummies were also less expensive and you got a lot more. If Hempzilla CBD wants to be more competitive, I suggest lowering their prices and offering a vegan option.
---
---
Disclosure: I received these products gratis so that I could try them and then share my honest opinion with the SOC community. I am employed by Save on Cannabis to write honest reviews and provided a flat rate payment for the writing of the review. SOC may receive recurring affiliate payments for purchases made based on this content.

Struggling with muscle spasms and a sleep disorder our experienced CBD reviewer tests the CBDistillery CBDol Relief Stick.
Our reviewer got hit by a car & in this Vapen CBD review tested the Elements Cooling Peppermint Tincture to see how it worked for her pain.
Read our hands on 4 Corners Cannabis oral tincture review & also see photos of our testing. Organic CBD full spectrum oil tried by an expert, also get coupons.