43 CBD Solutions Review: CBD Oil Salve (1000mg CBD)
Dec 1, 2020 | SOC
43 CBD Solutions: CBD Oil Salve (1000mg CBD) – Ultra Deep Tissue
Pros
Relieves pain
Moisturizing
Smell great
All-natural
Great for massage
43 CBD
Product Review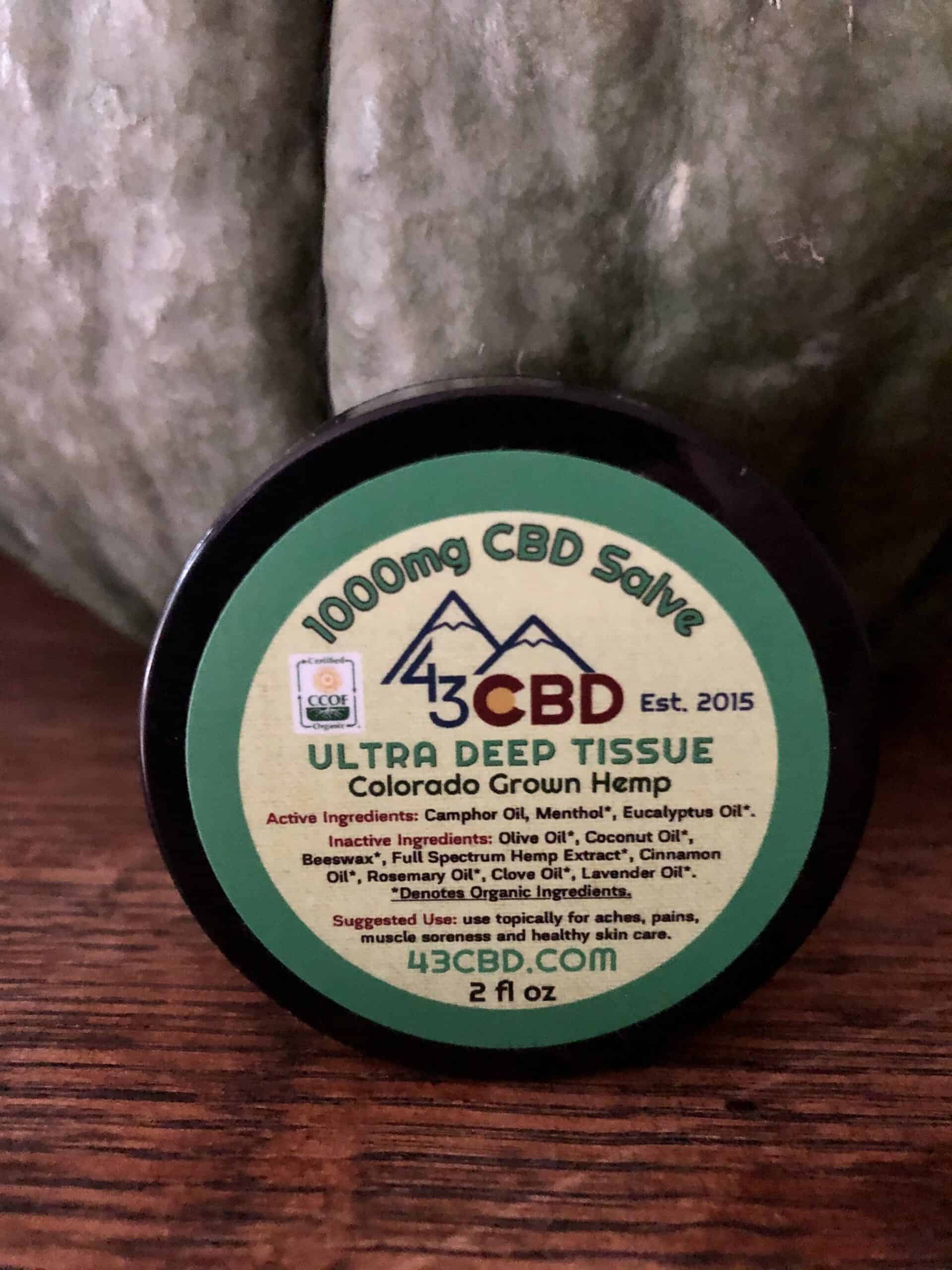 Brand Overview: 43 CBD
43 CBD's mission is to help you feel better naturally. The company was founded by snowboarder friends from Colorado whose background and interest in chemistry, health, and wellness drew them to CBD. To create high-quality products, 43 CBD uses artisan hemp grown with natural farming practices without chemicals. They hand-select the seeds and everything is lab tested for purity, potency, and to ensure you're getting the best.
The company makes CBD oils that are full-spectrum or THC-free. They have a variety of salves as well as massage oil. 43 CBD also makes a tincture specifically formulated for dogs and cats. Whether you need something to take the edge off stress, need relief from pain, or are dealing with an over-anxious pet, 43 CBD has made it easy to find a natural and non-addictive solution.
Products: Oils, Salves, Capsules, Pets, Massage, Hats, Bundles.
Price Range ($-$$$$): $$$$
---
About 43 CBD ULTRA DEEP TISSUE SALVE
The Ultra Deep Tissue Salve contains 1,000 mg of CBD along with a ton of natural ingredients that will help bring relief for chronic pain. If you have issues with your muscles and joints, menthol, camphor, and eucalyptus work to assuage the pain without any artificial ingredients added. The topical also contains a variety of essential oils like clove and lavender, which have healing properties and give the salve a relaxing scent.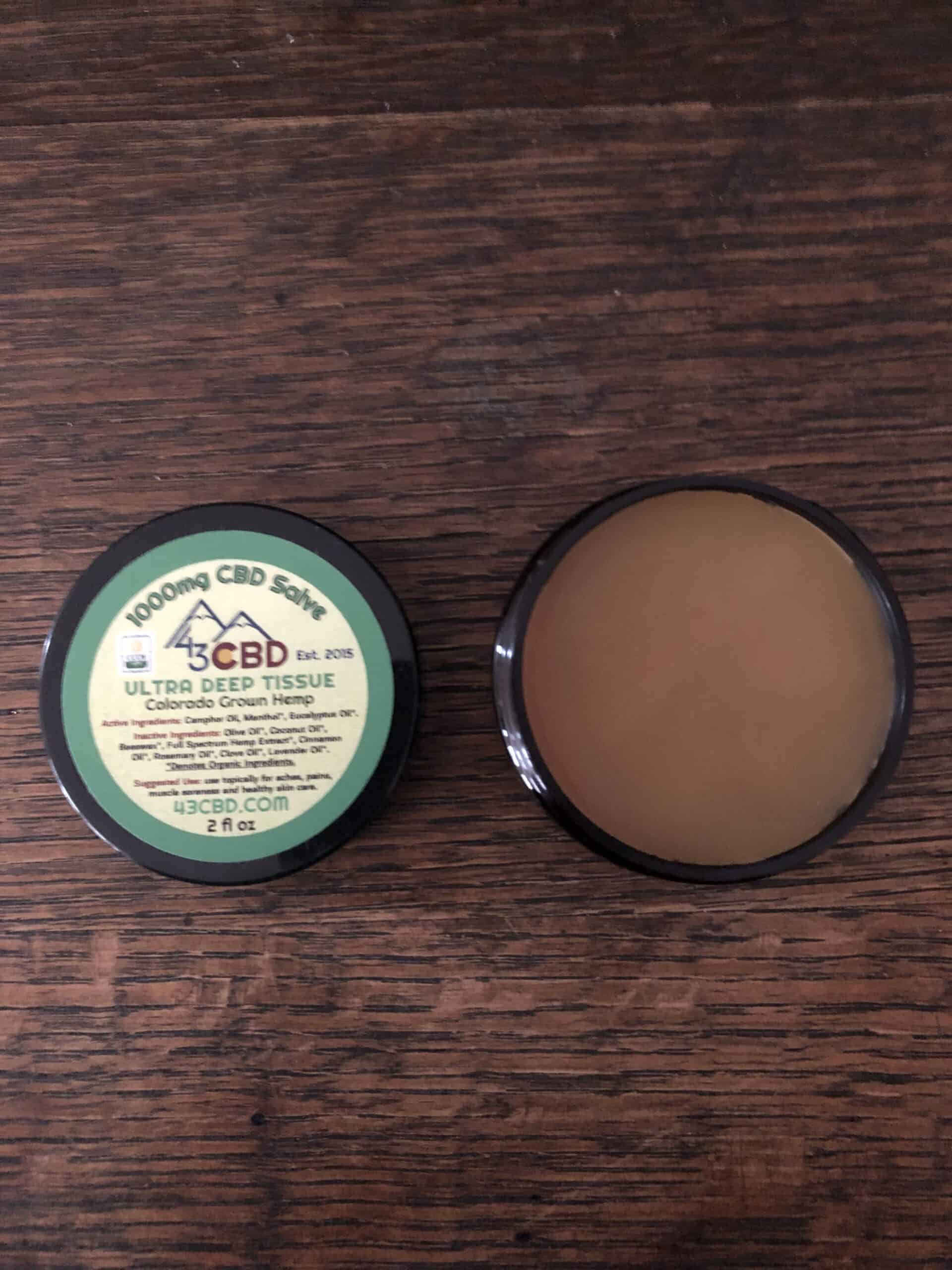 The base of the salve is made with organic olive and coconut oil, beeswax, and Vitamin E which will moisturize your skin. Although CBD isn't yet approved by the FDA, people worldwide have received relief for pain and inflammation just as effectively as the stuff you buy in the store. The company uses CBD made using ethanol extraction which is a clean and safe way to extract oil from hemp. This salve was approved by California Certified Organic Farmers which means the product meets their standards and is almost entirely organic.
---
43 CBD ULTRA DEEP TISSUE SALVE Specifications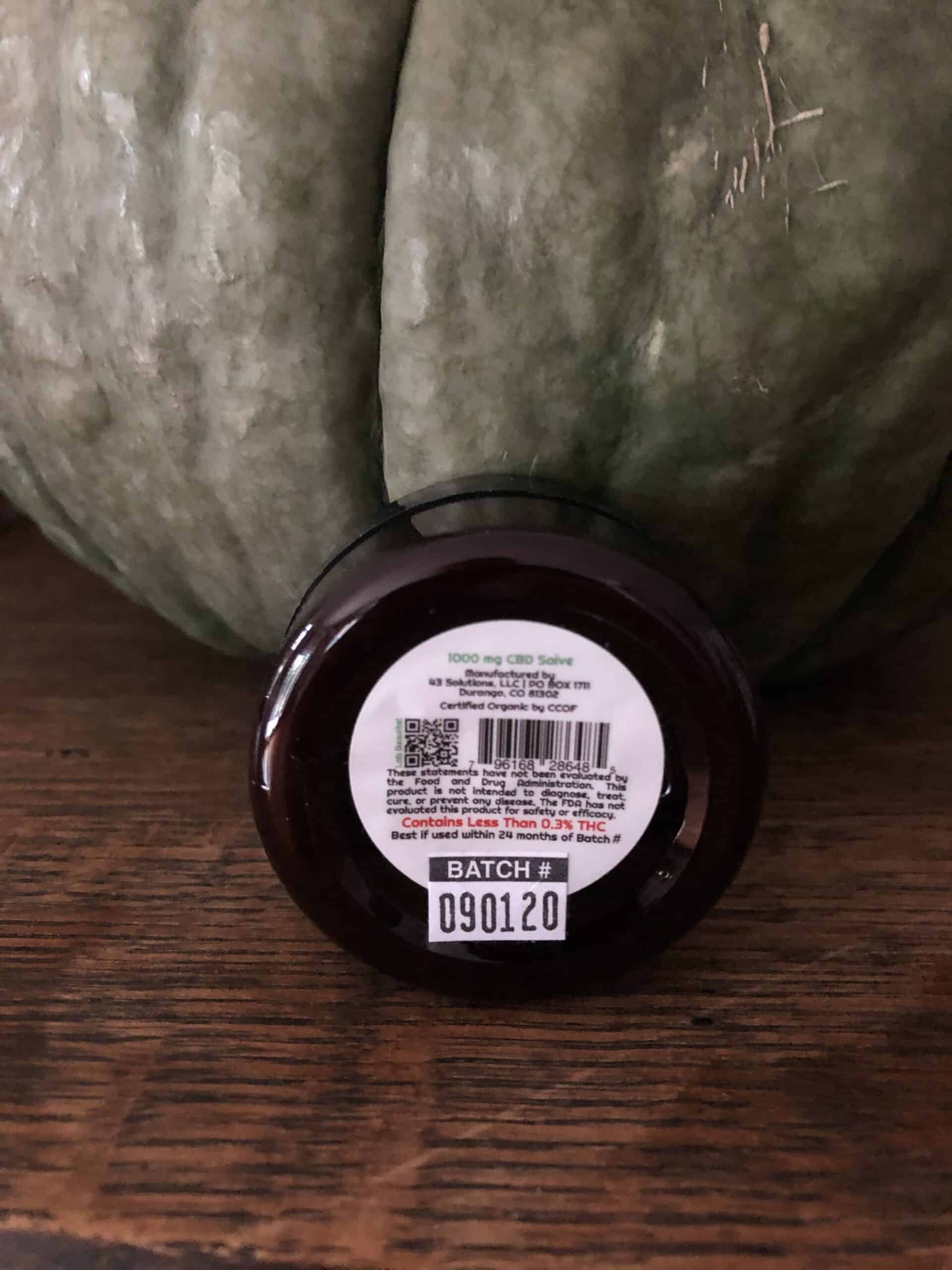 1,000 mg CBD
Contains less than 0.3% THC
2 fl oz
Ingredients: Camphor Oil, Menthol, Eucalyptus Oil, Olive Oil, Coconut Oil, Beeswax, Full Spectrum Hemp Extract, Cinnamon Oil, Rosemary Oil, Clove Oil, Lavender Oil
---
How We Tested the 43 CBD ULTRA DEEP TISSUE SALVE
I'm in pain constantly due to a couple of chronic illnesses. The worst of my pain resides in my hips and legs but on a bad day, I feel pain throughout my back, neck, elbows, hands, knees, and feet. Sitting, driving, walking, and standing are all made more difficult by how much pain I'm in. I've come to rely on topicals to get me through the days and nights. This was my first time trying a 43 CBD product, so I wasn't sure what to expect. I was drawn to this salve because of its high potency as well as ingredients like camphor, menthol, and eucalyptus.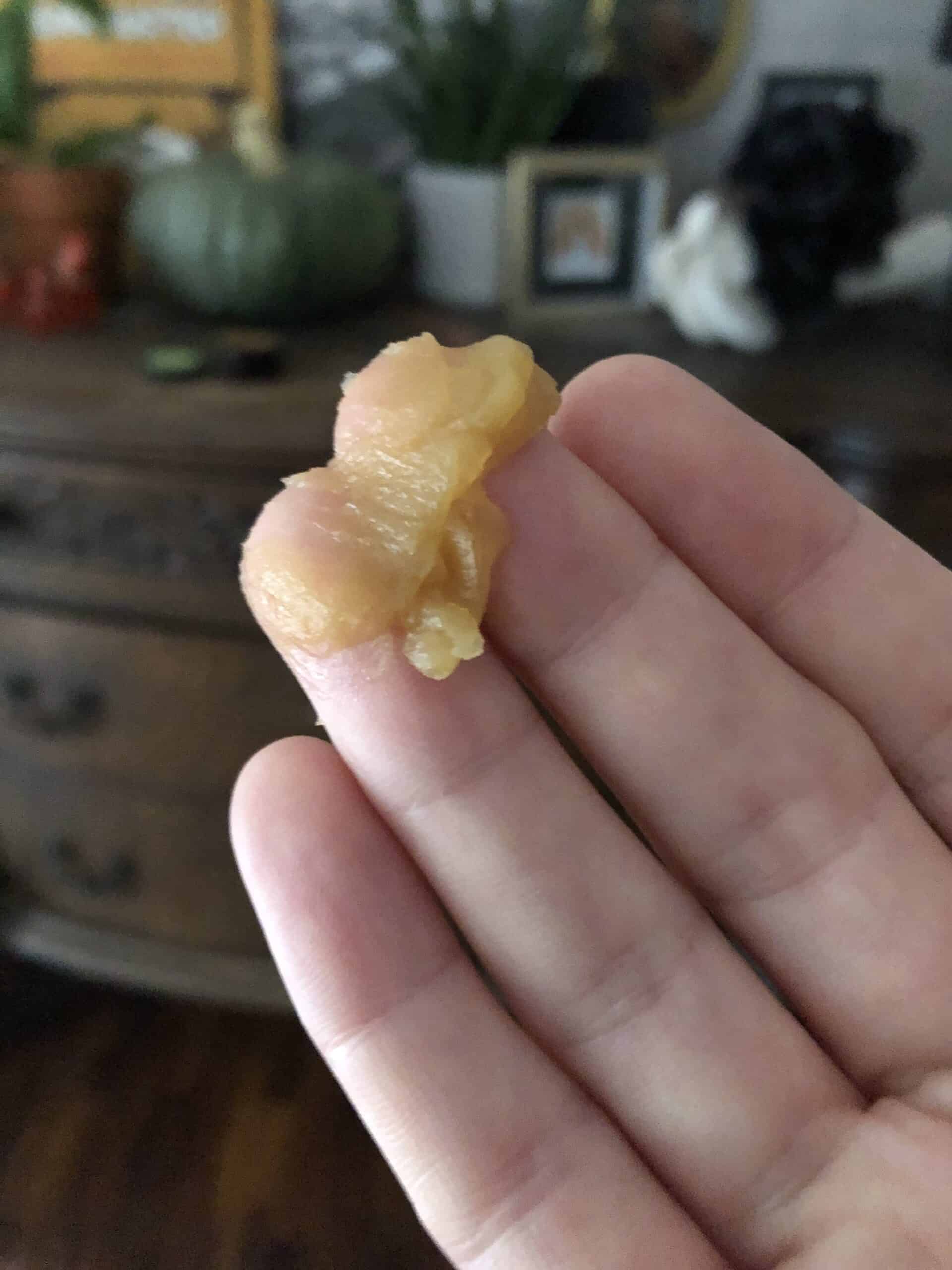 I need something strong to feel any sort of relief. I've gone back to school, so that along with work means I'm sitting a lot more than my pain will allow me to. Lately, I have more bad days than good, so I was hoping this salve would help take the edge off the pain enough so I could focus more on what's in front of me. I massaged the salve into my neck and hips, which hurt the most during class.
---
How the 43 CBD ULTRA DEEP TISSUE SALVE Worked for Me
I could feel the effects of the salve immediately. The menthol and camphor provided an instant cooling relief which took away some of my pain in a major way. The salve blended easily into my skin and made a great massage lotion. During class, when I'm normally squirming and adjusting from pain, I found I was better able to focus on the lesson. I love the refreshing, natural scent made by the combination of essential oils. I could identify one of my favorite scents, eucalyptus, which helped me relax and find some peace of mind during stressful moments. I applied the salve again before bed and slept surprisingly well. Normally, the pain wakes me up throughout the night, but not so when using this ultra-deep tissue salve. I've tried a ton of different topicals and this one has moved to the top of my favorite list. I'll certainly be using this multiple times daily.
---
Useful and Unique Things to Know About 43 CBD ULTRA DEEP TISSUE SALVE
There are so many healing ingredients in this salve. Camphor is often found in pain topicals and is known to stimulate your nerve endings. Menthol helps the skin feel cool which can distract your brain from the pain. Eucalyptus can help with joint pain and is often used by people with arthritis. Cinnamon oil can reduce stress and pain. Rosemary, clove, and lavender oil all fight inflammation.
---
43 CBD ULTRA DEEP TISSUE SALVE Ratings
In the next sections gradings from 0-100 on our review, these grades add up to give the product's overall score.
PRESENTATION • 100
Informative packaging.
RELIABILITY • 100
Soothing and effective.
QUALITY • 100
Natural ingredients.
FLAVOR/SMELL/or EASE OF USE • 100
Smells amazing.
VALUE • 60
Expensive.
---
How 43 CBD ULTRA DEEP TISSUE SALVE Stacks Up Against the Competition
43 CBD Ultra Deep Tissue Salve is one of the best topicals I've tried. It seriously relieved my pain and made my quality of life better. I have no complaints about this product except that it's expensive. You'll get a 2 oz container for $75, which is relatively expensive for a CBD topical. To be more competitive, I recommend the company lower the price so it can be accessible to people who don't make as much money.
---
Saving Money with Our Verified 43 CBD Coupons
Save money by using our verified CBD Topicals Coupons here at Save On Cannabis the World's largest online cannabis coupon code directory.
---
Disclosure: I received these products gratis so that I could try them and then share my honest opinion with the SOC community. I am employed by Save on Cannabis to write honest reviews and provided a flat rate payment for the writing of the review. SOC may receive recurring affiliate payments for purchases made based on this content.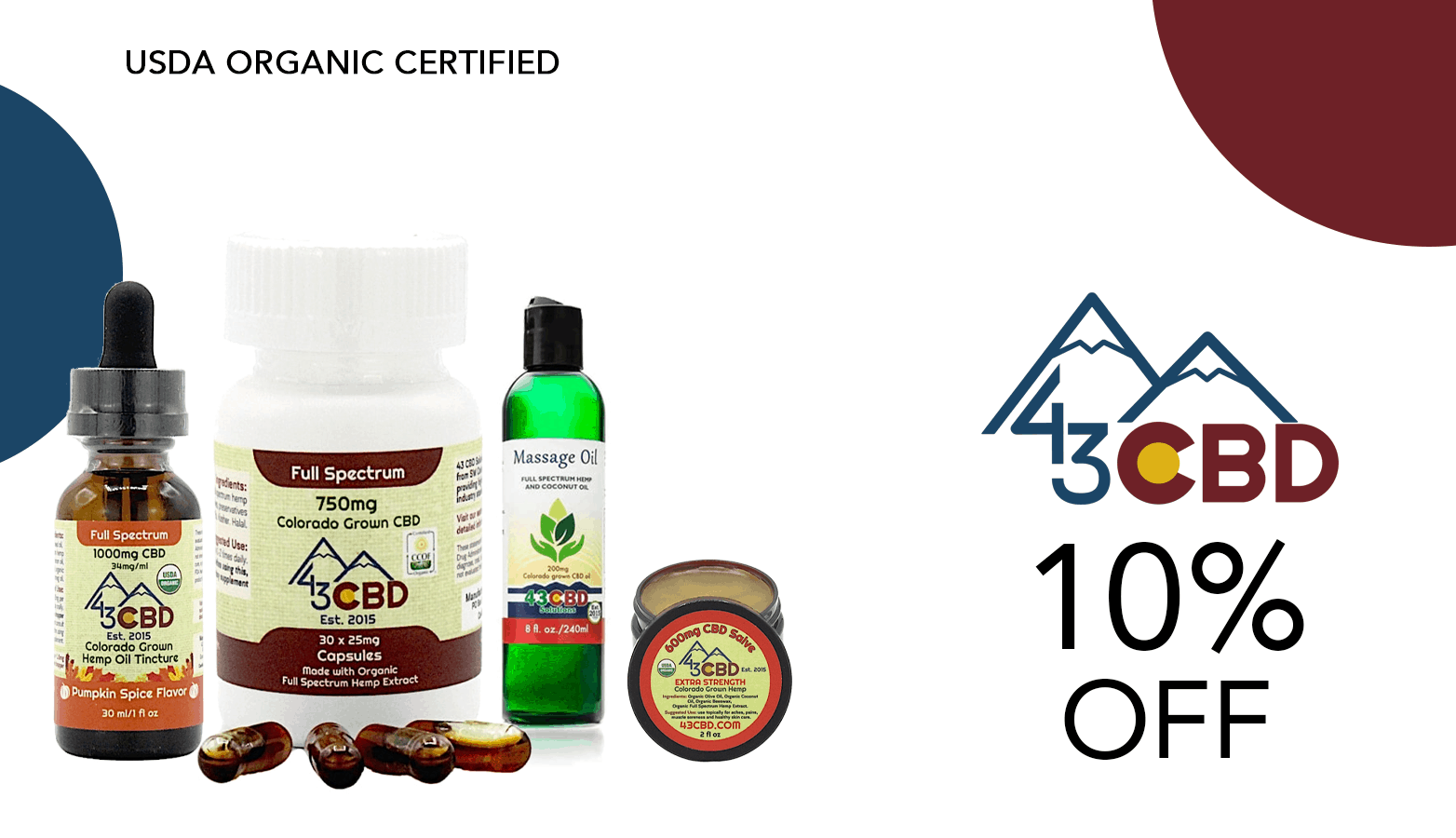 10% Off for Returning Order customers at 43 CBD Solutions! Colorado USDA Organic Grown Hemp.
We keep testing out Aspen Green products, find out how much pain relief we got from their 1000mg CBD balm. First-hand experience on our own pains.
Tobacco dip has been around a long time, but CBD dip is a new exciting product option. We review this tobacco free & high CBD dosing dip.
Our NutraCanna review of the CBD Wake dissolvable tablets. See how we rated their this unique product for pain relief.