Best CBD Products for Fibromyalgia
Jan 5, 2021 | Save On Cannabis
This has been a great year to discover CBD. The pandemic is still with us and we're more stressed-out than ever, perhaps reacting to the unease and unrest that dominates the headlines, real or imagined.
We all have different reasons for seeking out a CBD product. I tried it initially after I had surgery and wanted something natural and non-addictive to help me deal with pain and sleep. I used it again after I was hit by a car and injured my foot and left hip. I continue to use CBD to help me deal with the symptoms of fibromyalgia and arthritis. You don't even need to have an injury or a disease to benefit from CBD. I also use it after doing pilates or yoga because it can reduce post-workout inflammation.
CBD, or cannabidiol, is a compound found in the cannabis plant that has all the relieving and calming effects of THC, without the high. Although it's not verified by the FDA (yet), more and more doctors are recommending CBD to patients. If you're new to CBD, experts recommend starting at a low dose and working your way up.
This past year I've used a ton of great products but there's a handful that stand out. I've compiled a list of my favorites for helping me deal with the symptoms of having a chronic illness like fibromyalgia. I hope you get as much relief out of them as I did.
Best CBD Tincture for Fibromyalgia
If you have any sort of chronic illness, you're well aware that stress is a trigger. My fibromyalgia gets worse even if I experience the slightest bit of anxiety. CBD has been known to ease the symptoms of stress and anxiety, which in turn can help alleviate the symptoms of fibromyalgia.
One of my doctors also has a chronic illness, and she uses CBD tinctures on her bad days. She said she had ended up trying some ineffective products before discovering a brand she liked. I told her I would give her a list of the best ones at our next appointment, but off the top of my head, I instantly could recall the name of my current favorite.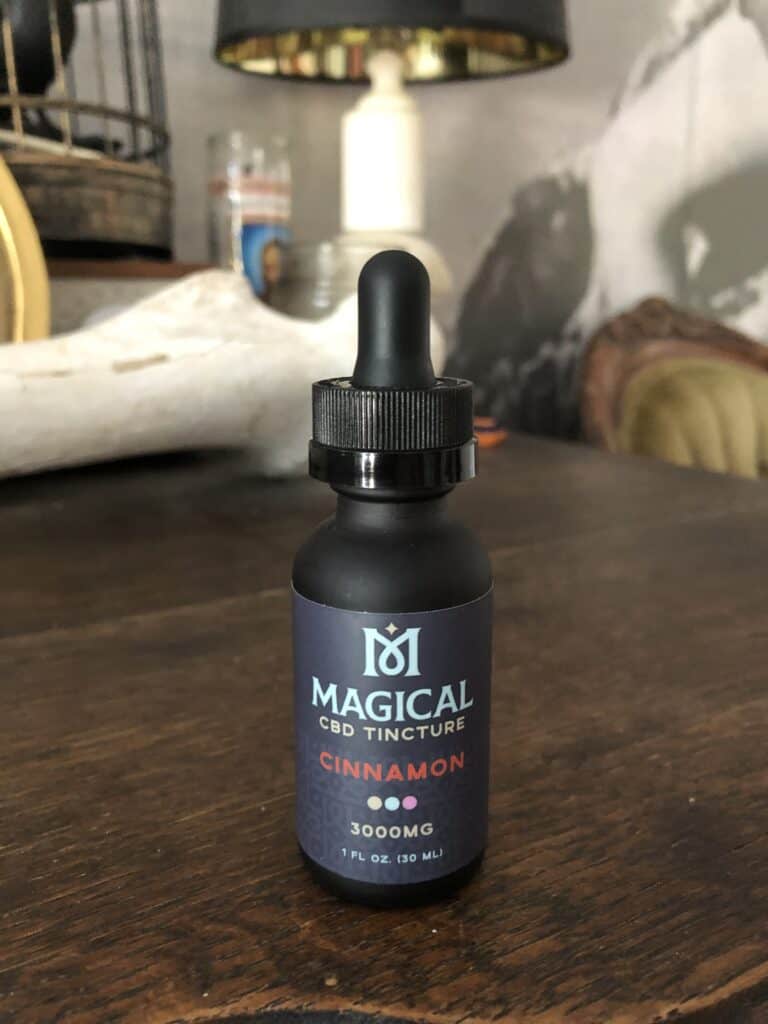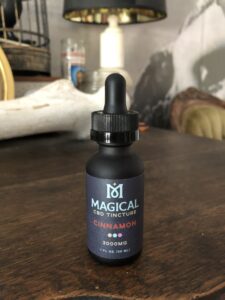 Magical CBD Cinnamon Tincture
Magical CBD tinctures come in bottles with 1,500 mg or 3,000 mg of CBD, so will last a long time if you take a low to moderate dose. The hemp oils are flavored with orange, crème de menthe, mixed berry, or my personal favorite, cinnamon.
This tincture tastes amazing, the cost can't be beaten, and it effectively soothes stress. All of Magical's flavors were delicious, and it was hard to choose between orange and cinnamon. The latter won out for nostalgic reasons because the flavor reminded me of eating cinnamon bears at the movie theaters with my dad. They taste remarkably similar.
This is also the best tincture because of how much it costs. For a high-quality and effective hemp oil that contains 3,000 mg of CBD, I might expect to pay between $99 – $149. This product will only set you back $70. The bottle comes with a measured dropper making it easy to dose out 10 mg to 100 mg (if it's full). With so much CBD in the bottle, your $70 can go a long way if you don't take a full dropper. As someone with a chronic illness that makes it impossible to work full-time, I appreciate a product that won't break the bank.
I tried this product when I was struggling to juggle work, school, and being chronically ill. I found the tincture warming and calming. CBD doesn't cure stress and anxiety, but it can help take the edge off of it so you can live a happier and productive life, without or without illness.
1,500 – 3,000 mg CBD in each bottle
$50 – $70
THC-free
Fat-free
Sugar-free
Gluten-free
Non-GMO
Vegan
Ingredients: CBD Isolate, Broad-Spectrum CBD, Pure Coconut MCT Oil, Unrefined Hemp Oil, Cinnamon Flavoring
1 fl oz / 30 ml
Best CBD Inhaler for Fibromyalgia
Inhalers offer one of the most fast-acting ways to take CBD. I don't use these kinds of products as much as I do the others, because I want to spare my lungs, but I love to use them once in a while if I need something more immediate. On my bad pain days, there's nothing worse than having to wait for medicine to kick in. That's when I turn to the most fast-acting CBD product I've ever tried.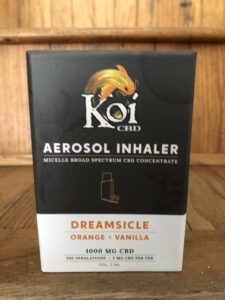 Koi CBD Aerosol Inhaler (Dreamsicle – Orange & Vanilla)
Koi CBD makes a Mojito Mint inhaler as well as the one I tried which is called Dreamsicle, and it's flavored with orange and vanilla. The inhaler contains 1,000 mg of CBD and each inhalation will give you a precise dose of 5 mg.
I used this product during the last week of summer break when I was trying to prepare for French 3. Having fibromyalgia, however, means that sometimes I have a hard time focusing through the pain, the brain fog, and the feeling of having mono and the flu at the same time.
I settled down to study and took my first inhale. I could feel the effects immediately. It was like a whoosh to the brain that then settles into a focused hum. I found myself better able to focus through the brain fog and was able to study more effectively.
1,000 mg CBD
$74.99
200 inhalations
5 mg per use
2 ml
.001% THC
Ingredients: PurZorb® Micellized Broad Spectrum Cannabinoids, Dehydrated Ethyl Alcohol (EtOH), Oleic Acid, Green Tea, Orange, Vanilla, and Stevia Extracts, KOI CBD LLC Proprietary Blend, Pharmaceutical Grade HFA 134a Tetrafluoroethane Propellant
Best CBD Edible for Fibromyalgia
One of the worst things about having fibromyalgia, or any chronic illness, is having low energy. I don't sleep well, and being in pain all the time means that I'm always tired. I'm always looking for something natural to give me a boost. That's why I was excited to discover what I consider the best CBD edible of the year that gives you energy.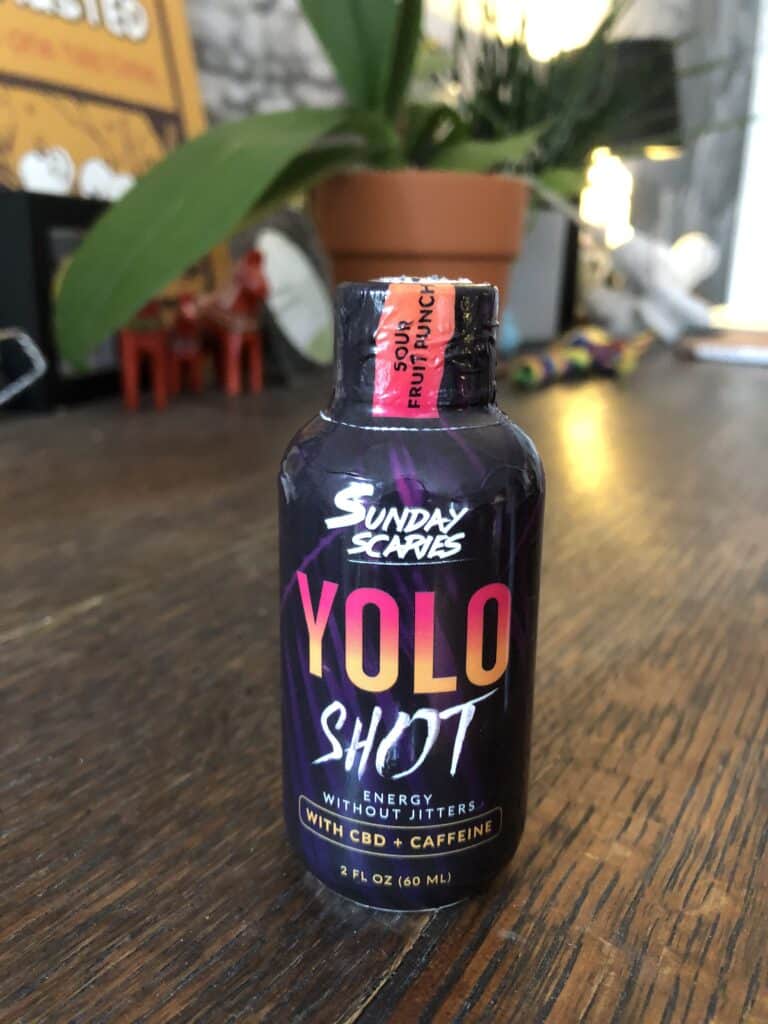 Sunday Scaries Yolo Shot
I tried the Sour Fruit Punch flavor, but you can also get the shot in Coconut Lime and Tropical Pineapple. Each shot contains 50 mg of CBD and 200 mg of caffeine, which is equivalent to about two cups of coffee. The portable 2-ounce bottle is filled with Sunday Scaries' proprietary blend of energy-boosting herbs.
I took half a shot in the morning then another in the afternoon when my symptoms begin to worsen. The potent combination of herbs, caffeine from organic green coffee beans, and CBD helped give me an energy boost to be productive a little longer. And the best part is I didn't experience any of the jitters that I often feel when I drink coffee.
200 mg caffeine per shot
$4.99 per shot
50 mg CBD per shot
0 calories
585 mg of Proprietary Blend: Taurine, Organic Green Coffee Beans, Cannabidiol Extract (CBD), 5-Hydroxytryptophan, Panax Ginseng Herb Extract, Guarana Seed Extract
Other Ingredients: Filtered Water, Erythritol, Citric Acid, Natural Flavors, Sucralose, Acesulfame Potassium, Sodium Benzoate, Potassium Sorbate, and Red No. 40
Best CBD Tablet for Fibromyalgia
I've had a lifelong struggle with sleep because of fibromyalgia and like to use non-addictive and natural medications as much as possible. I like to take CBD in the form of capsules or tablets because there's no easier way to ensure I'm getting an exact dose. Gelcaps are easy-to-use, portable, and I can take them with my vitamins and prescribed medications. I tried these tablets from Trokie CBD to help me get better sleep and I can't get enough of them. The best CBD capsule of the year goes to a small but mighty tablet that contains 10 mg of CBD and 1.5 mg of melatonin.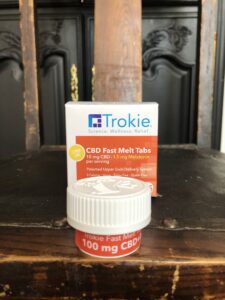 Trokie CBD Fast Melt Tabs with Melatonin
I was intrigued about Trokie CBD's melatonin-infused and micro-sized fast-melt tabs that you place under your tongue to dissolve. I took three tabs, or 30 mg of CBD and 4.5 mg of melatonin, about thirty minutes before bed. It helped me fall asleep so much easier. And I found I stayed asleep long before I was woken up by pain. I woke up the next day having only gotten up once. I felt refreshed and rested.
One of the best parts of Trokie's little tabs is how accurately they're dosed. They're fast-acting too. I started to feel more relaxed within a few minutes.
For day-time use, Trokie has fast-melt tabs without melatonin. You can also get a box with 50 servings instead of 10.
100 mg CBD per box
$16.00
10 mg CBD per serving
10 servings
1.5 mg melatonin per serving
0 calories
Vegan
Sugar-free
Gluten-free
THC-free
Ingredients: CO2 Hemp Extract with 1% Terpenes, Melatonin, PCCA Proprietary Base (PEG, Monk Fruit Extract, Natural Flavors, Gum Arabic, Stevia, Citric Acid, NaCl, Silica)
Best CBD Topical for Fibromyalgia
It's hard to choose my favorite CBD topical because I've found so many great ones. I could write a Top 10 Best CBD Topicals article and have a hard time making my choices because there are way more than ten superior products out there. Using topicals is my favorite way to "take" CBD so I put a lot of thought into which one I'd choose as the best one for fibromyalgia. I opted to choose a recent discovery. In fact, it's the topical currently living on my bedside table that I use every day on my aching low back, hips, and quads.
43 CBD Ultra Deep Tissue 1,000 mg CBD Salve
Along with 1,000 mg of CBD, this salve contains menthol, camphor, and eucalyptus, which work together to bring your body relief. The combination of ingredients is potent and cooling, distracting my brain from focusing on the pain.
This stuff blends easily into the skin. I've been using it at night before bed, massaging it into my aching legs which have made my sleep ten times better.
I'm also in love with how this topical smells. It's spicy and fresh with cinnamon, rosemary, clove, and lavender oil.
1,000 mg CBD
$75
Contains less than 0.3% THC
2 fl oz
Ingredients: Camphor Oil, Menthol, Eucalyptus Oil, Olive Oil, Coconut Oil, Beeswax, Full Spectrum Hemp Extract, Cinnamon Oil, Rosemary Oil, Clove Oil, Lavender Oil
While no results are guaranteed the recommendations above are all from direct personal experience of the Save On Cannabis reviewer.  The claims from their experience is in no way guaranteed and all bodies may react differently, always make sure to ask your medical expert for any direct advice and opinions regarding these products for your medical needs.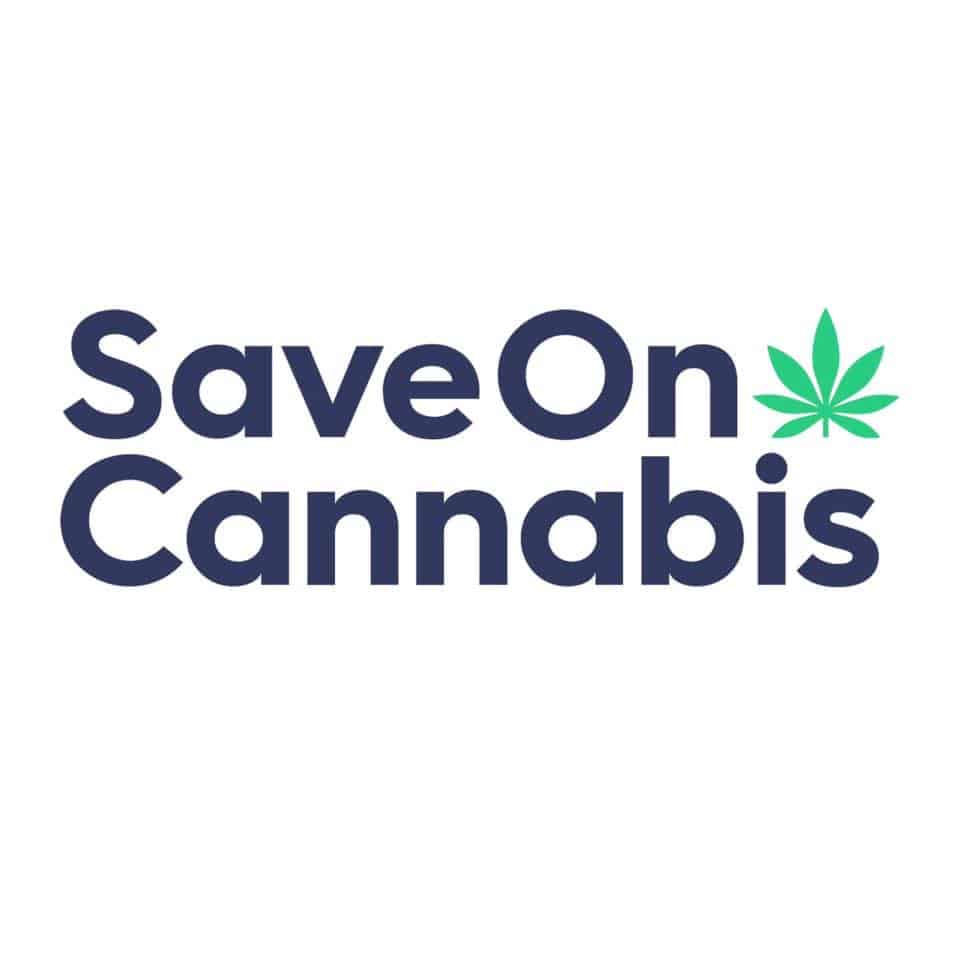 Shop Smarter
Get reviews, tips, and giveaways right in your inbox.
Looking for legal weed edibles? Try hemp-derived options like THC gummies, treats, and drinks. Order now and enjoy marijuana in a new way!
Want to save money on legal cannabis products? Follow our tips for finding and using coupon codes for your online marijuana purchases.
Discover the different types of cannabis strains & how they affect the body & mind. A comprehensive guide for beginners & seasoned users.