Trokie Review – CBD NanoCapsules
Dec 12, 2020 | SOC
TROKIE
Product Review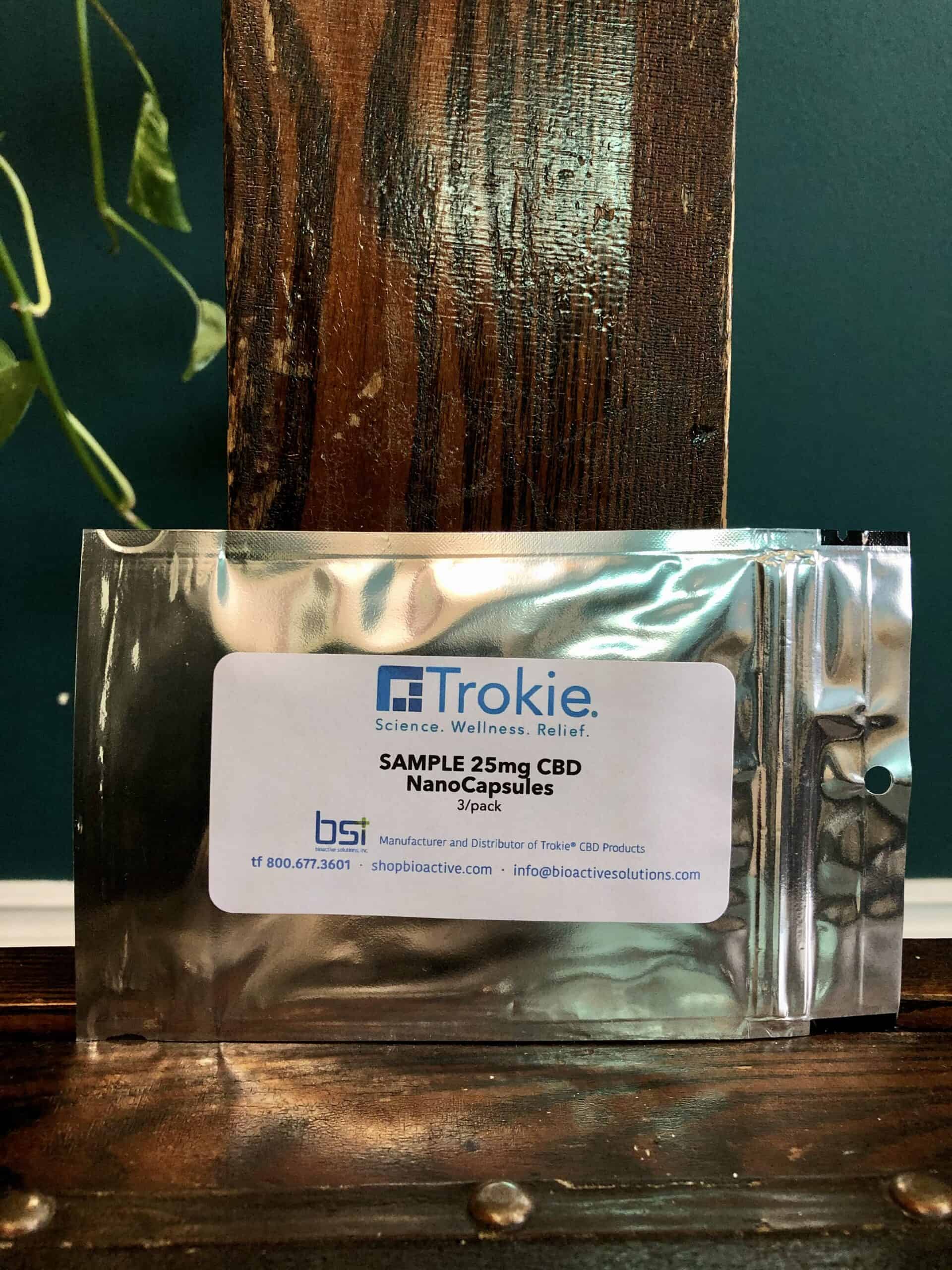 Brand Overview: TROKIE
The Trokie brand comes from BioActive Solutions, Inc., a manufacturer, and distributor of high-quality CBD products. Trokie was founded by Dr. Kent Crowley, whose 30 years of experience in pharmaceutics and clinical medicine gave him the perfect background to become the Director of Research and Development for Trokie's line of CBD products.
The Trokie team consists of expert biochemists and medical doctors who use their science-backed knowledge to make sure every product is pure, potent, and safe. The company wants you to "medicate with confidence," whether you're interested in their accurately dosed lozenges or one of Trokie's deeply penetrating topicals. Everything they make is fast-acting and long-lasting to help you deal with pain and discomfort.
Products: Fast-Melt Tabs, Nanocapsules, Pain Patch, Salves, Wound Care Spray, Tattoo Care Spray
Price Range ($-$$$$): $$$
---
About TROKIE CBD NANOCAPSULES
One container of Trokie's NanoCapsules contains 750 mg of CBD in an easy-to-use pill form. Each capsule is accurately dosed with 25 mg of CBD and works 6x faster and lasts longer than other company's. Taking your CBD by capsule takes all the guesswork out of dosing, and Trokie ensures you're getting an exact dose every time. This product can ease symptoms, help you feel better, and improve your quality of life. Trokie recommends using these capsules first thing in the morning, after a stressful day or a rigorous workout.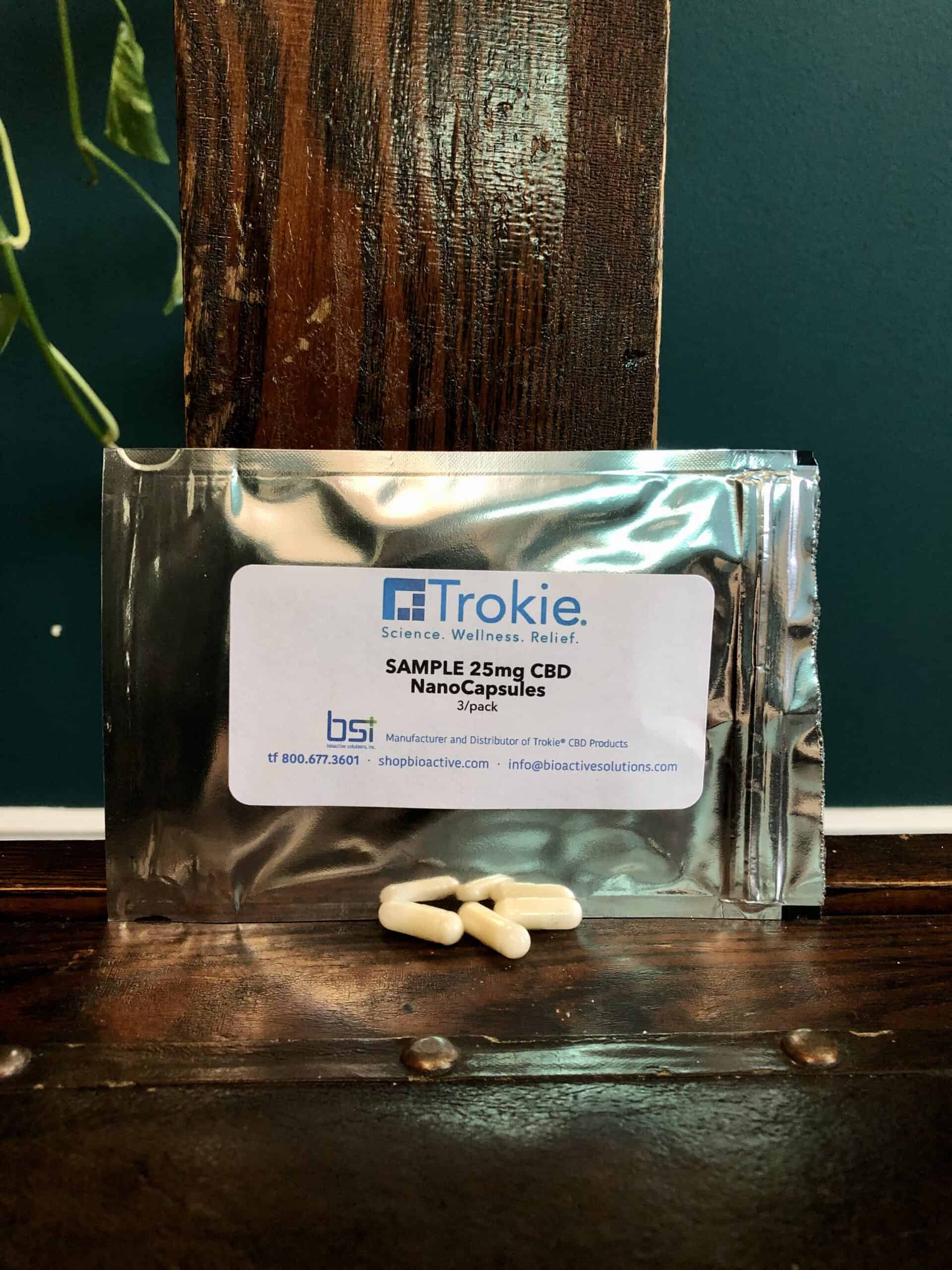 The gel caps absorb into your bloodstream to work with your body's natural endocannabinoid system so you can feel calmer and more mindful. Start with one capsule, and increase your dose as needed.
---
TROKIE CBD NANOCAPSULES Specifications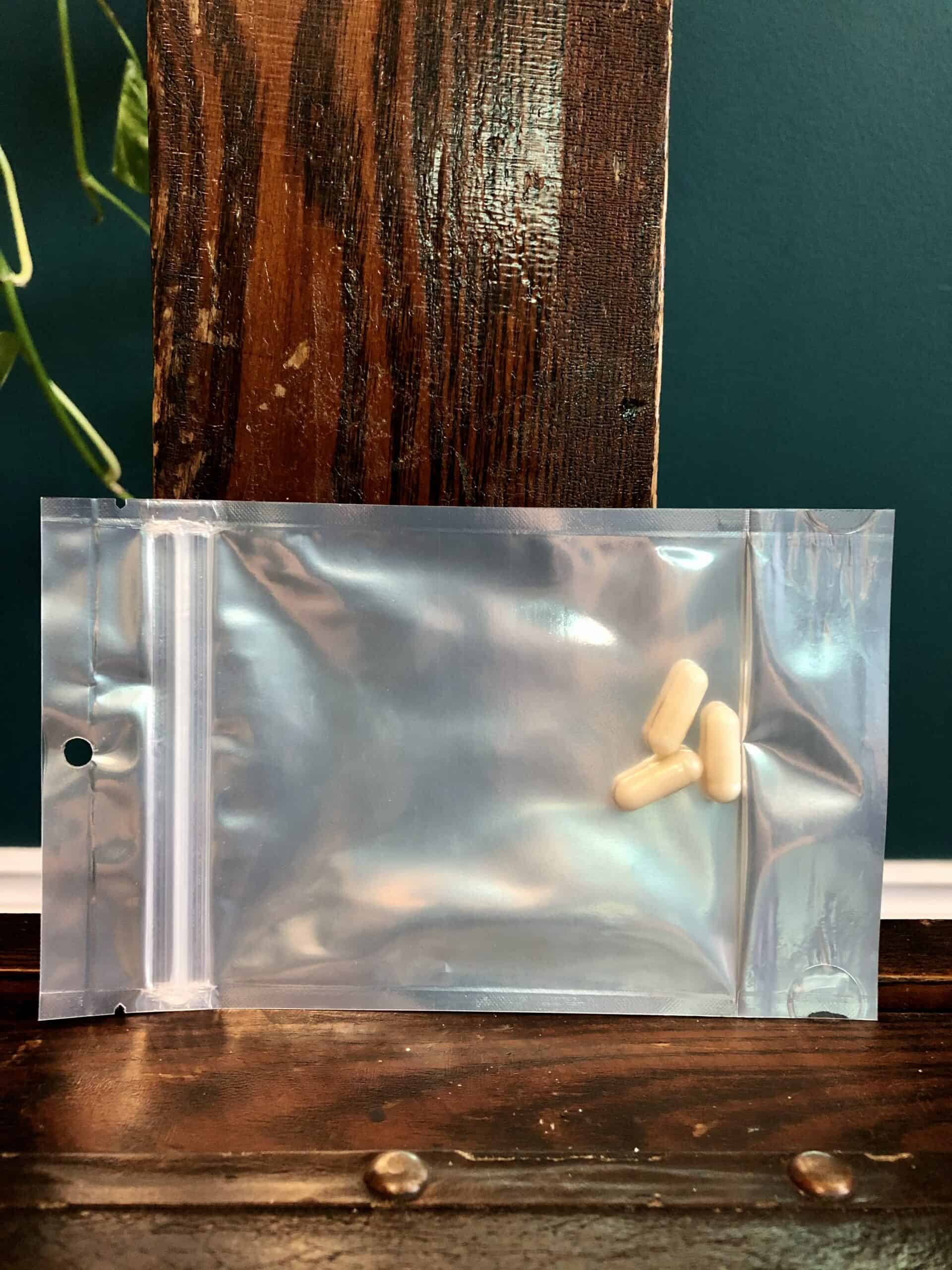 ---
How We Tested the TROKIE CBD NANOCAPSULES
It's been a stressful time dealing with health issues, pandemic issues, and the general anxiety that comes with reading the news. I have a chronic illness that gets worse when I get stressed out, so it's become imperative that I manage my stress. I've turned to CBD time and time again to bring more calm into my life and was excited to test out Trokie CBD NanoCapsules. 25 mg of CBD is the perfect amount. It's not too high a dose, and it's not too small. I received the sample pack from Trokie which only contains a few capsules.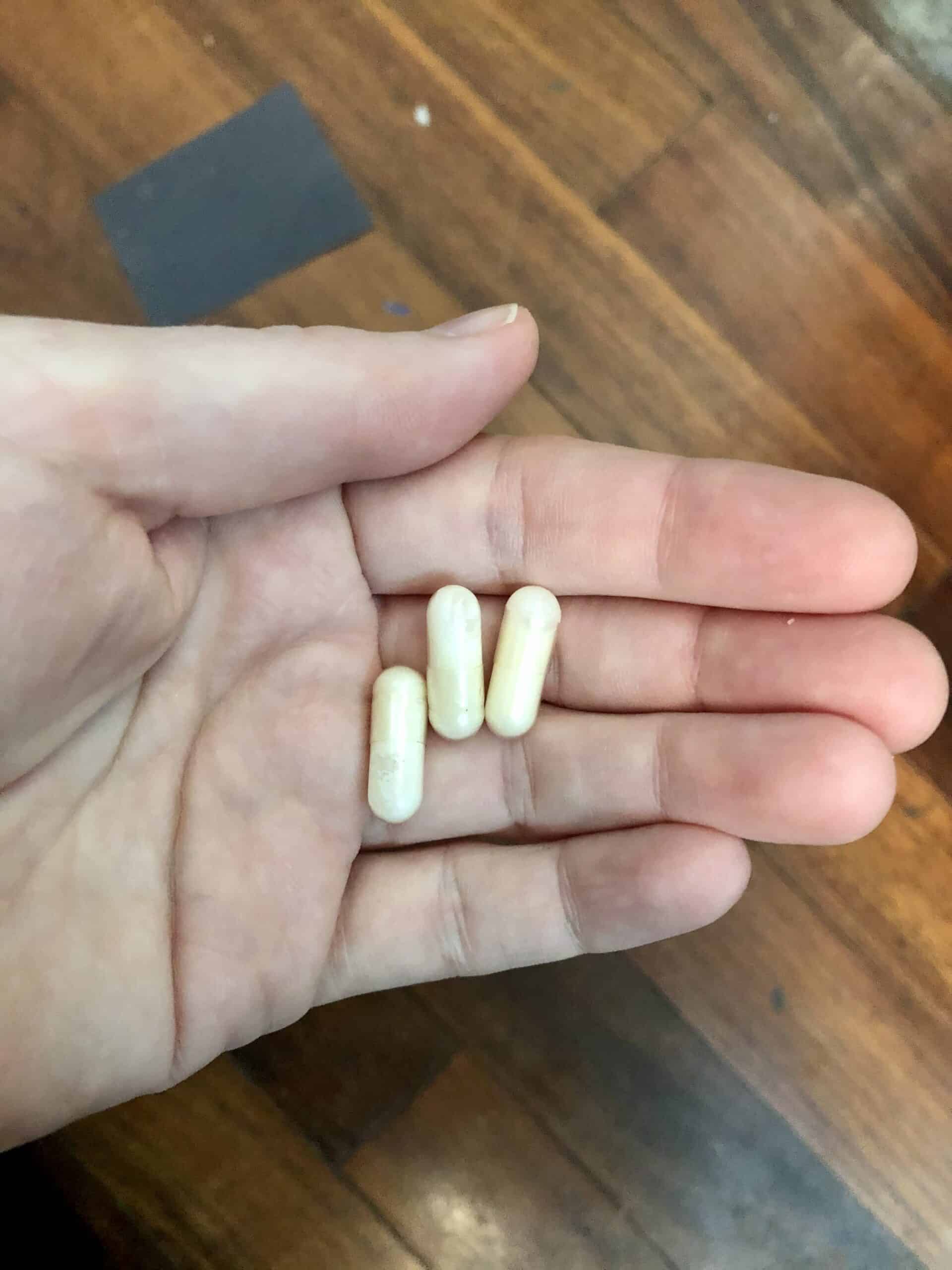 I saved them for this past week because I had midterms at school and a project due at work so I knew my stress would be higher than usual. I took one capsule in the morning before work, then another in the evening before my first midterm. I hoped the CBD nanocapsules would keep me relaxed and focused so I could avoid the stress that usually makes me sicker.
---
How the TROKIE CBD NANOCAPSULES Worked for Me
These nanocapsules worked so amazingly fast! I could feel the warming and calming effects of the CBD within fifteen minutes. This is by far the most fast-acting CBD product I've tried. Even though midterms were stressful, I managed to get through them without as much stress as the last time, which I owe in part to these capsules. They helped me be more in-the-moment so I didn't stress about the things I couldn't control. In the past, the symptoms of my chronic illness get much worse after midterms, and this time, I only got mildly worse symptoms. For me, taking CBD is comparable to meditating for ten minutes. I would definitely use these nanocapsules again. They would be perfect to take with me on planes because they look just like vitamins and don't take up much space.
---
Useful and Unique Things to Know About TROKIE CBD NANOCAPSULES
I couldn't find out what the gel caps were made out of. It's not listed on the packaging or the website, and it's an important ingredient to know. For one thing, a lot of capsules are made out of gelatin, which is derived from cows or pigs. This would be a vital piece of information to include on the packaging in case a vegetarian or vegan consumer was interested in this product. I've found a couple CBD gel caps that are made with vegetarian ingredients. Even though I'm not a vegetarian, I would prefer a gel cap that's not made from animals.
---
TROKIE CBD NANOCAPSULES Ratings
In the next sections gradings from 0-100 on our review, these grades add up to give the product's overall score.
PRESENTATION • 80
It's missing the ingredients for the gel cap.
RELIABILITY • 100
Fast-acting and long-lasting.
QUALITY • 100
Natural ingredients.
FLAVOR/SMELL/or EASE OF USE • 100
Easy to use.
VALUE • 80
Expensive.
---
How TROKIE CBD NANOCAPSULES Stacks Up Against the Competition
Trokie CBD Nanocapsules is an easy-to-use and effective way to ease symptoms and help your days improve. In terms of quality, these are top-notch, particularly because they're so fast-acting. If Trokie wanted to be more competitive, I would lower the price and include the gel cap ingredients so consumers can know if these are vegetarian or vegan-friendly.
---
---
Disclosure: I received these products gratis so that I could try them and then share my honest opinion with the SOC community. I am employed by Save on Cannabis to write honest reviews and provided a flat rate payment for the writing of the review. SOC may receive recurring affiliate payments for purchases made based on this content.

Discover the pros and cons of Green Road's CBD Relax Gummy Bears. Our honest review includes exclusive coupons. Check it out now!
Our CBD expert tries out the Eir Health Low Potency CBD tincture on a daily anxiety regimen. See if this helped take the edge off of her days.
In this Healthy Skin CBD review we compare their CBD infused acne treatment regimen to Proactiv. Find out how this CBD acne cream works.