Trokie Fast Melt Tabs with Melatonin Review
Dec 6, 2020 | SOC
CBDCBD Dissolvable Tablets
TROKIE CBD FAST MELT TABS WITH MELATONIN
Pros
Perfectly dose
Helps with sleep
Calming
No THC
Vegan
Sugar-free
Gluten-free
Zero calories
Easy to use
TROKIE
Product Review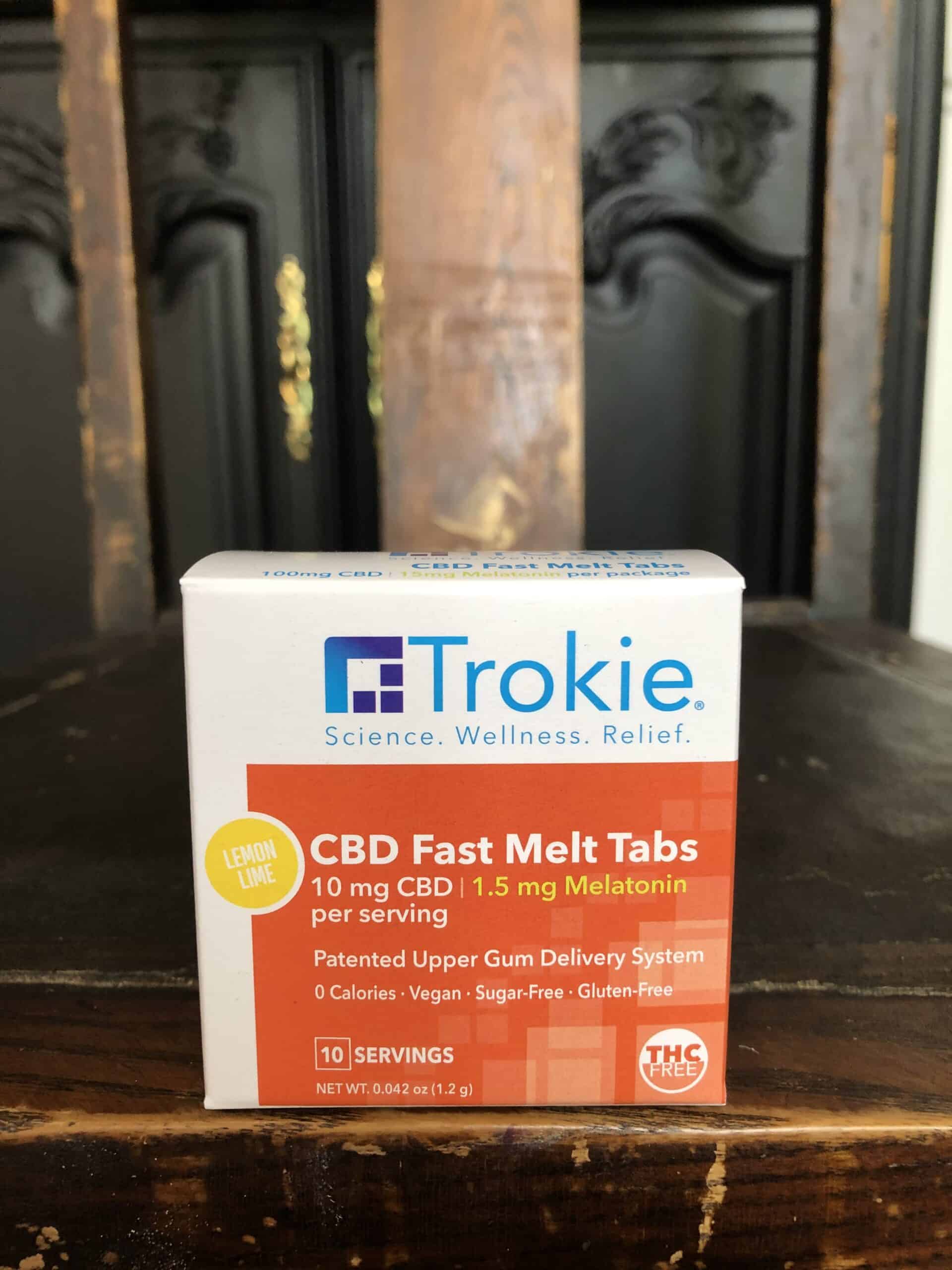 Brand Overview: TROKIE
The Trokie brand comes from BioActive Solutions, Inc., a manufacturer, and distributor of high-quality CBD products. Trokie was founded by Dr. Kent Crowley, whose 30 years of experience in pharmaceutics and clinical medicine gave him the perfect background to become the Director of Research and Development for Trokie's line of CBD products.
The Trokie team consists of expert biochemists and medical doctors who use their science-backed knowledge to make sure every product is pure, potent, and safe. The company wants you to "medicate with confidence," whether you're interested in their accurately dosed lozenges or one of Trokie's deeply penetrating topicals. Everything they make is fast-acting and long-lasting to help you deal with pain and discomfort.
Products: Fast-Melt Tabs, Nanocapsules, Pain Patch, Salves, Wound Care Spray, Tattoo Care Spray
Price Range ($-$$$$): $$
---
About TROKIE CBD FAST MELT TABS WITH MELATONIN

If you're looking for a natural and non-addictive solution to sleepless nights, look no further than Trokie CBD Fast Melt Tabs with Melatonin. Combining the calming effects of CBD with the natural sleep aid melatonin, Trokie has created fast-acting and accurately dosed tabs that will help you get the rest you need. CBD might relieve some of your pain and anxiety and melatonin works with your body's natural hormones to boost the neurotransmitters in your brain so you can relax easier.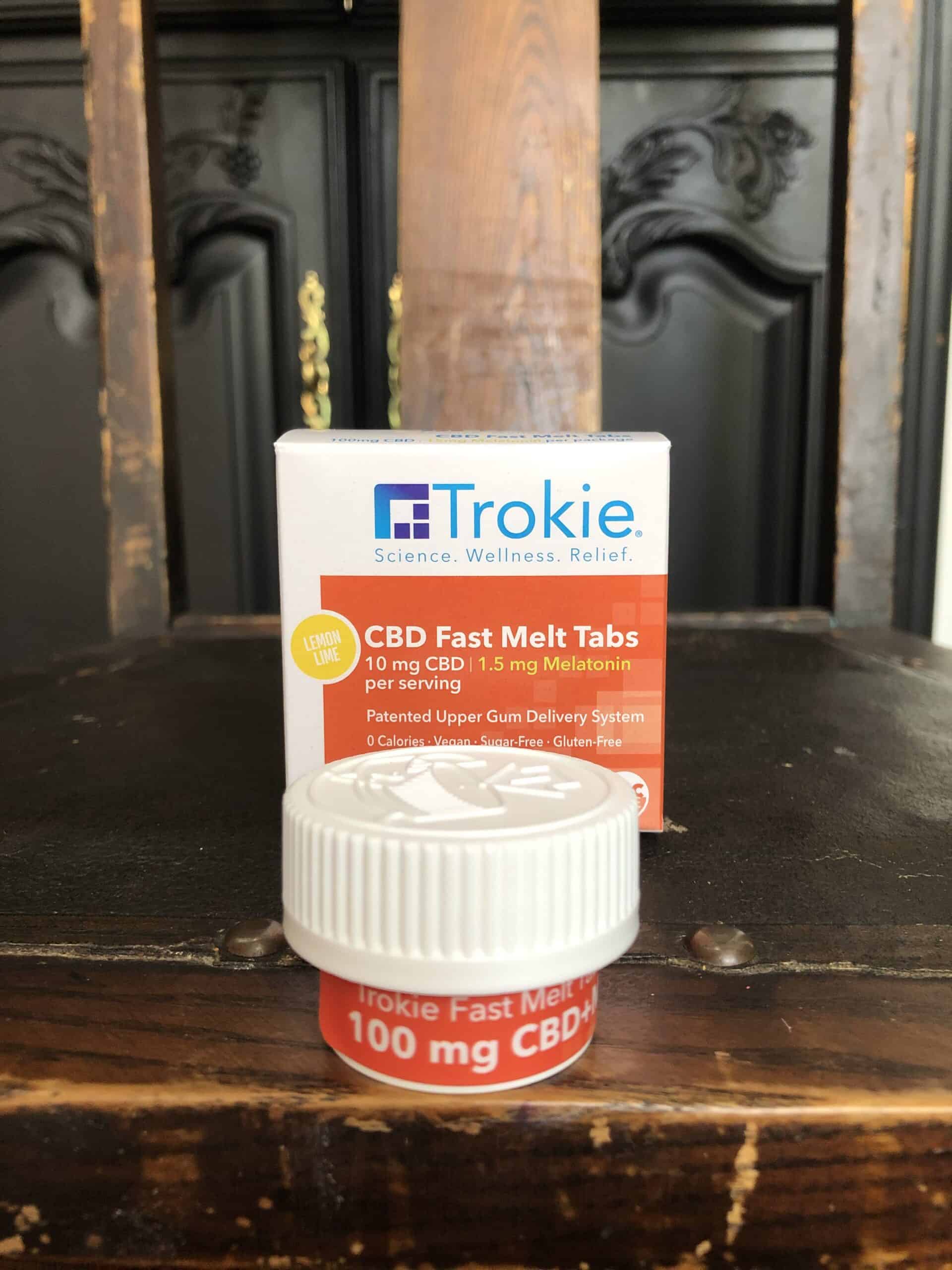 These tiny tabs make taking CBD easy to dose. One serving contains 10 mg of CBD and 1.5 mg of melatonin. You'll find yourself able to fall asleep faster and stay asleep longer without feeling groggy in the morning. You might start to feel the benefits of these tabs in five minutes and can help you remain calm and rested for eight hours. This product contains no THC and is lemon-lime flavored. To use, place a tab under your upper lip, allowing it to dissolve.
---
TROKIE CBD FAST MELT TABS WITH MELATONIN Specifications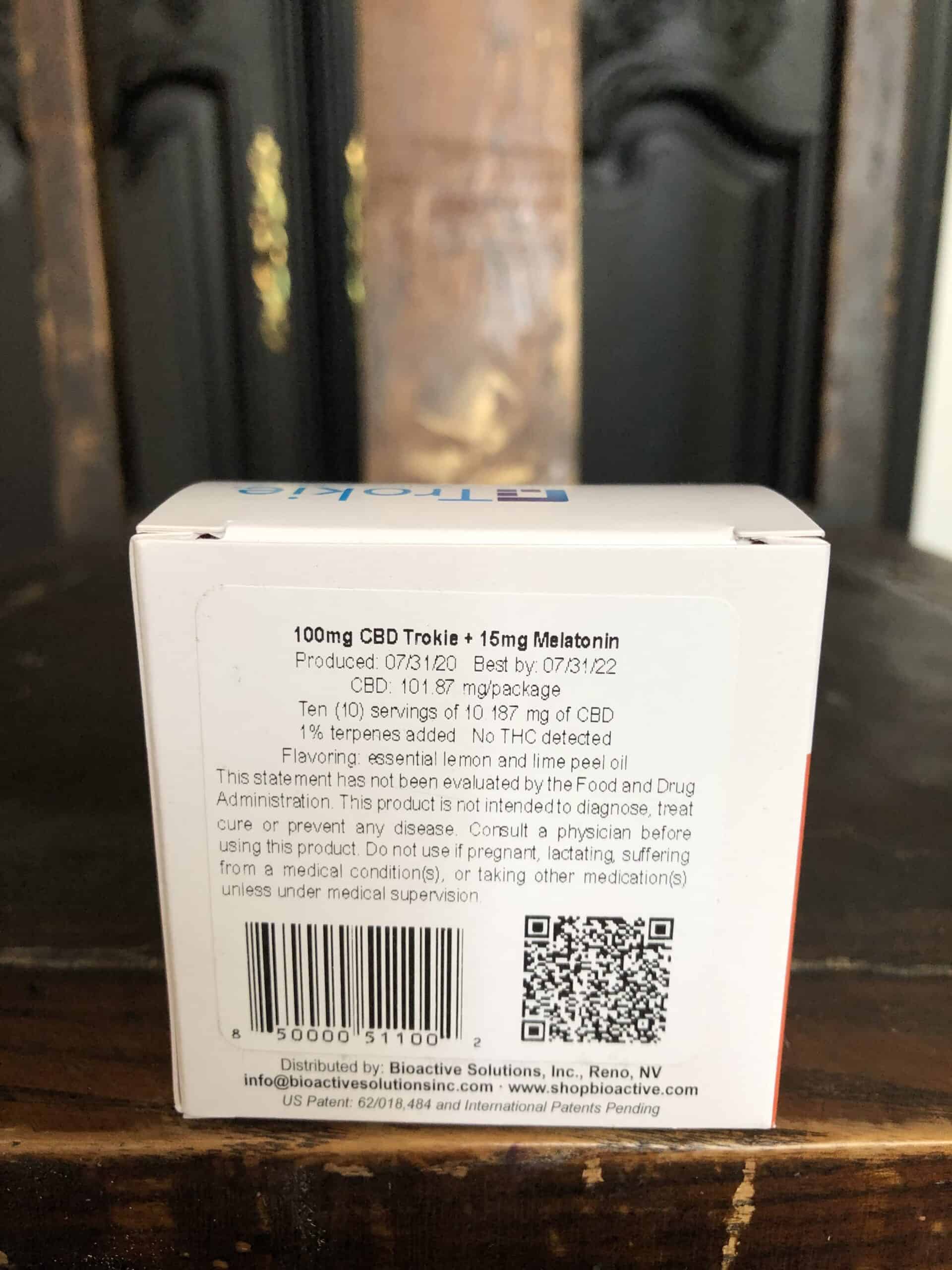 10 servings
10 mg CBD per serving
1.5 mg melatonin per serving
0 calories
Vegan
Sugar-free
Gluten-free
THC-free
Ingredients: CO2 Hemp Extract with 1% Terpenes, Melatonin, PCCA Proprietary Base (PEG, Monk Fruit Extract, Natural Flavors, Gum Arabic, Stevia, Citric Acid, NaCl, Silica)
---
How We Tested the TROKIE CBD FAST MELT TABS WITH MELATONIN
I have a huge problem with sleep. It's been a lifelong struggle not only falling asleep but being able to sleep throughout the night. I have fibromyalgia, which is one of those illnesses where a major symptom is a sleep disorder. The worse I sleep, the worse I feel. It's a vicious cycle. I have tried all types of sleep aids, from prescribed to over-the-counter medications to smoking pot. I've used a combination of CBD and melatonin in the past with mixed results.
When it works, I'm able to fall asleep faster and stay asleep longer, instead of waking up every couple of hours from pain. Before bed, I took 3 servings of the fast melt tabs for a total of 30 mg of CBD and 4.5 mg of melatonin.
---
How the TROKIE CBD FAST MELT TABS WITH MELATONIN Worked for Me
I could feel the effects of Trokie CBD Fast Melt Tabs with Melatonin right away. I started to feel warm and relaxed. The lemon-lime flavor was bitter, which was probably the hemp. It wasn't pleasant and left a bad aftertaste. Despite the flavor, the fast melt tabs were hugely effective in helping me get a good night of sleep. I don't even know what time I drifted off but it was faster than usual. I only woke up once in the middle of the night and was able to fall back to sleep easily. In the morning, I felt rested and refreshed. I highly recommend these melatonin-infused tabs for anyone who want a natural way to sleep better. I found these so effective, I was out of them in less than a week.
---
Useful and Unique Things to Know About TROKIE CBD FAST MELT TABS WITH MELATONIN
There were a few ingredients in these fast melt tabs that I had to look up. Monk fruit extract is a natural sweetener that's 150 to 200 times sweeter than sugar. PEG, also known as polyethylene glycol, is a food additive that helps to preserve moisture. Gum arabic is a binding ingredient often found in candy. NaCl, or sodium chloride, is salt. It's used to absorb and transport nutrients.
---
TROKIE CBD FAST MELT TABS WITH MELATONIN Ratings
In the next sections gradings from 0-100 on our review, these grades add up to give the product's overall score.
PRESENTATION • 100
Informative packaging.
RELIABILITY • 100
Helps with sleep.
QUALITY • 100
Accurately dosed and great ingredients.
FLAVOR/SMELL/or EASE OF USE • 65
Unpleasant bitter taste.
VALUE • 100
Good deal.
---
How TROKIE CBD FAST MELT TABS WITH MELATONIN Stacks Up Against the Competition
Trokie CBD Fast Melt Tabs with Melatonin is an effective and natural sleep product I could use every night. The only thing I would change about it is the flavor. It was powerfully unpleasant and required an extra rigorous brushing of my teeth after use. There aren't any other CBD products like this, so despite the flavor, Trokie doesn't have anything to worry about. It's a great product!
---
---
Disclosure: I received these products gratis so that I could try them and then share my honest opinion with the SOC community. I am employed by Save on Cannabis to write honest reviews and provided a flat rate payment for the writing of the review. SOC may receive recurring affiliate payments for purchases made based on this content.
Got a case of the Mondays? See if this tincture will stop the FML and let you get back to the chill in our Sunday Scaries Tincture review.
Our NutraCanna review of the CBD Wake dissolvable tablets. See how we rated their this unique product for pain relief.
In our BioCBD+ review of their capsules we put them to the test. See if they are worth your money, also get coupons.