Viobin CBD: Pet CBD Oil Bacon Flavor Review
Dec 5, 2020 | SOC
Viobin CBD: Pet CBD Oil Bacon Flavor
Pros
Exceptional price and value
Great flavor and has a dog-approved taste
American-grown hemp
Wheat germ oil as a source of Vitamin E
Good strong potency
Dark glass bottle to block out heat and light
3rd party lab tested for potency
Cons
Not lab tested for contaminants
Couldn't scan QR code on bottle - not readable
Viobin Pet CBD Oil — Bacon Flavor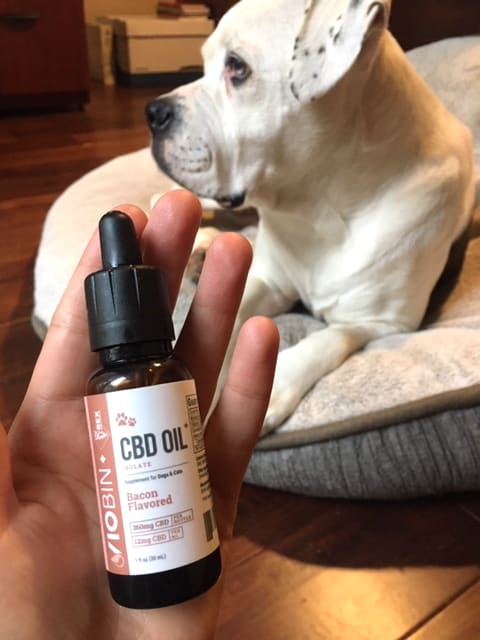 Brand Overview: Viobin
Since 1936, Viobin has been making nutritional extractions at high standards in its own manufacturing facilities. These facilities are FDA registered and GMP (Good Manufacturing Practices) certified.
Also, as a vertically integrated company, they have the oversight to ensure specific processes and quality control procedures get followed. This way of doing business keeps expenses low, and therefore the savings are passed on to consumers in the form of low prices.
Before creating a line of CBD products for pets and humans, Viobin specialized in making wheat germ oil and health supplements.
Products: Oils, lotions, gummies, softgels, and isolates.
Price Range ($-$$$$): $
---
About Viobin's Pet CBD Oil Bacon Flavor
This tincture contains 360mg of CBD isolate derived from hemp. Each 1ml serving includes 12mg of CBD for a medium-high potency. But, there's a graduated dropper, so you can fill up the dropper to the 0.25ml line giving you 3mg. This is great if you have a smaller pet, or want to start your big pet on a lower dose.
Besides cannabidiol, the only other ingredients include wheat germ oil and a natural flavor that's been smoked to mimic the taste of bacon. As an isolated CBD tincture, there's 0% THC.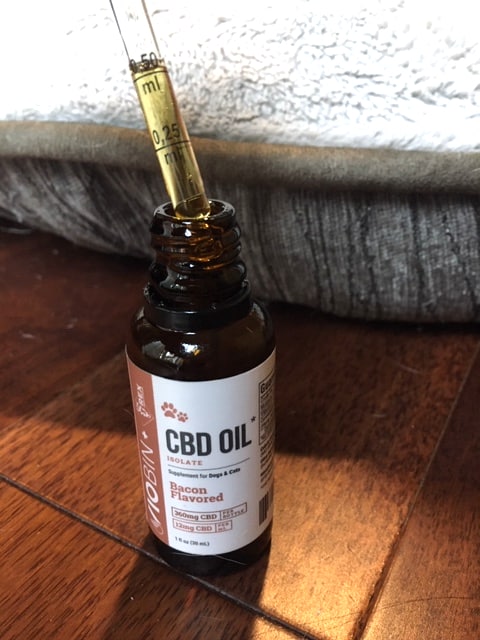 The purpose of this oil tincture is to give your pet a boost of CBD in their food, or right from your hand. It's a quick and easy way to supply your dog, cat, or other animals with the benefits of cannabidiol in a way that offers a high assimilation rate.
---
Viobin Pet CBD Oil Bacon Flavor Specifications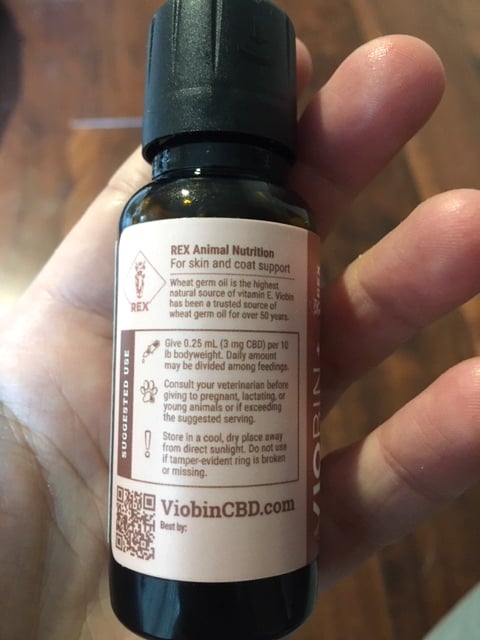 360mg of CBD Isolate
12mg of CBD per ml
30ml (1oz.) bottle
Hemp sourced from North American farms
Natural flavoring for a smoked bacon taste
Carrier oil: Wheat germ oil for a good source of Vitamin E
Bottle top includes a graduated dropper
Dark glass bottle to reduce light and heat damage
3rd party tested to confirm the potency
---
How We Tested Viobin's Pet CBD Oil Bacon Flavor
Before I wrote this review, I gave my dog Layla the tincture almost every day for two weeks. Since she has a problem devouring her food quickly, I put a full dropper in her bowl after she finished eating. That way she could lick it up, which gave her a higher absorption rate. Sometimes if I forgot to give her the oil after her feeding time, I would put the drops in the palm of my hand and let her lick it off.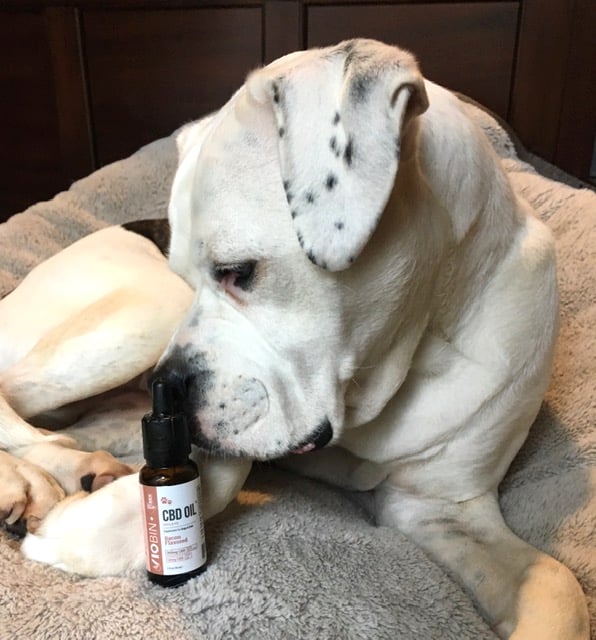 ---
How the Viobin Pet CBD Oil Bacon Flavor Worked for My Dog
Layla, my 9-year-old American bulldog loved this tincture. And when I say 'loved' I really mean it. She's had 3 to 4 other CBD tinctures over the last year, and in general, she's a fan of CBD. To be honest, she likes anything that resembles food or a treat.
Even though she's not a picky dog, I can still tell when she likes a product over another product. It's in the way she looks at something with intense focus, and how she enjoys it. With the Viobin bacon-flavored tincture, she got excited every time I went to reach for the bottle.
Also, after putting the oil in her bowl, she would lick it many, many times even after it was all gone. I had to take the bowl off the ground on a few occasions because it was getting ridiculous.
I have noticed that her coat feels softer, and I can't help but think the wheat germ oil in this CBD oil formula has something to do with that. Regardless, I know Layla thoroughly enjoyed this oil and while there's still a bit left, I might have to make this a regular staple for her.
---
Useful and Unique Things to Know About Viobin's Pet CBD Oil Bacon Flavor
Most other pet tinctures I've purchased use MCT or hemp seed oil as the carrier oil. But, with Viobin's product, you get the health benefits and uniqueness of wheat germ oil instead.
Also, it's great to see zero preservatives and artificial flavorings in the formula.
---
Viobin's Pet CBD Oil Bacon Flavor Ratings
In the next section, we provide ratings from 0-100 based on our testing period. Add up these ratings to arrive at an overall score for the product.
PRESENTATION • 100
Wonderful presentation, descriptive labeling, and details on how to dose.
RELIABILITY • 100
Consistent positive responses to the oil and a more restful pup.
QUALITY • 90
American grown hemp and natural ingredients, but no 3rd-party lab test for contaminants.
FLAVOR • 100
The smell was wonderful and based on Layla's reaction, the taste seemed to match the aroma.
VALUE • 100
Very affordable price, especially for the quality and uniqueness of the formula.
---
PROS of the Viobin Pet CBD Oil Bacon Flavor
A few major pros of this product include the incredible price, source of hemp, its smell, and the reaction my dog Layla had to it. How she reacted told me she loved the taste and the effects. She loved it the way we humans love a decadent dessert, glass of wine, or espresso following a nice meal. Also, it has a great potency for most sized pets and includes a graduated dropper for easy dosing.
---
CONS of the Viobin Pet CBD Oil Bacon Flavor
The only real con is the lack of lab testing reports available on contaminants like pesticides, heavy metals, and residual solvents. Also, a minor con had to do with the QR code on the bottle. My phone couldn't read it, so I tried to use my friend's phone and the same thing happened.
The camera couldn't quite focus in to get an accurate read. But, to get around this dilemma (if it happens to you) is to go on the company's website and access the potency lab testing report there.
---
How Viobin's Pet CBD Oil Stacks Up Against the Competition
Viobin's product is competitive. It has an exceptional price to value ratio, uses a unique and vitamin-rich carrier oil, and had wonderful effects on my dog.
---
---
Disclosure: I received these products gratis so that I could try them and then share my honest opinion with the SOC community. I am employed by Save on Cannabis to write honest reviews and provided a flat rate payment for the writing of the review. SOC may receive recurring affiliate payments for purchases made based on this content.

Sorry, no coupons were found.
GoGreen Hemp review of the CBD Balm Salve Eucalyptus & Lavender, breakdown of what we like and dislike with photos and coupons.
Read our Infinite CBD review of the Freezing Point Topical! Expert tested & photographed click to learn about what we thought.
Looking for high-quality CBD Shatter? We tested out the Steve's Good Terpin Gorilla CBD Shatter and broke down how it worked for our needs.