Vapen Review: CBD Afternoon Hybrid Inhaler (Bubblegum)
Nov 1, 2018 | Romy
CBDCBD ConcentratesCBD InhalerCBD Isolate or Terpsolate Powder and CrystalsCBD TincturesCBD TopicalsCBD Vape Oils
Vapen CBD Afternoon Hybrid Inhaler 1000mg (Bubblegum FLAVOR)
Pros
Great Price
Supper Effective
Works Every Time
Hits Right Away
Yummy Bubblegum Taste
Discreet
Brand Overview: VAPEN CBD
Vapen CBD's mission is to create cutting-edge products of the highest quality made by leading experts in the cannabis industry. The company is committed to promoting cannabis education to medical patients within their community through the Arizona Medical Marijuana Program. Vapen CBD's work with medical patients has given them an inside look on how to more skillfully manufacture some of the best medicinal CBD products on the market.
Products: Vape Pen, Vape Batteries, Deep Muscle Relief Balm, Stress Relief Balm, Cartridges 300 mg (Bubblegum, Blueberry, Diamond OG, Paris OG), Inhalers, CBD Isolate, Lotions 300 mg (Cucumber & Mango), Tinctures
Price Range: $$
About the VAPEN CBD AFTERNOON HYBRID INHALER BUBBLEGUM FLAVOR 1000 MG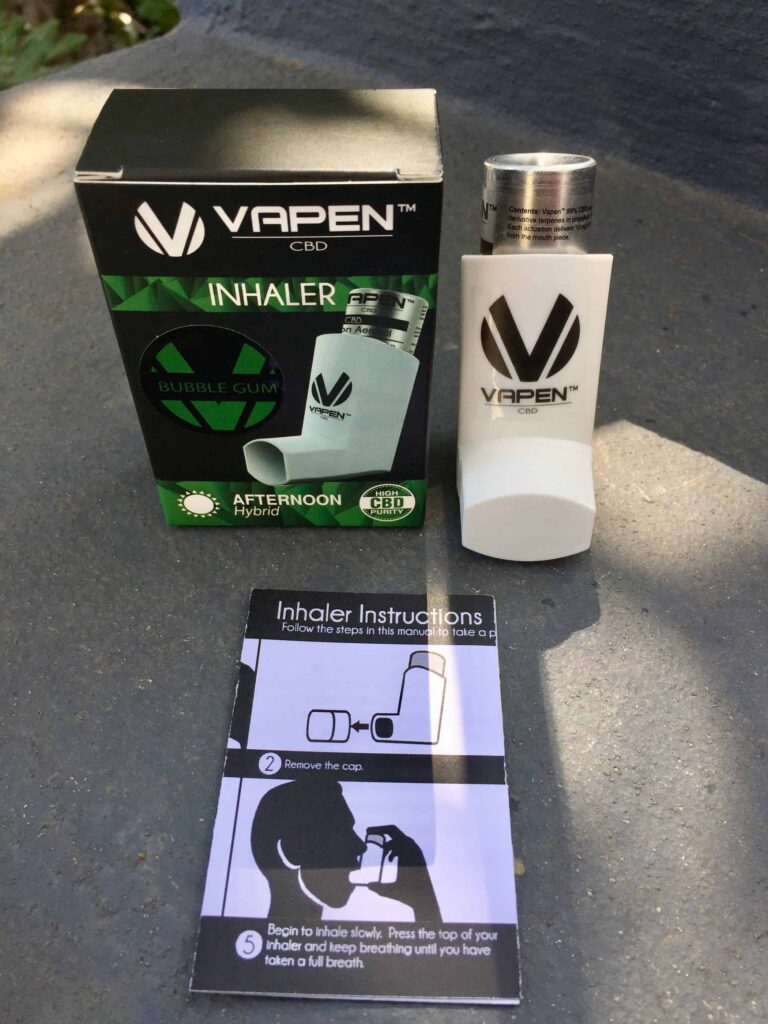 The Vapen CBD company has merged the technology of the pharmaceutical field and the natural healing of CBD with a hybrid inhaler. Now we can medicate throughout the day with precise and controlled medical-grade doses that taste like bubblegum. This inhaler acts and looks like any inhaler you see on the market so you can medicate discreetly while at work or out on the town. You also feel the effects of the inhaler immediately, so there's no waiting to see if you'll feel the healing benefits of CBD. I got the bubblegum flavor (because I'm emotionally five years old). There are, however, a wide variety of flavors like blueberry, green apple, strawberry, and lemonade (to name a few).
VAPEN CBD AFTERNOON HYBRID INHALER 1000 MG BUBBLEGUM Specifications
Contents:

99 % CBD crystalline suspension of derivative terpenes in propellant HFA – 134a

Directions:

1. Shake the inhaler well before each spray. 2. Remove the cap. 3. Exhale away from your inhaler. 4. Put the mouth of the inhaler in her mouth. 5. Begin to inhale slowly while pressing the top of her inhaler until you have taken a full breath. 6. Remove the inhaler from your mouth, and hold your breath for about 10 seconds then, exhale.

Special Note:

If patients have sensitive lungs or throat, spray directly under the tongue.

Pharmaceutical-grade dosing with every puff

Engineered to deliver the strength and taste with every use

Discreet and compact

1000 mg per inhaler

100 total puffs

10 mg per puff
How We Tested the VAPEN CBD AFTERNOON HYBRID INHALER BUBBLEGUM FLAVOR 1000 MG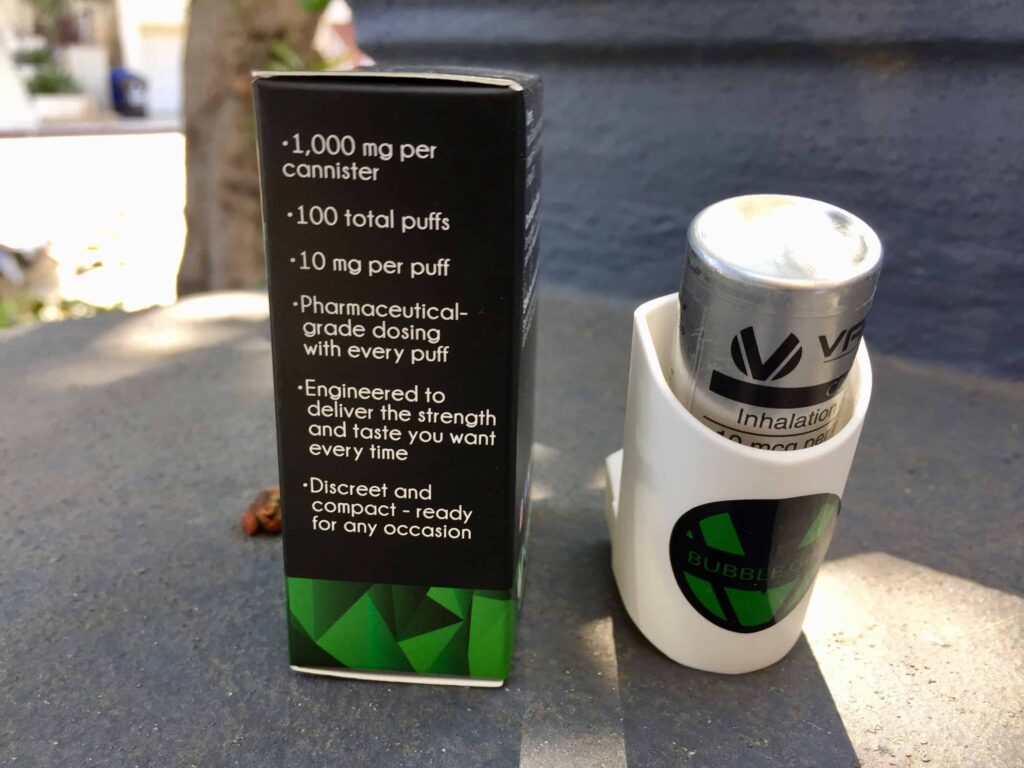 I was super excited to try the Vapen CBD Inhaler not only because it's a hybrid, so I can medicate during the day, but it's a freaking inhaler! The beauty of an inhaler is that the meds hit your brain almost immediately. I have chronic pain so I like to medicate throughout the day. Sadly, many CBD products don't work or make me sleepy. I've been juggling a lot lately with work and being in constant pain makes everything in life so much harder. Car rides suck. Grocery shopping is a struggle. And trying to get comfortable in bed is the worst. If I could find a CBD product that had instant results and that can be used during work hours, my life would be so much better. The minute I got my Vapen CBD Hybrid Inhaler, I ripped open the box to give it a try. My plan was to take a hit, then walk to the local coffee shop to do some work for a couple of hours. Sitting for long periods of time is difficult and I hoped the inhaler would allow for a successful work session.
How the VAPEN CBD AFTERNOON HYBRID INHALER BUBBLEGUM FLAVOR 1000 MG Worked for Me
Whoa! This stuff hits fast and hard. For a few minutes, it felt like I hit a joint but there is no THC in this inhaler. The high feeling settles into a warm, fuzzing, relaxation. Life was good. Even though nothing can take the pain away completely, the inhaler works much better than taking Advil. The potency of the Vapen CBD inhaler makes it a fantastic alternative to taking addictive narcotics. My walk was pleasant, and I was able to sit for a little while without too much discomfort. I took another hit in the bathroom of the coffee shop and left no trace of smell or vapor. I will definitely use it again.
Useful and Unique Things to Know About VAPEN CBD AFTERNOON HYBRID INHALER BUBBLEGUM FLAVOR 1000 MG
The Vapen Inhaler is a metered dose inhaler, meaning this little guy delivers a pharmaceutical grade amount of medication with each puff. Each time you take a hit, you're getting the same amount of activated and clean cannabinoids. There is no guessing whether or not you're getting your meds.
VAPEN CBD AFTERNOON HYBRID INHALER BUBBLEGUM FLAVOR 1000 MG Rating Breakdown
PRESENTATION • 100
Quality packaging with an informative booklet. The inhaler is tiny and discreet.
RELIABILITY • 100
This stuff works like gangbusters every time.
QUALITY • 100
There is nothing better than an inhaler with 99% CBD crystalline.
FLAVOR • 100
It actually tastes like bubblegum!
VALUE • 100
It's only 80 bucks for 1000 mg of potent CBD. You can't beat that!
How the VAPEN CBD AFTERNOON HYBRID INHALER BUBBLEGUM FLAVOR 1000 MG Stacks Up Against the Competition
You're going to have a hard time finding another pure CBD inhaler on the market. A company called CBD Luxe makes inhalers but they contain different CBD/THC combos (which sounds great but that's not going work for everyone). Vapen CBD really stands out for making purely medicinal products at a reasonable price.
Saving Money With Vapen CBD Coupons
Save money with CBD Inhalers coupons here at Save On Cannabis the World's largest online cannabis coupon code directory.
Disclosure: I received these products gratis so that I could try them and then share my honest opinion with the SOC community. I am employed by Save on Cannabis to write honest reviews and provided a flat rate payment for the writing of the review.  SOC may receive recurring affiliate payments for purchases made based on this content.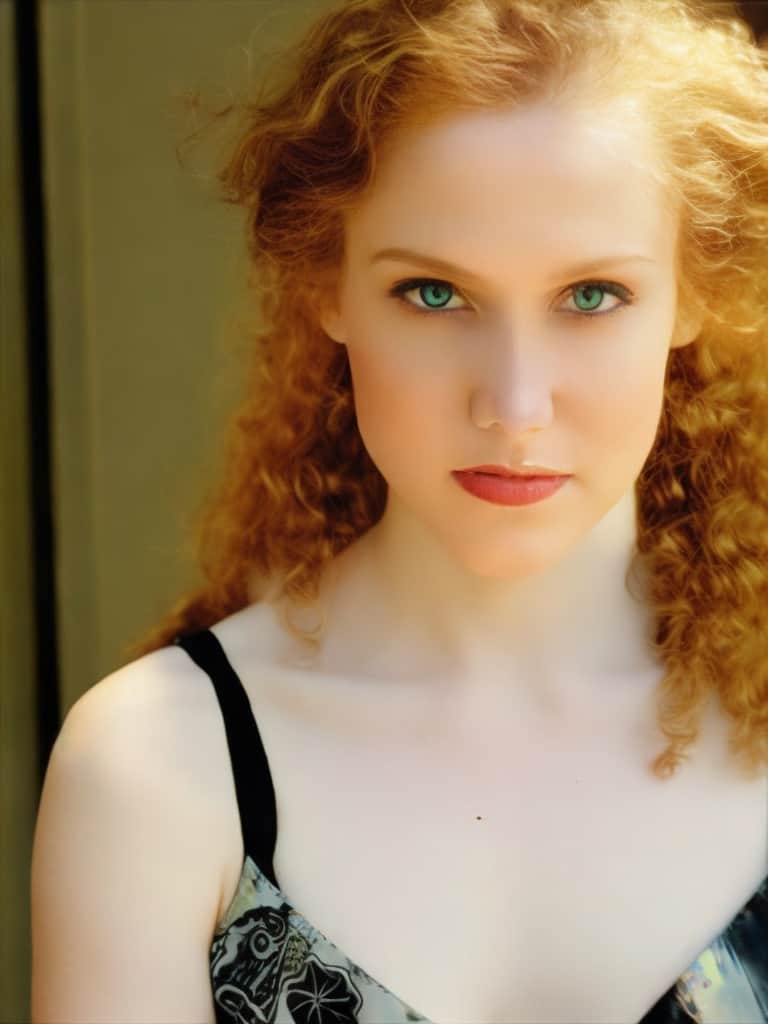 A medicinal cannabis user, utilizing the power of the plant to ease the pains and stresses from long standing conditions that other over the counter or prescriptions could not fix or weren't a natural option like cannabis.  Also, has a background in working directly in the cannabis industry in California within various dispensaries.
Our reviewer tests to see in this Green Roads Review of the Relax CBD Bath Bomb if it can soothe her muscles after working out. Find out now.
Our reviewer got her hands on the Real Scientific Hemp Oil (RSHO) CBD Salve & tested it for pains & skin care. See if it worked for her & if she recommends.
In this Frontier Jackson review of their CBD Ice topical our expert tries it in comparison to other physical therapist recommended brands.