Vape Pen Review: Rokin Vapes – Nitro2 Pen Vaporizer Kit
Jun 11, 2019 | C Michael Evans
Rokin Vapes - Nitro2 Pen Vaporizer Kit - Rose Gold
Pros
Heats up quick
Easy to use
Long battery life
All metal design
1 year warranty
Cons
Not very discrete
Non-portable dab tool
Not great for groups
Limited functionality for advanced users
Rokin Vapes – Nitro2 Pen Vaporizer Kit – Rose Gold
Product Review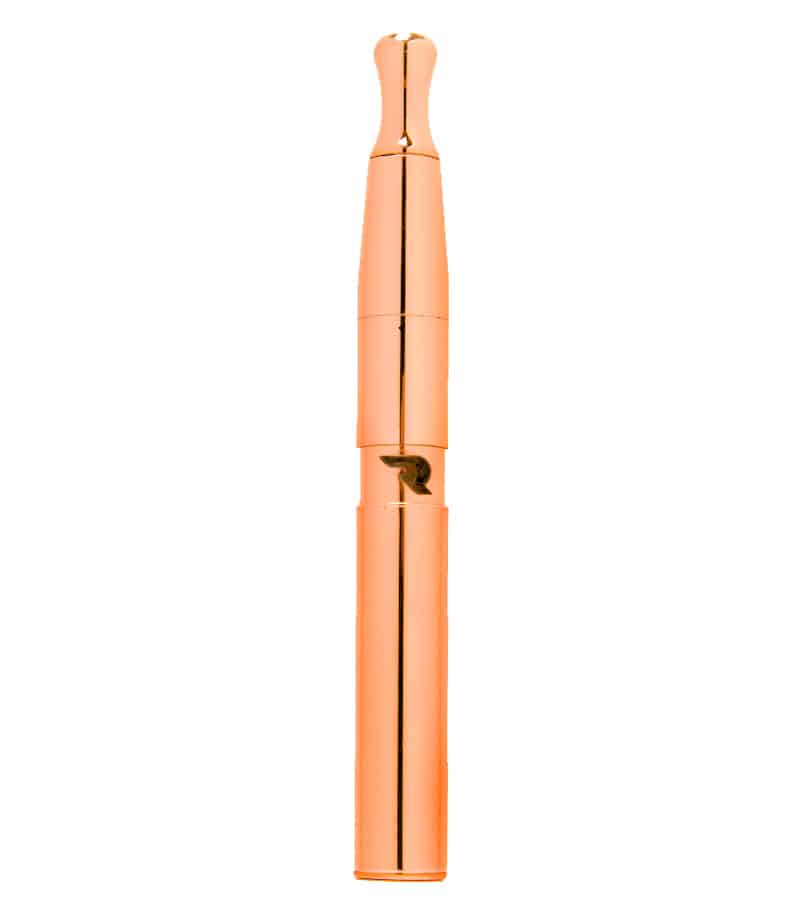 Brand Overview: ROKIN
Rokin products have been on the market since at least 2016, and many will recognize their stylized "R" logo buttons from their high quality and affordable vaporizing devices.
Focused on reusable and rechargeable, their devices are some of the best options on the
market for someone just getting into vaping.
Products: Vaporizers, Cartridges, Atomizers, and Accessories
Price Range ($-$$$$): $$
---
About the Rokin Nitro2 and Pen Vaporizer Kit
The Rokin Nitro2 Vaporizer Kit is an all metal vape pen for concentrates, made with
absolutely no fibers or plastics, and certified lead-free.
Its large capacity 650 mAh battery provides three different temperature settings, and the 510 threaded spring loaded connections ensure safe and tight seal between its parts.
The titanium coils of the chamber reach temperatures advertised as 3.7v, 3.9v, and 4.2v, and have a 10 second auto shutoff feature.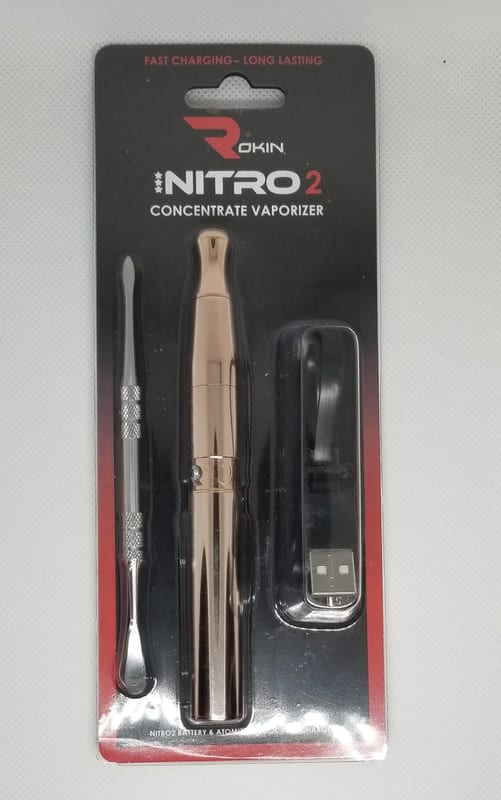 ---
What's in the Box?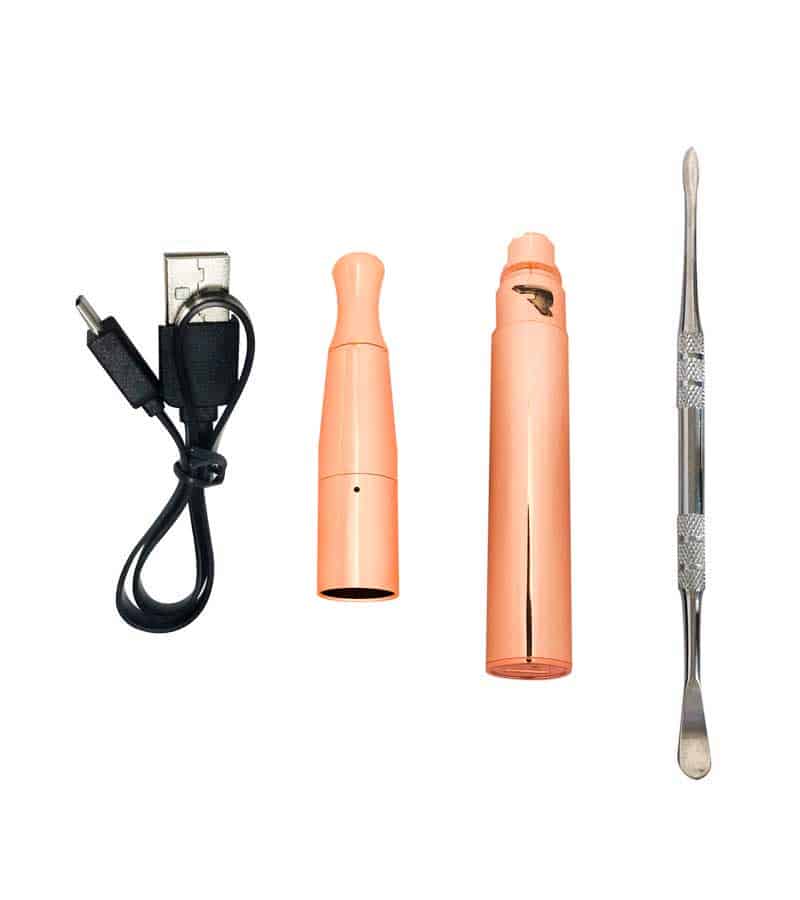 The Rokin Nitro2 Pen Vaporizer Kit – Rose Gold comes fully put together in minimalist packaging along with a simple dabbing tool and USB to Micro USB charging cable. The simple packaging alludes to the simple design of the pen itself, with no wasted paper, and easy to understand directions printed on the back of the cardboard stock.
---
Rokin Extras
Rokin included with their shipment a green Mini Tank Oil Vaporizer. A very discrete and portable vaporizer advertised as the smallest on the market and comes in at less than 2" high and 1" wide. The vaporizer is adjustable to fit most cartridges on the market, and has three preheat functions to warm your oil cartridges.
Also included were two small Rokin silicone containers to hold concentrate on the go.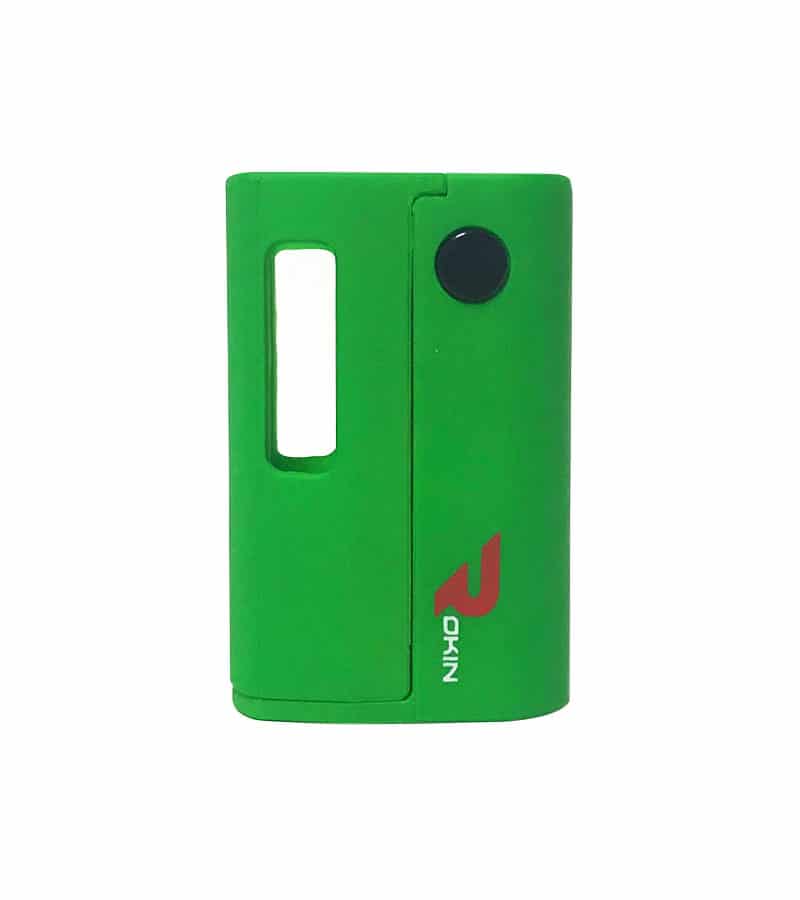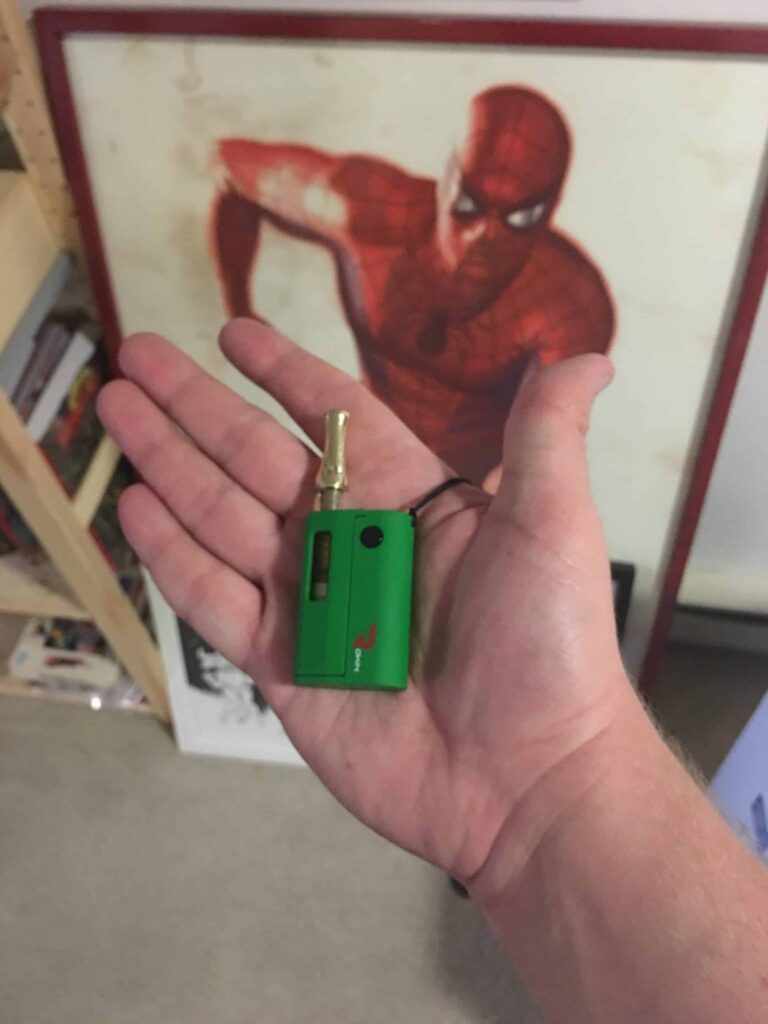 Rokin Nitro2 Control Button
The Rokin Nitro2 has a single button shaped like a stylized "R" that controls every aspect of the vaporizer, and the single button functionality should be familiar to anyone who has vaped before.
The button will light up in three colors – Green for its lowest temperature, Blue for its medium temperature, and Red for its highest temperature.
Five clicks of the button with power on the device, blinking three times in the color of the last used temperature setting. Another five clicks will power down the device.
Three clicks while powered on will change the device's temperature and button color accordingly.
Holding down the button will heat the titanium coils while inhaling.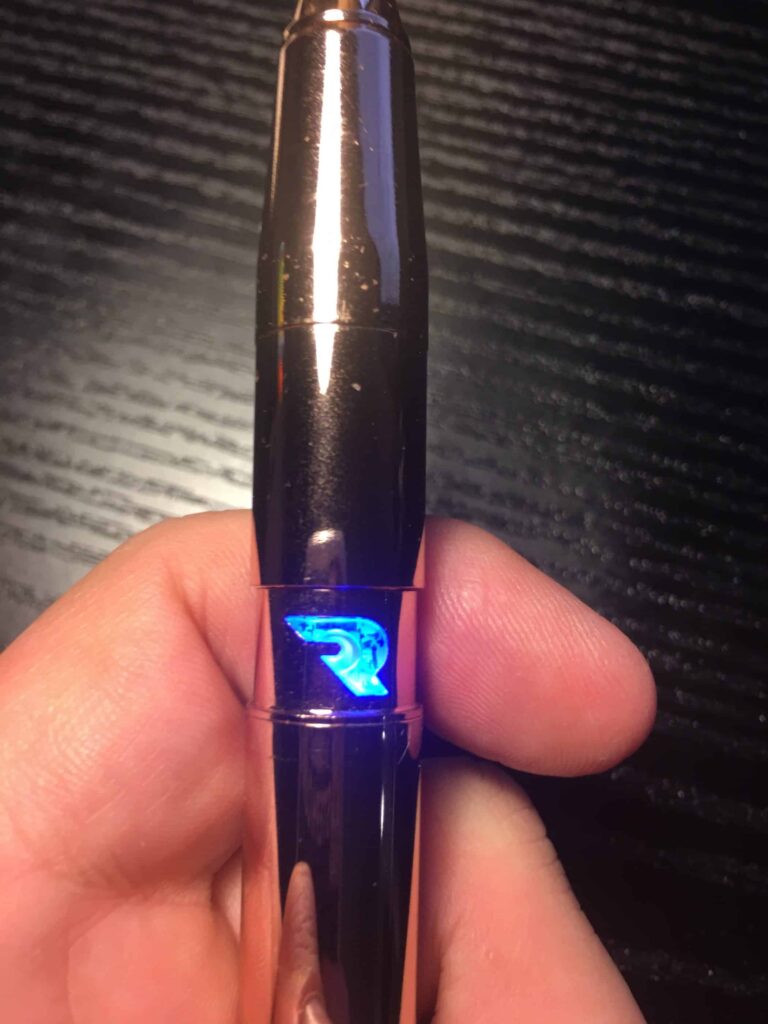 Loading Up the Rokin Nitro2
The Rokin Nitro2 pen is easy to load with concentrate. The dab tool included with the kit packaging makes it easy, and you do not have to worry too much about the exact quantity of concentrate to be used. The packaging recommends a small amount, and I was using pretty good sized chunks larger than a piece of rice for the majority of my time with the pen.
The silicone containers provided by Rokin are a convenient way to store your concentrate while taking your Nitro2 out and about with you.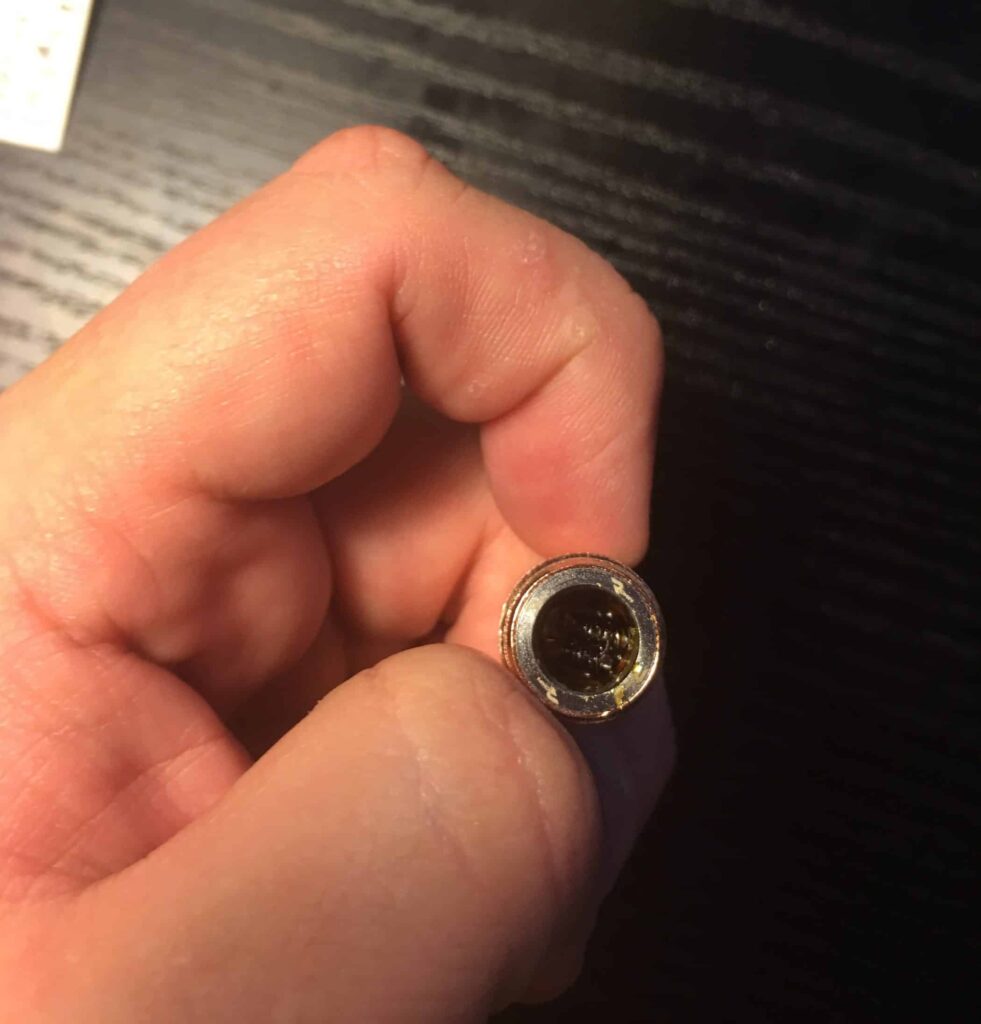 Cleaning and Care
I could not find any official recommendations for cleaning the Rokin Nitro2 device, but I also didn't have much need to. The titanium coils do a good job of burning away any concentrate, and as long as the device is kept upright while heating and loaded, there is little concern for constant cleaning.
If needed, an alcohol wipe would clean the outside, and a q-tip dipped in alcohol can clean the chamber and coils (make sure it's off).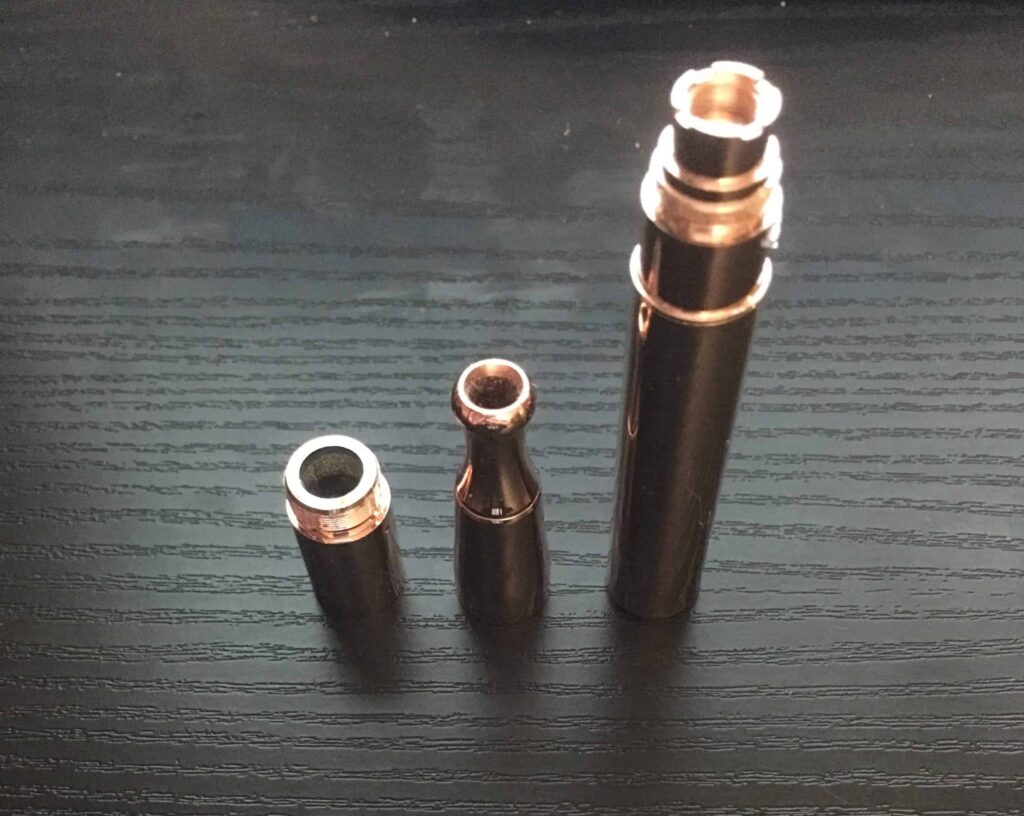 ---
How did the Rokin Nitro2 work for me?
Over the course of a month, I used the Rokin Nitro2 in a few different settings and situations. My primary concentrate of choice in this time was Zkittlez shatter.
Compared to other vaporizing products I have tried and reviewed, the Rokin Nitro2 is one of the easiest pick up and use out of the box. The directions were easy to understand, and the functionalities are basic and intuitive.
While lounging at home, the Rokin Nitro2 is an easy and convenient way to vaporize your favorite cannabis concentrate. At my desk working or on my couch playing video games, it was easy for me to load and start vaping. A small size dab usually lasted for three to five good inhales, and there was no time wasted in waiting for anything to heat up. The pen also fit nicely in my penholder on my desk, and was easily accessible as needed.
Using the Rokin Nitro2 in public and on the go is where the experience takes a slightly less positive turn. The relatively large size of the pen combined with the rose gold coloring of the metal make it a pretty obvious vaporizing device. It was hard to be discrete if anyone was nearby, and while it was still nice to be able to vape my own shatter on the go, it was still a little uncomfortable to get the obvious stares from passersby.
I also found reloading the Rokin Nitro2 pen to be a little inconvenient while on the go. The silicone containers are a nice touch and kept my concentrate safe in my pocket, but it was a little difficult to load concentrate from the container to the pen without a dab tool. The kit does come with a dab tool, but it is not exactly something you want to walk around with in your pocket. A built-in dab tool of some sort would have been greatly appreciated. With that said, it is possible to roll up a small ball of hash with your fingers and drop it onto the titanium coils.
The pen is not ideal for group situations as I needed to constantly refill it while using it with a couple of friends. One load is perfect for a single user, but multiple people will have to tediously refill it a few times. The pen provides three temperature settings, but I didn't see a need to switch from the medium blue temperature setting as it seemed to heat up the Zkittlez perfectly as needed.
In my entire month using it, I left it powered on multiple times, but it held its charge amazingly well. I maybe had to fully recharge it three times in my entire month using it.
The Rokin Mini Tank Bonus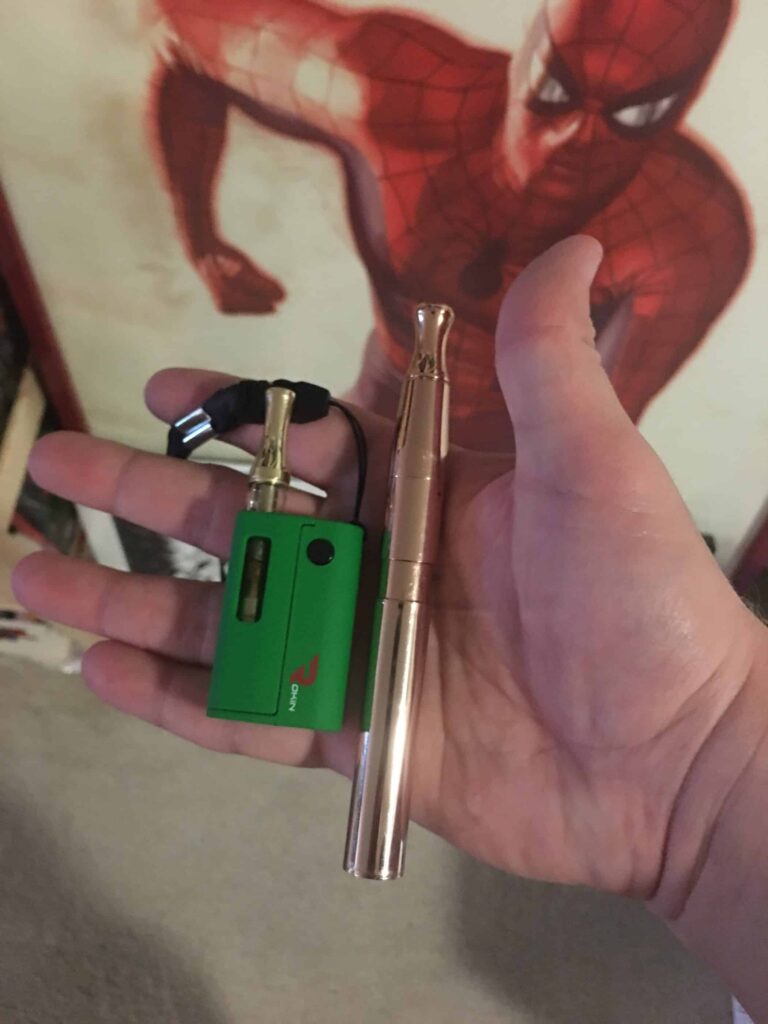 The Rokin Mini Tank was a surprise addition, and a nice counterpart to the Nitro2. It's a cool littler vaporizer that will fit most cartridges on the market and has a nice, clean (plastic) feel to it.
While the Nitro2 is flashy and heavy, the Mini Tank is almost invisible and weightless. Even with its bright green color, the Mini Tank stays hidden away in your hand as you vape. Its one button interface basically acts the same as the Nitro2, and is very easy to use out of the box. Retailing for $27.95 on their website, it is also one of the cheapest products available from Rokin.
With that said, the Nitro2 lets you vape your own concentrate, which yields better inhales usually, and the Mini Tank is limited to oil cartridges that in my opinion have never been too powerful or worthwhile.
The Nitro2 would be my at home vaporizer, and the Mini Tank would be for outdoors and on the move.
Rokin Nitro2 Rating Breakdown
In the next sections gradings from 0-100 on our review, these grades add up to give the product's overall score.
PRESENTATION – 85
The Rokin Nitro2 really keeps to a simple design and presentation. Everything from the packaging to the functions to overall look is simple and minimalistic. No complaints overall on the design. The pen itself looks cool, and its all metal structure has a nice weight to it. If anything, the cheap and basic packaging betrays the fact that you are actually getting a sturdy and quality vape device. It's the type of packaging you normally see on the most basic of atomizers.

The rose gold version I was sent was also little too reflective and obvious for my tastes, but there is a matte black version available that addresses this.
RELIABILITY – 100
I had no issues using the Rokin Nitro2, it worked exactly as advertised. The battery seemed to last a really long time in between chargings, and in my month using it, I maybe had to recharge it three times. What impressed me most was that I left the device on more than once, for a period of days, but it still worked perfectly fine when I went to use it again and discovered that it was still on. The 10 second auto shut off stops it from overheating, but I was still impressed it held its charge for days while on.
QUALITY – 95
As I mentioned above, the cheap packaging is deceiving. The Rokin Nitro2 is all metal and has a nice weight to it. The pieces easily come apart and screw tightly into each other, and I never saw any leaks. I did make sure to always keep the pen upright when carrying or keeping on my desk, but I did drop it a few times on the floor and nothing seemed to break or leak out.

The titanium coils looked pretty delicate to me upon first inspection, and I was even worried about them getting gunked up and quickly dirty, but they have held up perfectly fine and have stayed relatively clean on their own.

EASE OF USE – 100
The Rokin Nitro2 is a very easy to use vaporizer pen. There are many other pens on the market that try to add a lot more options and features, but then give a pretty poor user experience as you frantically try to figure out which custom option is right for you. I admit that others may prefer more options for things like flavor profiles, but I prefer the simple functionality offered by the Nitro2 over added options like subtler temperature differences or flashing colored strobe lights.

VALUE – 90
The Rokin Nitro2 Pen Vaporizer Kit – Rose Gold retails for $44.95 on the Rokin web store ($7.99+ for shipping). As described above, it's a high quality device for the money, but the simple packaging may make you think it should be less. I found the dab tool to be a useless addition, and I would rather they excluded if it meant things would be cheaper. I am under the assumption most people getting a Rokin Nitro2 probably already have a dab tool of some sort, so a better option at the very least would be something more portable to carry along with you on the go.

The Nitro2 does automatically come with a 1 year warranty. I had no reason to need it or inquire about it my month using it, but it is a nice reassurance to have from the company.

---
How Rokin Nitro2 Stacks Up Against the Competition
I really appreciate the simple design and functionality of the Rokin Nitro2. There are a lot of devices offering more customizations or options to also use dry herb or oil, but I find it just muddles things and makes it more difficult for the user. Rokin actually has a model that provides many of these advanced options, called the Cyclone, but I find the Nitro2 to be a much more convenient device requiring very little upkeep or care.
The Nitro2 looks to be the best option for anyone in need of a simple and easy to use way to vape their own hash concentrate.
Saving Money With Rokin VapesCoupons
Save money on all Vaporizers here at Save On Cannabis the World's largest online cannabis coupon code directory.
---
Disclosure: I received these products gratis so that I could try them and then share my honest opinion with the SOC community. I am employed by Save on Cannabis to write honest reviews and provided a flat rate payment for the writing of the review. SOC may receive recurring affiliate payments for purchases made based on this content.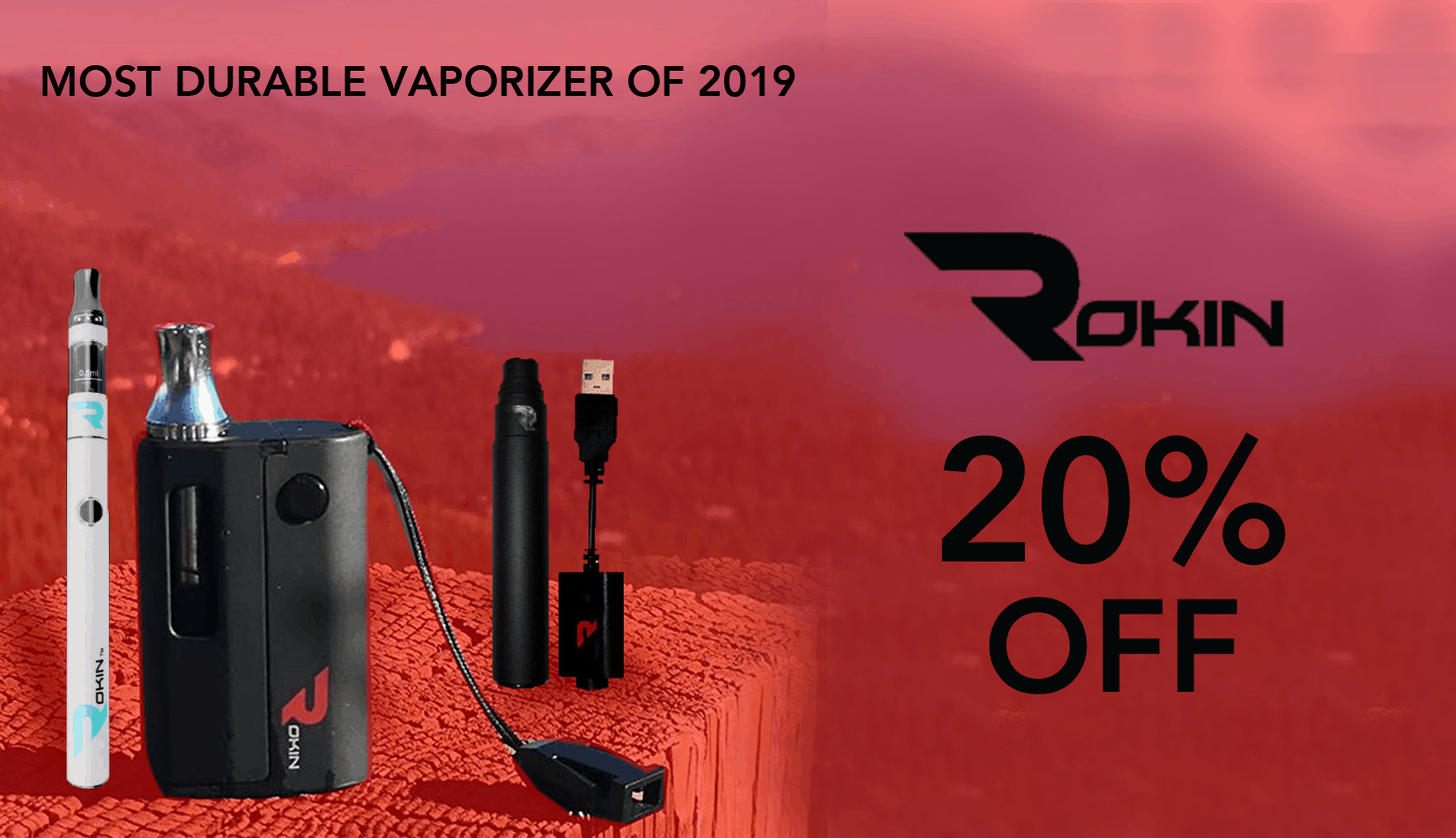 20% OFF sitewide Rokin wax concentrate premium vape pens! Worldwide shipping.
Our expert got their hands on CBD Pure 750mg capsules to test on her consistent pains. In this CBD Pure review see if they are worth buying.
We've tested many CBD tinctures, our reviewers are truly some of the most knowledgeable. Read our insights in this 43 CBD Solutions review.
We got our hands on the Everyday Optimal CBD gummies see how our expert liked them & how they worked for her pains. Also save with Everyday Optimal coupons.