Pure Relief Immune Support Gummies Review
Feb 19, 2021 | Save On Cannabis
CBDCBD CandyCBD EdiblesCBD Gummies
PURE RELIEF
Product Review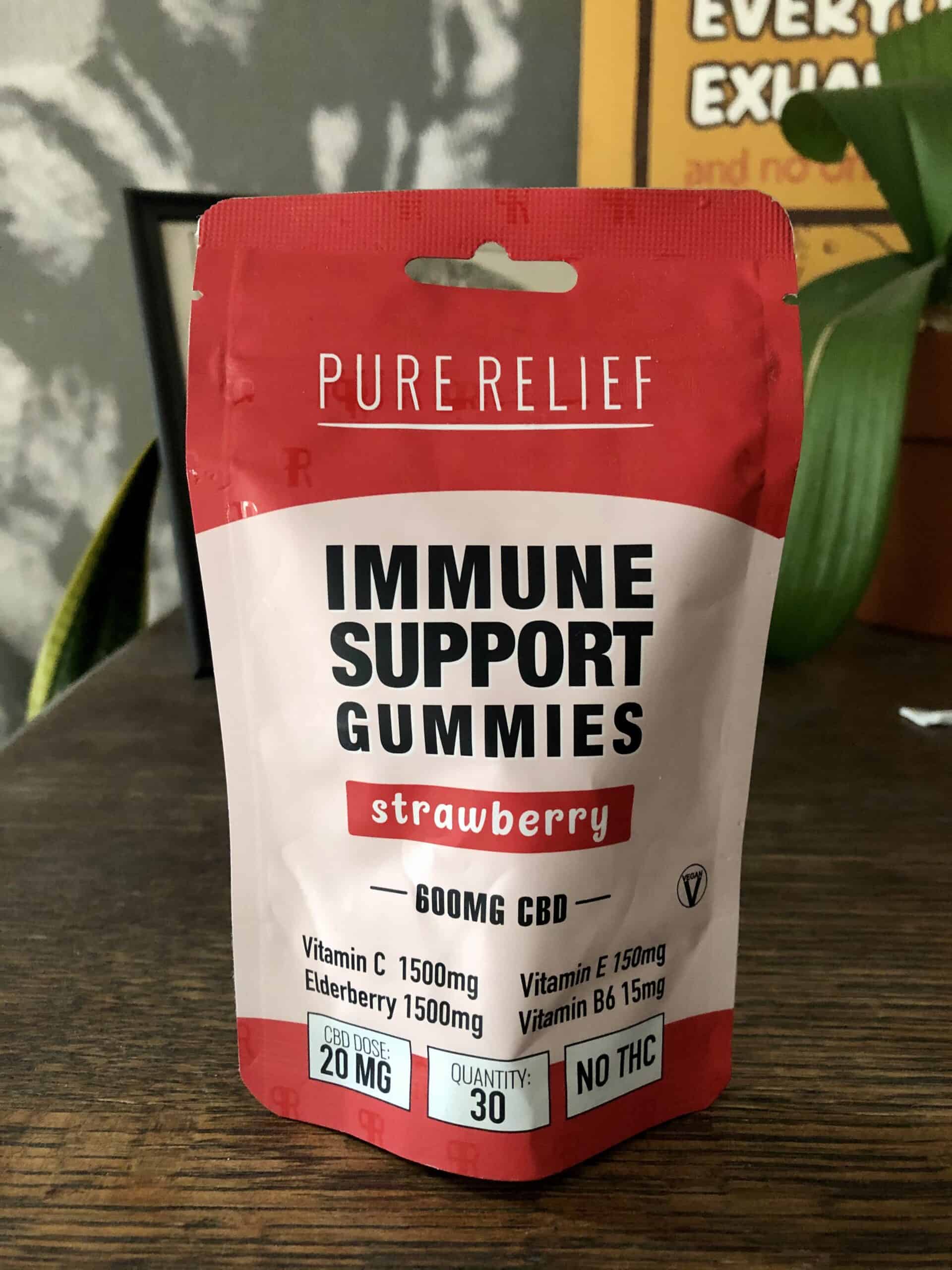 Brand Overview: PURE RELIEF
Pure Relief was founded by Michael Melton who saw CBD as a way to fight the opioid epidemic in his home state of North Carolina. After seeing how the epidemic affected the people he loved, he found CBD as a natural and non-addictive solution. He says, "…my reasoning is personally trying to change as many lives as I can for the positive, for the better."
The company's mission is to offer high-quality CBD products with the hope that people will find relief not just from addiction but in improving lives for people who deal with stress and hard times. Pure Relief aims to educate its customers on the benefits of CBD through its website. They have a blog with articles on the different varieties of CBD, how it can benefit you, and how it can benefit your pets.
Products: Smokeables, Oils, Edibles, Bundles, Topicals, Apparel.
Price Range ($-$$$$): $$$
---
About PURE RELIEF IMMUNE SUPPORT GUMMIES
The Immune Support Gummies from Pure Relief are filled with ingredients to keep your immune system strong. Each gummy contains 20 mg of CBD, 50 of Vitamin C, 50 mg of Elderberry, 15 mg of Vitamin E, and .5 mg of Vitamin B6 to ease your stress and help keep you strong. The gummies are made with vegan ingredients and natural fruit extracts to create a delicious strawberry flavor. To use, eat 1-2 gummies per day. These gummies don't contain any THC, so they won't get you high.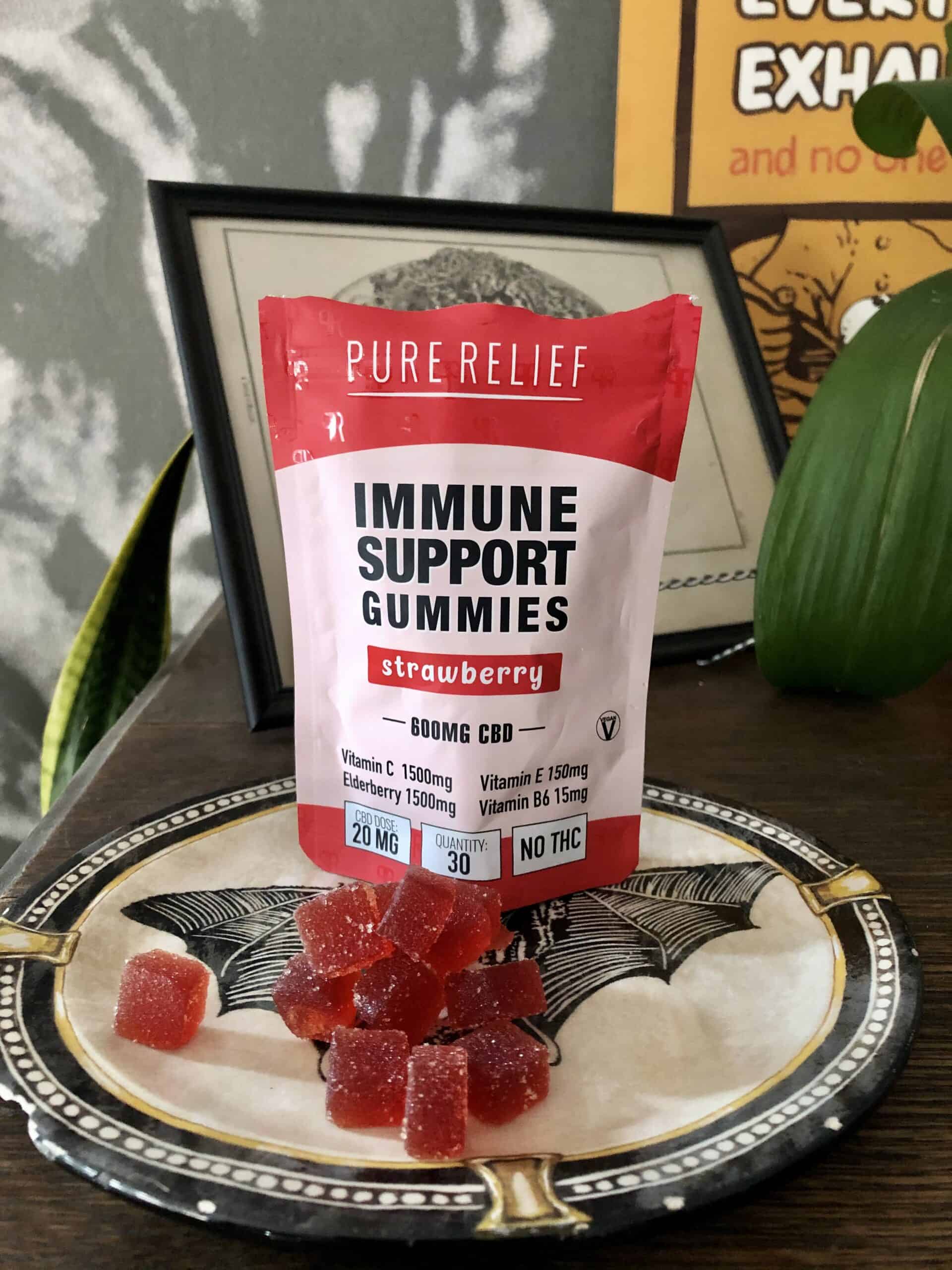 For a limited time, the company is including a complimentary Pure Relief Cloth Face Mask with your order of the Immune Support Gummies.
---
PURE RELIEF IMMUNE SUPPORT GUMMIES Specifications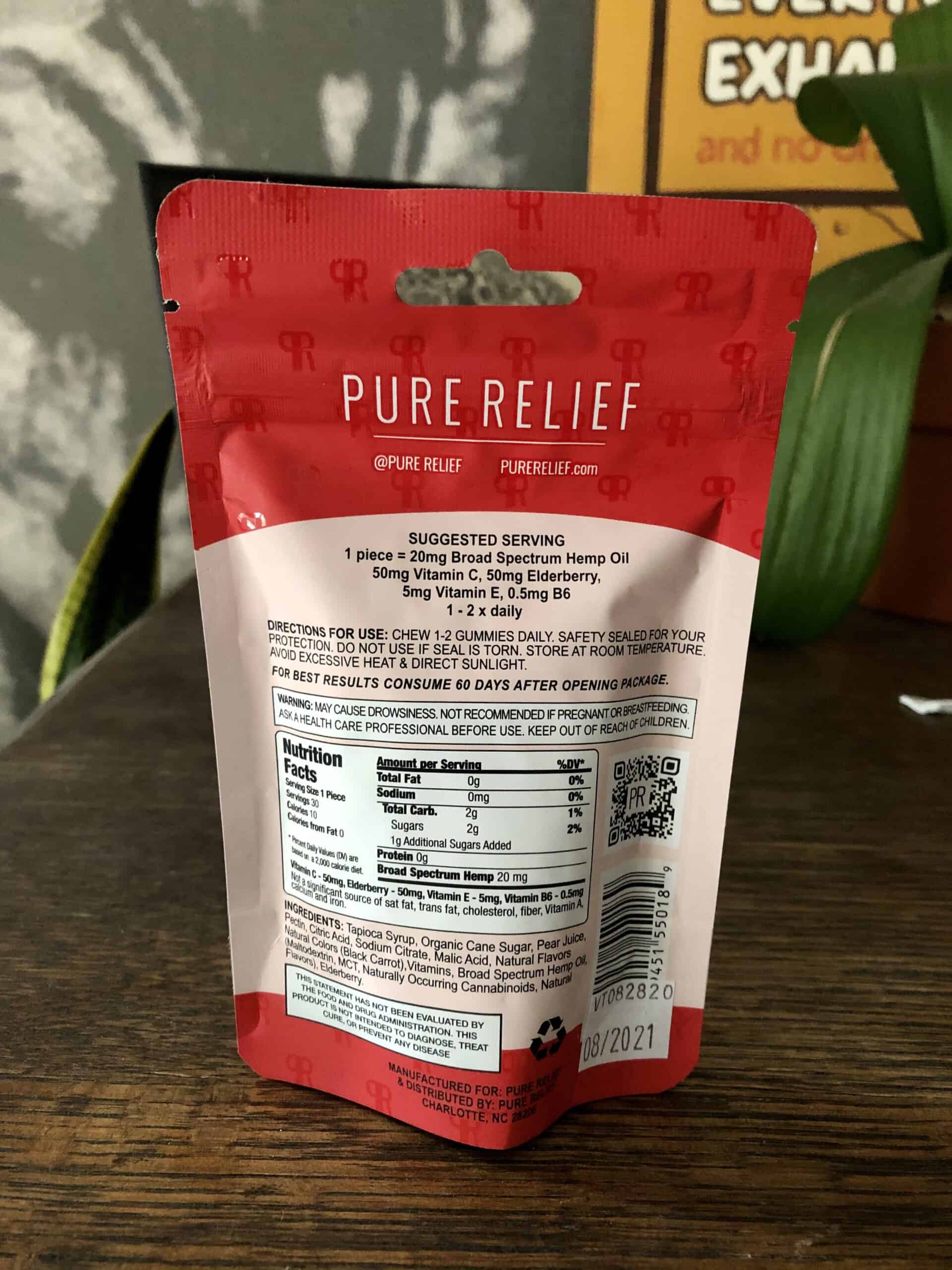 600 mg CBD per package
20 mg CBD per gummy
30 gummies per package
50 mg Vitamin C per gummy
50 mg Elderberry per gummy
5 mg Vitamin E per gummy
.5 mg Vitamin B6 per gummy
10 calories per gummy
No THC
Ingredients: Tapioca Syrup, Organic Cane Sugar, Pear Juice, Pectin, Citric Acid, Sodium Citrate, Malic Acid, Natural Flavors, Natural Colors (Black Carrot), Vitamins, Broad Spectrum Hemp Oil (Maltodextrin, MCT, Naturally Occurring Cannabinoids, Natural Flavors), Elderberry
---
How We Tested the PURE RELIEF IMMUNE SUPPORT GUMMIES
I live in California where the COVID-19 pandemic is worse than it's ever been. All the hospital beds are full. We've been warned not to go into grocery stores. It's been a stressful time for me in particular because I have health issues that require me to go into Urgent Care's and doctor's offices more than I'd like. I've been a fan of Pure Relief's products for a couple of years, so when I saw they had a new product in support of the immune system, I immediately wanted to try it to help relieve my stress and give my health a boost.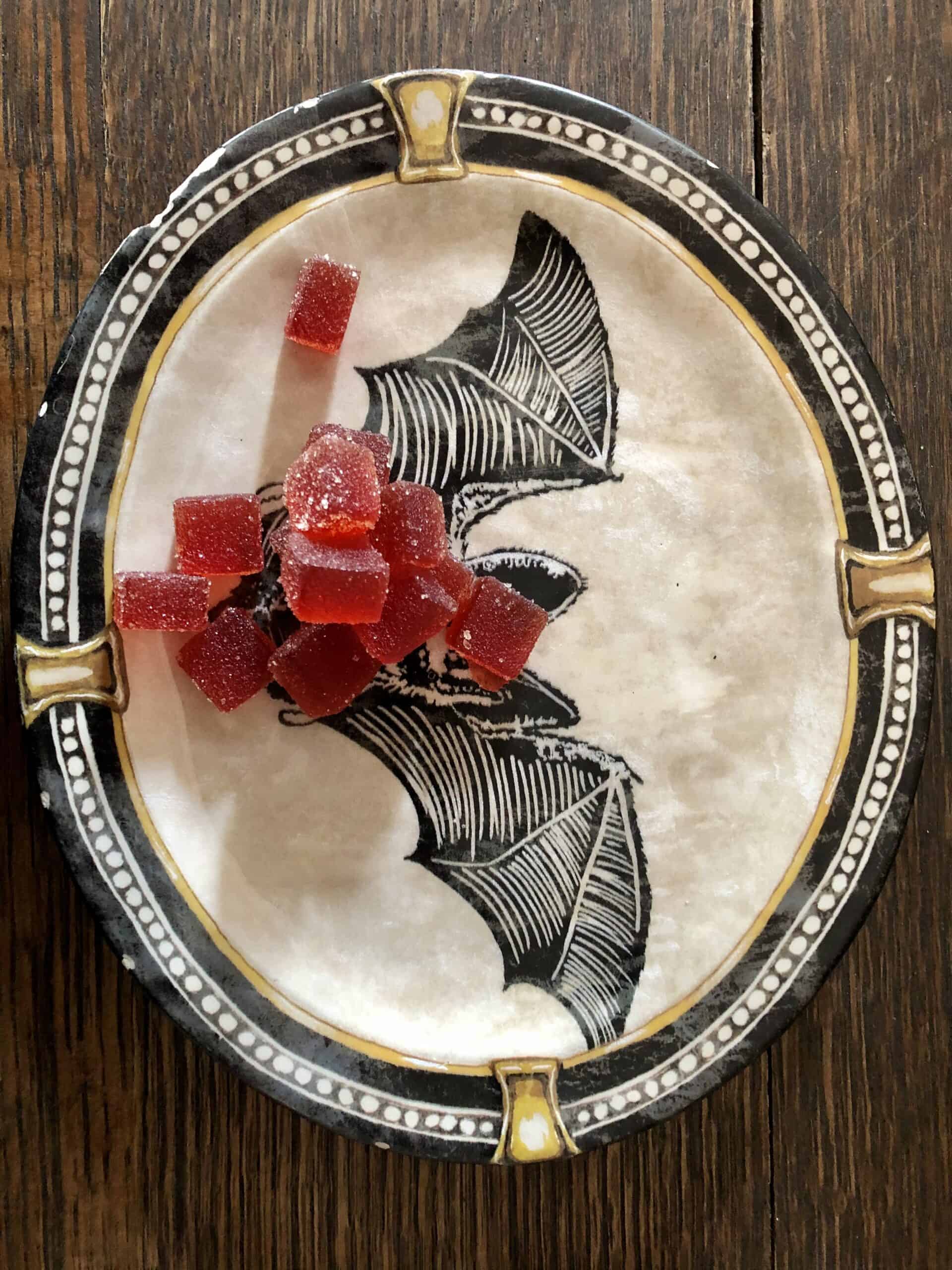 I also love a CBD gummy that's vegan as they so often contain gelatin, which is made from cows or pigs. For a week, I took one gummy in the morning and once at night before bed.
---
How the PURE RELIEF IMMUNE SUPPORT GUMMIES Worked for Me
It took about an hour for me to feel the effects of the CBD as my body started to feel warm and my mind started to feel relaxed. CBD products have always helped me feel less stressed out, and these gummies were no exception. I found I was able to focus through the stressors of the day which helped me be more productive and in-the-moment. The strawberry flavor was delicious and hid any of the bitter taste of hemp. It's difficult to say how the vitamins and herbs affected my immune system, but so far I haven't gotten sick and I get sick all the time.
---
Useful and Unique Things to Know About PURE RELIEF IMMUNE SUPPORT GUMMIES
Vitamin C, Vitamin E, Vitamin B6, and Elderberry are all ingredients added to support your immune system. Vitamin C has so many health benefits and can help fight against chronic diseases, the common cold, and high blood pressure. Vitamin E has anti-aging benefits and can help fight inflammation. Vitamin B6 can bring relief to your depression and helps your brain stay sharp. Elderberry can fight inflammation, ease stress, and relieves the symptoms of the cold and flu.
---
PURE RELIEF IMMUNE SUPPORT GUMMIES Ratings
In the next sections gradings from 0-100 on our review, these grades add up to give the product's overall score.
PRESENTATION • 100
Informative packaging.
RELIABILITY • 100
Relieves stress.
QUALITY • 100
Filled with amazing ingredients.
FLAVOR / SMELL / or EASE OF USE• 100
Delicious strawberry flavor.
VALUE • 85
A little bit expensive.
---
How PURE RELIEF IMMUNE SUPPORT GUMMIES Stacks Up Against the Competition
Pure Relief Immune Support Gummies are one of my new favorite ways to take CBD. They taste great, are easy to dose, and contain a ton of amazing ingredients for better health. I thought the product was a little expensive. For 600 mg of CBD, you'll pay $59.99 which isn't the most expensive but it's also not the best deal. That said, with all the additional ingredients to support your immune health it's worth it.
---
Saving Money with Our Verified PURE RELIEF Coupons
Save money by using our verified CBD Edibles Coupons,CBD Gummies Coupons here at Save On Cannabis the World's largest online cannabis coupon code directory.
---
Disclosure: I received these products gratis so that I could try them and then share my honest opinion with the SOC community. I am employed by Save on Cannabis to write honest reviews and provided a flat rate payment for the writing of the review. SOC may receive recurring affiliate payments for purchases made based on this content.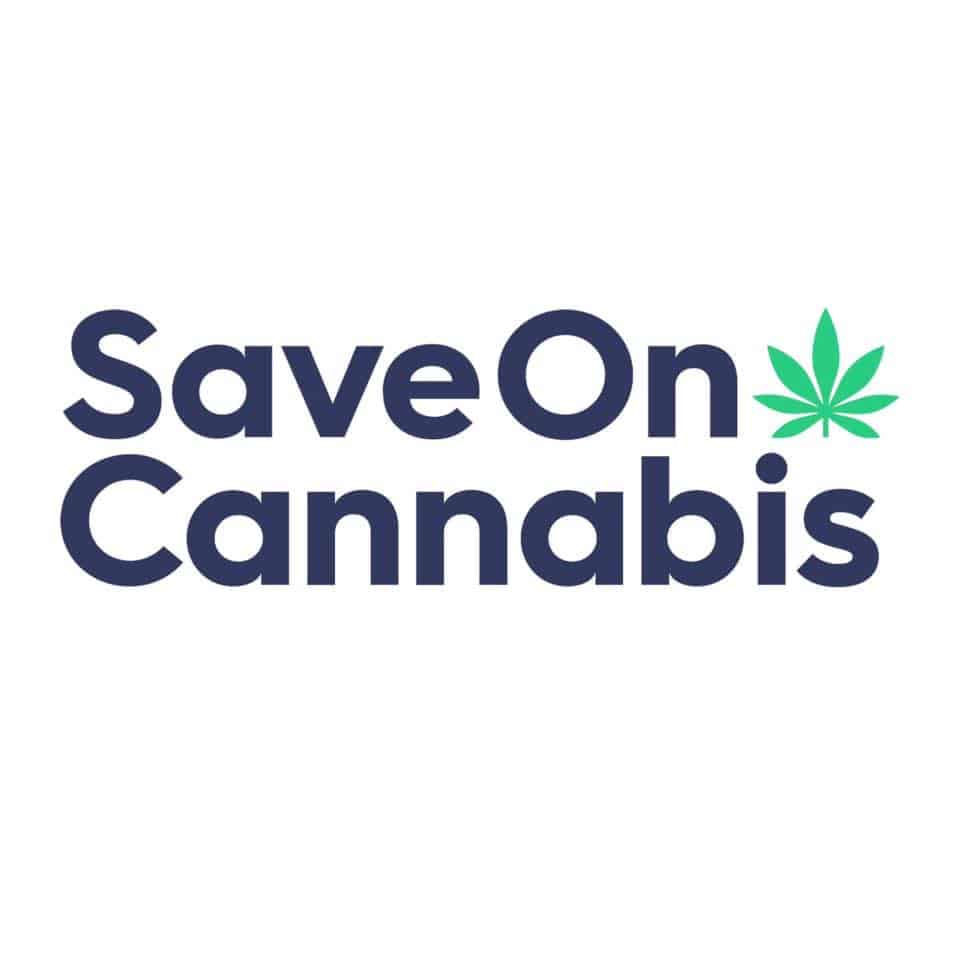 Save On Cannabis is the most trusted source for cannabis discounts and education information.  Vetted deals and clearly written articles to help you become a wiser consumer whether focused on the medical or recreational value of cannabis products.
Sorry, no coupons were found.
In our TryTheCBD review of their 1500mg bottle of 25mg capsules we see how they work for social anxiety. Our expert puts them to the test.
Video and text Crescent Canna review of their Canna Moons Delta 9 THC Gummies. Our expert teststed all the flavors and potencies.
Eir Health makes CBD wellbeing products for all needs. Read our Eir Health review, see how the medium potency version helped us.