Pure Relief: CBD Night Time 900mg CBD Gummies Review
Feb 25, 2021 | Save On Cannabis
CBDCBD CandyCBD EdiblesCBD Gummies
PURE RELIEF
Product Review
Brand Overview: PURE RELIEF
Pure Relief was founded by Michael Melton who saw CBD as a way to fight the opioid epidemic in his home state of North Carolina. After seeing how the epidemic affected the people he loved, he found CBD as a natural and non-addictive solution. He says, "…my reasoning is personally trying to change as many lives as I can for the positive, for the better." The company's mission is to offer high-quality CBD products with the hope that people will find relief not just from addiction but in improving lives for people who deal with stress and hard times.
Pure Relief aims to educate its customers on the benefits of CBD through its website. They have a blog with articles on the different varieties of CBD, how it can benefit you, and how it can benefit your pets.
Products: Smokeables, Oils, Edibles, Bundles, Topicals, Apparel.
Price Range ($-$$$$): $
---
About PURE RELIEF NIGHT TIME MELATONIN GUMMIES
Pure Relief Night Melatonin Gummies contain 900 mg of CBD per packet, with each gummy bear containing 30 mg. These gummies also contain 2.5 mg of melatonin to help you sleep. The company recommends taking one gummy in the evening to help you fall asleep faster and stay asleep longer. These gummies are a great addition to your wellness routine because they can boost your physical and mental health. People often use CBD to help relieve stress and decrease post-workout inflammation.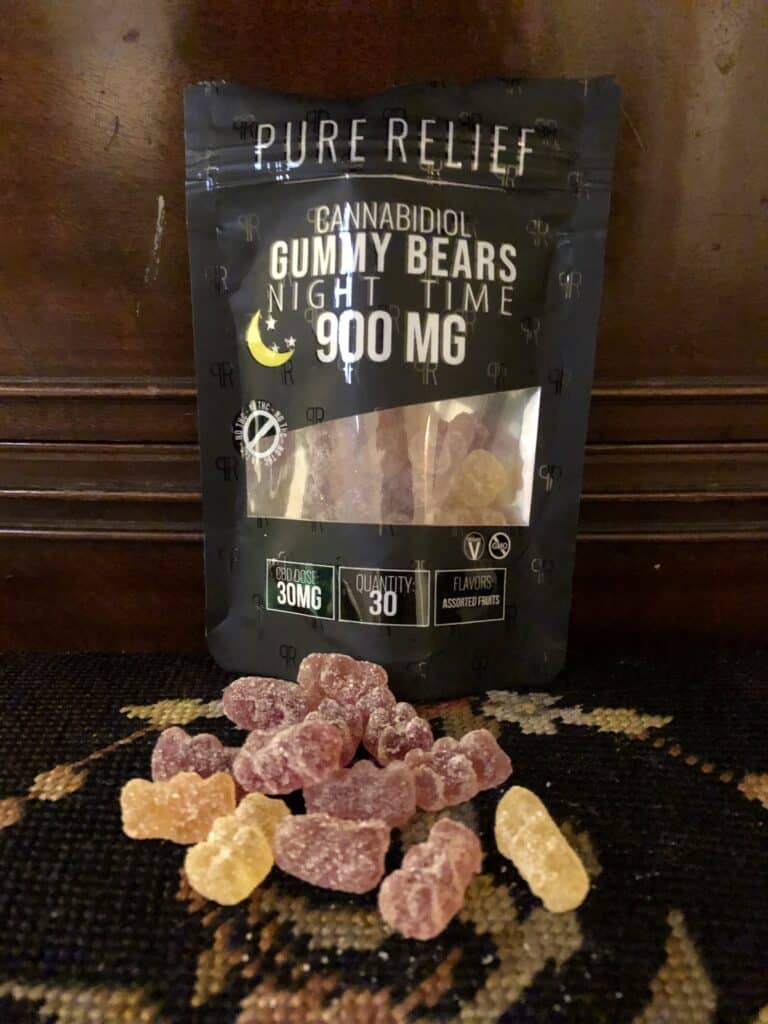 The night time formulated gummies will make you feel refreshed and ready to start your day. Best of all, these gummies are vegan! You won't feel groggy or cracked out, like with other sleep aids as melatonin is natural, safe, and non-addictive. If you're taking medications, please consult with your doctor before taking them. And please avoid this product if you're pregnant or lactating.
---
PURE RELIEF NIGHT TIME MELATONIN GUMMIES Specifications
900 mg CBD
30 gummies (servings)
30 mg per gummy
2.5 mg melatonin per gummy
Vegan
Non-GMO
No THC
7.5 calories per gummy
Ingredients: Organic Glucose Syrup (Wheat), Organic Cane Sugar, Pectin, Citric Acid, Ascorbic Acid, Natural Flavors, Natural Colors, Organic Concentrated Apple, Organic Carrot, Organic Pumpkin, Organic Black Currant, Wheat Starch, Naturally Occurring Cannabinoid Oil, Melatonin

---
How We Tested the PURE RELIEF NIGHT TIME MELATONIN GUMMIES
I have fibromyalgia, which along with a bunch of disabling symptoms like chronic pain and fatigue, gives me a sleep disorder. It's extremely difficult for me to fall asleep, and if I do, I wake up multiple times throughout the night. I rarely wake up feeling like I got enough rest. I was so excited to get Pure Relief's Night Time Melatonin Gummies in the mail because they make some of the best products I've tried. I was certain that the additional melatonin would help me sleep better and was eager to give them a try.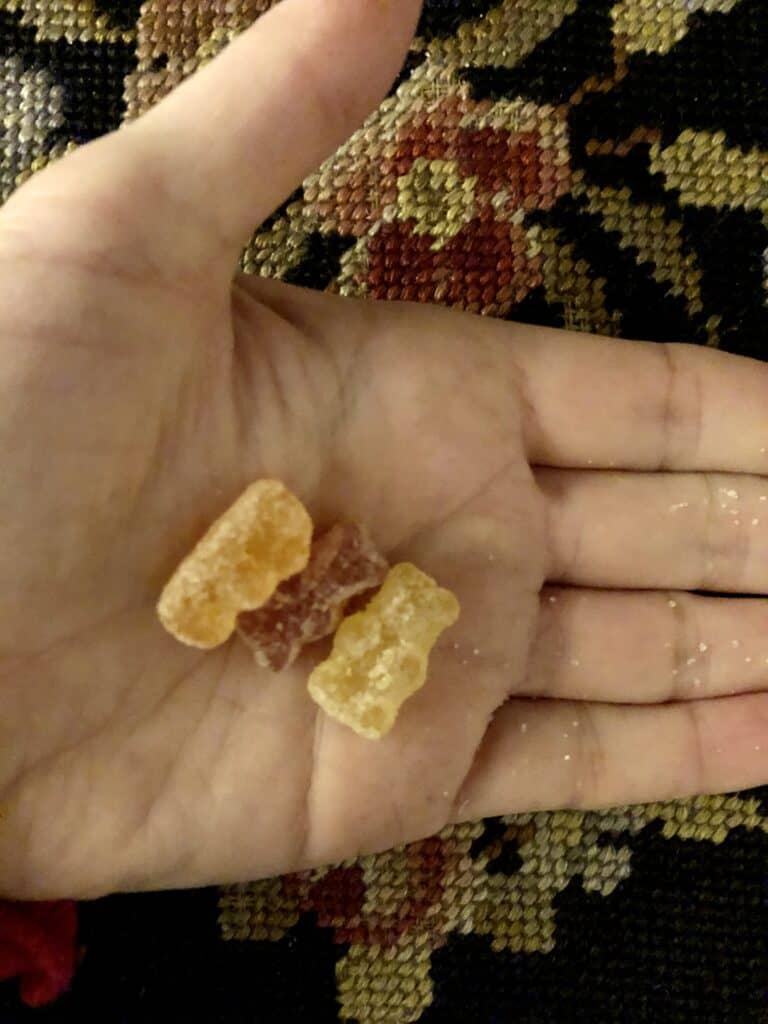 I was hoping these gummies would help me fall asleep faster and stay asleep. I took one gummy a half-hour before my desired bedtime and settled into bed.
---
How the PURE RELIEF NIGHT TIME MELATONIN GUMMIES Worked for Me
I don't know how long it took for the night time gummies to kick in because I fell asleep so fast! Normally it takes me hours to fall into a restless sleep; the pain in my legs, hips, and back keeps me up. I was thrilled that I stayed asleep almost the whole night. I only woke up once and it was easy for me to fall back to sleep again. I woke up refreshed and well-rested for the first time in a while. I also love the delicious fruity flavors which perfectly hid any of the bitter taste of hemp. Pure Relief makes amazing products at such a great price. I look forward to using these gummies again and again.
---
Useful and Unique Things to Know About PURE RELIEF NIGHT TIME MELATONIN GUMMIES
Melatonin occurs naturally in your body. It's a hormone that is mainly released at night, having to do with your sleep cycle. It's often taken in pill form to help with the short-term treatment of insomnia and other sleep disorders. Because melatonin makes you sleepy, don't use it if you're driving or operating heavy machinery for four to five afters after taking it. There might be some negative side effects especially for women trying to get pregnant or if they're breastfeeding. Please consult with your physician before using.
---
PURE RELIEF NIGHT TIME MELATONIN GUMMIES Ratings
In the next sections gradings from 0-100 on our review, these grades add up to give the product's overall score.
PRESENTATION • 75
The package doesn't say how much melatonin is in it.
RELIABILITY • 100
Effective sleep aid.
QUALITY • 100
Natural and vegan.
FLAVOR / SMELL / or EASE OF USE• 100
Tastes great.
VALUE • 100
Great price.
---
How PURE RELIEF NIGHT TIME MELATONIN GUMMIES Stacks Up Against the Competition
Pure Relief has once again made a high-quality product sold at a decent price. You can get a package of these effective and delicious melatonin-infused gummies for only $59.99. For 900 mg of CBD plus melatonin, that's a super deal! Time and time again Pure Relief has made products that stand apart from the competition. I'll be trying their daytime gummies next and am absolutely sure they'll be amazing.
---
Disclosure: I received these products gratis so that I could try them and then share my honest opinion with the SOC community. I am employed by Save on Cannabis to write honest reviews and provided a flat rate payment for the writing of the review. SOC may receive recurring affiliate payments for purchases made based on this content.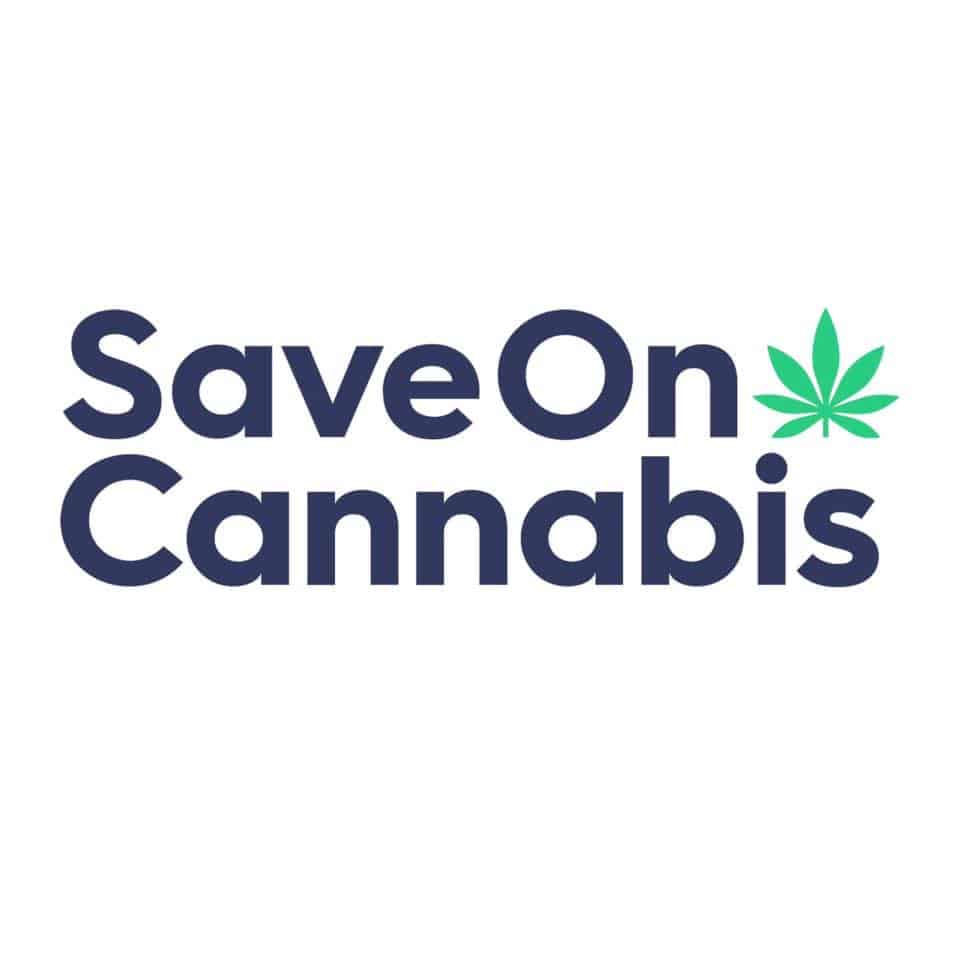 Save On Cannabis is the most trusted source for cannabis discounts and education information.  Vetted deals and clearly written articles to help you become a wiser consumer whether focused on the medical or recreational value of cannabis products.
Sorry, no coupons were found.
Delta Extrax review of legal live resin hemp-derived Urb Extrax Delta 9 THC Gummies, we test to see how we like the high & product overall.
Ice, Ice, Baby...in this Green Roads CBD review of their Cool Relief Roll On see how the icy effects of menthol worked for us.
Veritas Farms review of their unflavored 500mg CBD tincture, see how it fit into our reviewer's daily wellness routine.