CBD Review: Everyday Optimal CBD – 25mg Gummies
Mar 18, 2019 | Romy
Everyday Optimal CBD - 25mg Gummies
Pros
Effective
All-natural
Tasty
Inexpensive
EVERY DAY OPTIMAL GUMMIES 25 MG
Product Review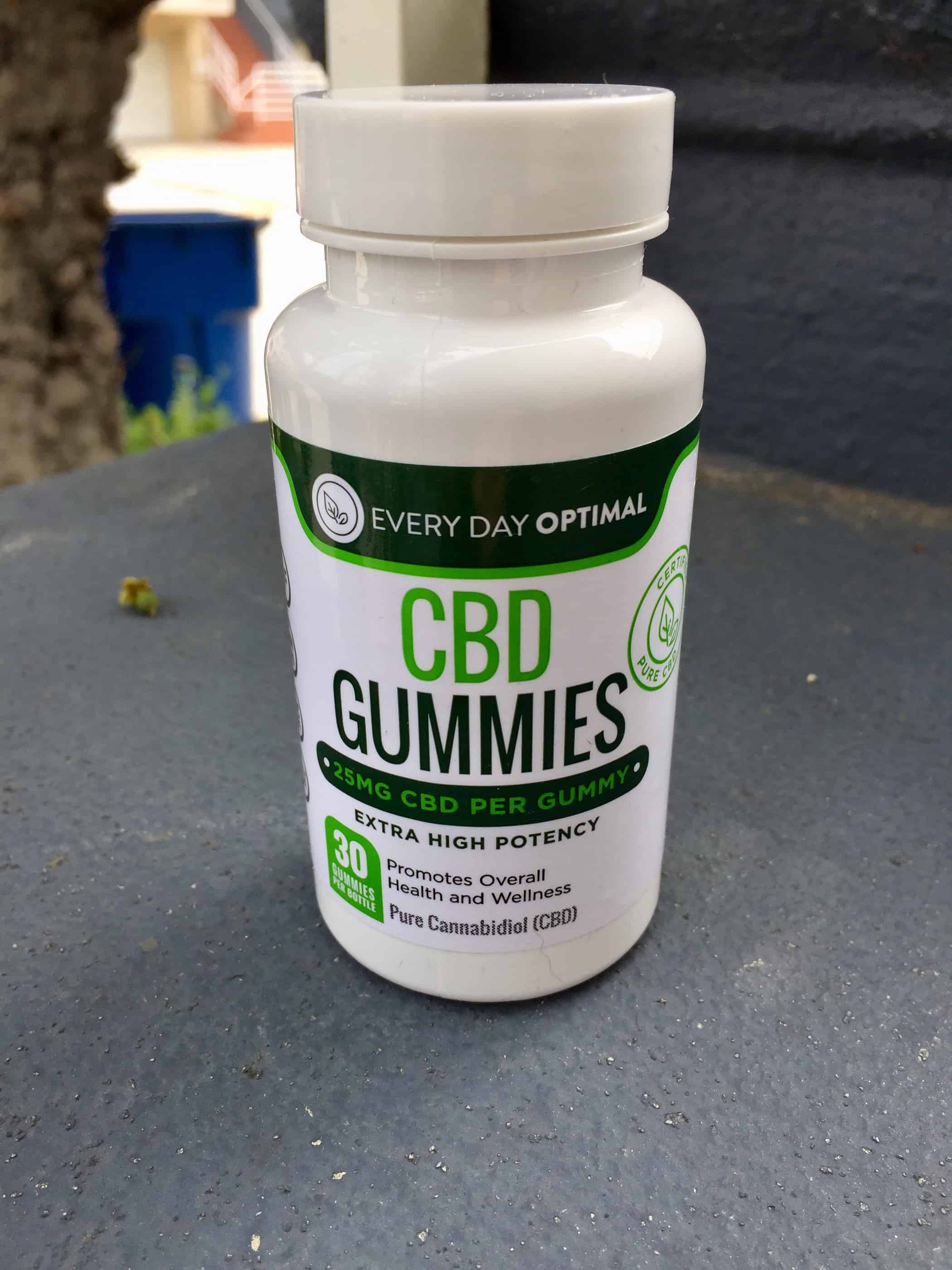 Brand Overview: EVERY DAY OPTIMAL
Every Day Optimal's founders work with the industry's best farmers to grow CBD-rich hemp in an effort to bring high-quality products to your door. They have a "people first and business second" philosophy and welcome customers to reach out to them with questions, comments, and concerns. Working alongside bona fide medical doctors who are experts in medical marijuana, Every Day Optimal products are curated for effective pain management and nutrition. Best of all, the company has enough confidence in their products to offer a 30-day money back guarantee.
Products: Capsules & Pills, Gummies & Edibles, Tinctures, E-Liquids, Bundles
Price Range ($-$$$$): $$-$$$$
---
About the EVERY DAY OPTIMAL GUMMIES
Every Day Optimal gummies, each infused with 25 mg of pure cannabidiol, are one of the most potent CBD gummy products on the market. These yummy candies are perfect for those in need of a higher dose. If you suffer from severe chronic pain, daily anxiety, fibromyalgia, arthritis, or disabling sleep disorders, these are the gummies for you. Unlike many CBD gummy products on the market, Every Day Optimal gummies are not sprayed or coated. They are homemade with no artificial ingredients. The company suggests taking your gummy every day, like a vitamin, to enjoy the healing benefits of CBD. And why not when they taste delicious and are discreet to boot!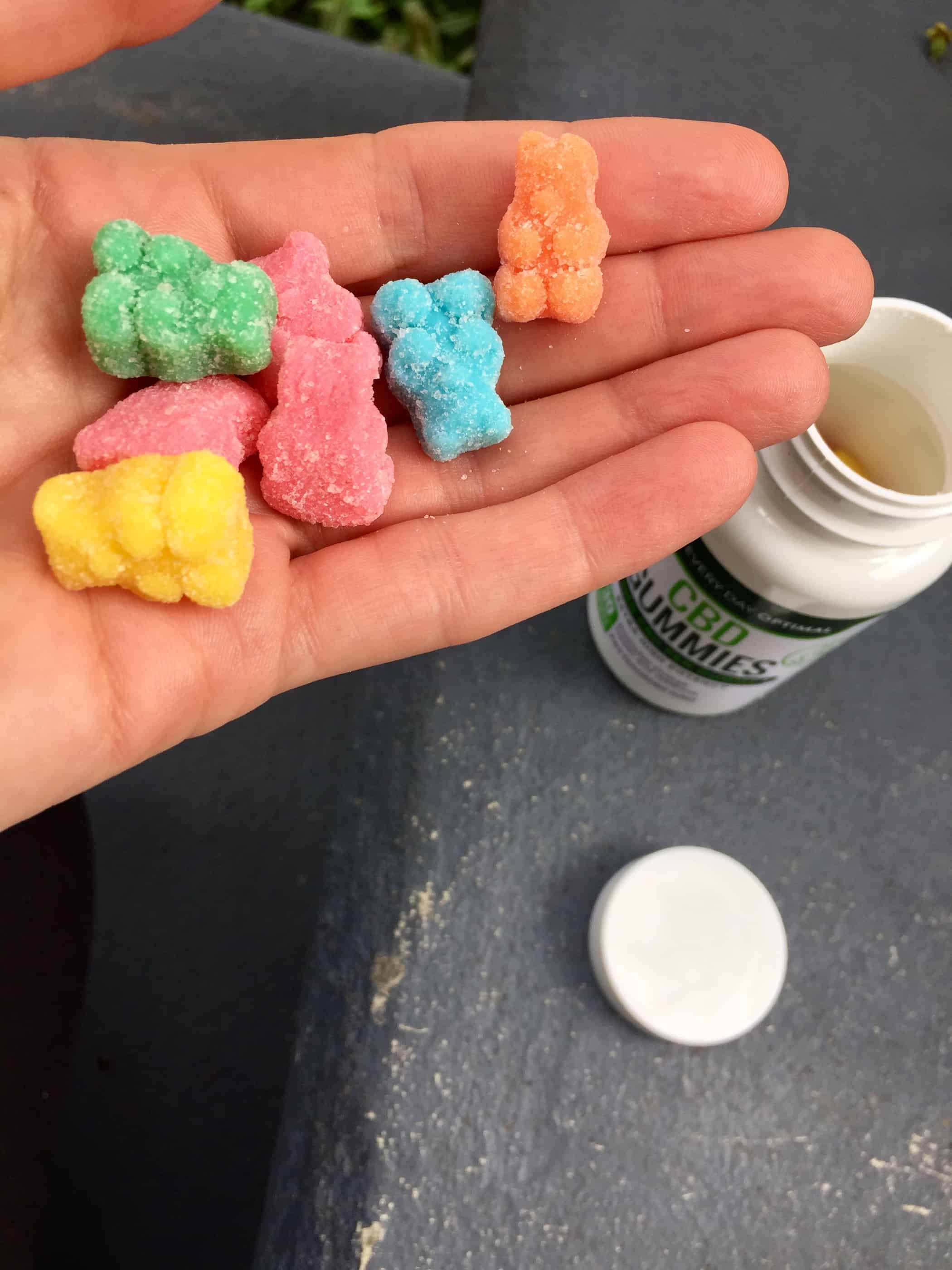 ---
EVERY DAY OPTIMAL GUMMIES Specifications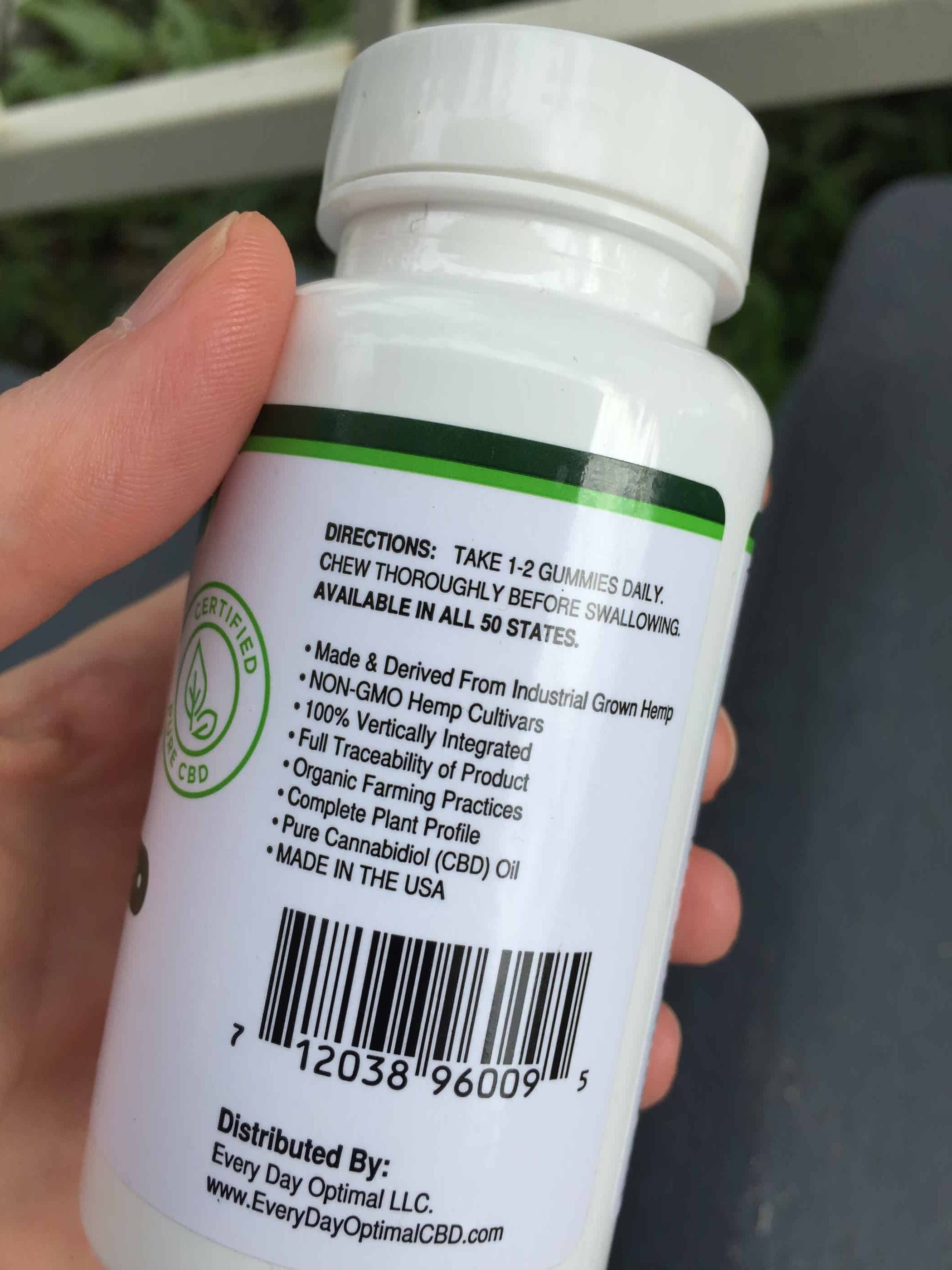 Ingredients: Pure Cannabidiol Oil (CBD), Sugar, Corn Syrup, Gelatin, Citric Acid, Calcium Lactate, Silicon Dioxide, Natural and Artificial Flavors
Sour Gummy Candy Flavor
Serving Size: 1 Gummy
Serving Per Container: 30
25 MG of CBD Per Gummy
Calories: 9 Per Serving
100% THC-Free
Gluten-Free
No Artificial Ingredients
Clean-Farmed Industrial Hemp
No Pesticides, Herbicides, or Heavy Metals
---
How We Tested the EVERY DAY OPTIMAL GUMMIES
If I pass a candy shop, I have to go inside and stock up on gummy candies, jelly bellies, and fudge. Needless to say, CBD infused gummy candies are right up my alley. And the beauty of these tiny candies, each packed with 25 mg of CBD, is that I can get a high dose without making myself sick. As someone who suffers from chronic pain, these extra strength edibles are just what I need to get through the day. I have spinal and hip issues, and to top it off,
I was recently hit by a car and had my foot run over! So my limp went from being little to full-blown Tiny Tim, and I'm in a lot of pain. The company suggests eating one in the morning and one before bed. So, that's what I did.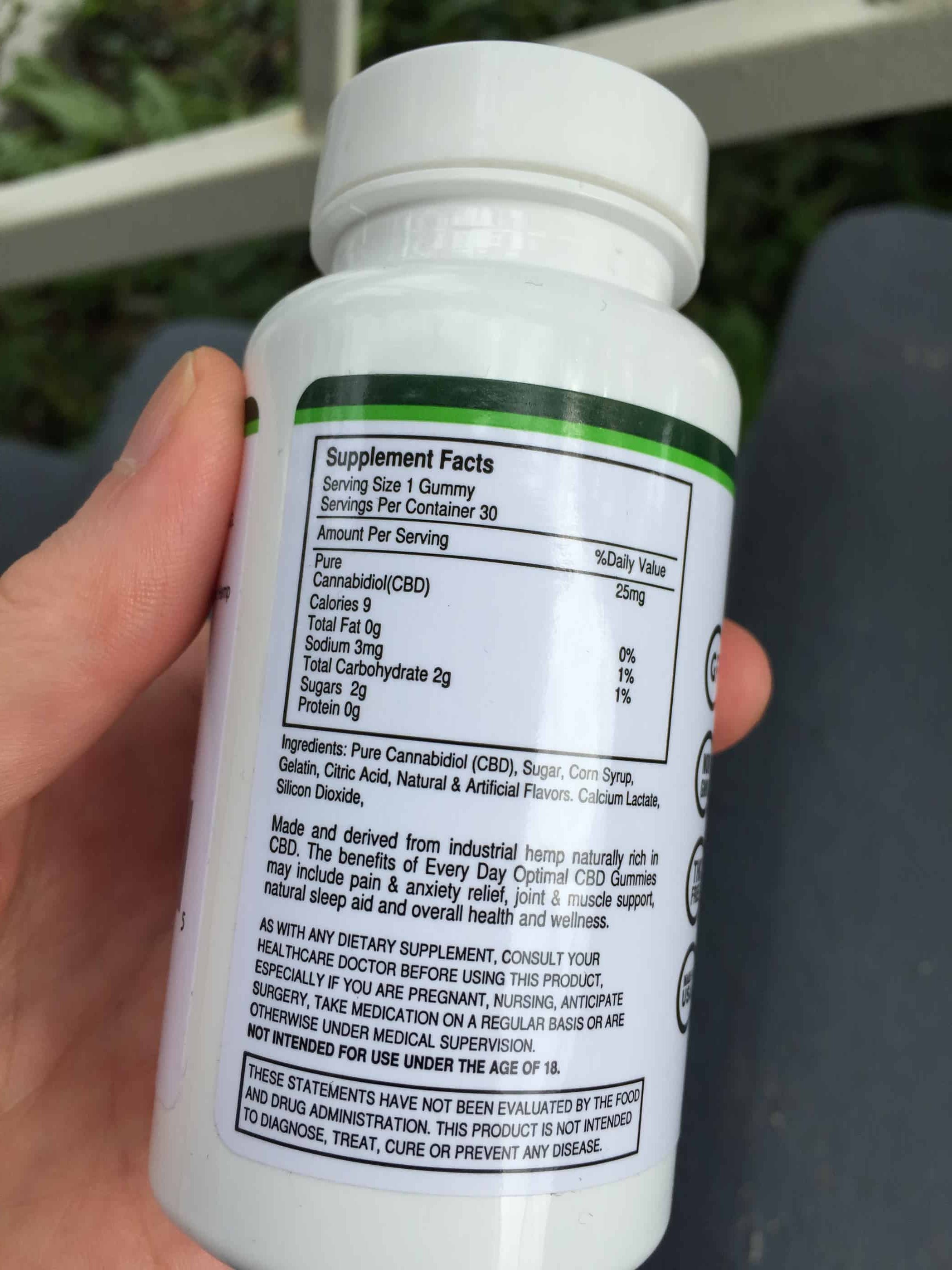 ---
How the EVERY DAY OPTIMAL GUMMIES Worked for Me
Yum! The gummies taste just like any old gummy candies that you might buy at the candy shop. They have a mild sour taste, like Sour Patch Kids. About an hour after eating a gummy, I felt the relaxing and warming effects of the CBD go through my body. The physical sensation was mild as if I had taken an extra strength Motrin. A delightful surprise was how focused I became after eating this edible. I think because it took the edge off my anxiety and pain, I was able to really get to work, and I was super productive for the day. Before bedtime, I ate another candy, and I had some of the best sleep I've had in a long time. I even slept past 6 a.m. (I'm usually up by 4 a.m. because I have morning insomnia). I would recommend these to anyone who needs help focusing and getting a good night's sleep.
---
Useful and Unique Things to Know About EVERY DAY OPTIMAL GUMMIES
I was really surprised by how focusing these edible made me feel. My concentration was sharper than usual. I went through my to-do list quickly after my first dose and got more done in the day than I had anticipated. After a little research, I learned that CBD helps with focus and concentration because it relieves stress, and stress creates cortisol in the brain which makes it harder to focus. Because I was less stressed, I was able to get more done.
---
EVERY DAY OPTIMAL Ratings
In the next sections gradings from 0-100 on our review, these grades add up to give the product's overall score.
PRESENTATION • 100
The bottle is professional and discreet. It looks like any other bottle of supplements.
RELIABILITY • 100
style="text-align:center;">Effective little guys! They pack a punch.
QUALITY • 100
I gave them 100 percent on quality because they are all-natural, delicious, and potent–everything you'd want in a CBD-infused gummy.
FLAVOR / SMELL / or EASE OF USE • 100
They taste amazing, like Sour Patch Kids.
VALUE • 100
I was shocked at how inexpensive these gummies were. You get a total of 750 mg of CBD for only $89.99. You can't beat the price.
---
How the EVERY DAY OPTIMAL GUMMIES Stacks Up Against the Competition
Every Day Optimal's Gummies do not contain any THC, while many other CBD infused gummies contain up to 0.3% of THC–enough to show up on a drug test. Yikes! The reason other edibles may contain trace amounts of THC is that they use a full-spectrum of cannabinoids, which some people prefer, but they risk getting a little THC in their product. Every Day Optimal make sure to remove all other cannabinoids, aside from the CBD. For this reason, if you are sensitive to THC (like me) or face a drug test in your future, consider Every Day Optimal products over the others.
---
Saving Money With Everyday Optimal CBD Coupons
Save money on all CBD Edibles here at Save On Cannabis the World's largest online cannabis coupon code directory.
---
Disclosure: I received these products gratis so that I could try them and then share my honest opinion with the SOC community. I am employed by Save on Cannabis to write honest reviews and provided a flat rate payment for the writing of the review. SOC may receive recurring affiliate payments for purchases made based on this content.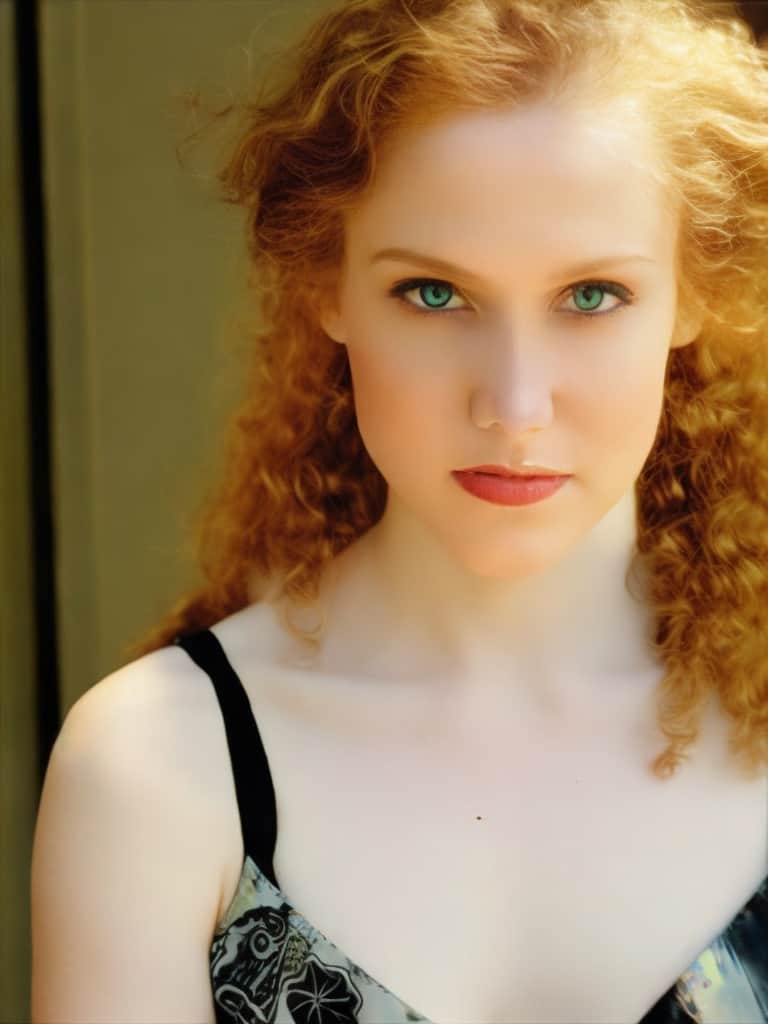 A medicinal cannabis user, utilizing the power of the plant to ease the pains and stresses from long standing conditions that other over the counter or prescriptions could not fix or weren't a natural option like cannabis.  Also, has a background in working directly in the cannabis industry in California within various dispensaries.
Sorry, no coupons were found.
Our reviewer tests to see in this Green Roads Review of the Relax CBD Bath Bomb if it can soothe her muscles after working out. Find out now.
Pure CBD Vapors sent us the CBD For Life Bath Bombs, see how the Lemongrass Kiwi worked for our reviewer. Hands-on comparison of flavors and effects.
We got our lucky hands on the All Natural Way CBD Pain Relief Cream 500 MG to test out. Expertly reviewed by a user with real pains that need relief. Read now to see how it worked.