Philter Labs POCKET Smoke Filter Review
Oct 11, 2020 | SOC
Cannabis Odor Control & Air Filters
Philter Labs POCKET Smoke Filter
Pros
Filters out secondhand emissions
5-step filtration process
Eliminates pollutants
Vape where you want while staying discreet
Lasts for 150 exhales
Portable pocket-size
Can re-use the silicon mouthpiece
Cons
Small opening for the mouthpiece
Philter Labs POCKET Smoke Filter
Product Review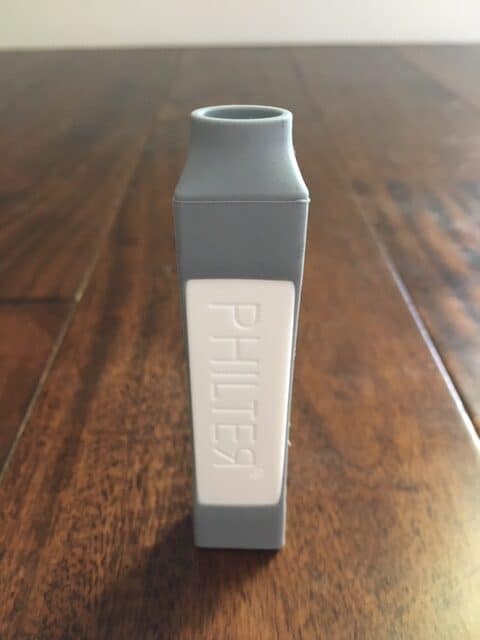 Brand Overview: Philter Labs
Philter Labs is a team of entrepreneurs, scientists, and engineers based in San Diego, CA with a mission to "eliminate secondhand smoke while enhancing the lives of cannabis and nicotine users."
The company understands the negative effects of second-hand smoke. So, it created a product for those who love to vape but who also care about clean air.
And who are conscious of the people around them. Because not everyone is comfortable being around big old vape clouds.
This is what prompted the business idea and its personal smoke filters, like the POCKET. Philter Labs uses its patented Zero-5™ technology to eliminate secondhand emissions using a five-step filtration process. The filtration tech also helps remove possible airborne particulates and pollutants.
With that said, the purpose of the POCKET is to give you the freedom to vape or smoke where you'd like while simultaneously reducing and eliminating the by-products of a smoke session.
Products: Personal smoke filters
Price Range ($-$$$$): $$
---
About Philter Labs POCKET Smoke Filter
Philter Lab's Pocket filter is "small, yet mighty." It's about the size of my palm and measures in at just under four inches tall and a half-inch wide. The filter comes in many different colors, but the one I tested out is white with a medium gray, stretchable sleeve (as you can see in the picture above).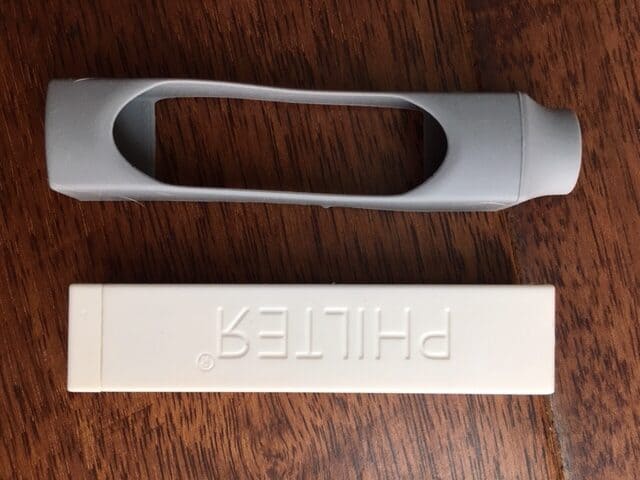 The white-colored filter goes inside the gray sleeve/mouthpiece and after 150 exhales you toss out the filter and replace it with a new one. But, you won't need a new stretchable mouthpiece, because it's reusable and you can wash it by hand when needed.
---
Philter Labs POCKET Smoke Filter Specifications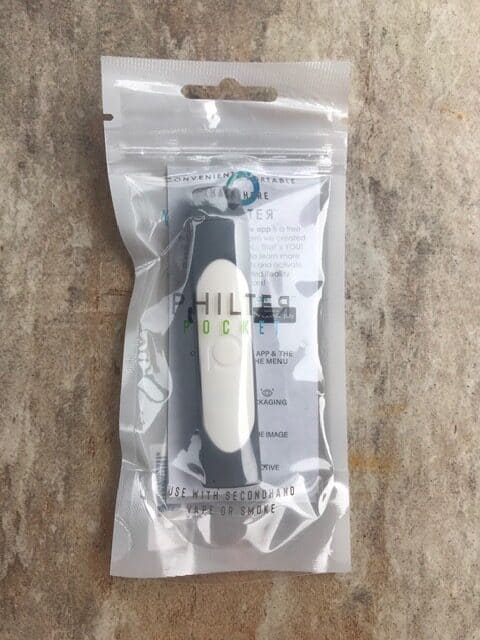 Patented technology captures particulates, reduces emissions, and eliminates odor
Silicone mouthpiece and sleeve
Works with smoke and vapor exhalation
Lasts up to 150 exhales
Personal filtration solution for cleaner air
Less than 4" tall and only a ½" wide
Several colors to choose from (3 pack of "Gold", "Metallic", and "Rose Gold" varieties)
---
How We Tested the Philter Labs POCKET Smoke Filter
To test this product I used a pre-rolled CBD joint. But, if you want to minimize all smells, I recommend using a vape pen or other vaporizer. When you light a joint there will be smoke and smells from the get-go and the filter can't help with that. Its purpose is to capture the smoke and the aroma of your exhale.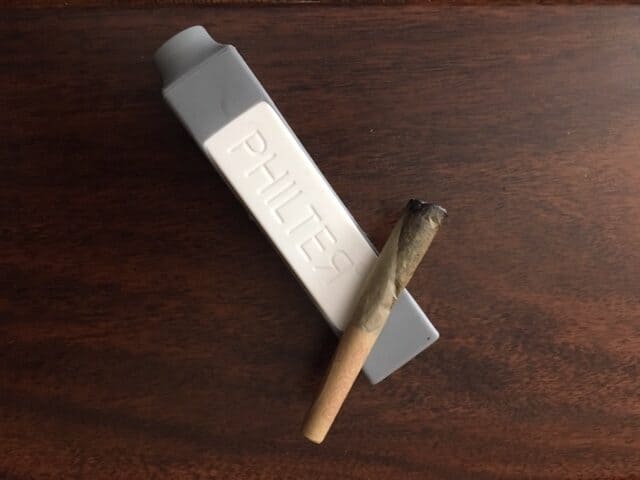 I tested out the Philter Labs POCKET about 5 separate times. Sometimes I used it while smoking in the house and the other times I brought it with me when I smoked outside. My goal was to see if the POCKET would feel natural or clumsy. If you're used to smoking freely but need to be discreet now or want to reduce smoke emissions, then it's going to be an adjustment.
---
How the Philter Labs POCKET Smoke Filter Worked for Me
The first few times I used the POCKET smoke filter was a bit weird for me. I tried to fit my lips into the mouthpiece hole but this made it hard to exhale all the smoke out. So the next time, I opened my mouth a bit more to cover the majority of the mouthpiece, if that makes sense. This way felt more natural and I didn't see any smoke escape.
With each smoke session, I became more and more comfortable with the smoke filter. I practice yoga and deep breathing exercises, so sometimes I caught myself exhaling into the POCKET for a long time. I figured out that I don't need to do this (Duh!) and can get all the smoke out within five seconds or so. When using this product, it felt good knowing I was playing a tiny part in reducing pollutants.
---
Useful and Unique Things to Know About The Philter Labs POCKET Smoke Filter
Once you've exhaled into the POCKET smoke filter 150 times, you can replace the filter, but keep your same silicone sleeve mouthpiece. Don't worry if you lose count of your exhales because let's be honest, who's going to count up to 150? The other way to know when it's time for a replacement filter is when your current one gives you pushback, making it difficult to exhale your vapor.
---
Philter Labs POCKET Smoke Filter Ratings
In the next sections gradings from 0-100 on our review, these grades add up to give the product's overall score.
PRESENTATION • 100
The product arrived nicely packaged and included a helpful user manual.
RELIABILITY • 100
Worked the same each time.
QUALITY • 100
Made from durable materials and felt high-quality.
FLAVOR / SMELL / or EASE OF USE • 85
The mouthpiece is a bit small, making the experience feel a bit clumsy until you adjust.
VALUE • 100
With the high tech, fair price, and 150 exhales per filter, this product offers terrific value.
---
PROS of the Philter Labs POCKET Smoke Filter
The POCKET smoke filter lets you vape where you want, without any of your neighbors, housemates, or family smelling a thing. Also, its pocket-sized portability means you can take it wherever you go. It has a long filter life, lasting up to 150 exhales. The product's superior technology features a 5-step filtration process that can filter out secondhand emissions and pollutants. All around, it's a great product.
---
CONS of the Philter Labs POCKET Smoke Filter
Philter Labs POCKET smoke filter only has one major con. This is based on my personal experience, so it may not apply to you. The small mouthpiece/hole made it a little awkward for me. But, then again I love smoking in the traditional way, even though it has a significant environmental impact. The more I used this filter, the more comfortable I got with it. I'd like to use it more often to be a part of the solution for environmental change.
---
How Philter Labs POCKET Smoke Filter Stack Up Against the Competition
If you compare the ratio of exhales to the price, the Philter Labs POCKET smoke filter is priced a bit higher than similar products. But, it has superior filtration and purification technology, which is where it separates itself from the pack.
---
---
Disclosure: I received these products gratis so that I could try them and then share my honest opinion with the SOC community. I am employed by Save on Cannabis to write honest reviews and provided a flat rate payment for the writing of the review. SOC may receive recurring affiliate payments for purchases made based on this content.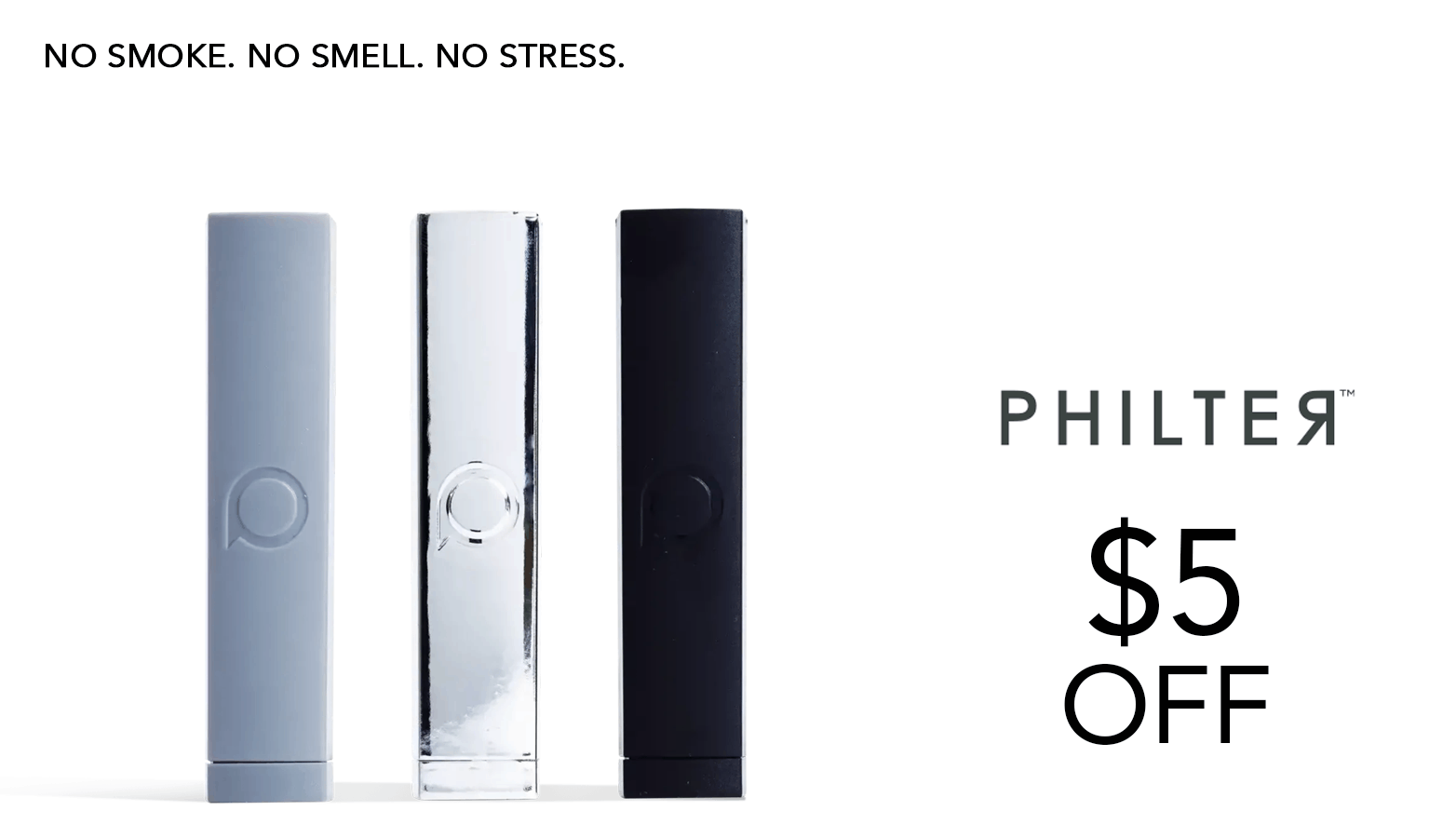 $5 off $35 Philter Labs coupon on the most portable and affordable handheld filter on the market!
Read our hands on review of the GoGreen Hemp Premium CBD Orange Oil Drops. We tested it and give our rundown so you can decide if you should buy.
Keefer is dead set on upping your dabbing and smoking game with their luxury dabbing and scraping tools, read our Keefer Scraper review.
We tested King Kanine - King Kalm CBD Pet Oil on our pets so you know if you should use it on your best furry friends. Read this expert King Kanine review.