Life Balance Meridian Review: Relieve Botanical CBD Balm
Feb 21, 2020 | Romy
CBDCBD Pills & CapsulesCBD TincturesCBD Topicals
MERIDIAN LIFE BALANCE ACTIVE BOTANICAL CBD BALM
Pros
Soothes pain
Easy to use
All-natural
A little goes a long way
Moisturizing
Cons
Expensive
No ingredients listed on packaging
Life Balance Meridian Relieve Active Botanical CBD Balm
Product Review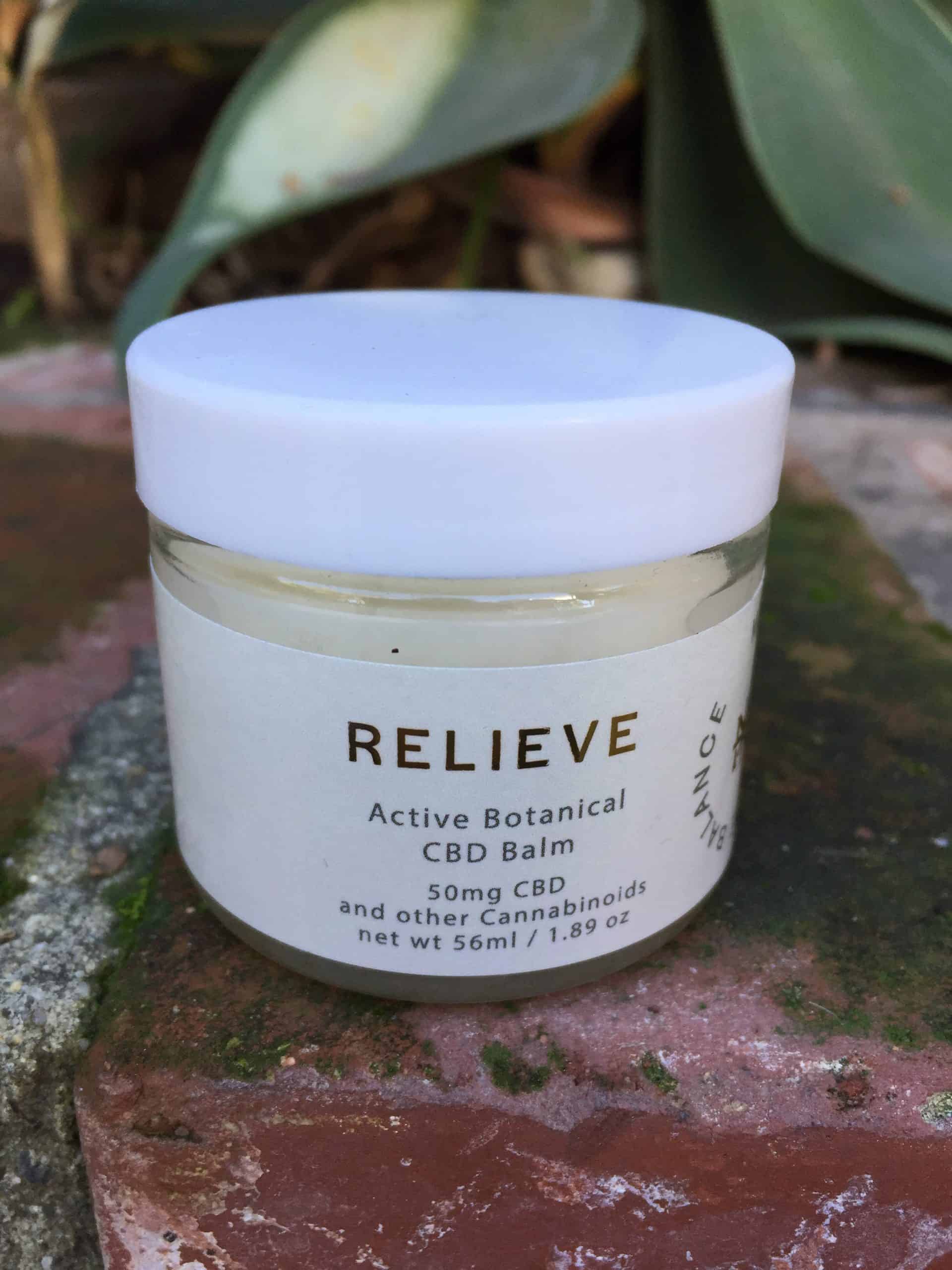 Brand Overview:MERIDIAN LIFE BALANCE
Meridian Life Balance has created a line of CBD-infused products that provide a non-addictive alternative to prescription and over-the-counter medications. Offering tinctures, capsules, and topicals to help relieve pain and stress, Meridian Life Balance's CBD-infused products will help balance your endocannabinoid system for a healthier and more mindful existence. The company also wants to educate you about CBD, and you can find helpful articles on their website, including "CBD 101" where you can get a crash course in all things cannabidiol.
Products: Tinctures, Topicals, Capsules, Bundles.
Price Range ($-$$$$): $$$
---
About MERIDIAN LIFE BALANCE ACTIVE BOTANICAL CBD BALM

This CBD Balm from Meridian Life Balance contains 50 mg of CBD as well as other naturally occurring cannabinoids to ease your body's aches and pains. The cooling balm can provide pain relief to sore muscles and inflamed joints as well as moisturize the skin. Even a small amount is effective. Simply warm the balm in the palms of your hands then massage into the troubled areas as needed. Meridian Life Balance's CBD balm is the perfect solution for athletes and chronic pain patients to find relief naturally.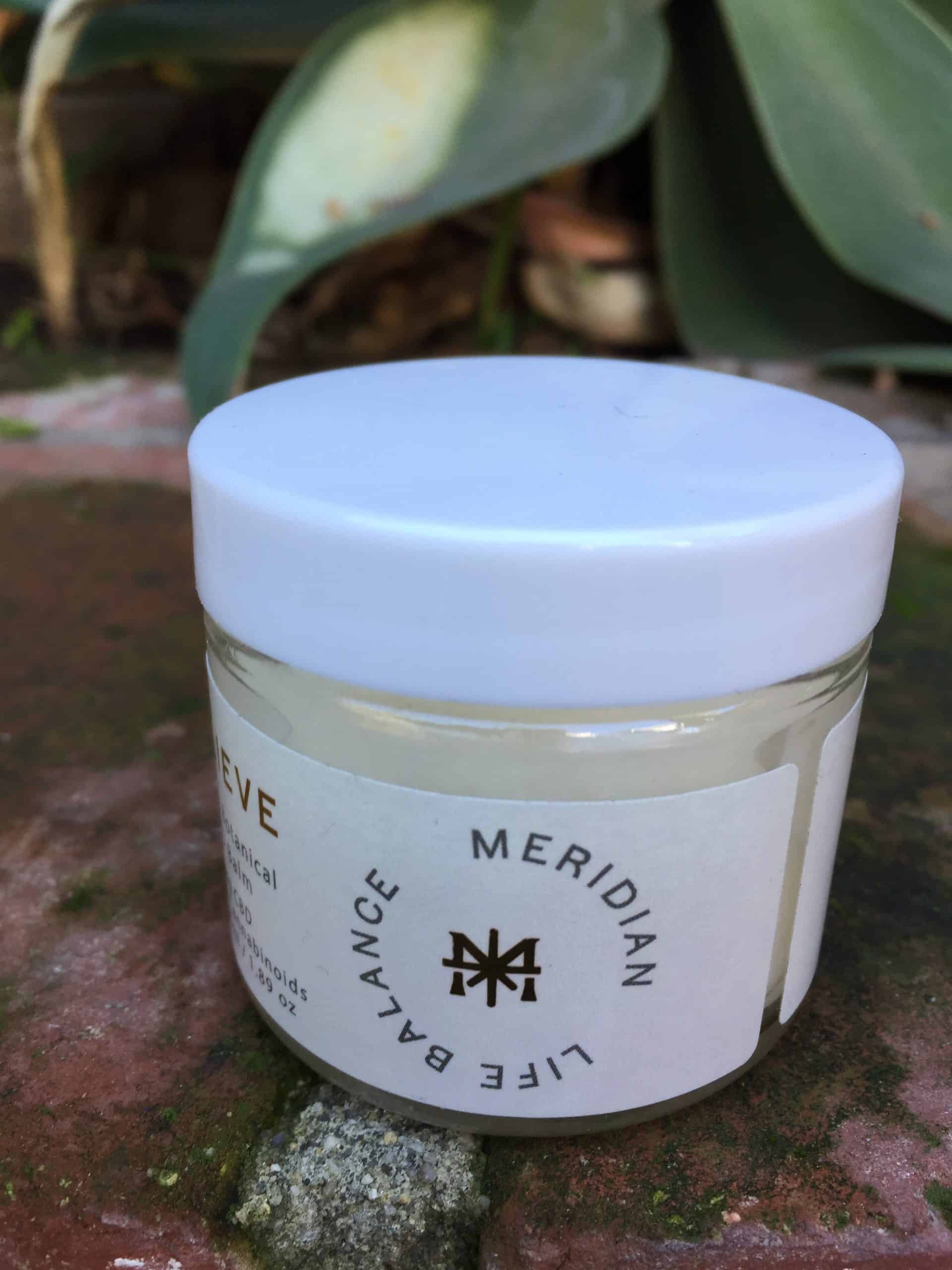 ---
MERIDIAN LIFE BALANCE ACTIVE BOTANICAL CBD BALM Specifications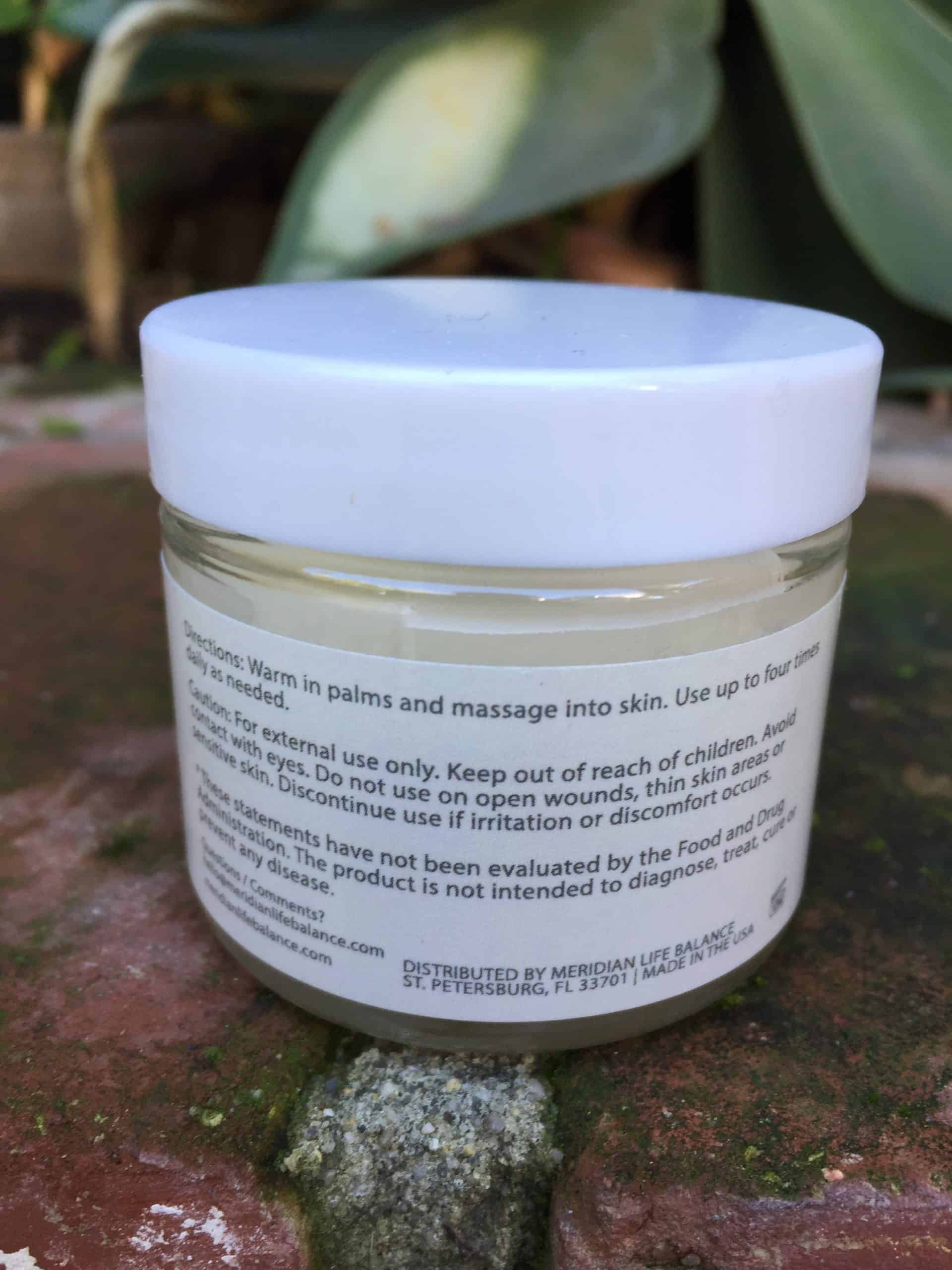 50 mg CBD and other cannabinoids
56 ml / 1.89 oz
0% THC
Other Ingredients: Camphor, Adaptogens, Lavender Oil
---
How We Tested the MERIDIAN LIFE BALANCE ACTIVE BOTANICAL CBD BALM

I've been moving and it's taken a toll on my body. I have several injuries that have led to chronic pain and limited ability. My medical specialists have told me not to do any heavy lifting or drive. Needless to say, moving has put an end to me following my doctor's orders, at least for now. My low back is killing me. I was excited to try this CBD balm because it contains camphor, a cooling ingredient I find effective in providing relief. Before another day of lugging boxes, I massaged some of this balm onto my low back and hips. I applied it throughout the day with a generous application right before bed.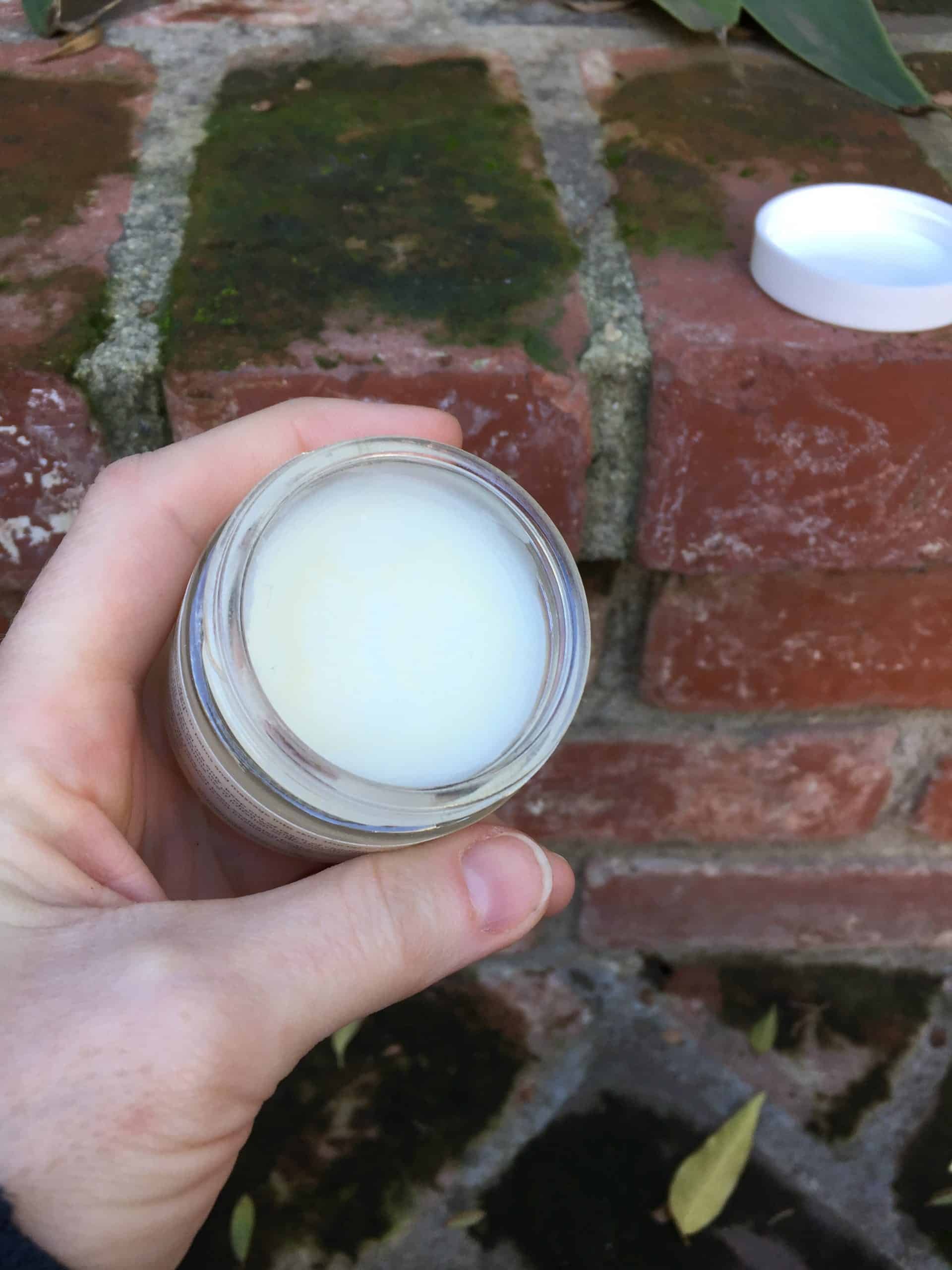 ---
How the MERIDIAN LIFE BALANCE ACTIVE BOTANICAL CBD BALM Worked for Me

The CBD balm created a mild cooling sensation that distracted me from the pain just enough for me to forget about it temporarily. It was very moisturizing, and I found it soothed the ashy skin on my hands. Because of its hydrating qualities, the balm made an excellent massage lotion, blending into the skin easily. I was worried the camphor smell would be too medicinal, but it was very mild, and I feel confident wearing this stuff to class without being too distracting. I will be using this balm again, as it helped provide some short-term respite. I'm looking forward to trying Meridian Life Balance's other topicals.
---
Useful and Unique Things to Know About MERIDIAN LIFE BALANCE ACTIVE BOTANICAL CBD BALM
I had never heard of one of the few ingredients found in Meridian Life Balance's CBD balm. Adaptogens are herbs and roots used primarily in eastern medicine that help to balance and support the body when it's under stress. More research needs to be done, but it is believed that adaptogens can help you sleep better and reduce inflammation.
---
MERIDIAN LIFE BALANCE ACTIVE BOTANICAL CBD BALM Ratings
In the next sections gradings from 0-100 on our review, these grades add up to give the product's overall score.
PRESENTATION • 80
Elegant packaging but no ingredients listed.
RELIABILITY • 100
Relieves pain.
QUALITY • 100
Effective ingredients.
FLAVOR / SMELL / or EASE OF USE • 100
Subtle camphor smell that doesn't overpower.
VALUE • 70
Expensive.
---
How MERIDIAN LIFE BALANCE ACTIVE BOTANICAL CBD BALM Stacks Up Against the Competition

Meridian Life Balance has a few topicals, each offering something slightly different. Their CBD-infused balm is a great massage lotion that provides mild relief. Meridian Life Balance's roller gel goes on a little easier and had a stronger cooling sensation. While it provided more pain relief, it's not as moisturizing as the balm. I'm looking forward to trying the company's cooling cream next, to see how that compares.
---
Saving Money With Our Verified MERIDIAN LIFE BALANCE Coupons
Save money by using our verified Cbd Topicals Coupons here at Save On Cannabis the World's largest online cannabis coupon code directory.
---
Disclosure: I received these products gratis so that I could try them and then share my honest opinion with the SOC community. I am employed by Save on Cannabis to write honest reviews and provided a flat rate payment for the writing of the review. SOC may receive recurring affiliate payments for purchases made based on this content.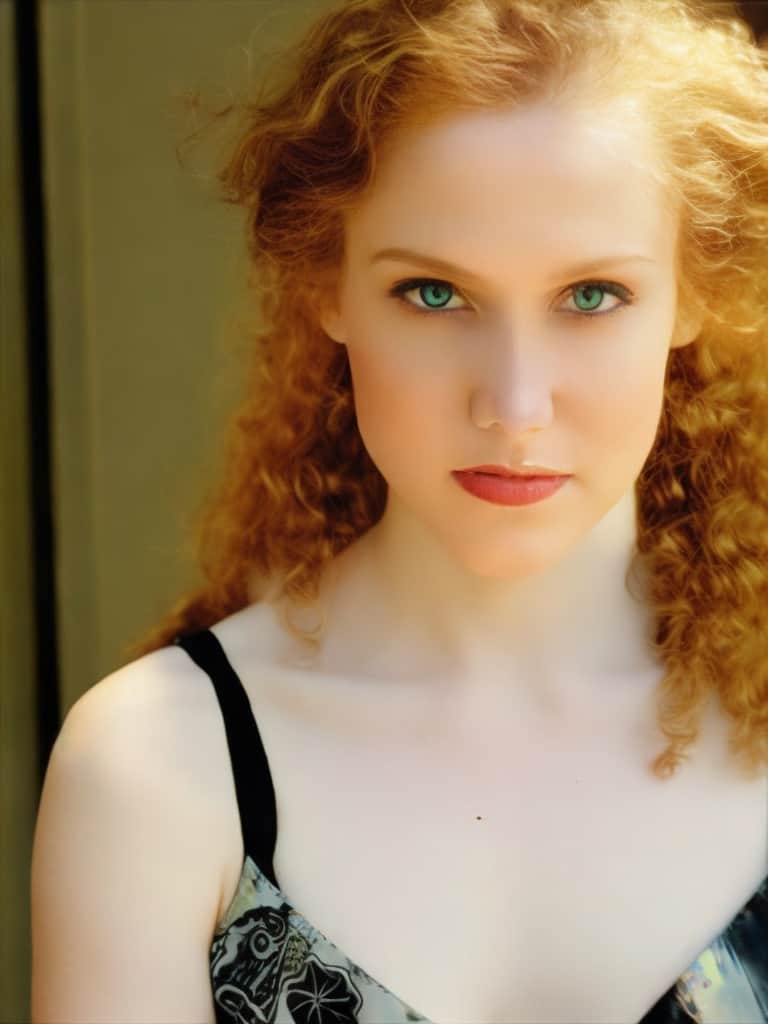 A medicinal cannabis user, utilizing the power of the plant to ease the pains and stresses from long standing conditions that other over the counter or prescriptions could not fix or weren't a natural option like cannabis.  Also, has a background in working directly in the cannabis industry in California within various dispensaries.
Save on Meridian Life Balance
Sorry, no coupons were found.
Read a review of our hands-on experience with the Ardent Nova Decarboxylator for cannabis! Find out if it is worth your money & get coupons.
Discover if SeraLabs' CBD Isolate Gummies truly earn the "Miracle Gummies" title. Read our SeraLabs review to find out what we experienced.
Green Roads is one of the biggest CBD brands, but can their CBD oil standup to our reviewer's needs? Find out in our new Green Roads review.