OhmConnect Review
Feb 27, 2019 | NugAndStem
Canada Mail Order CannabisCannabis DispensaryCBD Vape Oils
Pros
Easy to operate
Amazingly portable and discreet, while still looking stylish
Swap cartridges quickly without any mixing of flavours
It hits above its size -providing big clouds
The flavours are delicious
Incredible battery life
If your tolerance is high, this is the perfect way to microdose
Big value for the cost
Cons
If your tolerance is high, this will not hit you hard
Once the cartridges are out of their packaging it is hard to tell what flavour they are
Cartridges do not appear to be refillable
Ohm Connect Vapour
Product Review
Cost ($-$$$$): $$
In simplest terms, the OHM Connect is a portable vape pen and pen charging case. The charging case allows you to carry 2 extra cartridges. This combination is perfect and allows you many options for discreet dosing. The cartridges are all flavourful and pack a strong punch. Some are cannabis distillates and some are CO2 extracted oils, they are also flavoured with natural flavours for added enjoyment. This product feels like the future of cannabis, now.
---
Product Build
The Cartridges
Each cartridge comes in a small plastic package that's extremely stylish. The back of each shows tasting notes, instructions for consumption, and gives a description of the product. It's makeup, origin, and process of manufacturing is listed along with an estimated dosage of both THC and CBD per inhale. The soon to be implemented laws in Canada's second round of cannabis regulation should take note of this minimalistic but informative and attractive packaging.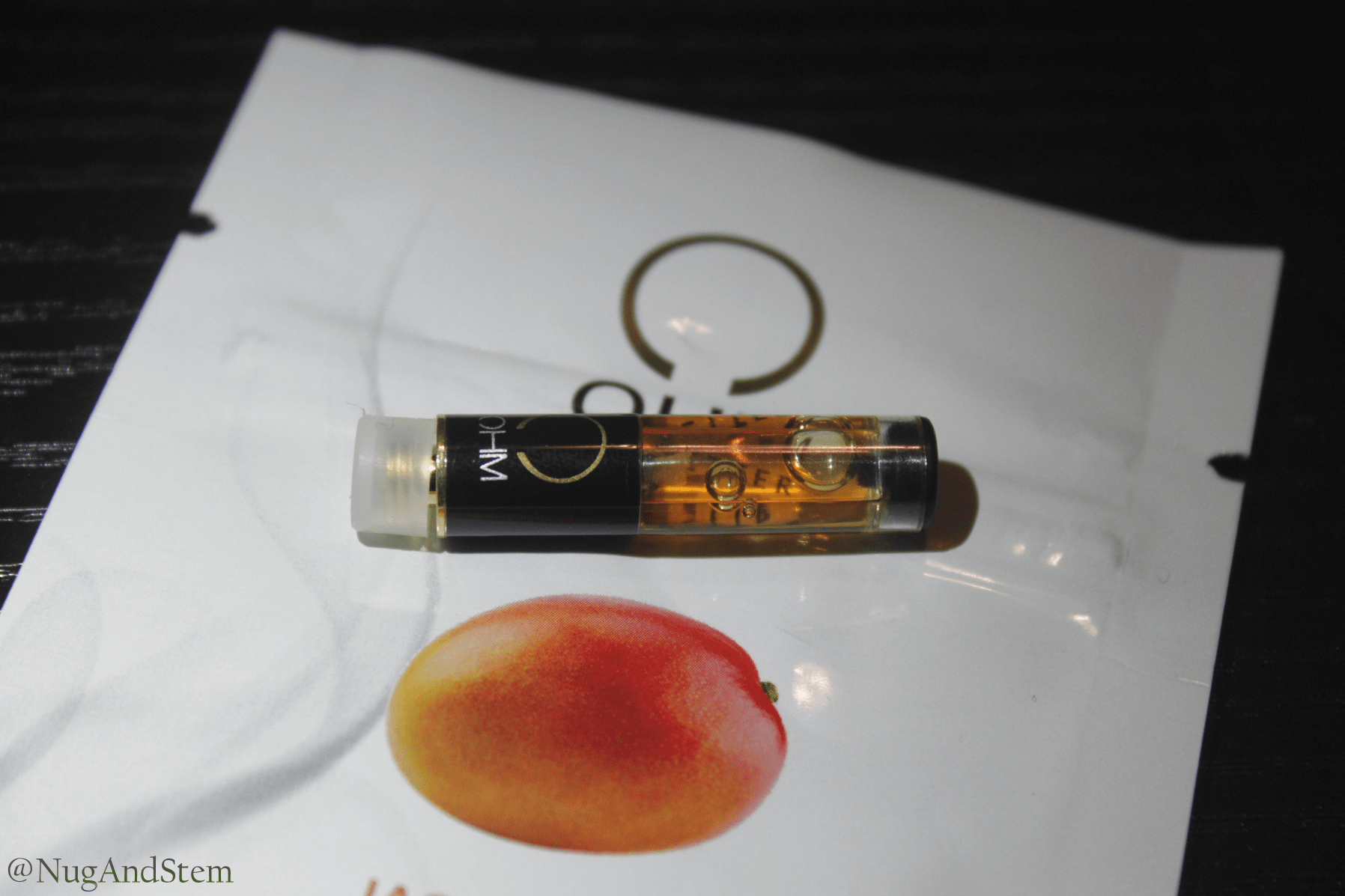 We tested three distillates and one CO2 extracted concentrate. Each cartridge is see-through – allowing you to quickly see how much product remains. The heating element is also housed in each individual cartridge, which is far superior to pens that have only one element. This will mean that your pen can be used for much longer because each cartridge's element will last long enough for that particular cartridge. Installing the cartridge is quite simple. There is a small rubber/plastic stopper on the base of the cartridge to remove, and then you simply screw it on the pen.
---
The Battery/Holder
Much like the concentrate cartridges themselves, the actual vape and battery unit comes in a small stylish box. Unboxing this unit feels and smells like opening a high-end cellphone. You will receive a detailed information manual and a basic USB charging cable.
The charging case is the perfect size and feels durable. The hinge seems to be constructed well and gives a high quality feel to the product. The charging case has room for storing two spare cartridges at a time – one on the actual vape pen and two in extra slots within the charging case.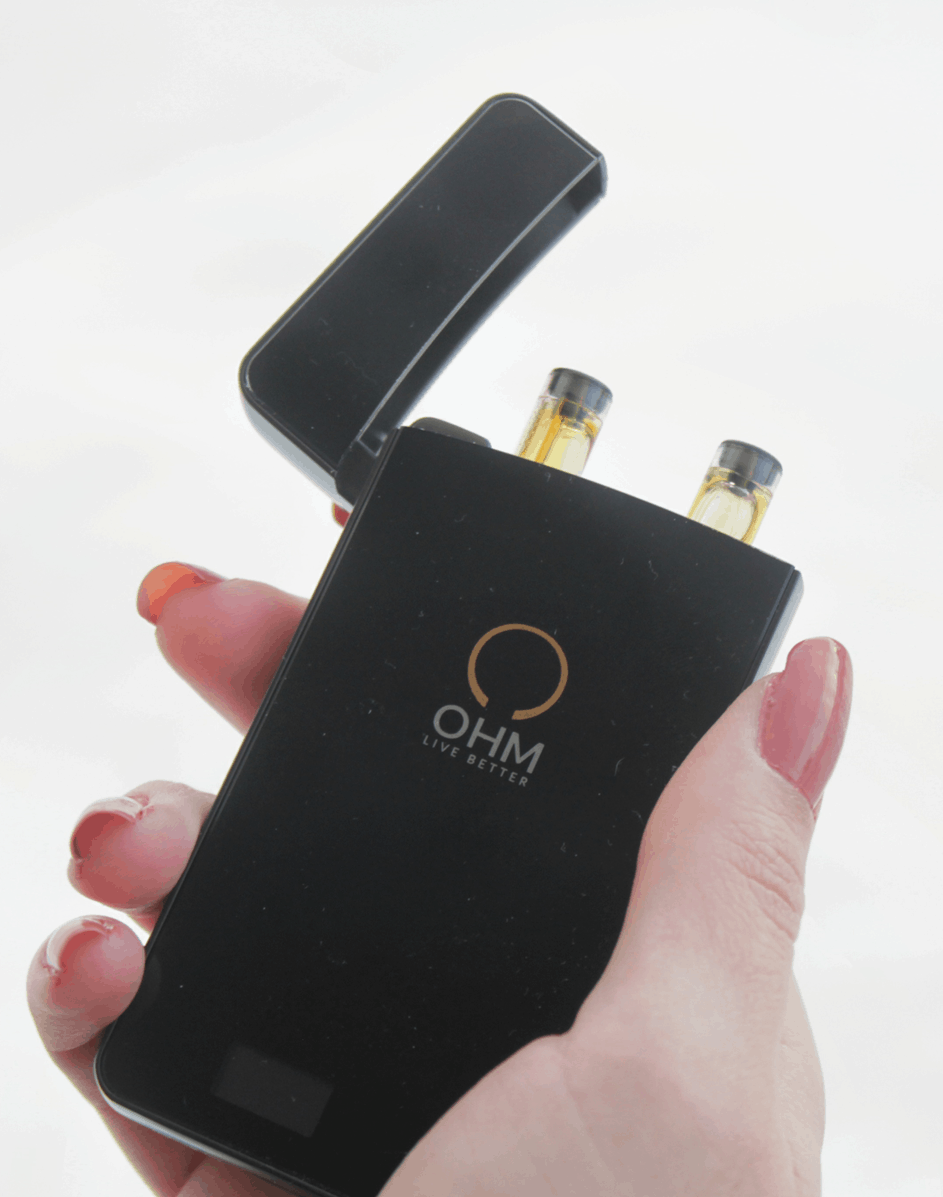 ---
The Pen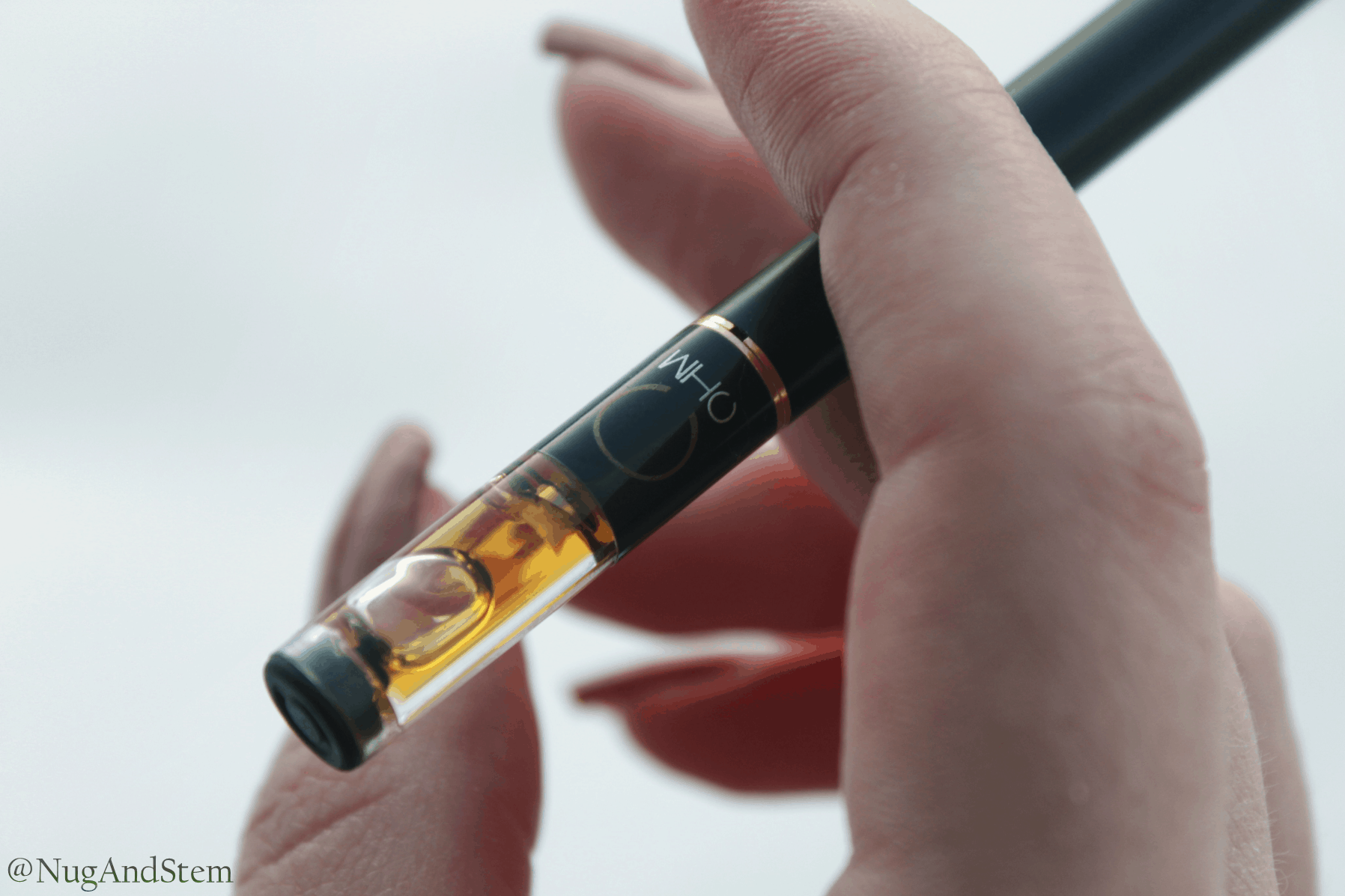 The vape pen is very small and operates with no button clicks. You simply draw air through the cartridge tip, air is pulled through the heating element, and the vapour passes through a small channel in the cartridge. This is a really interesting design.
You can hot swap and exchange the flavour cartridges at any point in time by simply unscrewing one and screwing on another
cartridge. And since the heating element is within the individual cartridge, there is no flavour mixing when switching.
Both the holder and the pen itself are very discreet and portable. Any pocket or purse will have room for these products.
---
Product Operation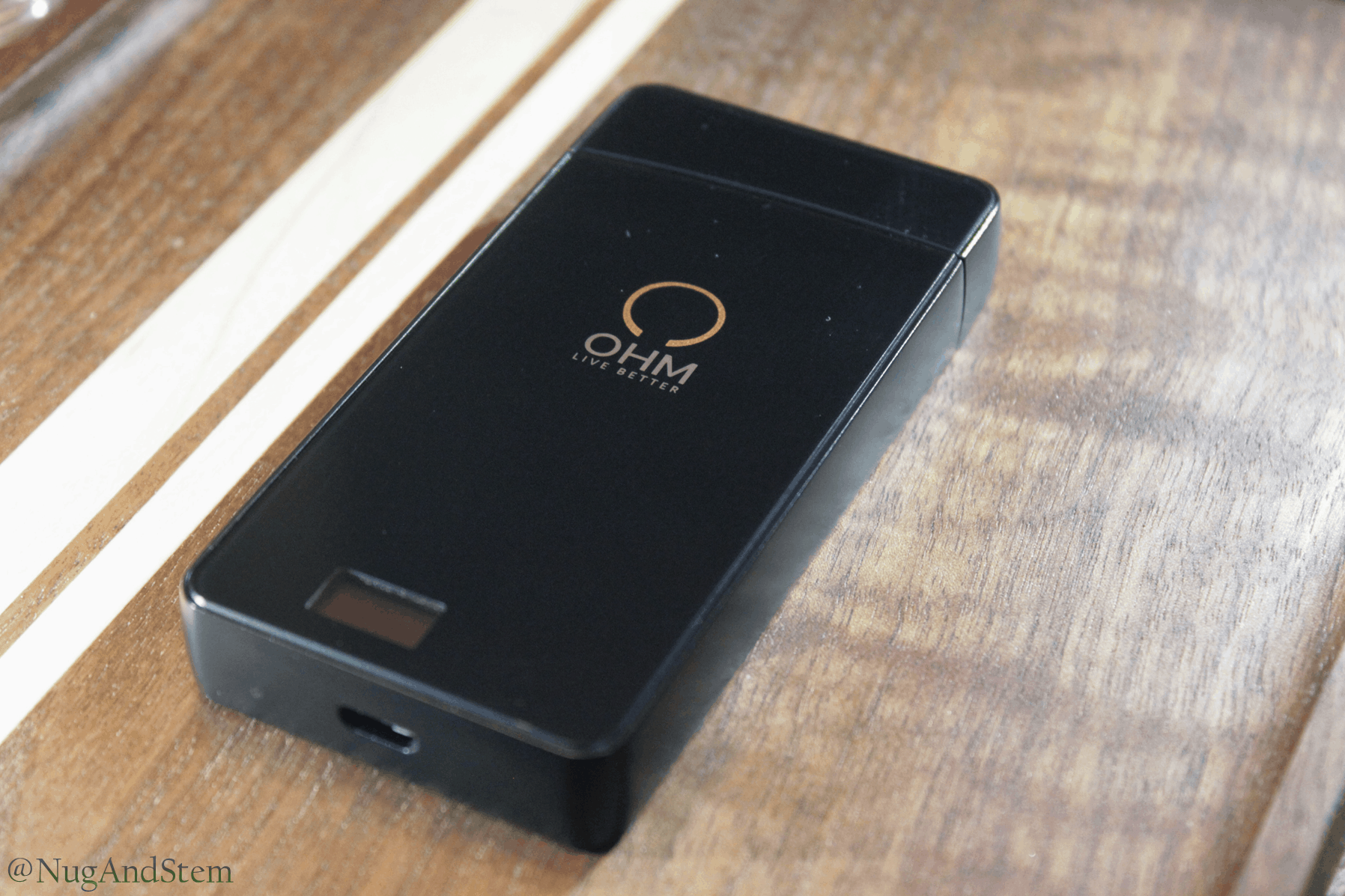 The first cartridge we opened was our favourite strain – Jack Herrer. This was flavoured with mango, and upon simply opening the package we got an amazing aroma. It smells exactly like mangos with a little bit of cannabis aroma. The first few hits were amazing – super smooth with nice thick clouds. Some of the best clouds a pen like this has ever had in my experience. The flavour is milder than expected, and both the cannabis terpenes and natural flavours are easy to taste. Three hits of this had Stem feeling quite high.
When you inhale it starts incredibly smooth, and if you inhale longer than three seconds you can hear the oil crackle and the back of your throat may burn; this is because the oil gets hotter as you inhale. I also suggest waiting a few minutes between hits for this reason. Allowing the pen to cool down each time will let you take better and longer hits, while not wasting oil.
Nug loves the flavour but thought there was a bit of a bitter after taste. After one hit she felt a little high. She also gets restless legs due to the high energy it packs, so she suggests to use this strain in the day time if you are active.
The Jack Herrer gave really good and positive energy. The Sour Diesel Citrus is really tasty and provides easy hits. It creates positive energy with a light head buzz. For the CO2 extracted OG Kush Blueberry, the smoke produced is noticeably less than the distillates, and the flavour is a little less potent. There is a nice true blueberry taste mixed with a bit of a grassier cannabis taste. This concentrate is about as pure as it gets.
---
Overall User Experience
This product is so successful due to its low price and high quality. A number of people in our friend circle loved the product and purchased their own. This feels like a new evolution in portable vape pens.
It is incredibly easy to switch between concentrates. The main compartment lets you hold two spare cartridges. Switching takes a few seconds. Because the vapour only travels through the cartridge, there is no mixing of flavours when consuming. We think this is a really smart design.
Because the portable holder also holds its own battery you can use it regularity without recharging. We used it regularly for well over three weeks without recharging. But we do not recommend letting the battery on any device dip below 70% as a general rule. Keep the unit charged as much as possible to keep it working for a longer time.
Stem, due to his higher tolerance, was never able to get truly baked with the pen, but that is a good thing in many ways. This pen is perfect on the go way to discreetly microdose some high-quality cannabis.
---
Should You Buy It?
Yes! For sure! Especially in Canada, in this wave of recreational cannabis vape pens have taken a hit. This product comes back with a vengeance and shows that the truly recreational market still has a lot to learn. This is a must have if you want a discreet, portable, and reliable cannabis experience.
---
Saving Money With Ohm Connect Coupons
Save money on all Canadian Mail Order ,CBD Vape Oil here at Save On Cannabis the World's largest online cannabis coupon code directory.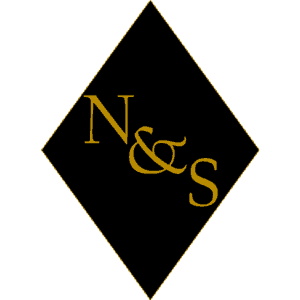 Nug & Stem Review
We are a couple that enjoys regular cannabis consumption and has a passion for sharing that enjoyment. I, Nug, am a petite woman who consumes cannabis more sparingly than Stem – who is a man and a more experienced user. Medically, I use cannabis most often to help treat anxiety, so I tend to reach for strains and products with higher levels of CBD. Stem uses cannabis to relieve chronic back pain caused by sports injuries, so he relies on a wide array of products depending on whether he needs help being active, falling asleep or needs instant topical relief. Medical uses aside, we do also enjoy using cannabis recreationally with friends and would like to contribute to normalizing this amazing plant. Visit us on Instagram @NugAndStem
---
Disclosure: I received these products gratis so that I could try them and then share my honest opinion with the SOC community. I am employed by Save on Cannabis to write honest reviews and provided a flat rate payment for the writing of the review. SOC may receive recurring affiliate payments for purchases made based on this content.
We tested King Kanine - King Kalm CBD Pet Oil on our pets so you know if you should use it on your best furry friends. Read this expert King Kanine review.
Read an in-depth review of the Thrive CBD vape by Vape Bright and also get a verified coupon code! Save now.
Read our hands on review of the GoGreen Hemp Premium CBD Orange Oil Drops. We tested it and give our rundown so you can decide if you should buy.