Canada Mail Order Marijuana: BC Bud Supply Review
Sep 4, 2020 | Save On Cannabis
Canada Mail Order CannabisCannabis DispensaryDisposable THC Vape PenTHCTHC FlowersTHC Vape Oils
BC Bud Supply (service review)
0.00
Pros
Easy sign-up
Quick and discreet shipping
Free shipping on orders over $100
Various payment options such as Credit Card, Interac eTransfer and Bitcoin
Clear user reviews with user images
Great prices and specials that are hard to match
Bulk orders are available
Unique photos showcasing products
Amazing selection of all types of products
Products are packaged carefully
Cons
No lab test results will not allow you to know exactly the thc % of the strains
No Humidity Control packets included with the strains
Flowers come in resealable bags that are not high quality
BC Bud Supply Review
BC Bud Supply offers a wide variety of cannabis flowers at incredibly competitive prices. Like most mail order websites, they offer more than just flowers – featuring concentrates, edibles, and other accessories on their site as well. For this review, we picked up a pre-filled vape pen and four of their strains. Read about our experience with each below.
---
Milky Way Rechargeable Vape Pen and Cartridge
The Milky Way pen and cartridge are sold separately, but come packaged in space-efficient packing. The box for the pen gives information about operation and charging instructions. The pen is charged with a USB to 510 thread adapter, which is provided with the pen. To turn on the pen, you click 5 times and the button lights up when on. The bottom of the pen has a manual dial for voltage control to regulate the temperature from 3.3V to 4.8V. However, there is no explanation as to what those settings correspond to in actual temperature.
The cartridge packaging explains that the oil is organic and that it contains only natural terpenes. It also advertises that it is 100% lab tested, but does not provide any potency details. The gelato flavour, which we ordered, had a lovely aroma right out of the box. Given that the cartridge has a volume of 1ml, this potent aroma makes it slightly more difficult to carry discreetly than other products on the market. For example, those around you would certainly be able to smell the pen if it was in an open pocket. With the cartridge attached, the pen is a little longer than the average jean pocket.
---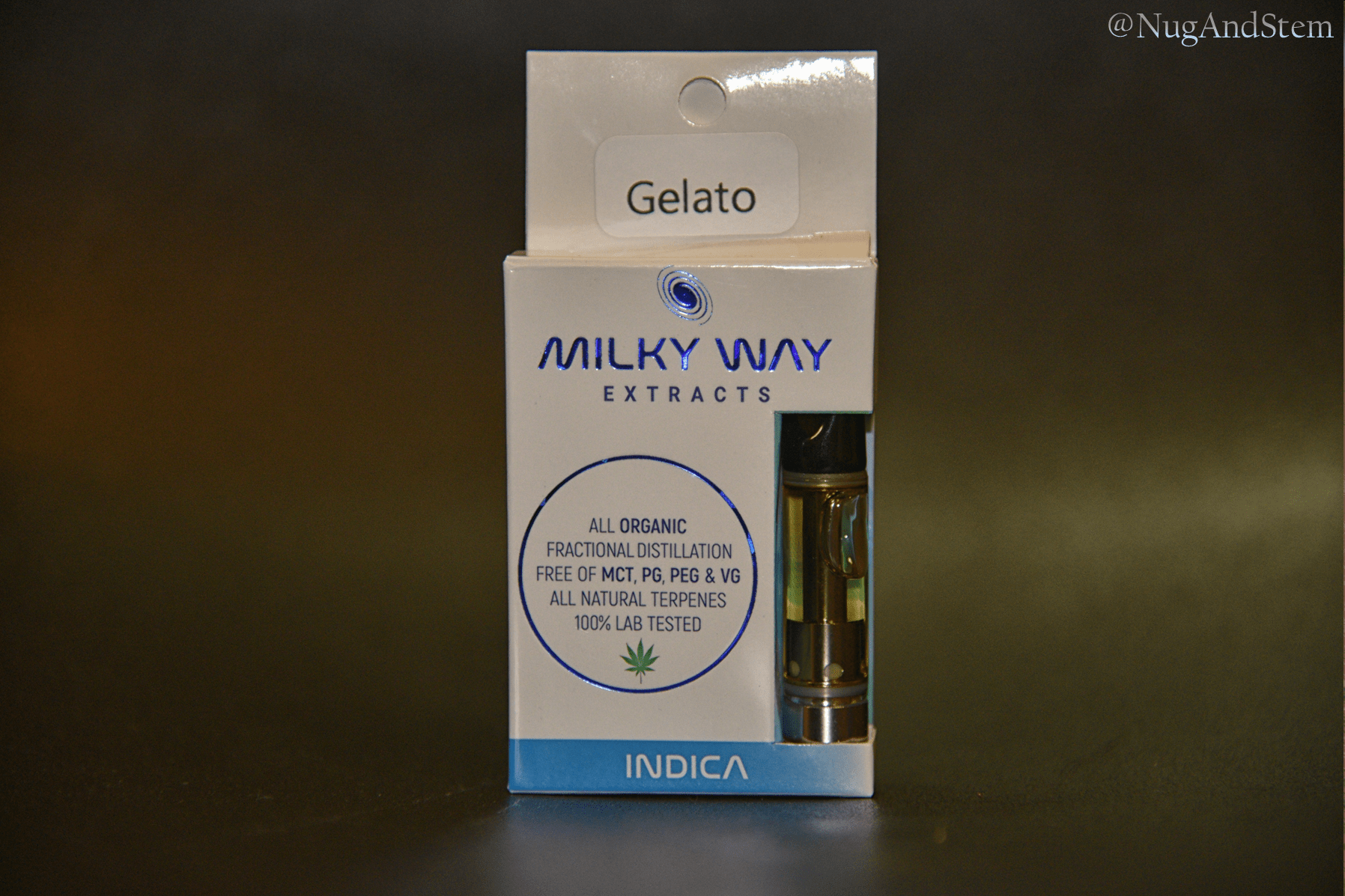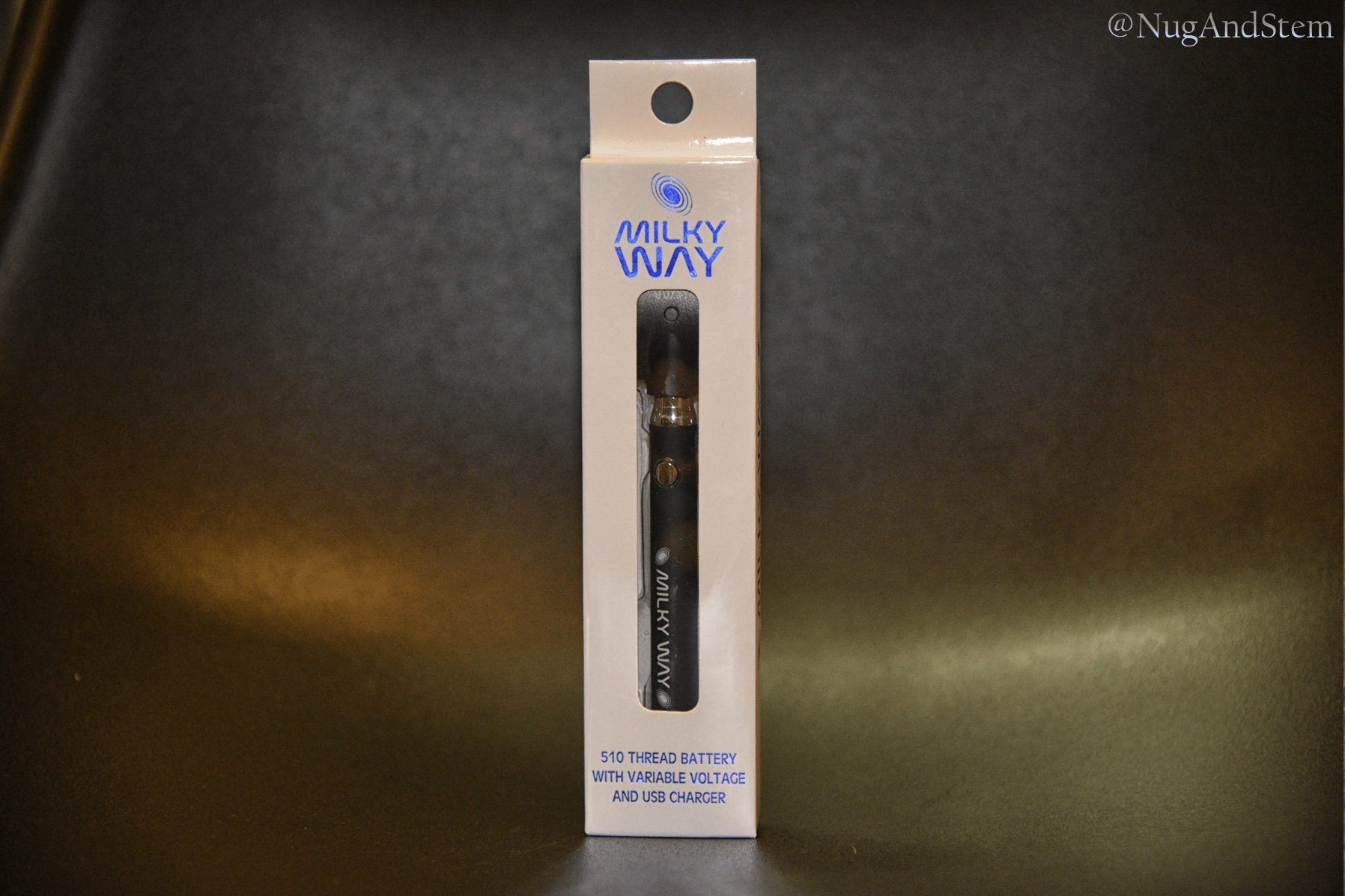 The pen is used by pressing and holding the power button, and the drags are very smooth. Even a two second pull on 3.3V (lowest setting) produces a big plume of nice white vapour. The flavour is a little less complex than the aroma, coming forward with mostly mint and lime notes. At 4.8V (highest setting), even a one second pull creates a big cloud of hot vapour and the smell turns more to lemongrass. At least for this specific flavour, we prefer the lower temperature setting.
In terms of potency, there is not an immediate punch after one or two pulls, but after four or five pulls you will feel a head stone come on. Like the taste, the high is refreshing and provides mental focus. However, the Gelato flavour's indica roots will drag you onto the couch – which is a perfect catalyst for a chill night. When we first tried the pen, Nug was energized enough to play piano while Stem was put in a perfect mood to relax after a long day of work.
---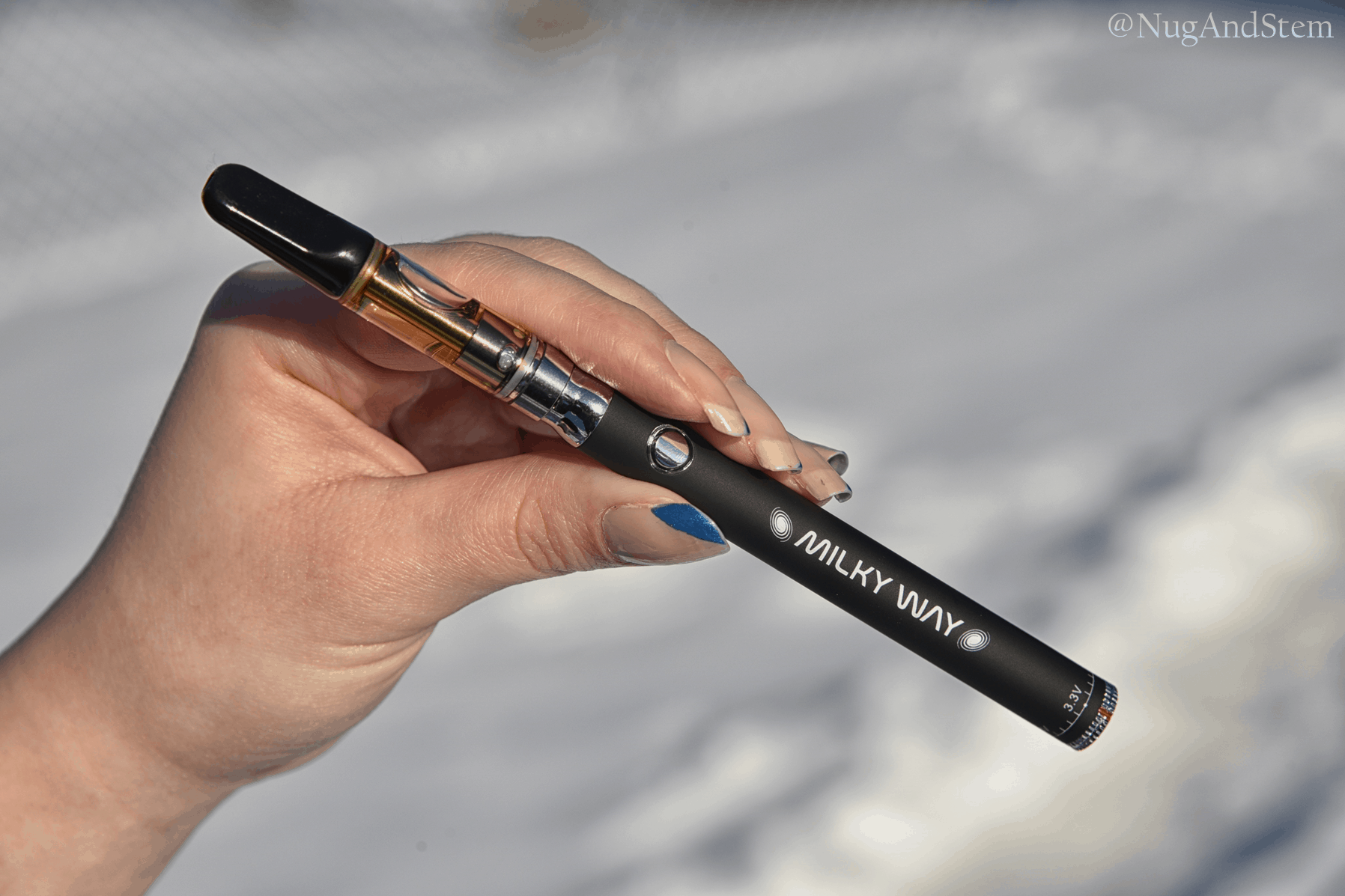 After long time use, you may notice the pen start to get blocked by the shatter residue. This was not a huge issue, as it was remedied by continuously inhaling until the blockage is gone – which typically took a couple of seconds.
The pen being rechargeable is a huge plus, because we did lose a full charge before the cartridge ran out. The button LED flashes when the battery needs charging, which is a great feature. The pen continues to be a favourite item of ours for portable and accessible cannabis vaping.
---
God's Green Crack
BC Bud Supply labels this strain as a pure Indica; however, we are more familiar with this strain being a balanced hybrid. The nugs are light green in colour with tons of dark brown stigma covering the bud in clusters. The strain's strong potency also results in a full coating of white trichomes. Out of the bag, the first aroma that will hit your nose is that of pine and earth. Layered in are spicy and fruity notes, but overall this is not a highly pungent strain. When busted up in a grinder, the spicy tones take over and some grassy notes come through as well. Unfortunately, our nugs were relatively dry and the trichomes fell off easily when ground, adding to the dryness.
---
When smoked in a joint, the heavy trichome content literally makes the joint fizz as it burns. This combined with the dryness makes for a very fast burning joint. As such, we consumed the rest of this strain in various pipes and bongs to ensure we were able to consume all of its goodness. The taste is quite earthy with notes of coffee and roasted nuts. The effects come on right away and hit the head with heavy banding. The sativa origins of the strain's parent Green Crack give a good lifting energy. We first smoked this right before making supper, and it stimulated our appetite and pushed us to not only make supper but even to do the dishes.
Aroma 90
Taste 85
Visual Aesthetics 90
Stone/High 90
Burnability/ Flush 70
---
Red Congolese
This pure sativa is beautifully green and absolutely loaded with long and gorgeous dark orange stigma. The trichomes are so large that it is easy to individually identify those that cover the entire bud. As soon as you open the bag, a delicious aroma of citrus and fresh grass hits your nose. There are also notes of fruit like apricots and even some blue cheese – an absolutely complex aroma even before it is ground. Your fingers will be sticky even from pulling the nugs apart to load them into your grinder. When busted up, the aromas intensify into one of the nicest smelling strains we've ever experienced.
---
The bud is well cured and easily rolls into a joint. The flavour when smoked is quite citrusy but not very distinct. Certainly, it is a pleasure to consume. The effects do not kick in right away, but do slowly relax your muscles. Stem felt that it really helped his back which added extra motivation to our puppy walks. Nug felt a very clear-headed energy and was able to focus during conversations without feeling too stoned. This is one of those positive strains that almost forces your face muscles to smile. The high provided doesn't last too long, so you could consume this in the day time. However it does provide positive energy and focus even past the initial high.
Aroma 100
Taste 90
Visual Aesthetics 95
Stone/High 95
Burnability/ Flush 90
---
Incredible Hulk
This sativa is a collage of green tones from light to dark green, with thin light brown stigma dispersed all over. A good sprinkling of trichomes covers the entire bud. When opening the bag, your nose will receive a hulk sized punch of diesel. But, there are also subtle notes of tea tree oil and lemon. When busted in a grinder, the tea tree oil and lemon aromas come to the forefront; giving the strain an overall fruity and sweet aroma. The buds are really well cured and allow for easy rolling into a joint. The burn is consistent and the smoke is smooth. The flavour is less appealing than the aroma, coming forward with ground coffee notes. However, the sweetness is still present with a sugary taste.
---
The effects come on almost instantaneously, providing powerful energy. For a small 1/4g joint, the two of us had a great day-time high and were immediately able to make supper when we got home from a walk. Our focus was sharpened; however, the high did not last too long (although our high tolerance should be taken into account in terms of durability).
Aroma 95
Taste 85
Visual Aesthetics 85
Stone/High 90
Burnability/ Flush 85
---
Dutch Cheese
These buds are a uniform-but-drab light green colour with thin pale brown stigma. Fresh from the bag, floral and fruity aromas jump out. Almost disappointingly, no cheesy smell could be detected. The smell is complex and delicious, and when busted, the aroma intensifies into a spicy and tangy bouquet. The nugs feel a little over-cured, which made it tough to roll into a joint. We found that this strain was best when vaped in our Pax.
In a joint or when vaped, the strain gives smooth hits which have a slightly spicy taste with a little hint of cheesy and diesel flavours. The stone comes on in a single long wave, peaking with a really positive energy. It will leave you with full body dexterity, and your brain will feel free to explore imaginatively. Despite causing some pressure in the eyes, you will still be able to relax and ride your deepest, chillest vibes without making your brain foggy.
Aroma 85
Taste 85
Visual Aesthetics 80
Stone/High 90
Burnability/ Flush 90
---
Website Experience
The BC Bud Supply website has a definite style; showcasing their cannabis flowers with backdrops of beautiful British Columbia scenery. For sorting, they allow you to see products by the typical sorting such as Indica, Sativa, Hybrid. But more interestingly they have sections which allow you to shop by flower grade (AA, AAA, and AAAA). The cannabis pages are very detailed, showing information about the strain's effects, medical uses, and flavours. This is brilliant and really shows that BC Bud Supply is keen on normalizing this plant and educating its shoppers. The strains available are all top notch and the site allows you to order up to a pound of certain strains.
The prices are very reasonable with discounts being applied as you order larger quantities. The user reviews on the strains are very clear, even allowing reviewers to post their own photos. This is a really user friendly feature. Unfortunately, it does not appear that any lab test results are available. Signup is as easy as you would expect – and most uniquely the site allows various payment options such as Credit Card, Interac eTransfer and Bitcoin. This is very unique in the space and certainly provides great flexibility.
---
Shipping and Packaging Quality
Canada Post Xpresspost Shipping is free on orders over $100 which is significantly more generous than other sites. However, the products we ordered arrived in a paper bag, and not a cardboard box like other competitors provide. To ensure aroma is not an issue, the products are also packed in a vacuum sealed bag, which helps protect the products slightly as well. However, a box would be preferred by us.
The BC Bud Supply flowers came packaged in a ziplock hard plastic bag, which is heat sealed. There is no aroma noticeable before the bag is opened. The bags have a sticker on them, indicating the strain name, weight, and grade. There is also a checkbox informing you if the strain is an Indica, Sativa, or Hybrid. There is no information on the strain's THC/CBD potency or potential effects/remedies.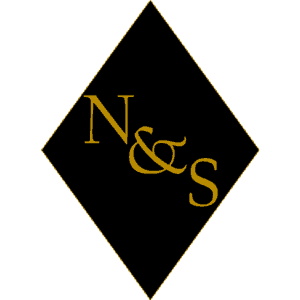 Nug & Stem Review
We are a couple that enjoys regular cannabis consumption and has a passion for sharing that enjoyment. I, Nug, am a petite woman who consumes cannabis more sparingly than Stem – who is a man and a more experienced user. Medically, I use cannabis most often to help treat anxiety, so I tend to reach for strains and products with higher levels of CBD. Stem uses cannabis to relieve chronic back pain caused by sports injuries, so he relies on a wide array of products depending on whether he needs help being active, falling asleep or needs instant topical relief. Medical uses aside, we do also enjoy using cannabis recreationally with friends and would like to contribute to normalizing this amazing plant. Visit us on Instagram @NugAndStem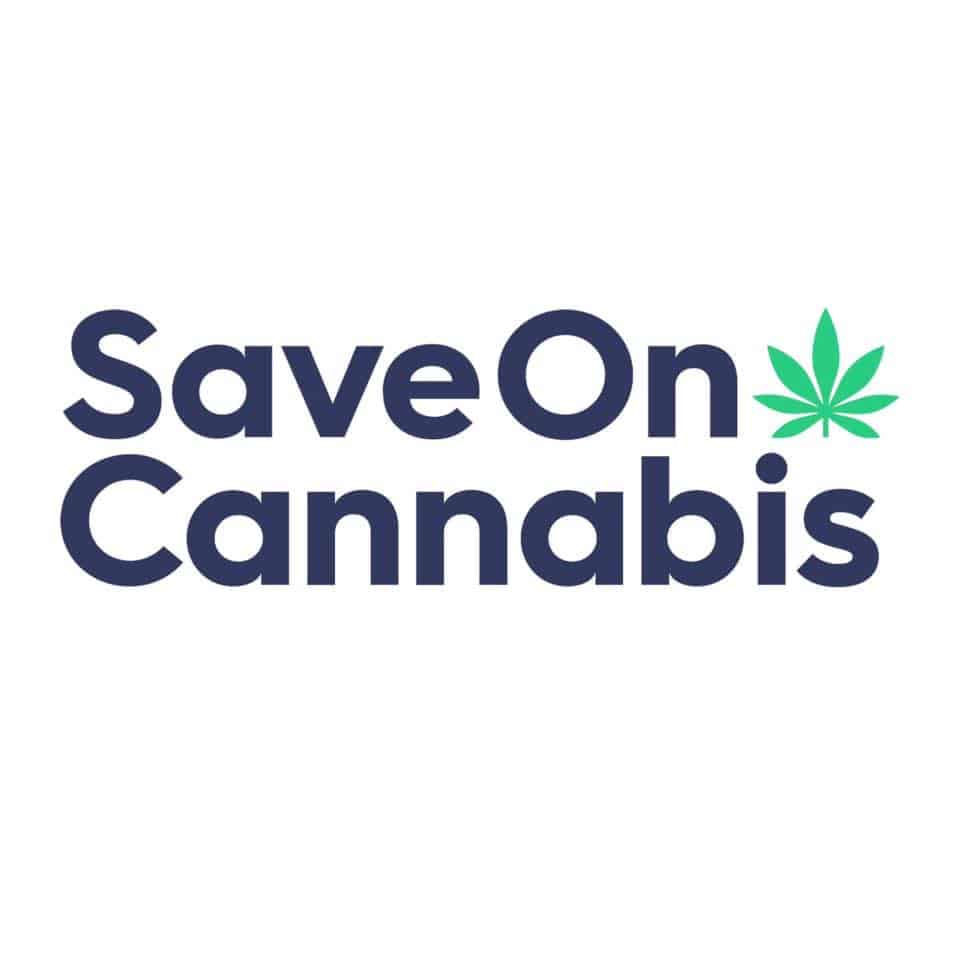 Save On Cannabis is the most trusted source for cannabis discounts and education information.  Vetted deals and clearly written articles to help you become a wiser consumer whether focused on the medical or recreational value of cannabis products.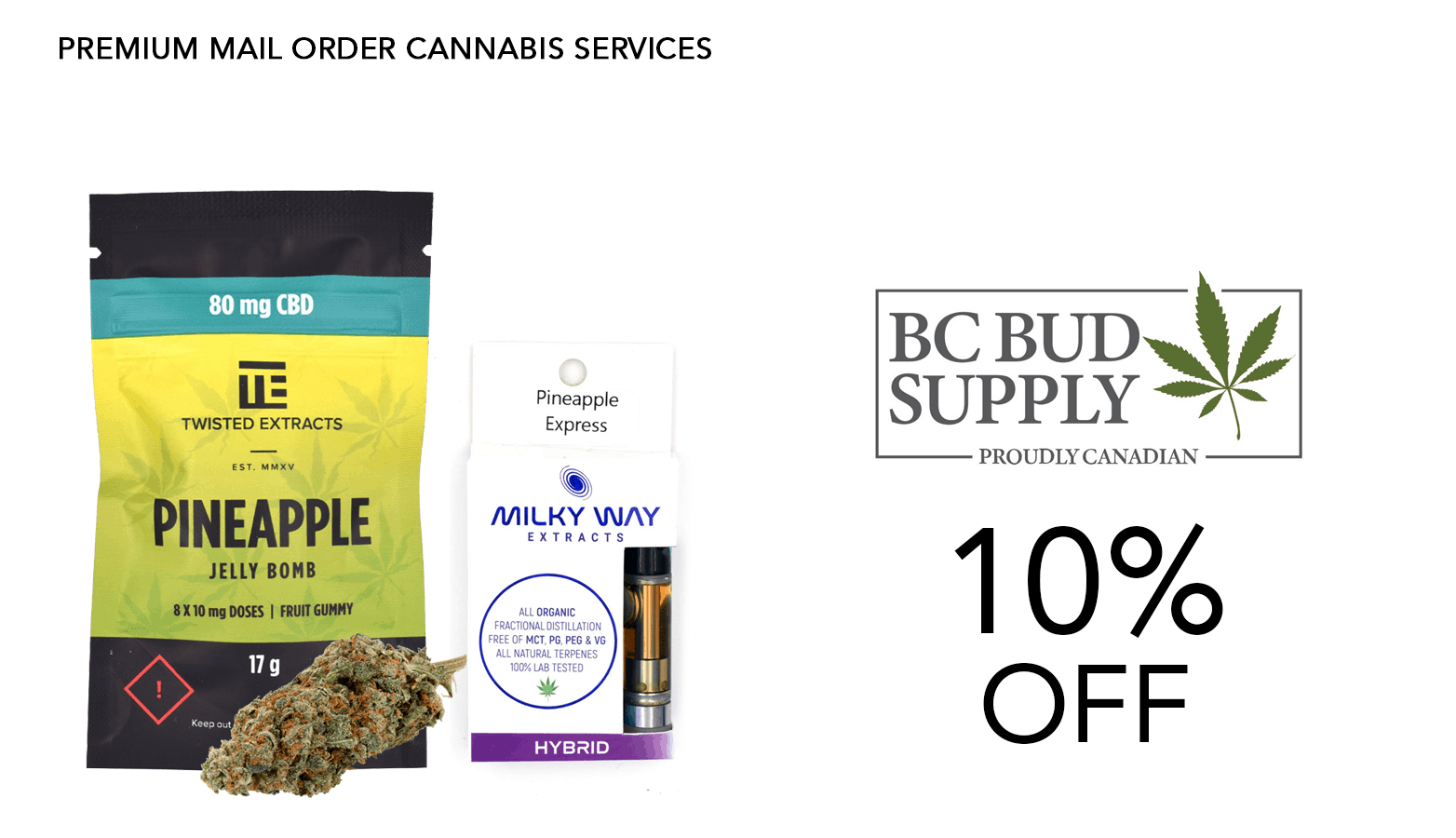 10% off to all customers BC Bud Supply coupon! Canada mail order.
Read a full review of CBD vapes and tinctures, find out what our expert thinks of these products after testing them. Enjoy coupons on Select CBD.
Hands on expert GoGreen Hemp review of the CBD Bath Bombs (Milk 'n Honey) with photos. 40 mg of water-soluble CBD powder for your bath.
The Charlotte's Web Balm Stick with CBD is a very pretty product, but does it help our reviewer with her daily needs? Is it worth your money?