GoGreen Hemp Review: CBD Balm Salve Eucalyptus/Lavender
Jul 24, 2018 | Romy
CBDCBD CandyCBD ConcentratesCBD EdiblesCBD GummiesCBD Pet ProductsCBD Pills & CapsulesCBD TincturesCBD TopicalsCBD Vape OilsSave On Cannabis Verified
GoGreen Hemp CBD Balm Salve Eucalyptus & Lavender
Pros
Good for massage.
Relaxing smell.
Eases body aches and sore muscles.
Easy to use.
Nice texture.
Cons
Packaging missing details.
Too expensive over regular mainstream pain topicals.
Brand Overview: GoGreen Hemp
GoGreen Hemp is a family owned and operated company from Colorado that specializes in products that use organic hemp extract (CBD) and other quality ingredients. Their extensive line of medicinal CBD products ranges from wax crumble, gel capsules, candies, oil drops, balms, and even dog chews for your ailing pets. GoGreen Hemp's mission is to make high caliber products and to educate consumers about the medicinal properties of CBD.
Got a 1oz jar of GoGreen Hemp CBD Balm with Eucalyptus and Lavender Oils:
Products: CBD Oil Drops, CBD Balms, CBD Gummy Bears, CBD Gel Capsules, CBD Wax Crumble, CBD Dog Chews
Price Range ($-$$$$): $$$
About the GoGreen Hemp CBD Balm with Eucalyptus & Lavender
The GoGreen Hemp CBD Balm is a medicinal balm used for aches, pains, and inflammation of joints and muscles. It can be used for arthritic pain, fibromyalgia, and any soreness on the body.
GoGreen Hemp CBD Balm with Eucalyptus & Lavender Technical Specifications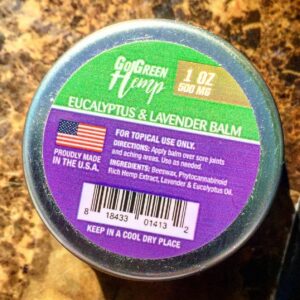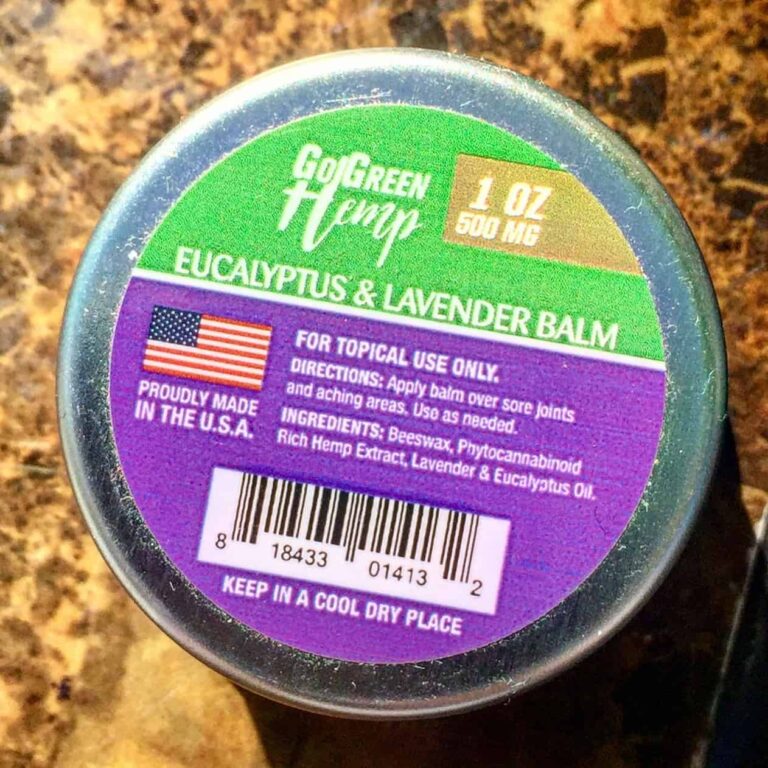 INGREDIENTS: Extra Virgin Hemp Seed Oil, Cocoa Butter, Organic Beeswax, and Eucalyptus & Lavender Essential Oils.

500 mg CBD per 1oz

For Topical Use Only
How We Tested the GoGreen Hemp CBD Balm with Eucalyptus & Lavender
I've had chronic low back and leg pain for years, which means I'm always on the hunt for new kinds of relief. With the increased popularity and availability of cannabis products, I became interested in seeing if CBD could be useful. If you're new to CBD like me, it's important to know that it's non-psychoactive, meaning it doesn't get you high like cannabis products that contain THC. It's safe enough even to give to your pets.
Since this was my first time using CBD products, I decided to start with something topical before diving into the capsules, gummies and waters. My hope was that it would work as well as, if not better than other topical pain relieving products like Aspercreme or Tiger Balm. I massaged some of the GoGreen Hemp CBD Balm with Eucalyptus & Lavender onto my low back and legs.
How the
GoGreen Hemp CBD Balm with Eucalyptus & Lavender
Worked for Me
The pain relief effect was similar to using Aspercreme with Lidocaine, not better or worse. Truthfully, I hoped it would work better because it's two or three times the price of non-CBD products but this is a great option for people looking for a more natural replacement to prescription and over-the-counter options. I'm looking forward to seeing how a combination of this balm will work with other GoGreen products like the drops or the gummies.
Useful and Unique Things to Know About GoGreen Hemp CBD Balm with Eucalyptus & Lavender
The aroma is far and away superior to any other topical product I've tried. I appreciate not smelling like a medicine cabinet or a dispensary and the essential oils are legitimately relaxing. The labelling needs improvement, however, as nowhere on the container does it say the product contains CBD. Also, it would be helpful to say it's a "body balm" as opposed to just a "balm". I initially thought it was chapstick. Oops! Finally, since the product contains no THC, I would include that on the container as well.
GoGreen Hemp CBD Balm with Eucalyptus & Lavender Rating Breakdown
PRESENTATION
The labelling doesn't provide the consumer with enough information.
RELIABILITY
It provides moderate relief to pain similar to Aspercreme
QUALITY
This product uses simple and natural ingredients; no chemicals.
SMELL
The smell is amazing and it goes on smooth.
VALUE
While the product smells great and works, the results are too similar to much less expensive products that work just as well.
How the
GoGreen Hemp CBD Balm with Eucalyptus & Lavender
Stacks Up Against the Competition
Despite providing pain relief in equal measure to its competition, the GoGreen CBD Balm is not priced competitively. As someone on disability with very little disposable income, I have a hard time shelling out that much money particularly if it works just as well as cheaper products. That being said, the company has the GoGreen Helping Hand Program which offers assistance programs for people who might otherwise find it difficult to purchase their products. CBD Balm is a great alternative if you're looking to replace those heavier pain meds with a natural option.
Saving Money With
GoGreen Hemp CBD Balm with Eucalyptus & Lavender
Coupons
Check out our coupon page for CBD topicals for your CBD topical needs.
Disclosure: I received these products gratis so that I could try them and then share my honest opinion with the SOC community. I am employed by Save on Cannabis to write honest reviews and provided a flat rate payment for the writing of the review.  SOC may receive recurring affiliate payments for purchases made based on this content.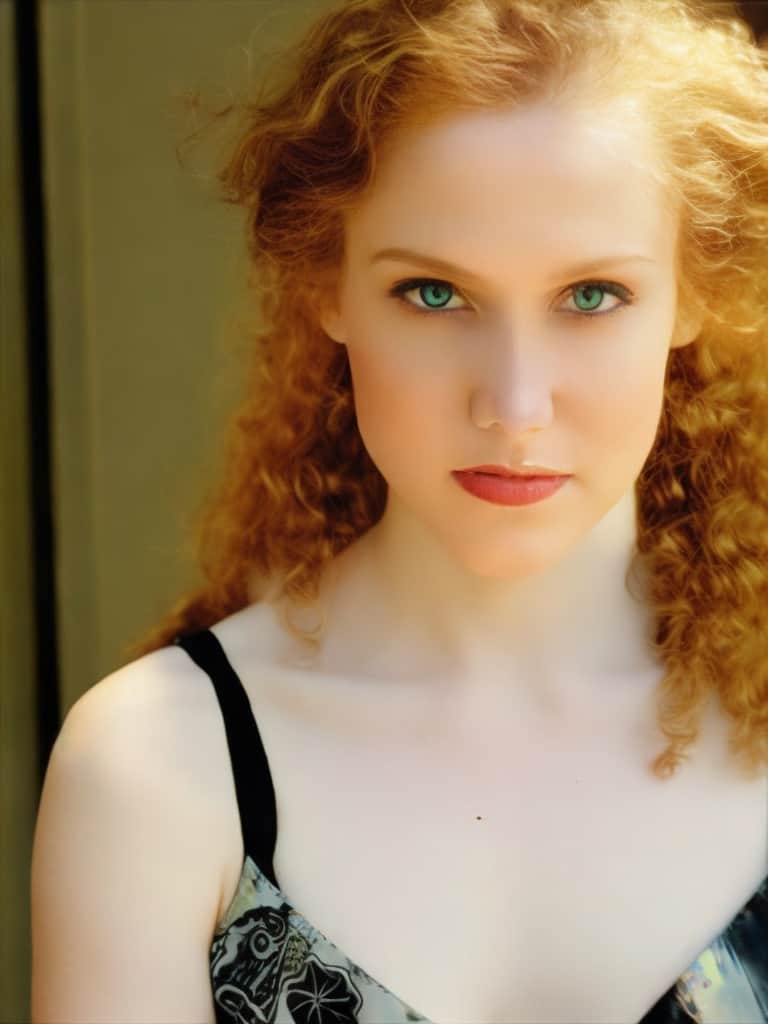 A medicinal cannabis user, utilizing the power of the plant to ease the pains and stresses from long standing conditions that other over the counter or prescriptions could not fix or weren't a natural option like cannabis.  Also, has a background in working directly in the cannabis industry in California within various dispensaries.
See how Vapen CBD lotion worked for our reviewer on her muscle pains. If you have muscle pains & looking for relief, see if this lotion is what you want.
We've tested many CBD tinctures, our reviewers are truly some of the most knowledgeable. Read our insights in this 43 CBD Solutions review.
Can a tincture full of cannabis oil & CBD be delicious? In this Viobin CBD review of the Orange Cream Tincture, see if it's yummy & useful.