GoGreen Hemp Review: CBD Soft Gel Capsules 10mg (300mg)
Aug 5, 2018 | Romy
CBDCBD CandyCBD ConcentratesCBD EdiblesCBD GummiesCBD Pet ProductsCBD Pills & CapsulesCBD TincturesCBD TopicalsCBD Vape OilsSave On Cannabis Verified
GoGreen Hemp CBD Soft Gel Capsules 10mg (300mg)
Pros
Discreet
Easy to Use
Relaxing
Helped Anxiety
Good Price
Cons
Gelatin is not vegetarian
Brand Overview: GoGreen Hemp
GoGreen Hemp is a family owned and operated company from Colorado that specializes in products that use organic hemp extract with CBD and other quality ingredients. Their extensive line of medicinal CBD products ranges from wax crumble, gel capsules, candies, oil drops, balms, and dog chews for your animal friends. GoGreen Hemp's mission is to make high-caliber products that bring relief and to educate consumers about the medicinal properties of CBD. They have a Helping Hand Program that supports veterans and those with long-term disabilities by offering 20% off anyone who qualifies. They believe that CBD can change the world.
I just got the GoGreen Hemp Capsules with 300 mg of phytocannabinoid rich hemp oil per bottle!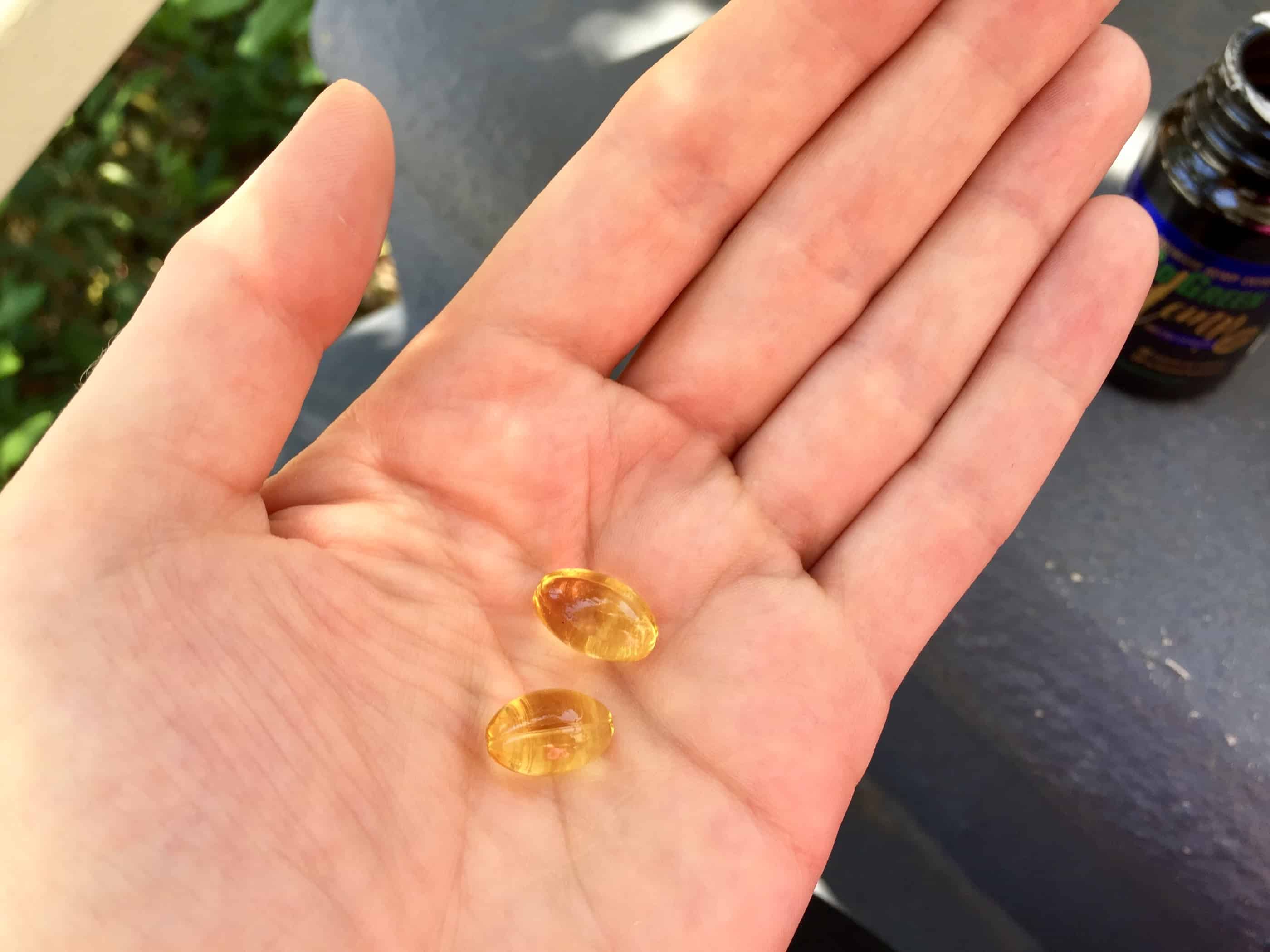 Products: CBD Oil Drops, CBD Cartridges, CBD Balms, CBD Gummy Bears, CBD Gel Capsules, CBD Wax Crumble, CBD Dog Chews
Price Range ($-$$$$): $$
About the GoGreen Hemp CBD Softgel Capsules
The GoGreen Hemp CBD Softgel Capsules are described as a convenient and effective method to getting your daily supplement of CBD oil. The capsules look like any old Vitamin E capsule, so you can take them discreetly. The pharmaceutical grade CBD oil contains naturally occurring Vitamin E and fatty acids that are beneficial to your well-being and keeping your body balanced. The capsules are touted to bring "relief".
GoGreen Hemp CBD Softgel Capsules Technical Specifications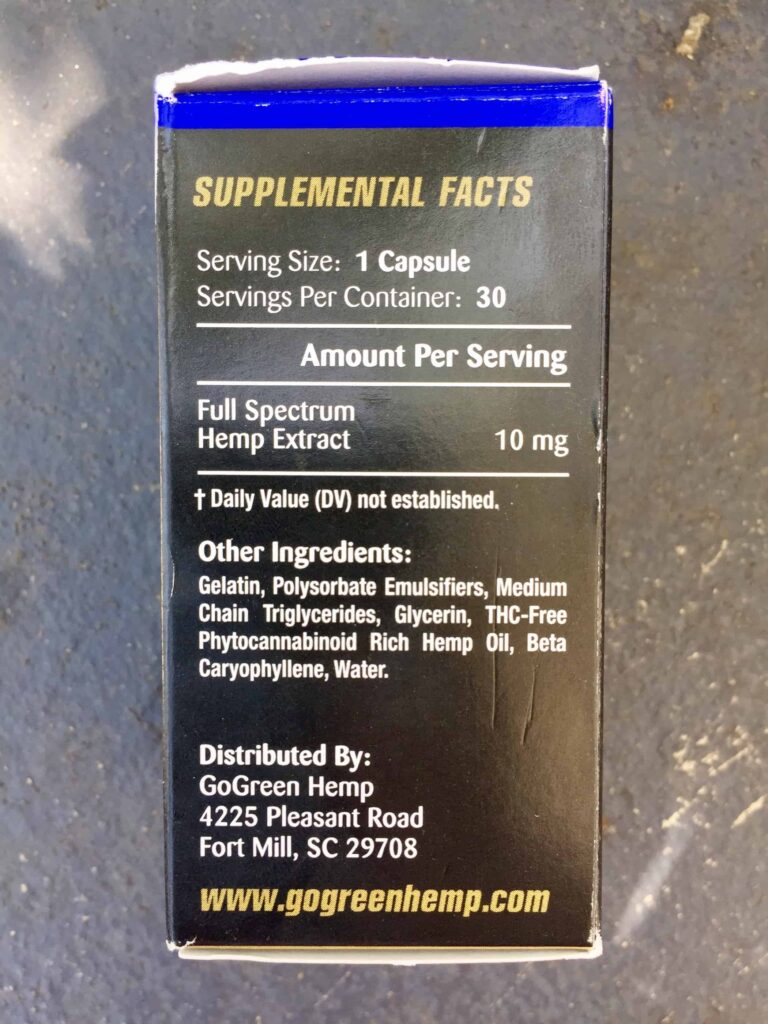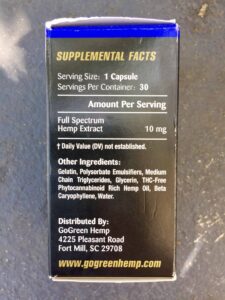 INGREDIENTS: Full Spectrum Hemp Extract, Gelatin, Polysorbate Emulsifiers, Medium Chain Triglycerides, THC-free Phytocannabinoid Rich Hemp Oil, Beta Caryophyllene, Water

30 Gel Capsules per Container

300 mg CBD per Container / 10 mg CBD each capsule

Non-Psychoactive

THC-Free

Organic Hemp

3rd Party Tested

Gluten Free

All Natural

Eco-Friendly

Made in the USA
How We Tested the GoGreen Hemp CBD Capsules
My anxiety has been through the roof lately dealing with some pretty big deadlines for work. I've read about the anxiety-reducing attributes of CBD and felt it could help me because I'm looking for something that's not habit forming like Xanax. Also, my anxiety isn't constant, so an SSRI (Selective serotonin reuptake inhibitor) doesn't seem like the right choice. I love how the GoGreen Hemp CBD Capsules are so simple and discreet. A serving is just two tiny capsules that look like vitamins. Also, out of all the GoGreen Hemp products, the capsules have the highest bioavailability, meaning the proportion of CBD entering the body is stronger. I took one capsule in the morning, hoping to start my day off with a little less anxiety.
How the GoGreen Hemp CBD Capsules Worked for Me
About 20-30 minutes after I took the capsule, I felt a mild relaxation effect. It took the edges off my anxiety which helped me focus on my work. I would use these again and recommend them to anyone who needs something natural to help them get through the stressful workday.
Useful and Unique Things to Know About the GoGreen Hemp CBD Capsules
The capsules are perfect for work or travel because of their "over-the-counter" look. Just toss a few of these little guys into a ziploc bag and you're ready to go. These capsules are also THC-free, so they won't make you high.
GoGreen Hemp CBD Capsules Rating Breakdown
PRESENTATION
Looks like vitamins.
RELIABILITY
Helped ease anxiety.
QUALITY
All natural, discreet, and relaxing.
FLAVOR
Flavorless and easy to use.
VALUE 
Inexpensive for the amount of CBD you get.
How the GoGreen Hemp CBD Capsules Stacks Up Against the Competition
The GoGreen CBD Capsules are one of the more affordable options when looking for a discreet and easy way to medicate. With their all natural ingredients, GoGreen's products will appeal to people looking for a healthier alternative to over-the-counter and prescription medications.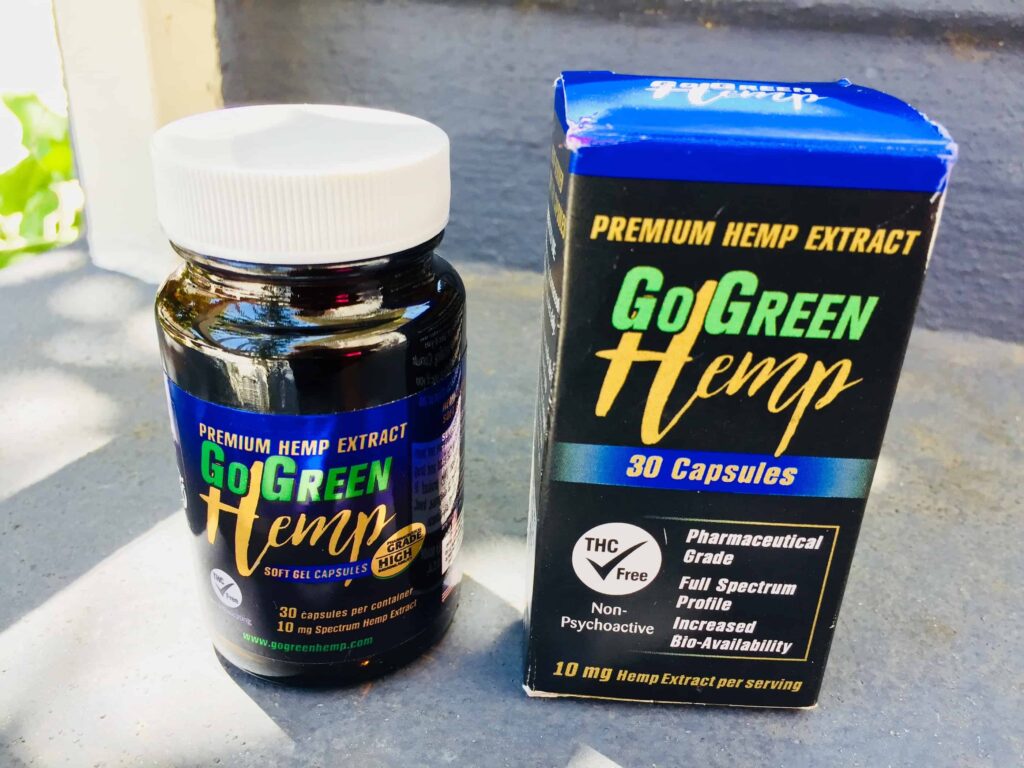 Saving Money With  GoGreen Hemp Coupons
Save money on all CBD Capsules here at Save On Cannabis the World's largest online cannabis coupon code directory.
Disclosure: I received these products gratis so that I could try them and then share my honest opinion with the SOC community. I am employed by Save on Cannabis to write honest reviews and provided a flat rate payment for the writing of the review.  SOC may receive recurring affiliate payments for purchases made based on this content.
Looking for CBD Gummies? Our expert tested out the Calm By Wellness CBD Gummies in this review. See if these Hemp CBD gummies give the relief expected.
Read our hands on review and see photos of the BioCBD+ vape CBD oil and pen combo pack. See what we liked & disliked. Also, get BioCBD Plus coupons here.
Looking for mail order cannabis in Canada? Our reviewer a bunch of products in this Evergreen Medicinal review.