Trokie Review – Triple Strength Transdermal CBD Patch
Dec 2, 2020 | SOC
CBDCBD TopicalsCBD Transdermal Patch
TROKIE Product Review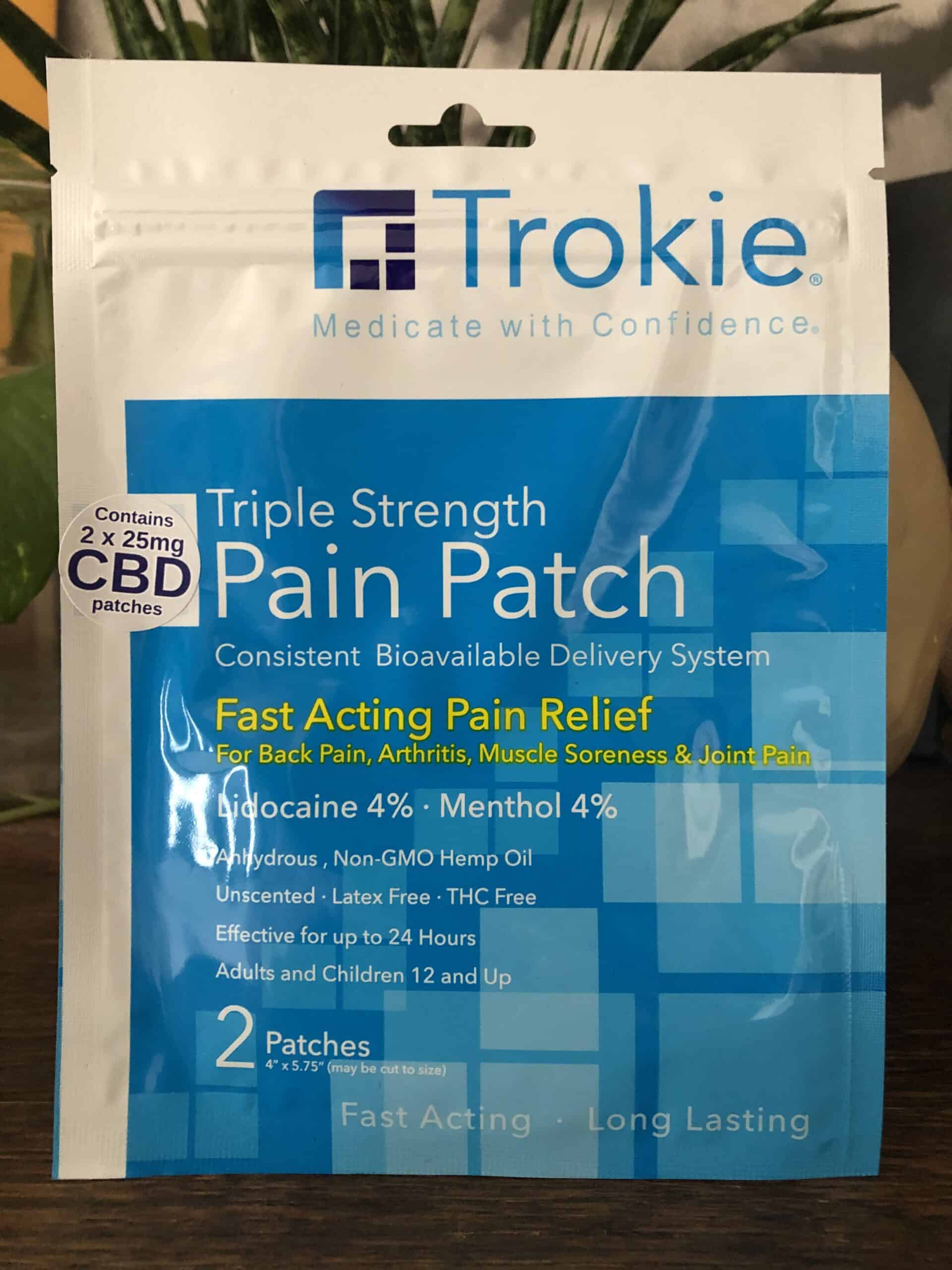 Brand Overview: TROKIE
The Trokie brand comes from BioActive Solutions, Inc., a manufacturer, and distributor of high-quality CBD products. Trokie was founded by Dr. Kent Crowley, whose 30 years of experience in pharmaceutics and clinical medicine gave him the perfect background to become the Director of Research and Development for Trokie's line of CBD products.  Find out if you should grab this product in our Trokie review.
The Trokie team consists of expert biochemists and medical doctors who use their science-backed knowledge to make sure every product is pure, potent, and safe. The company wants you to "medicate with confidence," whether you're interested in their accurately dosed lozenges or one of Trokie's deeply penetrating topicals. Everything they make is fast-acting and long-lasting to help you deal with pain and discomfort.
Products: Fast-Melt Tabs, Nanocapsules, Pain Patch, Salves, Wound Care Spray, Tattoo Care Spray.
Price Range ($-$$$$): $$$
---
About TROKIE TRIPLE STRENGTH PAIN PATCH
Each one of Trokie's triple-strength, transdermal pain patches contains 25 mg of CBD, lidocaine, and menthol to help you get up to 24-hours of fast-acting pain relief. With 4% lidocaine, the patch contains the highest dose available for over-the-counter products. And with 4% menthol, the patch creates a cooling sensation that helps distract from the pain so you can live a happier and more productive life. Trokie's pain patch is great for arthritis, muscle soreness, and joint pain.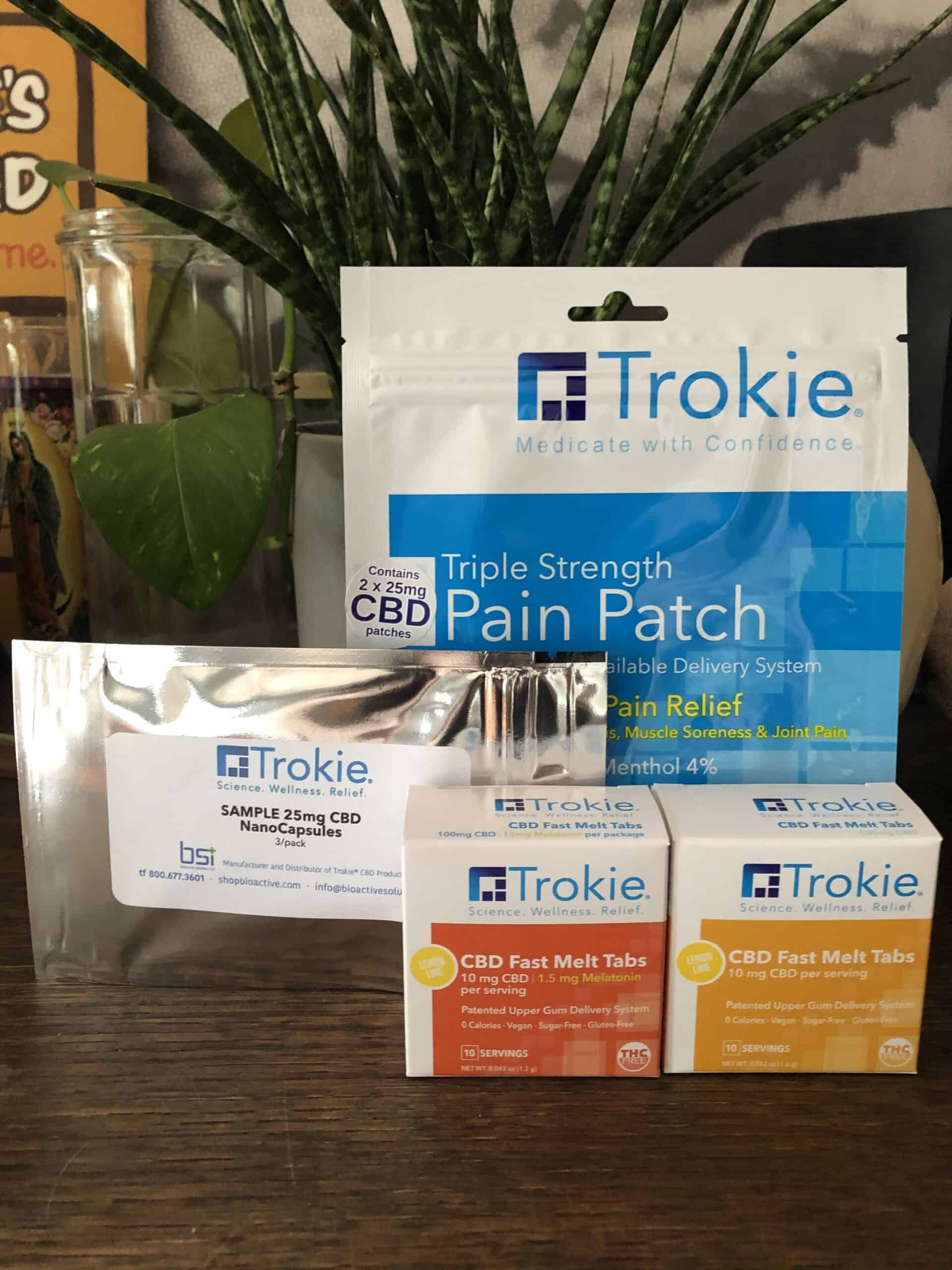 The patches are big enough to use on your back and hips, but you can easily cut them into smaller patches. The product is free from GMO's, fragrances, latex, and THC. Each packet contains two patches that are 4" x 5.75" and can be used by anyone 12 years old and up. To use, first wash and dry the area. Make sure you don't have any open wounds there. After cutting the patch to size, remove the clear liner, and apply it by firmly pressing it onto your skin.
---
TROKIE TRIPLE STRENGTH PAIN PATCH Specifications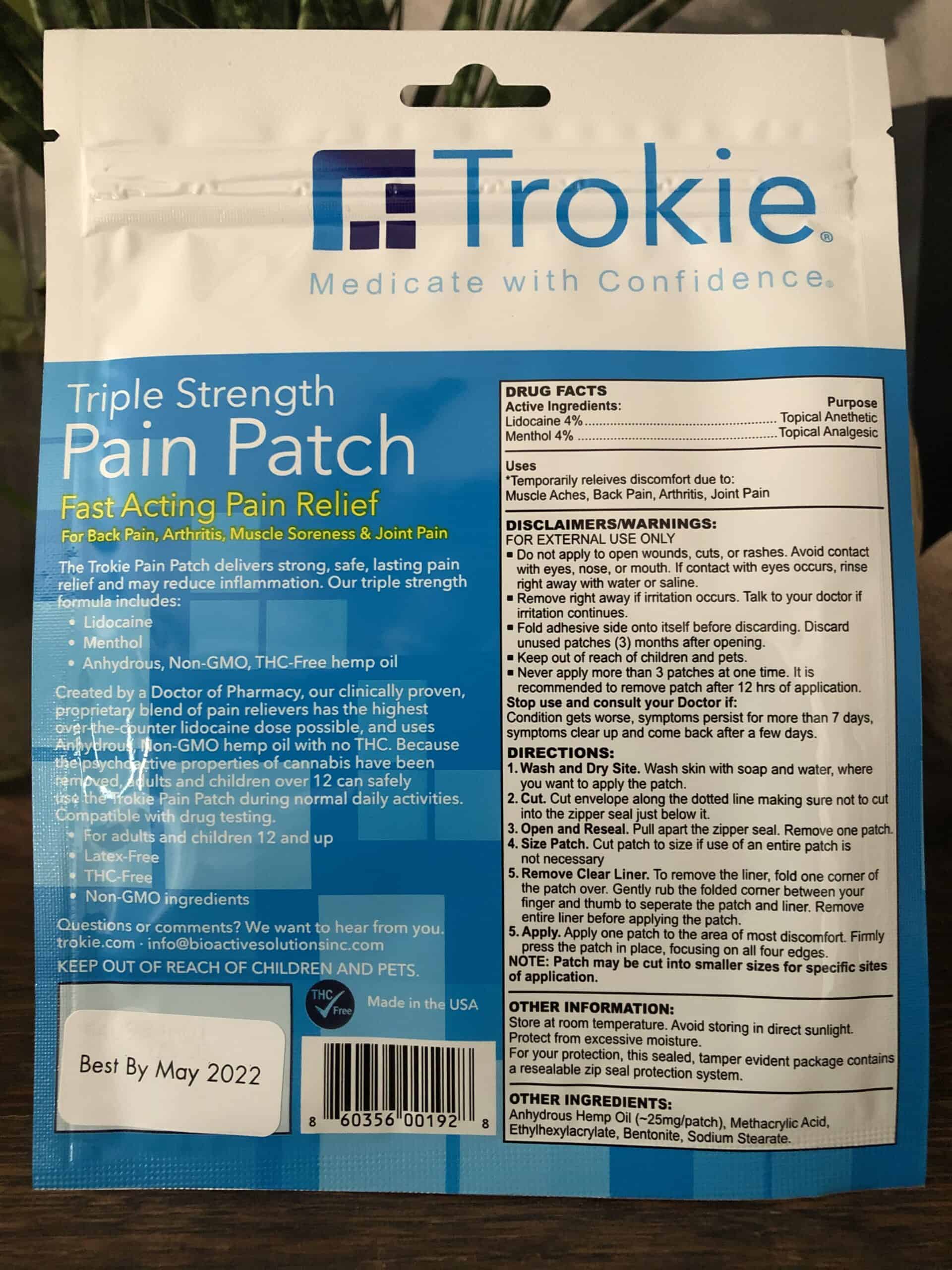 ---
How We Tested for this TROKIE REVIEW of the TRIPLE STRENGTH PAIN PATCH
I have severe pain from arthritis, fibromyalgia, and hip bursitis so I'm a fan of lidocaine and/or menthol patches which is why I was so excited to get the lidocaine and menthol-infused CBD patches in the mail. My hip pain can get so bad, I can't sit for more than fifteen minutes without needing a break, making sitting for classes or work difficult on a good day. I wanted to try my patches before French class because it's almost three-hours long and I struggle to make it to the break half-way through.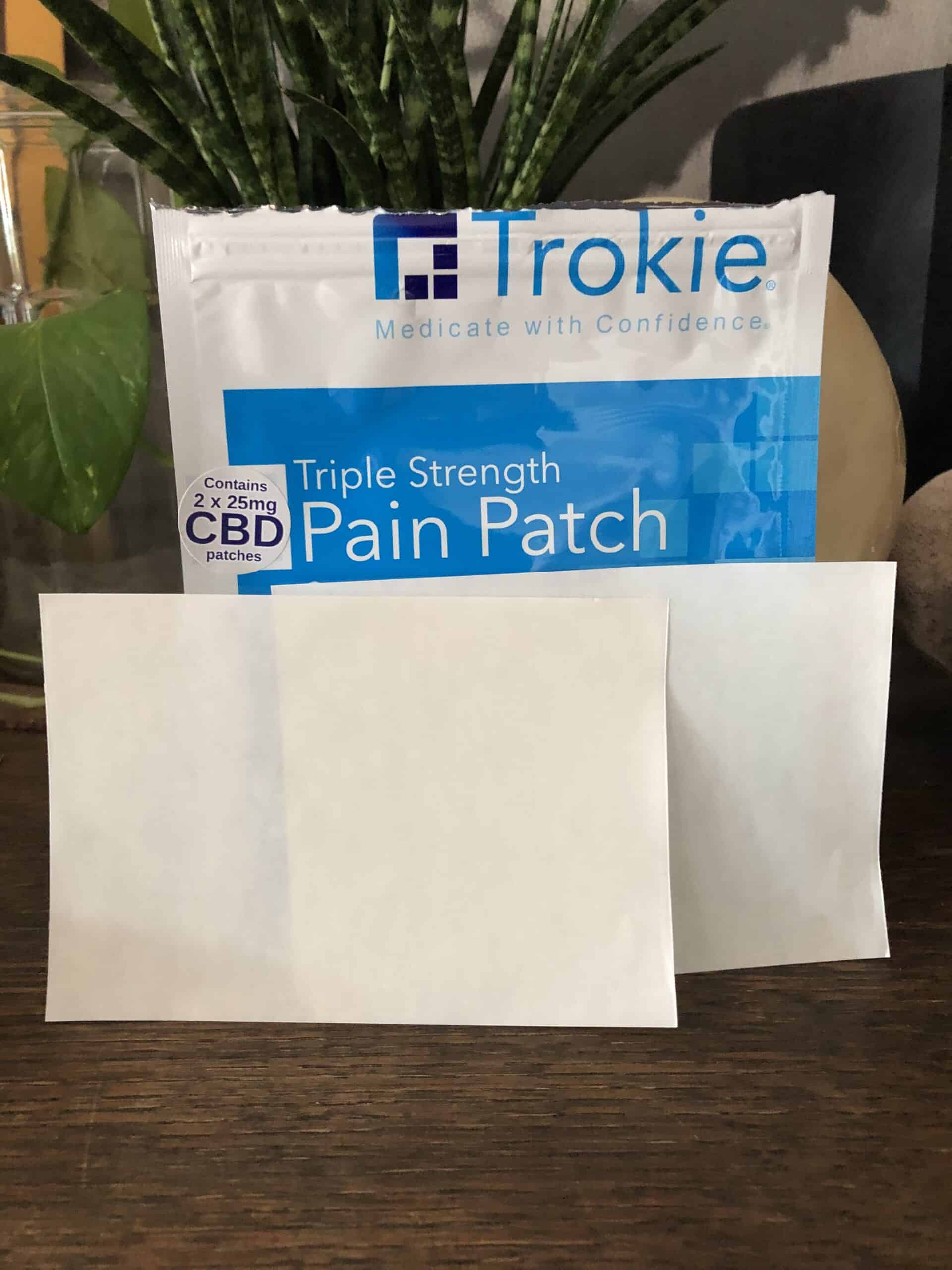 I put one patch on the back of my right hip where it hurts the most when I sit, then the other one on my right lateral hip where my bursitis is the worst. I hoped the combination of CBD, lidocaine, and menthol would bring enough relief so I could focus more on class than on the pain.
---
How the TROKIE TRIPLE STRENGTH PAIN PATCH Worked for Me
The pain patch seemed to heat up my painful spots immediately which was surprising because I expected more of a cooling sensation with the menthol. It felt like I had a mild heating pad attached to my hip, and it provided some much-needed respite from my excruciating chronic pain. The big test was seeing how it held up sitting during class and I was pleasantly surprised that I was able to forget about it for almost two hours. After a while, I did start to notice a mild cooling, which helped. It doesn't take away the pain but helps reduce it enough for me to focus on other things like verb conjugations and grammar. These patches are my favorite new accessory for work and school. I only wish that more came in the pack.
---
Useful and Unique Things to Know About TROKIE TRIPLE STRENGTH PAIN PATCH

Lidocaine patches and creams used to be available by prescription-only but now you can get them over-the-counter. Lidocaine is a numbing medication that works by blocking the nerve signals in your body. Menthol comes from mint plants and is used topically for pain and inflammation. Menthol often creates a cooling sensation that works to distract your brain from pain. I prefer the cooling sensation of menthol, as often the lidocaine doesn't help as much. I'd love to see Trokie come up with a super cooling menthol patch.
---
TROKIE TRIPLE STRENGTH PAIN PATCH Ratings
In the next sections gradings from 0-100 on our review, these grades add up to give the product's overall score.
PRESENTATION • 100
Informative packaging.
RELIABILITY • 100
Effectively relieves pain.
QUALITY • 100
Amazing ingredients.
FLAVOR / SMELL / or EASE OF USE• 100
Ease to use.
VALUE • 80
Expensive for only two patches in a pack.
---
How TROKIE TRIPLE STRENGTH PAIN PATCH Stacks Up Against the Competition
Trokie's transdermal pain patch is one-of-a-kind. I haven't seen another CBD-infused patch on the market. With its high-quality ingredients backed by science and its effectiveness in reducing pain, I would be using this product every day if it weren't so expensive. If Trokie wants to make their pained customers happier, they would add a few more patches to the packet, but charge the same amount.
---
Saving Money with Our Verified BIOACTIVE SOLUTIONS INC. Coupons
Save money by using our verified CBD Transdermal Patch Coupons here at Save On Cannabis the World's largest online cannabis coupon code directory.

---
Disclosure: I received these products gratis so that I could try them and then share my honest opinion with the SOC community. I am employed by Save on Cannabis to write honest reviews and provided a flat rate payment for the writing of the review. SOC may receive recurring affiliate payments for purchases made based on this content.
Our CBD topicals expert put the CBD•TRU Salve for Migraines to the test. Can this salve be used as a muscle pain topical? Our reviewer tests it out.
Looking for a CBD topical for pain? Our reviewer tested the Vapen CBD Deep Muscle Relief CBD Balm. See how it worked and if we recommend, also get coupons.
Our reviewer tests the CannaFlower Bubba Kush, see how well it met expectations. We give it a smoke to see if it is worth your money.