CBDistillery Review – Sleep CBN + CBD Oil
Oct 4, 2020 | SOC
CBDCBD TincturesCBNCBN Tinctures
CBDISTILLERY
Product Review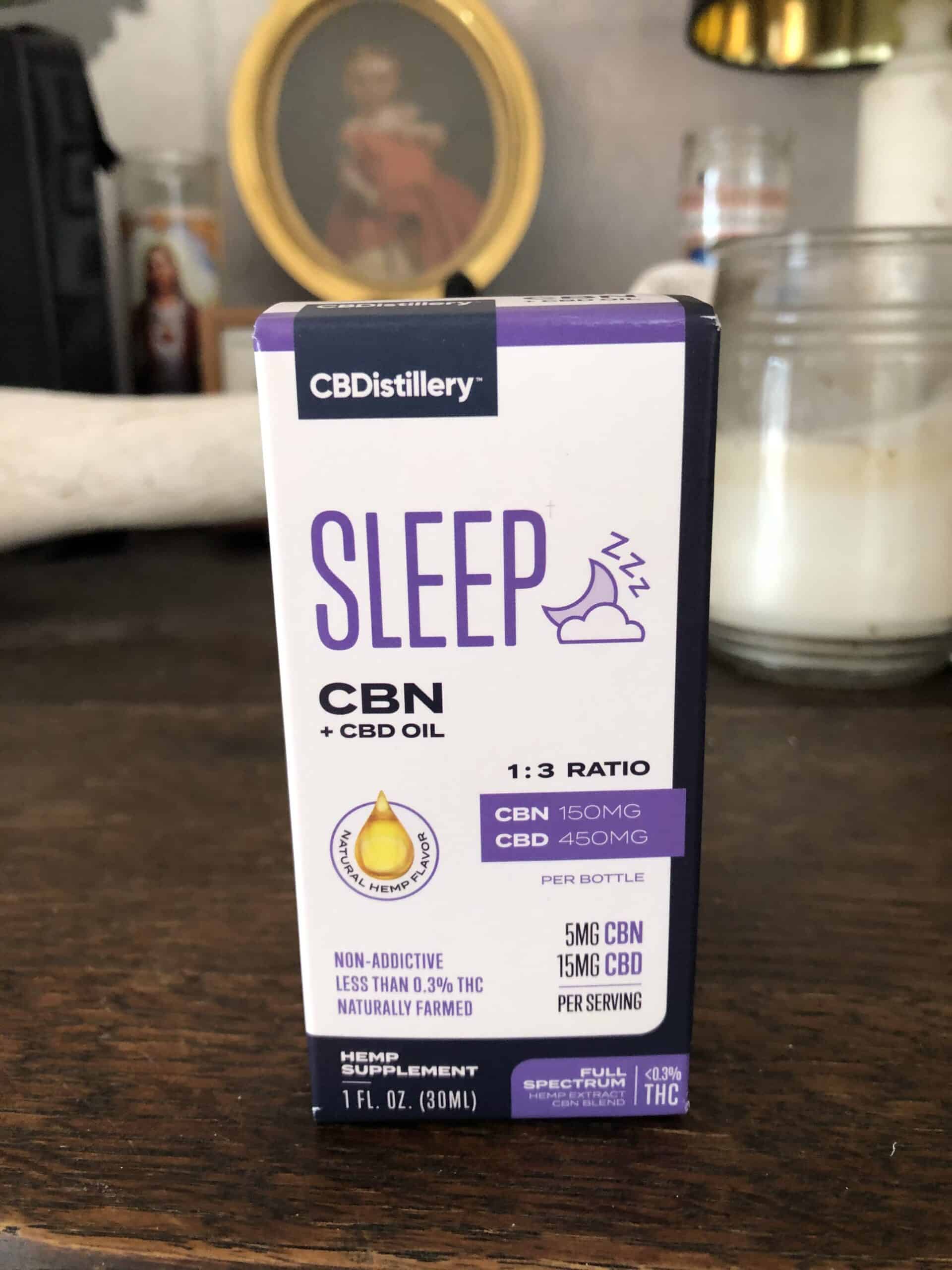 Brand Overview: CBDISTILLERY
CBDistillery has created an effective and affordable line of CBD products to help ease anxiety, stress, and pain. The company's mission is to bring you superior quality at a lower price, making it easier for the everyday person to get CBD-infused tinctures, salves, edibles, isolates, and topicals. The CBDistillery Team is proud to have brought to the Twittersphere the #CBDMOVEMENT™, which aims to educate people about non-addictive and all-natural ways to feel better.
Every product is clearly labeled and third-party tested for quality, following guidelines set forth by the FDA. Certified by the U.S. Hemp Authority, you can rest assured that every product you buy from CBDistillery is the real deal. Check out their website for recipes using CBD, like their mouth-watering Buffalo Chicken Dip. The website also contains articles about the benefits of CBD when playing sports or doing yoga.
Products: Oils, Isolates, Gummies, Capsules, Topicals, Vape Liquids, Pets, THC-Free CBD.
Price Range ($-$$$$): $$$
---
About CBDISTILLERY CBN + CBD SLEEP TINCTURE 1:3 – 150 MG CBN + 450 MG CBD
If you're looking for a CBD tincture that's specifically formulated for sleep, look for no further. CBDistillery has created a CBD and CBN-infused tincture that's an all-natural and non-addictive alternative to over-the-counter and prescribed sleep aids. Each bottle contains 150 mg of CBN, a compound the comes about through the natural breakdown of THC. Unlike THC, however, CBN won't get you high, while still helping you get better sleep.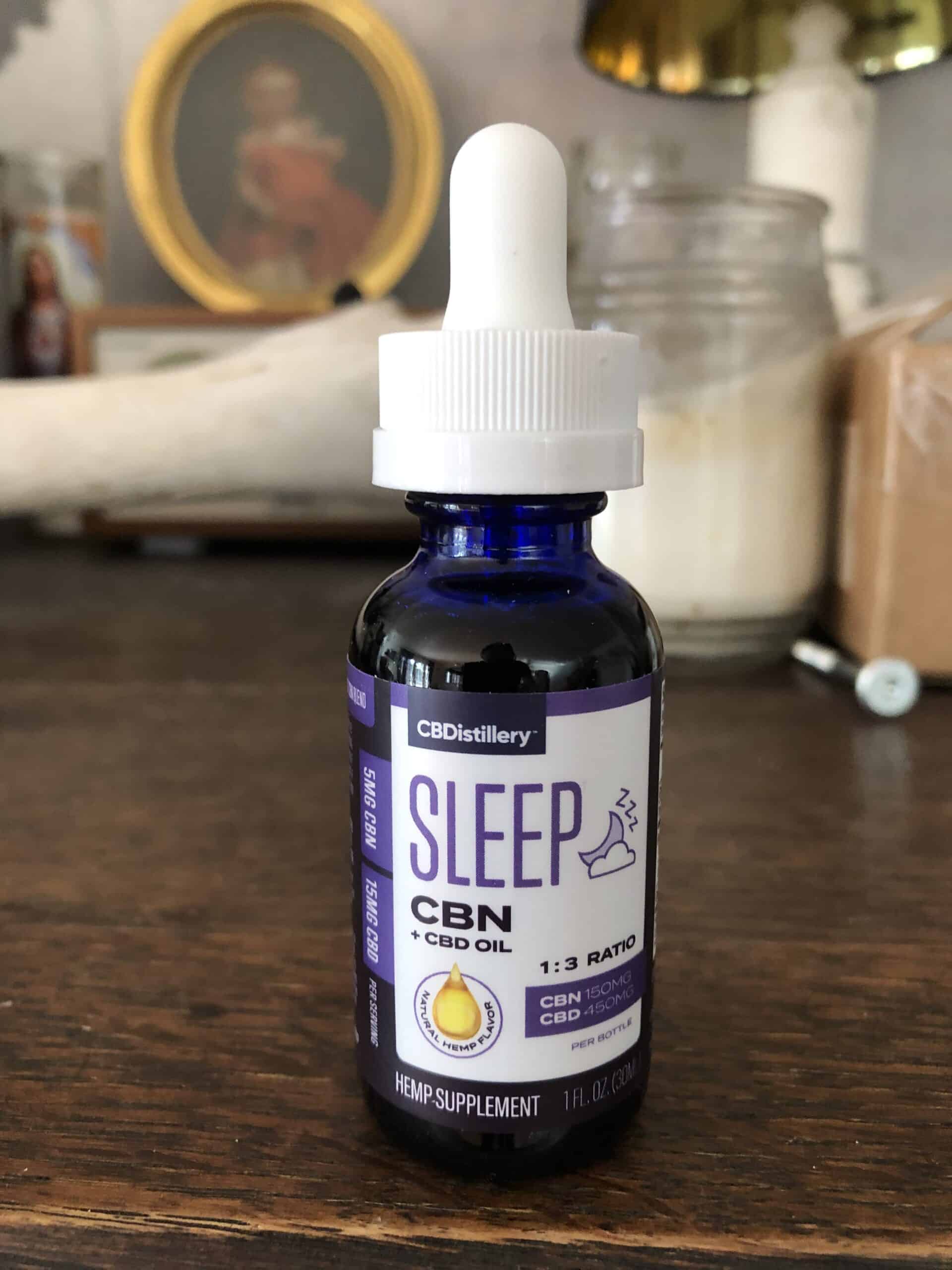 This tincture also contains 450 mg of CBD, which in combination with CBN can create a sedative effect that might help you relax and sleep better. Take one serving before bedtime by holding it under your tongue for 15-20 seconds before swallowing.
---
CBDISTILLERY CBN + CBD SLEEP TINCTURE 1:3 – 150 MG CBN + 450 MG CBD Specifications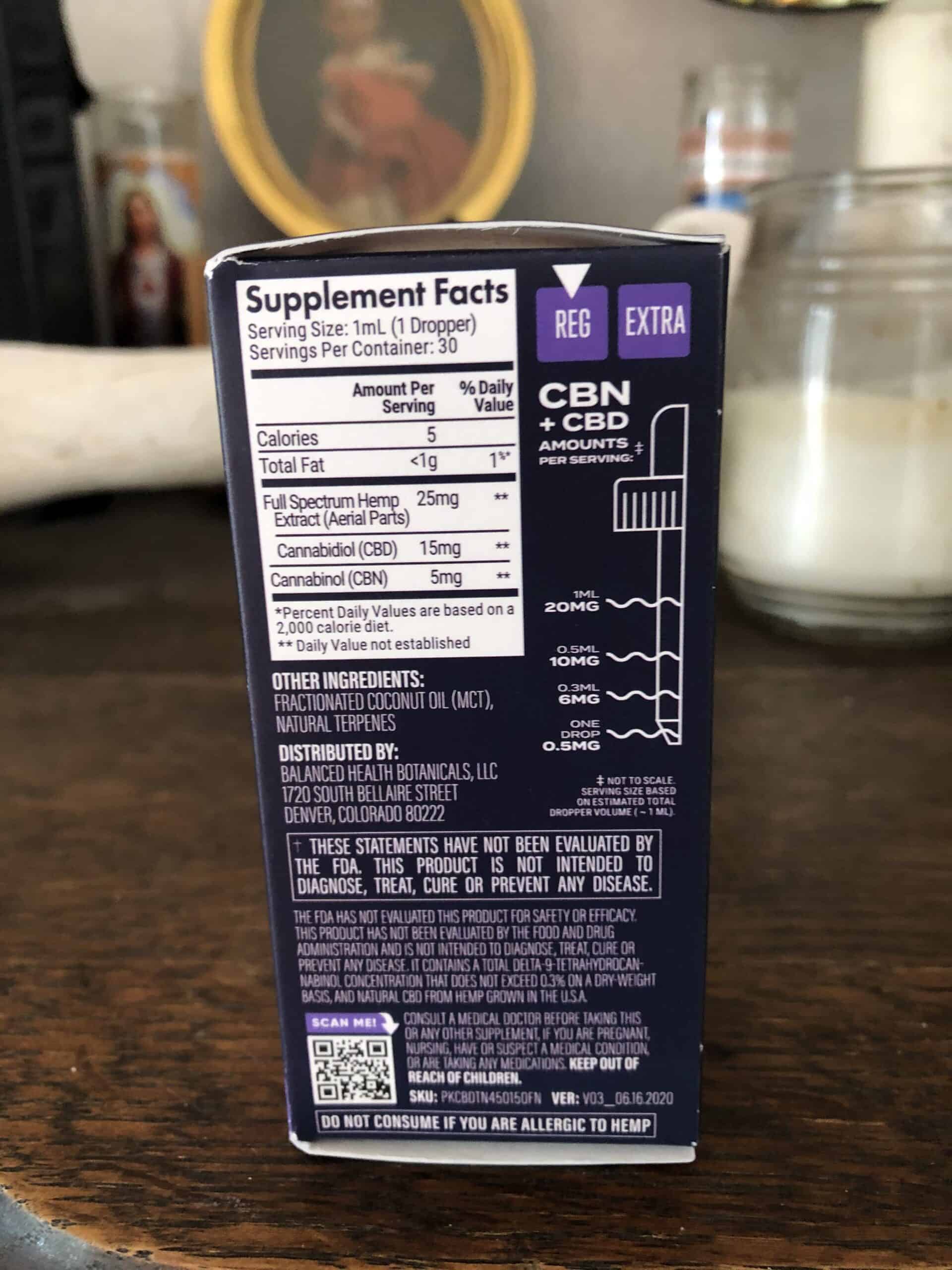 450 mg CBD per bottle
150 mg CBN per bottle
15 mg CBD per serving
5 mg CBN per serving
30 servings per bottle
5 calories per serving
Less than 0.3% THC
Ingredients:Full Spectrum Hemp Extract (Aerial Parts), Cannabidiol (CBD), Cannabinol (CBN), Fractionated Coconut Oil (MCT), Natural Terpenes
1 fl oz (30 ml)

---
How We Tested the CBDISTILLERY CBN + CBD SLEEP TINCTURE 1:3 – 150 MG CBN + 450 MG CBD
I have a hard time falling asleep because of pain and anxiety, and an even harder time staying asleep. I've found CBD products can sometimes help, so was excited to get a tincture in the mail specifically formulated for sleep. I've been using Benedryl lately, but my doctors tell me it can cause memory issues later in life, so I'm trying to cut back. I was hoping this CBD and CBN-infused tincture would help me sleep without the need for Benedryl or melatonin.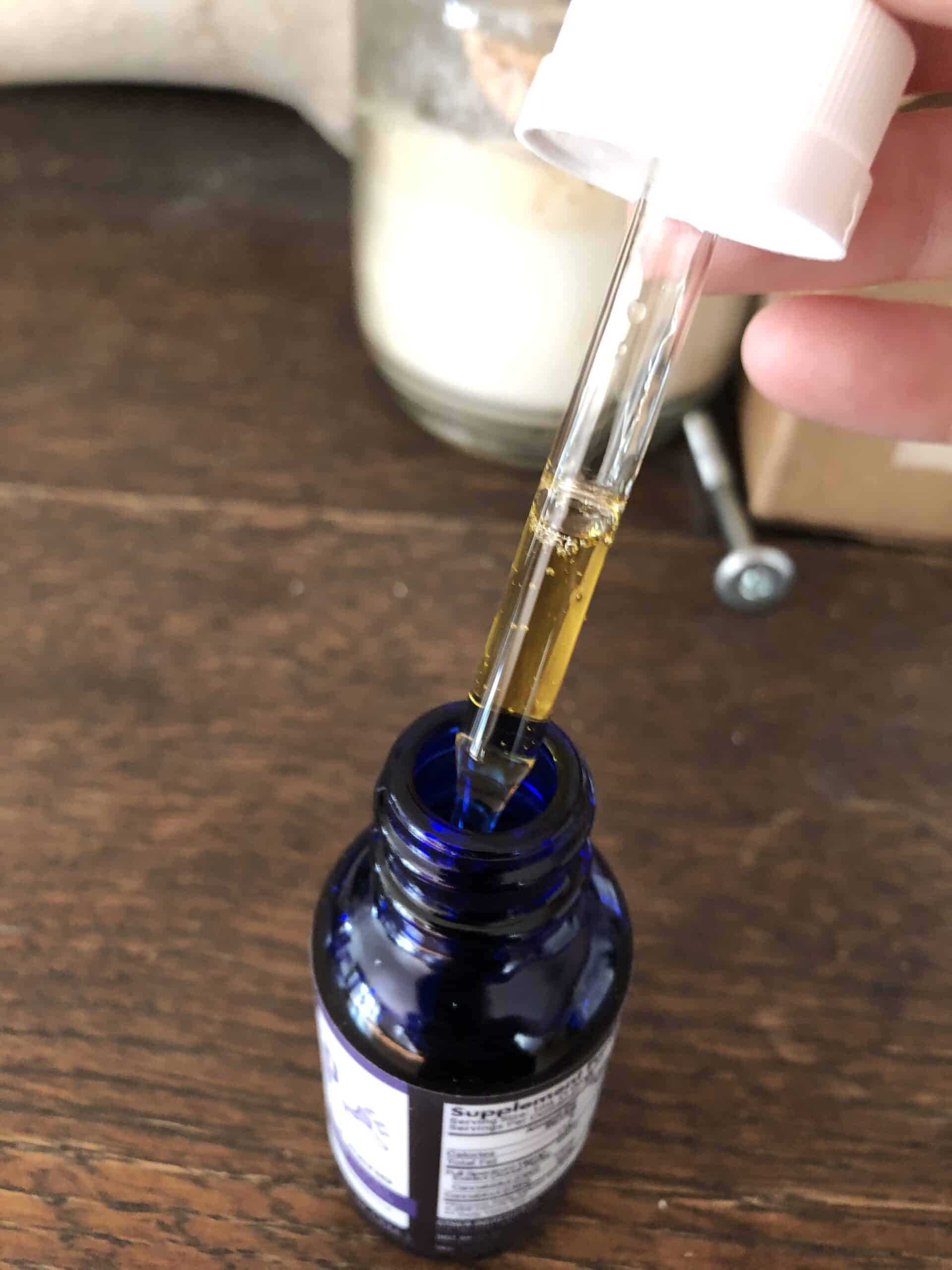 An hour before I wanted to be asleep, I took one serving of this tincture for a total of 20 mg of cannabinoids along with my prescribed medication Gabapentin. Gabapentin doesn't help me fall asleep, but it does help me stay asleep. I hoped the combination would assuage my anxiety and pain so I could get a great night of sleep.
---
How the CBDISILLERY CBN + CBD SLEEP TINCTURE 1:3 – 150 MG CBN + 450 MG CBD Worked for Me
I don't know what time I drifted off to sleep but it was a lot faster than I normally do. Most of the time, it takes me two or three hours to fall asleep, but I felt the effects of the tincture less than an hour after taking it. It made me feel warm and relaxed. I only woke up once during the night to use the restroom, and apparently slept through an earthquake. When I woke up in the morning, I felt refreshed and well-rested as opposed to feeling cracked out or drugged, which is what Benedryl makes me feel like. This tincture now lives on my bedside table and is now a part of my nightly bedtime routine.
---
Useful and Unique Things to Know About CBDISTILLERY CBN + CBD SLEEP TINCTURE 1:3 – 150 MG CBN + 450 MG CBD
CBN, or cannabinol, is one of hundreds of cannabinoids found in the hemp plant. Although there isn't as much research done on CBN as CBD, some studies have shown that it can fight pain, inflammation, and insomnia. It works in combination with CBD and other cannabinoids to boost the positive effects. According to CBDistillery, CBN's primary function is in its ability to bind with the CB1 cannabinoid receptor in our naturally occurring endocannabinoid system, the very system that can help with sleep.
---
CBDISTILLERY CBN + CBD SLEEP TINCTURE 1:3 – 150 MG CBN + 450 MG CBD Ratings
In the next sections gradings from 0-100 on our review, these grades add up to give the product's overall score.
PRESENTATION • 100
Informative packaging.
RELIABILITY • 100
Helps with sleep.
QUALITY • 100
All-natural.
FLAVOR / SMELL / or EASE OF USE • 95
Mild hemp taste.
VALUE • 75
Expensive.
---
How CBDISTILLERY CBN + CBD SLEEP TINCTURE 1:3 – 150 MG CBN + 450 MG CBD Stacks Up Against the Competition
CBDistillery's tincture geared towards sleep is unique on the glutted CBD market. This is the first time I've seen a tincture with the perfect combination of cannabinoids to make rest and relaxation a little easier. Because there aren't many other products like this one, I can understand why they charge more than the average tincture. That said, I've tried one other CBN:CBD tincture that works just as effectively, but costs less and tastes better.
---
Saving Money with Our Verified CBDISTILLERY Coupons
Save money by using our verified CBD Tinctures here at Save On Cannabis the World's largest online cannabis coupon code directory.
---
Disclosure: I received these products gratis so that I could try them and then share my honest opinion with the SOC community. I am employed by Save on Cannabis to write honest reviews and provided a flat rate payment for the writing of the review. SOC may receive recurring affiliate payments for purchases made based on this content.

We tested the American Hemp Oil CBD 750mg Capsules, read our review now to see how it worked. Find out if you should be adding these to your shopping list.
See how CBD dog treats worked for three hyper-active teenage chihuahuas. Find out in this hands on ZenWorks review if CBD dog treats will calm them down.
Read our Real Scientific Hemp Oil review of the RSHO Green Label 3G CBD syringe. See how it worked to ease our reviewer's pains and stress.