Infinite CBD Review: 3 of Their Top Selling Products
Apr 30, 2018 | PurpleGirl
CBDCBD ConcentratesCBD Isolate or Terpsolate Powder and CrystalsCBD TincturesCBD Topicals
Infinite CBD
Pros
Flavor
Topicals are lightweight & non-greasy.
Great variety of products.
Tinctures do not have the oily, cannabis-aftertaste common in other drops.
Terpene added flavoring
Cons
Topicals are coconut oil based, which is a notorious pore-clogger.
Brand Overview: Infinite CBD
Though their delightful, constellation-speckled packaging makes unboxing a memorable experience, Infinite CBD's most distinctive characteristic is its production method and an ingredient list that is completely CBD-Oil-free.
Infinite CBD products feature 99% CBD isolate from carefully cultivated, organic hemp plants. The brand says that CBD isolate is more potent and bioavailable than CBD oil, putting it in a class of its own. Infinite CBD does not use non-cannabis flavoring or artificial ingredients, just organic coconut oil for capsules and drops and cannabis-terpenes in some products to enhance flavor and  "entourage effects."All products are non-psychoactive and have less than 0.1% THC.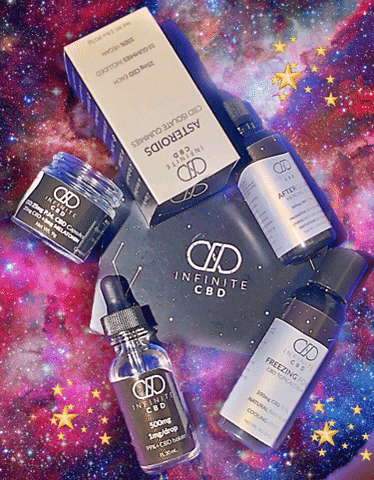 Products: CBD isolate drops, capsules, vape juice, crystallized powder, gummies, topicals, soaps, suppositories, and CBD capsules for pets.
Retail Price: $8- $703, according to product and mg selection
Now that you know the essential info about the Infinite CBD brand, read on for specific CBD product reviews.
Infinite CBD Product Reviews
INFINITE CBD: ABSOLUTE ZERO (featuring Cheese)
Absolute Zero is crystallized CBD isolate that can be inhaled, ingested orally, or used topically. It is designed to be added to joints, food, drinks, or even topical creams. You have a choice of a variety of cannabis terpenes to add to the product for flavor and intensify the entourage effect (without being psychoactive – the CBD isolate and terpenes have less than .1% THC).
I tried ABSOLUTE ZERO with Cheese, which is supposed to help with stress relief and insomnia while providing an earthy and savory taste. First, I added it to a joint and was genuinely surprised by how much I enjoyed the flavor. I occasionally smoke cigarettes so I have started sprinkling a few crystals into the tobacco. The flavor is incredible! Plus, the experience of smoking is more satisfying overall, so I have noticed that I have been smoking less often. Great stuff!
Cannabis terpene options include Charlotte's Web,
Mango Kush, OG Kush, Pineapple Express, Super Silver Haze, Tangi, Super Lemon Haze, Strawberry Diesel, Blueberry, and Harlequin.
Infinite CBD Topicals: AFTERGLOW Healing Oil and FREEZING POINT Salve
I love trying new beauty and skincare products and was impressed with the quality of both Infinite CBD topicals I tried. Both are lightweight, nongreasy, and provide excellent lubrication for massage and trigger point therapy. FREEZING POINT delivers a refreshing "freeze" feeling that was much more pleasant than the typical over-the-counter muscle creams. I used the salve to work on trigger points in my lower back, neck, and hips. It was most effective the day after a particularly hard workout that had left my shoulders and calves feeling super sore and tight. FREEZING POINT did not disappoint.
Due to its soothing, warming, and hydrating effects, I practically used AFTERGLOW Healing Oil everywhere! Well… everywhere but my face.  CBD is an antioxidant that decreases inflammation, makes it a powerful ingredient to add to your daily care regimen, especially if your skin concerns include fine lines, wrinkles, hyperpigmentation sagging and loose skin, and other visible signs of aging.
But, unfortunately, this particular product isn't a good match for my complexion because of another ingredient: Coconut oil. Last summer, I learned the hard way that coconut oil is a notorious pore-clogger that easily triggers breakouts, especially for those with acne-prone complexions (like me!) 
INFINITE CBD ISOLATE DROPPERS – 500 mg
Infinite CBD Isolate Droppers are my new personal favorite mostly due to its smooth flavor that lacks the oily, cannabis-aftertaste common in other drops. I am guessing the clean taste and lightweight consistency comes from using CBD isolate instead of CBD oil. 
Overall, these drops are ideal for those seeking a quick and convenient way to stick to a high-dose CBD regimen to treat specific medical conditions or health concerns. 
In addition to adding Infinite CBD to my daily health regimen, I discovered that it can be a lifesaver for even the most common kinds of "health distress"…
Is CBD the Best Hangover Cure Ever?
CBD soothes and heals inflammation and nausea is caused by inflammation in your digestive tract. I have always had a touchy stomach; nausea and cramping seem to be my body's preferred method of signaling when it's not thrilled with my lifestyle choices. And so, when I found myself in digestive agony late into the evening on Easter Sunday thanks to a few too many mint juleps at brunch, I was more than willing to test taking Infinite CBD ISOLATE DROPPERS as a hangover treatment.
 I had already tried taking a few of my standard remedies, like Alka-Seltzer, soda water mixed with bitters, and smoking cannabis flower, but my nausea and (REAL TALK) dry heaves raged on. I swallowed the drops straight and hoped for the best.
20 minutes later, my nausea and hangover-related anxiousness were gone. I drifted off to sleep and woke up 5 hours later, hangover-free.

---
Disclosure: I received these products gratis so that I could try them and then share my honest opinion with the SOC community. Though I am employed Save on Cannabis as a consultant, I did not receive compensation for writing this review.
Save On Cannabis exclusive MagicalButter review, thorough review of the step-by-step cannabutter process. Also, get coupons here.
In our Vital Plan Select review of their CBD Joint Muscle Rub, see if it helped mild pain from arthritis & radiculopathy.
Ice, Ice, Baby...in this Green Roads CBD review of their Cool Relief Roll On see how the icy effects of menthol worked for us.