CBD Review: Infinite CBD P.M. Capsules
Nov 3, 2018 | Romy
Infinite CBD P.M. Capsules
Pros
Easy to Use
Discreet
Perfect for Travel
Also Comes in 100mg CBD Dosages
All-Natural Sleep-Aid
Non-Addictive
Non-Psychoactive
Cons
Price Average for CBD, But Expensive for Daily Insomnia Users
Brand Overview: INFINITE CBD
Infinite CBD sells a variety of products made from the purest, all-natural CBD isolate available. All their products contain less than .1% THC so you won't get high but still get the health benefits of the cannabis plant. They add no harmful additives or chemicals to their products. Many professional athletes like UFC fighters, cyclists, and soccer players use Infinite CBD to help them train harder and improve during recovery. As an added bonus, the company offers yummy recipes like their homemade CBD Spice Latte. Sign me up!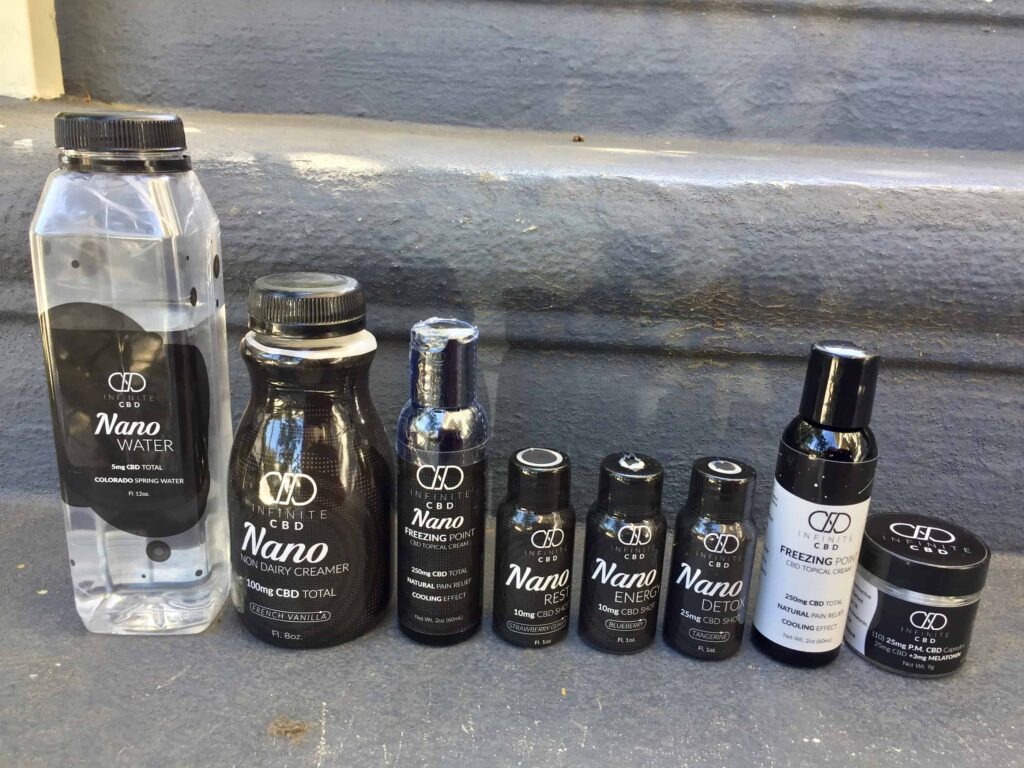 Products: CBD Water, Topical Cream, Shots (Detox, Energy, Rest), Non Dairy Creamer (French Vanilla, Hazelnut), Gummies, Salve (Stick, Tin), Tinctures, Pure Crystalline, Antiseptic Soap, Isolate Capsules, Isolate Droppers, A.M. Capsules, Afterglow Healing Oil, Pet Droppers, Vape Juice, Hair Plasma (Dry Scalp, Conditioning, Shine, Growth & Thickening), P.M. Capsules, Suppositories, Beard Flux Oil, Freezing Point Cream
Price Range ($-$$$$): $$
About the INFINITE CBD P.M. CAPSULES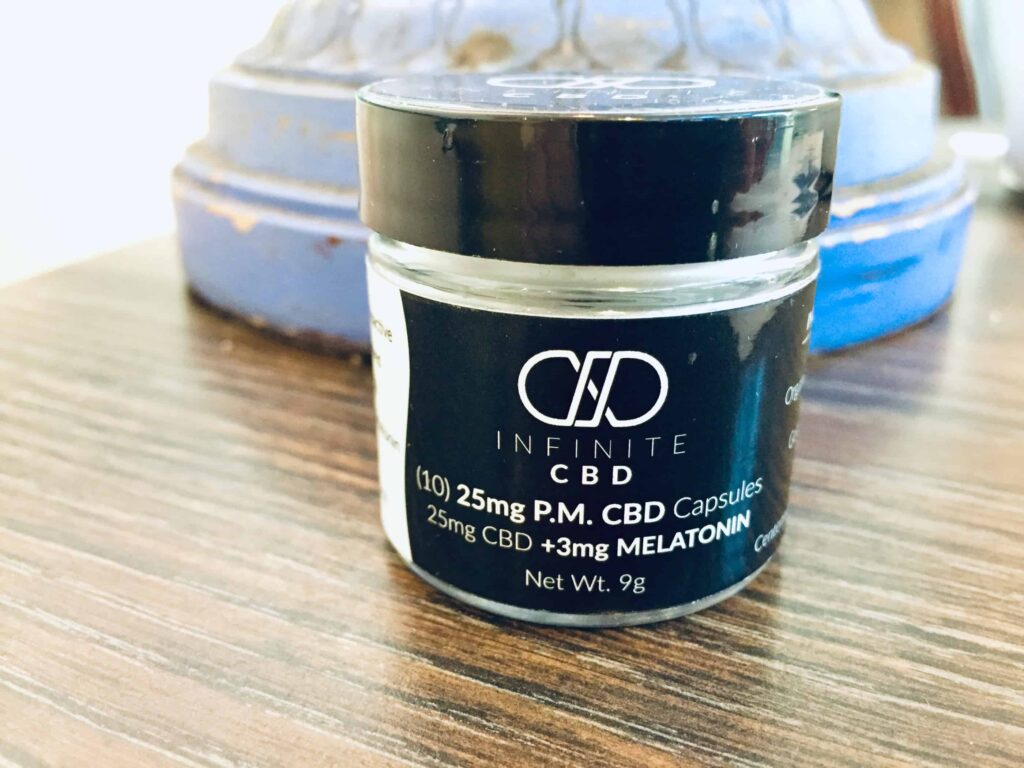 Infinite CBD's P.M. capsules are an all-natural sleep aid with each pill containing 3 mg of melatonin. While everyone produces melatonin on their own, some folk, like myself, who suffer from chronic sleep issues, need a little extra help. CBD and melatonin are both important in regulating sleep cycles, providing a non-addictive alternative to prescription and over-the-counter pills. Both CBD and melatonin are known for providing a mildly sedating effect that when used together, can help you fall and stay asleep.
INFINITE CBD P.M. CAPSULES Specifications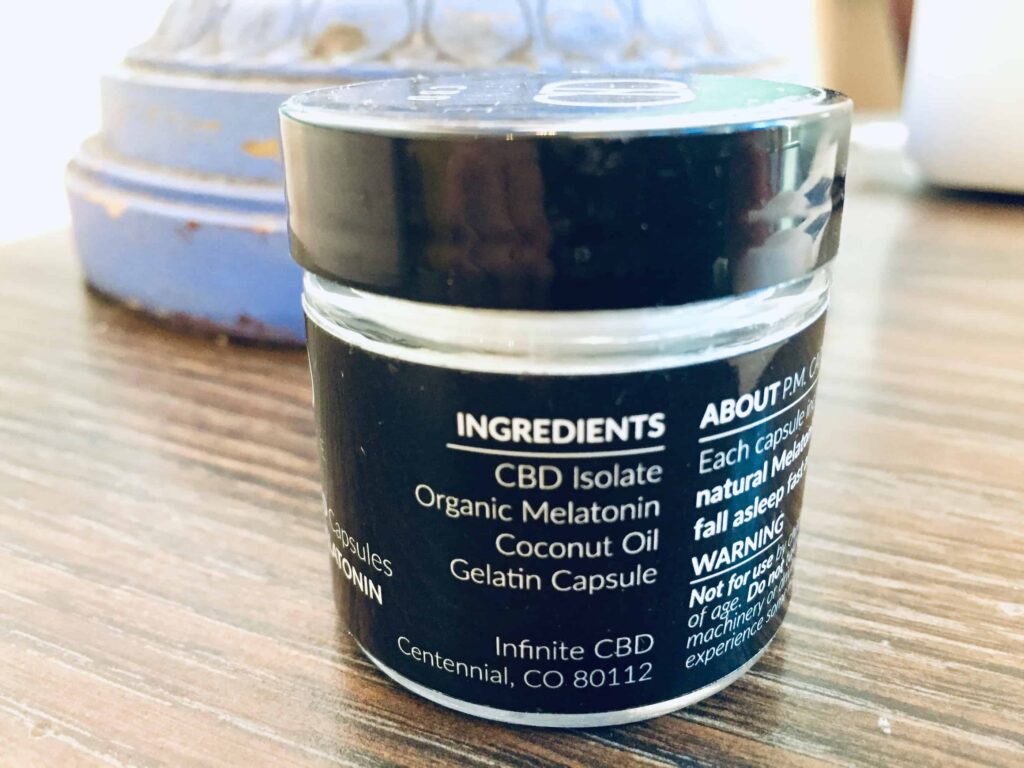 10 capsules/container

25 mg CBD/capsule

3 mg melatonin/capsule

Net. Wt. 9g

Ingredients: CBD Isolate, Organic Melatonin, Coconut Oil, Gelatin Capsule

Non-Psychoactive

Hemp Derived

100% Natural

Not for use for children under 12

Do not take when operating machinery or driving a vehicle

You may experience residual drowsiness
How We Tested the INFINITE CBD P.M. CAPSULES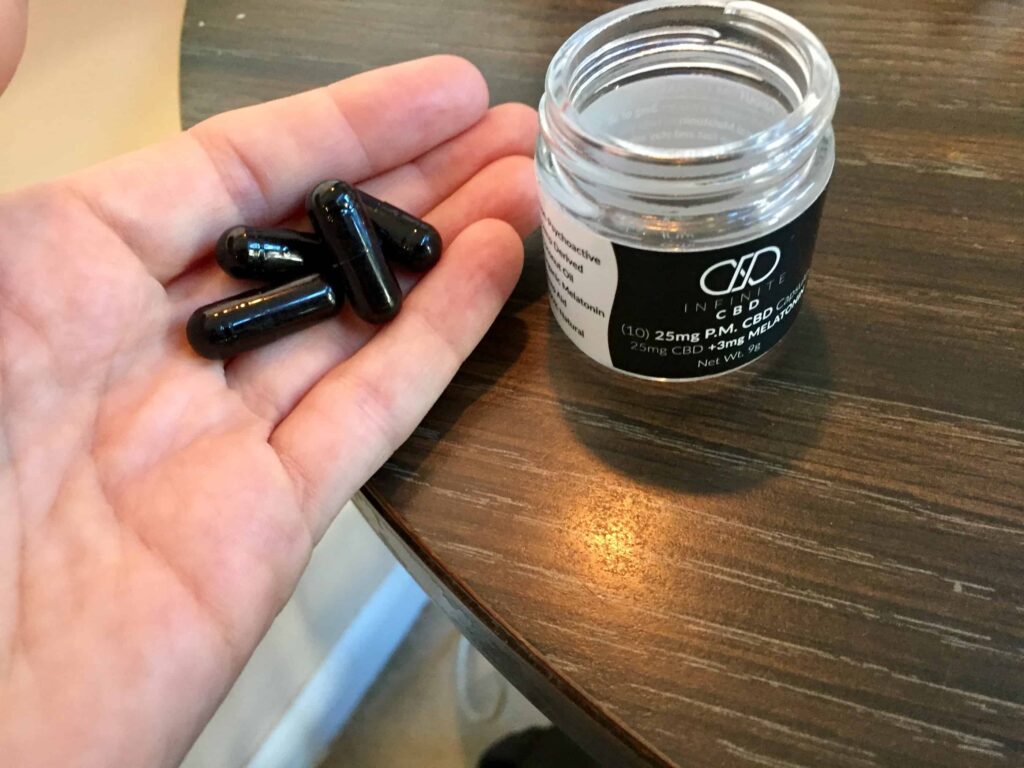 Like most humans, I want nothing more than to get in bed, turn out the lights, shut my eyes, and get a good night of sleep. But like most chronic pain sufferers, I am also an insomniac. Lying down is painful on my low back and right hip, making it difficult to fall asleep, and even harder to stay that way. For the most part, I rely on 10-15 mg of melatonin and 2-3 Benedryl every night. Since I wanted to give these capsules a fair shot, I decided to try them without taking anything else. The first night I opted to take 2 capsules, for a total of 50 mg of CBD and 6 mg of melatonin. I turned off my lights, turned on my night time television programs, and waited for sleep to take me.
How the INFINITE CBD P.M. CAPSULES Worked for Me
After an hour, I felt the sedating effects of the CBD and melatonin. I was still unable to fall asleep, so after a couple hours, I opted to add an additional 10 mg of melatonin and that did the trick. Even though it took me a while to get there, I did manage to stay asleep for longer than average. I believe I got five good hours in before I was woken up by pain. The combination of CBD and melatonin is potent. Next time I try this product, I'd love to give the 100 mg of CBD a shot, as I think the higher dosage of CBD, in combination with a higher dose of melatonin, might help this troubled sleeper even more.
Useful and Unique Things to Know About INFINITE CBD P.M. CAPSULES
I've used melatonin for years and was surprised to learn it has other health benefits besides just being a sleep-aid. According to the Infinite CBD website, melatonin is a potential treatment for breast and prostate cancer, the side effects of menopause, and chronic pain. I've even used melatonin during the day as a kind of sedating anxiety-reducer. Melatonin is also known to boost your immune system and is naturally produced in the pineal gland, also known as your "third eye." In fact, once it starts to get dark out, your natural melatonin levels increase, then decrease when it becomes light. Another fun fact about melatonin is that my cute nickname for it is "mellies" as in, it's time for bed so it's "time to take my mellies."
INFINITE CBD P.M. CAPSULES Rating Breakdown
PRESENTATION • 100
Infinite's black and white products are always sleek and professional.
RELIABILITY • 90
Works great in combination with an extra dose of melatonin.
QUALITY • 100
High-quality ingredients.
EASE OF USE • 100
Easy to use.
VALUE • 90
Insomniacs won't balk at the price, but long-term users might need a cheaper option.
How the INFINITE CBD P.M. CAPSULES Stacks Up Against the Competition
A 10-pack of these capsules costs $17. For a product containing 175 mg total of CBD, this is a relatively good deal, particularly when you take into account that you're getting 30 mg of melatonin in the bargain. A 10-pack won't last you long, but this product also comes in packs of 30. You can also opt to get the CBD in 100 mg instead of 25 mg. If this product helps you get a good night's sleep, I think it's well worth it, particularly if you're trying to stay away from prescription and over-the-counter medications.
Saving Money With INFINITE CBD Coupons
Save money with CBD Capsules coupons here at Save On Cannabis the World's largest online cannabis coupon code directory.
Disclosure: I received these products gratis so that I could try them and then share my honest opinion with the SOC community. I am employed by Save on Cannabis to write honest reviews and provided a flat rate payment for the writing of the review.  SOC may receive recurring affiliate payments for purchases made based on this content.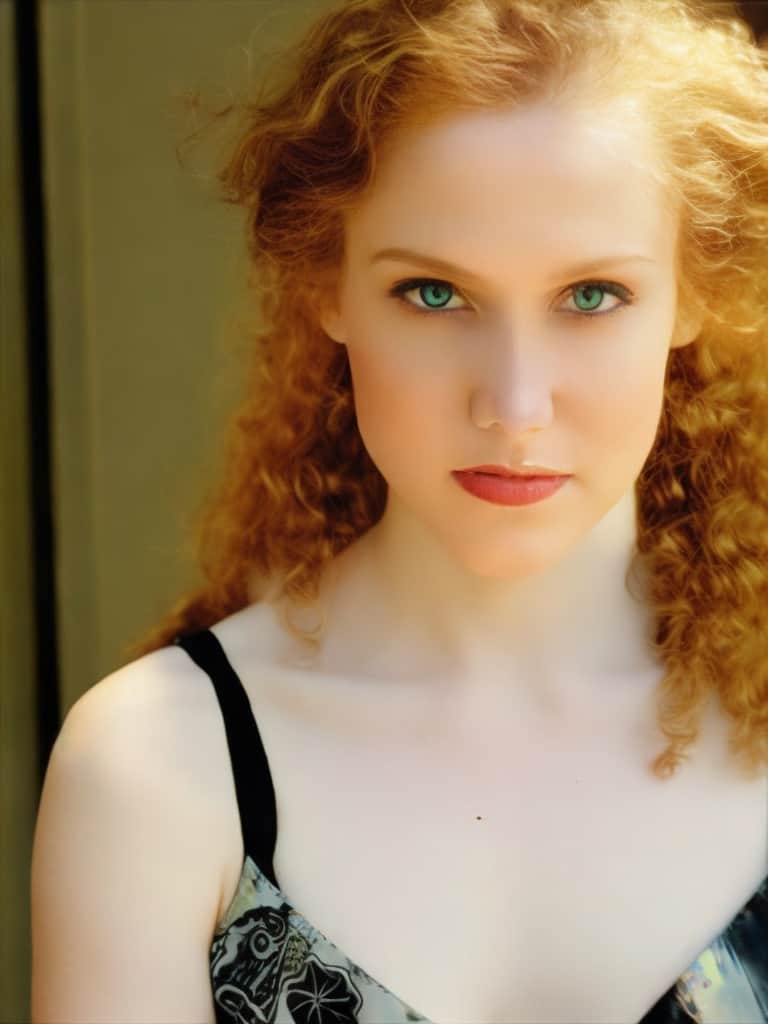 A medicinal cannabis user, utilizing the power of the plant to ease the pains and stresses from long standing conditions that other over the counter or prescriptions could not fix or weren't a natural option like cannabis.  Also, has a background in working directly in the cannabis industry in California within various dispensaries.
MedTerra review of the MedOil CBD Tincture 1000mg, organic, pesticide-free, NON-GMO product. Find out how it worked.
In this Social CBD review of the Zooey CBD Body Butter see if it fixes dry hands and helps pain. Also get Social CBD coupons.
Our reviewer got to test the Vapen Clear CBD Crystalline Inhaler 1000mg. See what she thought of this product & if it is worth your money.