GoGreen Hemp Review: CBD Bath Bomb (Milk 'n Honey)
Oct 9, 2018 | Romy
CBDCBD CandyCBD ConcentratesCBD EdiblesCBD GummiesCBD Pet ProductsCBD Pills & CapsulesCBD TincturesCBD TopicalsCBD Vape OilsSave On Cannabis Verified
GoGreen Hemp CBD Infused Bath Bomb (Milk 'n Honey)
Pros
Relaxing
Eases Muscle Pain
Smells Amazing
Lasts For Multiple Baths
Competitive Price
Helps Promote Sleep
Brand Overview: GoGreen Hemp
GoGreen Hemp is a family owned and operated company from Colorado that specializes in products that use organic hemp extract with CBD and other quality ingredients. Their extensive line of medicinal CBD products ranges from wax crumble, gel capsules, candies, oil drops, balms, and dog chews for your animal friends. GoGreen Hemp's mission is to make high-caliber products that bring relief and to educate consumers about the medicinal properties of CBD. They have a Helping Hand Program that supports veterans and those with long-term disabilities by offering 20% off anyone who qualifies. They believe that CBD can change the world.
Products: CBD Oil Drops, CBD Cartridges, CBD Balms, CBD Gummy Bears, CBD Gel Capsules, CBD Wax Crumble, CBD Dog Chews, CBD Bath Bombs
Price Range: $$
About the GoGreen Hemp CBD Infused Bath Bomb (Milk n' Honey)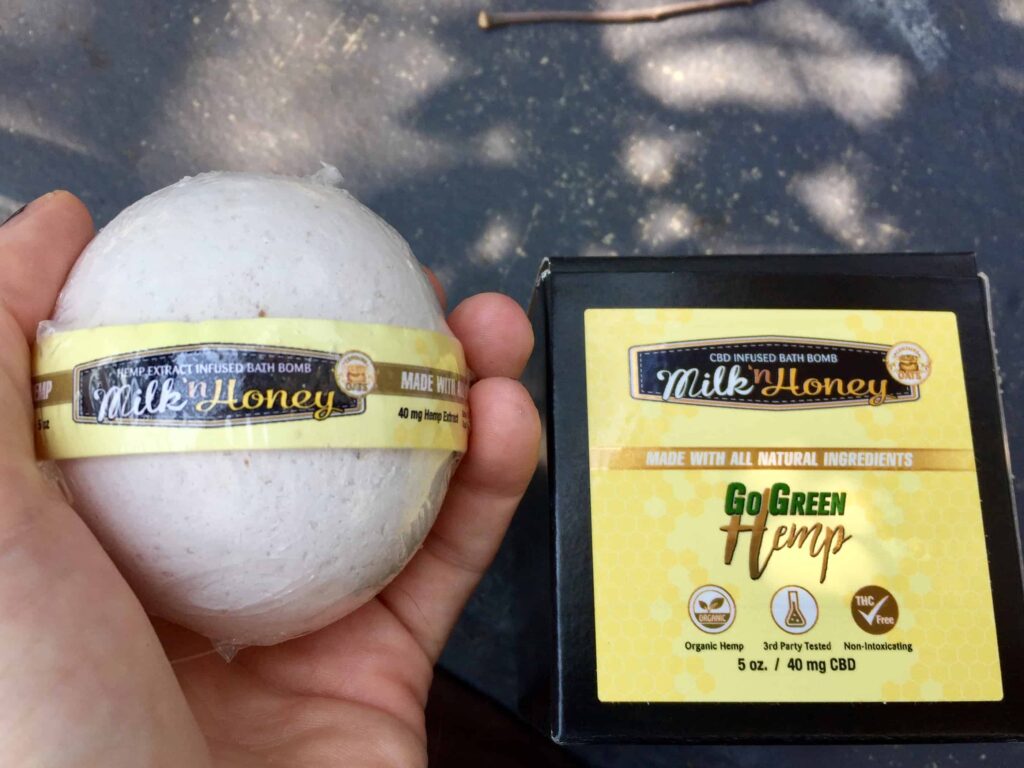 The GoGreen Hemp Bath Bombs are filled with 40 mg of water-soluble CBD powder and scented with oat milk and honey to give you a relaxing and spa-like experience. CBD helps soothe aching muscles and inflammation of the joints. This product contains the scent of hawthorn, French vanilla, soy milk, and almond. The Epsom salt alone has all sorts of physical health benefits, and in combination with the CBD, this bath bomb offers to relieve stress and promote a good night's sleep.
The GoGreen Hemp CBD Infused Bath Bomb smells like it came directly from the Land of Milk and Honey
GoGreen Hemp CBD Infused Bath Bomb (Milk n' Honey) Technical Specifications
Made with all natural ingredients

Organic Hemp

3rd Party Tested

Non-Intoxicating

5 oz. / 40 mg CBD

Ingredients: Sodium Bicarbonate, Citric Acid, Epsom Salt, Olive Oil, Fragrance, Aqua, Polysorbate 80, FD&C Colorant, Water Soluble CBD

Made in the U.S.A.

GoGreen Hemp CBD Infused Bath Bomb (Milk n' Honey) is made with all natural ingredients.
How We Tested the GoGreen Hemp CBD Infused Bath Bomb (Milk n' Honey)
I had to hold off on trying this bath bomb because of a recent surgery. There it sat for weeks, waiting for when my incision had healed enough for me to take a nice, relaxing bath. One thing I didn't know about surgery is how messed up my muscles would get. Even though the incision is on the side of my hip, the swelling and pain in my muscles extend down my leg and through my right buttock. My butt hurt so bad I wasn't able to sit on my right cheek for months! After getting the go-ahead from my surgeon, I decided to try this bath bomb with the hopes that it would help ease my muscle pain.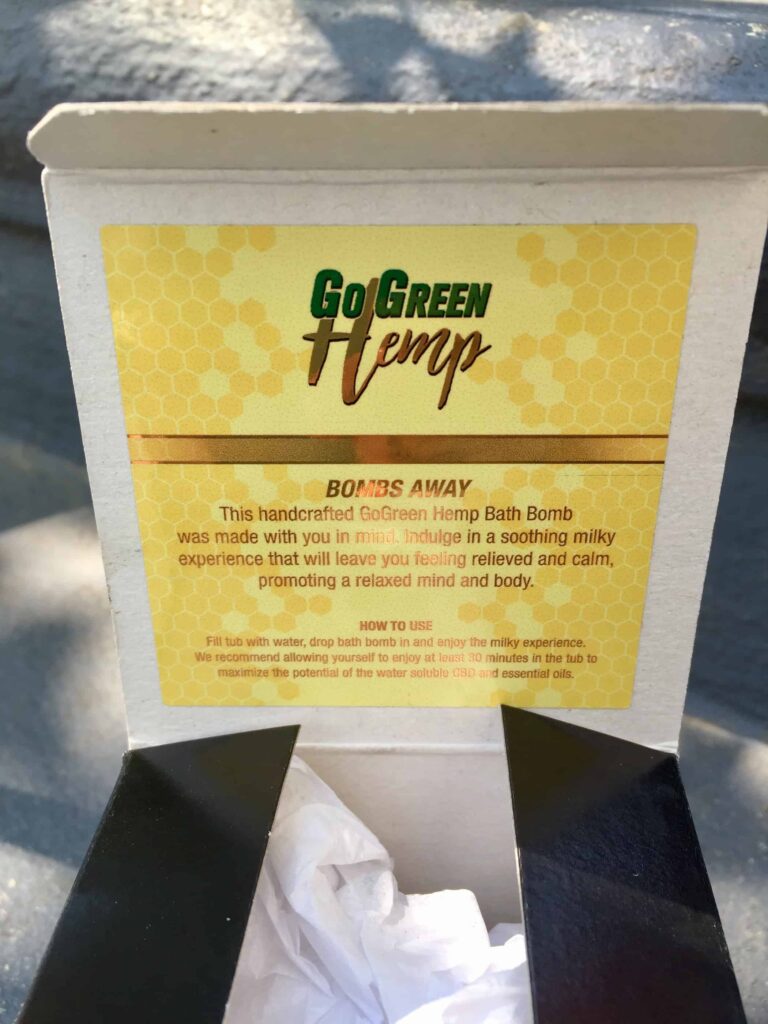 How the GoGreen Hemp CBD Infused Bath Bomb (Milk n' Honey) Worked for Me
Because of post-surgical complications, my wait to take a bath was much longer than expected. But boy, was it worth it. This is hands down my favorite bath product of all time. Even if it didn't have CBD it would still be the best. The smell is heavenly, which is appropriate considering the biblical implications of the bomb's milk and honey scent. It helped my mind and body relax. A warm sleepiness came over me, and for a few hours, my muscles forgot all about surgery. I would use this bath bomb every day if I could.
Useful and Unique Things to Know About GoGreen Hemp CBD Infused Bath Bomb (Milk n' Honey)
This bath bomb reigns supreme over other bath bombs. Usually, I never find the smell potent enough, but this product doesn't skimp on scents. This product is also superior because while most bombs last for one bath, this product lasted two. (It could last three but one of my baths was particularly long and decadent.) It dissolves slowly, allowing for you to have more control over how much you use.
GoGreen Hemp CBD Infused Bath Bomb (Milk n' Honey)
Rating Breakdown
Please note that these grades add up to give the product's overall score.
PRESENTATION • 100
It comes in a gorgeous box. Perfect for gifts!
RELIABILITY • 100
Helped with muscle relaxation and stress.
QUALITY • 100
Top notch.
SMELL • 100
Can I give this 110 points? So yummy smelling.
VALUE • 100
Great price for what you get.
How the GoGreen Hemp CBD Infused Bath Bomb (Milk n' Honey) Stacks Up Against the Competition
I'll abstain from saying this bath bomb was the bomb because I bet every two-bit reviewer will say the same thing. This product ranks so high above other bath bombs, I don't think I will ever buy another brand again. I feel like I should have some criticism, considering this is a review, but honestly, I have none. A perfect product through and through.
Saving Money With GoGreen Hemp Coupons  To Get the CBD Infused Bath Bomb (Milk n' Honey) 
Save money on all CBD Bath Bombs here at Save On Cannabis the World's largest online cannabis coupon code directory.
Disclosure: I received these products gratis so that I could try them and then share my honest opinion with the SOC community. I am employed by Save on Cannabis to write honest reviews and provided a flat rate payment for the writing of the review.  SOC may receive recurring affiliate payments for purchases made based on this content.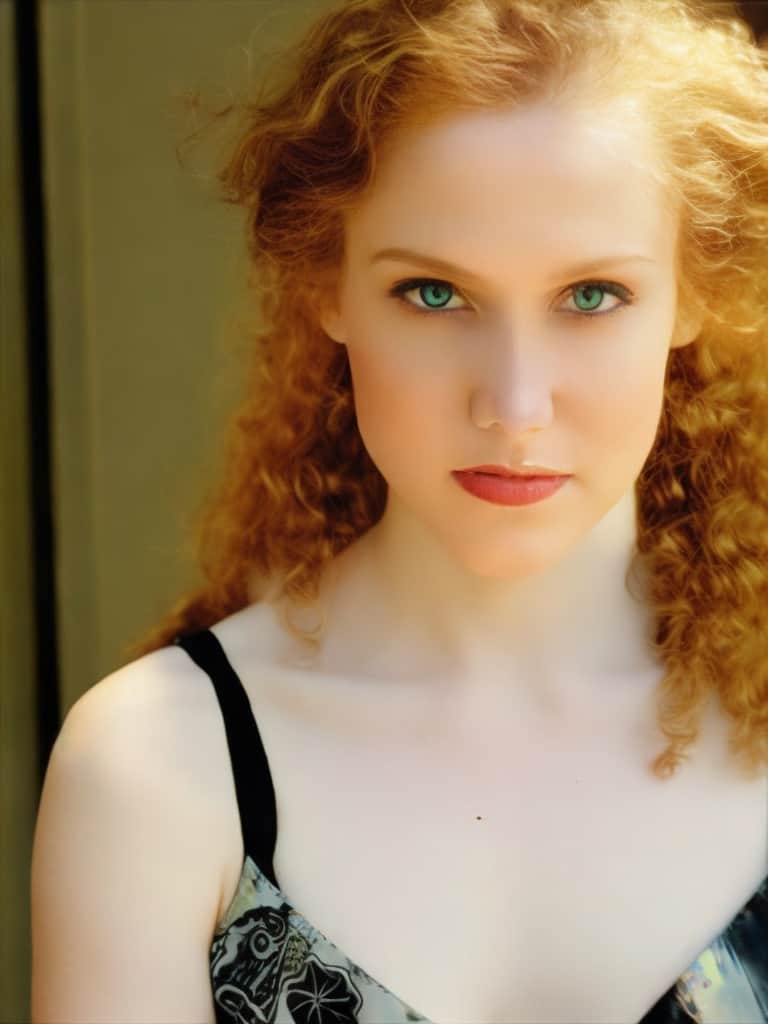 A medicinal cannabis user, utilizing the power of the plant to ease the pains and stresses from long standing conditions that other over the counter or prescriptions could not fix or weren't a natural option like cannabis.  Also, has a background in working directly in the cannabis industry in California within various dispensaries.
In this Treeline Organics review of the Epic Sleep we test the CBD/CBN tincture on insomnia. See if this product worked as we expected.
Read in our Joy Organics review of the 500mg if this CBD Salve brings joy to our reviewers aching body and more sleep.
In this Joy Organics review of their 900mg Mint Flavor CBD Tincture we see if it should be in your wellness routine.