Dr. Dabber Review: CBD Cartridge & Battery – Original Blend
May 19, 2020 | Romy
DR. DABBER CBD CARTRIDGE & BATTERY COMBO - ORIGINAL BLEND
Pros
Relieves anxiety
Eases pain
Good deal
Natural ingredients
Great flavor
DR.DABBER CBD CARTRIDGE & BATTERY COMBO – ORIGINAL BLEND
Product Review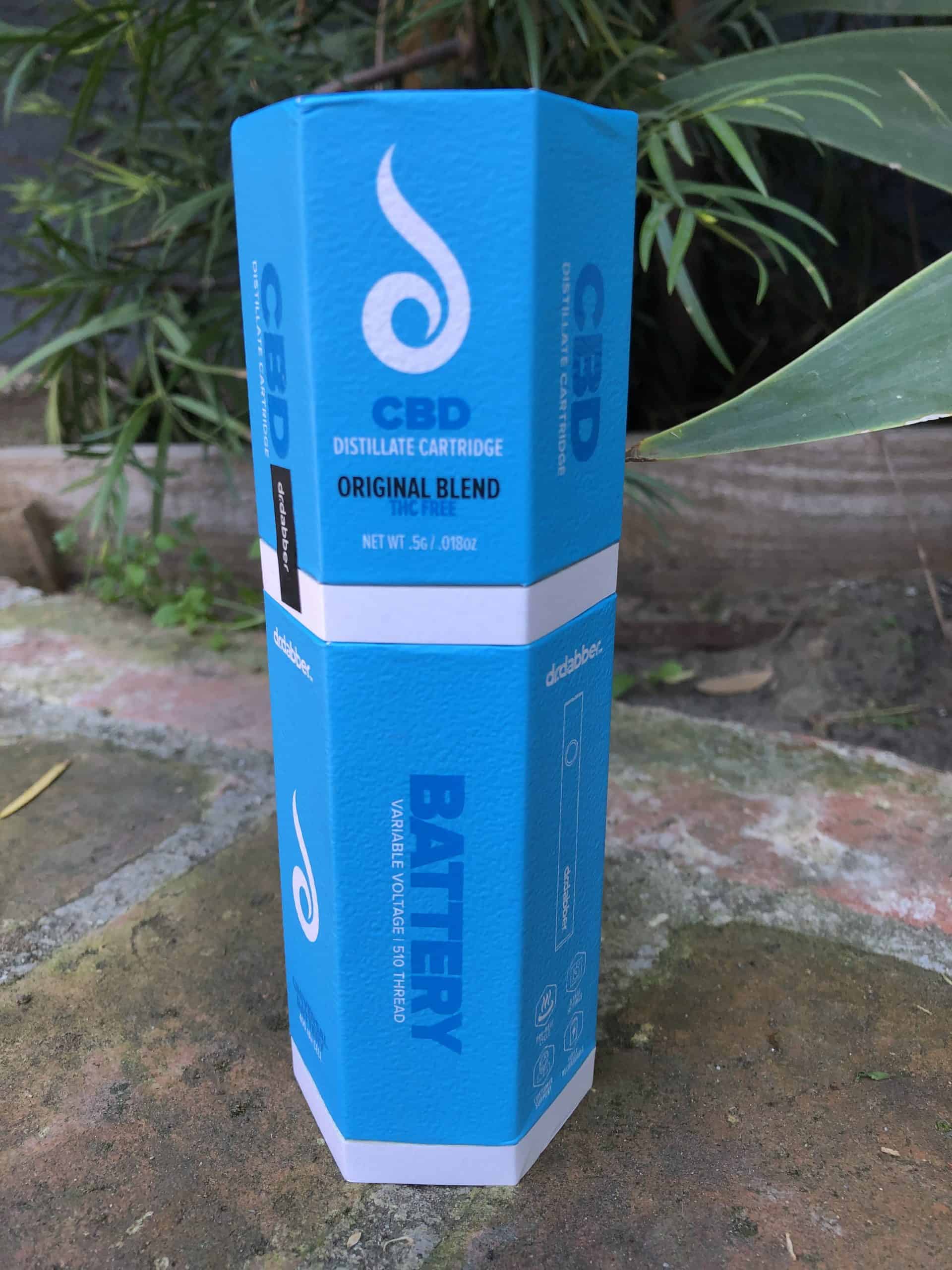 Brand Overview: DR. DABBER
If you're looking for a reliable and effective way to take CBD, look no further than Dr. Dabber's award-winning line of vaporizers. The folk behind Dr. Dabber have spent years researching and developing safe and potent ways to vape. They offer a variety of vaporizers, such as the award-winning Aurora vaporizer pen and the Boost e-Rig. They also have a patent-pending for something called SWITCH, that utilizes induction heating technology. You can rest assured that anything you purchase from Dr. Dabber is reliable, and if you find you need help with how to use your vaporizer, Dr. Dabber's award-winning customer service team is there to answer all your questions.
Products: Vaporizers, Vape Pens, Atomizers, Glassworks, Accessories, Apparel Bundles.
Price Range ($-$$$$): $$
---
About DR. DABBER CBD CARTRIDGE & BATTERY COMBO – ORIGINAL BLEND

Dr. Dabber's original blend is infused with the company's signature terpene combination of citrus, candied fruit, and sour seeded berries. The battery combo comes with a cartridge that contains 250 mg of CBD, a universal battery, and a USB charger. Color-coordinated purely for aesthetics, you'll find Dr. Dabber's cartridge and battery in a lovely blue. This CBD vape cartridge is THC-free, so it won't get you high, and contains broad-spectrum cannabinoids like CBC, CBG, and CBN.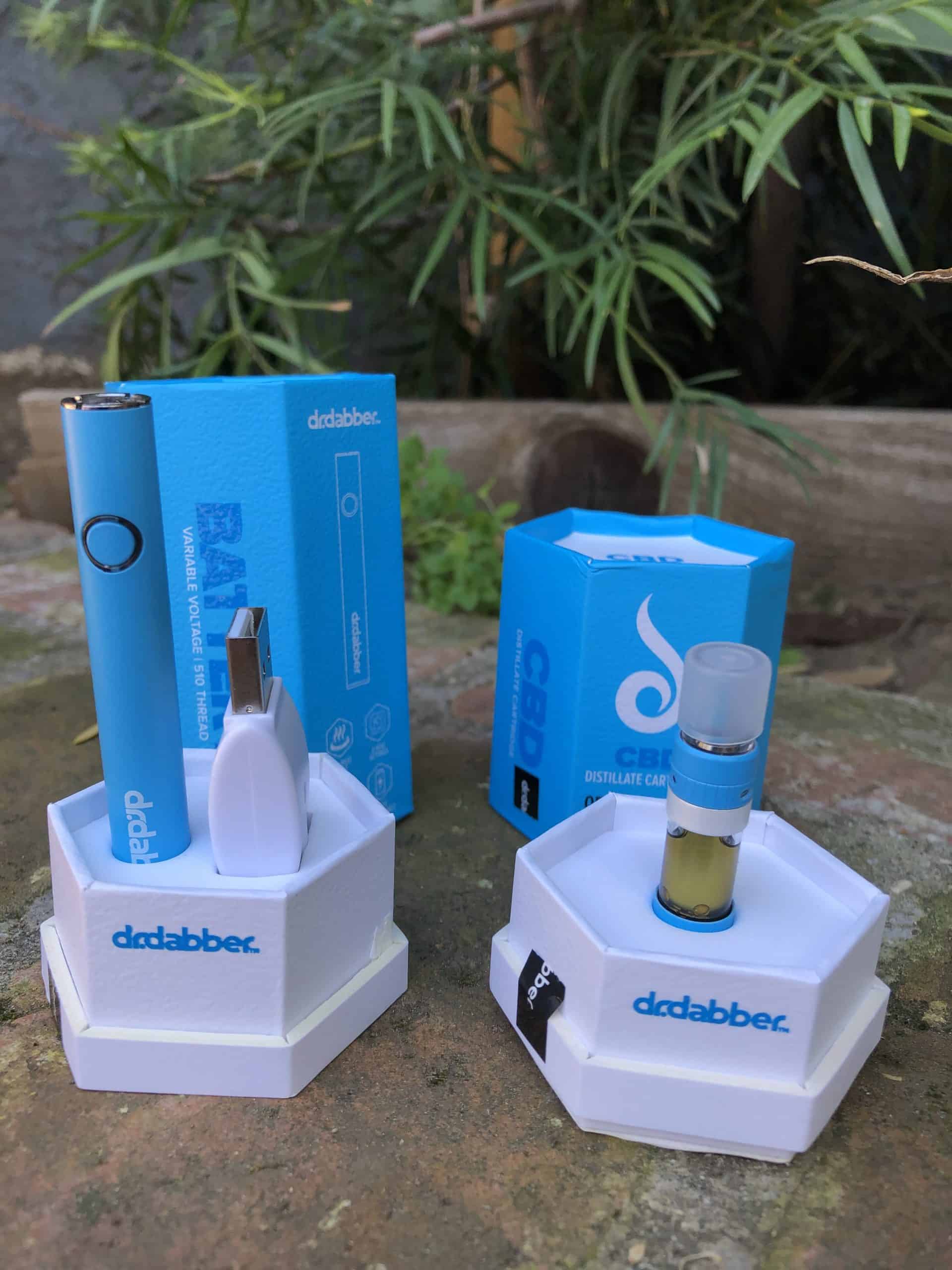 ---
DR. DABBER CBD CARTRIDGE & BATTERY COMBO – ORIGINAL BLEND Specifications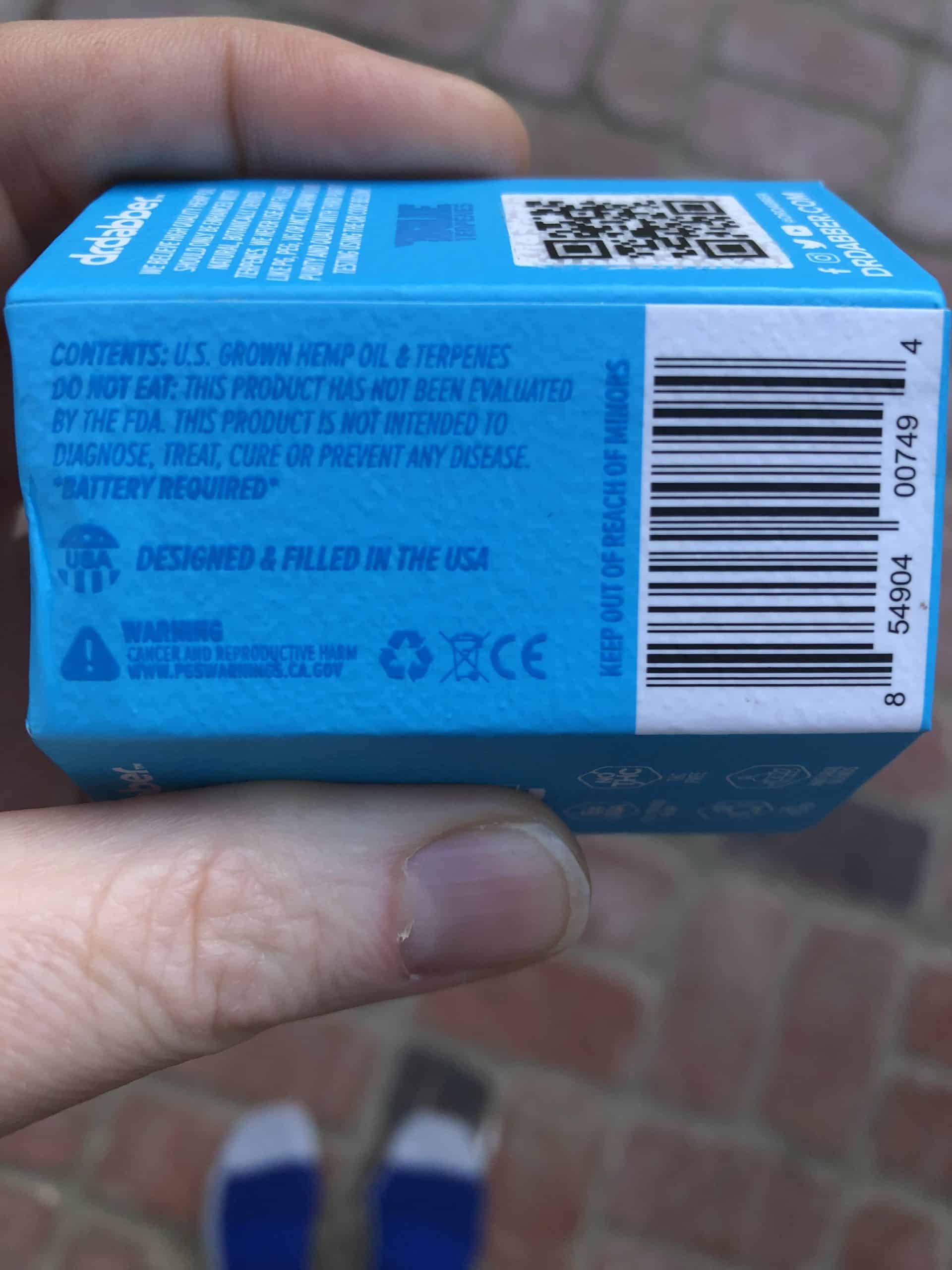 Ingredients: Broad-Spectrum Hemp Distillate including CBD, CBC, CBG, CBN, and Signature Terpene Blend
250 mg CBD
THC-free
Does NOT contain PG, PEG, VG, or MCT
40 – 50 uses per cartridge
USB charger included
---
How We Tested the DR. DABBER CBD CARTRIDGE & BATTERY COMBO – ORIGINAL BLEND

I'm a 40-year-old who has gone back to school to earn my Ph.D. to become a professor. The reason for the later-in-life career change is I've become disabled by way of a few different injuries that leave me in constant pain. Sitting and lying down can be torturous. Since being in school requires a good deal of sitting, I've turned to CBD time and again for relief. I enjoyed the effects of Dr. Dabber's Fresh Blend cartridge but didn't care for the flavor. I wanted to give their Original Flavor a try because I knew it would be effective in relieving pain, but I was hoping it would have a taste more to my liking. I took a couple of hits before class and set off for school to see if sitting was made any easier.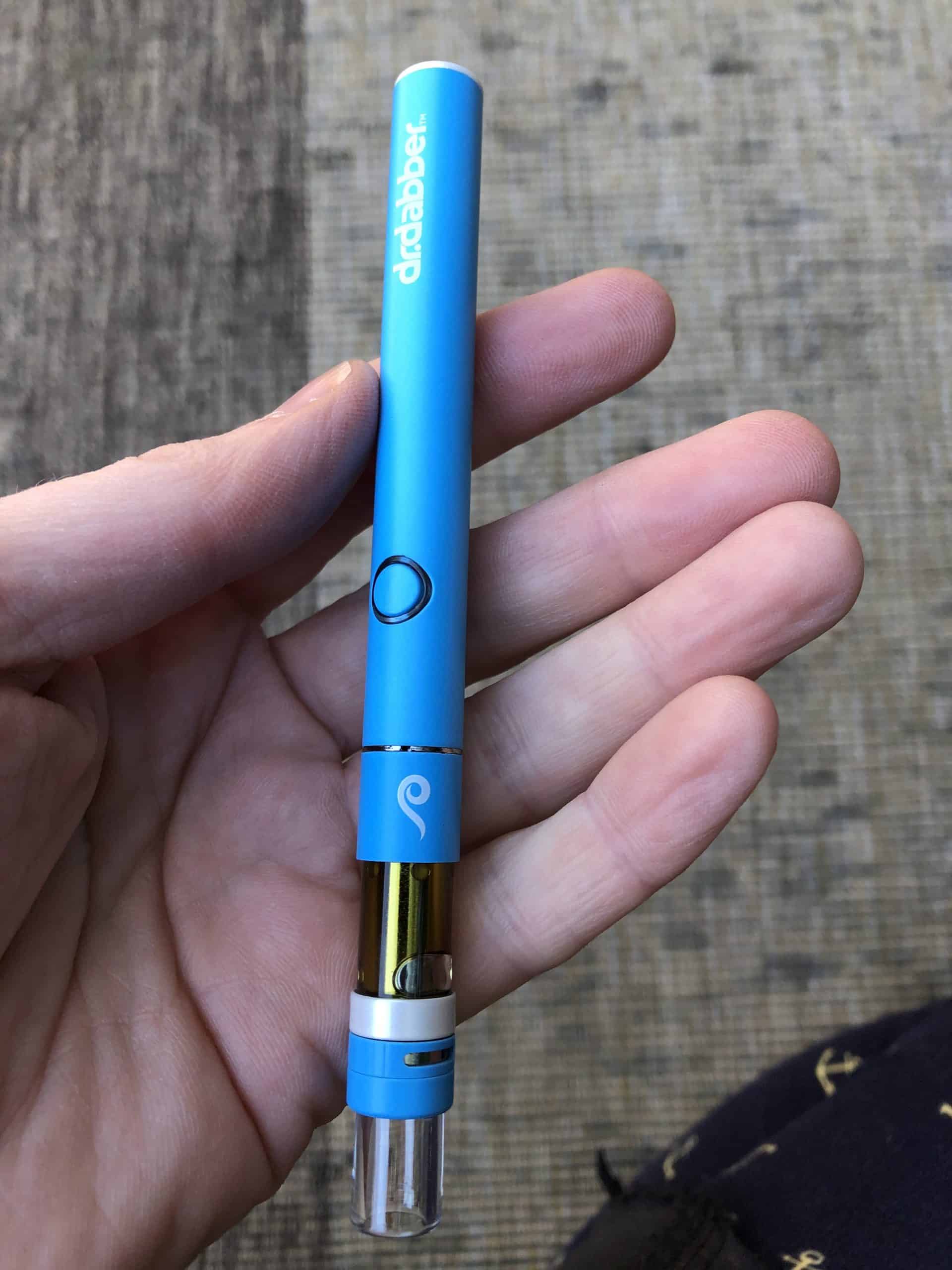 ---
How the DR. DABBER CBD CARTRIDGE & BATTERY COMBO – ORIGINAL BLEND Worked for Me
Dr. Dabber's Original Blend was equally effective as their Fresh, except, in my opinion, it tasted a whole lot better! Taste is subjective, however, and when my friend tried them both, she liked the fresh better. The candied fruit and sour seeded berry terpenes hid the bitter weedy flavor. The CBD helped relieve the inflammation from arthritis and took the edge of the pain from radiculopathy (from nerve compression syndromes and a tumor surgery). I found I was able to sit longer in class before needing to stand against the wall in the back. I was able to focus more on the lesson, and not on the pain.
---
Useful and Unique Things to Know About DR. DABBER CBD CARTRIDGE & BATTERY COMBO – ORIGINAL BLEND
The vape cartridge does not contain PG (propylene glycol), PEG (polyethylene glycol), VG (vegetable glycol), or MCT (medium-chain triglycerides), which are additives often used in combination with CBD to aid in the vaping. While they're mostly safe, there are risks inherent with all of them, and it's cool of Dr. Dabber to find a way to make a vape cartridge without them. PG and VG risks include throat irritation and dry mouth. PEG can become a carcinogen if heated improperly. MCT, if smoked, could lead to lipoid pneumonia. With Dr. Dabber, you don't have to worry about any of that.
---
DR. DABBER CBD CARTRIDGE & BATTERY COMBO – ORIGINAL BLEND Ratings

In the next sections gradings from 0-100 on our review, these grades add up to give the product's overall score.
PRESENTATION • 90
Complicated but informative packaging.
RELIABILITY • 100
Works great to ease anxiety and pain.
QUALITY • 100
Effective and all-natural.
FLAVOR / SMELL / or EASE OF USE • 100
Great flavor and easy to use!
VALUE • 95
Good price.
---
How DR. DABBER CBD CARTRIDGE & BATTERY COMBO – ORIGINAL BLEND Stacks Up Against the Competition

I taste-tested all of the Dr. Dabber flavors and this one reigned supreme as my favorite. The Fresh blend tasted a little too natural for me. The Robust and Citrus had some nice flavor, but the Original was my personal favorite. I'll talk more about the Robust and Citus when I do my reviews for those. Another great-tasting vape cartridge is BioCBD+'s I AM PEACE flavor. Both Dr. Dabber and BioCBD+'s blends hide the taste of cannabis and don't leave as much of an aftertaste. Dr. Dabber is the better deal though.
---
Saving Money With our Verified DR. DABBER Coupons
Save money on all CBD Vape Oils here at Save On Cannabis the World's largest online cannabis coupon code directory.
---
Disclosure: I received these products gratis so that I could try them and then share my honest opinion with the SOC community. I am employed by Save on Cannabis to write honest reviews and provided a flat rate payment for the writing of the review. SOC may receive recurring affiliate payments for purchases made based on this content.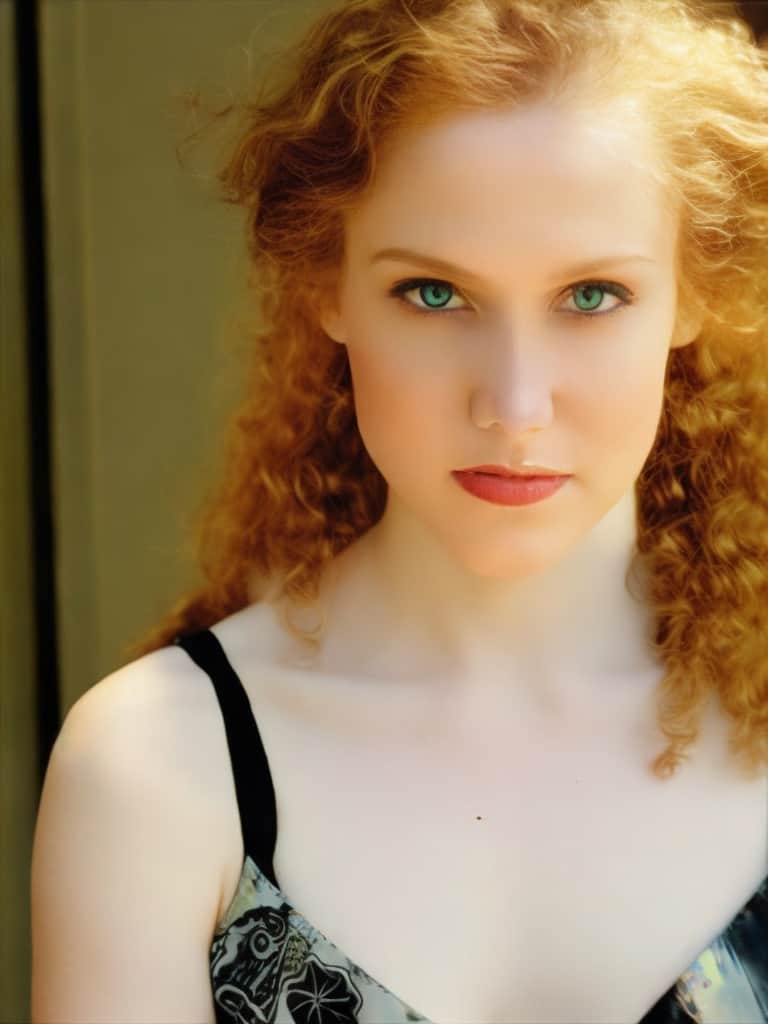 A medicinal cannabis user, utilizing the power of the plant to ease the pains and stresses from long standing conditions that other over the counter or prescriptions could not fix or weren't a natural option like cannabis.  Also, has a background in working directly in the cannabis industry in California within various dispensaries.
Looking for more rest eye, in this Trokie Fast Melt Tabs with Melatonin review we test them out to help our insomnia filled nights.
In this Cannabis Life Delta-8 Gummies review our team tests out the high from this legal hemp product. Also save with Cannabis Life coupons.
Interested in CBD for sleep? This Infinite CBD review is for their P.M. Capsules which contain CBD and a dose of melatonin. See how it worked for us!