cbdMD Review: cbdMD Max Capsules
Dec 7, 2022 | Save On Cannabis
CBDCBD Pills & CapsulesHemp Delta 9 THCHemp Delta 9 THC Pills & Capsules
cbdMD MAX Pills
Pros
Tasteless
Convenient
Accurate Potency
A Botanical Formula
Subscription Savings
Cons
Expensive if Bought w/o Subscription
Kind of a Large Tablet
Other Reviewers Prefer Effects of the Gummies
We made a video version of this review, the text below is a summary of the review.  Click here to see the video version of this review if above does not work.
---
cbdMD Overview:
cbdMD is a publicly listed hemp retail company that was founded in 2015 and is located in Charlotte, North Carolina. Their focus is especially formulated high potency products at a very low price point. The cbdMD shopping catalog features the full range of products including Delta 9 THC gummies, CBD gummies, oil capsules, and topicals in a range of broad and full spectrum potencies and formulations, as well as CBD drink mix in a variety of flavors as well as CBD tinctures, topicals and treats formulated for cats and dogs.In terms of cbd, MD's overall price range for their products, I'd give them $2 signs out of $4 signs. I think considering how potent their products are and how many different options they have compared to the rest of the market, their products are really affordable. Also, cbdMD uses a hundred percent USA Grown hemp flower and provide third party lab results on all of their products and offer a 60 day money back guarantee.
They're affiliated with the US Hemp Round Table Natural Products Association and the Hemp Industries Association and are GMP certified, overall, I think that cbdMD is worth checking out. They're a seasoned and experienced CBD brand that's offering high quality hemp products at a great value. Now without further ado, let's go ahead and zoom into today's cbdMD product review.
---
About cbdMD MAX Pills:
The cbdMD MAX tablets from cbdMD come in a 60 count bottle and a 120 count bottle and two tablets equals 200 milligrams of CBD and 4 milligrams of THC. 
The tablets also contain full spectrum cannabinoid compounds that support the functionality of CBD and THC together. Along with the cannabinoids this pills also contain a proprietary botanical blend that has been clinically tested to help joint stiffness and discomfort called Univestin. Univestin includes Chinese skull cap extract and hardwood extract. The tablets ingredients also include sorbitol, silicon dioxide and magnesium steroid. 
---

cbdMD MAX Tablets Ingredients & Instructions:
Ingredients Per 2 Tablets:
Univestin 250mg

Full Spectrum Hemp Extract 220mg

Sorbitol

Silicon Dioxide

Magnesium Stearate
For the suggested use, it says to take two tablets daily or as needed.

---
Lab Results of the cbdMD MAX Capsules:
READ THE cbdMD MAX Tablet Lab Results >
All right, so in this part of the review, we're gonna go over the cbdMD max tablets third party lab results provided by SC Labs. The lab results for these pills are going to tell you everything that you'd need to know about the product as well as when it was tested, everything that it was tested for and exactly what is in the product. 
On the first page, you get all of the basic general information about the product and the testing results for everything that was done.As you scroll down this first page, you see the cannabinoid analysis where we see a total THC of 4.4 milligrams per unit, as well as 222 plus milligrams of CBD per unit.  A unit for these results is equal to two tablets so this is slightly higher than the amount shown on the container.  The difference in the lab results to the bottle details is an extra 22mg of CBD and .4 mg of THC per two tablets.
Further down in the results you will see the safety analysis, this summarizes everything that they tested for in a Pass or Fail system, including THC per unit mycotoxins, foreign material, THC per serving, residual solvents, water activity, pesticides, and heavy metals. Within the lab results you can read the full cannabinoid analysis including CBG, CBD, CBDv, and THCv. The totals for the other cannabinoids in the results were: 0.538mg of CBG, 0.226mg of CBC, and 0.797mg of CBDv.
The last part of the report tells us all of the different potential contaminants that were tested for this product, which these pills passed with no issues.
And out of all the third party labs I've seen this is one of the most extensively tested products on the market.
---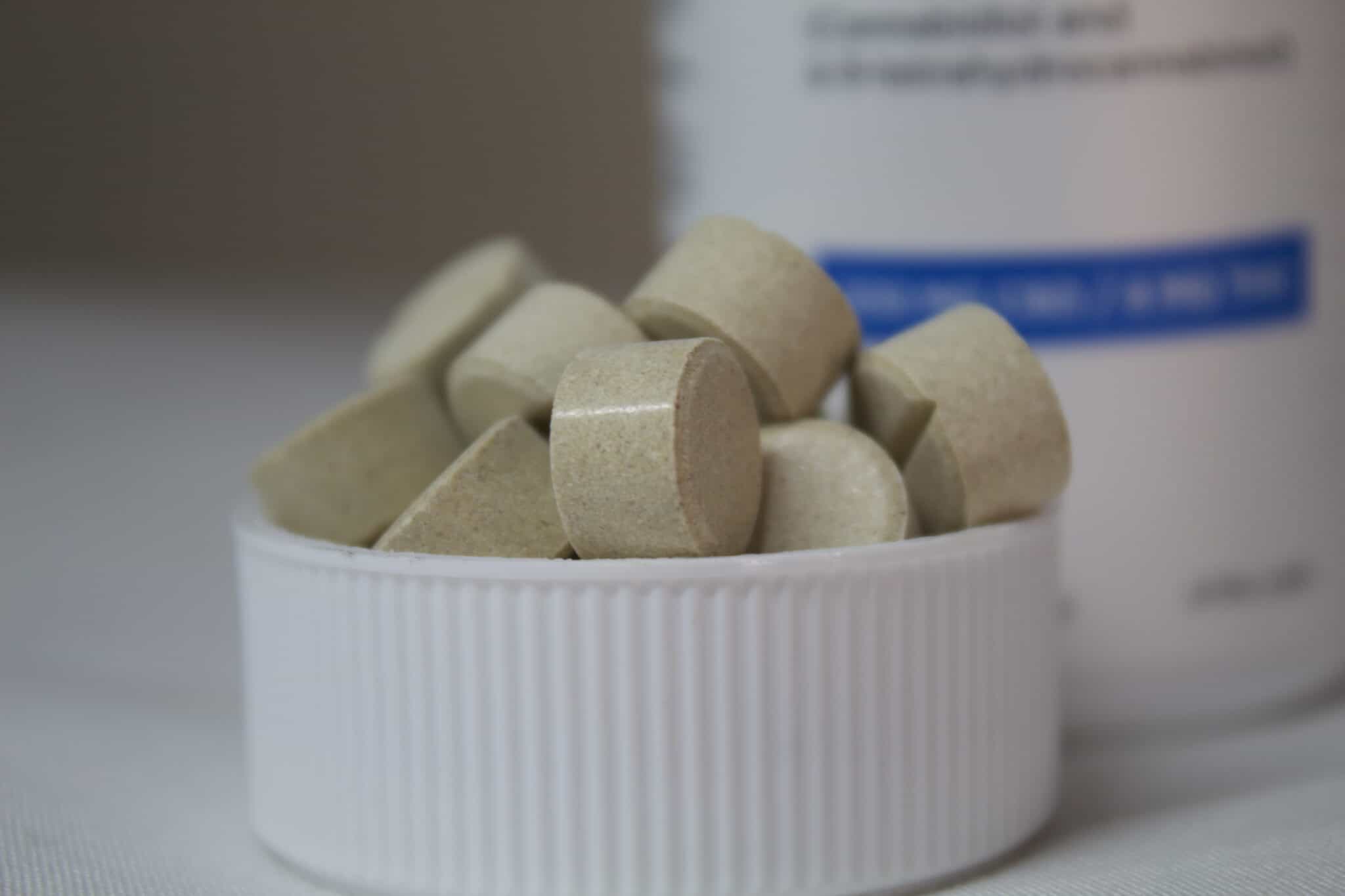 Unboxing Initial Thoughts of the cbdMD MAX Pills:
I was really excited to try these tablets from cbdMD because I had never tried a high potency CBD tablet like this before, especially one that had a proprietary blend of botanicals designed to help with comfort and stiffness and the joints and things like this. I thought that was really interesting and I wanted to see what its effects might be. Overall, I was hoping for a calm sense of focus, stress relief, and a mood boost, which is typically what CBD is known for. My partner also tried the CBD tablets as well, and her goals were pain relief, stress relief and comfort. 
The packaging was professional and felt pretty close to what you'd even expect from a pharmaceutical level product.
---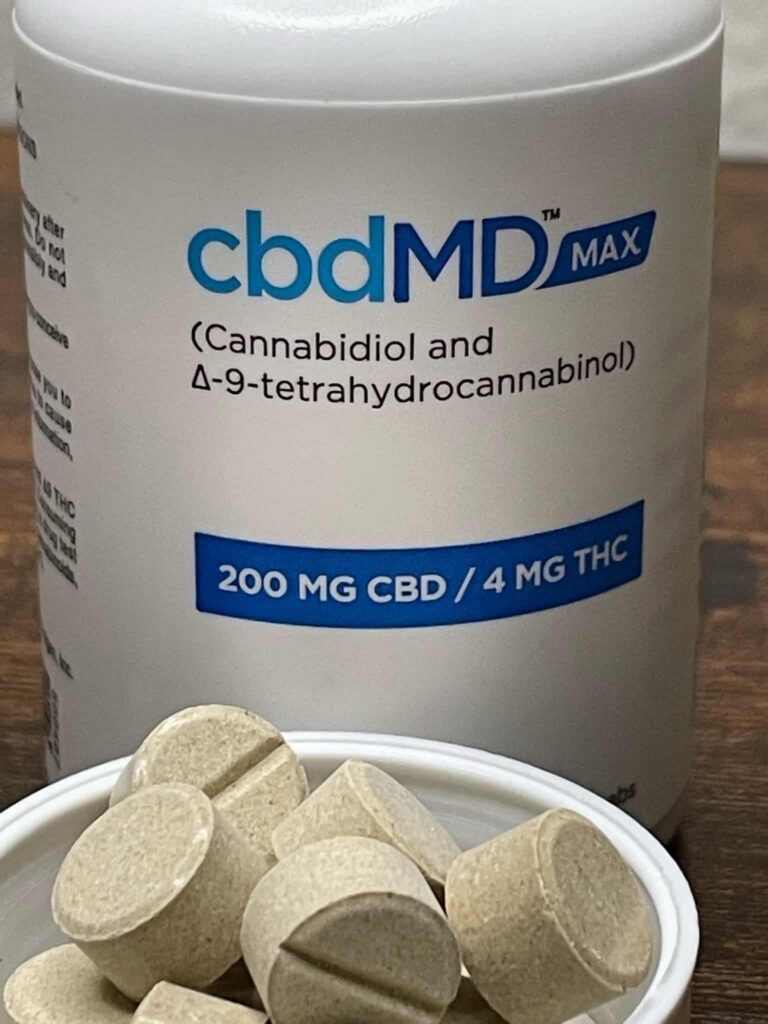 How We Tested the cbdMD MAX Tablets:
So both I and my partner tested these tablets. I started out by taking one tablet during the day and my partner started out by taking half of one tablet during the day. Now I know the suggested serving size is two full tablets for 200 milligrams of CBD, but we wanted to test these at lower potency first and work our way up to the full suggested serving size just to see how this products truly affected us. 
I really enjoyed the effect of these tablets. They gave me a strong sense of calm focus during the day while I was working. I felt more comfortable and less fidgety at my desk during the day. And overall, I felt like I had a sense of calm focus and I wasn't quite as jittery after my second cup of coffee either.  I really enjoyed the effect of these tablets because there was no drowsy feeling like I've had with CBD oils and CBD tinctures that immediately hit and you get really, really drowsy. 
So I think these tablets could work anytime of day for you, the botanical herbs and THC all worked really well together.  I really do think that the tablets help you to feel more comfortable in your body. Whether you're sitting in your office chair at your desk for long periods of hours, working on creative project,s or you're working on a lot of fitness and exercise as an athlete, I think that the tablets are really gonna help you to feel more comfortable in your muscles and your joints and nerves. 
Now, some of my partner's goals and needs from CBD overlap with my own, but she also had her own needs and goals from CBD. The tablets really helped her with her menstrual cramps, her physical comfort and her overall mood, as well as appetite and nausea. She deals with certain pain related to her digestive system and her joints, she said that she hasn't really had these issues since she's been taking these CBD tablets. 
This is our anecdotal experience with taking CBD tablets and it's not designed to be any kind of medical advice at all. There's still a lot of research needed on CBD and THC to understand its full effect on the body and certain health conditions. Overall, both of our experiences with these CBD tablets were super positive. CBD tablets helped us to keep low stress levels, a strong sense of comfort and an overall sense of wellbeing. So these CBD tablets definitely work for my needs and I would definitely buy them again.
---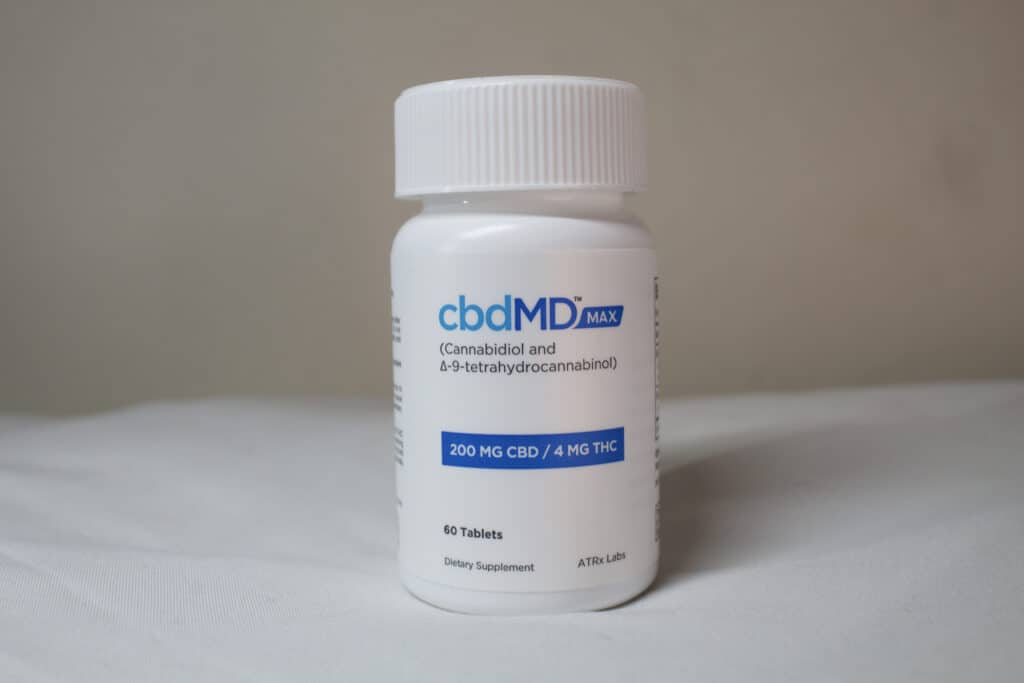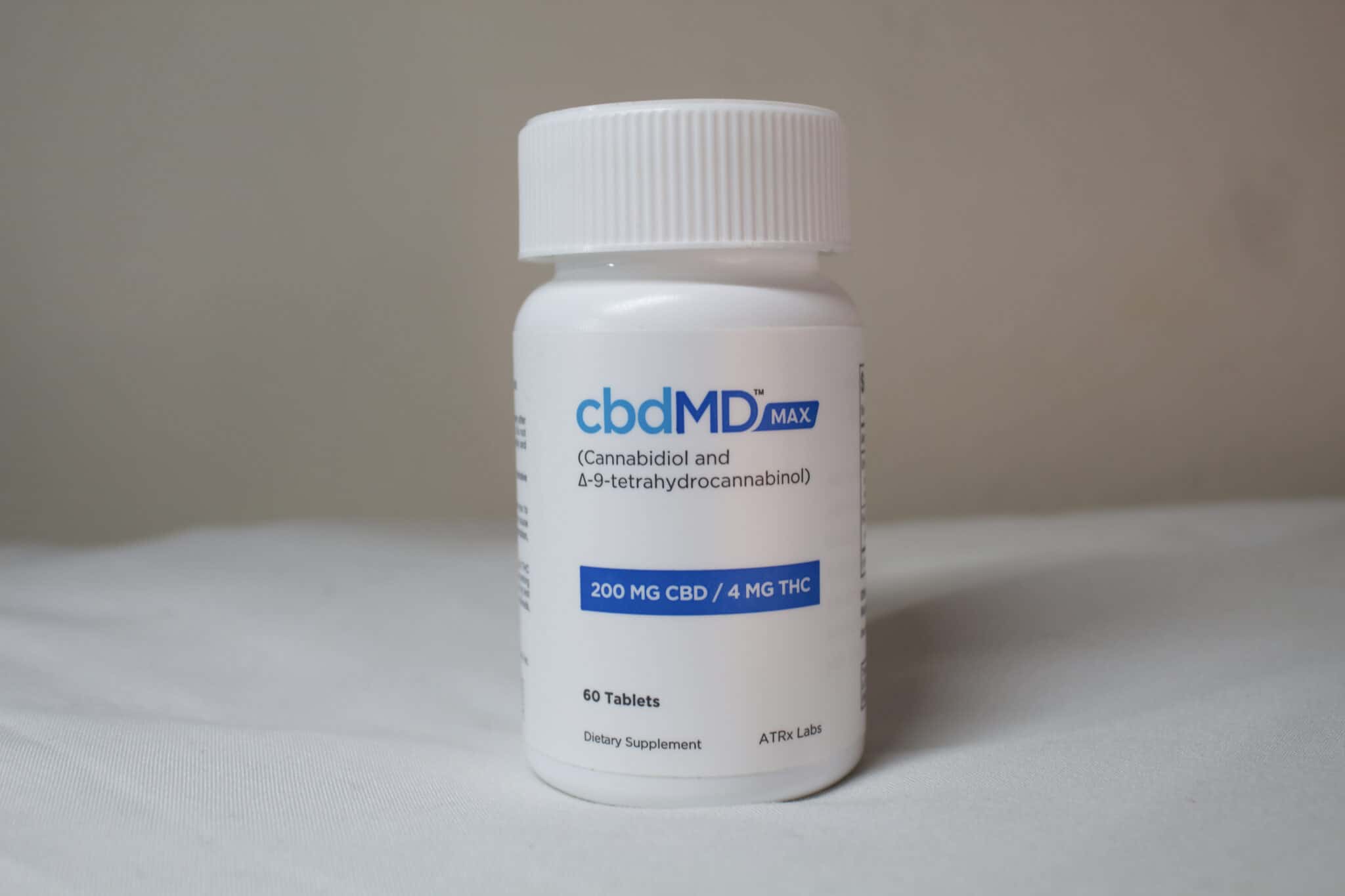 cbdMD MAX Ratings:
So in this part of our review, I'm gonna give you my personal ratings from zero to a hundred.
Presentation • 100
First up is presentation, and we give these CBD max tablets 100 out of 100. The presentation on these CBD max tablets is immaculate. 
The branding and the label is perfect. It's got a childproof container and the bottle reminds you of a legitimate pharmacy product and it's really nice. I think they did a really good job with the packaging and the pills as well. I think overall the presentation is amazing and the information is there, and this is a certified, awesome, cool product. It even comes with the QR code that links you to the batch results in the third party labs. 
One thing I noticed that people didn't like in verified purchaser reviews was about the presentation of the cbdMD MAX tablets is that the pills are kind of large and might be difficult for some people to swallow, but I didn't think that warranted taking off points. 
Honestly, the packaging, the product, and the presentation shows that this product is safe, it's accurately labeled and it's made with amazing ingredients.
Reliability • 100
I gave the cbdMD Max tablets a reliability score 100 out of 100. I think that this product has a really reliable and consistent effect thanks to its really precise manufacturing and formulation. The tablet form is really convenient and the childproof bottle is really familiar and portable as well. 
These are really reliable because you can take these tablets anytime of day without getting overly drowsy. So that means you can take these anytime of day to kind of help your mind relax and clear the brain fog and help your muscles relax a little bit, but without feeling drowsy or lethargic or unmotivated. 
Quality • 100
Once again, I gave the cbdMD MAX capsules 100 out of 100. I gave the cbdMD MAX tablets 100 out of 100 because they really didn't miss anything.
They hit all the marks, a 100 out of 100 on the head with this product, and I really love it. I think it's amazing. I think it's perfect and I want it forever. 
Flavor • 100
Next up, we have flavor. I had to give the CBD max tablets 100 out of 100, not because they taste good, but because they don't taste like anything. And that's really what you want in a tablet. 
You really don't want it to taste like anything. You don't want to have an aftertaste or some kind of taste from your tablet. Generally, people just want to pop a tablet down with a glass of water and bada bing bada boom and keep moving through their day. If they wanted to taste it, they would have an oil or a gummy. If you want tablets, you don't want to taste it.
Just to summarize, they get 100 out of 100 because they don't have flavor or taste just like a tablet's supposed to.
Value • 85
I gave cbdMD MAX tablets 85 out of 100 in value. The reason I gave them 85 out of 100 is because if you buy just one bottle, the 60 count or the one 120 count, it's kind of expensive, actually…it's really expensive. But they give you a really good value proposition if you subscribe. 
If you subscribe, you get 25% off every bottle that you purchase. That's a significant discount for each bottle as well. They give you every fourth bottle that you buy completely free. So over the course of a year, you could get, if you buy a bottle every month (which you probably won't have to), but let's say you buy a bottle every month, you would get three free bottles.
That's a really, really good value, plus 25% off every bottle that you purchase. And I think cbdMD is a great company that is giving their customers lots of value and lots of loyalty discounts into their members. So although if you buy just one bottle, it's really expensive if you subscribe, if you get into their ecosystem, I believe that they're gonna give you some serious values. 
So that's why I had to take points off just because they're not offering value upfront on the one time one bottle purchase, but they are offering extreme value if you subscribe.  Also, at the bottom of this review there is a link to verified coupons which will also help.
Pros
Tasteless

Convenient

Accurate Potency

A Botanical Formula

Subscription Savings
Cons
Expensive if Bought w/o Subscription

Kind of a Large Tablet

Other Reviewers Prefer Effects of the Gummies
---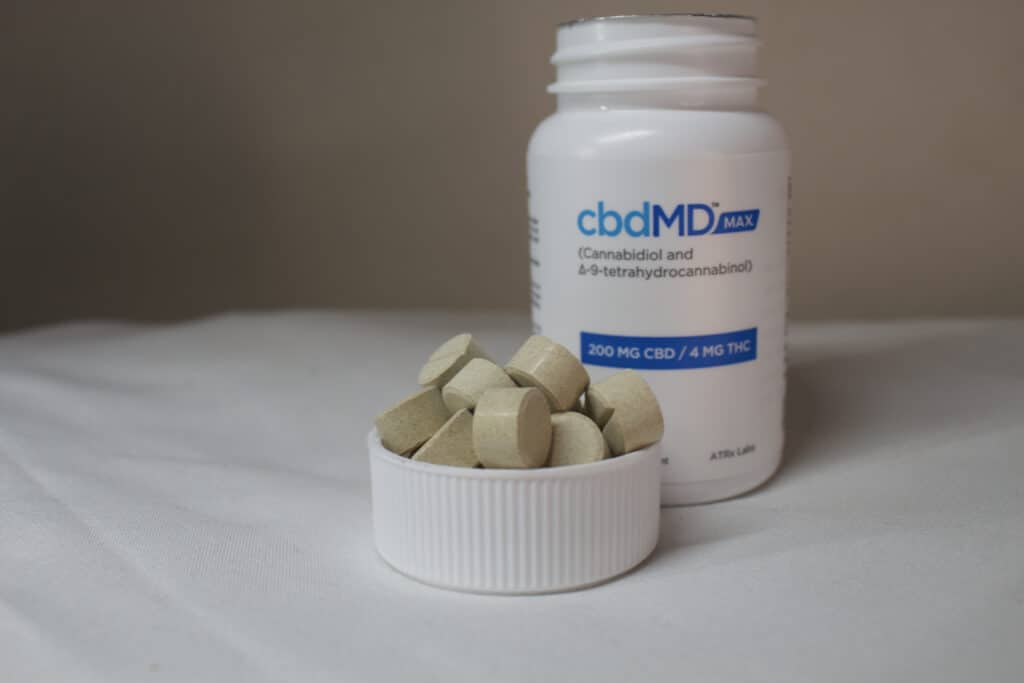 How the cbdMD MAX Pills Stack Up Against the Competition
As I said, I love these cbdMD MAX tablets and want them forever.  I recommend these for a high dose option, especially if buying through the subscription program.  The tablets do as they say without drowsiness and will work for any part of your day.  While buying one bottle may be more expensive than some competition, the dosage is likely higher than most you will find and if you purchase on the subscription can save 25% and end up with free bottles.
---
Disclosure: I received these products gratis so that I could try them and then share my honest opinion with the SOC community. I am employed by Save on Cannabis to write honest reviews and provided a flat rate payment for the writing of the review. SOC may receive recurring affiliate payments for purchases made based on this content.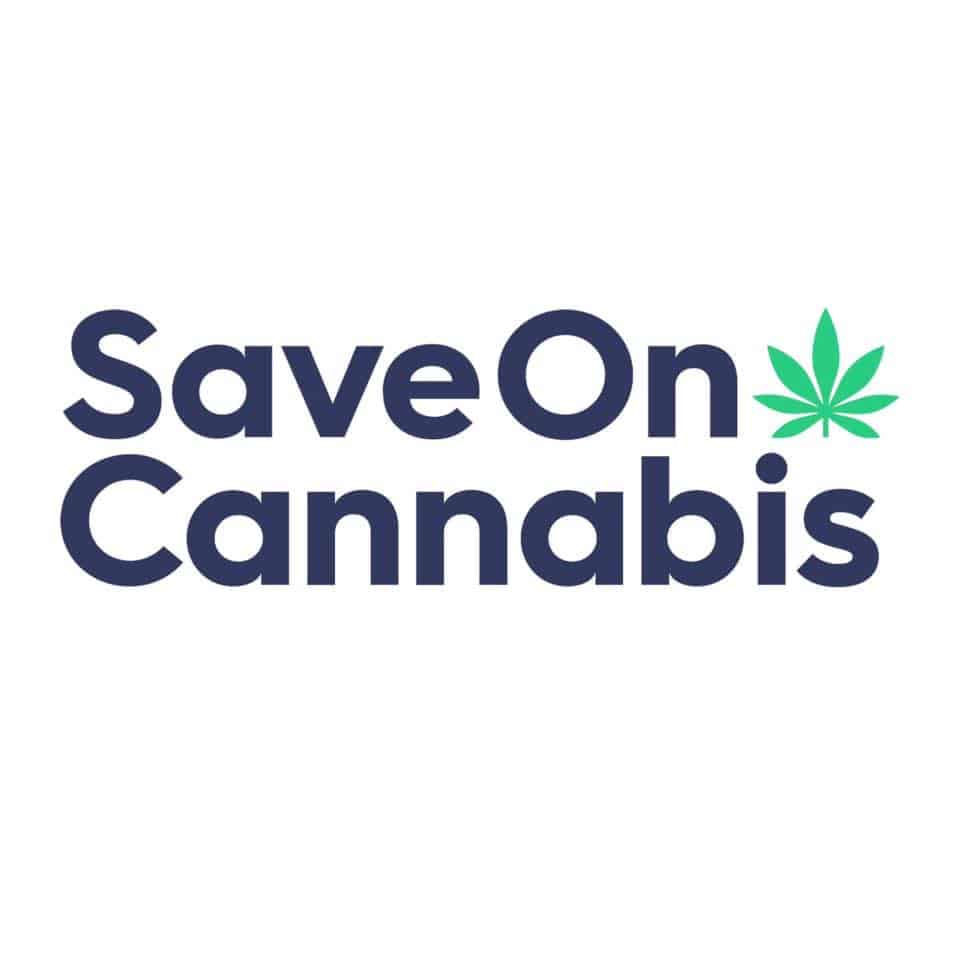 Save On Cannabis is the most trusted source for cannabis discounts and education information.  Vetted deals and clearly written articles to help you become a wiser consumer whether focused on the medical or recreational value of cannabis products.
Co Authors :
Our reviewer tests the CannaFlower Bubba Kush, see how well it met expectations. We give it a smoke to see if it is worth your money.
Veritas Farms review of their unflavored 500mg CBD tincture, see how it fit into our reviewer's daily wellness routine.
CBD Gummies are one of the most popular options, see in this Hempzilla CBD Gummies review if these are the ones you should buy.