43 CBD Solutions: 500mg Furry Friends Formula Review
Dec 4, 2020 | SOC
43 CBD: 500mg Furry Friends
Pros
Calming
Easy to use
Natural ingredients
Full-spectrum
Pet-friendly anchovy fish oil
43 CBD Solutions

Product Review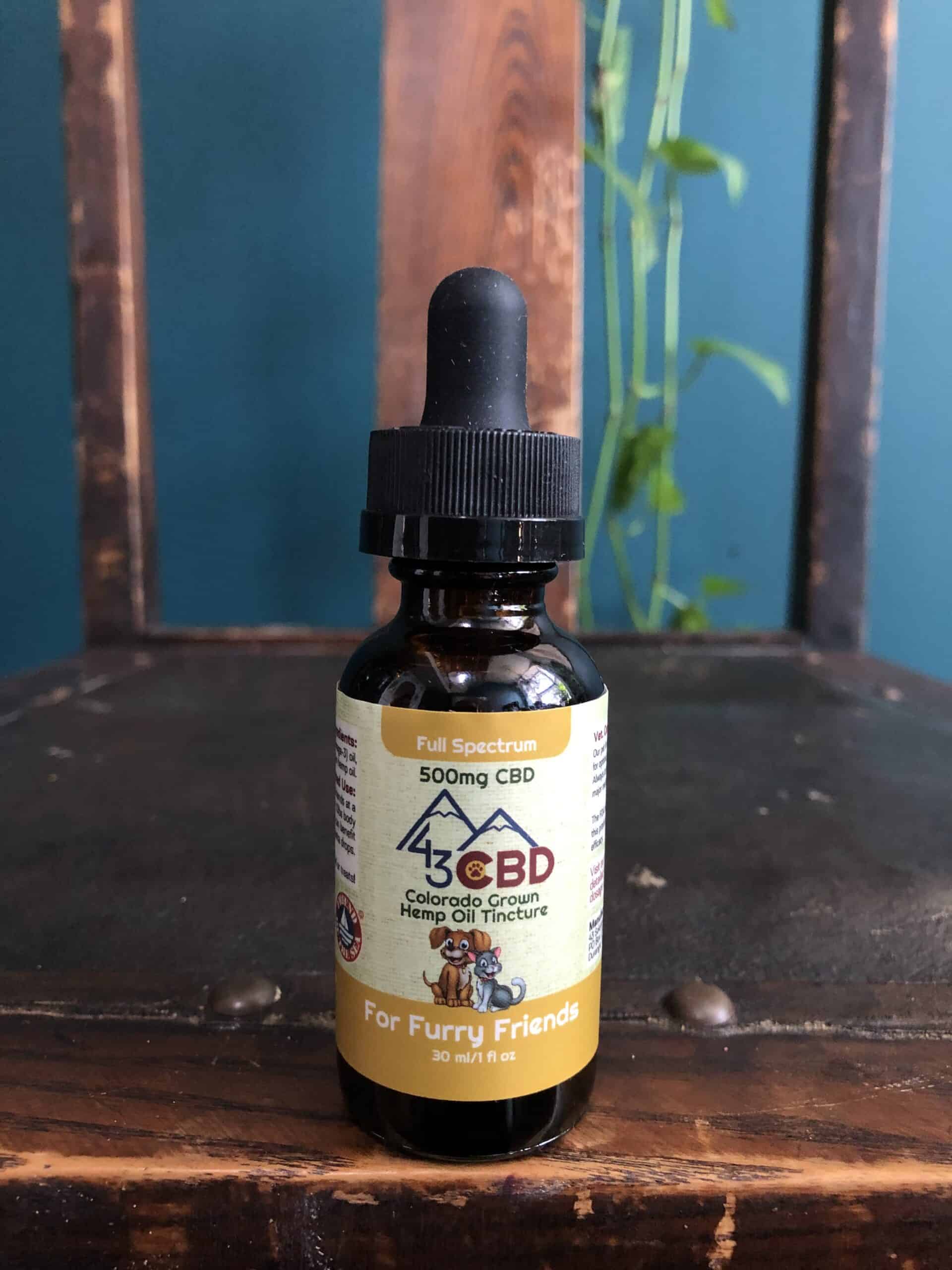 Brand Overview: 43 CBD
43 CBD's mission is to help you feel better naturally. The company was founded by some snowboarder friends from Colorado whose background and interest in chemistry, health, and wellness drew them to CBD. To create high-quality products, 43 CBD uses artisan hemp grown with natural farming practices without chemicals. They hand-select the seeds and everything is lab tested for purity, potency, and to ensure you're getting the best.
The company makes CBD oils that are full-spectrum or THC-free. They have a variety of salves as well as massage oil. 43 CBD also makes a tincture specifically formulated for dogs and cats. Whether you need something to take the edge off stress, need relief from pain, or are dealing with an over-anxious pet, 43 CBD has made it easy to find a natural and non-addictive solution.
Products: Oils, Salves, Capsules, Pets, Massage, Hats, Bundles.
Price Range ($-$$$$): $$$
---
About 43 CBD 500 MG FURRY FRIENDS FORMULA
This CBD tincture was formulated with your furry friends in mind. The formula combines 500 mg of full-spectrum CBD with sustainably harvested omega-3 anchovy fish oil to create a natural way for cats and dogs to feel better. There are no artificial flavors added to this tincture and it's free from chemicals and toxins. A little goes a long way with animals, so you only need to give your dog or cat two drops for every ten pounds of weight.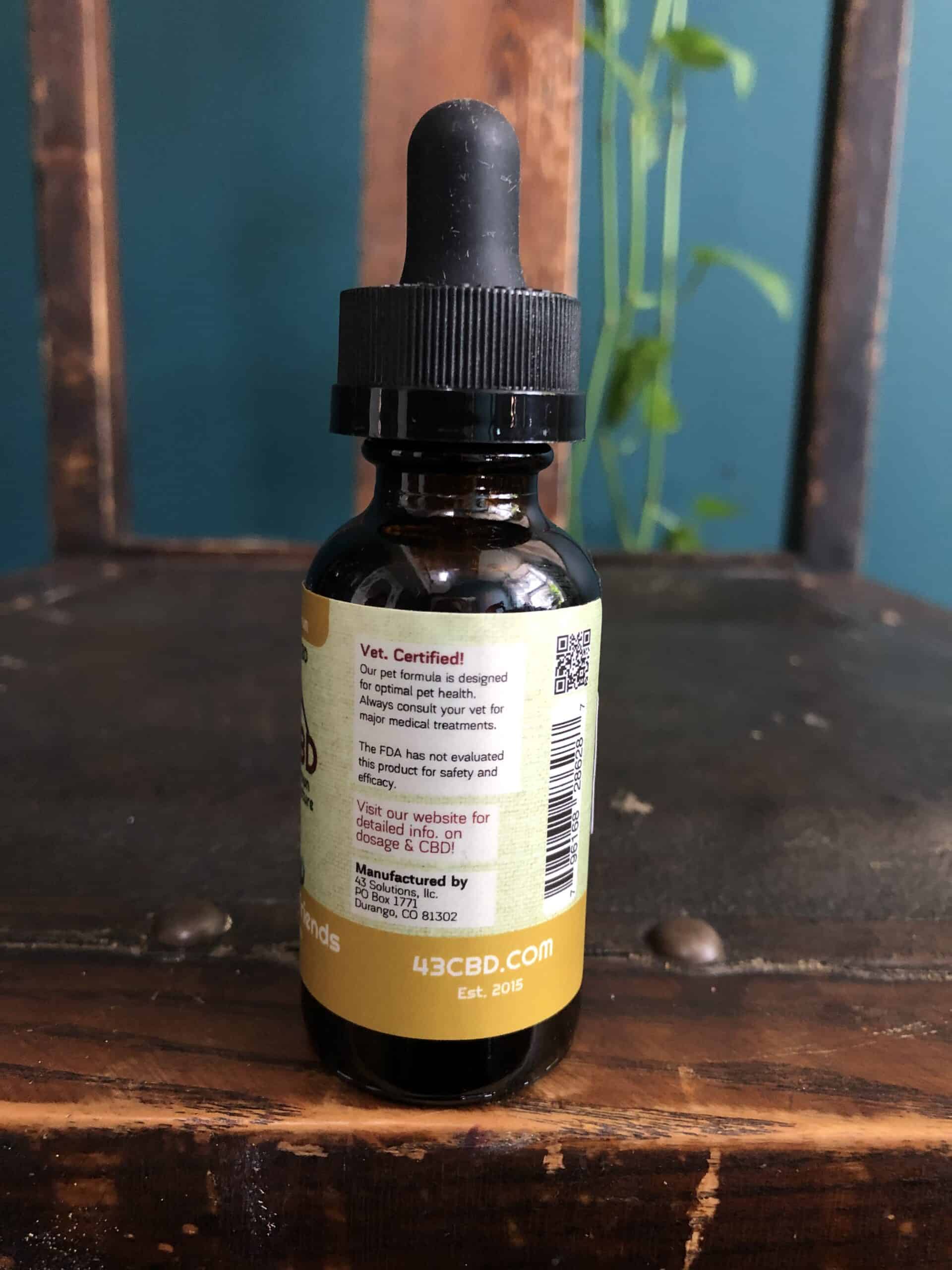 If your pet suffers from separation anxiety or arthritic pain from old age, just add the drops to their food or treats and they'll feel better in no time.
---
43 CBD 500 MG FURRY FRIENDS FORMULA Specifications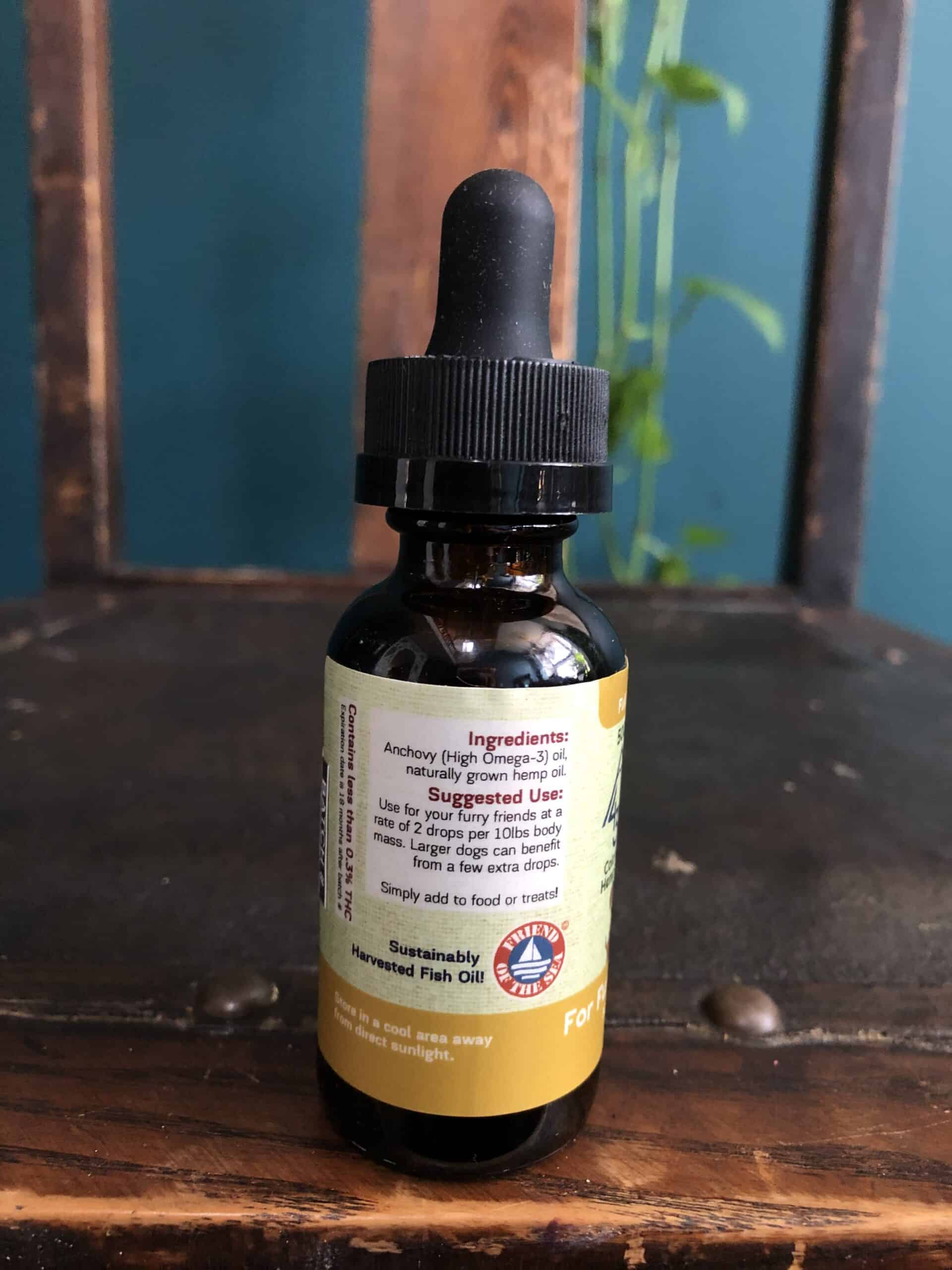 500 mg CBD
Ingredients: Anchovy (High-Omega 3) Fish Oil, Naturally Grown Hemp Oil
30 ml / 1 fl oz
---
How We Tested the 43 CBD 500 MG FURRY FRIENDS FORMULA
I live in the guest house of a wonderful family who just got a new cat. Bubbles was a street cat and she's still getting used to life indoors. She's also still getting used to living with two children under seven, whose high energy antics and desire to play with the cat when she doesn't want to play is starting to tick her off. She's swatted at them several times, and the children's parents have told them several times to leave her alone. The children need to learn that you need to let cats come to you.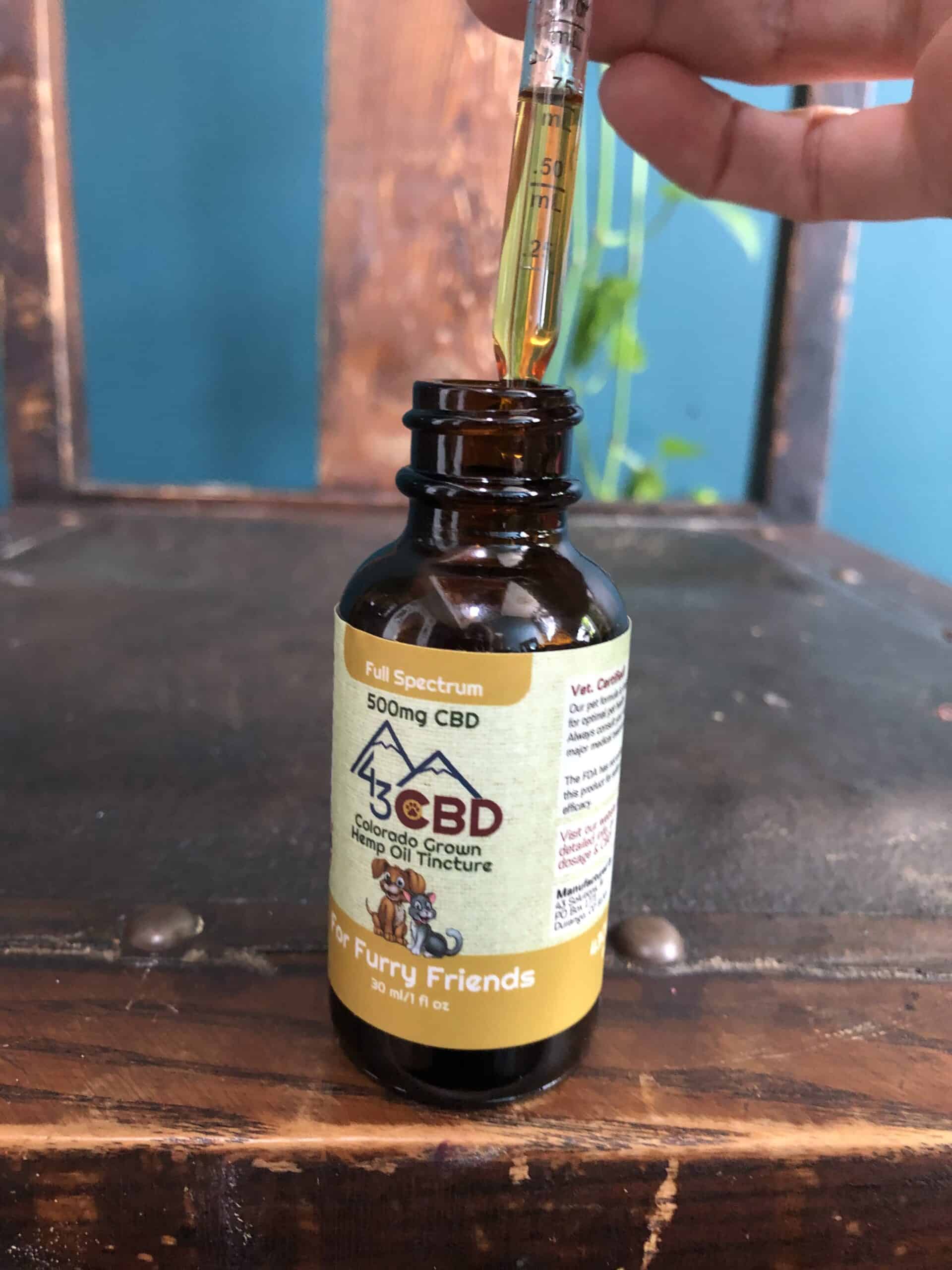 Bubbles seems anxious and has begun emulating the children's desire to run as fast as possible around the house knocking things over. I thought CBD would help calm her down, and asked the parents if it was okay to put some in her food for a week. We wanted to see if a CBD tincture specifically formulated for pets would bring her some stress relief. I added one drop of the formula to her breakfast, then another drop for dinner.
---
How the 43 CBD 500 MG FURRY FRIENDS FORMULA Worked for Me
I was worried Bubbles wouldn't eat her Furry Friends Formula-dosed food because my sister's cat would sniff her CBD-dosed treats and walk away. She just couldn't handle the taste. When she got old and could have really used the CBD, my sister was able to put the drops directly in her mouth and we could see a difference. She seemed like she was in less pain.
Maybe it's the flavor of anchovies, but Bubbles seemed to love her CBD-dosed meals. I could notice a difference in her energy right away. She seemed more calm and cuddly. I had never seen her approach a human and want to sit in their lap for pets, but with the help of this tincture, she let down her guarded street cat persona and showed some love to her human family.
---
Useful and Unique Things to Know About 43 CBD 500 MG FURRY FRIENDS FORMULA
I've tried out a few CBD pet products and this is the first one that contains omega-3 anchovy fish oil. Anchovies are extremely oily fish and contain a ton of omega-3 fatty acids which is known to lower cholesterol. It's also high in protein. This stuff is often given to pets to promote good heart health, make their fur silky, and can reduce itchiness. The fish oil in combination with CBD can help with your pet's arthritis and boost their immune system.
---
43 CBD 500 MG FURRY FRIENDS FORMULA Ratings
In the next sections gradings from 0-100 on our review, these grades add up to give the product's overall score.
PRESENTATION • 90
It's unclear how much CBD is in each drop.
RELIABILITY • 100
Calming.
QUALITY • 100
Natural ingredients.
FLAVOR/SMELL/or EASE OF USE • 100
Easy to use. Smells like anchovies.
VALUE • 75
Expensive.
---
How 43 CBD 500 MG FURRY FRIENDS FORMULA Stacks Up Against the Competition
43 CBD has impressed me with their pain-relieving Ultra Deep Tissue Salve and they've done it again with this effective Furry Friends Formula. This tincture helped a stressed-out kitty find some peace of mind amidst the chaos. The only way this product could be more competitive in the CBD pet market is to lower its price.
---
---
Disclosure: I received these products gratis so that I could try them and then share my honest opinion with the SOC community. I am employed by Save on Cannabis to write honest reviews and provided a flat rate payment for the writing of the review. SOC may receive recurring affiliate payments for purchases made based on this content.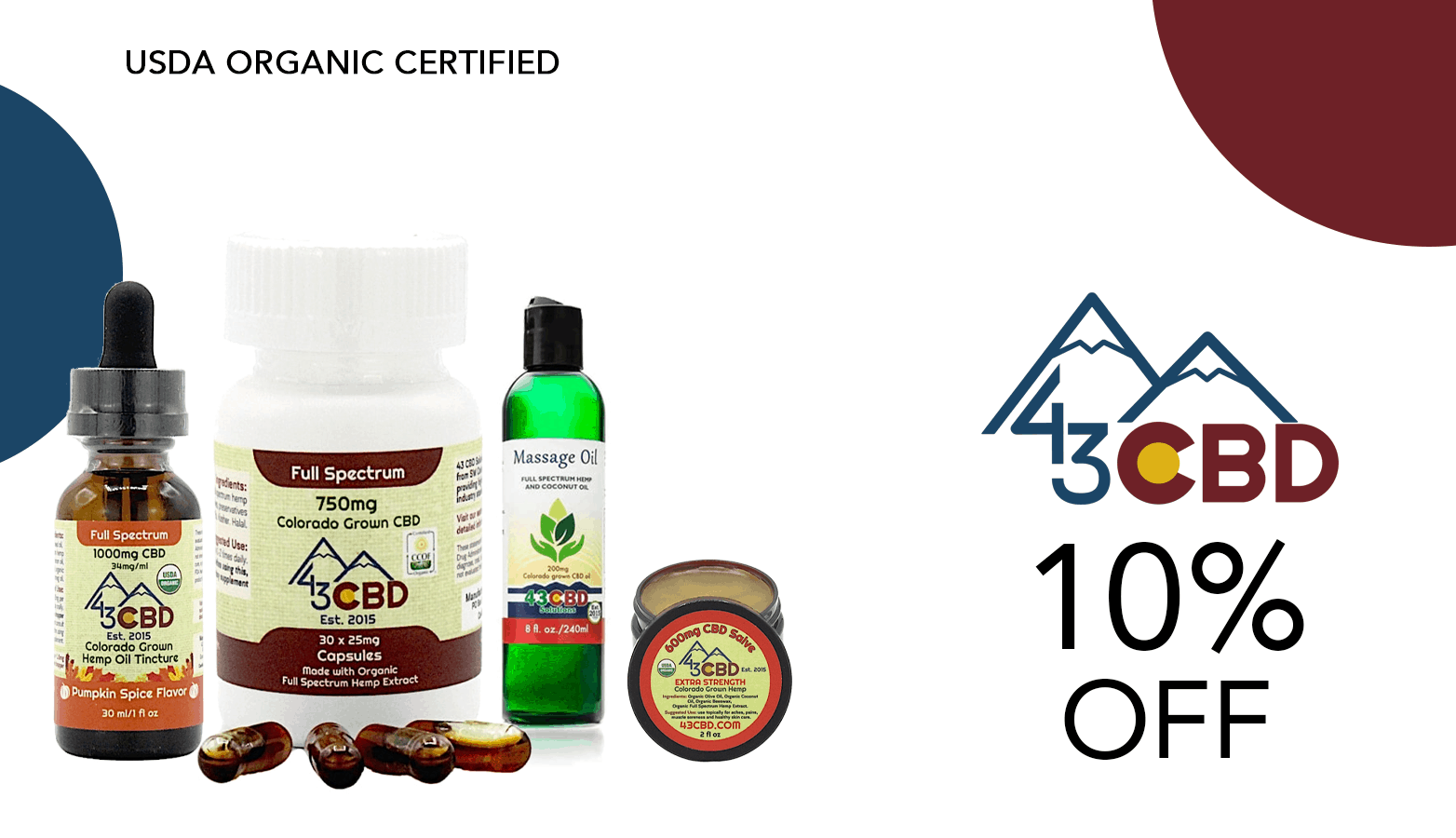 10% Off for Returning Order customers at 43 CBD Solutions! Colorado USDA Organic Grown Hemp.
Can CBD help our reviewer find their calm? In this Lock & Key Remedies review our expert tests out their 75mg softgels.
Our hands-on R+R Medicinals review tests the 1000mg Mint Hemp Tincture to see if it works reliably. Can you depend on this tincture? Find out.
In this Big Sky Botanicals review we check to see if this CBD tincture will help us de-stress and focus...oh man we hope it works.