CBD Review: Jupiter Organic CBD Drops 900mg (Mint)
Sep 12, 2020 | SOC
JUPITER ORGANIC CBD DROPS (MINT) - 900 MG
Pros
Minty fresh
Relieves stress
Fair price
Organic
Vegan
No GMO's
Jupiter Organic CBD
Product Review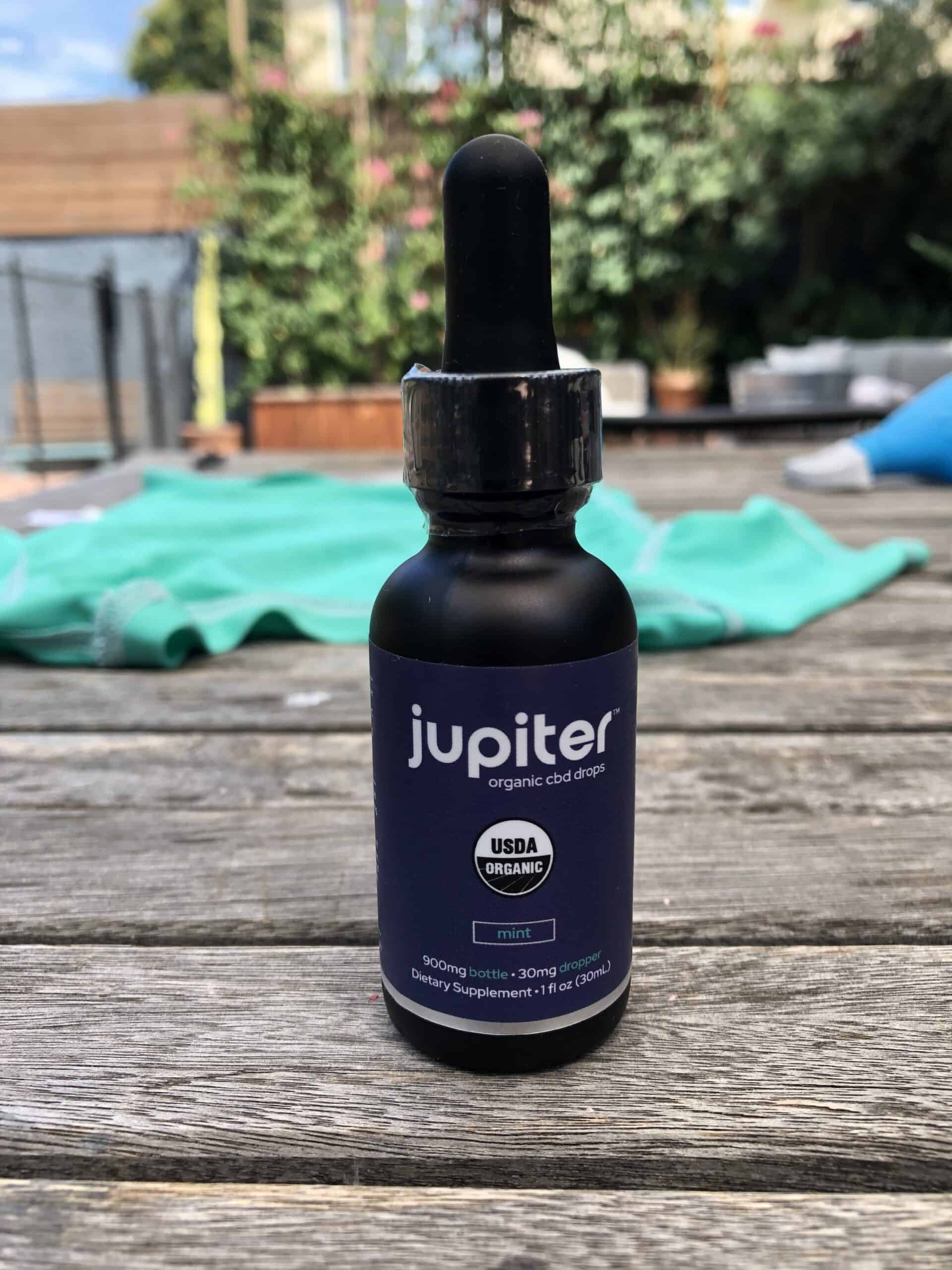 Brand Overview: Jupiter Organic CBD
Jupiter Organic CBD has created a mint-flavored full-spectrum CBD oil that comes in 450 mg, 900 mg, or 1,350 mg. Their tinctures are vegan, all-natural, and contain no GMO's. With less than .3% THC, you can rest assured this CBD oil won't get you high. The oil contains a variety of terpenes like humulene, myrcene, and beta-caryophyllene that work to enhance the effects of the CBD.
Because Jupiter uses full-spectrum CBD, you're not just getting cannabidiol, but other beneficial components of the cannabis plant like CBD, CBG, and CBC. The company uses organic peppermint oil for flavor and they use no artificial flavors or sweeteners.
Products: Organic Full Spectrum CBD Oil.
Price Range ($-$$$$): $$
---
About JUPITER ORGANIC CBD DROPS (MINT) – 900 MG
The mint-flavored, medium-strength Jupiter Organic CBD Drops contains 900 mg of CBD that comes out to 30 mg per serving. The company says these drops offer "guaranteed stress relief," and can help you feel more relaxed and happy. Made with organic and vegan ingredients, this CBD tincture contains no GMO's. Jupiter Organic is made with full-spectrum hemp extract, organic coconut MCT oil, organic peppermint oil, and organic hemp terpenes.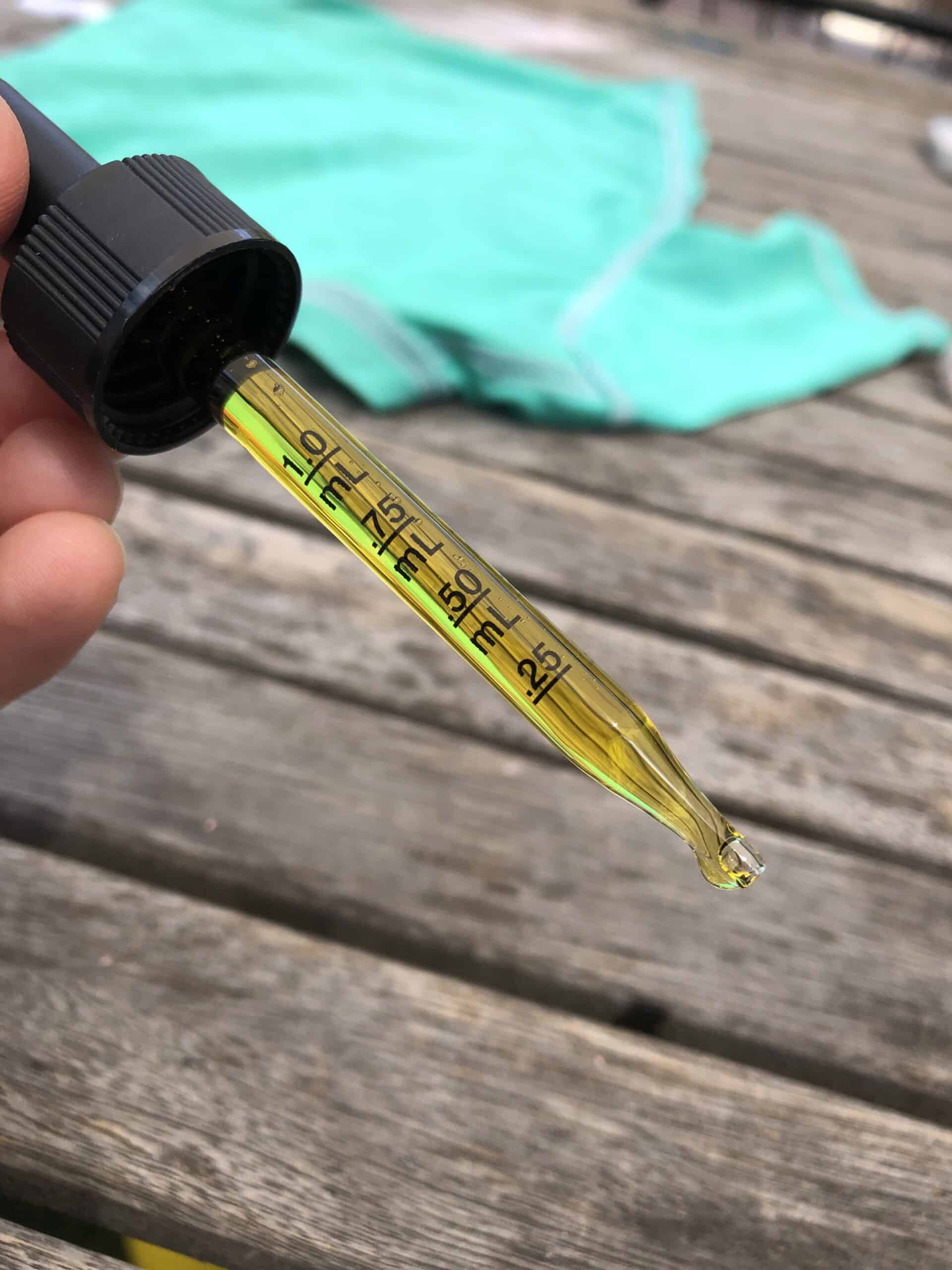 They don't add any artificial flavors or sweeteners. To use, shake the bottle and fill the dropper to your desired amount. If you're new to CBD, experts recommend starting at a low dose (under 15 mg) and work your way up as needed. The best way to use these drops is to hold them under your tongue for 30 seconds before swallowing.
The company recommends using this product as needed, but you might find improved effectiveness in combination with a topical or capsule. The bottle comes with a labeled dropper for easy-to-dose servings. For best results, Veritas Farms instructs you to hold the oil under your tongue for 60 – 90 seconds, then swallow. You can also mix this tincture with a beverage.
---
JUPITER ORGANIC CBD DROPS (MINT) – 900 MG Specifications
900 mg CBD
30 mg CBD per serving
30 servings per bottle
Contains less than .3% THC
Ingredients: Organic MCT Oil, Organic Peppermint Oil, Organic Hemp Terpenes.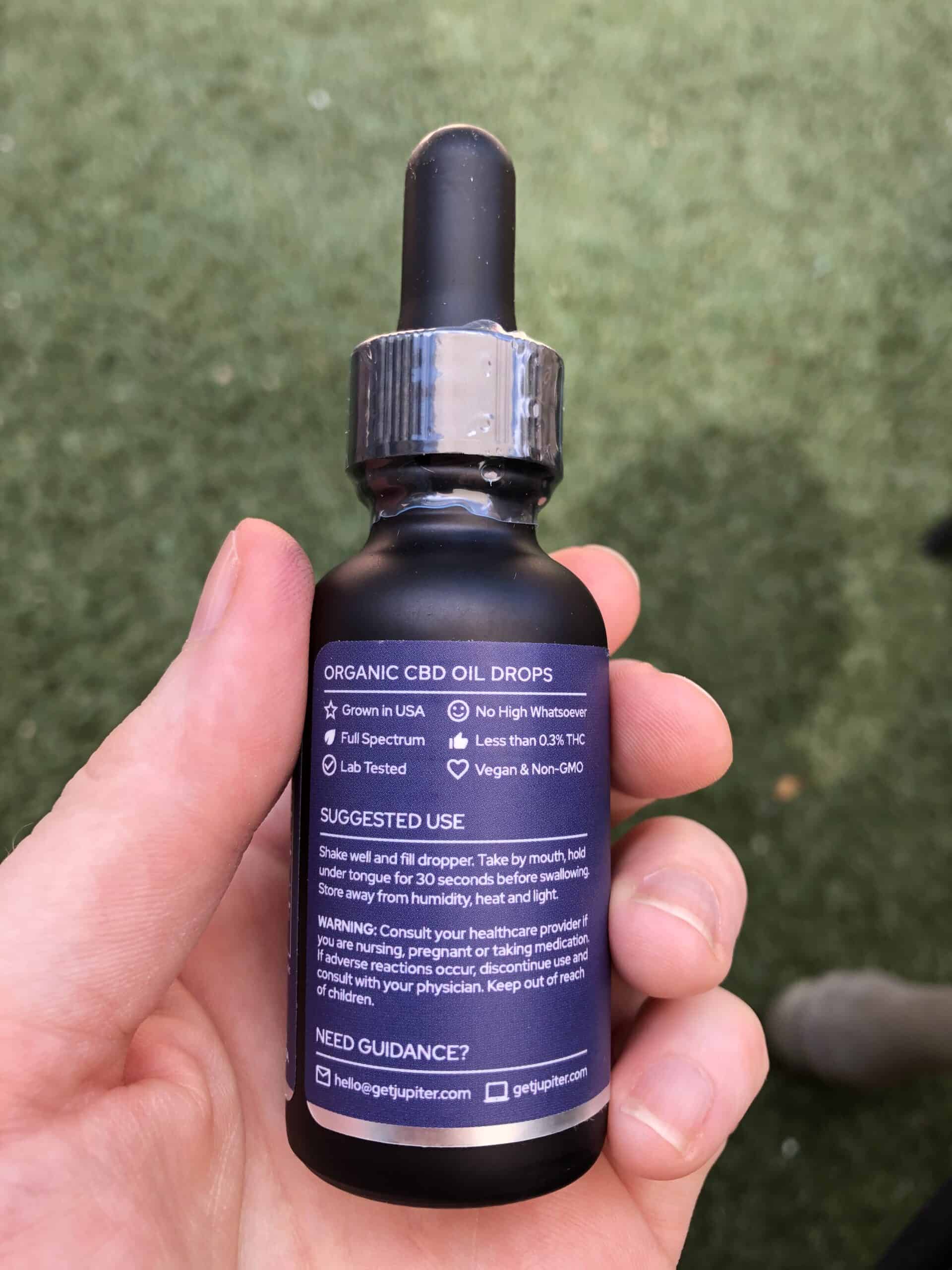 ---
How We Tested the JUPITER ORGANIC CBD DROPS (MINT) – 900 MG
I found Jupiter Organic's other tinctures effective in helping me deal with stress, so I was optimistic about this one. Lately, I've been having a hard time staying in the moment. I get overwhelmed with everything I think I have to do and become so stressed out, I can't get anything done. It's a vicious cycle common with people who juggle too much. I was excited to use this tincture to help relieve some of the stress and help me find some calm.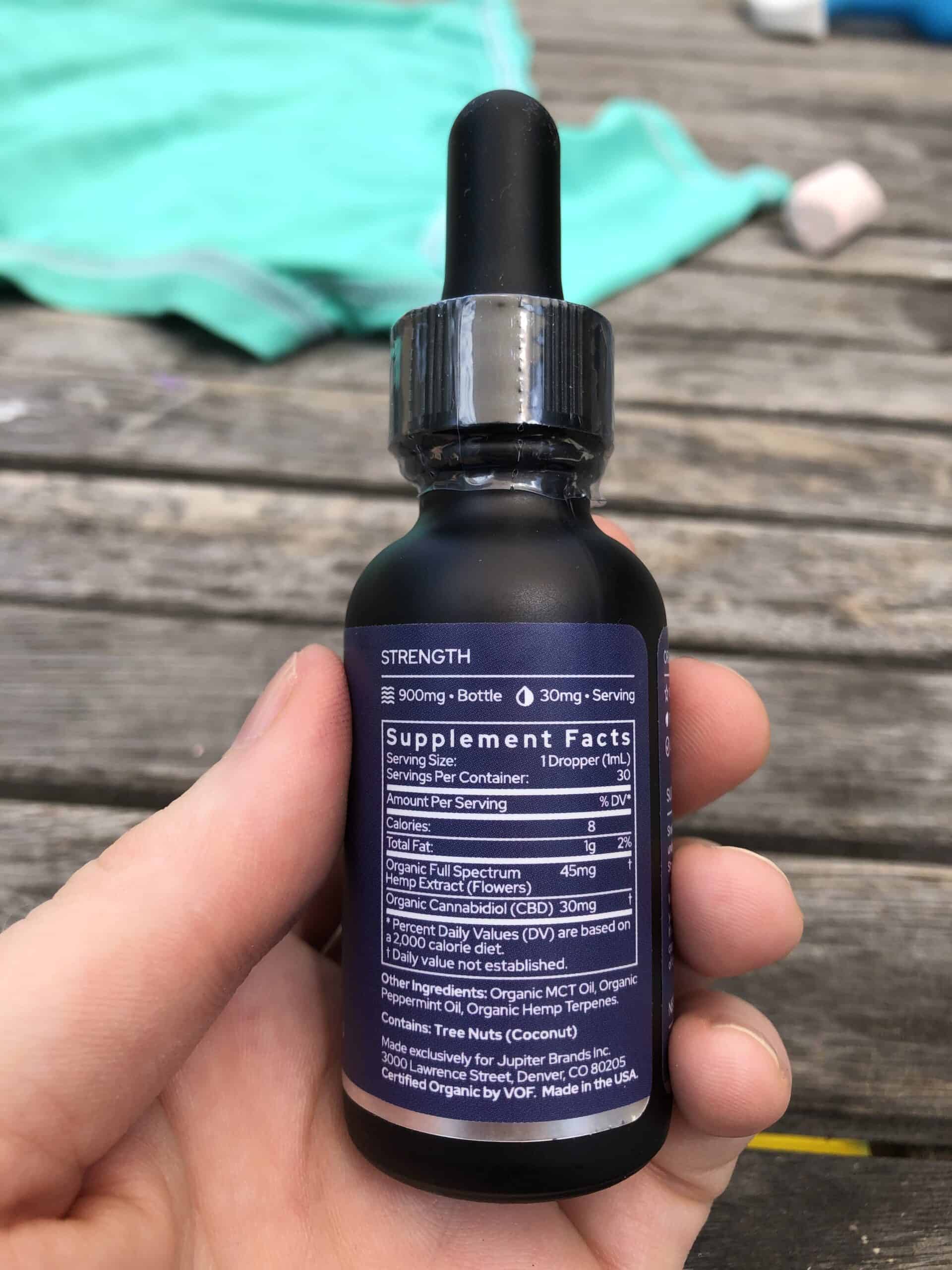 Every morning and evening for a couple of weeks, I took one serving (30 mg) of the Jupiter Organic 900 mg CBD drops to see if it would help me find some peace of mind during a stressful time. I used these drops along with Gabapentin, which is a prescription for my arthritis.
---
How the JUPITER ORGANIC CBD DROPS (MINT) – 900 MG Worked for Me
As expected, these CBD drops were effective in helping me deal with stress. I could feel the positive effects of the tincture an hour after taking each serving. It made me feel warm, focused, and relaxed. These drops tasted fresh and minty and hid any taste of hemp. Jupiter Organics' CBD drops don't take away stress or anxiety entirely but can help take the edge off. This effect helps me push through the chaos in my brain so I can get more work done and just have a happier existence in general. I'm a big fan of all of Jupiter Organics' tinctures and will turn to them any time I find myself needing more balance in my life.
---
Useful and Unique Things to Know About JUPITER ORGANIC CBD DROPS (MINT) – 900 MG
Jupiter Organics CBD Drops contain a variety of hemp terpenes that work in combination with the CBD to make you feel better. Terpenes are the compounds found in plants that create the aroma. There are hundreds of terpenes found in the cannabis plant alone, and some of the ones in this particular tincture include Nerolidol 2, β-Caryophyllene, β-Myrcene, α-Humulene, and α-Pinene. Nerolidol 2 creates a woody smell similar to tree bark and is thought to create a mild sedative effect. β-Caryophyllene has a peppery aroma and can help with inflammation. β-Myrcene creates an earthy smell and has a euphoric quality. Spicy α-Humulene and pine-smelling α-Pinene both work to fight inflammation.
---
JUPITER ORGANIC CBD DROPS (MINT) – 900 MG Ratings
In the next sections gradings from 0-100 on our review, these grades add up to give the product's overall score.
PRESENTATION • 100
Informative.
RELIABILITY • 100
Effective.
QUALITY • 100
Natural ingredients.
FLAVOR / SMELL / or EASE OF USE • 100
Delicious mint flavor.
VALUE • 100
Fair price.
---
How JUPITER ORGANIC CBD DROPS (MINT) – 900 MG Stacks Up Against the Competition
Jupiter Organic CBD stands apart from the competition with its fairly priced and effective line of mint-flavored tinctures. By keeping their product line limited to only one product, the company can focus on quality over quantity. The only way they could become more competitive is by adding more variety to the product list, like creating a high-quality topical or edible.
---
Saving Money with Our Verified JUPITER ORGANIC CBD Coupons
Save money by using our verified CBD Tinctures here at Save On Cannabis the World's largest online cannabis coupon code directory.
---
Disclosure: I received these products gratis so that I could try them and then share my honest opinion with the SOC community. I am employed by Save on Cannabis to write honest reviews and provided a flat rate payment for the writing of the review. SOC may receive recurring affiliate payments for purchases made based on this content.
Pure CBD Vapors sent us the CBD For Life Bath Bombs, see how the Lemongrass Kiwi worked for our reviewer. Hands-on comparison of flavors and effects.
Our reviewer tested the Leafy Drops Wellness Tincture and took photos so that you could see if you should spend your money on it. Read the review here!
Can the Charlotte's Web Mint Chocolate Hemp Extract help our reviewer ease her stresses during Finals? Find out how her experience was first hand.