CBD Review: Frontier Jackson CBD Ice (Also, has CBDa)
Nov 12, 2019 | Romy
CBDCBD CandyCBD EdiblesCBD GummiesCBD Pet ProductsCBD Pills & CapsulesCBD TincturesCBD TopicalsCBD Vape OilsCoupons Valid For Returning Users
Frontier Jackson CBD Ice
Pros
Eases pain
Easy to use
Quality ingredients
Strong and effective icy effect
FRONTIER JACKSON CBD ICE
Product Review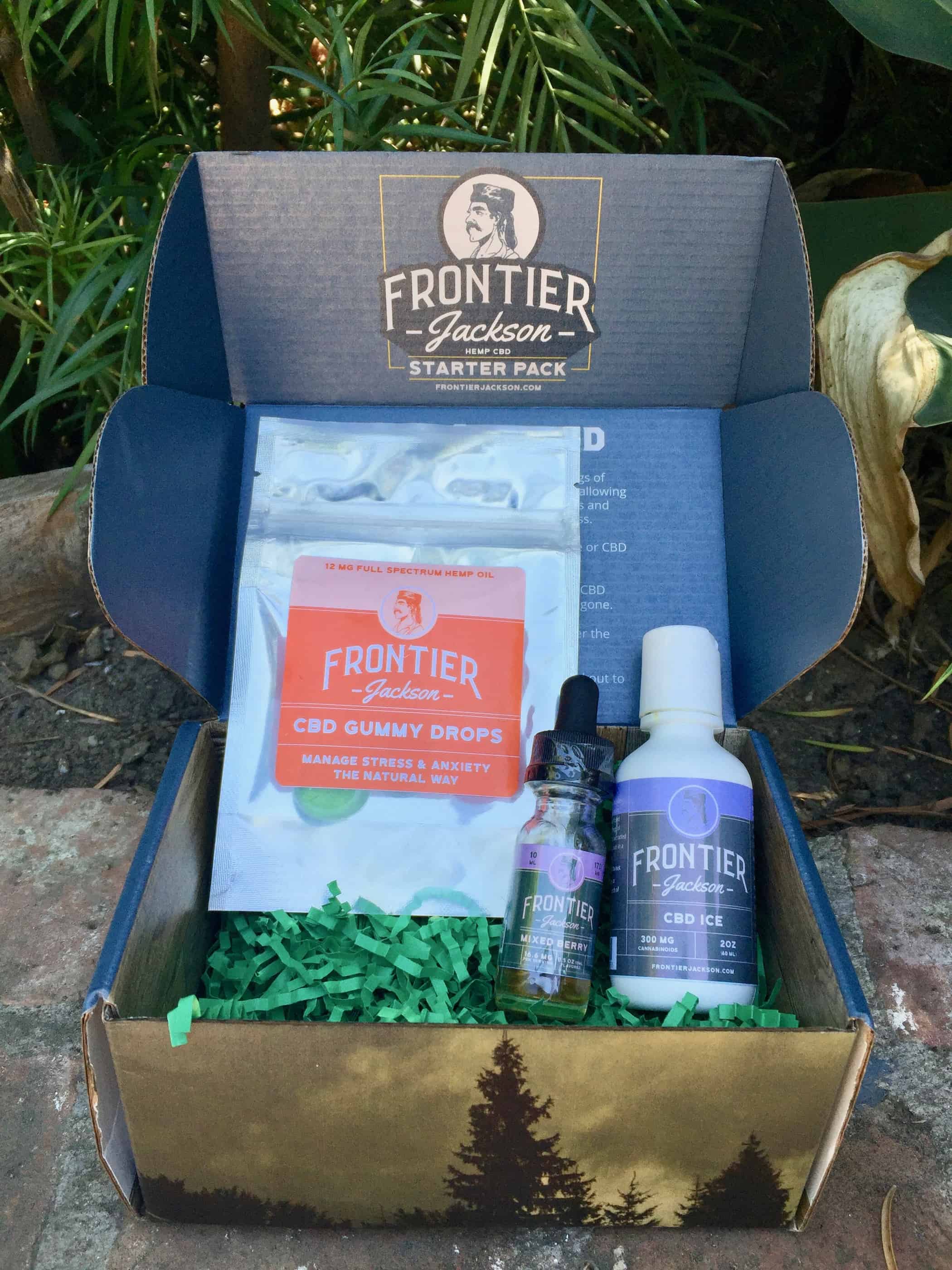 Brand Overview: FRONTIER JACKSON
Frontier Jackson has created a line of premium CBD products for general wellness, athletes, seniors, even your pets! If you're seeking a daily CBD supplement to boost overall health, this company has the right tincture, gummy, and capsule for you. Or if you're one of the many athletes turning to CBD to improve performance and recover quicker, Frontier Jackson has you in mind with their pain-relieving topicals and relief capsules. As for senior citizens? Frontier Jackson has a topical, a tincture, and a soft gel to help older people with chronic aches and pains lead a more active life. Finally, the CBD line for pets includes chews, tinctures, and treats. Animals can suffer anxiety, pain, and depression just as much as humans. If you've been looking for a natural alternative to keep your pets happy and healthy, look no further.
Products: Capsules, Edibles, Oils, Topicals, CBD for Pets, CBD for Golfers.
Price Range ($-$$$$): $$-$$$$
---
About the FRONTIER JACKSON CBD ICE
Frontier Jackson CBD Ice is a relieving topical made for athletes and chronic pain sufferers in mind. Infused with 300 mg full-spectrum CBD and therapeutic dose of menthol, this topical cream creates a cooling sensation to assuage pain from sore muscles, arthritis, neuropathy, and more. This salve has been tested in the lab for quality and comes with a certificate of analysis which you can find on Frontier Jackson's website. Pesticide-free, non-GMO, and CO2 extracted, you can be assured of the highest quality. This pain-relieving cream contains Vitamins A, C, and E, Omega 3 and 3, 20 amino acids, and 9 essential oils. It's easy to use and you only need a little. Simply put a small amount to whatever part ails you and massage into the skin. Use it one to two times daily and avoid your eyes!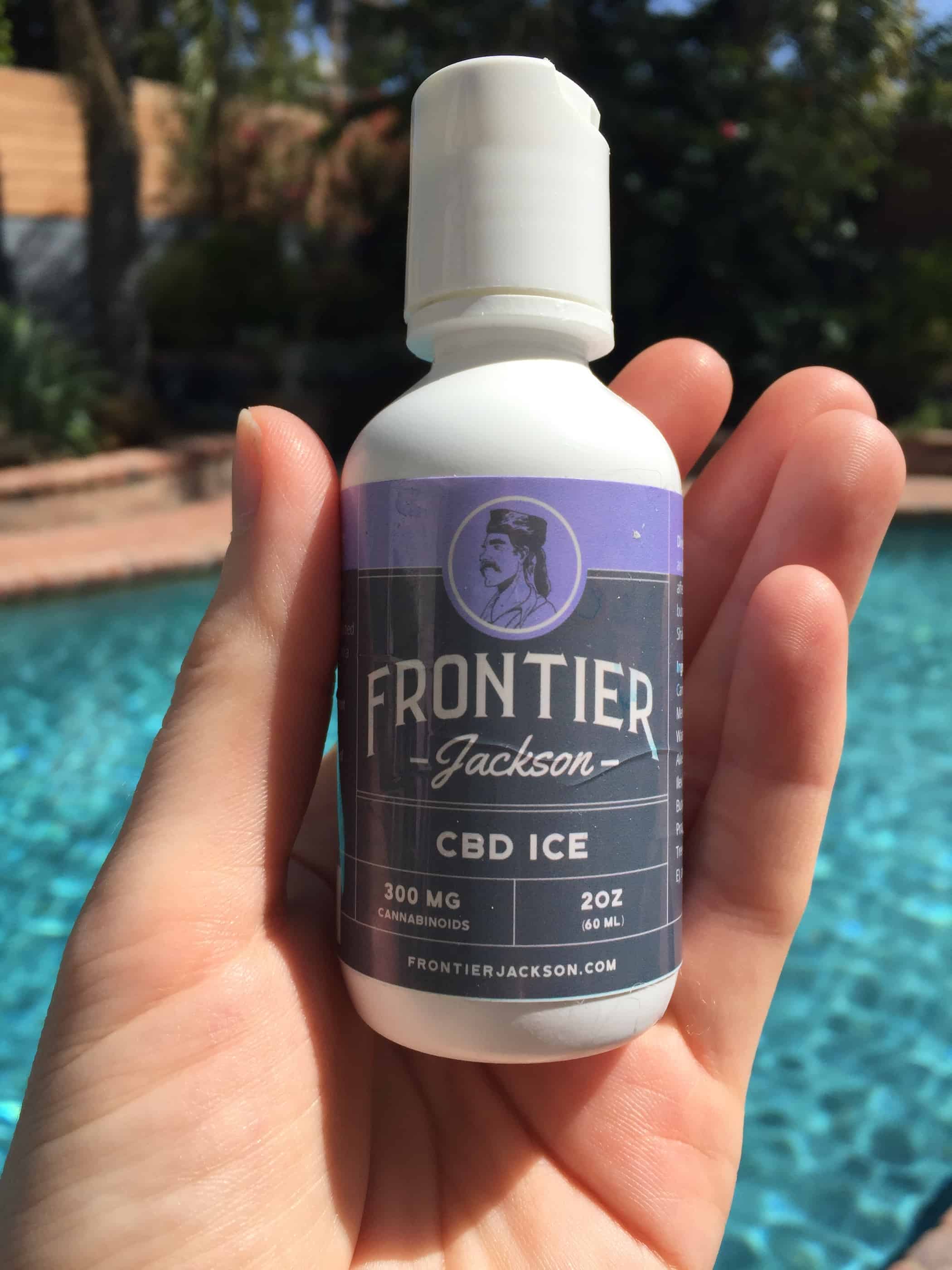 ---
FRONTIER JACKSON CBD ICE Specifications
2 oz (60 ml)
300 mg CBD
Ingredients: Cannabidiol (CBD), Cannabidiolic acid (CBDa) and Menthol (3.7%) in a base of Purified Water, Isopropyl Alcohol, Carbomer, Aloe Vera Powder, Camphor, Organic Ilex, Phenoxyethanol, Methylparaben, Butylparaben, Ethylparaben, Propylparaben, Isobutylparaben, Tea Tree Oil, Tocopherol Acetate (Vitamin E), and Triethanolamine
---
How We Tested the FRONTIER JACKSON CBD ICE
I have chronic pain from various injuries that on a good day is only mildly disabling, and on a bad day is completely disabling and leaves me tossing and turning in bed for days or even weeks. I've tried many different topicals over the years, and prefer the kind with menthol and/or camphor, so was excited to try Frontier Jackson CBD Ice, which, if I can tell by the smell, is similar to Icy Hot and Biofreeze only this is infused with 300 mg of CBD. I go to physical therapy twice a week, and they use this stuff on me that smells just like this. It makes the area icy cold which distracts from the pain in a great way. This stuff even looks like that goop, so I'm hoping it works similarly.
Yesterday, after a rigorous physical therapy session, I was already starting to feel sore, and my chronic pain was made worse by the exercises. I put a dime-sized amount of the CBD Ice on my hand and massaged it into my low-back and sacrum. I took another serving to right outer hip, and another to my left.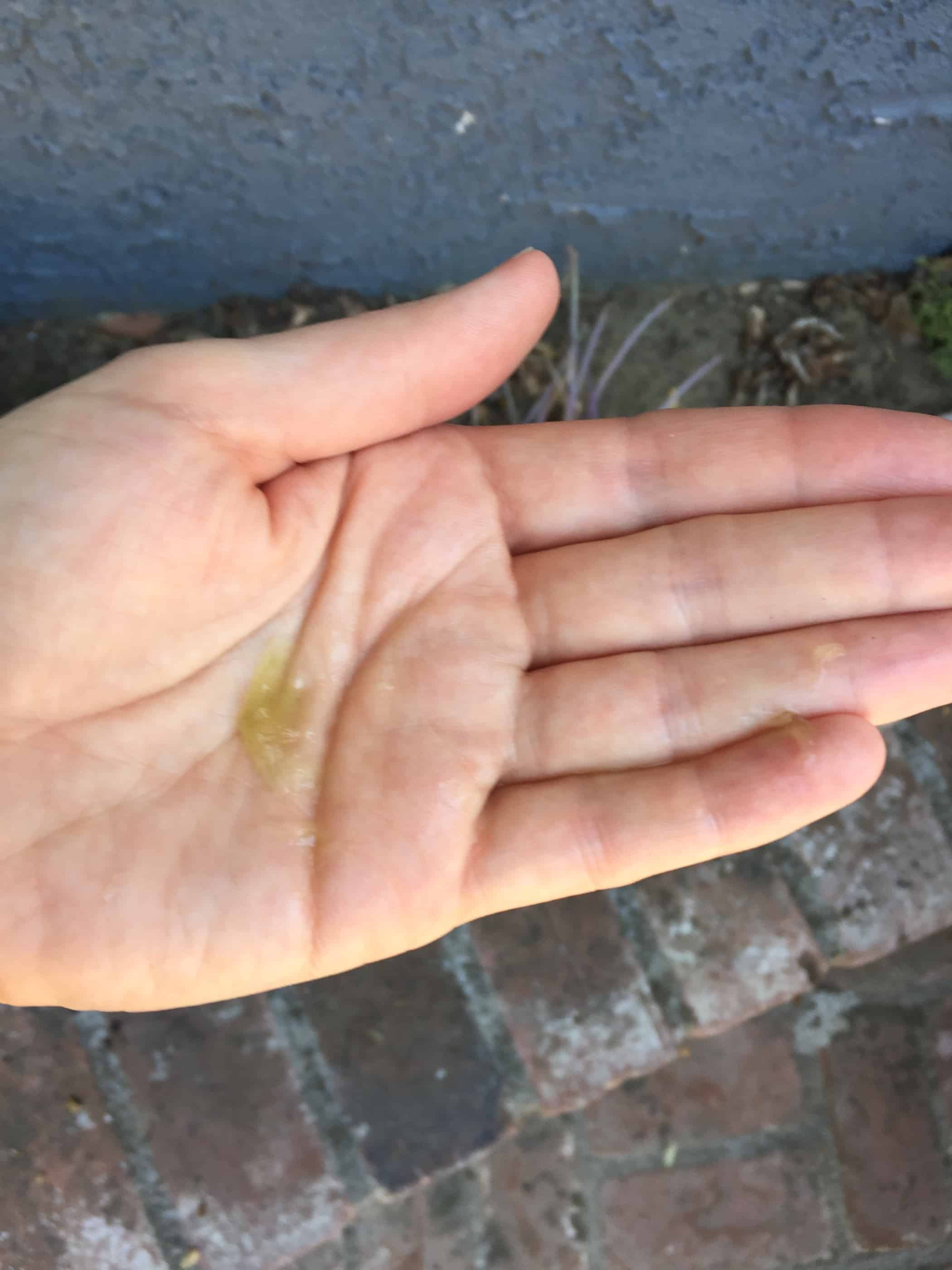 ---
How the FRONTIER JACKSON CBD ICE Worked for Me
Frontier Jackson's icy topical pain cream is now one of my all-time favorites! It cooled down the pained areas almost immediately and brought so much relief. It was a lot like the stuff they use at physical therapy. This top-notch, medical-grade quality pain salve smoothly blended into my skin. I used it again at night when my pain is the worst and keeps me from sleeping. This cream soothed the most painful spots and helped me fall asleep faster. When the pain woke me up in the middle of the night, I lathered some more on and was soon able to fall back to sleep. I got the 2 oz bottle that contains 300 mg of CBD, but I wish I'd gotten the 4 oz bottle that contains 600 mg of CBD because I know I'm going to go through this stuff fast.
---
Useful and Unique Things to Know About FRONTIER JACKSON CBD ICE
Frontier Jackson's icy topical is filled with natural ingredients to reduce pain. CBDa, a hemp compound found in its raw form, fights inflammation and can act as an analgesic like ibuprofen. The ingredients menthol and camphor are found in topicals like Icy Hot, Biofreeze, and Tiger Balm. Both create the cooling sensation to bring relief and distract from the pain. Aloe Vera Powder is used in products to heal and improve the skin. Ilex is more commonly known as Holly and is used in skincare products to protect and heal. Another great ingredient found in Frontier Jackson CBD Ice is Tea Tree Oil, which fights inflammation and calms redness and swelling.
---
FRONTIER JACKSON CBD ICE Ratings
In the next sections gradings from 0-100 on our review, these grades add up to give the product's overall score.
PRESENTATION • 100
Informative packaging.
RELIABILITY • 100
Relieves pain.
QUALITY • 100
Effective ingredients.
FLAVOR / SMELL / or EASE OF USE • 100
Easy to use. Smells like Icy Hot or Biofreeze.
VALUE • 70
Expensive.
---
How the FRONTIER JACKSON CBD ICE Stacks Up Against the Competition
This is one of my favorite CBD topicals because it has an extra-strength dose of menthol and an extra-strength, physical-therapy grade ability to counter pain. Out of all the CBD-infused topicals I've tried, this one compares most to one of my other favorite's: All Natural Way CBD Pain Relief Cream (500 mg). Both topicals have a similar texture, smell, and that strong icy feel. Frontier Jackson's 2 oz bottle with 300 mg of CBD costs $49.99 and their 4 oz bottle that contains 600 mg of CBD costs $89. All Natural Way's salve is 1 ounce with 500 mg of CBD and costs $49.99. They're all too expensive for my blood, but Frontier Jackson's Ice Hot is the cheaper option, for a nearly identical product.
---
Saving Money With Frontier Jackson Cbd Ice Coupons
Save money on all Cbd Topicals here at Save On Cannabis the World's largest online cannabis coupon code directory.
---
Disclosure: I received these products gratis so that I could try them and then share my honest opinion with the SOC community. I am employed by Save on Cannabis to write honest reviews and provided a flat rate payment for the writing of the review. SOC may receive recurring affiliate payments for purchases made based on this content.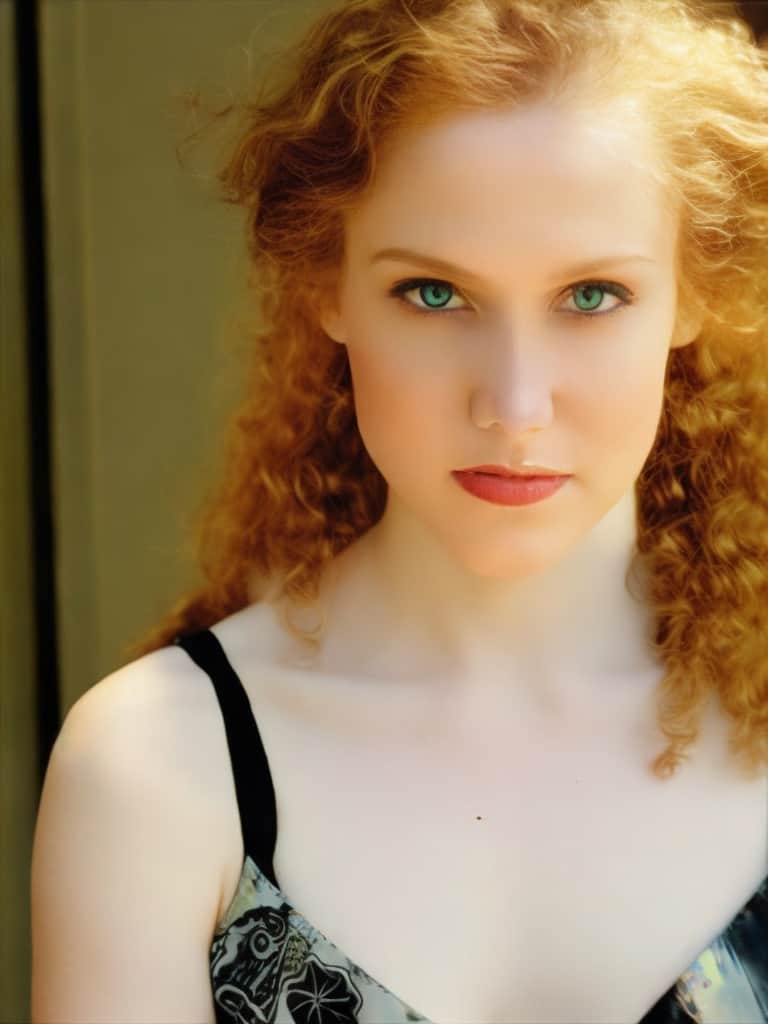 A medicinal cannabis user, utilizing the power of the plant to ease the pains and stresses from long standing conditions that other over the counter or prescriptions could not fix or weren't a natural option like cannabis.  Also, has a background in working directly in the cannabis industry in California within various dispensaries.
RYOT Ceramic Bong Review: Unveiling the Stylish and Functional Ceramic Traveller. Elevate your smoking experience and get exclusive savings.
Pure CBD Vapors sent the Fresh Bamboo Bath Bombs, in this CBD for Life review see if it helps us sleep & our joint flexibility. Find out now!
Check out our expert CBD review of the Infinite CBD Nano Energy Shot. We got hold of it and tested it see how it worked along with pictures.