CBD Review: CBDistillery CBD Cooling Cream (300mg)
Oct 27, 2020 | SOC
CBDistillery CBD Cooling Cream (300mg)
Pros
Moisturizing
Mild relief
Natural
Less than 0.05% THC
Non-greasy
Cons
Mild hemp smell
Slightly expensive for what you get
The cooling sensation is too mild
CBDISTILLERY
Product Review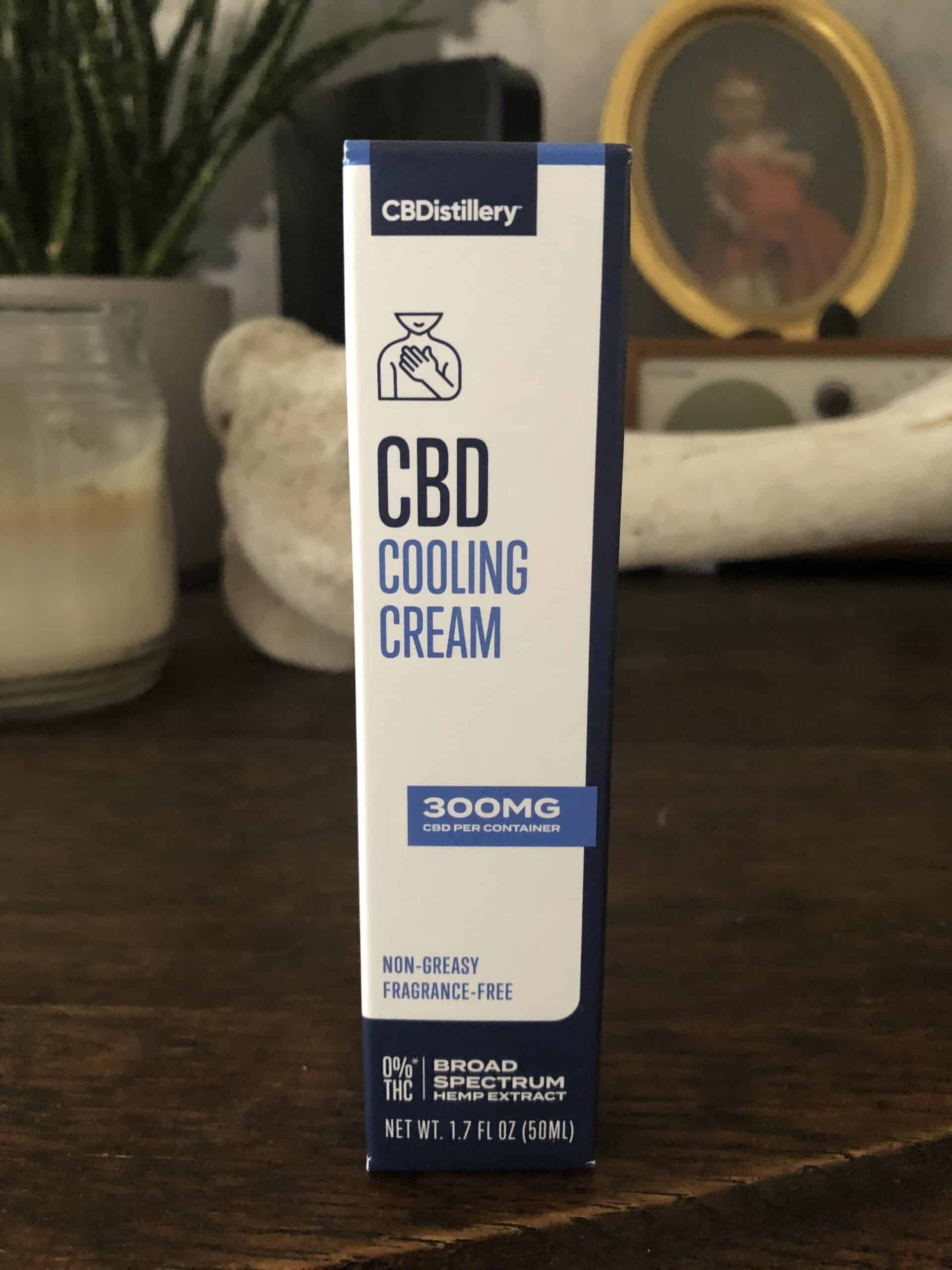 Brand Overview: CBDISTILLERY
CBDistillery has created an effective and affordable line of CBD products to help ease anxiety, stress, and pain. The company's mission is to bring you superior quality at a lower price, making it easier for the everyday person to get CBD-infused tinctures, salves, edibles, isolates, and topicals. The CBDistillery Team is proud to have brought to the Twittersphere the #CBDMOVEMENT™, which aims to educate people about non-addictive and all-natural ways to feel better.
Every product is clearly labelled and third-party tested for quality, following guidelines set forth by the FDA. Certified by the U.S. Hemp Authority, you can rest assured that every product you buy from CBDistillery is the real deal. Check out their website for recipes using CBD, like their mouth-watering Buffalo Chicken Dip. The website also contains articles about the benefits of CBD when playing sports or doing yoga.
Products: Oils, Isolates, Gummies, Capsules, Topicals, Vape Liquids, Pets, THC-Free CBD.
Price Range ($-$$$$): $$
---
About CBDISTILLERY CBD COOLING CREAM
CBDistillery's cooling cream contains 300 mg of broad-spectrum CBD and in combination with the cooling sensation from menthol, provides short-term relief when your muscles and joints need some extra love. This topical is free from fragrances, gluten, parabens, and sulphates. You can use this cream daily as needed by massaging it into your painful joints and sore muscles. Made with natural ingredients, this formula won't leave a messy residue and absorbs quickly into your skin leaving it moisturized.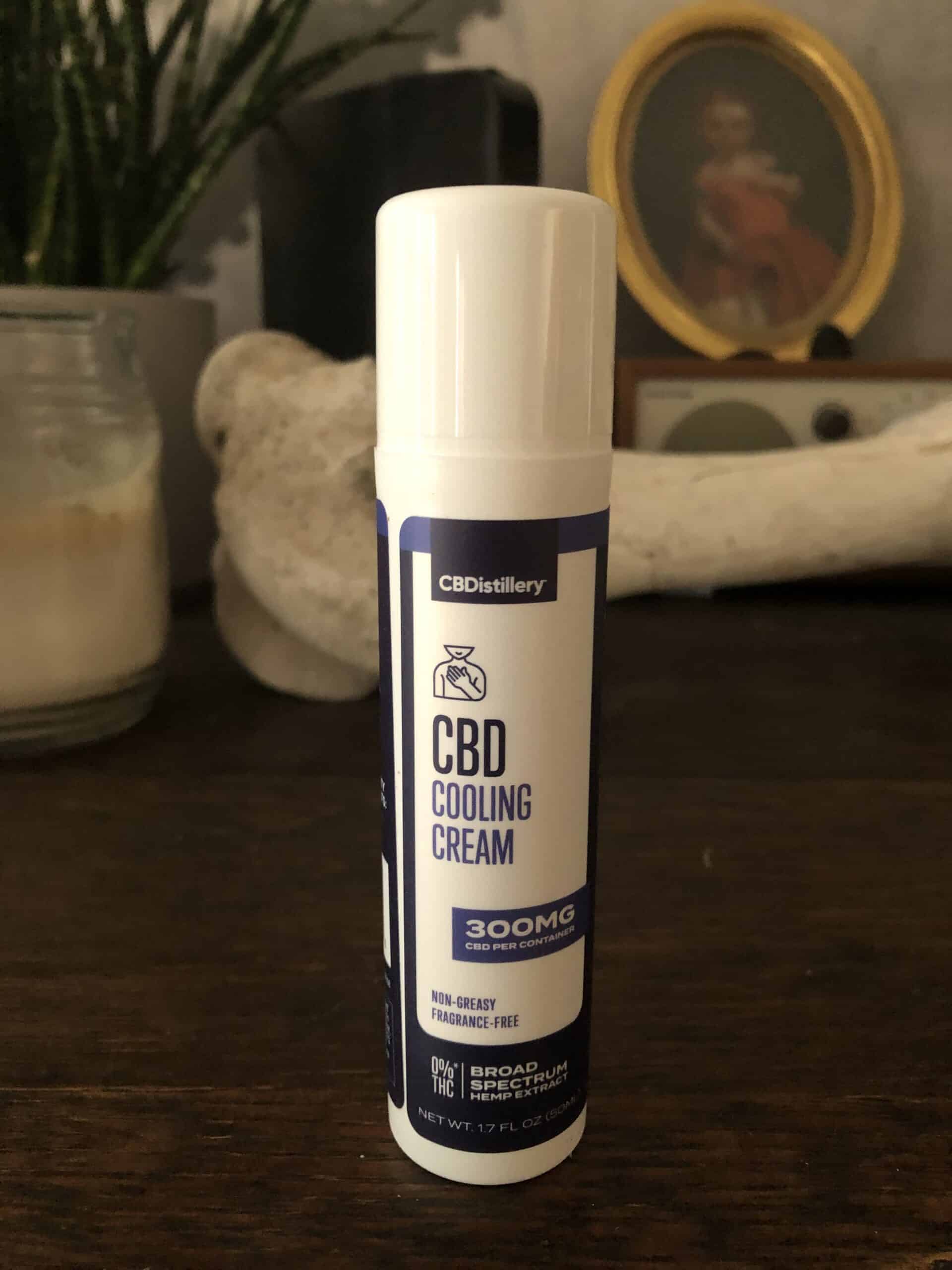 The cooling cream contains less than 0.05% THC and comes with an easy-to-use pump so you can use as little or as much as you need.
---
CBDISTILLERY CBD COOLING CREAM Specifications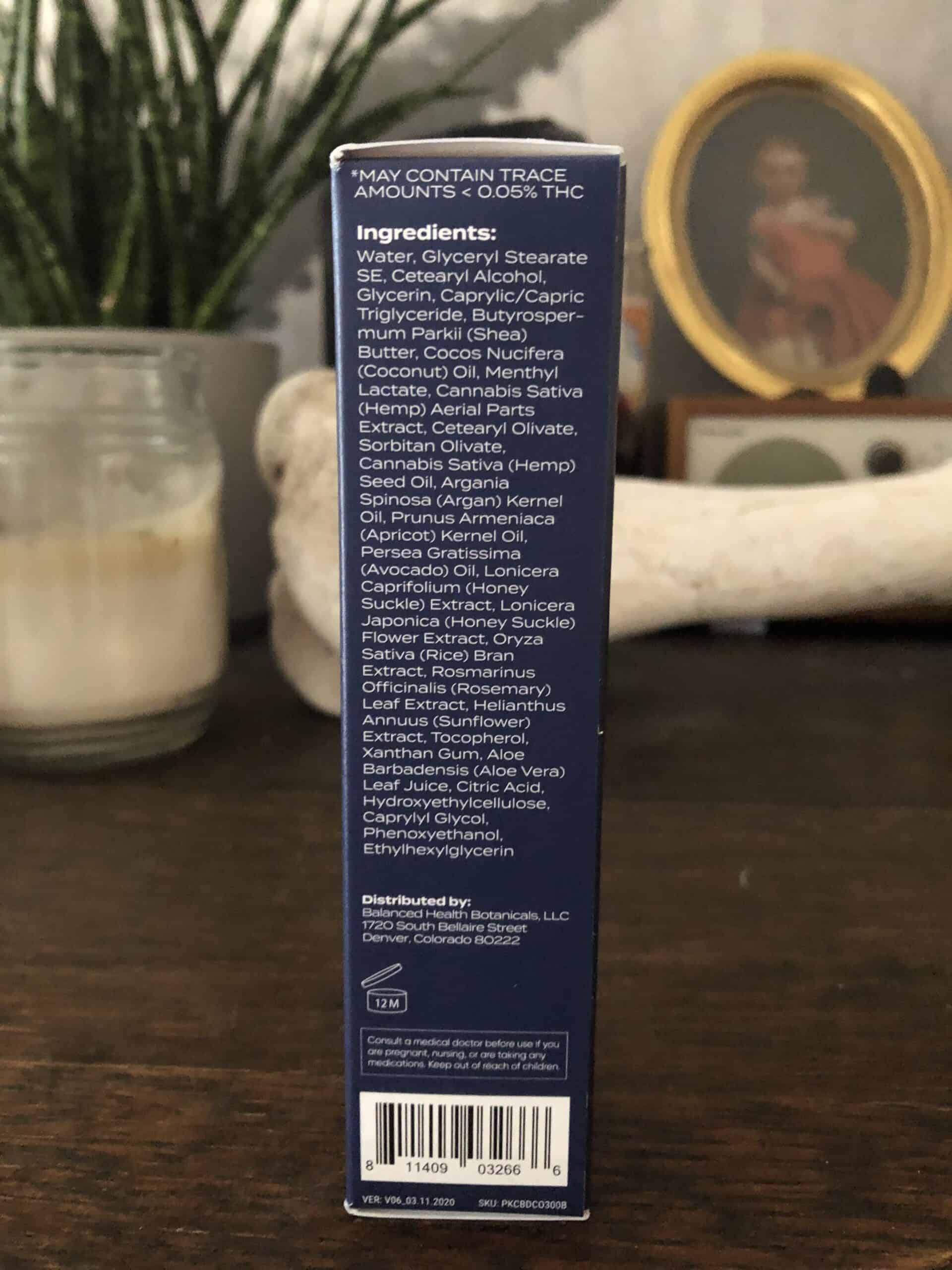 300 mg CBD (Broad Spectrum Hemp Extract)
Less than 0.05% THC
Fragrance-free
Ingredients: Water, Glyceryl Stearate SE, Cetearyl Alcohol, Glycerin, Caprylic/Capric Triglyceride, Butyrospermum Parkii (Shea) Butter, Cocos Nucifera (Coconut) Oil, Menthyl Lactate, Cannabis Sativa (Hemp) Aerial Parts Extract, Cetearyl Olivate, Sorbitan Olivate, Cannabis Sativa (Hemp) Seed Oil, Argania Spinosa (Argan) Kernel Oil, Prunus Armeniaca(Apricot) Kernel Oil, Persea Gratissima (Avocado) Oil, Lonicera Caprifolium (Honey Suckle) Extract, Lonicera Japonica (Honey Suckle) Flower Extract, Oryza Sativa (Rice) Bran Extract, Rosmarinus Officinalis (Rosemary) Leaf Extract, Helianthus Annuus (Sunflower) Extract, Tocopherol, Xanthan Gum, Aloe Barbadensis (Aloe Vera) Leaf Juice, Citric Acid, Hydroxyethylcellulose, Caprylyl Glycol, Phenoxyethanol, Ethylhexylglycerin
---
How We Tested the CBDISTILLERY CBD COOLING CREAM
I love a good cooling topical, so I was excited to get CBDistillery's CBD Cooling Cream in the mail. After taking a glance at the ingredients, I was looking forward to trying this stuff on my low back and hips where the pain tends to keep me up at night. I just tried CBDistillery's Sleep Tincture with CBN and CBD, so thought I'd pair it with this cooling menthol-infused CBD cream. Often, I'm woken up in the night by pain, so I hoped the combination of this topical and the tincture would help me get some rest.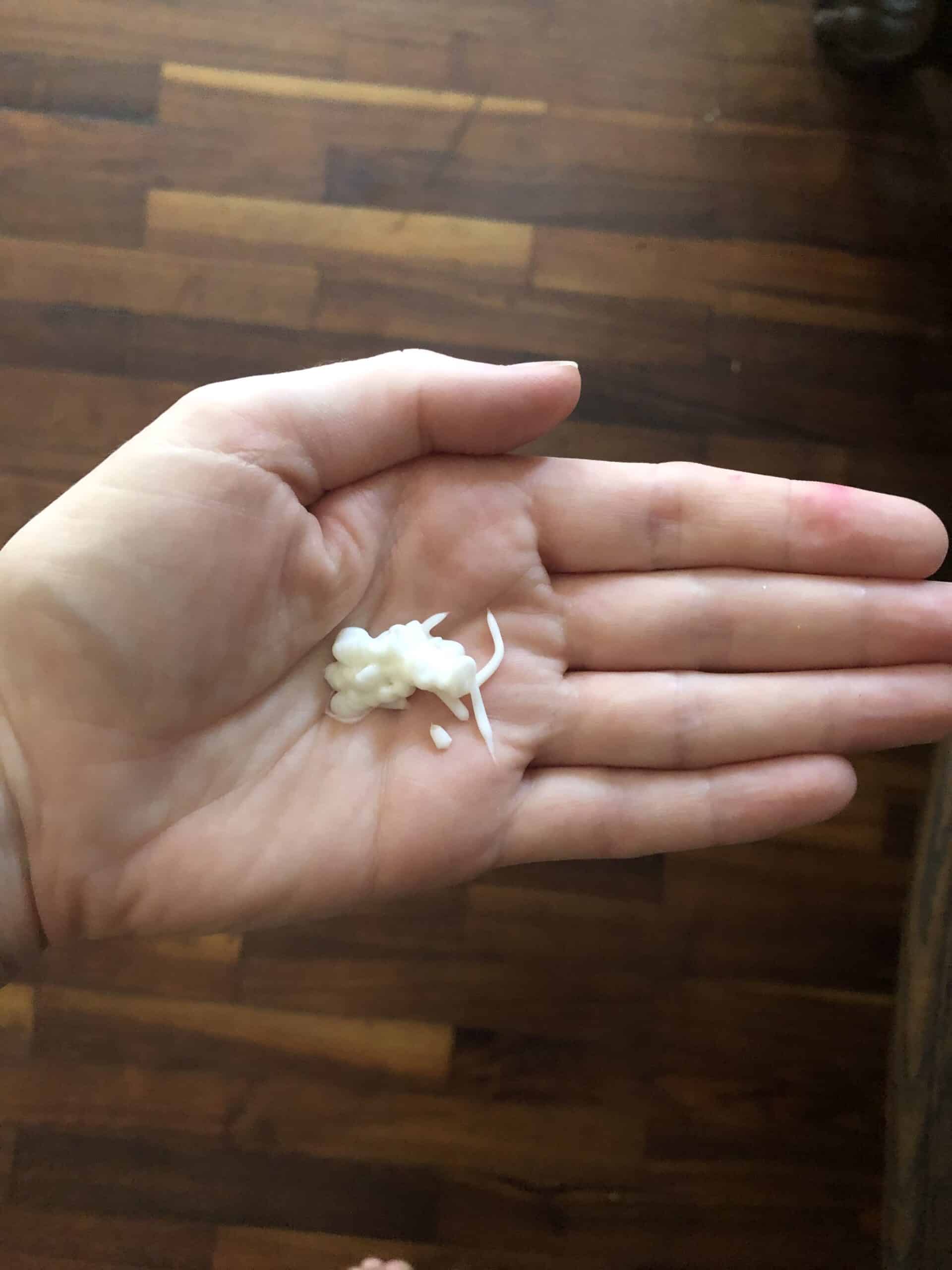 An hour before bedtime, I massaged the cream into my low back and hips and took a serving of the Sleep Tincture.
---
How the CBDISTILLERY CBD COOLING CREAM Worked for Me
The cream left my usually dry skin feeling soft and moisturized. It provided mild relief from pain but didn't have enough of the "cooling" sensation I look for in a menthol-infused topical. Even though it's unscented, I could hardly smell the hemp except for on my hands which required a thorough hand-washing after use. I was able to fall asleep after an hour and only woke up once during the night from the pain. While soothing and moisturizing, I've tried other CBD topicals that are far more cooling, which in turn ease my pain even more. If you're looking for a mildly cooling topical, this is the product for you. My personal preference is for something stronger because the extra cooling distracts from the pain, so I won't be using this product again for pain. Instead, I'll be using it more as a massage lotion and moisturizer.
---
Useful and Unique Things to Know About CBDISTILLERY CBD COOLING CREAM
This cream contains many healing ingredients like menthyl lactate, honeysuckle extract, sunflower extract, and avocado oil. Menthyl lactate is the minty ingredient that cools down your skin to provide relief from pain and inflammation. Honeysuckle extract is an antioxidant that also can provide relief from inflammation. Sunflower extract is great for the skin because it's filled with vitamins A and E. It can help repair your skin and provides moisture without making it greasy.
---
CBDISTILLERY CBD COOLING CREAM Ratings
In the next sections gradings from 0-100 on our review, these grades add up to give the product's overall score.
PRESENTATION • 100
Informative packaging.
RELIABILITY • 90
Mild cooling relief.
QUALITY • 100
Moisturizing and natural ingredients.
FLAVOR / SMELL / or EASE OF USE • 95
Unscented. Just the mild hint of hemp.
VALUE • 90
Somewhat expensive.
---
How CBDISTILLERY CBD COOLING CREAM Stacks Up Against the Competition
My favorite kind of topical is the cooling kind. There's nothing better than slathering on that menthol and/or camphor-infused lotion to my aching muscles and joints. The science behind cooling topicals is to distract the brain from the pain, which is why I think, for this cream to be more competitive with all the other CBD-infused cooling creams on the market, it needs to be more cooling. With CBDistillery's cooling cream, the cooling sensation is just too mild to distract.
---
Saving Money with Our Verified CBDISTILLERY Coupons
Save money by using our verified CBD Topicals here at Save On Cannabis the World's largest online cannabis coupon code directory.
---
Disclosure: I received these products gratis so that I could try them and then share my honest opinion with the SOC community. I am employed by Save on Cannabis to write honest reviews and provided a flat rate payment for the writing of the review. SOC may receive recurring affiliate payments for purchases made based on this content.
See in our Manitoba Harvest review if CBD helps ease the anxiety of COVID? Our reviewer faces the stress of "Stay At Home" orders with oil.
Our reviewer gets hold of the Hoboken Hemp Eucalyptus 250mg CBD blend to help her pains & get sleep. Find out how it worked in Hoboken Hemp review.
Looking for high-quality CBD Shatter? We tested out the Steve's Good Terpin Gorilla CBD Shatter and broke down how it worked for our needs.