Caliper CBD Review – Dissolvable Powder (20mg per packet)
Oct 15, 2020 | SOC
CBDCBD Dissolvable PowderCBD DrinksCBD EdiblesCBD Isolate or Terpsolate Powder and Crystals
Caliper CBD Dissolvable Powder (20mg CBD per packet)
49.99
Caliper CBD
Product Review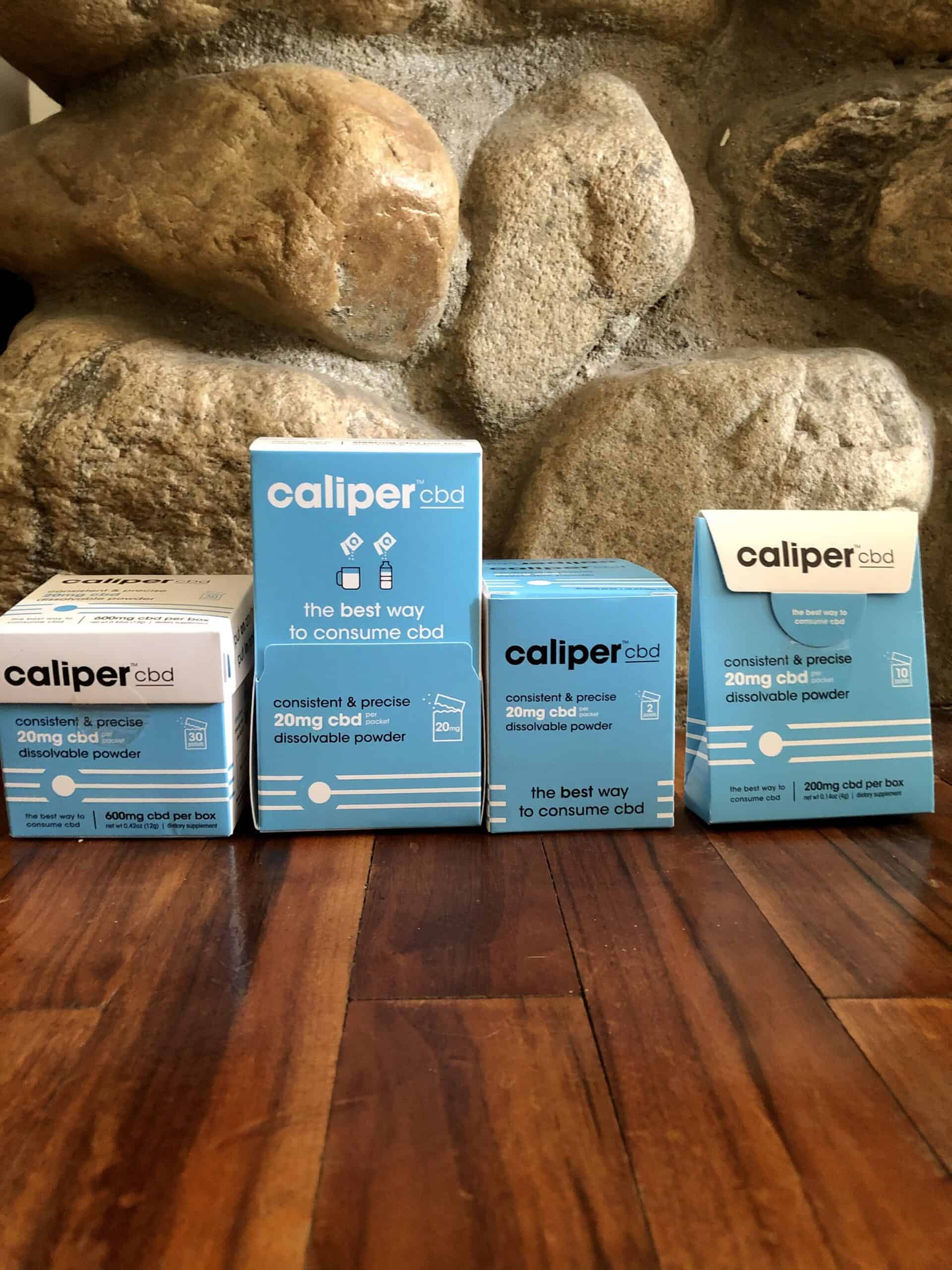 Brand Overview: Caliper CBD
Caliper CBD has created a line of easy-to-dose and consistent CBD powders you can mix in your drink, or just take by mouth. The company recently completed a study at Colorado State University which found its CBD to be 6.5x more bioavailable than other CBD products. This means it works faster and more effectively. With a commitment to science-backed research, Caliper CBD ensures its consumers that their products will be of the highest quality so you can feel better.
Products: Dissolvable Powder, Swiftsticks.
Price Range ($-$$$$): $$
---
About CALIPER CBD DISSOLVABLE POWDER
Caliper CBD's dissolvable powder contains 600 mg of CBD per container. Each box contains 30 servings, or packets, filled with 20 mg of powdered CBD that dissolves easily in beverages and foods. The packets are precisely dosed and lab-tested to ensure purity and potency so you'll get an accurate amount of CBD each time you use one. The powder works more efficiently and quickly than your average CBD tincture. You can also get the box with 60 packets, giving you a total of 1,200 mg of CBD that will last you a while.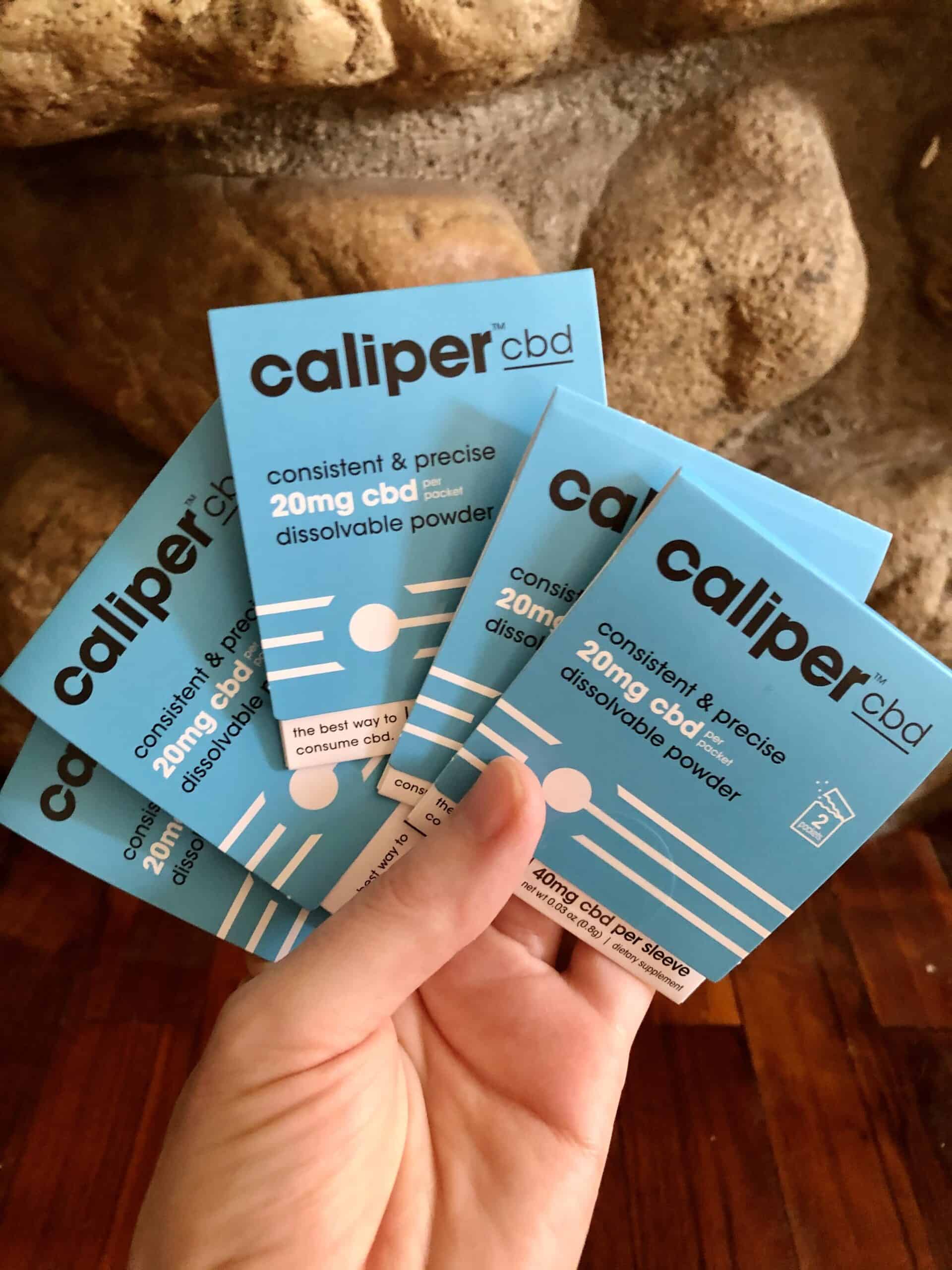 These little packets are convenient to toss into your purse or just put one in your pocket for later. Caliper CBD Dissolvable Powder can soothe aches and pains, reduce stress, and help you sleep better.
---
CALIPER CBD DISSOLVABLE POWDER Specifications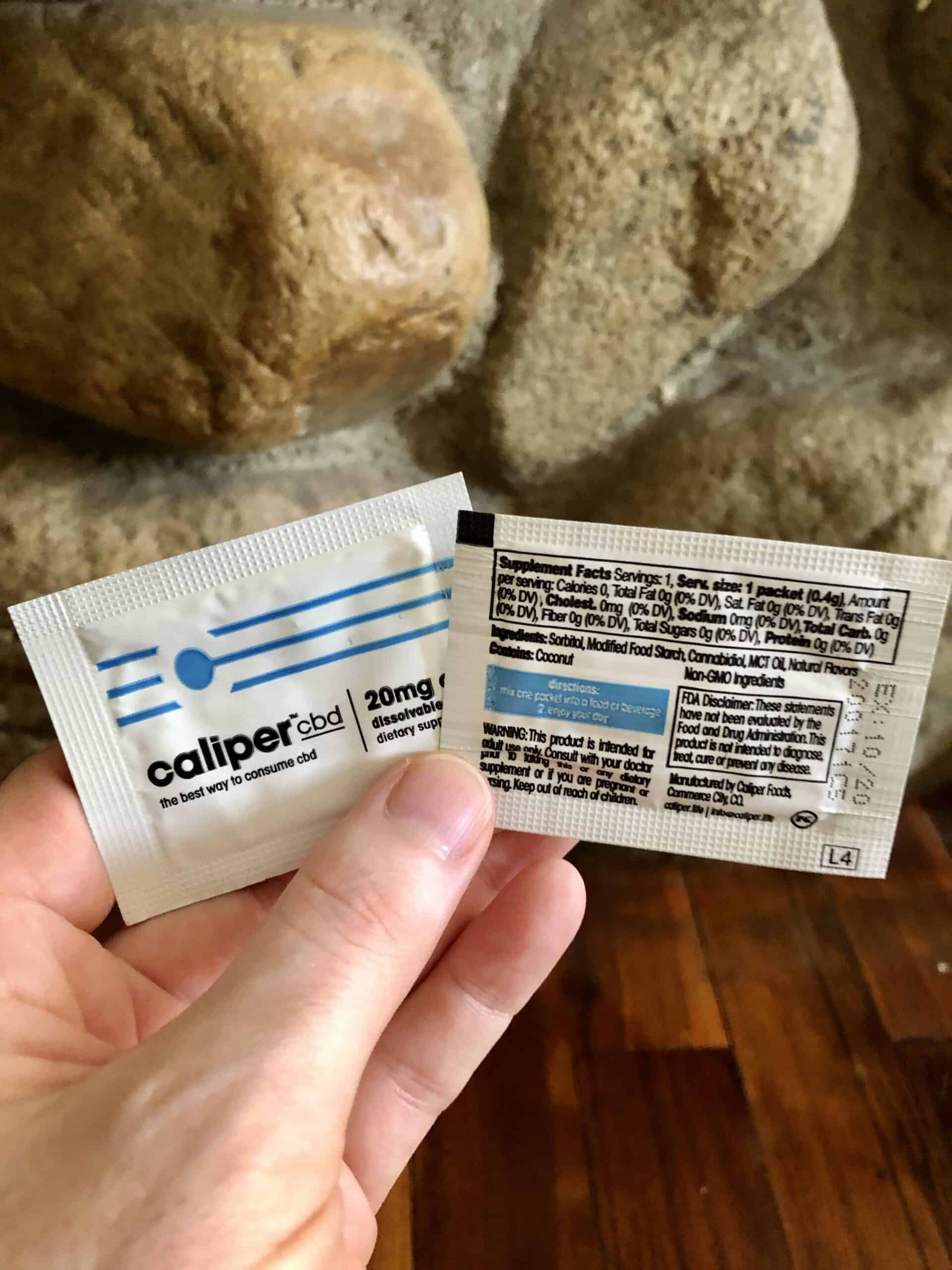 ---
How We Tested the CALIPER CBD DISSOLVABLE POWDER
I had a great experience using Caliper CBD's flavored swiftsticks to help me deal with stress so I knew the company's dissolvable powder would be just as effective. I've been struggling with the pain and general feelings of ickiness that accompanies having a chronic illness combined with the stress of being a full-time college student so wanted to see if this powder would help bring me some relief. In the morning I wanted to start using this product, I woke up in so much physical pain, I was instantly stressed out knowing how much I had to do that day.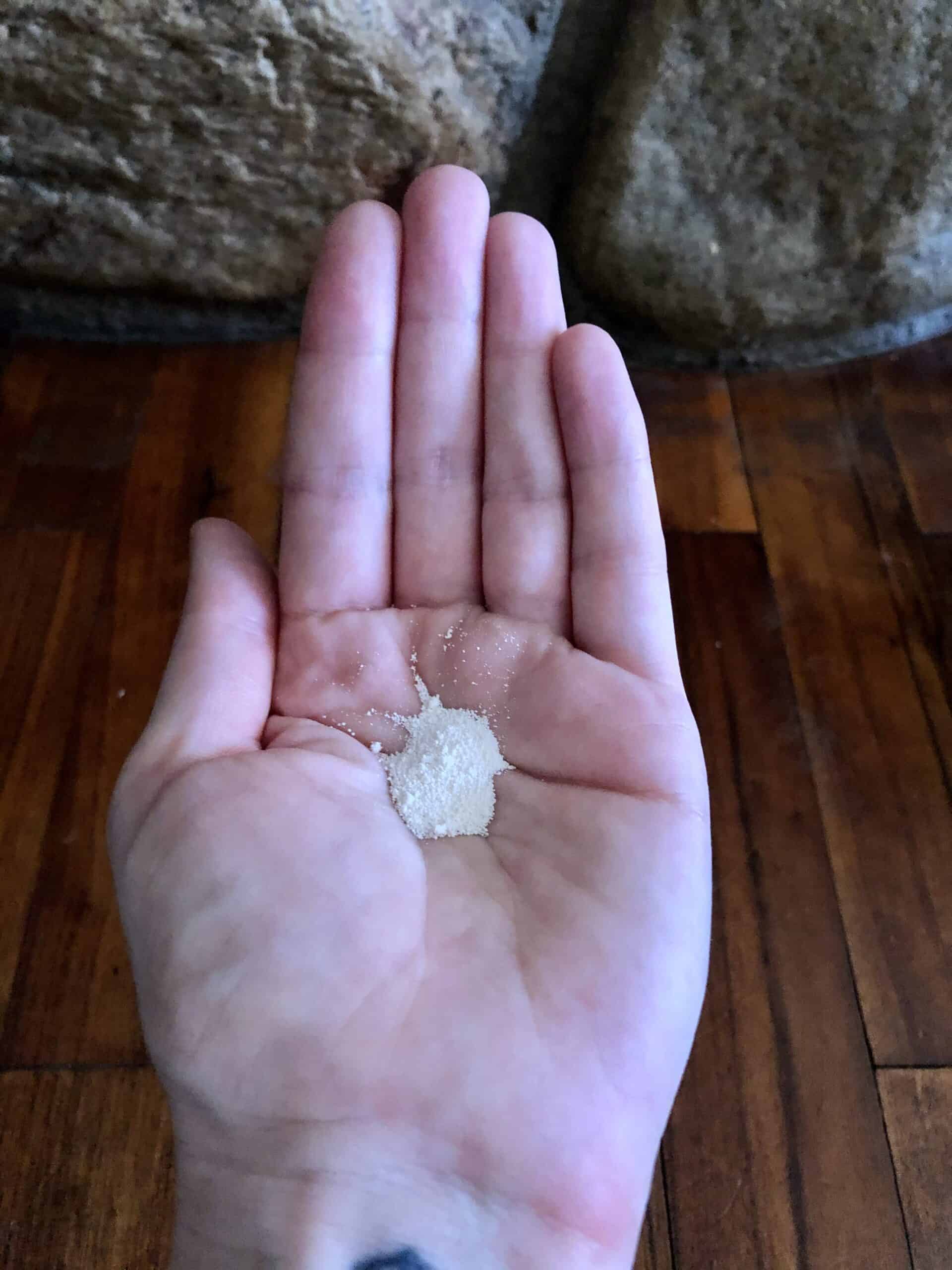 I hobbled to the kitchen and poured myself a glass of water then mixed in a packet of the CBD powder. I drank it down and settled down to finish some homework before my first class.
---
How the CALIPER CBD DISSOLVABLE POWDER Worked for Me
I could feel the benefits of Caliper CBD's dissolvable powder right away. I couldn't believe how fast this stuff kicked in. I felt warm, calm, and focused. While CBD doesn't take away pain or stress, it can certainly take the edge off so that life can be a little easier. I had a productive morning, finishing up my French homework, and even had time to study the Hebrew alphabet before class. I found myself able to concentrate longer before being distracted by how crappy I felt. My biggest complaint about the powder is that it tastes slightly bitter, which is probably the hemp. I prefer the Caliper CBD swiftsticks because they're flavored and hide the taste of hemp. Next time I use this product, I'll try mixing it in more water to dilute the taste.
---
Useful and Unique Things to Know About CALIPER CBD DISSOLVABLE POWDER
It's important to mention that Caliper CBD Dissolvable Powder contains sorbitol and modified food starch because some people are sensitive to processed ingredients. Sorbitol is a sugar alcohol that's often used as a sweetener. People who are sensitive to laxatives might react badly to sorbitol, causing them to have bloating or abdominal issues. Modified food starch is made from corn and potatoes and is a thickening food additive. It's found in almost all processed foods. While not bad for you, a lot of people are sensitive to processed ingredients. Some people with autoimmune diseases have to avoid processed foods, particularly stuff derived from white potatoes.
---
CALIPER CBD DISSOLVABLE POWDER Ratings
In the next sections gradings from 0-100 on our review, these grades add up to give the product's overall score.
PRESENTATION • 100
Informative packaging.
RELIABILITY • 100
Effective and precise.
QUALITY • 75
Contains sorbitol and modified food starch.
FLAVOR / SMELL / or EASE OF USE• 80
Slightly bitter in water.
VALUE • 100
Good deal.
---
How CALIPER CBD DISSOLVABLE POWDER Stacks Up Against the Competition
I haven't found any other CBD company making dissolvable powders like this so Caliper CBD certainly stands apart from the competition. If the company wanted to make some improvements to this product, it would be cool if they found a way to hide the bitter hemp taste. Also, it would be great to see them create an autoimmune-friendly product without processed ingredients.
---
Disclosure: I received these products gratis so that I could try them and then share my honest opinion with the SOC community. I am employed by Save on Cannabis to write honest reviews and provided a flat rate payment for the writing of the review. SOC may receive recurring affiliate payments for purchases made based on this content.
In this CBDistillery review we got our ached body to test the CBD Relief Stick and see if it soothed & is competitive to other CBD products.
Candy to help you sleep? In this Pure Relief CBD Night Gummies review we see if they really help us get some sleep.
Check out our Steve's Goods CBD/CBG 20:1 Blueberry Tincture review and see how it worked for anxiety & inflammation.