CBD Medic Review: Active Sport CBD Pain Relief Stick
Aug 10, 2020 | SOC
CBD Review: CBD Medic - Active Sport CBD Pain Relief Stick
Pros
Relieves pain
Easy to use
Smells great
Moisturizing
No THC
CBDMEDIC ACTIVE SPORT PAIN RELIEF STICK
Product Review
Brand Overview:CBDMedic
CBDMedic has created a line of topicals for pain relief, workouts, and skincare. Whether you're experiencing muscle and joint pain, arthritis, eczema, or acne, CBDMedic has a product just for you. Everything is made with natural and effective ingredients that contain zero THC.The topicals are free from artificial dyes and fragrances, steroids, parabens, petrolatums, and phthalates.
CBDMedic uses broad-spectrum cannabinoid extract which comes from the cannabis Sativa l. plant. You can get free shipping on all your orders, and subscribe to save 15% off your order.
Products: CBD Topicals for Pain Relief, CBD Topicals for Post-Workout, CBD Topicals for Skin Care
Price Range ($-$$$$): $$$
---
About CBDMEDIC ACTIVE SPORT PAIN RELIEF STICK
The Active Sport Pain Relief Stick from CBDMedic provides hands-free relief from muscle and joint pain, strains, sprains, and bruises. This stuff is easy to use, just apply to your troubled spots directly from the convenient stick, making it so you don't have to wash your hands after every use. The relief stick is made with all-natural analgesic ingredients like camphor and menthol. You can use this stuff up to four times a day and it's great before, during, and after workouts to help keep you going. CBDMedic's pain relief stick is dermatologist tested, is hypoallergenic, and filled with moisturizers to keep your skin happy.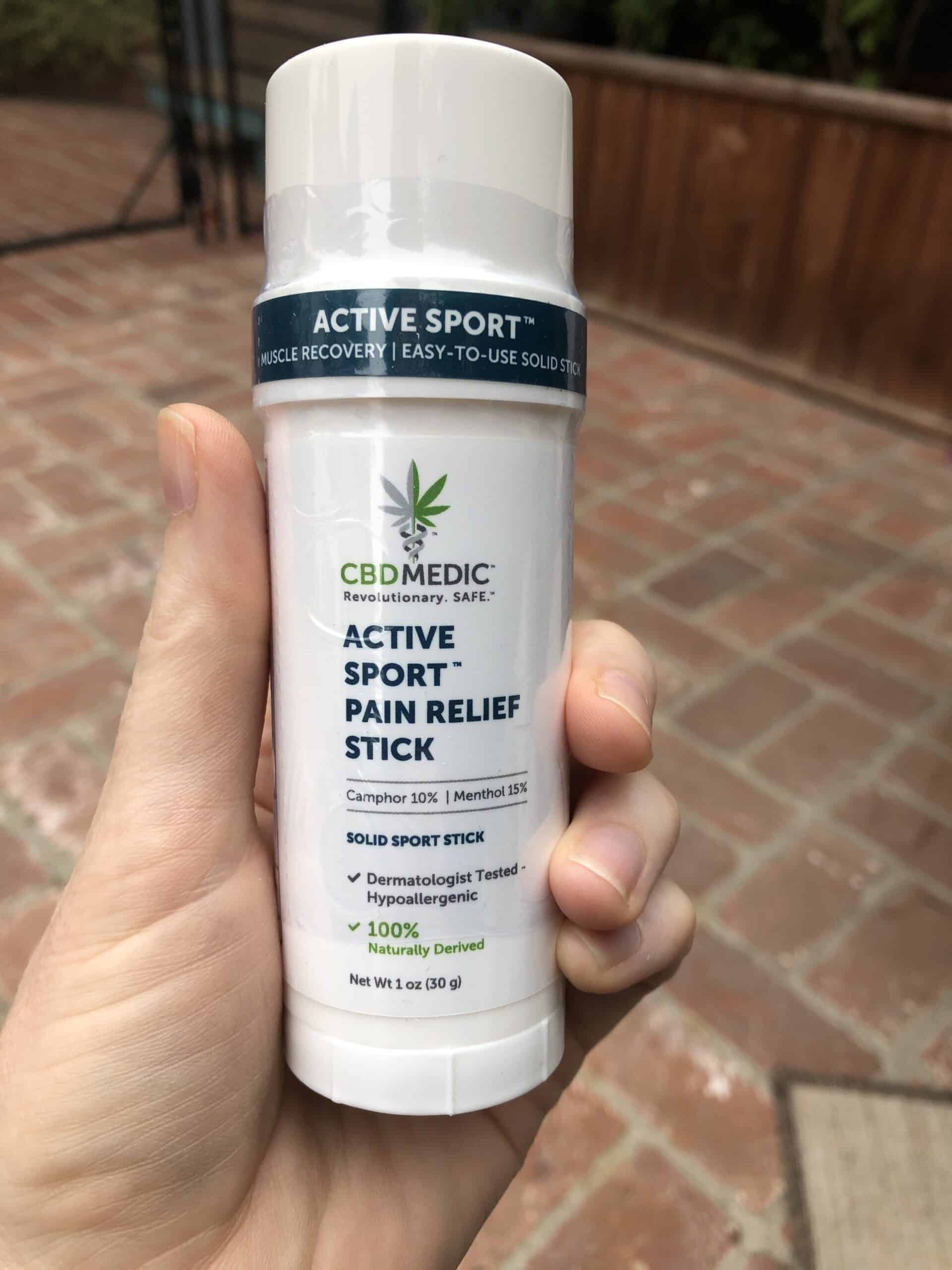 ---
CBDMEDIC ACTIVE SPORT PAIN RELIEF STICK Specifications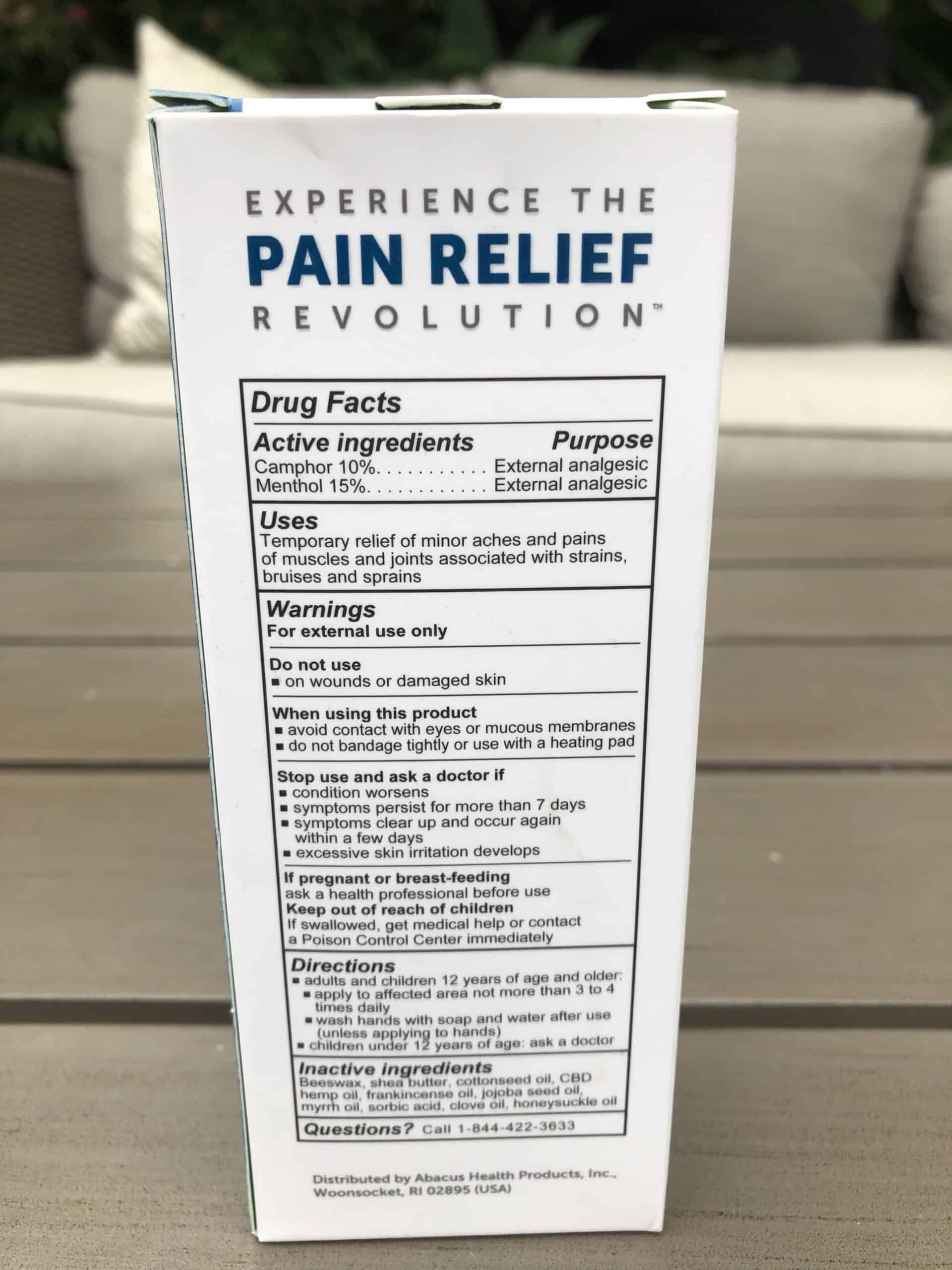 200 mg CBD
1 oz (30 g)
Ingredients:15% Menthol, 10% Camphor, Beeswax, Shea Butter, Cottonseed Oil, 200mg CBD Hemp Extract, Frankincense Oil, Jojoba Seed Oil, Myrrh Oil, Sorbic Acid, Clove Oil, Honeysuckle Oil
---
How We Tested the CBDMEDIC ACTIVE SPORT PAIN RELIEF STICK
I have arthritis that affects most of my joints below the belly button, including my hands, so I'm always on the lookout for natural ways to get pain relief. Because I've had multiple injuries, I do physical therapy religiously to keep me walking upright and prevent the pain from getting worse. I was excited to try CBDMedic Active Sport Pain Relief Stick because I love any topical that has the cooling effect from menthol and camphor. This stuff contains healthy doses of 10% camphor and 15% menthol so I was anticipating a healthy dose of relief. I applied the stick to my low back, hips, quads, knees, and the top of my hands.
---
How the CBDMEDIC ACTIVE SPORT PAIN RELIEF STICK Worked for Me
The relief was immediate and cooling. The smell was lovely, like a milder version of Tiger Balm. Tiger Balm is one of my all-time favorite non-CBD topicals, and this relief stick worked similarly to cool down my painful areas to distract my brain from the pain. The distraction from pain was potent and helped me push through to get my physical therapy accomplished. With such effective muscle and joint pain relief, I was able to sleep better too. This topical was also moisturizing which soothed the dryness on my hands and feet.
---
Useful and Unique Things to Know About CBDMEDIC ACTIVE SPORT PAIN RELIEF STICK
CBDMedic Active Sport Pain Relief Stick contains other ingredients besides CBD, menthol, and camphor. The cottonseed oil can moisturize your skin and help with wrinkles because it contains Vitamin E and antioxidants. Frankincense oil is also a great moisturizer and has anti-aging properties. Jojoba seed oil can help with acne or chapped skin. Myrrh oil helps with healing wounds and fights infectious microbes. Clove oil is also great for pain relief, healing, and itching. Finally, honeysuckle oil can also reduce pain and infections.
---
CBDMEDIC ACTIVE SPORT PAIN RELIEF STICK Ratings
In the next sections gradings from 0-100 on our review, these grades add up to give the product's overall score.
PRESENTATION • 100
Lots of useful information on the packaging.
RELIABILITY • 100
Soothing and relieving.
QUALITY • 100
Physical therapy-like ingredients.
FLAVOR / SMELL / or EASE OF USE • 100
Smells like Tiger Balm; natural and refreshing.
VALUE • 85
Somewhat expensive.
---
How CBDMEDIC ACTIVE SPORT PAIN RELIEF STICK Stacks Up Against the Competition
This pain relief stick has jumped to the top of my list as one of my favorite CBD topicals. It's easy to use, smells great, and immediately relieves muscle aches and pains. I love how similar it is to Tiger Balm, which is my favorite non-CBD topical. My one complaint about this topical is it's a little too expensive for my blood. If they want to make this relief stick more competition, I suggest they make their product more accessible to people who can't pay $39.99 for a 1 ounce topical.
---
Saving Money with Our Verified CBDMEDIC Coupons
Save money by using our verified CBD Topicals here at Save On Cannabis the World's largest online cannabis coupon code directory.
---
Disclosure: I received these products gratis so that I could try them and then share my honest opinion with the SOC community. I am employed by Save on Cannabis to write honest reviews and provided a flat rate payment for the writing of the review. SOC may receive recurring affiliate payments for purchases made based on this content.

Berkeley Gold review of the precise CBD doses in dissolvable tablets. Find out if the tablets (900mg package) do the trick to ease our days.
We have Dr. Dabber reviews for all their CBD cartridges, see how the Fresh Blend stacks up. In this Dr. Dabber fresh blend review.
Our reviewer tests the All Natural Way CBD Oil - 350mg. Hear what a seasoned CBD user thinks in this CBD review. Find if it relieved her pain & is worth it.