Americana CBD Review – Flower Buds (1/8 oz) Hawaiian Haze
Dec 10, 2020 | SOC
Americana CBD Flower Buds (1/8th .oz) Hawaiian Haze
32.50
Pros
Fantastic aroma
Well-trimmed buds
Fresh, good-quality flower
Grown in the Pacific Northwest
Relaxing and stress-free effects
Flavorful smoke
Cons
Third-party lab tests aren't available
The CBD percentage isn't listed on the product label
Quantity of flower buds (in grams) isn't listed on the bag
Americana Premium Hemp Flower — Hawaiian Haze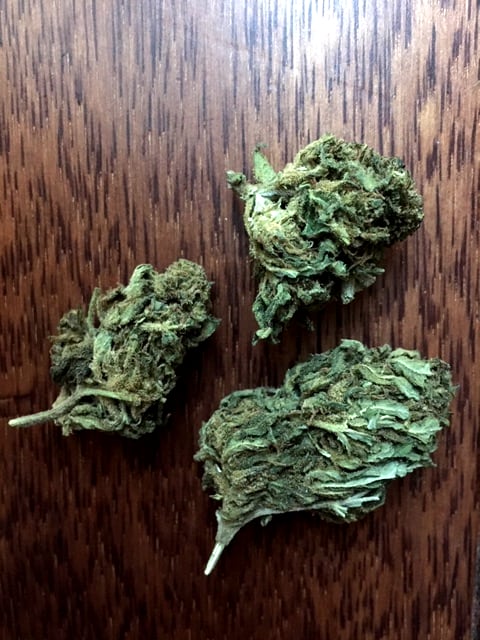 Brand Overview: Americana as sold by

Pure CBD Vapors
Americana sources its hemp from licensed farms in the Pacific Northwest (in the US) and has a facility where it manufactures its own products. In addition to selling CBD hemp flower, the company makes uncut vape cartridges, pre-rolls, topicals, and disposable vape pens.
It utilizes a high-quality extraction process where it refines and winterizes its hemp extracts into a full-spectrum CBD distillate.
Of course, it doesn't process its flower on this level. But it does properly dry, cure, and trim the buds before selling them. We couldn't find a website for Americana. If they happen to have one, it's not easy to locate. So, we weren't able to track down lab testing reports for the Hawaiian Haze hemp flower. But from other third-party retailer websites, they say the flower is free of pesticides and fertilizers.
Products: Vape cartridges, disposable vape pens, salves, CBG flower, and pre-rolls
Price Range ($-$$$$): $$$
---
About Americana Premium Hemp Flower — Hawaiian Haze
Americana's hemp flower is the Hawaiian Haze strain which is a cross between DC Haze and Early Resin Berry (ERB). It has a strong mix of delicious aromas and tastes. They include the sweet smells of mangoes, the sweet and tangy flavors of pineapple, and a combination of more subtle notes of citrus, earth, and pepper.
This flower grows in the Pacific Northwest. And although not listed on the package, Hawaiian Haze typically has between 18 to 20 percent CBD.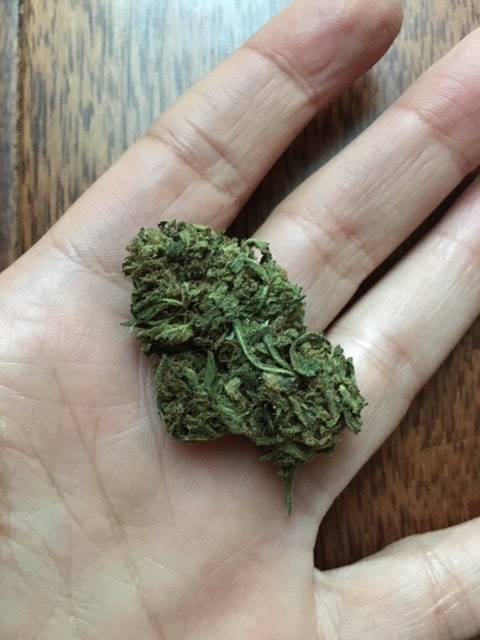 Also, the strain's known for its calming, stress-free, and pain-free effects. If you only take a few hits, it could be a bit more uplifting in nature. But as a true CBD strain, the effects are more relaxing and physical, generally speaking. The purpose of smoking or vaping CBD flower is to access the fast-acting effects that inhalation offers. Plus, with the gorgeous array of terpenes, the aromas and tastes are a nice bonus too.
---
Americana Premium Hemp Flower Hawaiian Haze Specifications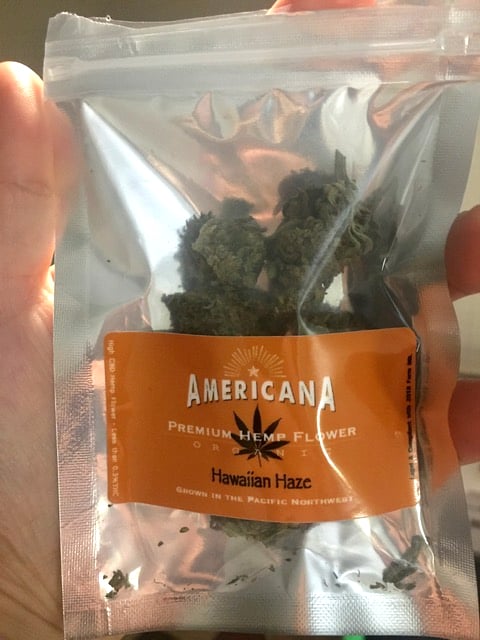 ---
How We Tested Americana's Premium Hemp Flower — Hawaiian Haze
Before writing this review, I wanted to smoke this flower a handful of times. The first time I smoked was in the afternoon (probably not the best time to smoke it if you have things to do). Then I smoked it several other times in the evening, after 6 pm.
I prefer smoking a joint, so I used my grinder to grind up some of the flower, and loaded up my Queen-sized pre-roll hemp paper cone, and took about 6 to 7 hits. Given the fairly large size of my joint, I only smoke half at a time.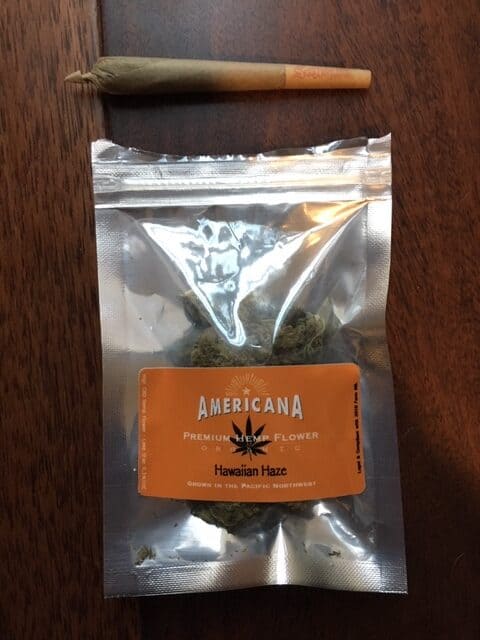 Furthermore, the buds were nicely manicured and had a good feel and texture to them. They weren't damp and not overly dried, somewhere right in the middle.
---
How Americana's Hawaiian Haze Premium Hemp Flower Worked for Me
The best part about this strain for me was the aroma. The smells have so much depth and are incredibly pleasing to the senses. It's like putting your nose to a rose flower bush. I can smell these buds for hours, well maybe not hours, but you get the point.
This isn't to say the effects aren't great, because they are. I could definitely feel the strength of the high CBD potency in these buds. That's why I wouldn't personally recommend them for daytime use. But, then again, we're all unique and some people may prefer or need this strain in the daytime if dealing with chronic pain for instance. Or for someone who works nights and needs to sleep during the daylight hours.
For me, however, I work during the day but made the mistake of smoking some in the afternoon. It made me feel sleepy and I learned to save this for nighttime smoking only. This pretty much sums up my experience with CBD strains because they relax me and ease me into sleep.
So, the next few times I smoked this flower it was later in the evening. And I had similar experiences to the first time smoking it. My body was deeply at peace, my thoughts slowed down next to nothing. I could literally focus on one thing rather than trying to do 10 things at once.
Overall, this flower is great to consume when you're feeling tense, anxious, angry, frustrated, or overworked and under-appreciated.
---
Useful and Unique Things to Know About Americana's Premium Hemp Flower — Hawaiian Haze
This Hawaiian Hemp flower grows in regions throughout the Pacific Northwest. These areas include Washington, Oregon, and Northern California. All these areas and states have had cannabis legalization for a long time. So, there's a lot of experienced growers that live in these regions and that reflects in the quality of this hemp flower.
---
Americana's Premium Hemp Flower Hawaiian Haze Ratings
In the next section, we provide ratings from 0-100 based on our testing period. Add up these ratings to arrive at an overall score for the product.
PRESENTATION • 85
Packaging and labeling are ok, but the CBD content and flower quantity aren't shown.
RELIABILITY • 100
The effects felt very nice — deeply calming, relaxing, and focused.
QUALITY • 90
The appearance and texture of the buds were fanatic, but could not find lab testing reports.
FLAVOR • 100
Awesome flavor with sweet, tropical, and earthy notes.
VALUE • 90
The cost per gram is high compared to the competition, but it's well grown.
---
PROS of Americana's Premium Hemp Flower—Hawaii Haze
The flavor, aroma, and effects of the strain are top-notch. You can tell the hemp plants were grown with expertise and they are well-trimmed.
---
CONS of Americana's Premium Hemp Flower—Hawaiian Haze
There's no accompanying 3rd party lab report, so I don't know the exact CBD percentage, or if the flower is free of contaminants and chemicals. Also, the bag label doesn't indicate the quantity of flower.
---
How Americana's Premium Hemp Flower Hawaiian Haze Stacks Up Against the Competition
Americana's Hawaiian Haze CBD Hemp Flower is similar to other brands I've tried. The flower definitely delivers the strong, aromatic, wonderful smells expected of Hawaiian Haze. However, the price point is higher than the competition by a fairly decent amount.
---
Saving Money with Our Verified Americana Coupons
Save money by using our verifiedCBD Flowers Coupons here at Save On Cannabis the World's largest online cannabis coupon code directory.
---
Disclosure: I received these products gratis so that I could try them and then share my honest opinion with the SOC community. I am employed by Save on Cannabis to write honest reviews and provided a flat rate payment for the writing of the review. SOC may receive recurring affiliate payments for purchases made based on this content.
Check out our expert CBD review of the Infinite CBD Nano Energy Shot. We got hold of it and tested it see how it worked along with pictures.
We have Dr. Dabber reviews for all their CBD cartridges, see how the Fresh Blend stacks up. In this Dr. Dabber fresh blend review.
Read our hands on review of the GoGreen Hemp Premium CBD Orange Oil Drops. We tested it and give our rundown so you can decide if you should buy.