43 CBD Solutions Review: USDA Organic CBD Oil Salve
Jan 13, 2021 | SOC
43 CBD Solutions: USDA Organic CBD Oil Salve (300mg CBD)
Pros
Moisturizing
Organic
Easy to use
Great for massage
Mild pain relief
Cons
Slight smell of hemp
Expensive
43 CBD
Product Review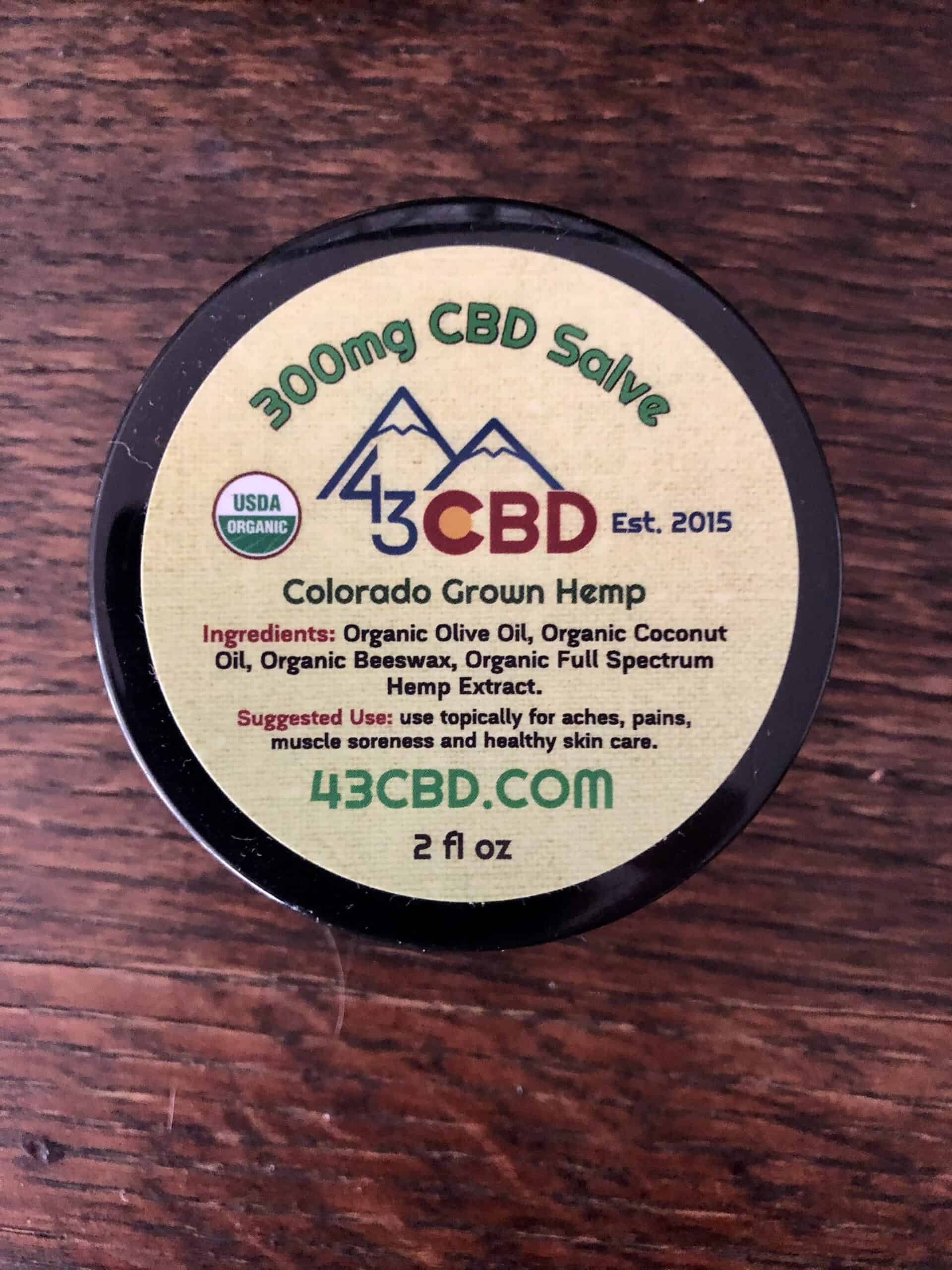 Brand Overview: 43 CBD
43 CBD's mission is to help you feel better naturally. The company was founded by some snowboarder bros from Colorado whose background and interest in chemistry, health, and wellness drew them to CBD. To create high-quality products, 43 CBD uses artisan hemp grown with natural farming practices without chemicals. They hand-select the seeds and everything is lab tested for purity, potency, and to ensure you're getting the best.
The company makes CBD oils that are full-spectrum or THC-free. They have a variety of salves as well as massage oil. 43 CBD also makes a tincture specifically formulated for dogs and cats. Whether you need something to take the edge off stress, need relief from pain, or are dealing with an over-anxious pet, 43 CBD has made it easy to find a natural and non-addictive solution.
Products: Oils, Salves, Capsules, Pets, Massage, Hats, Bundles.
Price Range ($-$$$$): $$$$
---
About 43 CBD ORGANIC CBD OIL SALVE – 300 MG
This 100% organic salve contains 300 mg of full-spectrum hemp oil which is combined with other natural ingredients to alleviate aches and pains. 43 CBD combines the CBD with organic beeswax, coconut oil, olive oil, and non-GMO Vitamin E which work to soothe and moisturize your skin. The CBD contains active cannabinoids that absorb into your skin and bind to the body's naturally occurring CBD2 receptors which in turn activate your endocannabinoid system, offering an all-natural solution to pain and helping you feel more relaxed.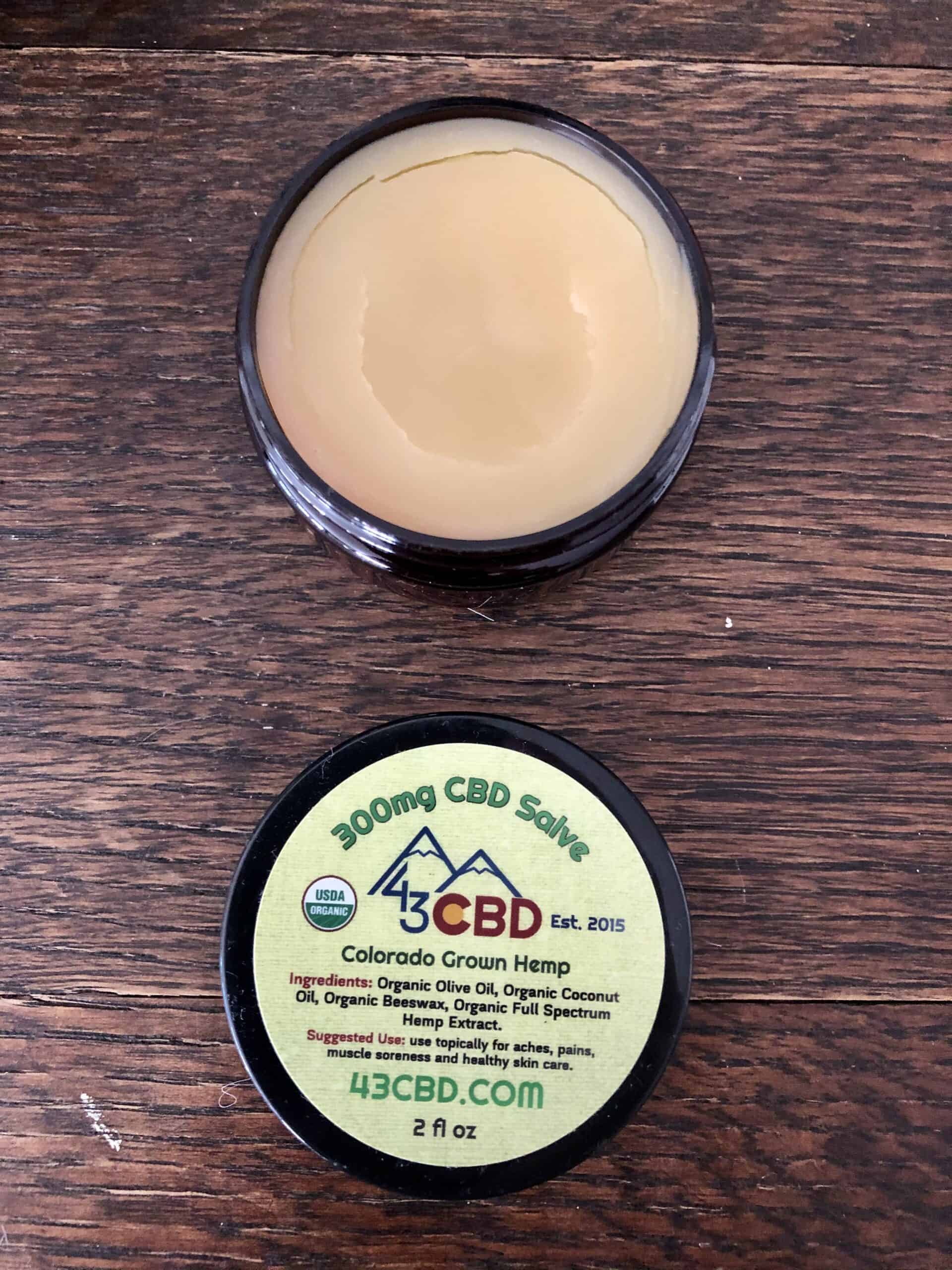 With this salve, you'll feel the positive effects immediately, providing localized pain relief. This product contains no artificial colors, fragrances, has less than 0.3% THC. 43 CBD recommends using this salve sparingly at first, applying it directly to your painful areas.
---
43 CBD ORGANIC CBD OIL SALVE – 300 MG Specifications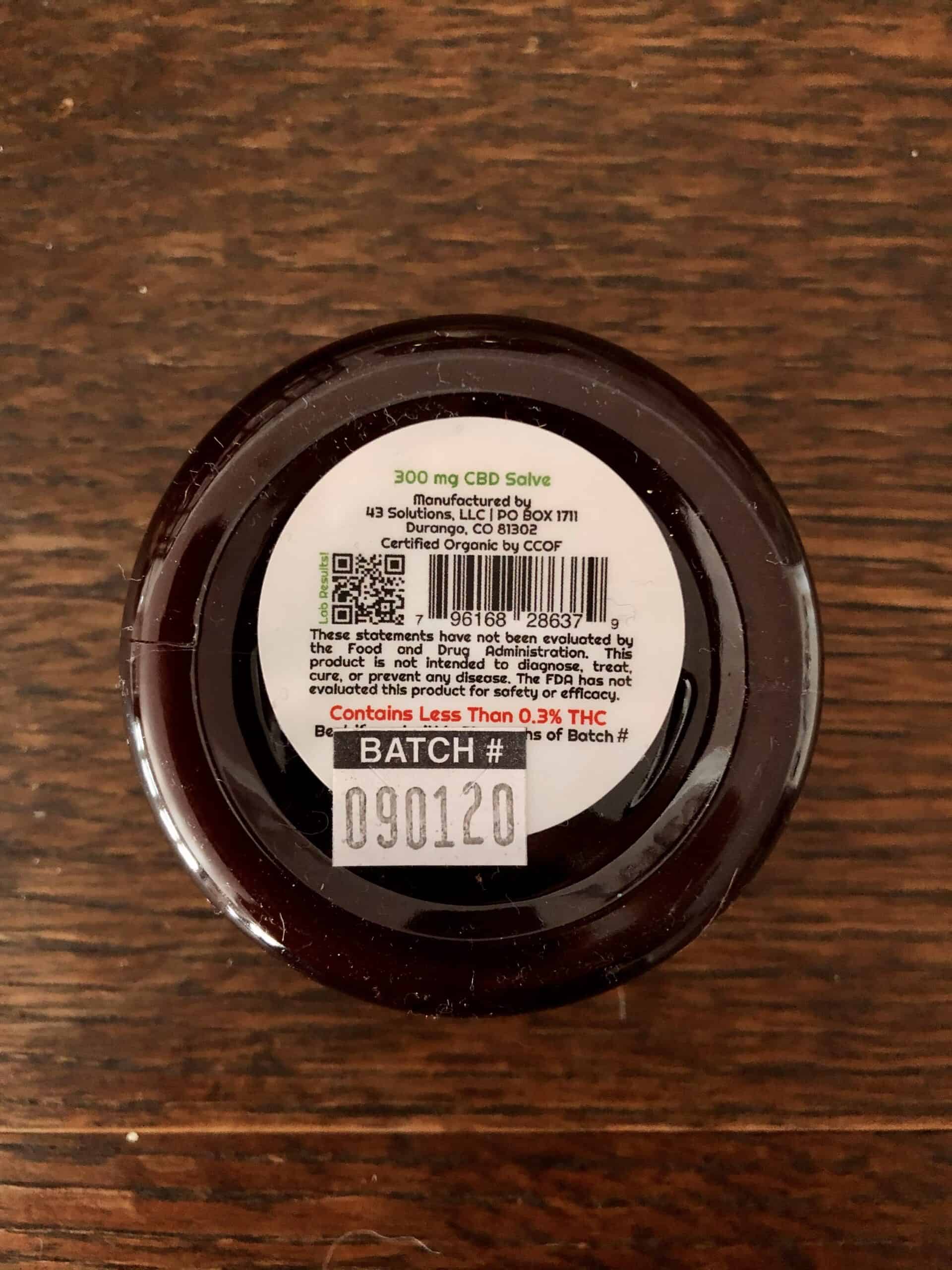 300 mg CBD
Less than 0.3% THC
2 fl oz
Ingredients: Organic Olive Oil, Organic Coconut Oil, Organic Beeswax, Non-GMO Vitamin E, Organic Full Spectrum Hemp Extract
---
How We Tested the 43 CBD ORGANIC CBD OIL SALVE – 300 MG
I struggle with constant pain due to arthritis and fibromyalgia, so I've come to rely on topicals to give me some relief. The pain in my hips can be debilitating and I've found myself unable to work a full-time job or be a full-time student. I live my life in part-time mode, and as a former workaholic, it can be annoying not being able to do everything I want to do. I've found some amazing CBD topicals that have made it easier for me to sit through a class or a couple of hours of work with minimal discomfort.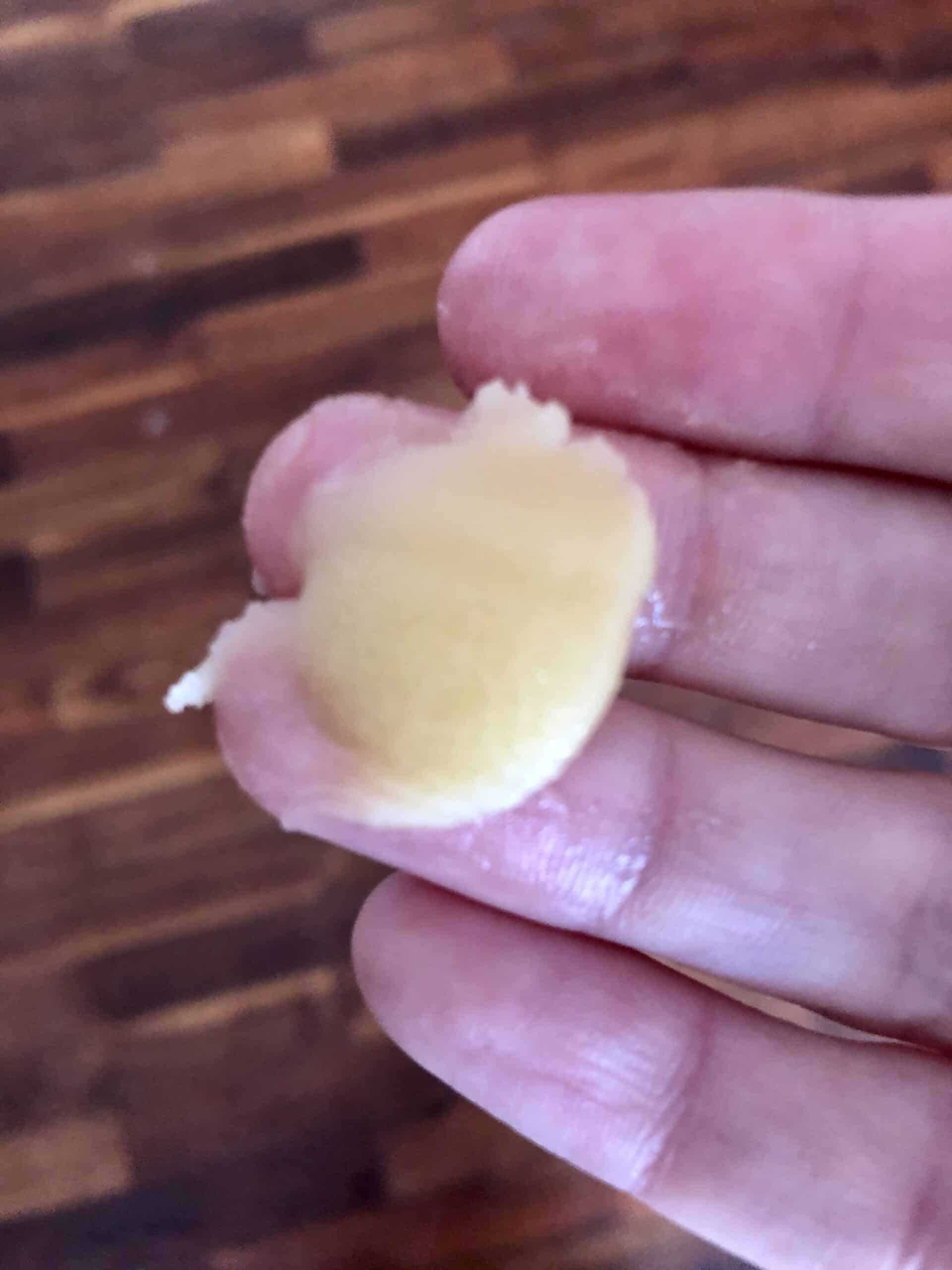 I'm in the midst of midterms so I wanted to test out this salve to see if it would help me push through the pain so I can study more. The pain also makes sleep difficult, so I'll be using this at night to see if it helps. I applied a small amount of the salve to my hips before class and more before bed.
---
How the 43 CBD ORGANIC CBD OIL SALVE – 300 MG Worked for Me
43 CBD Organic CBD Oil Salve was incredibly moisturizing and easy to blend into my skin. My normally dry skin felt soft and nourished. This stuff would make a great massage lotion because it doesn't flake or dry. I felt mild relief immediately. I was able to sit and work on my exams for two hours before I needed to take a break. When I used the salve again at night, I was able to fall asleep faster and stay asleep longer than usual.
While this product was effective, it only provided mild pain relief. I prefer the 43 CBD Ultra Deep Tissue Salve because it was stronger and the effects lasted longer. I also prefer the ultra-deep tissue salve's smell better. This one was fine, but it smelled a little hempy. I don't think I'll be using this product as much as the deep tissue salve. It just worked and smelled better.
---
Useful and Unique Things to Know About 43 CBD ORGANIC CBD OIL SALVE – 300 MG
This product contains ingredients your skin will love. Beeswax fights inflammation and heals wounds. It's also high in Vitamin A and protects the skin from the environment. Coconut oil moisturizes your skin and can fight wrinkles. Olive oil is rich in antioxidants and contains Vitamins A, D, E, and K. It will also moisturize your skin and fight bacteria. Vitamin E helps reduce the negative effects of the sun and protects your skin from free radicals.
---
43 CBD ORGANIC CBD OIL SALVE – 300 MG Ratings
In the next sections gradings from 0-100 on our review, these grades add up to give the product's overall score.
PRESENTATION • 100
Informative packaging.
RELIABILITY • 90
Mild pain relief.
QUALITY • 100
100% organic.
FLAVOR/SMELL/or EASE OF USE • 85
Nice smell but mildly hempy.
VALUE • 75
Expensive.
---
How 43 CBD ORGANIC CBD OIL SALVE – 300 MG Stacks Up Against the Competition
43 CBD Organic CBD Salve is great for mild pain relief but if you're looking for something stronger, I recommend the 43 CBD Ultra Deep Tissue Salve. The organic salve could be more effective if 43 CBD added some nice-smelling essential oils to hide the scent of hemp. I also think this product is too expensive. Most CBD topicals are overpriced, in my opinion, but this one is on the higher end. Still, it's a high-quality product that feels amazing on my skin. I'll be using it more as a massage lotion than for pain.
---
Saving Money with Our Verified 43 CBD Coupons
Save money by using our verified CBD topicals Coupons here at Save On Cannabis the World's largest online cannabis coupon code directory.
---
Disclosure: I received these products gratis so that I could try them and then share my honest opinion with the SOC community. I am employed by Save on Cannabis to write honest reviews and provided a flat rate payment for the writing of the review. SOC may receive recurring affiliate payments for purchases made based on this content.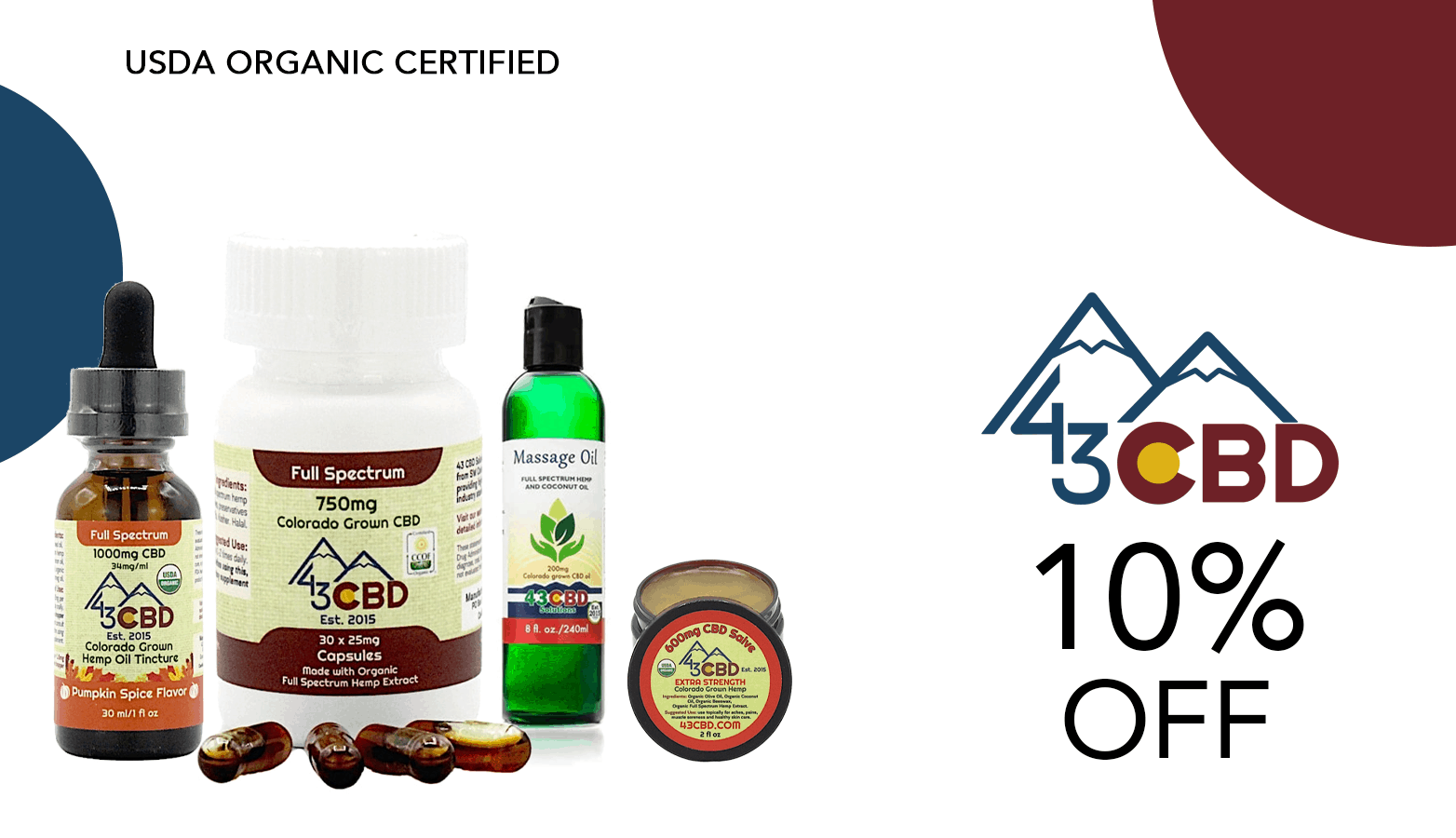 10% Off for Returning Order customers at 43 CBD Solutions! Colorado USDA Organic Grown Hemp.
Our CBD topicals expert put the CBD•TRU Salve for Migraines to the test. Can this salve be used as a muscle pain topical? Our reviewer tests it out.
Our reviewer tries out the Aspen Green CBD Muscle Relief Cooling Cream to ease away some of her aches, see how it worked in this hands on review.
Our reviewer tests the All Natural Way CBD Oil - 350mg. Hear what a seasoned CBD user thinks in this CBD review. Find if it relieved her pain & is worth it.