Vape Review: Dr. Dabber – SWITCH
Feb 19, 2019 | C Michael Evans
Dab RigsUnique Smoking DevicesVaporizers
Dr. Dabber - Switch
Pros
Heats Up Quick
Self-Cleaning
Customizable Color Displays
Advanced Mode for a Wide Range of Temperature Settings
Long Battery Life and Fast Recharge
Leaf AND Oil Modes
Quality Glass and Materials
Cons
Complicated to Use, Beyond the Basic Settings
Quartz Nail Sold Separately
Lack of Display
Included Glass Loading Tool is a Better Carb Than Loader
Brand Overview: Dr. Dabber
Dr. Dabber is well known in the vaporizer market for high-quality products, selling a wide range of pens and devices and accessories to meet any customer's vaping needs.  They pride themselves on creating portable vaporizers that are both convenient and reliable, while still giving the user potent and powerful inhales.
Their line of products are the result of rigorous testing and development, resulting in best-in-class awards for previous offerings like their Dr. Dabber Aurora and Dr. Dabber Boost, and now their newest offering reviewed below the Dr. Dabber SWITCH.
Products: Vaporizers, pens, devices, and accessories
Price Range ($-$$$$): $$$$
About the Dr. Dabber SWITCH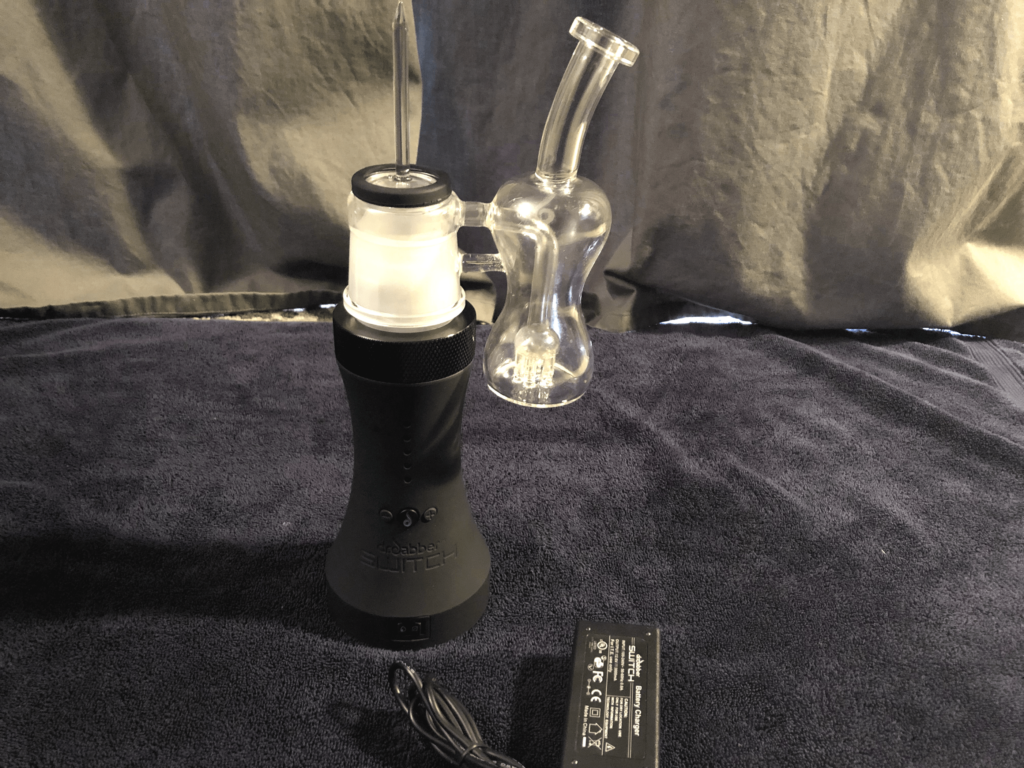 The Dr. Dabber SWITCH is advertised as the newest generation of vaporizers and features patented induction heating technology that promises to deliver unparalleled performance with absolutely no compromise.
Similar to previous products, like the Aurora or Boost, the SWITCH does not require any flames or outside heat and offers a variety of heating profiles to customize the experience to any user.  Unlike the Aurora and Boost though, the SWITCH can use fresh flower as well as oil.
The SWITCH offers 5 standard heating profiles to keep things simple, but for experienced users, there is an Advanced Mode that offers 25 different heating profiles.  The SWITCH's heat up time is listed as 4 to 6 seconds on any profile, so there's no time wasted. The various profile settings ensure customization options to suit any user, from those who prefer low heat and strong flavor to those who prefer stronger vapes with higher heat and less flavor, or anything in between.
The SWITCH battery life is capable of 150 uses on a single charge and requires only 60 minutes to fully recharge.
What's in the Box?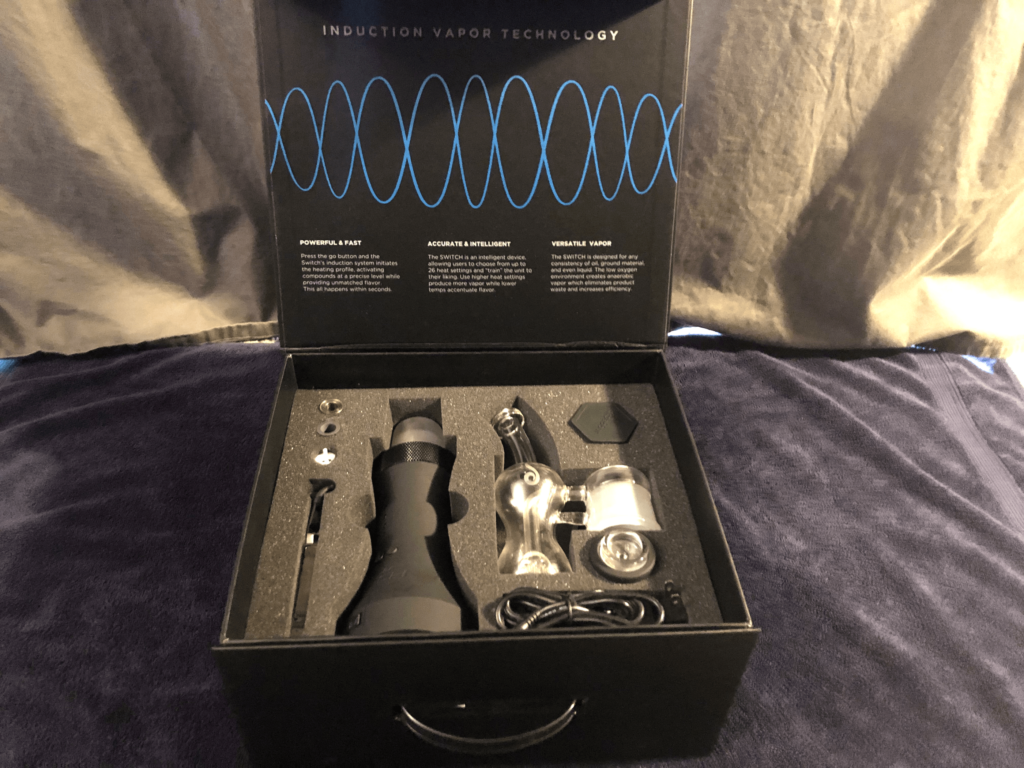 The DR. Dabber SWITCH comes in a few pieces, all neatly packed together in a carrying case box that is reminiscent of a pelican case with soft Styrofoam-like material to protect everything.
Inside the box is just about everything needed for the SWITCH, and all included parts and accessories can be bought separately if needed.  Every part can easily be found on the Dr. Dabber website by searching for "SWITCH:" accessories from the top menu.
Included as standard with the SWITCH: the SWITCH base, glass percolator attachment, a ceramic coated leaf induction cup, a ceramic coated oil induction cup, a ceramic flower filter, induction cup tweezers, charging cable and adapter, a silicone wax container, and a glass loading tool that also acts as a carb accessory.
Dr. Dabber Extras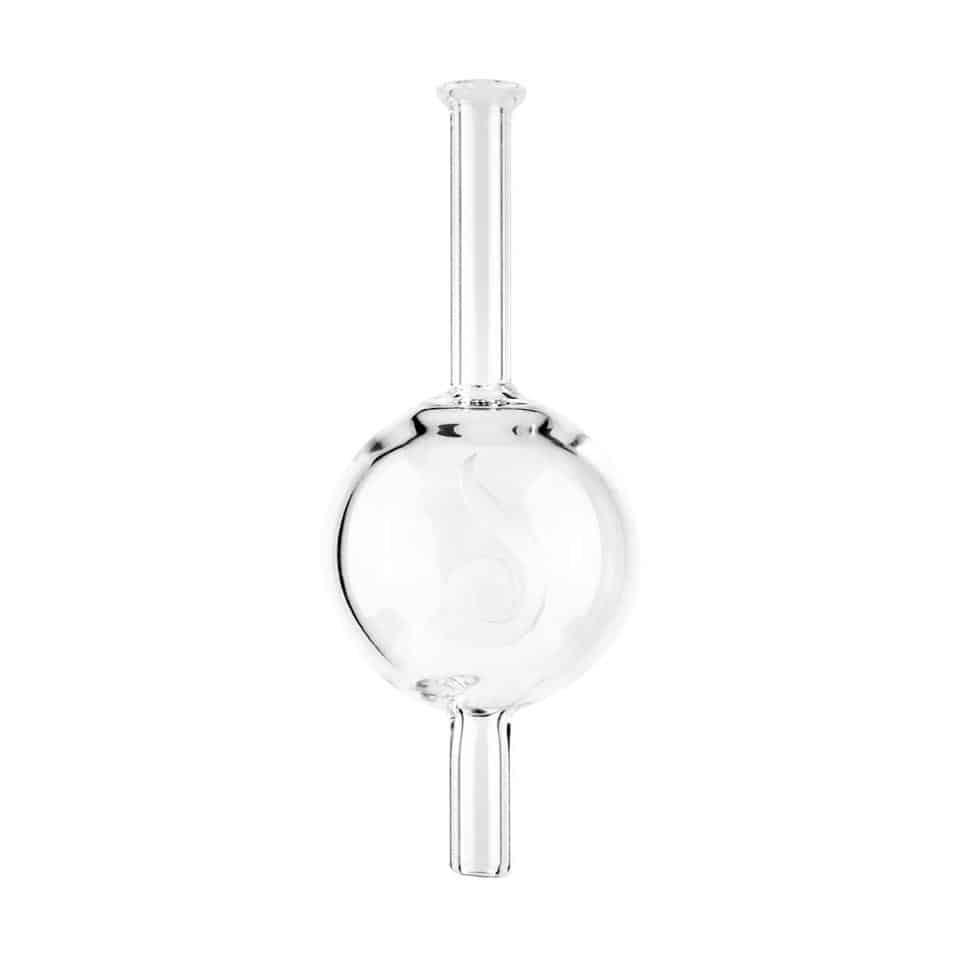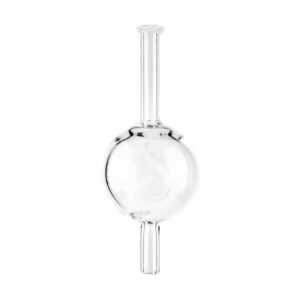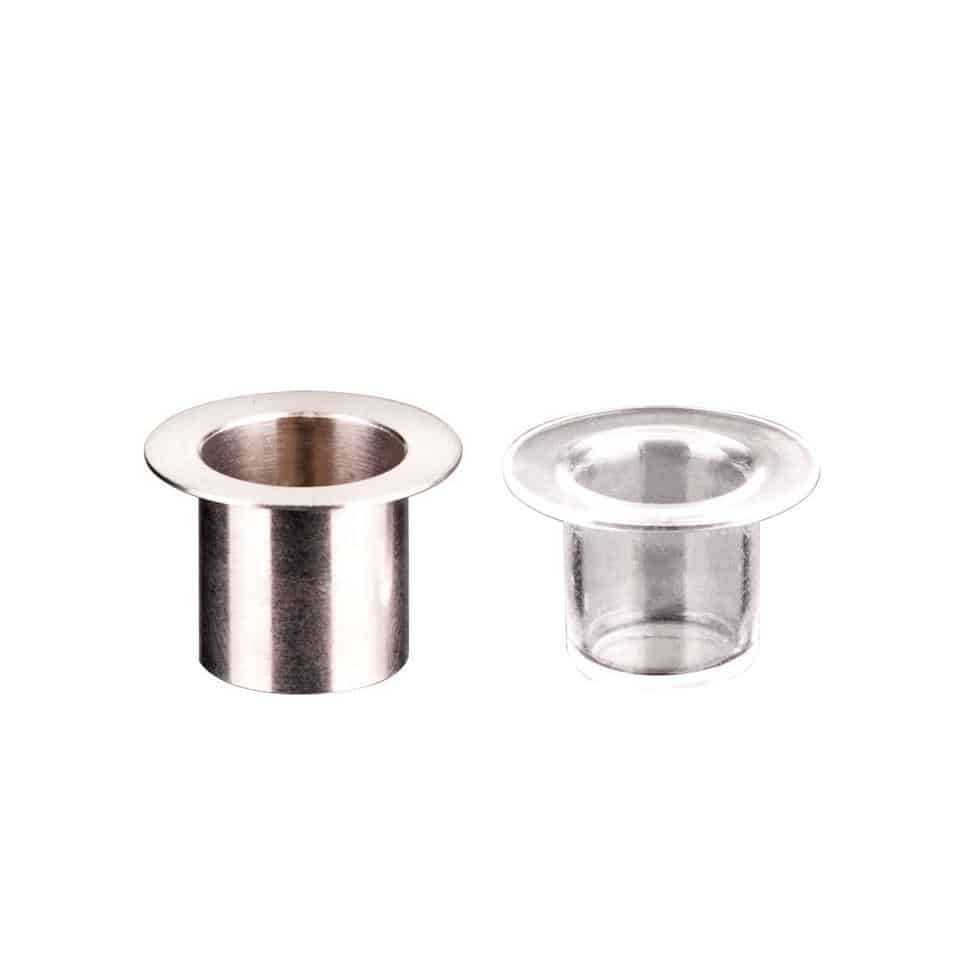 Dr. Dabber also included 2 extra items in their shipment to us, a glass bubble cap and a quartz induction cup.  
The glass bubble cap acts as a carb and allows for directional airflow offering more flexibility in vapor density and production.  
The quartz induction cup can be used with flower but is designed for oil.  It fits neatly into the cups provided and ensures optimal flavor for your vaporizing needs, although keep in mind, the SWITCH must be placed into Crystal Mode to be used properly (more on that below).
Display and Controls
The SWITCH keeps its buttons simple and minimal with a basic power switch at the base to choose Leaf or Oil, three buttons near the center for increasing (+) and decreasing (-) temperature, and a "Go" button in between them to get things started when ready to vape.  
There are 5 LED lights going from bottom to top to display temperature level.  Each light representing the standard heating profiles from 1 to 5. A range starting with a single yellow or green LED light representing low heat and higher flavor to all 5 yellow or green LED lights representing high heat and much less flavor (but denser vapes).  The LED lights start off yellow when in Oil Mode, and green when in Leaf Mode. Pressing the "go" button will have the LED's cycle thru red for warming up, green for ready to vape, and blue for cooldown.
Advanced Mode changes the LED colors and ranges a bit and can be turned on by holding the "GO" button before powering it to Oil or Leaf Mode.  
The SWITCH has a lot of different light up display options for its base.  You can keep it off, or have it brightly illuminate the glass in a color of your choosing, even offering pulsating or flashing lights options.
The limited number of buttons and LEDs, and lack of display will take some getting used to.  Advanced Mode, saving settings, and light up display options can require a combination of buttons or steps to accurately set.  The basics for vaping are easy to manage and turn on, but the small book of directions included in the box is definitely needed for reference on anything more advanced.  With that said, the color options are pretty neat.
Setting Up the Dr. Dabber SWITCH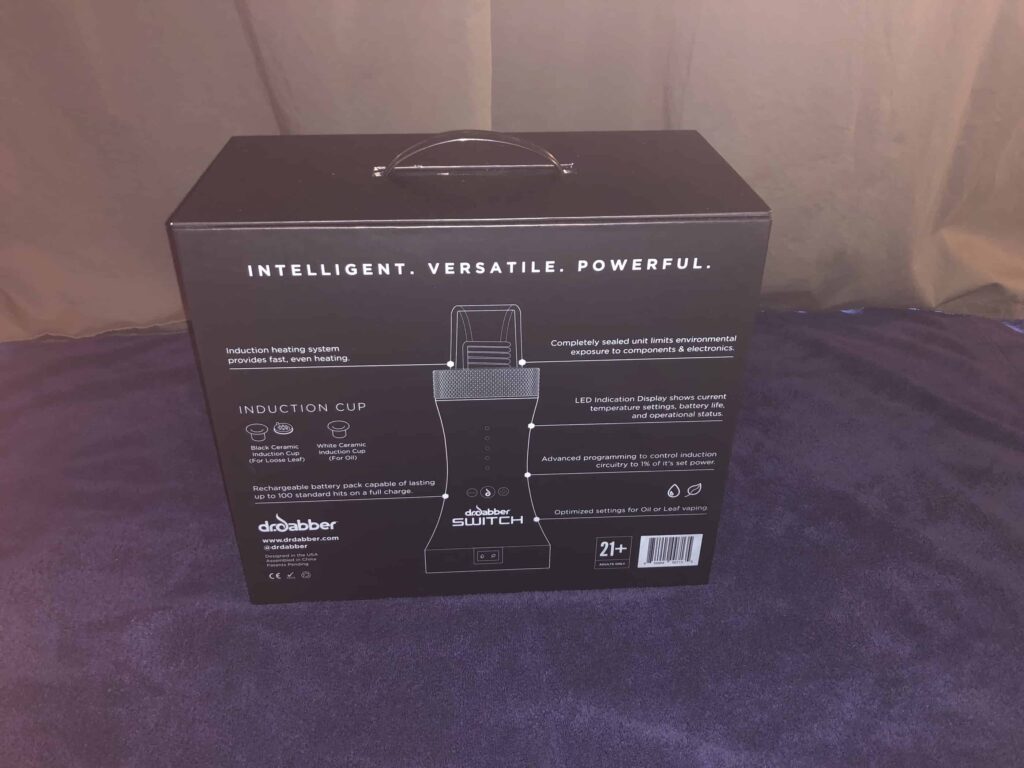 It can be a little intimidating first seeing the SWITCH broken down into pieces with its accessories in the packaging, but the set-up was very easy, and it's easy to see what pieces fit into which.  Once pieced together, the only thing left to do is fill the glass percolator with the desired amount of water.
Anyone new to vaping should make special note of the two induction cups and their colors and meanings.  I had to use the small book of directions to know which cup was for what, White for oil and Black for leaf.  
Dr. Dabber SWITCH: Oil Mode
Oil Mode is easy to set up and use.  Simply flip the switch to Oil Mode and set the temperature to your preference to get started. 
The SWITCH has a lot of auto heat up and cool down features, and the SWITCH will not begin the heat up cycle unless the induction cup is properly in its place in the device.  The induction cup tweezers included with the device should be used every time when handling the cups; Safety First!
Using the tweezers, place the empty White induction cup into the nail, and ready a dab of concentrate.  The glass loading tool that was provided with the SWITCH is not the best, and while it does look cool, it was hard to load up a sizable chunk of concentrate, so we ended up using a classic metal dab tool for the loading.  For new users, I recommend starting with an amount that is slightly smaller than a grain of rice.
Press the "Go" button on the SWITCH and it will heat up almost immediately, swirl the concentrate around the nail as you inhale, and place the glass loading tool or glass bubble over the nail as you finish inhaling.  
You should get at least one powerful inhale of vapor on each dab.  Repeat as necessary.
Dr. Dabber SWITCH: Leaf Mode
Oils is the usual standard for most vaping these days, and Dr. Dabber has built their name mostly on oil vaping products, but the SWITCH actually has an easy to use option for fresh flower vaping.  
Similar to the process above, flip the switch at the base of the SWITCH to Leaf Mode and select your desired heating profile.  The one major difference from the above is that you first load the Black induction cup with your grinded up flower and then place into the device using the tweezers.  The induction cup should be packed relatively full and tightly to be used properly.
Press the "Go" button in the SWITCH and place your designed carb tool of choice on the nail and start inhaling.
You should get a couple powerful inhales on Leaf Mode for each full induction cup, fewer if the temperature is set to a higher heat profile.
Dr. Dabber SWITCH: Crystal Mode
I wasn't sure what to make of Crystal Mode at first, but it is essentially a different set of heating profiles meant to be used with a quartz induction cup (sold separately) that provides better flavor and stronger vapes.  The mode should only be used with a quartz induction cup.
Crystal Mode is turned on by holding down the (+) and then switching the power to leaf or Oil Mode.  The SWITCH will power on and the five LED lights will flash white to let you know Crystal Mode is on.  To return to standard mode, just hold down the "Go" button while off, and again select Leaf or Oil to power it back on.  
I highly recommend the quartz induction cup and using crystal mode as the flavor quality was much, much better.  The heating profiles are a little different and will take some adjusting, but the process for vaping leaf and oil is the same as above, and the quartz induction cup is "only" an extra $39.95.
Self-Cleaning Functions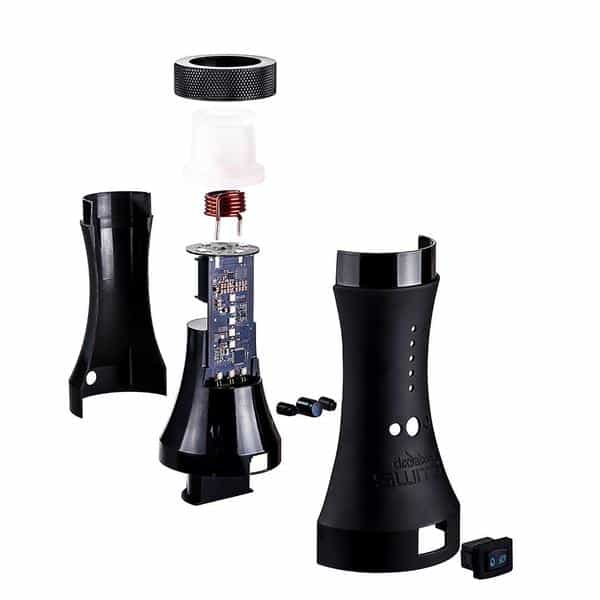 The SWITCH comes with a self-cleaning mode that quickly heats up the induction cups to high level of heat that burns away any leftover residue.  It works in every mode, except crystal mode, by holding down the (+) button for about 5 to 10 seconds. The SWITCH's LED lights will change to red to let you know self-cleaning mode is on, and once clean, can be turned off by pressing the "Go" button.
A pretty convenient feature that cleans out the induction cups quickly.  Sadly, I think we're still a few years away from the glass chambers being self-cleaning.
How did the Dr. Dabber SWITCH work for me?
The Dr. Dabber SWITCH is a very modern and impressive looking device but can have a bit of learning curve for anyone new to vaping.  
On our first few days with the SWITCH, we made sure to use it side by side with a classic dabbing rig my friend already had lying around their apartment.  We wanted to see how the battery operated heating profiles would match up to a classic, flame torched nail.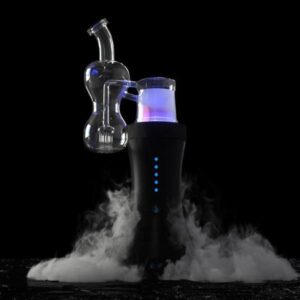 On our first attempts with the SWITCH in Oil Mode, we vaped Raw Garden Zookies live resin.  To be honest, our first day with the SWITCH was pretty disappointing as it took us a while to find the right heating profile, and our first few attempts at vaping were weak.  We tried large and small dabs, but eventually ended up adjusting the amount of resin to an amount slightly smaller than a grain of rice, and once we settled on heat profile 4, the quality of vaporization improved greatly.  All in all, it took at least a day of trial and error before we were properly vaping on the SWITCH.
In comparison, we made use of the classic dabbing rig set up as we could and were quickly able to have a few sessions back and forth within a matter of minutes.  While easier and more practiced, the lack of accurate heat control with the classic rig is the obvious drawback in comparison.
The Leaf Mode was not a favorite, but as I've stated in past reviews, I prefer a good rolled joint or blunt over vaporized flower.  Leaf Mode works as advertised, but you definitely need to pack the induction cup tightly with finely ground flower, and finding the right heating profile was a little trickier than Oil Mode.  With that said, it's a healthier option to burning flower.
After a few days, we started using Crystal Mode to finish off the rest of our Zookies, and it was much less intimidating to implement and use in this mode than we first thought when reading the directions.  We plan to stay with Crystal Mode for all future vaping, and it definitely improves the flavor and experience overall.
Lastly, there is the Advanced Mode that I did not go into too much detail here because I found it pretty confusing overall and did not want to waste any more time trying to learn.  The Advanced Mode is definitely for the Advanced User, and while the number of heating options increases greatly, they are color coded and difficult to follow. A small screen would have made a huge difference here.  
 All in all, the SWITCH is a fantastic looking device, modern and sleek, and looks much nicer than the standard dabbing rig.  I would happily use it for my basic vaping needs moving forward, and hopefully may come to understand the Advanced Mode, but its Flower Mode is no replacement for a joint or bong.
Video of One of Our Dr. Dabber Switch Sessions
Dr. Dabber SWITCH Rating Breakdown
Grading is from 0-100.
PRESENTATION • 100
The look and quality of the SWITCH are top notch, and it would look great on any mantle if kept clean.  The fact that it doesn't need to be left plugged in or require any sort of blowtorch means it will fit easily anywhere with little fuss.
I was also very impressed with the packaging it came in.  Like a brand new game system, the handled box with individual compartments like a pelican case keeps everything safe and secure.  Highly recommend saving it, or using it for storage if choosing to keep your smoking devices hidden from prying eyes.
RELIABILITY • 100
It worked every time we used it, and required much less regular charging than we expected.  It saved our heating profiles from previous attempts, so once we settled on the one we liked most, it was quicker to vape.  
The many safety functions are listed in the directions.  Mostly automatic and "behind the scenes," but the small details of making sure you don't ever overheat the battery or chambers is appreciated.    
QUALITY • 100
Everything looks and feels high quality.  The glass portions are heavy and thick, not cheap and thin, and nothing broke when we accidentally knocked the entire Switch over onto its side.  
The battery lasted much longer than we expected and was quick to charge up (faster than my iPhone 6s+!).  The extra accessories and tools included in the box are top notch, and the reverse tweezers will be useful well beyond the needs of the SWITCH.
EASE OF USE • 80
This was the biggest drawback to everything.  On one hand, the basic functions are relatively simple.  Yes, it took us a day before we were comfortable with vaping on it, but that was to be expected.  Once we settled on the heating profile and everything, it was easy to continue to use.
The points are really knocked off for Advanced Mode and anything beyond the most basic functions.  Since there's no screen, you have to remember what certain colored LEDs mean, and since there are so few buttons, you have to remember specific combination sequences.  
The basic functions of Oil and Leaf Mode are easy to figure out, but other functions are a pain.
VALUE • 90
It's a pricier device, but the SWITCH is mostly worth the cost.  Everything is high quality, sturdy, and sleek, and its rechargeable battery and modern packaging definitely give you your money's worth.  Still, you need to buy the entire device as opposed to an attachment or two that could fit your standard bong like a classic rig, and accessories like the quartz cup are sold separately
How Dr. Dabber SWITCH Stacks Up Against the Competition
The SWITCH seems to be the leader for battery operated vaping.  The quality of materials, as well as its design, makes it stand out against the competition.  Puffco Peak is a similar device released in the last year but is much smaller and plainer looking.  The SWITCH would be like an iPhone X, while the competition is like a Blackberry. The SWITCH has set itself up to be the best top of the line offering as of now.
Saving Money With Dr. Dabber Coupon Codes
Save money with Cannabis Vaporizer coupon codes here at Save On Cannabis the World's largest online cannabis coupon code directory.
Disclosure: I received these products gratis so that I could try them and then share my honest opinion with the SOC community. I am employed by Save on Cannabis to write honest reviews and provided a flat rate payment for the writing of the review.  SOC may receive recurring affiliate payments for purchases made based on this content.
Eir Health makes CBD wellbeing products for all needs. Read our Eir Health review, see how the medium potency version helped us.
We got our hands on the Maddyn CBD + Tumeric Relax and Revive capsules. We've used lots of CBD, but not CBD with Tumeric see how it works.
Our reviewer uses the Social CBD Volcom Truly Cool CBD Muscle Rub for her undiagnosed chronic pain. See if she felt like this CBD is worth your money.