CBD Review: NutraCanna CBD Cooling Pain Cream – 175 MG
Dec 12, 2018 | Romy
CBDCBD Bath BombsCBD CandyCBD ConcentratesCBD DrinksCBD EdiblesCBD GummiesCBD Isolate or Terpsolate Powder and CrystalsCBD Pet ProductsCBD Pills & CapsulesCBD TincturesCBD TopicalsCBD Vape OilsSave On Cannabis Verified
NutraCanna CBD Cooling Pain Cream - 175 MG
Brand Overview: NUTRACANNA
NutraCanna's slogan is "All Health, No High" and they stand behind it with their line of all-natural CBD products designed with your health in mind. CBD is fast becoming an integrated part of everyday wellness, and NutraCanna wants to give people access at a price that won't break the piggy bank. NutraCanna supports sustainable farming methods, using hemp grown from Kentucky family farmers who are experts in cultivation and production. The company prides itself on being at the forefront of the science that goes into making the purest CBD. All their products are 100% THC free.
Products: CBD Oil, CBD Tablets (Daytime, Night), CBD Hemp Crystalline Isolate, CBD Topical Cooling Cream
Price Range ($-$$$$): $$-$$$
About the NUTRACANNA CBD COOLING PAIN CREAM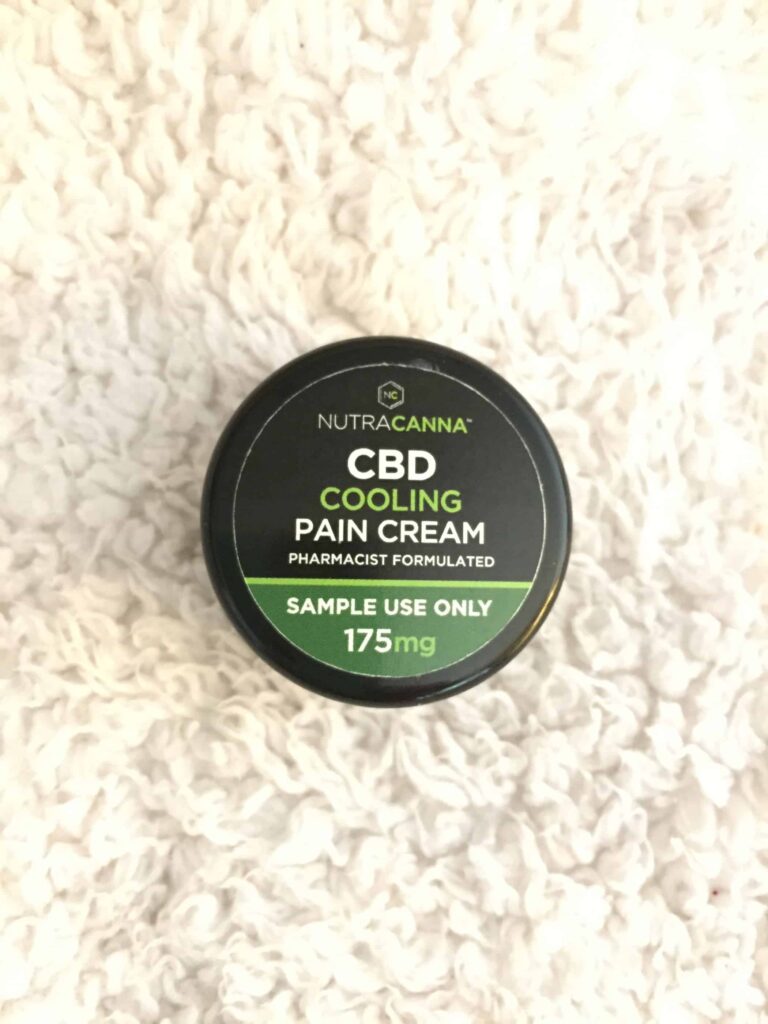 NutraCanna's 175 mg CBD cooling pain cream provides short-term relief for sore muscles and joint inflammation. The cream contains a healing mix of organic CBD, arnica, and cooling menthol. This pain cream has the seal of approval from a bona fide pharmacist. This product is free of THC, GMOs, parabens, phthalates, formaldehyde, and artificial coloring. (Ummm, I really hope other CBD products are formaldehyde free. Yikes!) The NutraCanna CBD cooling pain topical is perfect for the chronic pain sufferer who doesn't want to smoke, vape, or use edibles. NutraCanna's pain cream will work instantly to soothe your aching muscles and joints.
NUTRACANNA CBD COOLING PAIN CREAM – 175 MG Specifications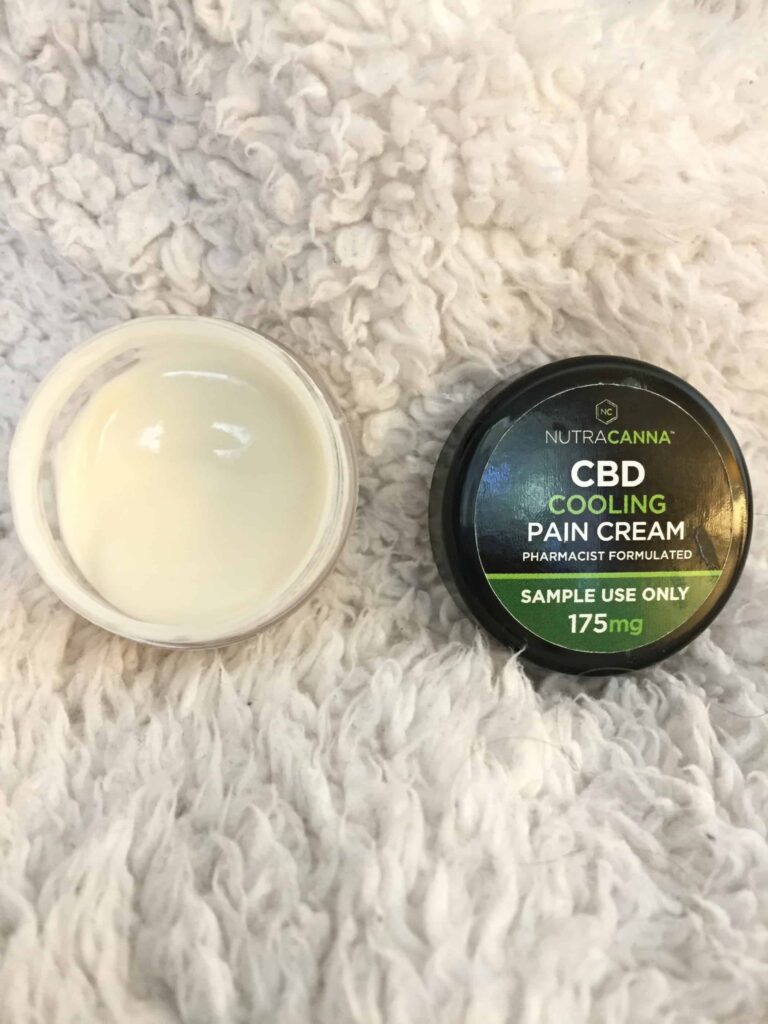 2.5 oz

175 mg CBD

Ingredients (certified organic): Helianthus annuus (Sunflower) Seed Oil, Stearic Acid (Vegetable Derived), Cetyl Alcohol (Coconut Alcohol), Sodium Hydroxide (non-GMO, mineral-salt), Citrus Grandis (Grapefruit) Seed Extract, Aloe Barbadensis Leaf Juice, Ascorbic Acid (Vitamin C), Glycerin (Non-GMO, Vegetable-Derived), Potassium Sorbate (Non-GMO, Mineral-Salt), Xanthan Gum (Non-GMO, Vegetable-Derived), CarthamusTinctorius (Safflower) Seed Oil, Menthol (Mentha Arvensis, Olea Europaea (Olive) Fruit Oil, Ocimum Basilicum (Basil) Leaf Oil, Citrus Aurantium Bergamia (Bergamot) Fruit Oil, Whole Hemp Derived CBD Isolate, Montana (Arnica) Flower Oil, Melaleuca Alternifolia (Tea Tree) Oil, Zingiber Officinale (Ginger) Root Oil, Citrus medica Limonum (Lemon) Peel Oil, Citrus Aurantifolia (Lime) Peel Oil, Citrus Aurantium Dulcis (Orange) Peel Oil, Rosmarinus Officinalis (Rosemary) Leaf Extract, Salvia sclarea (Clary) Oil
How We Tested the NUTRACANNA CBD COOLING PAIN CREAM – 175 MG
I started physical therapy a couple weeks ago to help with my chronic pain and limited mobility due to some spine and pelvis issues. While I feel stronger, I'm dealing with the tight muscles that come along with any new workout routine. In order to get better, I have to make physical therapy an everyday priority. It gets difficult to motivate myself to do the work when I'm in so much pain. NutraCanna's promise of instant cooling relief will certainly make doing my exercises a little easier. I rubbed a small amount of the muscle cream onto my hamstrings and thighs, then set to work doing physical therapy.
How the NUTRACANNA CBD COOLING PAIN CREAM – 175 MG Worked for Me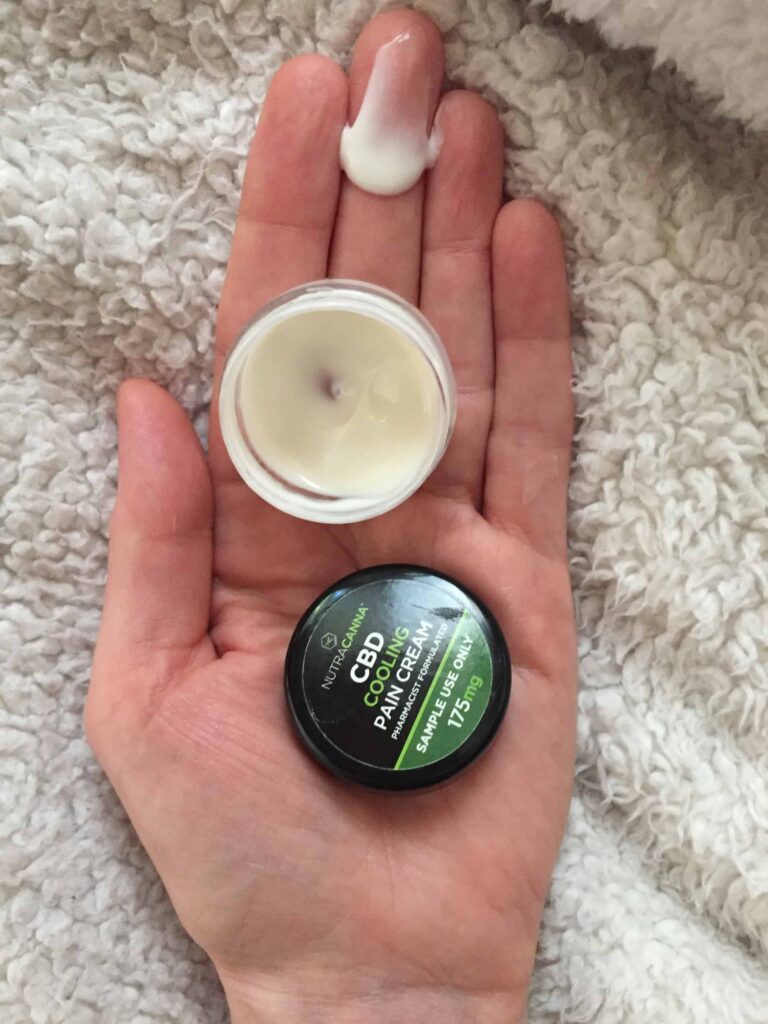 The cooling effect from the menthol worked immediately to relieve my muscle pain during my daily physical therapy routine. It even helped with my nerve pain. The cream goes on smooth and although it smells slightly medicinal, it wasn't strong enough to bother me. My skin has been really dry lately and this was effectively moisturizing. It reminds me of Icy Hot, and I could feel the menthol cooling down my burning muscles even an hour after use. Strong medicine.
Useful and Unique Things to Know About NUTRACANNA CBD COOLING PAIN CREAM – 175 MG
NutraCanna's CBD-infused cream also contains menthol and arnica, two ingredients that are medically proven to help with pain relief. Menthol creates the cooling sensation that tricks your brain into feeling something else besides the pain. Arnica has been used for bruises, aches, and pains since at least the 16th century. According to German folklore, using the arnica plant medicinally came about after people observed mountain goats eating it after falling. If German goats can use it, so can I.
NUTRACANNA CBD COOLING PAIN CREAM – 175 MG Rating Breakdown
Gradings from 0-100.
PRESENTATION • 100
Professional and clear.
RELIABILITY • 100
Works to relieve muscle pain.
QUALITY • 100
All natural ingredients.
SMELL • 90
Smells slightly medicinal, herbal.
VALUE • 80
Expensive. Despite their company's mission to make their products more financially accessible, CBD is still a rich person's medicine. It makes me sad because so many people who could use this stuff are elderly and disabled people on fixed incomes (like myself.)
How the NUTRACANNA CBD COOLING PAIN CREAM – 175 MG Stacks Up Against the Competition
I would describe NutraCanna's CBD Cooling Pain Cream as a creamier and less intense version of Icy Hot, but with more natural ingredients. It reminded me of another CBD topical I've tried, Infinite CBD's Nano Freezing Point Topical Cream. Both products contain similar ingredients and provide a cooling sensation. While I prefer the smell of the Infinite brand, the NutraCanna cream was more moisturizing and the cooling effect stronger.
Saving Money With NUTRACANNA CBD Coupon Codes
Save money with CBD Topicals coupons here at Save On Cannabis the World's largest online cannabis coupon code directory.
Disclosure: I received these products gratis so that I could try them and then share my honest opinion with the SOC community. I am employed by Save on Cannabis to write honest reviews and provided a flat rate payment for the writing of the review.  SOC may receive recurring affiliate payments for purchases made based on this content.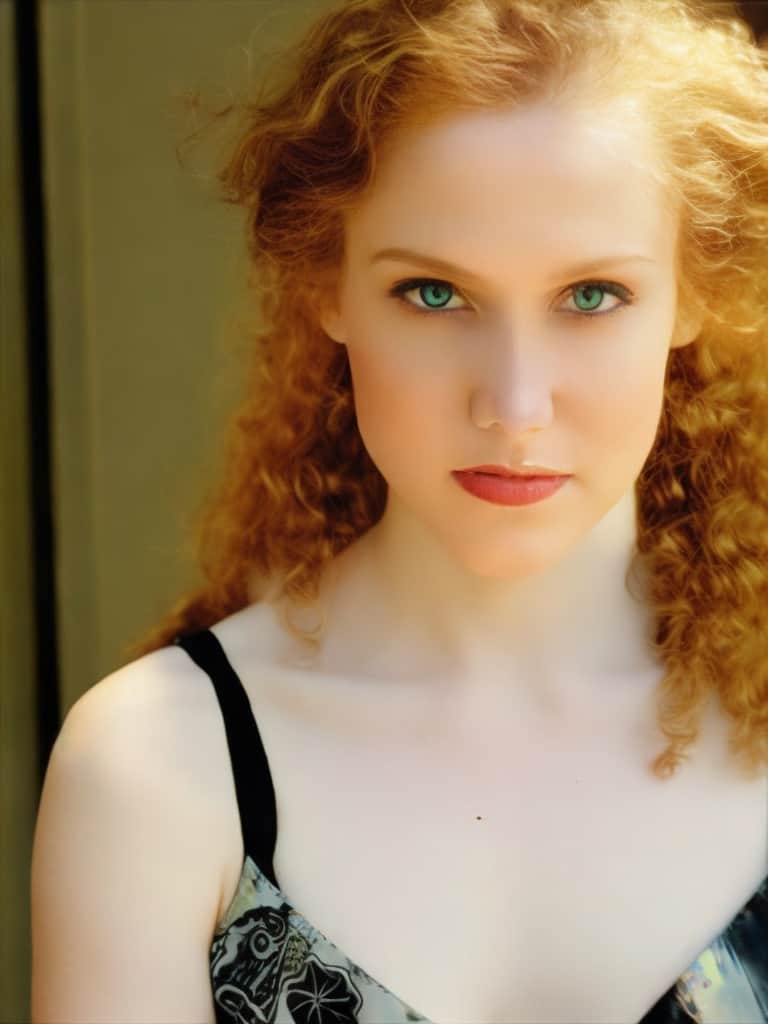 A medicinal cannabis user, utilizing the power of the plant to ease the pains and stresses from long standing conditions that other over the counter or prescriptions could not fix or weren't a natural option like cannabis.  Also, has a background in working directly in the cannabis industry in California within various dispensaries.
Thinking of CBD for your pet, read our hands on review of the CBD Pet oil. See how it worked for our pets and also get coupon codes to save.
Check out our reviewer's selection of best CBD products for 2020, including CBD oil tinctures, vape juices, pet products, and topical creams.
Unflavored CBD concentrate to vape from iHemp and sold by Pure CBD Vapors. We use it for a week to test out its value in this iPure review.