Green Roads Review – 350mg CBD Cool Relief Roll-On
Oct 8, 2020 | SOC
GREEN ROADS COOL RELIEF CBD MUSCLE & JOINT ROLL-ON
Product Review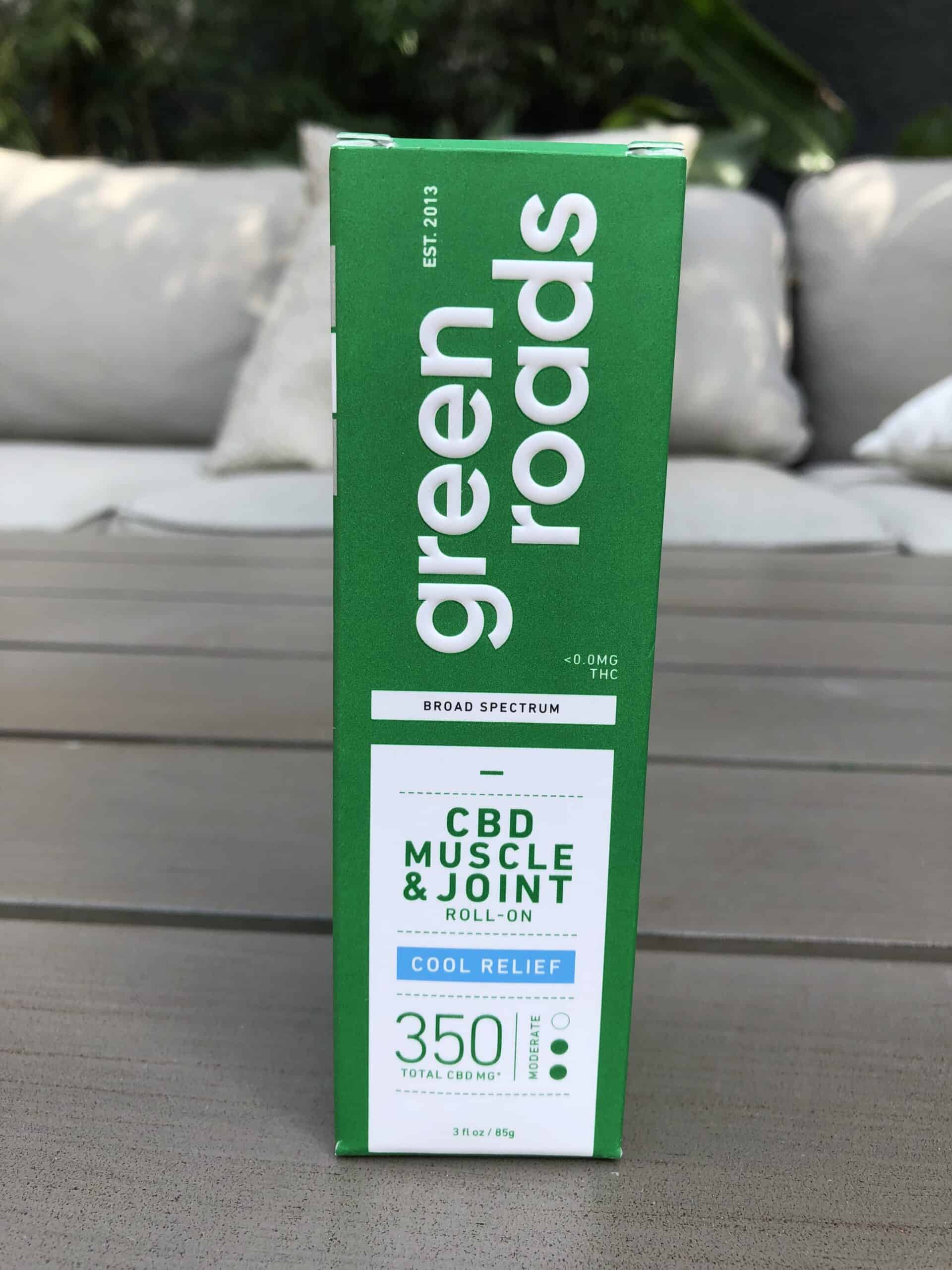 Brand Overview: GREEN ROADS
Green Roads has grown into one of the leading manufacturers of CBD in the industry. The company is one of the first in the US to use licensed pharmacists to formulate its CBD products. They want to offer patients an all-natural way to health and healing. Green Roads has a huge product line to meets a variety of their customer's needs. From their edibles, concentrates, oils, and animal tinctures, they use the purest form of CBD on the market.  Also, the Green Roads CEO is a licensed compounding pharmacist
What sets them apart from many other companies is their commitment to excellence. Every three months, Green Roads has every product tested for purity and potency by a third-party lab, so you get quality and consistency every time.
Products: CBD Oil (Flavored Oils, Broad Spectrum Oils, Full Spectrum Oils), Flavored Coffee, Topicals, Bath Bombs, Essential Roll-Ons, Candies (Gummy Bears, Fruit Bites, Night Time Gummies), Capsules, Pain Cream, Skin Relief Cream, On-The-Go Edibles (Fruit Bites), Daily Dose, Oil for Pets, Concentrates, and Gift Bundles.
Price Range ($-$$$$): $$$
---
About GREEN ROADS COOL RELIEF CBD MUSCLE & JOINT ROLL-ON
By combining the icy effects of menthol with the healing properties from CBD, Green Roads has made an easy-to-use roller for your joints and muscles. While the roll-on I reviewed contains 350 mg of CBD, it's also available with 150 mg. The Broad Spectrum CBD is great to use on your muscles and joints after a workout to bring extra relief. If the cooling sensation of the menthol isn't what you're looking for, the company also makes a "heat relief" roll-on. All of Green Roads products have been developed by pharmacists and are lab-tested for purity and potency. You can use this product every 4-6 hours as needed.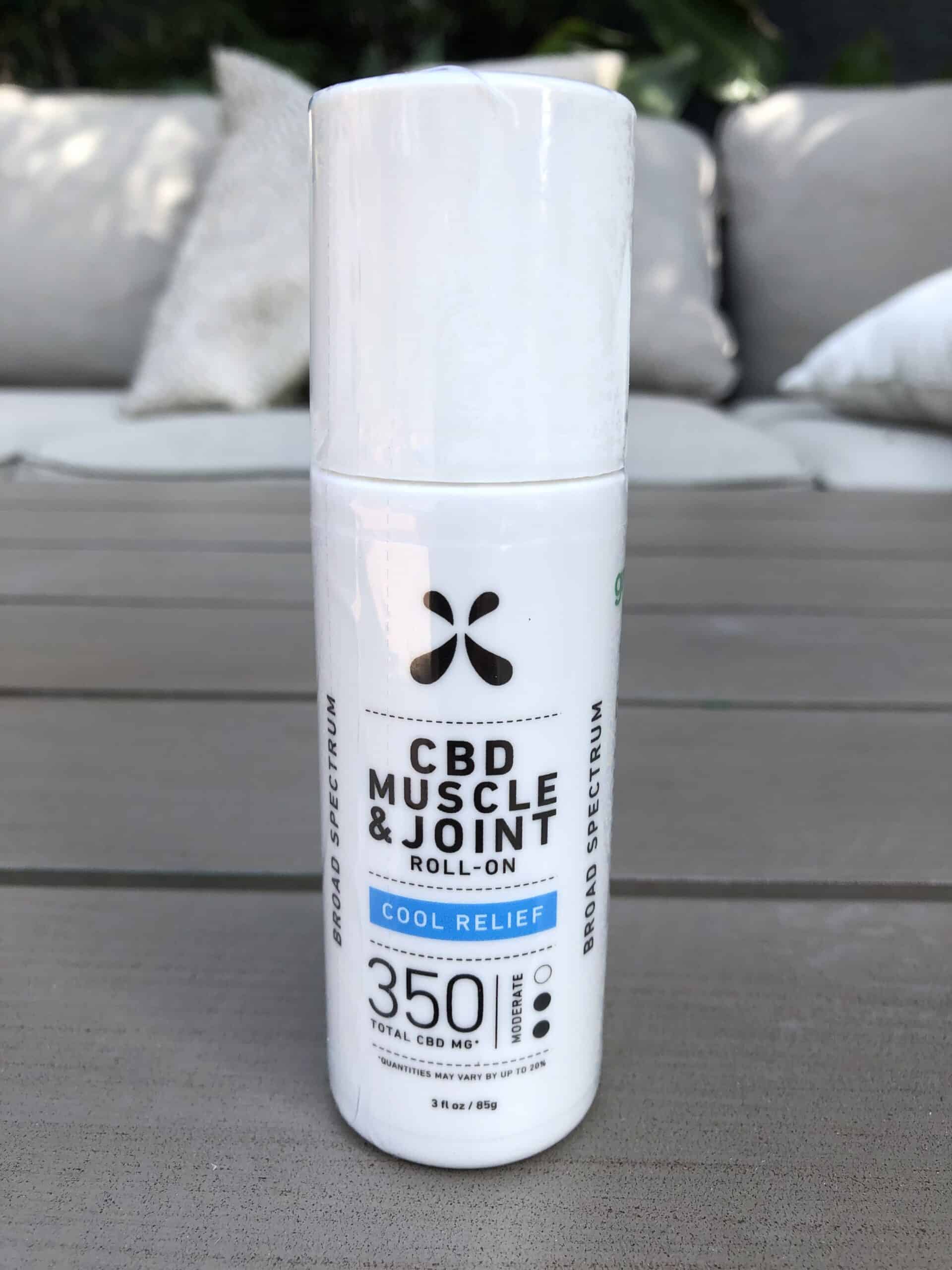 ---
GREEN ROADS COOL RELIEF CBD MUSCLE & JOINT ROLL-ON Specifications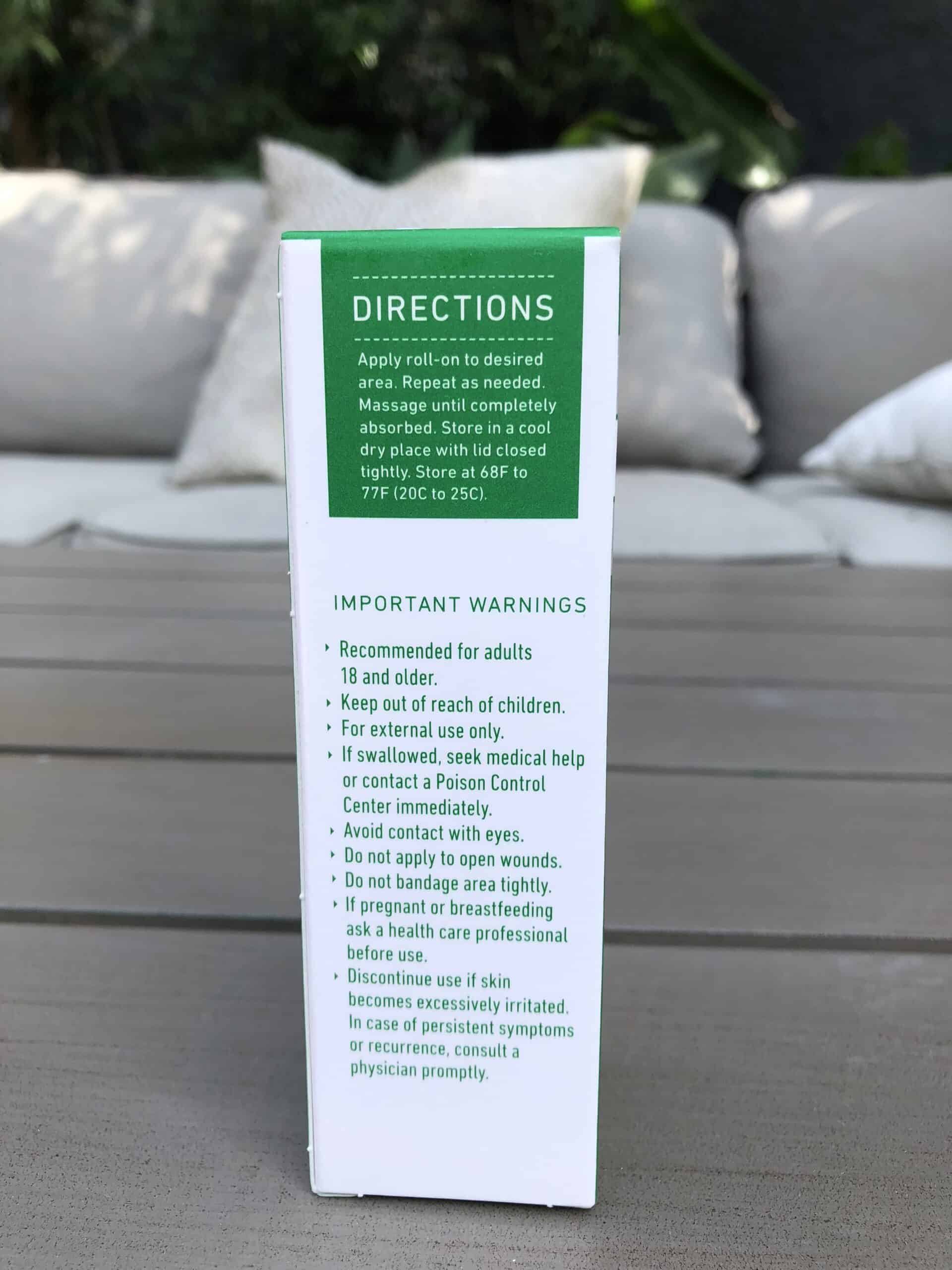 350 mg CBD per bottle
3 fl oz / 85 g
Ingredients: Water, Safflower Oleosomes, Glycerine, Bentonite Clay, Xanthum Gum, Avocado Oil, Peppermint Oil, Menthol, Rosemary Oil, Phenoxyethanol, Vitamin E, Benzyl Alcohol, Dehydroacetic Acid, Eucalyptus Leaf Oil, and Hemp Derived Broad Spectrum Cannabinoid Extract.

---
How We Tested the GREEN ROADS COOL RELIEF CBD MUSCLE & JOINT ROLL-ON
I'm addicted to icy topicals so was excited to try something with "cool relief" in the name. And with ingredients like menthol and eucalyptus, I was pretty certain this stuff would bring the icy relief I crave for after a workout. I've tried roll-on's in the past and love how easy they are to use, especially because I don't have to wash my hands after each use. I applied this roll-on in the morning and then again after a workout.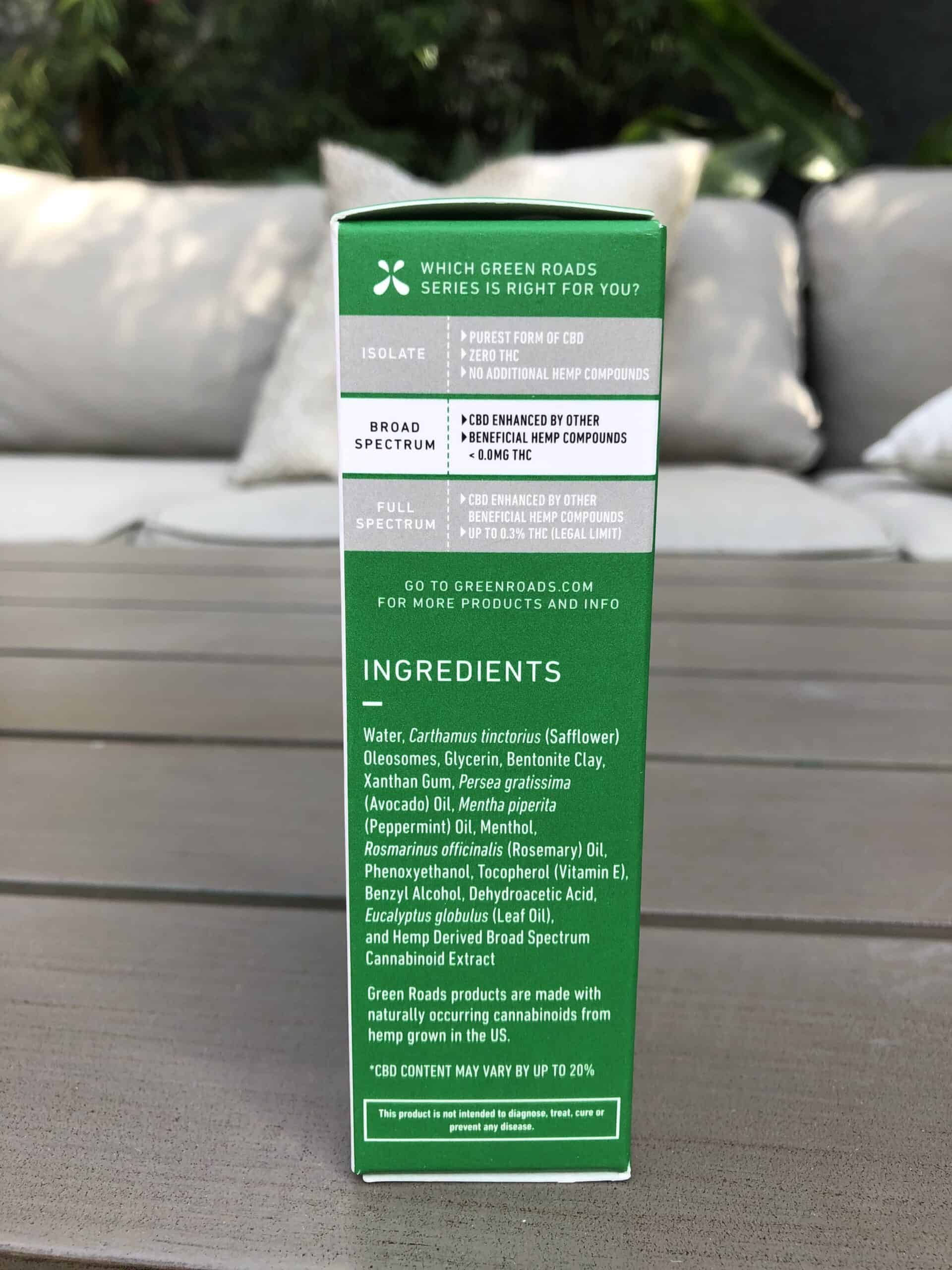 ---
How the GREEN ROADS COOL RELIEF CBD MUSCLE & JOINT ROLL-ON Worked for Me
The first thing I noticed about the roll-on was how great it smelled; like mint and natural botanicals. Smelling my hands made me feel like I was getting aromatherapy. It worked immediately to cool down my muscles and I could feel it working it's magic for the next few hours while I did some homework and physical therapy. The cooling effect helped me focus and I found myself able to get more done in a day than usual. This has become one of my new favorite products and I'll be using it every day.
---
Useful and Unique Things to Know About GREEN ROADS COOL RELIEF CBD MUSCLE & JOINT ROLL-ON
This CBD-infused topical also contains other healing ingredients like safflower, avocado, menthol, and rosemary. These ingredients are soothing, moisturizing, and all-around great for your skin. These are ingredients you would find in non-CBD topicals to bring natural and effective relief.
---
GREEN ROADS COOL RELIEF CBD MUSCLE & JOINT ROLL-ON Ratings
In the next sections gradings from 0-100 on our review, these grades add up to give the product's overall score.
PRESENTATION • 100
Informative.
RELIABILITY • 100
Provides icy relief.
QUALITY • 100
Natural ingredients.
FLAVOR / SMELL / or EASE OF USE • 100
Easy to use. Mild menthol smell.
VALUE • 85
Expensive.
---
How GREEN ROADS COOL RELIEF CBD MUSCLE & JOINT ROLL-ON Stacks Up Against the Competition
Green Roads Cool Relief CBD Muscle & Joint Roll-On is a top-notch topical that easily made it onto my list of favorites. It's so easy to use, smells great, and works effectively to bring icy relief. My one complaint is that it's more expensive than what I'd like to pay for a CBD topical with 350 mg of CBD. If they lowered their price, I think Green Roads could rule the roll-on market.
---
Saving Money with Our Verified GREEN ROADS Coupons
Save money by using our verified CBD Topicals here at Save On Cannabis the World's largest online cannabis coupon code directory.
---
Disclosure: I received these products gratis so that I could try them and then share my honest opinion with the SOC community. I am employed by Save on Cannabis to write honest reviews and provided a flat rate payment for the writing of the review. SOC may receive recurring affiliate payments for purchases made based on this content.
Does CBD topical work on pain? Our reviewer got hit by a car & used Steve's Goods CBD Pain Cream on her pain, see if it worked.
We've tested so many CBD products that our expert in topicals tells you in this Social CBD Body Lotion review if it is a reliable product.
Candy to help you sleep? In this Pure Relief CBD Night Gummies review we see if they really help us get some sleep.