Americana Uncut Review – OG Kush CBD 65% Vape Starter Kit
Nov 7, 2020 | SOC
Americana Uncut OG Kush CBD 65% Vape Starter Kit
90.00
Pros
Full-spectrum CBD formula
OG Kush specific terpenes - derived from botanicals
Potency is tested by a third-party lab
Zero cutting agents
Awesome, user-friendly vape battery
Battery has 3 voltage settings for temperature control
Cons
Only mellow effects
No 3rd party lab tests on contaminants
Americana Uncut OG Kush CBD 65% Vape Starter Kit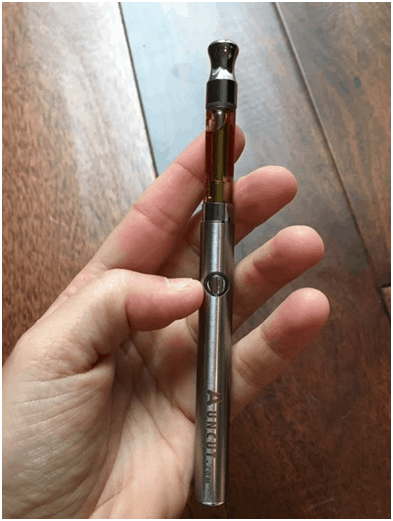 Brand Overview: Americana Uncut
Americana Uncut is a CBD company based in Oregon. This vape was provided to us by Pure CBD Vapors . They source hemp from licensed farmers in the US and have their own facility where they create and manufacture the products. Besides CBD vape cartridges, the company also sells a variety of hemp flower strains, pre-rolls, salves, and disposable vape pens. During its extraction process, Americana Hemp refines, winterizes, and filters the hemp extract to create a high-quality full-spectrum CBD distillate.
It then adds several plant-derived terpenes to the formula to enhance the overall effects and to create a delightful flavor profile.
Furthermore, the company has its own facility where it creates and manufactures its products. Also, it pays a third-party lab to test the cannabinoid profile of its vape cartridges, to prove the potency you see on the product label.
Products: Disposable vape pens, CBD flower, topical salves, vape cartridges, CBG flower, & pre-rolls.
Price Range ($-$$$$): $$$
---
About Americana Uncut OG Kush CBD 65% Vape Starter Kit
Americana's Uncut Vape cartridge contains 1,000mg of extract and 65% of it consists of CBD from industrial hemp. It's also infused with botanical terpenes that mirror the terpene profile of the OG Kush strain. Some of the primary terpenes include caryophyllene, limonene, myrcene, and pinene. These terpenes bring in earthy, piney, and citrusy flavors. Also, besides the vape cartridge, the kit contains a 380mAh battery that the cart attaches to.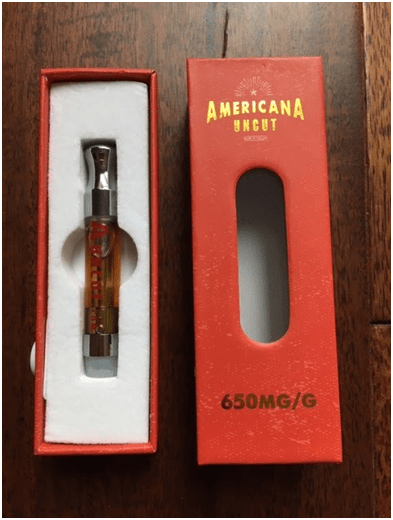 Also, besides the vape cartridge, the kit contains a 380mAh battery that the cart attaches to. It has a home button that serves as the "on and off switch", allows you to choose a low, medium, or high voltage setting, and is the button you push when you're ready to take a hit.
Furthermore, the third-party 'cannabinoid profile' lab test confirms that 65% of the oil content in this vape cartridge is CBD. Meaning, there's a total of 650mg of CBD.
The purpose of this vape kit is to get you vaping right away. The kit provides the cartridge, battery, and charger which is all you need to get going. Vaping supplies fast-acting effects and a smooth, flavorful experience which is why it appeals to many different people.
---
Americana Uncut OG Kush CBD 65% Vape Starter Kit Specifications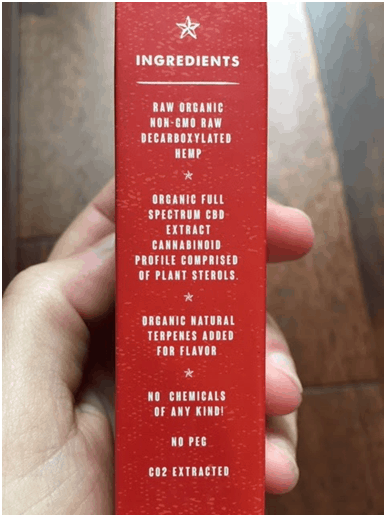 OG Kush strain

Full-spectrum CBD distillate

650mg CBD

Third-party lab tested for potency (65% of 1,000mg extract = 650mg CBD)

No cutting agents, artificial flavors, or preservatives

Includes the terpenes: caryophyllene, limonene, myrcene, pinene, humulene, bisabolol, linalool, and terpinolene

Flavorful tastes of earth, pine, and lemon with hints of wood

Refined, winterized, and filtered

Less than 0.3% Delta-9 THC

The kit comes with a vape battery and USB charger

Battery includes detailed instructions for use

---
How We Tested the Americana Uncut OG Kush CBD 65% Vape Starter Kit



Before writing this review, I vaped with the OG Kush cart for a week straight. Given it's relaxing and calming nature, I mostly used it in the late afternoons and evenings. It was easy to use. All I had to do was twist the cart onto the battery and press the home button 5 times to turn it on. Then I held the button down for 15 seconds to heat it up. Each time I vaped I took around 3 to 5 hits on the "Blue" medium-heat setting.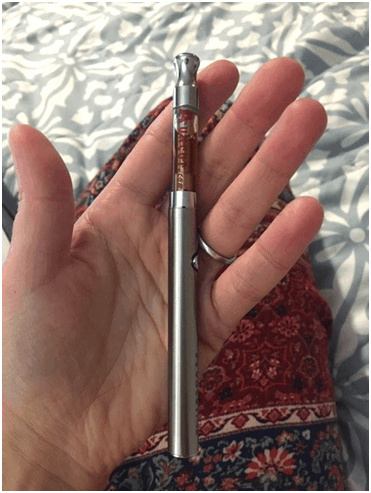 ---
How the Americana Uncut OG Kush CBD 65% Vape Starter Kit Worked for Me
First, I'd like to talk about how much I liked the battery that came with the kit. The battery had clear instructions on the outside of its box, making it super simple to use. And the fact that there were 3 heat settings to choose from was awesome.
Also, the flavor of the cart was nice. Very earthy with nice citrusy accents. And the vapors were smooth and pure, no coughing or burnt flavor. As for the effects, this is where I became a little disappointed. They were very subtle for me, almost unrecognizable. Lately, I haven't been smoking or vaping much, so I was surprised I didn't feel much.
One time I did take around 7 hits just to see if that would make a difference. It did a little, but not much. If I were to describe what I felt, I would say mildly relaxed. But to be fair I never tried the max heat setting of 3.6V. Maybe that would have changed the outcome a bit.
---
Useful and Unique Things to Know About The Americana Uncut OG Kush CBD 65% Vape Starter Kit
The vape cartridge is free of cutting agents like PG/VG, MCT oil, Vitamin E, etc. It also includes a nice blend of eight botanical terpenes that are similar to the terpenes in the OG Kush cannabis strain.
And the battery that's included has three different heat settings: White is 2.7V, Blue is 3.1V, and Red is 3.6V. This provides an element of customization depending on the strength of the vapor you want.
---
Americana Uncut OG Kush CBD 65% Vape Starter Kit Ratings
In the next section, we provide ratings from 0-100 based on our testing period. Add up these ratings to arrive at an overall score for the product.
PRESENTATION • 100
Clear, comprehensive, easy to understand labeling.
RELIABILITY • 70
The effects weren't very noticeable.
QUALITY • 100
Zero cutting agents, or artificial ingredients, for a quality vape oil formula.
FLAVOR • 100
The flavor was enjoyable and pleasant.
VALUE • 90
It has a good price to value ratio.
---
PROS of the Americana Uncut OG Kush CBD 65% Vape Starter Kit
There are no cutting agents in the OG Kush vape cartridge for an "Uncut" pure experience. Also, the product is lab-tested for potency and includes terpenes that derive from botanical sources. The battery included in the kit works great and the voltage can be adjusted to three different strengths. And another pro is its full-spectrum formula.
---
CONS of the Americana Uncut OG Kush CBD 65% Vape Starter Kit
The major con, based solely on my testing experience, was the lack of effects. They were mellow and didn't quite have the strength I wanted. Also, there was no third-party lab testing on contaminants.
---
How Americana Uncut OG Kush CBD 65% Vape Starter Kit Stack Up Against the Competition
Americana Uncut's Vape kit has some good qualities, particularly its battery. But, it falls a bit short on potency. Although 650mg per ml is a good dose, the actual experience of vaping didn't feel very strong compared to similar products.
But, when comparing the cost to other CBD vape kits, the price is right on par with the competition.
---
Saving Money with Our Verified Americana Uncut Coupons
Save money by using our verifiedCBD Vape Oil Coupons here at Save On Cannabis the World's largest online cannabis coupon code directory.
---
Disclosure: I received these products gratis so that I could try them and then share my honest opinion with the SOC community. I am employed by Save on Cannabis to write honest reviews and provided a flat rate payment for the writing of the review. SOC may receive recurring affiliate payments for purchases made based on this content.

Read an expert Green Road's CBD review of their Froggies. Yes, they look tasty but do they give the relief necessary to buy them?
This Davinci IQ2 Carbon Limited Edition review is one of the first to hit the internet, we got early delivery to test. We go deep with photos.
This Maddyn CBD Broad Spectrum Topical Cream is meant for post workout relief, see if our reviewer felt the results. See if it does renew & recharge.