43 CBD Solutions 150 mg Salve Extra Strength Review
Jan 19, 2021 | Save On Cannabis
43 CBD 150 mg Salve Extra Strength
Pros
Soothing
Moisturizing
Pocket-sized
Blends easily
Natural ingredients
Cons
Smells slightly hempy
A little bit expensive for how much you get
43 CBD
Product Review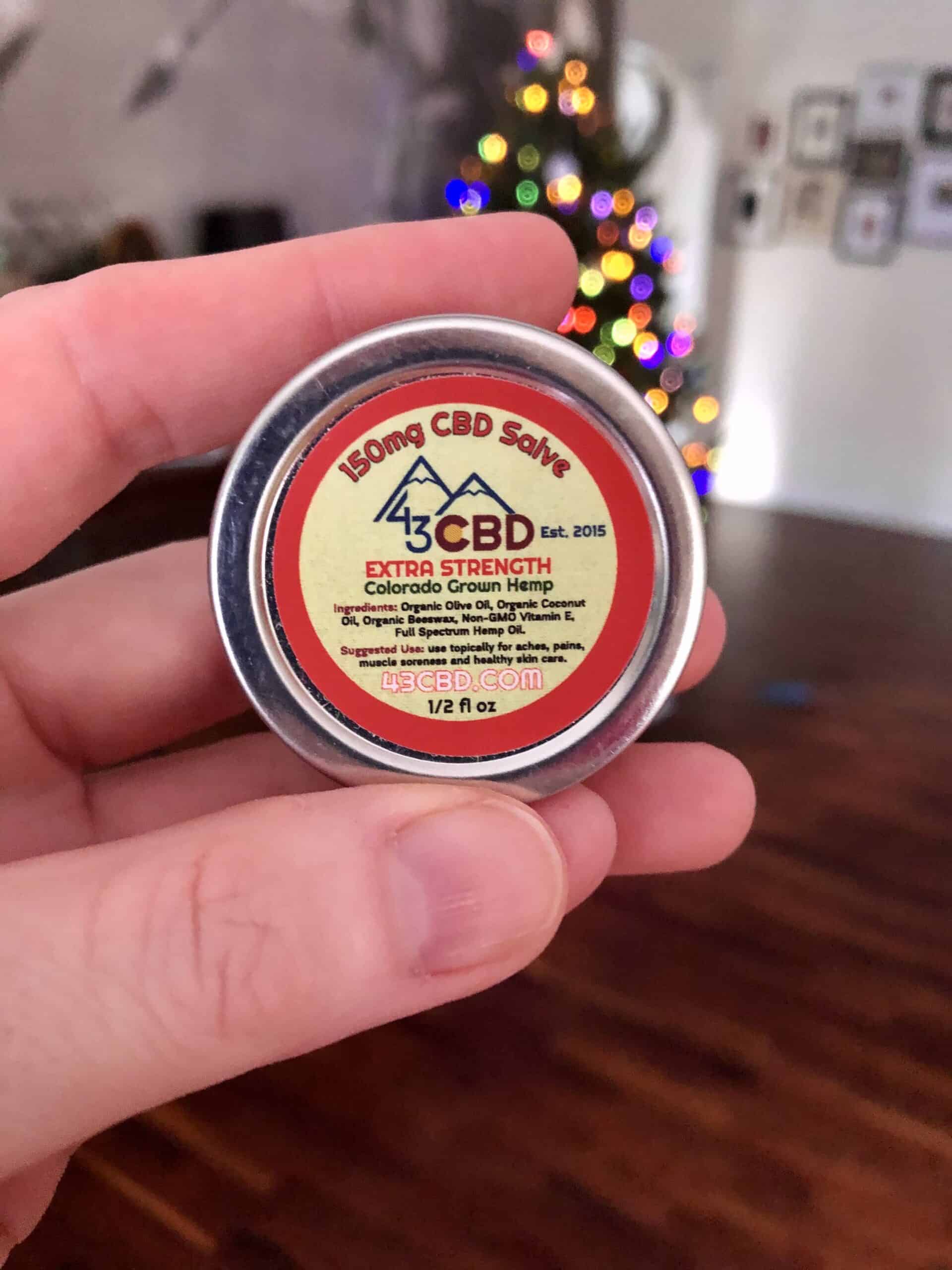 Brand Overview: 43 CBD
43 CBD's mission is to help you feel better naturally. The company was founded by some snowboarder bros from Colorado whose background and interest in chemistry, health, and wellness drew them to CBD. To create high-quality products, 43 CBD uses artisan hemp grown with natural farming practices without chemicals. They hand-select the seeds and everything is lab tested for purity, potency, and to ensure you're getting the best.
The company makes CBD oils that are full-spectrum or THC-free. They have a variety of salves as well as massage oil. 43 CBD also makes a tincture specifically formulated for dogs and cats. Whether you need something to take the edge off stress, need relief from pain, or are dealing with an over-anxious pet, 43 CBD has made it easy to find a natural and non-addictive solution.
Products: Oils, Salves, Capsules, Pets, Massage, Hats, Bundles.
Price Range ($-$$$$): $$$
---
About 43 CBD POCKET TIN HEMP OIL SALVE – 150 MG
This pocket-sized tin is filled with a salve that contains 150 mg of full-spectrum hemp oil to help soothe your aches and pains. Made with organic olive oil, organic coconut oil, organic beeswax, and Non-GMO Vitamin E, this CBD topical is incredibly moisturizing for dry skin. Whether you have pain from an injury or overuse, or just need something for post-workout inflammation, this extra-strength salve works fast to bring relief.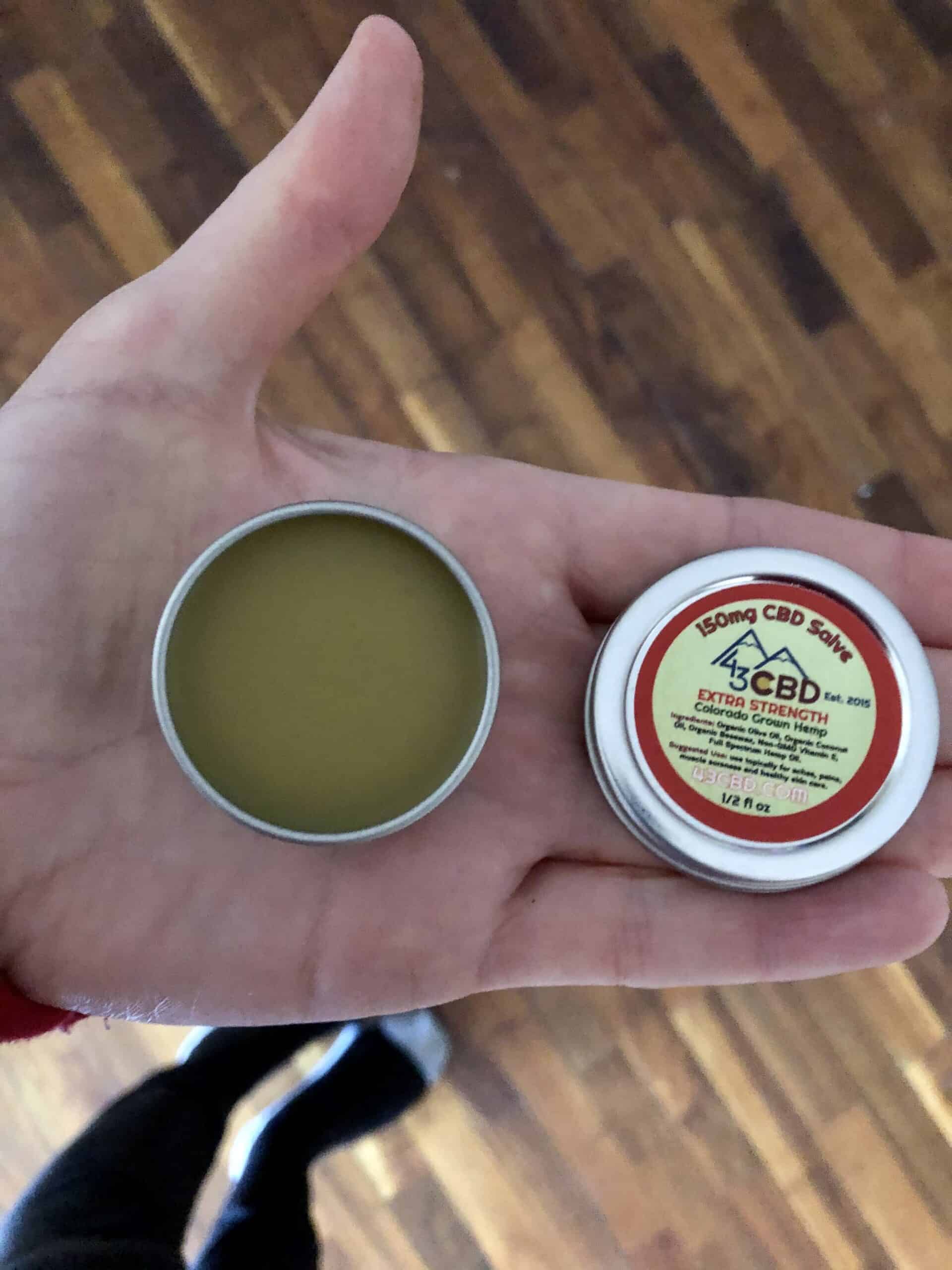 Safe for sensitive skin, 43 CBD doesn't add any artificial ingredients or chemicals, and the CBD is lab-tested for purity and potency. The CBD is absorbed into your skin which activates your body's natural endocannabinoid system to bring you relief from pain and stress. To dose, start small at first and add more as needed. All you need to do is apply the salve directly to the source of your pain.
---
43 CBD POCKET TIN HEMP OIL SALVE – 150 MG Specifications
150 mg CBD
Ingredients: Organic Olive Oil, Organic Coconut Oil, Organic Beeswax, Non-GMO Vitamin E, Full Spectrum Hemp Oil
½ fl oz
---
How We Tested the 43 CBD POCKET TIN HEMP OIL SALVE – 150 MG
Having recently tried 43 CBD's amazingly effective Ultra Deep Tissue Salve, I was excited to try another one of their topicals. I have fibromyalgia and arthritis, so I use topicals almost every day to help bring me some pain relief. Since the Ultra Deep Tissue Salve was effective in providing me respite from my constant pain, I had a feeling 43 CBD's 150 mg pocket tin would also do the trick. Pain makes sleep difficult, so I've been massaging topicals into my low back and hips every night before bed.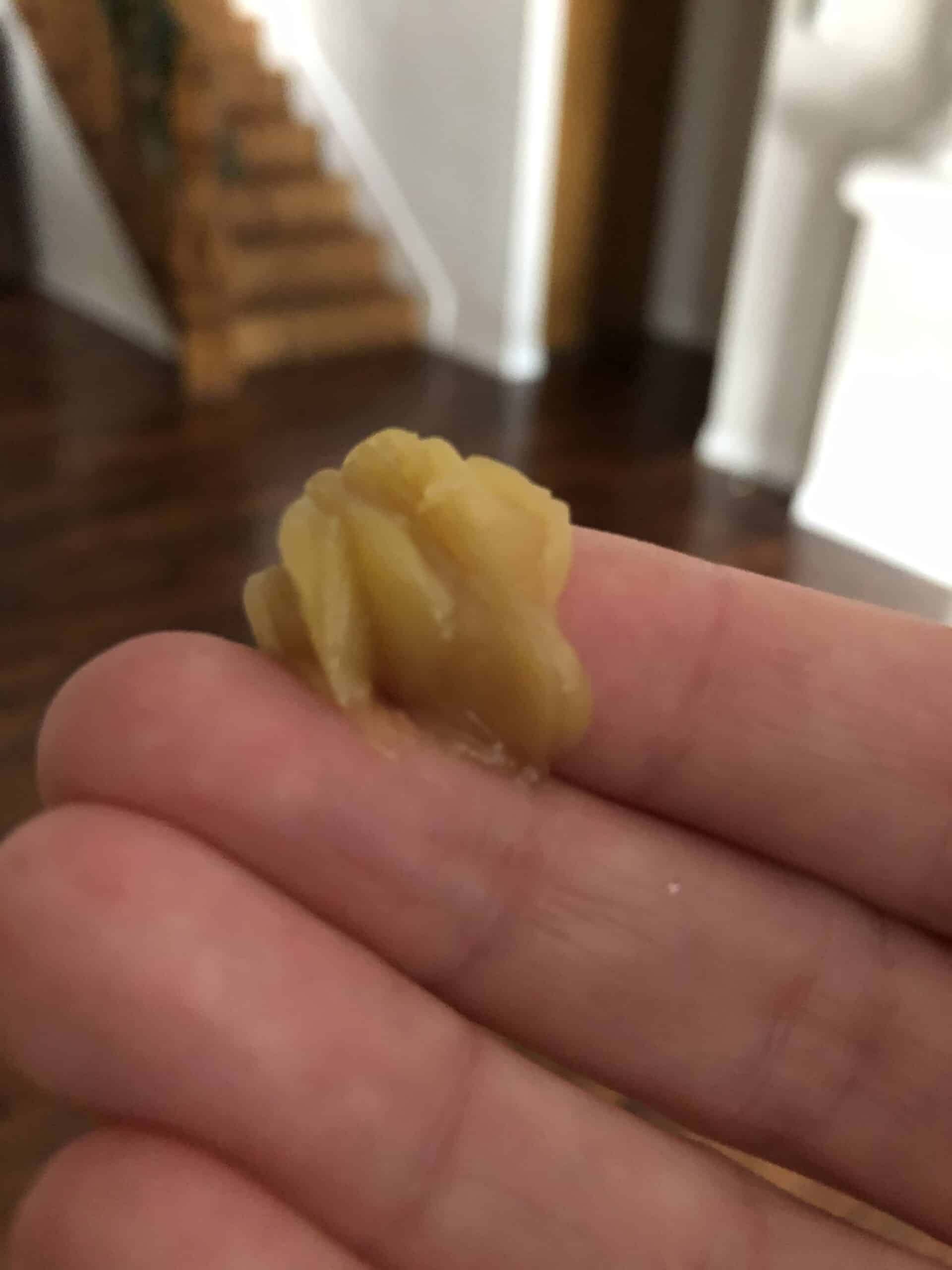 Lying in bed watching TV, I massaged a small amount of the salve into my hips, legs, and low back.
---
How the 43 CBD POCKET TIN HEMP OIL SALVE – 150 MG Worked for Me
The salve blended easily into my skin, making it excellent for massage. It provided much-needed moisture to my eternally dry skin. The primary odor was beeswax with a hint of hemp. I wasn't the biggest fan of the scent and thought some essential oils like lavender or cloves would help hide the smell. As I worked the salve into my skin, I could feel instant relief from the pain. While it doesn't take away the pain, it takes the edge off enough for me to be able to relax and get better sleep. The pain woke me up a couple of times during the night so I used more of the salve and found I was able to fall back to sleep fairly quickly. Although effective, I prefer 43 CBD's Ultra Deep Tissue Salve because it smelled better and provided more of a cooling sensation.
---
Useful and Unique Things to Know About 43 CBD POCKET TIN HEMP OIL SALVE – 150 MG
43 CBD Pocket Tin Hemp Oil Salve contains entirely organic ingredients. Olive oil moisturizes the skin and is rich in vitamins A, D, E, and K. Coconut oil is also moisturizing and is known to reduce inflammation. Beeswax also fights inflammation and can protect the skin from the harmful effects of the environment. Vitamin E fights inflammation and the effects of aging.
---
43 CBD POCKET TIN HEMP OIL SALVE – 150 MG Ratings
In the next sections gradings from 0-100 on our review, these grades add up to give the product's overall score.
PRESENTATION • 100
Compact and informative packaging.
RELIABILITY • 100
Soothing.
QUALITY • 100
Natural ingredients.
FLAVOR/SMELL/or EASE OF USE • 85
Smells of beeswax and hemp.
VALUE • 95
Slightly expensive.
---
How 43 CBD POCKET TIN HEMP OIL SALVE – 150 MG Stacks Up Against the Competition
While I found this salve soothing, I much preferred 43 CBD's Ultra Deep Tissue Salve because it smelled lovely and worked better to fight pain due to its cooling properties. To be more competitive, I think 43 CBD should add some nice-smelling essential oils like lavender to take it up a notch. That said, it's a brilliant idea to make their salves in pocket-sized. I love being able to carry this around in my pocket.
---
Saving Money with Our Verified 43 CBD Coupons
Save money by using our verified CBD topicals Coupons here at Save On Cannabis the World's largest online cannabis coupon code directory.
---
Disclosure: I received these products gratis so that I could try them and then share my honest opinion with the SOC community. I am employed by Save on Cannabis to write honest reviews and provided a flat rate payment for the writing of the review. SOC may receive recurring affiliate payments for purchases made based on this content.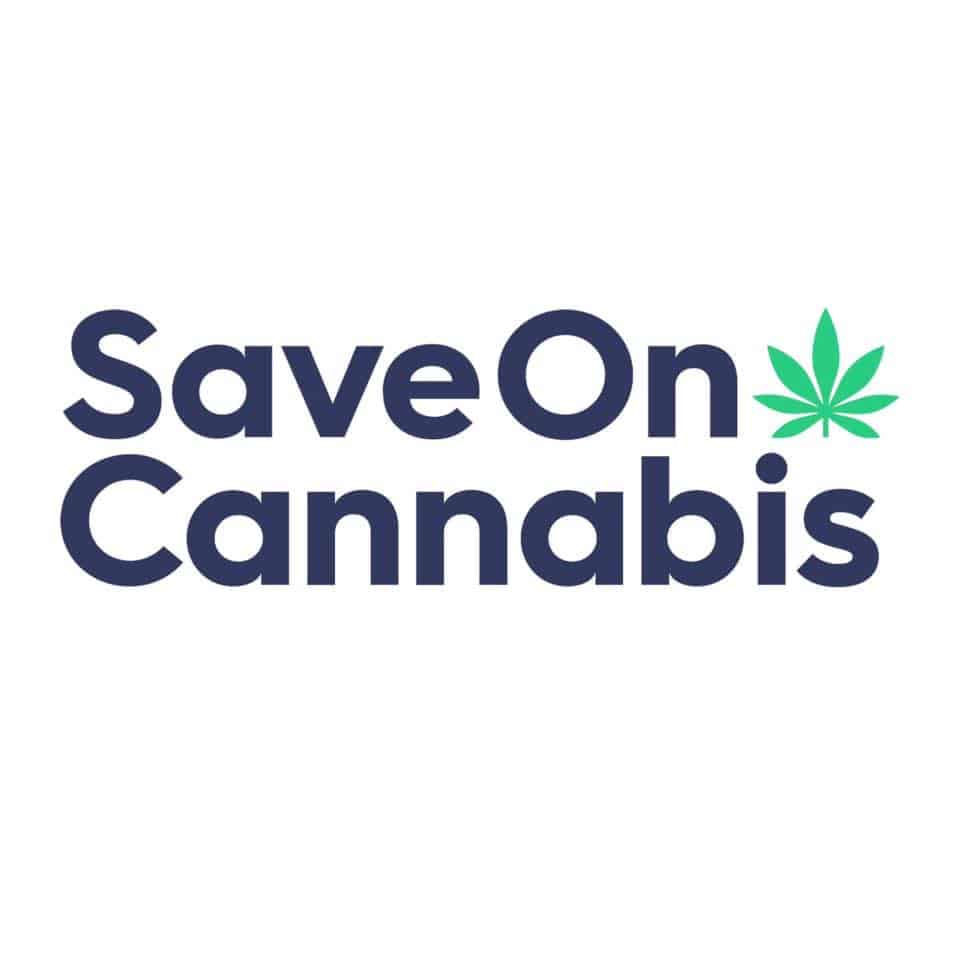 Save On Cannabis is the most trusted source for cannabis discounts and education information.  Vetted deals and clearly written articles to help you become a wiser consumer whether focused on the medical or recreational value of cannabis products.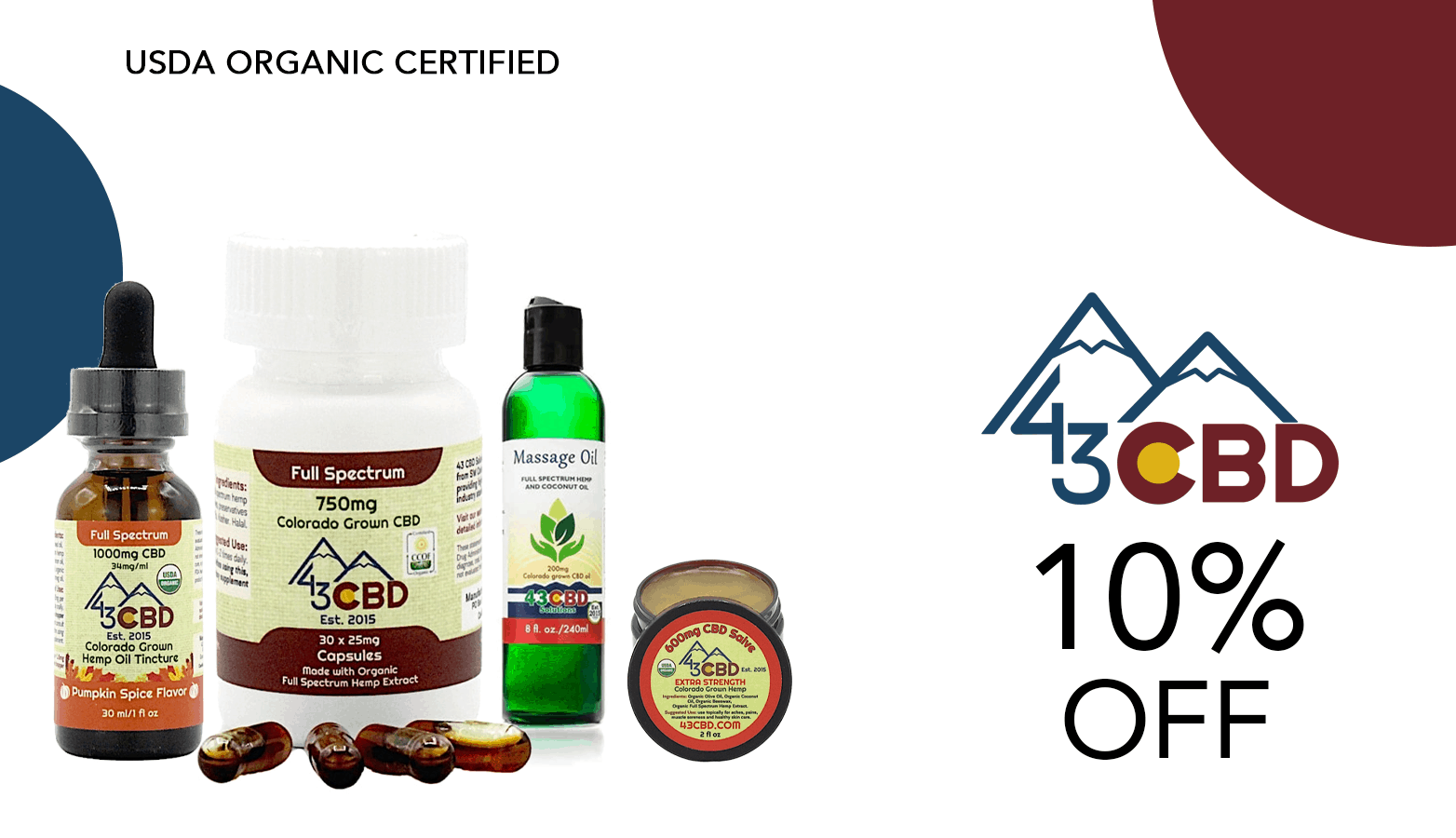 10% Off for Returning Order customers at 43 CBD Solutions! Colorado USDA Organic Grown Hemp.
Ever wanted to try CBD bath bomb? Our reviewer tested out the Enflower lavender CBD bath bomb, read this CBD review and see if you should grab one.
Hands-on review of the 710Life eNail from our expert reviewers. See if you should spend your money on this dabbing eNail.
In this TryTheCBD review our expert puts their 3000mg tincture to the test for her pains and troubles sleeping. See how it worked, in this CBD review.