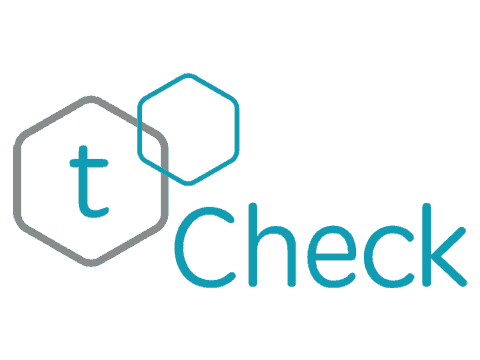 tCheck Coupon Code

Shipped to You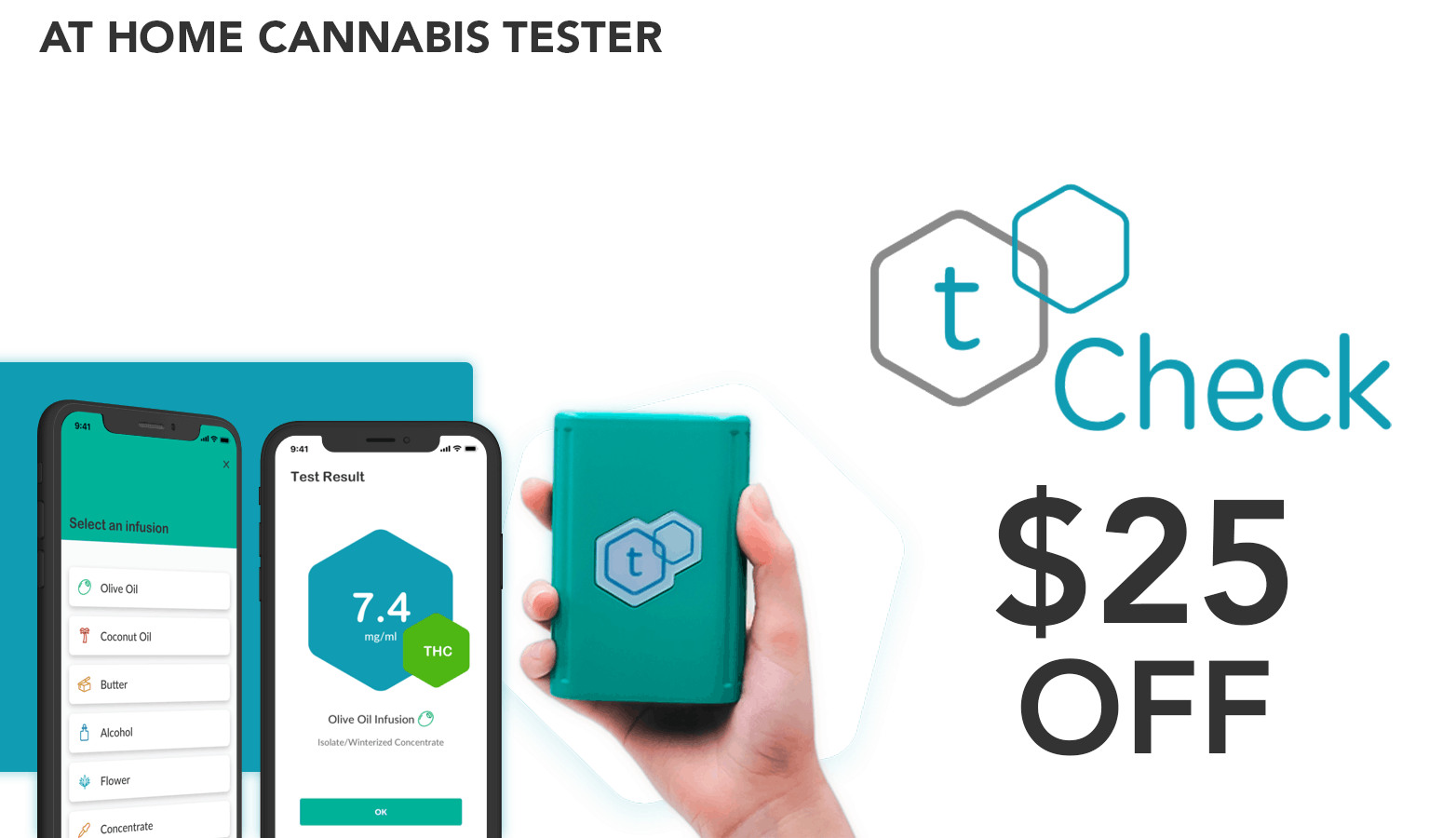 $25 OFF tCheck coupon code! Cannabis potency testing devices.

Shipped to You
Get the Perfect Dose with a [Month] 2023 tCheck Discount Code: Your Cannabis Potency Tester
Cannabis enthusiasts, edible makers, and skincare brand owners, rejoice! With the tCheck family of devices, you can take control of your cannabis infusions, edibles, flowers, and concentrates. Say goodbye to guesswork and inaccurate labeling, and say hello to precise, quick, and easy testing. Click our tCheck discount code now to save on your purchase!
Why Choose tCheck as Your Portable Potency Tester?
Featured in Forbes, Digital Trends, and High Times, tCheck is the industry-leading cannabis potency test device for at home. tCheck founder Peichen Chang has created a very serious small cannabis business that has revolutionized the cannabis industry by offering the only reliable potency tester affordable for the everyday at home cannabis hobbyists. Whether it's your first time or your 500th, tCheck makes edible making fun and precise. Here's why you should choose tCheck portable handheld devices:
Quick Results: Test oil infusions in just two minutes and herb bud and concentrates in less than six minutes.
Accurate Testing: Get potency results straight from your sample.
Cost-Effective: Typically pays for itself in just ten batches.
Inclusive Collaboration: tCheck & LEVO bundle for perfectly dosed infusions.
Are you looking for a reliable and efficient way to test the potency of your cannabis products at home? Look no further than tCheck, the portable potency tester that has revolutionized the industry. With tCheck, you can easily and accurately measure the potency of your favorite strains, ensuring that you get the most out of your cannabis experience. Plus, tCheck is incredibly convenient and easy to use, making it perfect for anyone who wants to take control of their cannabis consumption. So if you're looking for a way to save money and take your cannabis experience to the next level, be sure to use tCheck as your at-home portable potency tester. And don't forget to use our exclusive verified tCheck coupon codes at checkout to save big today!
tCheck Potency Tester Products & Accessories
From the handheld tCheck 2 THC & CBD Potency Tester to the LEVO II Infusion Machine collaboration, tCheck offers a range of products and accessories to suit your needs:
tCheck 2 THC & CBD Potency Tester: Measure cannabis-infused butter, coconut oil, olive oil, alcohol tinctures, and more.
LEVO II Infusion Machine x tCheck Bundle: Dry, activate, and infuse your herb with easy-to-read digital display and mess-free dispensing.
Accessories and Refill Sets: Expansion kits, syringe and filter refill sets, and more.
How the tCheck 2 Potency Tester Works
If you're looking for a reliable and accurate way to measure the potency of your cannabis products, the tCheck 2 device is a game-changer and the future of cannabis. This handheld spectrometer uses near-infrared technology to detect the amount of cannabinoids in your sample, giving you an instant readout on the accompanying app with accurate results. The tCheck 2 is incredibly easy to use – simply add a few drops of your sample to the test tray, insert it into the device, and wait for the results. With a range of up to 3,000mg THC per sample, the tCheck 2 is perfect for both personal and commercial use. Plus, the device is calibrated to ensure accuracy and consistency, so you can trust the results every time. Whether you're a cannabis connoisseur or a medical patient, the tCheck 2 is a must-have tool for measuring potency and ensuring your products are safe and effective.
How to Get Your December 2023 tCheck Coupon Code Today
Ready to awaken your inner cannabis chef without the worry of mistakes? Click our tCheck discount code now and enjoy free worldwide shipping and returns on all your orders. Make your own edibles at home, save money, and have total confidence in your cannabis creations and enjoy huge discounts at tCheck Today.
tCheck Coupon FAQ
What is the tCheck 2 potency tester and how does it work?
tCheck uses UV spectrophotometry technology to test the potency of your cannabis infusions, flowers, and concentrates. tCheck is a home cannabis testing device that allows you to test the potency of your cannabis-infused products. Simply place a small sample of your product into the tCheck device and wait for the results.
Which tCheck product should I choose?
Choose a new tCheck product that best suits your needs, as the company offers a wide range of testing kits and collaboration bundles to cater to different preferences. For instance, their potency testing kits are designed to measure the strength of cannabis infusions, while their collaboration bundles allow users to share their test results with others. Additionally, tCheck's latest product, the tCheck 2, features improved software and hardware for more accurate and efficient testing. With so many options available, you're sure to find the perfect tCheck product for your testing needs.
Where can I get tCheck discount code?
Before making a purchase at tCheck click our tCheck discount code above in the slider to save on your purchase and explore tCheck's innovative products.  We try to update this page regularly with incredible offers at tCheck.  We don't show expired tCheck promo codes and deals on our site, so have confidence you can use a coupon code to save.
Are there any tCheck coupon codes available for December 2023?
Yes, there are several tCheck coupon codes available for December 2023. You may have even ended up on this page by searching for "tCheck promo code December 2023" or "tCheck discount code December 2023." Every tCheck code on this page showing in the slider above are active right now and are going to get you the best discount.
Is there a tCheck coupon code for Black Friday deals?
Yes, tCheck typically offers a tcheck.me discount code for Black Friday 2023. Keep an eye out for a tCheck Black Friday discount code or tCheck Black Friday promo code to save big on your order with an active coupon for tCheck on either Black Friday and Cyber Monday 2023…or even Green Wednesday.
Does tCheck offer free shipping?
Yes, tCheck is offering free shipping on all orders within the United States from the official website of tCheck without a need to enter a code.  Our tCheck coupons and discount codes can work with the free shipping offered.
Are there any promo codes for tCheck CBD potency testing?
Yes, we have the best tCheck coupons available for the tCheck which is a THC and CBD potency tester. Be sure to check back here for the latest tCheck coupons before you shop at tCheck.  We offer verified tCheck discount codes active for use immediately just enter the coupon code on this page and the discount will be applied at checkout.
What is the tCheck referral program?
The tCheck referral program allows you to earn discounts on your purchases by referring friends to tCheck. When your friend makes a purchase using your referral link, you will receive a discount code for your next purchase.
Get Your tCheck and Enjoy Reliable at Home Testing Today!
In conclusion, these are the latest and greatest tCheck coupons and promo codes for the tCheck 2 THC and CBD potency testing device. Be sure to check back here often as we update this page with the latest available tCheck coupons and promotions.
The tCheck potency tester is a game-changer for those who want to ensure the accuracy and consistency of their cannabis products. With this device, you can easily measure the potency of your homemade edibles, tinctures, and oils, giving you peace of mind and control over your dosage. Plus, with our exclusive coupon offer available in the slider on this page, you can save on your purchase of a tCheck device and start enjoying the benefits right away. Don't miss out on this opportunity to take your cannabis experience to the next level. Press "Get Coupon" now and unlock your savings!
People who shop tCheck also like these stores