MedTerra Review: MedOil CBD Tincture 1000mg
Apr 3, 2018 | PurpleGirl
CBDCBD CandyCBD EdiblesCBD GummiesCBD Isolate or Terpsolate Powder and CrystalsCBD Pet ProductsCBD Pills & CapsulesCBD TincturesCBD TopicalsCBGCBG TincturesSave On Cannabis Verified
MedTerra MedOil CBD Tincture 1000mg
Pros
Good reliable dose of CBD.
No leakage from container.
Dropper has measurements for accurate dosing.
1000mg perfect CBD dosage for daily use.
MedTerra CBD makes its cannabidiol products from organic, pesticide-free, NON-GMO industrial hemp in Kentucky. They pride themselves on having farming and extraction processes that are 100% compliant (and therefore legal) with the laws set forth by Kentucky's Department of Agriculture, which includes third-party quality testing for every single product.  Read this expert CBD review and see if MedTerra is the best product for your needs.
Product: MedTerra MedOil CBD Tincture 1000mg
Retail Price: $89.95
Dose / Serving Size: 1 fl oz (30 ml) bottle has thirty 1ml servings to be taken sublingually.  Each serving has 33mg of cannabidiol. 
Ingredients: MCT Oil, 99%+ CBD Isolate.
Flavor and Aroma: No added flavors, scents, or terpenes. Marketed as "tasteless and odorless."
Product Variations: Available in three strengths: 500mg, 1000mg and 3000mg.
Convenience & Ease of Use:  The bottle comes with a dropper that features measurements to help you get the most accurate dose. The bottle is sturdy and the dropper lid screws on tightly to close. No leaks!
Perfect for: Chronic pain management, sleep aid, treatment for anxiety, stress relief



My experience: 
MedTerra MedOil CBD Tincture is perfect for easily getting a high dose of CBD every day. I was impressed with the quality of the packaging and bottle; it made me feel confident that I could carry it around with me without fear of leakage. The only aspect of the product I wasn't 100% in love with is the taste. It is described as odorless and tasteless but, like many similar products, it actually tastes like cannabis. The flavor isn't intense, but definitely there. However, I would gladly put up with the taste to take advantage of getting such a high dose of CBD every day.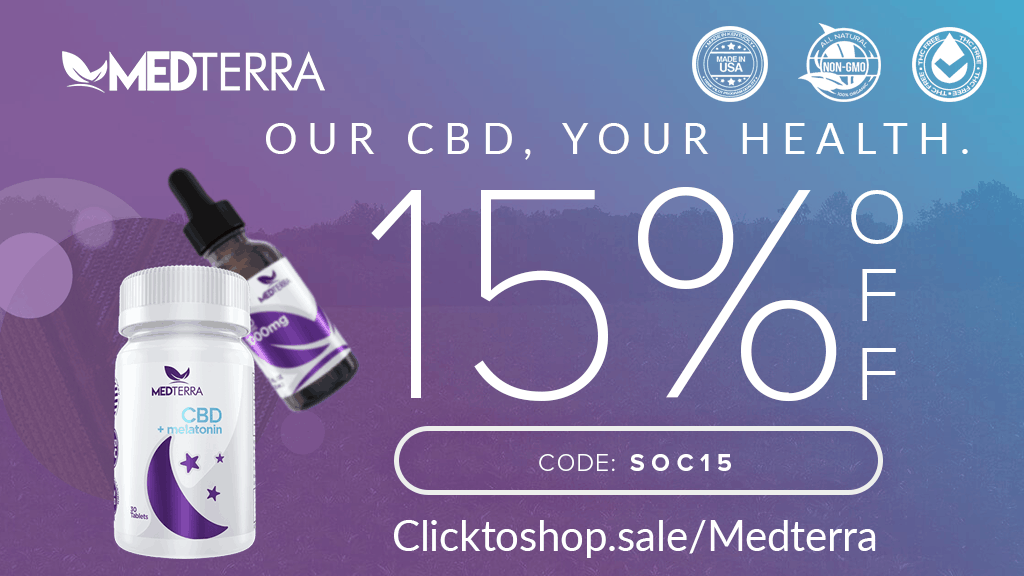 ---
Disclosure: I received these products gratis so that I could try them and then share my honest opinion with the SOC community. Though I am employed Save on Cannabis as a consultant, I did not receive compensation for writing this review.

At great prices is CBDistillery worthwhile or only as good as the cheap price tag? Find out if we think the CBDistillery tincture is quality.
Can you use CBD instead of Advil? Our reviewer put this idea to the test in this CBD•TRU review of their Pure Full Spectrum CBD Oil.
See in our Manitoba Harvest review of their CBD oil drops if it helps us get some sleep. Also, enjoy Manitoba Harvest coupons.